—-
After Life #1 Trailer
—-
After Life 2 Trailer
—-
On Saturday April 18, 2020 at 6pm in London and noon in Arkansas, I had a chance to ask Ricky Gervais a question on his Twitter Live broadcast which was "Is Tony a Nihilist?" At the 20:51 mark Ricky answers my question. Below is the video:
—-
—-
If Death is the end then what is the point Kath asks below:
——
Kath: You are an atheist?
—-
Francis Schaeffer THE AGE of FRAGMENTATION
—-
(Above) Tony and Anne on the bench at the graveyard where their spouses are buried.
—
July 2, 2020
Ricky Gervais

Dear Ricky,
This is the 76th day in a row that I have written another open letter to you to comment on some of your episodes of AFTER LIFE.
As you know I am writing you a series of letters on Solomon's efforts to find a meaning and purpose to life. Solomon tried to find a meaning and purpose to life UNDER THE SUN in the Book of Ecclesiastes in all of the 6 "L" words and looked into learning(1:16-18),laughter, ladies, luxuries, and liquor (2:1-3, 8, 10, 11), and labor (2:4-6, 18-20).
Below is a scene with Holli Dempsey playing a Botox lady who had several plastic surgeries that went wrong and she was not even 30 years old yet. Lenny and Tony are there to interview the Botox Lady.

Botox Lady: I think I got a problem.
Tony: Yeah. I mean it might be like an addiction.
Botox Lady: You mean it might I can't help it?
Well I guess so, but if you acknowledge it there is a chance you can get help.
Botox Lady: Do you think I am mental?
Tony: No more than the rest of us. As I say we are all SCREWED UP in one way or another. It makes you normal.
Botox Lady: (She makes a sound that could be a muffled laugh or crying.)
The problem is that we live in a fallen world and we all are sinners. Read again these words: Botox Lady: Do you think I am mental?
Tony: No more than the rest of us. As I say we are all SCREWED UP in one way or another. It makes you normal.
That is absolutely true. The Bible says:
"For all have sinned and fall short of the glory of God," (Romans 3:23)
The Romans Road Bible Verses
1. The Human Problem (Romans 3:10, Romans 3:23, and Romans 6:23)
The first part of the Romans Road confirms the state of every human as sinful and the state of God as holy.
"As it is written: "There is no one righteous, not even one;" (Romans 3:10)
"For all have sinned and fall short of the glory of God," (Romans 3:23)
After establishing that "all have sinned," the first half of Romans 6:23 explains the depth of this problem and its consequences.
"For the wages of sin is death…" (Romans 6:23a)
However, the second half of the verse hints at the hope sinners have for salvation through Jesus.
"…but the gift of God is eternal life in Christ Jesus our Lord." (Romans 6:23b)
2. Humanity's Hope in Christ (Romans 5:8)
The second part of the Romans Road further explains the hope we have in the love of God expressed through Christ.
"But God demonstrates his own love for us in this: While we were still sinners, Christ died for us." (Romans 5:8)
3. The Sinner's Response (Romans 10:9-10 and Romans 10:13)
Once we understand our need for a savior and recognize that Jesus Christ is that savior, we can respond by moving along to the third part of the Romans Road, calling out to Jesus.
"If you declare with your mouth, 'Jesus is Lord,' and believe in your heart that God raised him from the dead, you will be saved. For it is with your heart that you believe and are justified, and it is with your mouth that you profess your faith and are saved." (Romans 10:9-10)
This response is possible for everyone. Romans 10:13 expresses God's ability to save everyone. (His intention to save everyone is further expressed in John 3:16-17)
"For, 'Everyone who calls on the name of the Lord will be saved.'" (Romans 10:13)
4. The Result of Salvation (Romans 5:1-2 and Romans 8:1)
The fourth part of the Romans Road mentions two results (peace and justification) after a sinner decides to declare and believe in their heart that Jesus Christ is Lord. Romans 5:1-2explains that through faith in Jesus Christ, sinners can enjoy peace with God, no longer separated from holy God by sin.
"Therefore, since we have been justified through faith, we have peace with God through our Lord Jesus Christ, through whom we have gained access by faith into this grace in which we now stand."(Romans 5:1-2)
Romans 8:1 rejoices in the result of salvation. Before faith in Christ, all who have sinned were condemned by their sin and destined for death. But now with faith in Christ, "there is no condemnation" (Romans 8:1) and believers are gifted eternal life with God (Romans 6:23).
"Therefore, there is now no condemnation for those who are in Christ Jesus,"(Romans 8:1)
—
Francis Schaeffer comments on ECCLESIASTES below:
Ecclesiastes 9:7-12
7 Go, eat your bread with joy, and drink your wine with a merry heart, for God has already approved what you do.
8 Let your garments be always white. Let not oil be lacking on your head.
9 Enjoy life with the wife whom you love, (DOES IT SOUND OPTIMISTIC? NOW COMES THE BACKLASH) all the days of your vain life that he has given you under the sun, because that is your portion in life and in your toil at which you toil under the sun.10 Whatever your hand finds to do, do it with your might, for there is no work or thought or knowledge or wisdom in Sheol, to which you are going.
11 Again I saw that under the sun the race is not to the swift, nor the battle to the strong, nor bread to the wise, nor riches to the intelligent, nor favor to those with knowledge, but time and chance happen to them all. 12 For man does not know his time. Like fish that are taken in an evil net, and like birds that are caught in a snare, so the children of man are snared at an evil time, when it suddenly falls upon them.
Solomon when at work takes off his hat and he stands by the grave of man and he says, "ALAS. ALAS. ALAS."
But interestingly enough the story of Ecclesiastes does not end its message here because in two places in the New Testament it is picked up and carried along and put in its proper perspective.
Luke 12:16-21
16 And he told them a parable, saying, "The land of a rich man produced plentifully, 17 and he thought to himself, 'What shall I do, for I have nowhere to store my crops?' 18 And he said, 'I will do this: I will tear down my barns and build larger ones, and there I will store all my grain and my goods. 19 And I will say to my soul, "Soul, you have ample goods laid up for many years; relax,eat, drink, be merry."' [ALMOST EVERYONE WHO HAS PROCEEDED HERE HAS FELT CERTAINLY THAT JESUS IS DELIBERATELY REFERRING TO SOLOMON'S SOLUTION.]20 But God said to him, 'Fool! This night your soul is required of you, and the things you have prepared, whose will they be?' 21 So is the one who lays up treasure for himself and is not rich toward God."
Christ here points out the reason for the failure of the logic that is involved. He points out why it fails in logic and then why it fails in reality. This view of Solomon must end in failure philosophically and also in emotional desperation.
We are not made to live in the shortened environment of UNDER THE SUN in this life only!!! Neither are we made to live only in the environment of a bare concept of afterlife [ignoring trying to make this life better]. We are made to live in the environment of a God who exists and who is the judge. This is the difference and that is what Jesus is setting forth here.
I Corinthians 15:32
32 What do I gain if, humanly speaking, I fought with beasts at Ephesus? If the dead are not raised, "Let us eat and drink, for tomorrow we die."
There is no doubt here he is reaching back to Solomon again and he is just saying if there isn't a resurrection of the dead then let's just follow Solomon and let's just eat and drink for tomorrow we die!!!! If there isn't this full structure [including the resurrection of the dead] then just have the courage to follow Solomon and we can eat and drink because tomorrow we die and that is all we have. If the full structure isn't there then pick up the cup and drink it dry! You can say it a different way in the 20th century: If the full structure is not there then go ahead and be an EXISTENTIALIST, but don't cheat. Drink the cup to the end. Drink it dry! That is what Paul says. Paul the educated man. Paul the man who knew his Greek philosophy. Paul the man who understood Solomon and the dilemma. Paul said it one way or the other. There is no room for a middle ground. IF CHRISTIANS AREN'T RAISED FROM THE DEAD THEN SOLOMON IS RIGHT IN ECCLESIASTES, BUT ONLY THEN. But if he is right then you should accept all of Solomon's despair and his conclusions.

In 1978 I heard the song "Dust in the Wind" by Kansas when it rose to #6 on the charts. That song told me thatKerry Livgren the writer of that song and a member of Kansas had come to the same conclusion that Solomon had. I remember mentioning to my friends at church that we may soon see some members of Kansas become Christians because their search for the meaning of life had obviously come up empty even though they had risen from being an unknown band to the top of the music business and had all the wealth and fame that came with that. Furthermore, like Solomon and Coldplay, they realized death comes to everyone and "there must be something more."
Livgren wrote:
"All we do, crumbles to the ground though we refuse to see, Dust in the Wind, All we are is dust in the wind, Don't hang on, Nothing lasts forever but the Earth and Sky, It slips away, And all your money won't another minute buy."
Both Kerry Livgren and Dave Hope of Kansas became Christians eventually. Kerry Livgren first tried Eastern Religions and Dave Hope had to come out of a heavy drug addiction. I was shocked and elated to see their personal testimony on The 700 Club in 1981 and that same interview can be seen on youtube today. Livgren lives in Topeka, Kansas today where he teaches "Diggers," a Sunday school class at Topeka Bible Church. Hope is the head of Worship, Evangelism and Outreach at Immanuel Anglican Church in Destin, Florida.
The movie maker Woody Allen has embraced the nihilistic message of the song "Dust in the Wind" by Kansas. David Segal in his article, "Things are Looking Up for the Director Woody Allen. No?" (Washington Post, July 26, 2006), wrote, "Allen is evangelically passionate about a few subjects. None more so than the chilling emptiness of life…The 70-year-old writer and director has been musing about life, sex, work, death and his generally futile search for hope…the world according to Woody is so bereft of meaning, so godless and absurd, that the only proper response is to curl up on a sofa and howl for your mommy."
The song "Dust in the Wind" recommends, "Don't hang on." Allen himself says, "It's just an awful thing and in that context you've got to find an answer to the question: 'Why go on?' " It is ironic that Chris Martin the leader of Coldplay regards Woody Allen as his favorite director.
Lets sum up the final conclusions of these gentlemen: Coldplay is still searching for that "something more." Woody Allen has concluded the search is futile. Livgren and Hope of Kansas have become Christians and are involved in fulltime ministry. Solomon's experiment was a search for meaning to life "under the sun." Then in last few words in the Book of Ecclesiastes he looks above the sun and brings God back into the picture: "The conclusion, when all has been heard, is: Fear God and keep His commandments, because this applies to every person. For God will bring every act to judgment, everything which is hidden, whether it is good or evil."
You can hear Kerry Livgren's story from this youtube link:

——-
—
The answer to find meaning in life is found in putting your faith and trust in Jesus Christ. The Bible is true from cover to cover and can be trusted.
Thank you again for your time and I know how busy you are.
Sincerely,
Everette Hatcher, everettehatcher@gmail.com, http://www.thedailyhatch.org, cell ph 501-920-5733, 13900 Cottontail Lane, Alexander, AR 72002
PS: What is the meaning of life? Find it in the end of the open letter I wrote to you on April 23, 2020.
—
Below is the workforce of THE TAMBURY GAZETTE
—
Seen below is the third episode of AFTERLIFE (season 1) when Matt takes Tony to a comedy club with front row seats to cheer him up but it turns into disaster!!!
——
—-
—
Part 1 "Why have integrity in Godless Darwinian Universe where Might makes Right?"
Part 2 "My April 14, 2016 Letter to Ricky mentioned Book of Ecclesiastes and the Meaninglessness of Life"
Part 3 Letter about Brandon Burlsworth concerning suffering and pain and evil in the world. "Why didn't Jesus save her [from cancer]?" (Tony's 10 year old nephew George in episode 2)
Part 4 Letter on Solomon on Death Tony in episode one, "It should be everyone's moral duty to kill themselves."
Part 5 Letter on subject of Learning in Ecclesiastes "I don't read books of fiction but mainly science and philosophy"
Part 6 Letter on Luxuries in Ecclesiastes Part 6, The Music of AFTERLIFE (Part A)
Part 7 Letter on Labor in Ecclesiastes My Letter to Ricky on Easter in 2017 concerning Book of Ecclesiastes and the legacy of a person's life work
Part 8 Letter on Liquor in Ecclesiastes Tony's late wife Lisa told him, "Don't get drunk all the time alright? It will only make you feel worse in the log run!"
Part 9 Letter on Laughter in Ecclesiastes , I said of laughter, "It is foolishness;" and of mirth, "What does it accomplish?" Ecclesiastes 2:2
Part 10 Final letter to Ricky on Ladies in Ecclesiastes "I gathered a chorus of singers to entertain me with song, and—most exquisite of all pleasures— voluptuous maidens for my bed…behold, all was vanity and a striving after wind, and there was nothing to be gained under the sun" Ecclesiastes 2:8-11.
Part 11 Letter about Daniel Stanhope and optimistic humanism "If man has been kicked up out of that which is only impersonal by chance , then those things that make him man-hope of purpose and significance, love, motions of morality and rationality, beauty and verbal communication-are ultimately unfulfillable and thus meaningless." (Francis Schaeffer)
Part 12 Letter on how pursuit of God is only way to get Satisfaction Dan Jarrell "[In Ecclesiastes] if one seeks satisfaction they will never find it. In fact, every pleasure will be fleeting and can not be sustained, BUT IF ONE SEEKS GOD THEN ONE FINDS SATISFACTION"
Part 13 Letter to Stephen Hawking on Solomon realizing he will die just as a dog will die "For men and animals both breathe the same air, and both die. So mankind has no real advantage over the beasts; what an absurdity!" Ecclesiastes
Part 14 Letter to Stephen Hawking on 3 conclusions of humanism and Bertrand Russell destruction of optimistic humanism. "That Man is the product of causes which had no prevision of the end they were achieving; that his origin, his growth, his hopes and fears, his loves and his beliefs, are but the outcome of accidental collocations of atoms—no philosophy which rejects them can hope to stand. Only within the scaffolding of these truths, only on the firm foundation of unyielding despair, can the soul's habitation henceforth be safely built."(Bertrand Russell, Free Man's Worship)
Part 15 Letter to Stephen Hawking on Leonardo da Vinci and Solomon and Meaningless of life "I hate life. As far as I can see, what happens on earth is a bad business. It's smoke—and spitting into the wind" Ecclesiastes Book of Ecclesiastes Part 15 "I hate life. As far as I can see, what happens on earth is a bad business. It's smoke—and spitting into the wind" Ecclesiastes 2:17
Part 16 Letter to Stephen Hawking on Solomon's longing for death but still fear of death and 5 conclusions of humanism on life UNDER THE SUN. Francis Schaeffer "Life is just a series of continual and unending cycles and man is stuck in the middle of the cycle. Youth, old age, Death. Does Solomon at this point embrace nihilism? Yes!!! He exclaims that the hates life (Ecclesiastes 2:17), he longs for death (4:2-3) Yet he stills has a fear of death (2:14-16)"
—
Mandeep Dhillon as Sandy on her first assignment in 'After Life'. (Twitter)
A still from 'After Life' that captures the vibe of the Tambury Gazette. (Twitter)
Michael Scott of THE OFFICE (USA) with Ricky Gervais
After Life on Netflix stars Ricky Gervais as a bereaved husband (Image: Netflix)
—-
Psychiatrist played by Paul Kaye seen below.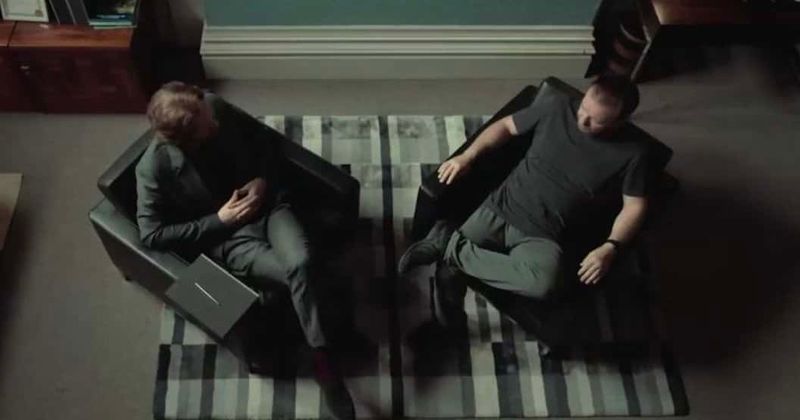 —
Tony Johnson with his dog Brandi seen below:
—-
Related posts:
I have gone back and forth and back and forth with many liberals on the Arkansas Times Blog on many issues such as abortion, human rights, welfare, poverty, gun control and issues dealing with popular culture. Here is another exchange I had with them a while back. My username at the Ark Times Blog is Saline […]By Everette Hatcher III | Posted in Biblical Archaeology, Francis Schaeffer, Prolife | Edit|Comments (0)
I have posted many of the sermons by John MacArthur. He is a great bible teacher and this sermon below is another great message. His series on the Book of Proverbs was outstanding too. I also have posted several of the visits MacArthur made to Larry King's Show. One of two most popular posts I […]By Everette Hatcher III | Posted in Adrian Rogers, Current Events | Edit|Comments (0)
I have posted many of the sermons by John MacArthur. He is a great bible teacher and this sermon below is another great message. His series on the Book of Proverbs was outstanding too. I also have posted several of the visits MacArthur made to Larry King's Show. One of two most popular posts I […]By Everette Hatcher III | Posted in Adrian Rogers, Current Events |Tagged Bible Prophecy, john macarthur | Edit|Comments (0)
Prophecy–The Biblical Prophesy About Tyre.mp4 Uploaded by TruthIsLife7 on Dec 5, 2010 A short summary of the prophecy about Tyre and it's precise fulfillment. Go to this link and watch the whole series for the amazing fulfillment from secular sources. http://www.youtube.com/watch?v=qvt4mDZUefo________________ John MacArthur on the amazing fulfilled prophecy on Tyre and how it was fulfilled […]By Everette Hatcher III | Posted in Biblical Archaeology | Edit|Comments (1)
John MacArthur on the Bible and Science (Part 2) I have posted many of the sermons by John MacArthur. He is a great bible teacher and this sermon below is another great message. His series on the Book of Proverbs was outstanding too. I also have posted several of the visits MacArthur made to Larry […]By Everette Hatcher III | Posted in Current Events | Edit|Comments (0)
John MacArthur on the Bible and Science (Part 1) I have posted many of the sermons by John MacArthur. He is a great bible teacher and this sermon below is another great message. His series on the Book of Proverbs was outstanding too. I also have posted several of the visits MacArthur made to Larry […]By Everette Hatcher III | Posted in Current Events | Edit|Comments (0)
Adrian Rogers – How you can be certain the Bible is the word of God Great article by Adrian Rogers. What evidence is there that the Bible is in fact God's Word? I want to give you five reasons to affirm the Bible is the Word of God. First, I believe the Bible is the […]By Everette Hatcher III | Posted in Adrian Rogers, Biblical Archaeology | Edit|Comments (0)
Is there any evidence the Bible is true? Articles By PleaseConvinceMe Apologetics Radio The Old Testament is Filled with Fulfilled Prophecy Jim Wallace A Simple Litmus Test There are many ways to verify the reliability of scripture from both internal evidences of transmission and agreement, to external confirmation through archeology and science. But perhaps the […]By Everette Hatcher III | Posted in Biblical Archaeology, Current Events | Edit|Comments (0)
I have gone back and forth and back and forth with many liberals on the Arkansas Times Blog on many issues such as abortion, human rights, welfare, poverty, gun control and issues dealing with popular culture. Here is another exchange I had with them a while back. My username at the Ark Times Blog is […]By Everette Hatcher III | Posted in Francis Schaeffer, Prolife | Edit|Comments (0)
Here is some very convincing evidence that points to the view that the Bible is historically accurate. Archaeological and External Evidence for the Bible Archeology consistently confirms the Bible! Archaeology and the Old Testament Ebla tablets—discovered in 1970s in Northern Syria. Documents written on clay tablets from around 2300 B.C. demonstrate that personal and place […]By Everette Hatcher III | Posted in Biblical Archaeology | E
—-
—-
—-