—-
—-
—
After Life #1 Trailer
—-
I listened to this question and answer session at Harvard in 1992 on cassette tapes and was captivated with Ravi Zacharias. His responses were so much better than Kath's responses to Tony in AFTER LIFE. I have referenced work by Ravi many times in the past and Especially moving was Ravi's own spiritual search which started in a hospital bed after a failed suicide attempt. I also want you to check out his talk at Princeton and the question and answer time afterwards which are both on YOU TUBEat these two links: Link for talk, Link for Q/A.

After Life 2 Trailer
—-
On Saturday April 18, 2020 at 6pm in London and noon in Arkansas, I had a chance to ask Ricky Gervais a question on his Twitter Live broadcast which was "Is Tony a Nihilist?" At the 20:51 mark Ricky answers my question. Below is the video:
–
—-
—-
If Death is the end then what is the point Kath asks below:
——
Francis Schaeffer passed away on May 15, 1984 and on the 10th anniversary of that date I wrote many skeptics such as Carl Sagan and corresponded with them on the big questions covered by the Book of Ecclesiastes.

Kath: You are an atheist?
—-
Adrian Rogers on Evolution
—-
—

Ravi Zacharias (March 26, 1946 – May 19, 2020)
Francis Schaeffer (January 30, 1912 – May 15, 1984[1])

I grew up at Bellevue Baptist Church under the leadership of our pastor Adrian Rogers and I read many books by the Evangelical Philosopher Francis Schaeffer and in 1992 I heard cassette tapes of Ravi Zacharias in all his brilliance in his sessions at Harvard and have had the opportunity to contact many of the evolutionists or humanistic academics that they have mentioned in their works. Many of these scholars have taken the time to respond back to me in the last 20 years and some of the names included are Ernest Mayr (1904-2005), George Wald (1906-1997), Carl Sagan (1934-1996), Robert Shapiro (1935-2011), Nicolaas Bloembergen (1920-), Brian Charlesworth (1945-), Francisco J. Ayala (1934-) Elliott Sober (1948-), Kevin Padian (1951-), Matt Cartmill (1943-) , Milton Fingerman (1928-), John J. Shea (1969-), , Michael A. Crawford (1938-), Paul Kurtz (1925-2012), Sol Gordon (1923-2008), Albert Ellis (1913-2007), Barbara Marie Tabler (1915-1996), Renate Vambery (1916-2005), Archie J. Bahm (1907-1996), Aron S "Gil" Martin ( 1910-1997), Matthew I. Spetter (1921-2012), H. J. Eysenck (1916-1997), Robert L. Erdmann (1929-2006), Mary Morain (1911-1999), Lloyd Morain (1917-2010), Warren Allen Smith (1921-), Bette Chambers (1930-), Gordon Stein (1941-1996) , Milton Friedman (1912-2006), John Hospers (1918-2011), Michael Martin (1932-).Harry Kroto (1939-), Marty E. Martin (1928-), Richard Rubenstein (1924-), James Terry McCollum (1936-), Edward O. WIlson (1929-), Lewis Wolpert (1929), Gerald Holton(1922-), Martin Rees (1942-), Alan Macfarlane (1941-), Roald Hoffmann (1937-), Herbert Kroemer (1928-), Thomas H. Jukes(1906-1999) and Ray T. Cragun (1976-).
Adrian Rogers (September 12, 1931 – November 15, 2005)
—-
—
Charles Darwin Autobiography
—
—
(Above) Tony and Anne on the bench at the graveyard where their spouses are buried.
—
July 20, 2020
Ricky Gervais

Dear Ricky,
This is the 94th day in a row that I have written another open letter to you to comment on some of your episodes of AFTER LIFE, and then I wanted to challenge you to read chapter 22 of Psalms which is an amazing prophecy!
(Tony Johnson with his dog Brandi seen below:)
In episode 2 of the second season of AFTER LIFE is the following discussion:
Tony: I drink in times of trouble. I can't help it the world is filled with trouble. It is a horrible place. Everyone is screwed up in someway. Everyone has worries like money or health or famine, war. We are chimps with brains the size of planets. No wonder we get drunk and try to kill each other. It is mental.
Matt: Always good to talk.
Tony: I was just explaining my new plan is to drink myself to death till I eventually implode in on my own evolution.
Kath: Do you believe in all that?
Tony: What? The proven fact that there is evolution? Yeah
—

As you know I am writing you a series of letters on Solomon's efforts to find a meaning and purpose to life. Solomon tried to find a meaning and purpose to life UNDER THE SUN in the Book of Ecclesiastes in all of the 6 "L" words and looked into learning(1:16-18),laughter, ladies, luxuries, and liquor (2:1-3, 8, 10, 11), and labor (2:4-6, 18-20).
The Christian Scholar Ravi Zacharias noted, "The key to understanding the Book of Ecclesiastes is the term UNDER THE SUN — What that literally means is you lock God out of a closed system and you are left with only this world of Time plus Chance plus matter."
Just like you Ricky I assume Tony Johnson holds to the view "Humans are an integral part of nature, the result of unguided evolutionary change." Tony said that he believes in the proven fact of evolution. Also in another episode Tony states that it was by chance that he met the perfect spouse in Lisa! Did you know that Darwin himself had doubts concerning this world coming about by chance? I will quote Darwin later in this post about that.
Comedian and Patron of Humanists UK
"You don't need whatever religion gives you. Just be kind."
Ricky Gervais is best known for his television comedies The Office and Extras, and for stand-up comedy, but he has also been a musician and worked in radio.
He is a philosophy graduate (London University), and after graduation worked at the University as entertainment manager for the Students Union, where he began developing the character of "Seedy Boss", later to become David Brent in The Office.
His comedy is often controversial, and he has managed to offend a wide range of people, including the disabled, religious believers, and celebrities and film stars in his hosting of the Golden Globe Awards – but he has also managed to coax self-deprecating and very funny performances from stars who can take a joke against themselves such as Kate Winslet (in Extras) and Johnny Depp and Helena Bonham-Carter (in Small People).
He told Kirsty Young that he is an atheist during his 2007 interview for BBC Radio 4's Desert Island Discs (you can listen to his interview here), and later said that he had lost his faith at the age of eight. He has also said that he and his long-term partner chose not to marry because "there's no point in us having an actual ceremony before the eyes of God because there is no God", and has defended his atheism in the Wall Street Journal. Interviewed by Elizabeth Day in The Observer in February 2013, he said:
"…I don't believe there is a God but there's nothing wrong with spirituality if that makes you a happier, nicer person. But religion is something else, it's a way of controlling people. It's no coincidence that the people in charge of religion aren't the kindest or most forgiving. My point is that… you don't need whatever religion gives you. Just be kind."
Humanist Brian Cox comments below:
In the You Tube video "A Further 50 Renowned Academics Speaking About God (Part 3)," Dr. Cox asserted:
"I'm comfortable with the unknown — that's the point of science. There are places out there, billions of places out there, that we know nothing about. And the fact that we know nothing about them excites me, and I want to go out and find out about them. And that's what science is. So I think if you're not comfortable with the unknown, then it's difficult to be a scientist… I don't need an answer. I don't need answers to everything. I want to have answers to find."
Since you are a Humanist, I wanted to ask you about this idea of Evolution by Chance.
Manifesto I: Humanism believes that man is a part of nature and that he has emerged as a result of a continuous process.
Manifesto II: Rather, science affirms that the human species is an emergence from natural evolutionary forces.
Manifesto III: Humans are an integral part of nature, the result of unguided evolutionary change.
Did you know that Charles Darwin himself struggled until his his dying day with this idea of evolution by chance. (I am not referring to the now debunked deathbed confession spread by his wife.)
The Genius of Charles Darwin (A film that Richard Dawkinswrote and narrated.) Part 1 (37th min):
(Richard Dawkins) I've come to meet Randal Keynes, Darwin's great-great-grandson to try to understand Darwin's frame of mind as he finished his book.
(Randal Keynes) This is a book about geology by Mr Greenough. It has this wonderful inscription – "Charles Darwin, Buenos Aires,
October 1832." So he's on the Beagle, really getting into his stride as a geologist. This is a scrapbook,
a children's scrapbook that belonged to Darwin's daughter Annie.
Anne Elizabeth "Annie" Darwin (2 March 1841 – 23 April 1851) was the second child and eldest daughter of Charles and Emma Darwin.
(Richard Dawkins) Darwin was no aggressive polemicist. He didn't take to the stage
to publicise his work, but sought to influence leading thinkers behind the scenes, by sending them proof copies of the book with apologetic letters attached.' He would write things like,
"This vile rag of a theory of mine." Was that genuine modesty or was there an element of false modesty about it?
(Randal Keynes below)
(Randal Keynes) It was entirely real, um, and this is a very strange point about him. Through the years when he was steeling himself for publication, um, he was, at different times, enormously confident in it, and at other times, he was utterly uncertain. He had a deep fear, I think, that one species would be discovered that had some element of its make-up that could only have been designed.
(Richard Dawkins) Doubts may have lingered in Darwin's mind, but finally, 150 years ago, he set out his ideas on evolution and how it worked in The Origin Of Species. The book sold out its first run of 1,250 copies within two days. has never been out of print since. The Origin turned our world upside down…..
—
The case is clear that Darwin did turn the world upside down, but is also true that he had deep doubts about his theory throughout his whole life.
Francis Schaeffer seen above

In 1968, Francis Schaeffer (January 30, 1912 – May 15, 1984[1]) got a hold of an unabridged autobiography of Darwin that Nora Barlow has edited. Wikipedia noted concerning Barlow:
Her first book as editor was a new edition of The Voyage of the Beagle (1933).
She published an unexpurgated version of The Autobiography of Charles Darwin, which had previously had personal and religious material removed by his son, Francis.
Here are Schaeffer's comments on the autobiography:
Darwin in his autobiography Darwin, Francis ed. 1892. Charles Darwin: his life told in an autobiographical chapter, and in a selected series of his published letters [abridged edition]. London: John Murray, and in his letters showed that all through his life he NEVER really came to a QUIETNESS concerning the possibility that chance really explained the situation of the biological world. You will find there is much material on this [from Darwin] extended over many many years that constantly he was wrestling with this problem. Darwin never came to a place of satisfaction. You have philosophically ONLY TWO possible beginnings. The first would be a PERSONAL beginning and the other would be an IMPERSONEL beginning plus time plus CHANCE. There is no other possible alternative except the alternative that everything comes out of nothing and that has to be a total nothing and that has to be a total nothing without mass, energy or motion existing. No one holds this last view because it is unthinkable. Darwin understood this and therefore until his death he was uncomfortable with the idea of CHANCE producing the biological variation.
Darwin, C. R. to Graham, William 3 July 1881:
Nevertheless you have EXPRESSED MY INWARD CONVICTION, though far more vividly and clearly than I could have done, that the Universe is NOT THE RESULT OF CHANCE.* But THEN with me the HORRID DOUBT ALWAYS ARISES whether the convictions of man's mind, which has been developed from the mind of the lower animals, are of any value or at all trustworthy. Would any one trust in the convictions of a monkey's mind, if there are any convictions in such a mind?
Francis Schaeffer comments:
Can you feel this man? He is in real agony. You can feel the whole of modern man in this tension with Darwin. My mind can't accept that ultimate of chance, that the universe is a result of chance. He has said 3 or 4 times now that he can't accept that it all happened by chance and then he will write someone else and say something different. How does he say this (about the mind of a monkey) and then put forth this grand theory? Wrong theory I feel but great just the same. Grand in the same way as when I look at many of the paintings today and I differ with their message but you must say the mark of the mannishness of man are one those paintings titanic-ally even though the message is wrong and this is the same with Darwin. But how can he say you can't think, you come from a monkey's mind, and you can't trust a monkey's mind, and you can't trust a monkey's conviction, so how can you trust me? Trust me here, but not there is what Darwin is saying. In other words it is very selective.
Do you think Darwin was right to spend so much time exploring his doubts on this issue of Evolution by Chance?
—
—
The Judgment of Solomon, 1617 by Peter Paul Rubens(1577–1640)
—
—
Paul Kurtz pictured above
I have had the privilege of corresponding with the humanist psychologist Steven Pinker of Harvard and I have enjoyed reading several of his books and the last one I read was ENLIGHTENMENT NOW: THE CASE FOR REASON, SCIENCE, HUMANISM, AND PROGRESS. In my view it is the best book written from a humanist point of view that discusses morality. Earlier I would given that recognition to Paul Kurtz and his book FORBIDDEN FRUIT: THE ETHICS OF SECULARISM.
Dr. Pinker asserted:
The case for Enlightenment Now is not just a matter of debunking fallacies or disseminating data. It may be cast as a stirring narrative, and I hope that people with more artistic flair and rhetorical power than I can tell it better and spread it farther.The story of human progress is truly heroic. It is glorious. It is uplifting. It is even, I daresay, spiritual. It goes something like this.
We are born into a pitiless universe, facing steep odds against life-enabling order and in constant jeopardy of falling apart. We were shaped by a force that is ruthlessly competitive. We are made from crooked timber, vulnerable to illusions, self-centeredness, and at times astounding stupidity.
Yet human nature has also been blessed with resources that open a space for a kind of redemption. We are endowed with the power to combine ideas recursively, to have thoughts about our thoughts. We have an instinct for language, allowing us to share the fruits of our experience and ingenuity. We are deepened with the capacity for sympathy—for pity, imagination, compassion, commiseration.
These endowments have found ways to magnify their own power. The scope of language has been augmented by the written, printed, and electronic word. Our circle of sympathy has been expanded by history, journalism, and the narrative arts. And our puny rational faculties have been multiplied by the norms and institutions of reason: intellectual curiosity, open debate, skepticism of authority and dogma, and the burden of proof to verify ideas by confronting them against reality.
As the spiral of recursive improvement gathers momentum, we eke out victories against the forces that grind us down, not least the darker parts of our own nature. We penetrate the mysteries of the cosmos, including life and mind. We live longer, suffer less, learn more, get smarter, and enjoy more small pleasures and rich experiences. Fewer of us are killed, assaulted, enslaved, oppressed, or exploited by the others. From a few oases, the territories with peace and prosperity are growing, and could someday encompass the globe. Much suffering remains, and tremendous peril. But ideas on how to reduce them have been voiced, and an infinite number of others are yet to be conceived.
We will never have a perfect world, and it would be dangerous to seek one. But there is no limit to the betterments we can attain if we continue to apply knowledge to enhance human flourishing.
This heroic story is not just another myth. Myths are fictions, but this one is true—true to the best of our knowledge, which is the only truth we can have. We believe it because we have reasons to believe it. As we learn more, we can show which parts of the story continue to be true, and which ones false—as any of them might be, and any could become.
And the story belongs not to any tribe but to all of humanity—to any sentient creature with the power of reason and the urge to persist in its being. For it requires only the convictions that life is better than death, health is better than sickness, abundance is better than want, freedom is better than coercion, happiness is better than suffering, and knowledge is better than superstition and ignorance.
—
Sounds like Dr. Pinker like Darwin was an OPTIMISTIC HUMANIST!!!
I read the book by Craig Venter called LIFE AT THE SPEED OF LIGHT: FROM THE DOUBLE HELIX TO THE DAWN OF DIGITAL LIFE and in that book on page 146 Venter wrote, "The future of biological research will be based to a great extent on the combination of computer science and synthetic biology. We can get a fascinating view of this future from a series of contests that culminate in a remarkable event that takes place each year in Cambridge, Massachusetts–A gathering of brilliant young minds that gives me great hope for the future. The International Genetically Engineered Machine (iGEM) competition invites high school and college students and entrepreneurs to shuffle a standard set of DNA subroutines into something new in a competition for a trophy…"
This statement of Dr. Venter assumes that EDUCATION IS THE ANSWER!!!
A man who has never gone to school may steal from a freight car; but if he has a university education, he may steal the whole railroad. Theodore Roosevelt
Humanity's problem is not a lack of education but a moral problem.
Did you know that all atheists are not atheists because of intellectual problems? They're atheists because of moral problems. You say, "But I know some brilliant people who are atheists." Well, that may be so, but I know some brilliant people who are not. You say, "I know some foolish people who believe in God." Well, I know everyone who doesn't believe in God is foolish.
Dr. Venter is wrong about just education being our sole problem and it certainly isn't embracing OPTIMISTIC HUMANISM.

Ricky since you are a member of the BRITISH HUMANIST ASSOCIATION I wanted you to read a statement from H.J. Blackham who is the founder of that organization. Blackham asserted:
"On humanist assumptions, life leads to nothing, and every pretense that it does not is a deceit. If there is a bridge over a gorge which spans only half the distance and ends in mid-air, and if the bridge is crowded with human beings pressing on, one after the other they fall into the abyss. The bridge leads nowhere, and those who are pressing forward to cross it are going nowhere….It does not matter where they think they are going, what preparations for the journey they may have made, how much they may be enjoying it all. The objection merely points out objectively that such a situation is a model of futility"( H. J. Blackham, et al., Objections to Humanism (Riverside, Connecticut: Greenwood Press, 1967).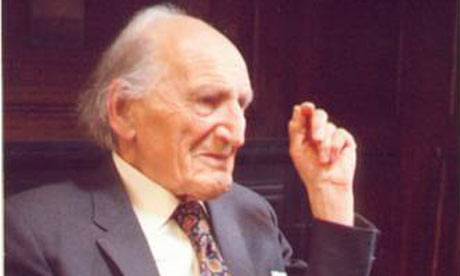 Harold J. Blackham (1903-2009) pictured above
Mark Elvin comments below (Elvin's father was founding member of British Humanist Association and friend of Harold J. Blackham)

This quote from that excellent in-depth interview with Alan Macfarlane :
I was puzzled by the fact that I was told nonsense, not just something I might not agree with, but nonsense. This was nonsense, and the contrast fascinated me and I was already about age eleven and in some way you could say someone who took as his guide Bertrand Russell's work that was accessible to me beginning with his popular essays.
On John Ankerberg's show in 1986 there was a debate between Dr. Paul Kurtz, and Dr. Norman Geisler and when part of the above quote was read, Dr. Kurtz responded:
I think you may be quoting Blackham out of context because I've heard Blackham speak, and read much of what he said, but Blackham has argued continuously that life is full of meaning;
I read THE MEANING OF HUMAN EXISTENCE by Edward O. Wilson, and I really enjoyed it. I marked up it with my yellow highlighter and wrote down many notes too. Instead of going through all those notes I just wanted to pick out what I thought was probably the most important passage and comment on that.
On page 173 you made 4 points:
(1) We were created not by a supernatural intelligence but by chance and necessity as one species out of millions of species in Earth's biosphere.
(2) Hope and wish for otherwise as we will, there is no evidence of an external grace shinning down upon us, no demonstrable destiny or purpose assigned us, no second life vouchsafed us for the end of the present one.
(3) We are, it seems, completely alone. And that is my opinion is a very good thing. It means we are completely free….
(4) They empower us to address with more confidence the greatest goal of all time, the unity of the human race.
___________
Let me respond to #2 first. Is "there is no evidence of an external grace shinning down upon us, no demonstrable destiny?" If I could demonstrate through historical evidence that the Bible is true then that would qualify as evidence that is demonstrable.
Taking a closer look at the archaeology of the Old Testament times is a good place to start! Here are some of the posts I have done in the past on the subject and you can google these subjects or click on the links: 1. The Babylonian Chronicle, of Nebuchadnezzars Siege of Jerusalem, 2. Hezekiah's Siloam Tunnel Inscription. 3. Taylor Prism (Sennacherib Hexagonal Prism), 4. Biblical Cities Attested Archaeologically. 5. The Discovery of the Hittites, 6.Shishak Smiting His Captives, 7. Moabite Stone, 8. Black Obelisk of Shalmaneser III, 9A Verification of places in Gospel of John and Book of Acts., 9B Discovery of Ebla Tablets. 10. Cyrus Cylinder, 11. Puru "The lot of Yahali" 9th Century B.C.E., 12. The Uzziah Tablet Inscription, 13. The Pilate Inscription, 14. Caiaphas Ossuary, 14 B Pontius Pilate Part 2, 14c. Three greatest American Archaeologists moved to accept Bible's accuracy through archaeology.,
CAN EVOLUTION BE PROVED WITH "LOGICALLY COHERENT EVIDENCE" LIKE THAT?
Dr. Wilson's point #3 is that since we are alone that "is a very good thing. It means we are completely free." Is Dr. Wilson saying that he finds the idea of being created by the personal God of the Bible unacceptable merely on philosophical grounds and he does prefer to think of not being responsible to a creator God? In the article, "WHY ACADEMICS EMBRACE EVOLUTION," on 2-12-09 Marylou Barry assembled these quotes from evolutionists:
"… Not because it can be proved by LOGICALLY COHERENT EVIDENCE to be true but because the only alternative, special creation, is clearly incredible," wrote the late D.M.S. Watson, chair of evolution at the University of London.
"… Materialism is an absolute, for we cannot allow a Divine Foot in the door," wrote Richard Lewontin, former professor of genetics at Harvard University.
"We objected to the morality because it interfered with our sexual freedom," the late author Aldous Huxley.
"I want atheism to be true," New York University philosophy professor Thomas Nagel elaborated, "and am made uneasy by the fact that some of the most intelligent and well-informed people I know are religious believers. It isn't just that I don't believe in God and, naturally, hope that I'm right in my belief. It's that I hope there is no God! I don't want there to be a God; I don't want the universe to be like that."
________
Dr. Wilson's point #4 is that "our greatest goal of all time, (should be) the unity of the human race." WHY DOES THE UNITY OF THE HUMAN RACE EVEN MATTER ULTIMATELY? If Dr. Wilson's assumptions about the meaningless of the universe are true then let me respond first with the words of Woody Allenfollowed by Bertrand Russell:
With no God, our true situation is hopeless. Why? Because "nothing does last." "The sun will burn out." "The universe is falling apart." "At some point there won't be anything at all."
Your stuff, your little creations, are not going to last.
When you die, not only will there be no "you," but no one or nothing is going to care (relatively speaking, in a massive sense).
Bertrand Russell is one of your heroes Ricky and here is what he wrote about mankind being the result of evolution:
That Man is the product of causes which had no prevision of the end they were achieving; that his origin, his growth, his hopes and fears, his loves and his beliefs, are but the outcome of accidental collocations of atoms; …that all the labors of the ages, all the devotion, all the inspiration, all the noonday brightness of human genius, are destined to extinction in the vast death of the solar system, and that the whole temple of Man's achievement must inevitably be buried beneath the debris of a universe in ruins—all these things, if not quite beyond dispute, are yet so nearly certain, that no philosophy which rejects them can hope to stand. Bertrand Russell
Jacques Monod – "Pure chance, absolutely free but blind, is at the root of the stupendous edifice of evolution."
Is there any positive way to spin the fact that there is no hope for a world if we only have this life only UNDER THE SUN? Some hang onto the idea that the human race may get better like Dr. Pinker! Charles Darwin wrote, "Believing as I do that man in the distant future will be a far more perfect creature than he now is…"
(Julian Huxley in 1922)
Francis Schaeffer commented in 1968:
Now you have now the birth of Julian Huxley's evolutionary optimistic humanism already stated by Darwin. Darwin now has a theory that man is going to be better. If you had lived at 1860 or 1890 and you said to Darwin, "By 1970 will man be better?" He certainly would have the hope that man would be better as Julian Huxley does today. Of course, I wonder what he would say if he lived in our day and saw what has been made of his own views in the direction of (the mass murder) Richard Speck (and deterministic thinking of today's philosophers). I wonder what he would say. So you have the factor, already the dilemma in Darwin that I pointed out in Julian Huxley and that is evolutionary optimistic humanism rests always on tomorrow. You never have an argument from the present or the past for evolutionary optimistic humanism.
You can have evolutionary nihilism on the basis of the present and the past. Every time you have someone bringing in evolutionary optimistic humanism it is always based on what is going to be produced tomorrow. When is it coming? The years pass and is it coming? Arthur Koestler doesn't think it is coming. He sees lots of problems here and puts forth for another solution.
Darwin wrote, "…it is an intolerable thought that he and all other sentient beings are doomed to complete annihilation after such long-continued slow progress. To those who fully admit the immortality of the human soul, the destruction of our world will not appear so dreadful…"
Marcel Proust seen above
Francis Schaeffer commented:
Here you feel Marcel Proust and the dust of death is on everything today because the dust of death is on everything tomorrow. Here you have the dilemma of Nevil Shute's ON THE BEACH. If it is true that all we have left is biological continuity and biological complexity, which is all we have left in Darwinism here, or in many of the modern philosophies, then you can't stand Shute's ON THE BEACH. Maybe tomorrow at noon human life may be wiped out. Darwin already feels the tension, because if human life is going to be wiped out tomorrow, what is it worth today? Darwin can't stand the thought of death of all men. Charlie Chaplin when he heard there was no life on Mars said, "I'm lonely."

I can not think of a better illustration of this in action than the movie ON THE BEACH by Nevil Shute. On May 4, 1994 I watched the movie for the first time and again I thought of the humanist who believes that history is not heading somewhere with a purpose but is guided by pure chance, absolutely free but blind. I thought of the passage Ecclesiastes 9:10-12 Whatsoever thy hand findeth to do, do it with thy might; for there is no work, nor device, nor knowledge, nor wisdom, in the grave, whither thou goest.11 I returned, and saw under the sun, that the race is not to the swift, nor the battle to the strong, neither yet bread to the wise, nor yet riches to men of understanding, nor yet favour to men of skill; but time and chance happeneth to them all.12 For man also knoweth not his time: as the fishes that are taken in an evil net, and as the birds that are caught in the snare; so are the sons of men snared in an evil time, when it falleth suddenly upon them.
Francis Schaeffer noted:
You think of the Swedish Opera (ANIARA) that is pictured inside a spaceship. There was a group of men and women going into outer space and they had come to another planet and the singing inside the spaceship was normal opera music. Suddenly there was a big explosion and the world had blown up and these were the last people left, the only conscious people left, and the last scene is the spaceship is off course and it will never land, but will just sail out into outer space.
—-
Lawrence Krauss
A while back I wrote a letter to Dr. Krauss with these words:
When I wrote you last I mentioned that I had just finished your book A UNIVERSE FROM NOTHING, and after the sermon I heard today at church I wanted to write you again because of some often quoted words of yours which I saw on a video for Big Think titled Is Xenophobia Inherent in Organized Religion?:
Religion is a negative force for humanity because … it implies things about the real world that are just not true.
I wish Dr. Krauss and other skeptics would take time to examine the Bible closely. The Bible is true from cover to cover and can be trusted. The world is not a result of blind chance, but we all were put here for a purpose by God. If you want to investigate the evidence concerning the accuracy of the Bible then I suggest you read Psalms 22 which was written about a thousand years before the crucifixion events it described. Furthermore, when King David wrote those words the practice of stoning was the primary way of executing someone in Israel.

The answer to find meaning in life is found in putting your faith and trust in Jesus Christ.
Thank you again for your time and I know how busy you are.
Sincerely,
Everette Hatcher, everettehatcher@gmail.com, http://www.thedailyhatch.org, cell ph 501-920-5733, 13900 Cottontail Lane, Alexander, AR 72002
PS: What is the meaning of life? Find it in the end of the open letter I wrote to you on April 23, 2020.
—
Below is the workforce of THE TAMBURY GAZETTE
—
Seen below is the third episode of AFTERLIFE (season 1) when Matt takes Tony to a comedy club with front row seats to cheer him up but it turns into disaster!!!
——
—-
—
Part 1 "Why have integrity in Godless Darwinian Universe where Might makes Right?"
Part 2 "My April 14, 2016 Letter to Ricky mentioned Book of Ecclesiastes and the Meaninglessness of Life"
Part 3 Letter about Brandon Burlsworth concerning suffering and pain and evil in the world. "Why didn't Jesus save her [from cancer]?" (Tony's 10 year old nephew George in episode 2)
Part 4 Letter on Solomon on Death Tony in episode one, "It should be everyone's moral duty to kill themselves."
Part 5 Letter on subject of Learning in Ecclesiastes "I don't read books of fiction but mainly science and philosophy"
Part 6 Letter on Luxuries in Ecclesiastes Part 6, The Music of AFTERLIFE (Part A)
Part 7 Letter on Labor in Ecclesiastes My Letter to Ricky on Easter in 2017 concerning Book of Ecclesiastes and the legacy of a person's life work
Part 8 Letter on Liquor in Ecclesiastes Tony's late wife Lisa told him, "Don't get drunk all the time alright? It will only make you feel worse in the log run!"
Part 9 Letter on Laughter in Ecclesiastes , I said of laughter, "It is foolishness;" and of mirth, "What does it accomplish?" Ecclesiastes 2:2
Part 10 Final letter to Ricky on Ladies in Ecclesiastes "I gathered a chorus of singers to entertain me with song, and—most exquisite of all pleasures— voluptuous maidens for my bed…behold, all was vanity and a striving after wind, and there was nothing to be gained under the sun" Ecclesiastes 2:8-11.
Part 11 Letter about Daniel Stanhope and optimistic humanism "If man has been kicked up out of that which is only impersonal by chance , then those things that make him man-hope of purpose and significance, love, motions of morality and rationality, beauty and verbal communication-are ultimately unfulfillable and thus meaningless." (Francis Schaeffer)
Part 12 Letter on how pursuit of God is only way to get Satisfaction Dan Jarrell "[In Ecclesiastes] if one seeks satisfaction they will never find it. In fact, every pleasure will be fleeting and can not be sustained, BUT IF ONE SEEKS GOD THEN ONE FINDS SATISFACTION"
Part 13 Letter to Stephen Hawking on Solomon realizing he will die just as a dog will die "For men and animals both breathe the same air, and both die. So mankind has no real advantage over the beasts; what an absurdity!" Ecclesiastes
Part 14 Letter to Stephen Hawking on 3 conclusions of humanism and Bertrand Russell destruction of optimistic humanism. "That Man is the product of causes which had no prevision of the end they were achieving; that his origin, his growth, his hopes and fears, his loves and his beliefs, are but the outcome of accidental collocations of atoms—no philosophy which rejects them can hope to stand. Only within the scaffolding of these truths, only on the firm foundation of unyielding despair, can the soul's habitation henceforth be safely built."(Bertrand Russell, Free Man's Worship)
Part 15 Letter to Stephen Hawking on Leonardo da Vinci and Solomon and Meaningless of life "I hate life. As far as I can see, what happens on earth is a bad business. It's smoke—and spitting into the wind" Ecclesiastes Book of Ecclesiastes Part 15 "I hate life. As far as I can see, what happens on earth is a bad business. It's smoke—and spitting into the wind" Ecclesiastes 2:17
Part 16 Letter to Stephen Hawking on Solomon's longing for death but still fear of death and 5 conclusions of humanism on life UNDER THE SUN. Francis Schaeffer "Life is just a series of continual and unending cycles and man is stuck in the middle of the cycle. Youth, old age, Death. Does Solomon at this point embrace nihilism? Yes!!! He exclaims that the hates life (Ecclesiastes 2:17), he longs for death (4:2-3) Yet he stills has a fear of death (2:14-16)"
—
Mandeep Dhillon as Sandy on her first assignment in 'After Life'. (Twitter)
A still from 'After Life' that captures the vibe of the Tambury Gazette. (Twitter)
Michael Scott of THE OFFICE (USA) with Ricky Gervais
After Life on Netflix stars Ricky Gervais as a bereaved husband (Image: Netflix)
—-
Psychiatrist played by Paul Kaye seen below.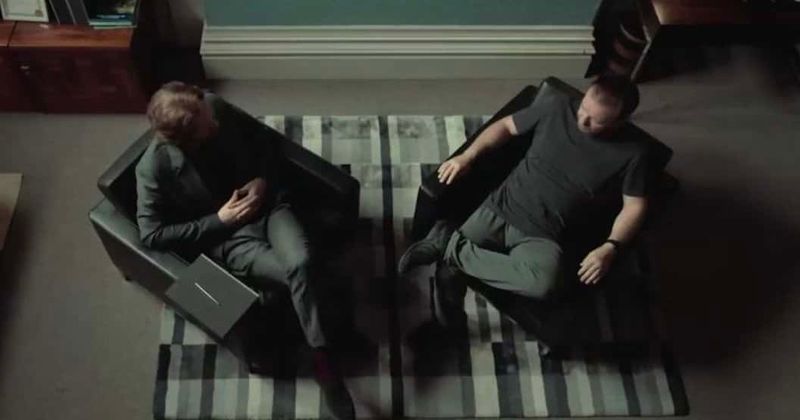 —
Tony Johnson with his dog Brandi seen below:
—-
Related posts:
I have gone back and forth and back and forth with many liberals on the Arkansas Times Blog on many issues such as abortion, human rights, welfare, poverty, gun control and issues dealing with popular culture. Here is another exchange I had with them a while back. My username at the Ark Times Blog is Saline […]By Everette Hatcher III | Posted in Biblical Archaeology, Francis Schaeffer, Prolife | Edit|Comments (0)
I have posted many of the sermons by John MacArthur. He is a great bible teacher and this sermon below is another great message. His series on the Book of Proverbs was outstanding too. I also have posted several of the visits MacArthur made to Larry King's Show. One of two most popular posts I […]By Everette Hatcher III | Posted in Adrian Rogers, Current Events | Edit|Comments (0)
I have posted many of the sermons by John MacArthur. He is a great bible teacher and this sermon below is another great message. His series on the Book of Proverbs was outstanding too. I also have posted several of the visits MacArthur made to Larry King's Show. One of two most popular posts I […]By Everette Hatcher III | Posted in Adrian Rogers, Current Events |Tagged Bible Prophecy, john macarthur | Edit|Comments (0)
Prophecy–The Biblical Prophesy About Tyre.mp4 Uploaded by TruthIsLife7 on Dec 5, 2010 A short summary of the prophecy about Tyre and it's precise fulfillment. Go to this link and watch the whole series for the amazing fulfillment from secular sources. http://www.youtube.com/watch?v=qvt4mDZUefo________________ John MacArthur on the amazing fulfilled prophecy on Tyre and how it was fulfilled […]By Everette Hatcher III | Posted in Biblical Archaeology | Edit|Comments (1)
John MacArthur on the Bible and Science (Part 2) I have posted many of the sermons by John MacArthur. He is a great bible teacher and this sermon below is another great message. His series on the Book of Proverbs was outstanding too. I also have posted several of the visits MacArthur made to Larry […]By Everette Hatcher III | Posted in Current Events | Edit|Comments (0)
John MacArthur on the Bible and Science (Part 1) I have posted many of the sermons by John MacArthur. He is a great bible teacher and this sermon below is another great message. His series on the Book of Proverbs was outstanding too. I also have posted several of the visits MacArthur made to Larry […]By Everette Hatcher III | Posted in Current Events | Edit|Comments (0)
Adrian Rogers – How you can be certain the Bible is the word of God Great article by Adrian Rogers. What evidence is there that the Bible is in fact God's Word? I want to give you five reasons to affirm the Bible is the Word of God. First, I believe the Bible is the […]By Everette Hatcher III | Posted in Adrian Rogers, Biblical Archaeology | Edit|Comments (0)
Is there any evidence the Bible is true? Articles By PleaseConvinceMe Apologetics Radio The Old Testament is Filled with Fulfilled Prophecy Jim Wallace A Simple Litmus Test There are many ways to verify the reliability of scripture from both internal evidences of transmission and agreement, to external confirmation through archeology and science. But perhaps the […]By Everette Hatcher III | Posted in Biblical Archaeology, Current Events | Edit|Comments (0)
I have gone back and forth and back and forth with many liberals on the Arkansas Times Blog on many issues such as abortion, human rights, welfare, poverty, gun control and issues dealing with popular culture. Here is another exchange I had with them a while back. My username at the Ark Times Blog is […]By Everette Hatcher III | Posted in Francis Schaeffer, Prolife | Edit|Comments (0)
Here is some very convincing evidence that points to the view that the Bible is historically accurate. Archaeological and External Evidence for the Bible Archeology consistently confirms the Bible! Archaeology and the Old Testament Ebla tablets—discovered in 1970s in Northern Syria. Documents written on clay tablets from around 2300 B.C. demonstrate that personal and place […]By Everette Hatcher III | Posted in Biblical Archaeology | E
—
Francis Schaeffer "The Age of NONREASON"
—
——-
—
—-
—

—-
—-
—
—-
—
—
—
—
—



—-
—-
—
—-
—-