_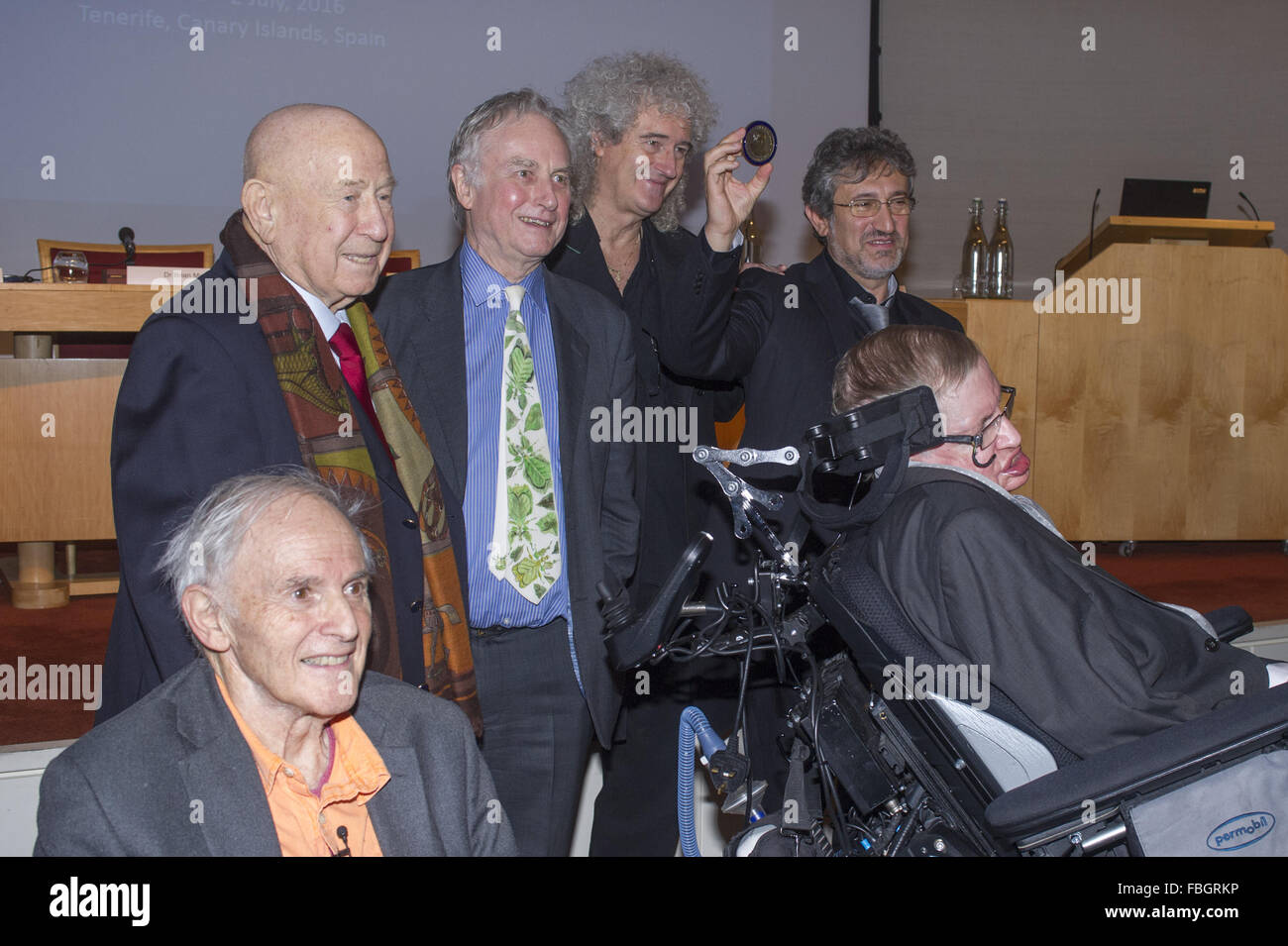 STARMUS panel announces ground-breaking Stephen Hawking Medals for Science Communication at the The Royal Society Featuring: Professor Sir Harry Kroto, Alexei Leonov, Dr Richard Dawkins, Dr Brian May, Professor Stephen Hawking, Professor Garik Israelian 
__
On November 21, 2014 I received a letter from Nobel Laureate Harry Kroto and it said:
…Please click on this URL http://vimeo.com/26991975
and you will hear what far smarter people than I have to say on this matter. I agree with them.
Harry Kroto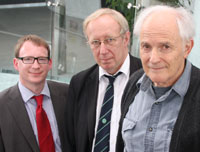 Nick Gathergood, David-Birkett, Harry-Kroto
I have attempted to respond to all of Dr. Kroto's friends arguments and I have posted my responses one per week for over a year now. Here are some of my earlier posts:
Arif Ahmed, Sir David Attenborough, Mark Balaguer, Horace Barlow, Michael Bate, Patricia Churchland, Aaron Ciechanover, Noam Chomsky,Alan Dershowitz, Hubert Dreyfus, Bart Ehrman, Stephan Feuchtwang, David Friend, Riccardo Giacconi, Ivar Giaever , Roy Glauber, Rebecca Goldstein, David J. Gross, Brian Greene, Susan Greenfield, Stephen F Gudeman, Alan Guth, Jonathan Haidt, Theodor W. Hänsch, Brian Harrison, Hermann Hauser, Roald Hoffmann, Bruce Hood, Herbert Huppert, Gareth Stedman Jones, Steve Jones, Shelly Kagan, Michio Kaku, Stuart Kauffman, Lawrence Krauss, Harry Kroto, George Lakoff, Elizabeth Loftus, Alan Macfarlane, Peter Millican, Marvin Minsky, Leonard Mlodinow, Yujin Nagasawa, Alva Noe, Douglas Osheroff, Jonathan Parry, Saul Perlmutter, Herman Philipse, Carolyn Porco, Robert M. Price, Lisa Randall, Lord Martin Rees, Oliver Sacks, John Searle, Marcus du Sautoy, Simon Schaffer, J. L. Schellenberg, Lee Silver, Peter Singer, Walter Sinnott-Armstrong, Ronald de Sousa, Victor Stenger, Barry Supple, Leonard Susskind, Raymond Tallis, Neil deGrasse Tyson, .Alexander Vilenkin, Sir John Walker, Frank Wilczek, Steven Weinberg, and Lewis Wolpert,
In the first video below in the 15th clip in this series are his words and my response is below them.
50 Renowned Academics Speaking About God (Part 1)
Another 50 Renowned Academics Speaking About God (Part 2)
A Further 50 Renowned Academics Speaking About God (Part 3)
_________________________________
In the popular You Tube video "Renowned Academics Speaking About God" you made the following statement:
"M-Theory doesn't disprove God, but it does make him unnecessary. It predicts that the universe will be spontaneously created out of nothing without the need for a creator." –Stephen Hawking, Cambridge theoretical physicist
Earlier I responded to Dr. Hawking's assertion.
My 8-31-16 letter to Stephen Hawking
Antony Flew pictured above
Francis Schaeffer pictured above
Adrian Rogers above
__
George Wald (1906-1997) winner of 1967 Nobel Prize for Chemistry
______
Louis Pasteur pictured above
___
8-31-16
Dr. Stephen Hawking, c/o Centre for Theoretical Cosmology
Department of Applied Mathematics and Theoretical Physics
Centre for Mathematical Sciences
Wilberforce Road, Cambridge
CB3 0WA, UK
Dear Dr. Hawking,
I am enjoying your book THE GRAND DESIGN and I wanted to comment on it. In the fourth chapter you wrote, "Though that is distasteful to some, scientists must accept theories that agree with experiment, not their own preconceived notions. What science does demand of a theory is that it be testable."
I COULDN'T AGREE MORE AND I WANTED TO RELATE A STORY TO YOU CONCERNING MY PERSONAL CORRESPONDENCE WITH GEORGE WALD ON THIS VERY POINT. Wald even said that even though spontaneous generation was scientifically disproved one hundred years ago he still believed it happened even though experiments had shown the opposite!!! WHERE DO YOU STAND ON THIS ISSUE?
Antony Flew wrote in his book, THERE IS A GOD: How the World's Most Notorious Atheist Changed His Mind, p. 124 and 131:
"The latest work I have seen shows that the present physicists' view of the age of the universe gives too little time for these theories of abiogenesis [life from nonlife] to get the job done…How can a universe of mindless matter produce beings with intrinsic ends, self-replication capabilities, and 'coded chemistry'?…So how do we account for the origin of life? The Nobel Prize-winning physiologist George Wald once famously argued that 'we choose to believe the impossible: that life arose spontaneously by chance.' In later years, he concluded that a preexisting mind, which he posits as the matrix of physical reality, composed a physical universe that breeds life: 'the stuff of which physical reality is constructed is mind-stuff. It is mind that has composed a physical universe that breeds life…' The only satisfactory explanation for the origin of such 'end-directed, self-replicating' life as we see on earth is an infinitely intelligent Mind."
During the 1990′s I actually made it a practice to write famous atheists and scientists that were mentioned by Adrian Rogers and Francis Schaeffer and challenge them with the evidence for the Bible's historicity and the claims of the gospel. Usually I would send them a cassette tape of Adrian Rogers' messages "6 reasons I know the Bible is True," "The Final Judgement," "Who is Jesus?" and the message by Bill Elliff, "How to get a pure heart." I would also send them printed material from the works of FRANCIS SCHAEFFER and a personal apologetic letter from me addressing some of the issues in their work. My second cassette tape that I sent to both Antony Flew and George Wald was Adrian Rogers' sermon on evolution.
I think that Antony Flew may have pondered this quote from George Wald which was in Adrian Rogers' sermon.
Dr. George Wald of Harvard:
"When it comes to the origin of life, we have only two possibilities as to how life arose. One is spontaneous generation arising to evolution; the other is a supernatural creative act of God. There is no third possibility…Spontaneous generation was scientifically disproved one hundred years ago by Louis Pasteur, Spellanzani, Reddy and others. That leads us scientifically to only one possible conclusion — that life arose as a supernatural creative act of God…I will not accept that philosophically because I do not want to believe in God. Therefore, I choose to believe in that which I know is scientifically impossible, spontaneous generation arising to evolution." – Scientific American, August, 1954.
Adrian Rogers said the lack of an answer for the origin of life was a big reason Rogers rejected evolution. Rogers noted, "Evolution offers no answers to the origin of life. It simply pushes the question farther back in time, back to some primordial event in space or an act of spontaneous generation in which life simply sprang from nothing."
I actually had the chance to correspond with George Wald twice before his death. He wrote me two letters and in the first one he suggested that he was just using hyperbole when he made the assertion that is quoted by Dr. Rogers. He also suggested the religion of Buddhism although he said he was not a Buddhist himself, but he thought that would be closest to the truth which he thought was atheism. This does seem to contradict what Flew says of Wald's views in the 1990's. Flew contended concerning Wald:
In later years, he concluded that a preexisting mind, which he posits as the matrix of physical reality, composed a physical universe that breeds life: 'the stuff of which physical reality is constructed is mind-stuff. It is mind that has composed a physical universe that breeds life…'
In my letters to both Wald and Flew in the 1990's I demonstrated thatthere is evidence that points to the fact that the Bible is historically true as Schaeffer pointed out in episode 5 of WHATEVER HAPPENED TO THE HUMAN RACE? There is a basis then for faith in Christ alone for our eternal hope. This link shows how to do that.
Fortunately some modern philosophers and scientists are starting to wake up and realize that materialistic chance evolution was not responsible for the origin of the universe but it was started by a Divine Mind. In fact, Antony Flew who was probably the most famous atheist of the 20th century took time to read several letters I sent him the 1990's which included much material from Francis Schaeffer and he listened to several cassette tapes I sent him from Adrian Rogers and then in 2004 he reversed his view that this world came about through evolution and he left his atheism behind and because a theist. I still have several of the letters that Dr. Flew wrote back to me and I will be posting them later on my blog at some point. One of the letters I got back in 1994 said specifically that he enjoyed listening to whole cassette tape.
The answer to find meaning in life is found in putting your faith and trust in Jesus Christ. The Bible is true from cover to cover and can be trusted.
Thanks for your time.
Sincerely,
Everette Hatcher, everettehatcher@gmail.com, http://www.thedailyhatch.org, cell ph 501-920-5733, Box 23416, LittleRock, AR 72221
________
Related posts:
The John Lennon and the Beatles really were on a long search for meaning and fulfillment in their lives just like King Solomon did in the Book of Ecclesiastes. Solomon looked into learning (1:12-18, 2:12-17), laughter, ladies, luxuries, and liquor (2:1-2, 8, 10, 11), and labor (2:4-6, 18-20). He fount that without God in the picture all […] By Everette Hatcher III | Posted in Current Events, Francis Schaeffer | Edit | Comments (0)
______________ George Harrison Swears & Insults Paul and Yoko Lucy in the Sky with Diamonds- The Beatles The Beatles: I have dedicated several posts to this series on the Beatles and I don't know when this series will end because Francis Schaeffer spent a lot of time listening to the Beatles and talking […] By Everette Hatcher III | Posted in Francis Schaeffer | Tagged Anna Margaret Rose Freeman, George Harrison, John Lennon, Paul MacCartney, Ringo Starr, Stg. Pepper's Lonely Hearts Club Band | Edit| Comments (0)
The Beatles in a press conference after their Return from the USA Uploaded on Nov 29, 2010 The Beatles in a press conference after their Return from the USA. The Beatles: I have dedicated several posts to this series on the Beatles and I don't know when this series will end because Francis […] By Everette Hatcher III | Posted in Francis Schaeffer | Tagged George Harrison, John Lennon, Paul MacCartney, Raqib Shaw, Ringo Starr | Edit | Comments (0)
__________________ Beatles 1966 Last interview I have dedicated several posts to this series on the Beatles and I don't know when this series will end because Francis Schaeffer spent a lot of time listening to the Beatles and talking and writing about them and their impact on the culture of the 1960's. In this […] By Everette Hatcher III | Posted in Francis Schaeffer | Tagged George Harrison, John Lennon, Paul MacCartney, Peter Blake, Ringo Starr | Edit | Comments (1)