–
Based on Sunday's election in Italy, the nation's next Prime Minister almost certainly will be Giorgia Meloni, which has some worried that Italy is returning to the "far right" fascism of Benito Mussolini.

From an economic perspective, though, it would be more accurate to say that Mussolini is "far left."
Or to say that he is a collectivist, which puts him in the same camp as socialists and communists.
In an article for the Independent Institute, Angelo Codevilla discussed how Mussolini began his career as a socialist activist, but ultimately was forced out of the party because of his nationalist views..
He was active in socialist circles, both Italian and international, giving speeches to workers and helping to organize strikes… He got to know Vladimir Lenin… Benito became a full-time socialist activist…as editor of its socialist newspaper. …he supported himself writing essays and editing a journal called Lotta di classe—class struggle…In 1911 the party entrusted the 28-year-old with editorship of its flagship publication, Avanti!. …He had become Italian socialism's brightest star. …In…1914…he committed socialist heresy by writing that class struggle is a bad idea because the nation is more important than social class. He called his few scattered followers fasci, bundles, of individuals. …Hence he labeled the movement "Fasci Rivoluzionari d'Azione Internazionalista" and its members "Fascisti." …the party expelled him.
In other words, Mussolini was part of the conflict between "national socialism" and "international socialism."
Both versions of socialism favored big government, but they differed in how they viewed the nation state.
And this conflict, driven in part by the events of World War I, led Mussolini to develop fascism as a distinct strain of statism.
…continuing to call himself a socialist and propagandizing his evolving blend of nationalism and socialism…Mussolini shifted to building fascism into a party. …Hegel, following Napoleon, had made patriotic worship of the scientifically administered, progressive state the political essence of modernity. Mussolini's vision of Italy followed from that. "The bureaucracy is the state," he said. …Mussolini explained, …The state personifies the country, and disciplines its several elements to its service. "Soon, we will be the state."
And he was right, at least in the sense that he and his fascists soon took over the government.
In the 1921 elections, Mussolini's Fascists had gained only .04% of the vote. But chaos reigned in the streets because of socialist, Communist, and anarchist mobs, as well as because of the perhaps 40,000 fascist squadristi (the Blackshirts) who fought them. …Mussolini organized the descent of some 30,000 squadristi on Rome to demand he be named prime minister. …the king appointed Mussolini to head a government with almost no fascists. But…Mussolini gradually dispossessed the rest. …Fascist Italy was the first country in which the elected legislature gave up its essential powers to the executive…thus establishing the modern administrative state. …Socioeconomic organization was fascism's defining feature. Only employers' and employees' organizations approved by the government were allowed. …No longer would corporations be responsible to owners.
Mussolini's fascism was different than traditional socialism in that the goal was to have the government control the economy, but not to have government take over "the means of production."
Both approaches were very hostile to free markets, of course.
I'll close with some excerpts about Italian fascism and FDR's failed New Deal.
After Franklin Roosevelt's inauguration in 1933, Mussolini's enthusiasm for likening the New Deal to fascism's political-economic order… he made clear that "the spirit of [FDR's program] resembles fascism's since, having recognized that the state is responsible for the people's economic well-being, it no longer allows economic forces to run according to their own nature." …Fascists rejoiced that FDR had forsaken liberal for corporativist principles… It could hardly have been otherwise since the essence of the National Industrial Recovery Act—the involuntary inclusion of all participants in categories of economic activity and their subjection to government-dictated prices, wages, and working conditions—was at least as detailed as those in fascism's corporate law.
Since I've written about how the New Deal (and much of modern leftism) is based on fascist economics, I obviously agree.
But I've also explained that it's better to refer to such policies as corporatist or interventionist since fascism nowadays also implies support for some of Hitler's lunatic ideas about race and conquest.
P.S. The main message of today's column is that it's silly to label Mussolini (and his political heirs) as being on the far right. But it's also true that Mussolini's nationalist approach to statism is different than the ideas advocated by Marx (and his political heirs).
Dissecting and explaining these differences is why I think the left-right ideological spectrum should be replaced by this triangle.
By the way, the top of the triangle could say "Classical Liberalism," but I used "Libertarian" so American readers would easily understand.
P.P.S. There's a "Political Compass Test" that does a good job of determining one's philosophical orientation, but it completely botches where Mussolini belongs.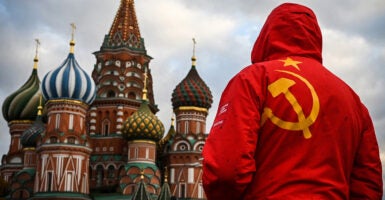 In the heart of Washington, D.C., behind the doors of a building not unlike the others with which it shares a block, lies a most visceral testament to the horrors of communism—a political ideology still all too dominant in the world today.
The new museum, from the Victims of Communism Memorial Foundation, has been in the works for many years. It opened to the public on Monday.
Entering it is like walking into a vault. Or possibly a tomb. Passing by a wall with large, embossed words reading, "REMEMBERING the victims of Communism," the space quickly darkens and narrows.
Pictures and small video screens containing images of regimes and victims alike emblazon it, evoking a somber tone. Beyond those images, on a larger screen, a six-minute film lays out the rise of Vladimir Lenin and the Soviet Union as a communist power.
The room then funnels visitors into the world of the gulag. Here, there are artifacts from the notorious Soviet prison camps, physical remnants of the millions of Russians who passed through them. In one case sits a teddy bear and next to it a "valenki"—a felt boot that shod gulag prisoners.
There's also a replica of "black bread," an oblong, charcoal-colored loaf that gulag prisoners relied on for sustenance. Small measurements show how much of a loaf would be doled out as rations to each prisoner, depending on their docility or misbehavior.
From 1934 to 1947, an estimated 10 million were sent to the camps. Another estimate puts fatalities between 1.2 million and 1.7 million from 1918 to 1956.
An informational panel explains how Josef Stalin, the longest reigning leader of the Soviet Union,intentionally used a famine to starve more than 3 million Ukrainians in 1932 and 1933. Some estimate the death toll reached 7 million.
In total, the museum estimates, more than 100 million have been killed under communist regimes in the past 100 years.
On one wall runs a film, a slideshow of simple, hand-drawn images depicting the hardship of life in gulags, prisons, and work camps from communist regimes around the world. The images were etched by the survivors. Testimonies of what other survivors witnessed while imprisoned are read aloud as the images scroll.
"Every case where [communism] has been tried, it leads to mass atrocities," Ambassador Andrew Bremberg, the president and CEO of the Victims of Communism Memorial Foundation, told me. "Truly, the worst examples of human suffering in history in terms of the most brutal, mass-murdering regimes."
A broader scope of the suffering is played out in the museum's largest space. There, a film animates the history of communism's spread across the globe, detailing which nations fell to it. In one corner, the number of fatalities under communism, as well as those subjugated by it, rolls ever upward.
Informational panels throughout the museum detail specific atrocities, such as Pol Pot's genocide of the Cambodian people, which wiped out 25% of the population of the Southeast Asian nation, and Mao Zedong's failure in collectivizing China's agriculture, resulting in a famine that killed anywhere from 20 million to 43 million people.
Juxtaposed to those are stories—written out and accompanied by photographs—of resistance to communism, ranging from peaceful demonstrations to armed uprisings: the Hungarian Revolution of 1956, the Prague Spring of 1968, and the Tiananmen Square massacre of 1989 in Beijing, to name a few.
Bremberg said that the former two examples, while lesser known, are of equal importance to Tiananmen Square.
He also cited a statistic woven throughout the museum: 1.5 billion. That's the estimated number of people still living under communism. The largest communist nation today is China, accounting for the vast majority of that number.
The Chinese Communist Party, which rules over the country, has subjugated more than 1 million Uyghur Muslims, an ethnic minority, to reeducation camps, forced sterilization and abortions, forced labor, and surveillance. It's genocide on an industrial scale.
Last year, the Victims of Communism Memorial Foundation received a series of leaked internal documents belonging to the Chinese Communist Party. The findings offer damning evidence of its coordinated efforts against the Uyghurs. You can learn more about them here.
Several nations formerly under communist control, such as Poland, also have museums recounting their own stories of existence under communism. None, however, offer a singular snapshot of its global impact like the new one in Washington.
"There's nothing like this in the world," Bremberg said. "It's extremely important to have this in our nation's capital. We have millions of tourists, particularly school groups, that come through that really need to learn this, because communism is a horrible evil."
Although research has shown that up to 1 in 3 millennials view communism favorably, Bremberg thinks it's the failure to explain the legacy of the ideology—certainly not life under such an ideology—that has given it such an appeal.
"What we're really trying to do is put the face of the victims of communism forward as a way of educating people," Bremberg said. "You can draw a pretty obvious conclusion that this is a horrible system of government."
"[It's] the scourge of the 20th century, and unfortunately still with us in the 21st century," he added. "If we want to prevent that from costing untold lives in the future, people need to learn about the crimes of communism … through the experience of its victims."
Adjacent to the museum's exit stands a wall visitors pass by before leaving. It's covered in a patchwork of portraits—the faces of those who have fought back against communism.
Amid the portraits, there are two simple words: "Remember us."
Have an opinion about this article? To sound off, please email letters@DailySignal.com and we'll consider publishing your edited remarks in our regular "We Hear You" feature. Remember to include the url or headline of the article plus your name and town and/or state.
—-
On November 21, 2014 I received a letter from Nobel Laureate Harry Kroto and it said:
…Please click on this URL http://vimeo.com/26991975
and you will hear what far smarter people than I have to say on this matter. I agree with them.
Harry Kroto
I have attempted to respond to all of Dr. Kroto's friends arguments and I have posted my responses one per week for over a year now. Here are some of my earlier posts:
Arif Ahmed, Sir David Attenborough, Mark Balaguer, Horace Barlow, Michael Bate, Patricia Churchland, Aaron Ciechanover, Noam Chomsky,Alan Dershowitz, Hubert Dreyfus, Bart Ehrman, Stephan Feuchtwang, David Friend,  Riccardo Giacconi, Ivar Giaever , Roy Glauber, Rebecca Goldstein, David J. Gross,  Brian Greene, Susan Greenfield, Stephen F Gudeman,  Alan Guth, Jonathan Haidt, Theodor W. Hänsch, Brian Harrison,  Hermann Hauser, Roald Hoffmann,  Bruce Hood, Herbert Huppert,  Gareth Stedman Jones, Steve Jones, Shelly Kagan, Michio Kaku,  Stuart Kauffman,  Lawrence Krauss, Harry Kroto, George Lakoff, Elizabeth Loftus,  Alan Macfarlane, Peter Millican, Marvin Minsky, Leonard Mlodinow,  Yujin Nagasawa, Alva Noe, Douglas Osheroff,  Jonathan Parry,  Saul Perlmutter, Herman Philipse,  Carolyn Porco, Robert M. Price, Lisa Randall, Lord Martin Rees,  Oliver Sacks, John Searle, Marcus du Sautoy, Simon Schaffer, J. L. Schellenberg,   Lee Silver,  Peter Singer,  Walter Sinnott-Armstrong, Ronald de Sousa, Victor Stenger, Barry Supple,   Leonard Susskind, Raymond Tallis, Neil deGrasse Tyson,  .Alexander Vilenkin, Sir John Walker, Frank Wilczek, Steven Weinberg, and  Lewis Wolpert,
In  the first video below in the 14th clip in this series are his words and I will be responding to them in the next few weeks since Sir Bertrand Russell is probably the most quoted skeptic of our time, unless it was someone like Carl Sagan or Antony Flew.  
50 Renowned Academics Speaking About God (Part 1)
Another 50 Renowned Academics Speaking About God (Part 2)
A Further 50 Renowned Academics Speaking About God (Part 3)
__
Quote from Bertrand Russell:
Q: Why are you not a Christian?
Russell: Because I see no evidence whatever for any of the Christian dogmas. I've examined all the stock arguments in favor of the existence of God, and none of them seem to me to be logically valid.
Q: Do you think there's a practical reason for having a religious belief, for many people?
Russell: Well, there can't be a practical reason for believing what isn't true. That's quite… at least, I rule it out as impossible. Either the thing is true, or it isn't. If it is true, you should believe it, and if it isn't, you shouldn't. And if you can't find out whether it's true or whether it isn't, you should suspend judgment. But you can't… it seems to me a fundamental dishonesty and a fundamental treachery to intellectual integrity to hold a belief because you think it's useful, and not because you think it's true.
__
Today I am not going to attack this quote above from Russell. I have done that enough in the past. Today I am going to look at Russell's notes on communism and also examine his personal meeting with Lenin. Lenin just laughed when Lenin said that it was the plan for the poor peasants to hang the peasants that were a little better well off. This comment caught Russell off guard. Russell had already noted that Lenin was a "great man." However, this embracing of violence caught Russell by surprise.
Then I will look at an examination of communism by Francis Schaeffer who will tell us why Communism ALWAYS fails to give the freedoms that it says it will and why so many young people are caught up in its idealistic promises.
"Why I am Not a Communist"
by Betrand Russell
"I am completely at a loss to understand how it came about that some people who are both humane and intelligent could find something to admire in the vast slave camp produced by Stalin."
      I n relation to any political doctrine there are two questions to be asked: (1) Are its theoretical tenets true? (2) Is its practical policy likely to increase human happiness? For my part, I think the theoretical tenets of Communism are false, and I think its practical maxims are such as to produce an immeasurable increase of human misery.

      The theoretical doctrines of Communism are for the most part derived from Marx. My objections to Marx are of two sorts: one, that he was muddle-headed; and the other, that his thinking was almost entirely inspired by hatred. The doctrine of surplus value, which is supposed to demonstrate the exploitation of wage-earners under capitalism, is arrived at: (a) by surreptitiously accepting Malthus's doctrine of population, which Marx and all his disciples explicitly repudiate; (b) by applying Ricardo's theory of value to wages, but not to the prices of manufactured articles. He is entirely satisfied with the result, not because it is in accordance with the facts or because it is logically coherent, but because it is calculated to rouse fury in wage-earners. Marx's doctrine that all historical events have been motivated by class conflicts is a rash and untrue extension to world history of certain features prominent in England and France a hundred years ago. His belief that there is a cosmic force called Dialectical Materialism which governs human history independently of human volitions, is mere mythology. His theoretical errors, however, would not have mattered so much but for the fact that, like Tertullian and Carlyle, his chief desire was to see his enemies punished, and he cared little what happened to his friends in the process.

      Marx's doctrine was bad enough, but the developments which it underwent under Lenin and Stalin made it much worse. Marx had taught that there would be a revolutionary transitional period following the victory of the proletariat in a civil war and that during this period the proletariat, in accordance with the usual practice after a civil war, would deprive its vanquished enemies of political power. This period was to be that of the dictatorship of the proletariat. It should not be forgotten that in Marx's prophetic vision the victory of the proletariat was to come after it had grown to be the vast majority of the population. The dictatorship of the proletariat therefore as conceived by Marx was not essentially anti-democratic. In the Russia of 1917, however, the proletariat was a small percentage of the population, the great majority being peasants. it was decreed that the Bolshevik party was the class-conscious part of the proletariat, and that a small committee of its leaders was the class-conscious part of the Bolshevik party. The dictatorship of the proletariat thus came to be the dictatorship of a small committee, and ultimately of one man – Stalin. As the sole class-conscious proletarian, Stalin condemned millions of peasants to death by starvation and millions of others to forced labour in concentration camps. He even went so far as to decree that the laws of heredity are henceforth to be different from what they used to be, and that the germ-plasm is to obey Soviet decrees but that that reactionary priest Mendel. I am completely at a loss to understand how it came about that some people who are both humane and intelligent could find something to admire in the vast slave camp produced by Stalin.

      I have always disagreed with Marx. My first hostile criticism of him was published in 1896. But my objections to modern Communism go deeper than my objections to Marx. It is the abandonment of democracy that I find particularly disastrous. A minority resting its powers upon the activities of secret police is bound to be cruel, oppressive and obscuarantist. The dangers of the irresponsible power cane to be generally recognized during the eighteenth and nineteenth centuries, but those who have forgotten all that was painfully learnt during the days of absolute monarchy, and have gone back to what was worst in the middle ages under the curious delusion that they were in the vanguard of progress.

      There are signs that in course of time the Russian régime will become more liberal. But, although this is possible, it is very far from certain. In the meantime, all those who value not only art and science but a sufficiency of bread and freedom from the fear that a careless word by their children to a schoolteacher may condemn them to forced labour in a Siberian wilderness, must do what lies in their power to preserve in their own countries a less servile and more prosperous manner of life.

      There are those who, oppressed by the evils of Communism, are led to the conclusion that the only effective way to combat these evils is by means of a world war. I think this a mistake. At one time such a policy might have been possible, but now war has become so terrible and Communism has become so powerful that no one can tell what would be left after a world war, and whatever might be left would probably be at least as bad as present -day Communism. This forecast does not depend upon the inevitable effects of mass destruction by means of hydrogen and cobalt bombs and perhaps of ingeniously propagated plagues. The way to combat Communism is not war. What is needed in addition to such armaments as will deter Communists from attacking the West, is a diminution of the grounds for discontent in the less prosperous parts of the non-communist world. In most of the countries of Asia, there is abject poverty which the West ought to alleviate as far as it lies in its power to do so. There is also a great bitterness which was caused by the centuries of European insolent domination in Asia. This ought to be dealt with by a combination of patient tact with dramatic announcements renouncing such relics of white domination as survive in Asia. Communism is a doctrine bred of poverty, hatred and strife. Its spread can only be arrested by diminishing the area of poverty and hatred.

from Portraits from Memory published in 1956
http://skepticva.org/excerpt-Lenin.html
Bertrand Russell on Lenin
excerpted from
LENIN, TROTSKY AND GORKY
itself an excerpt from
"The Practice and Theory of Bolshevism" By Bertrand Russell.
Webmaster's note
The last paragraph (especially) shows that Russell's atheism has nothing in common with Marxist-Leninism. It refutes the idea that the USSR is a lesson against the rejection of religion, because it had exactly the faults that mar any dogmatic belief.
Soon after my arrival in Moscow I had an hour's conversation with Lenin in English, which he speaks fairly well. An interpreter was present, but his services were scarcely required. Lenin's room is very bare; it contains a big desk, some maps on the walls, two book-cases, and one comfortable chair for visitors in addition to two or three hard chairs. It is obvious that he has no love of luxury or even comfort. He is very friendly, and apparently simple, entirely without a trace of hauteur.
If one met him without knowing who he was, one would not guess that he is possessed of great power or even that he is in any way eminent. I have never met a personage so destitute of self-importance. He looks at his visitors very closely, and screws up one eye, which seems to increase alarmingly the penetrating power of the other. He laughs a great deal; at first his laugh seems merely friendly and jolly, but gradually I came to feel it rather grim. He is dictatorial, calm, incapable of fear, extraordinarily devoid of self-seeking, an embodied theory.
The MATERIALIST conception of history, one feels, is his life-blood. He resembles a professor in his desire to have the theory understood and in his fury with those who misunderstand or disagree, as also in his love of expounding, I got the impression that he despises a great many people and is an intellectual aristocrat.
When I suggested that whatever is possible in England can be achieved without bloodshed, he waved aside the suggestion as fantastic. I got little impression of knowledge or psychological imagination as regards Great Britain. Indeed the whole tendency of Marxianism is against psychological imagination, since it attributes everything in politics to purely  MATERIAL causes.
I asked him next whether he thought it possible to establish Communism firmly and fully in a country containing such a large majority of peasants. He admitted that it was difficult, and laughed over the exchange the peasant is compelled to make, of food for paper; the worthlessness of Russian paper struck him as comic. But he said—what is no doubt true—that things will right themselves when there are goods to offer to the peasant. For this he looks partly to electrification in industry, which, he says, is a technical necessity in Russia, but will take ten years to complete. He spoke with enthusiasm, as they all do, of the great scheme for generating electrical power by means of peat. Of course he looks to the raising of the blockade as the only radical cure; but he was not very hopeful of this being achieved thoroughly or permanently except through revolutions in other countries. Peace between Bolshevik Russia and capitalist countries, he said, must always be insecure; the Entente might be led by weariness and mutual dissensions to conclude peace, but he felt convinced that the peace would be of brief duration. I found in him, as in almost all leading Communists, much less eagerness than existed in our delegation for peace and the raising of the blockade. He believes that nothing of real value can be achieved except through world revolution and the abolition of capitalism; I felt that he regarded the resumption of trade with capitalist countries as a mere palliative of doubtful value.
He described the division between rich and poor peasants, and the Government propaganda among the latter against the former, leading to acts of violence which he seemed to find amusing. He spoke as though the dictatorship over the peasant would have to continue a long time, because of the peasant's desire for free trade. He said he knew from statistics (what I can well believe) that the peasants have had more to eat these last two years than they ever had before, "and yet they are against us," he added a little wistfully. I asked him what to reply to critics who say that in the country he has merely created peasant proprietorship, not Communism; he replied that that is not quite the truth, but he did not say what the truth is.
The last question I asked him was whether resumption of trade with capitalist countries, if it took place, would not create centres of capitalist influence, and make the preservation of Communism more difficult? It had seemed to me that the more ardent Communists might well dread commercial intercourse with the outer world, as leading to an infiltration of heresy, and making the rigidity of the present system almost impossible. I wished to know whether he had such a feeling. He admitted that trade would create difficulties, but said they would be less than those of the war. He said that two years ago neither he nor his colleagues thought they could survive against the hostility of the world. He attributes their survival to the jealousies and divergent interests of the different capitalist nations; also to the power of Bolshevik propaganda. He said the Germans had laughed when the Bolsheviks proposed to combat guns with leaflets, but that the event had proved the leaflets quite as powerful. I do not think he recognizes that the Labour and Socialist parties have had any part in the matter. He does not seem to know that the attitude of British Labour has done a great deal to make a first-class war against Russia impossible, since it has confined the Government to what could be done in a hole-and-corner way, and denied without a too blatant mendacity.
I think if I had met him without knowing who he was, I should not have guessed that he was a great man; he struck me as too opinionated and narrowly orthodox. His strength comes, I imagine, from his honesty, courage, and unwavering faith—religious faith in the Marxian gospel, which takes the place of the Christian martyr's hopes of Paradise, except that it is less egotistical. He has as little love of liberty as the Christians who suffered under Diocletian, and retaliated when they acquired power. Perhaps love of liberty is incompatible with whole-hearted belief in a panacea for all human ills. If so, I cannot but rejoice in the sceptical temper of the Western world.
I went to Russia a Communist; but contact with those who have no doubts has intensified a thousandfold my own doubts, not as to Communism in itself, but as to the wisdom of holding a creed so firmly that for its sake men are willing to inflict widespread misery.
"When I met Lenin, I had much less impression of a great man than I had expected; my most vivid impressions were of Mongolian cruelty and bigotry. When I put a question to him about socialism in agriculture, he explained with glee how he had incited the poorer peasants against the richer ones, 'and they soon hanged them from the nearest tree—ha! ha! ha!' His guffaw at the thought of those massacred made my blood run cold."
Bertrand Russell, "Eminent Men I Have Known" (courtesy of Richard Brookhiser)
_
_
Communism catches the attention of the young at heart but it has always brought repression wherever it is tried. "True Communism has never been tried" is something I was told just a few months ago by a well meaning young person who was impressed with the ideas of Karl Marx. I responded that there are only 5 communist countries in the world today and they lack political, economic and religious freedom.
Hope in Marxism-Leninism is a leap in the area of nonreason. From the Russian Revolution until 1959 a total of 66 million prisoners died. This was deemed acceptable to the leaders because internal security was to be gained at any cost. The ends justified the means. The materialism of Marxism gives no basis for human dignity or rights. These hold to their philosophy against all reason and close their eyes to the oppression of the system.
#02 How Should We Then Live? (Promo Clip) Dr. Francis Schaeffer
WHY DOES COMMUNISM FAIL?
Communism has always failed because of its materialist base.  Francis Schaeffer does a great job of showing that in this clip below. Also Schaeffer shows that there were lots of similar things about the basis for both the French and Russia revolutions and he exposes the materialist and humanist basis of both revolutions.
Schaeffer compares communism with French Revolution and Napoleon.
1. Lenin took charge in Russia much as Napoleon took charge in France – when people get desperate enough, they'll take a dictator.
Other examples: Hitler, Julius Caesar. It could happen again.
2. Communism is very repressive, stifling political and artistic freedom. Even allies have to be coerced. (Poland).
Communists say repression is temporary until utopia can be reached – yet there is no evidence of progress in that direction. Dictatorship appears to be permanent.
3. No ultimate basis for morality (right and wrong) – materialist base of communism is just as humanistic as French. Only have "arbitrary absolutes" no final basis for right and wrong.
How is Christianity different from both French Revolution and Communism?
Contrast N.T. Christianity – very positive government reform and great strides against injustice. (especially under Wesleyan revival).
Bible gives absolutes – standards of right and wrong. It shows the problems and why they exist (man's fall and rebellion against God).
WHY DOES THE IDEA OF COMMUNISM CATCH THE ATTENTION OF SO MANY IDEALISTIC YOUNG PEOPLE? The reason is very simple. 
In HOW SHOULD WE THEN LIVE? The Rise and Decline of Western Thought and Culture, the late Francis A. Schaeffer wrote:
Materialism, the philosophic base for Marxist-Leninism, gives no basis for the dignity or rights of man.  Where Marxist-Leninism is not in power it attracts and converts by talking much of dignity and rights, but its materialistic base gives no basis for the dignity or rights of man.  Yet is attracts by its constant talk of idealism.
To understand this phenomenon we must understand that Marx reached over to that for which Christianity does give a base–the dignity of man–and took the words as words of his own.  The only understanding of idealistic sounding Marxist-Leninism is that it is (in this sense) a Christian heresy.  Not having the Christian base, until it comes to power it uses the words for which Christianity does give a base.  But wherever Marxist-Leninism has had power, it has at no place in history shown where it has not brought forth oppression.  As soon as they have had the power, the desire of the majority has become a concept without meaning.
Is Christianity at all like Communism?
Sometimes Communism sounds very "Christian" – desirable goals of equality, justice, etc but these terms are just borrowed from the New Testament. Schaeffer elsewhere explains by saying Marxism is a Christian heresy.
Below is a great article. Free-lance columnist Bradley R. Gitz, who lives and teaches in Batesville, received his Ph.D. in political science from the University of Illinois.
This article was published January 30, 2011 at 2:28 a.m. Here is a portion of that article below:
A final advantage is the mutation of socialism into so many variants over the past century or so. Precisely because Karl Marx was unclear as to how it would work in practice, socialism has always been something of an empty vessel into which would be revolutionaries seeking personal meaning and utopian causes to support can pour pretty much anything.
A desire to increase state power, soak the rich and expand the welfare state is about all that is left of the original vision. Socialism for young lefties these days means "social justice" and compassion for the poor, not the gulag and the NKVD.
In the end, the one argument that will never wash is that communismcan't be said to have failed because it was never actually tried. This is a transparent intellectual dodge that ignores the fact that "people's democracies" were established all over the place in the first three decades after World War II.
Such sophistry is resorted to only because communism in all of those places produced hell on earth rather than heaven.
That the attempts to build communism in a remarkable variety of different geographical regions led to only tyranny and mass bloodshed tells us only that it was never feasible in the first place, and that societies built on the socialist principle ironically suffer from the kind of "inner contradictions" that Marx mistakenly predicted would destroy capitalism.
Yes, all economies are mixed in nature, and one could plausibly argue that the socialist impulse took the rough edges off of capitalism by sponsoring the creation of welfare-state programs that command considerable public support.
But the fact remains that no society in history has been able to achieve sustained prosperity without respect for private property and market forces of supply and demand. Nations, therefore, retain their economic dynamism only to the extent that they resist the temptation to travel too far down the socialist road.
#02 How Should We Then Live? (Promo Clip) Dr. Francis Schaeffer
Francis Schaeffer notes:
At Berkeley the Free Speech Movement arose simultaneously with the hippie world of drugs. At first it was politically neither left nor right, but rather a call for the freedom to express any political views on Sproul Plaza. Then soon the Free Speech Movement became the Dirty Speech Movement, in which freedom was seen as shouting four-letter words into a mike.  Soon after, it became the platform for the political New Left which followed the teaching of Herbert Marcuse. Marcuse was a German professor of philosophy related to the neo-Marxist teaching of the "Frankfurt School," along with...Jurgen Habermas (1929-). 
Herbert Marcuse, "Liberation from the Affluent Society" (1967)
Brannon Howse talks some about the Frankfurt School in some of his publications too. 
During the 1960's many young people were turning to the New Left fueled by Marcuse and Habermas but something happened to slow many young people's enthusiasm for that movement.
1970 bombing took away righteous standing of Anti-War movement
Francis Schaeffer mentioned the 1970 bombing in his film series "How should we then live?" and I wanted to give some more history on it. Schaeffer asserted:
In the United States the New Left also slowly ground down,losing favor because of the excesses of the bombings, especially in the bombing of the University of Wisconsin lab in 1970, where a graduate student was killed. This was not the last bomb that was or will be planted in the United States. Hard-core groups of radicals still remain and are active, and could become more active, but the violence which the New Left produced as its natural heritage (as it also had in Europe) caused the majority of young people in the United States no longer to see it as a hope. So some young people began in 1964 to challenge the false values of personal peace and affluence, and we must admire them for this. Humanism, man beginning only from himself, had destroyed the old basis of values, and could find no way to generate with certainty any new values.  In the resulting vacuum the impoverished values of personal peace and affluence had comes to stand supreme. And now, for the majority of the young people, after the passing of the false hopes of drugs as an ideology and the fading of the New Left, what remained? Only apathy was left. In the United States by the beginning of the seventies, apathy was almost complete. In contrast to the political activists of the sixties, not many of the young even went to the polls to vote, even though the national voting age was lowered to eighteen. Hope was gone.
After the turmoil of the sixties, many people thought that it was so much the better when the universities quieted down in the early seventies. I could have wept. The young people had been right in their analysis, though wrong in their solutions. How much worse when many gave up hope and simply accepted the same values as their parents–personal peace and affluence. (How Should We Then Live, pp. 209-210
______________________
Aug. 24 marked the 41st anniversary of the Sterling Hall bombing on the University of Wisconsin-Madison campus.
Four men planned the bomb at the height of the student protests over the Vietnam War. Back then, current Madison Mayor Paul Soglin was one of the leaders of those student protests in the capitol city. This weekend, Soglin recalled the unrest felt by UW-Madison students.
"The anti-war movement adopted a lot of its tactics and strategies from the civil rights movement which was about ten years older," said Soglin. "It was one of picketing, demonstration, and passive resistance."
The four men who planned the bombing focused on the Army Mathematics Research Center housed in Sterling Hall because it was funded by the U.S. Department of Defense and therefore, worked on weapons technology. Karl Armstrong was one of the four men and he recently spoke with CBS News in his first television interview detailing the moments right before the bomb was set off.
"He asked me, he says, 'Should we go ahead? Are we gonna do this?' I think I made a comment to him about something like, 'Now, I know what war is about,'" remembered Armstrong. "And I told him to light it."
The bomb killed one researcher and father of three, 33-year-old Robert Fassnacht, although Armstrong maintains they planned the attack thinking no one would get hurt. The four men heard about the death as they were in their getaway car after the bomb went off.
"I felt good about doing the bombing, the bombing per se, but not taking someone's life," recalled Armstrong.
The researcher's wife told CBS News that she harbors no ill will toward Armstrong and the other bombers. Three of the four men were captured and served time in prison. Armstrong served eight years of a 23-year sentence.
The fourth man, Leo Burt, was last seen in the fall of 1970 in Ontario and is to this day, still wanted by the FBI, with a $150,000 reward for his capture.
Related posts: