—
23 1-3 When dining with a rich man,[a] be on your guard and don't stuff yourself, though it all tastes so good; for he is trying to bribe you, and no good is going to come of his invitation.
4-5 Don't weary yourself trying to get rich. Why waste your time? For riches can disappear as though they had the wings of a bird!
6-8 Don't associate with evil men; don't long for their favors and gifts. Their kindness is a trick; they want to use you as their pawn. The delicious food they serve will turn sour in your stomach, and you will vomit it and have to take back your words of appreciation for their "kindness."
9 Don't waste your breath on a rebel. He will despise the wisest advice.
10-11 Don't steal the land of defenseless orphans by moving their ancient boundary marks, for their Redeemer is strong; he himself will accuse you.
12 Don't refuse to accept criticism; get all the help[b] you can.
13-14 Don't fail to correct your children; discipline won't hurt them! They won't die if you use a stick on them! Punishment will keep them out of hell.
15-16 My son, how I will rejoice if you become a man of common sense. Yes, my heart will thrill to your thoughtful, wise words.
17-18 Don't envy evil men but continue to reverence the Lord all the time, for surely you have a wonderful future ahead of you. There is hope for you yet!
19-21 O my son, be wise and stay in God's paths; don't carouse with drunkards and gluttons, for they are on their way to poverty. And remember that too much sleep clothes a man with rags. 22 Listen to your father's advice and don't despise an old mother's experience. 23 Get the facts at any price, and hold on tightly to all the good sense you can get. 24-25 The father of a godly man has cause for joy—what pleasure a wise son is! So give your parents joy!
26-28 O my son, trust my advice—stay away from prostitutes. For a prostitute is a deep and narrow grave. Like a robber, she waits for her victims as one after another become unfaithful to their wives.
29-30 Whose heart is filled with anguish and sorrow? Who is always fighting and quarreling? Who is the man with bloodshot eyes and many wounds? It is the one who spends long hours in the taverns, trying out new mixtures. 31 Don't let the sparkle and the smooth taste of strong wine deceive you. 32 For in the end it bites like a poisonous serpent; it stings like an adder. 33 You will see hallucinations and have delirium tremens, and you will say foolish, silly things that would embarrass you no end when sober. 34 You will stagger like a sailor tossed at sea, clinging to a swaying mast. 35 And afterwards you will say, "I didn't even know it when they beat me up. . . . Let's go and have another drink!"
—
I started this series on my letters and postcards to Hugh Hefner back in September when I read of the passing of Mr. Hefner. There are many more to come. It is my view that he may have taken time to look at glance at one or two of them since these postcards were short and from one of Hef's favorite cities!!!!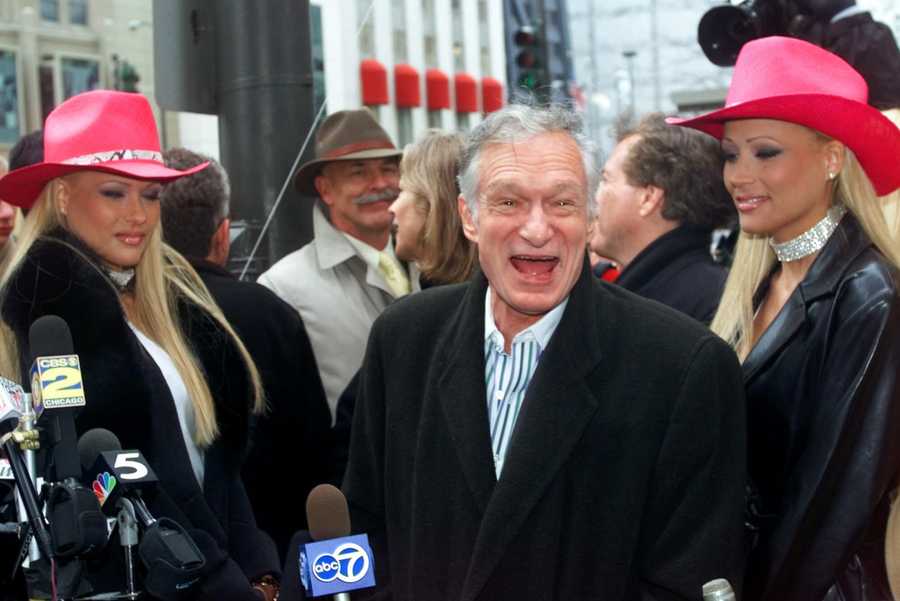 POSTCARD FROM NEW ORLEANS:
Feb 23, 2017
Feb 23, 2017
Hugh Hefner
Playboy Mansion
Dear Hugh,
Today is
February 23
and I'm reading Proverbs chapter 23:
-28
A whore is a bottomless pit;
a loose woman can get you in deep trouble fast.
She'll take you for all you've got;
she's worse than a pack of thieves.
__
29-35 Who are the people who are always crying the blues?
Who do you know who reeks of self-pity?
Who keeps getting beat up for no reason at all?
Whose eyes are bleary and bloodshot?
It's those who spend the night with a bottle,
for whom drinking is serious business.
Don't judge wine by its label,
or its bouquet, or its full-bodied flavor.
Judge it rather by the hangover it leaves you with—
the splitting headache, the queasy stomach.
Do you really prefer seeing double,
with your speech all slurred,
Reeling and seasick,
drunk as a sailor?
"They hit me," you'll say, "but it didn't hurt;
they beat on me, but I didn't feel a thing.
When I'm sober enough to manage it,
bring me another drink!"
King Solomon in the Book of Proverbs takes a long look at the 6 L words and LIQUOR and LADIES are two of those words he looked into in the Book of Ecclesiastes!!!!
He looked into learning (1:16-18), laughter, ladies, luxuries, and liquor (2:1-3, 8, 10, 11), and labor (2:4-6, 18-20).
ECCLESIASTES 2:1-3, 8, 10, 11 LAUGHTER (v. 2), LIQUOR (v. 3), LUXURIES (v. 8), and LADIES (v. 8, "many concubines")
v. 1 I said in my heart, "Come now, I will test you with pleasure; enjoy yourself." But behold, this also was vanity.[i] 2 I said of laughter, "It is mad," and of pleasure, "What use is it?" 3 I searched with my heart how to cheer my body with wine—my heart still guiding me with wisdom—and how to lay hold on folly, till I might see what was good for the children of man to do under heaven during the few days of their life.
v. 8 I also gathered for myself silver and gold and the treasure of kings and provinces. I got singers, both men and women, and many concubines,[j] the delight of the sons of man. v 10-11 And whatever my eyes desired I did not keep from them. I kept my heart from no pleasure, for my heart found pleasure in all my toil, and this was my reward for all my toil. 11 Then I considered all that my hands had done and the toil I had expended in doing it, and behold, all was vanity and a striving after wind, and there was nothing to be gained under the sun.
Solomon's experiment was a search for meaning to life "under the sun." Then in last few words in the Book of Ecclesiastes he looks above the sun and brings God back into the picture: "The conclusion, when all has been heard, is: Fear God and keep His commandments, because this applies to every person. For God will bring every act to judgment, everything which is hidden, whether it is good or evil."
There is hope!!! Check out John
3:16
!!!
Best wishes,
Everette Hatcher
Xxxxx
I wrote to Hefner in an earlier letter these words:
Francis Schaeffer observed concerning Solomon, "You can not know woman by knowing 1000 women."
_______
Hugh Hefner looks back on life as a Playboy
So let's put together the pieces of the Hugh Hefner puzzle that was at the heart of this week's "Crossroads" podcast (click here to tune that in), which grew out of my earlier GetReligion post, "The crucial 'M' word — Methodist – that needed to be in every Hugh Hefner obituary."
This is a journalism puzzle, but one rooted in theology.
Start with Hugh Hefner's frequent references to his Puritan heritage (with a large "P" and a small "p"). Then you add the details of Methodist faith in which he was raised, in the conservative Midwest of the late 1940s and '50s. We need more than the word "strict."
Then you add the remarkable detail that Hefner was a virgin on his wedding day (with the help, he stressed, of lots of foreplay). In other words, young Hefner thought that true love waits. Ponder that.
Only he learned, as a married man, that his fiance had not waited. She had been unfaithful while he was away in the Army. In its lengthy Hefner obituary, The New York Times noted:
A virgin until he was 22, he married his longtime girlfriend. Her confession to an earlier affair, Mr. Hefner told an interviewer almost 50 years later, was "the single most devastating experience of my life."
The Los Angeles Times added, literally, the doctrinal fallout from this event, in terms of the moral theology written into the Playboy philosophy.
Years later he said the experience set him up for a lifetime of promiscuity because "if you don't commit," he told The Times in 1994, "you don't get hurt." He said it also showed him what was wrong with traditional attitudes towards sex: "Thinking sex is sacred is the first step toward really turning it into something very ugly," he said on another occasion.
Put all that together and you have what? Is this a "secular" story, as in a story devoid of faith content and issues? You can make a case that the old Hefner, after this crushing blow during his first marriage, died and then he sought escape from his past, seeking to rise again as a new and changed man – the ultimate playboy.
One more thing: Is it a "secular" story that Hefner openly stated that his goal in life was to knock down centuries of Judeo-Christian teachings on sexuality?
What's my point? There are all kinds of newsworthy subjects linked to Hefner's gospel of sex and trendy consumerism.
One of the biggest subjects – for modern religious groups – is the omnipresent role that porn plays in the lives of legions of men, including those in pews and pulpits. The statistics are stunning. Check out this Christianity Today feature – "Porn and the new normal" – on this side of Hefner's legacy. At the same time, divorce culture looms over the lives of millions of children and, often, the church is afraid to address this reality.
However, I remain fascinated ("haunted" might be a better word) with that stunning, soul-shattering twist that took place when the young Hefner learned his wife had been unfaithful during their engagement.
So far, I have found only one newspaper story focusing on that angle – The Sun over in the U.K. Frankly, I'd kind of like to see the subject addressed in a non-tabloid (think Page 3 girls) format. Still the facts are strong, even presented in this format:
It was the betrayal a young Hefner suffered at the hands of his first wife that marked his formative years and one that he went on to describe as "the most devastating moment" of his life.
He married Mildred Williams in 1949 in the belief the pair had 'saved themselves' for one another. The couple had met at college in the mid 40s.
Little did Chicago-born Hefner know that his beloved Milly had slept with another man while her beau served in the US military during the Second World War.
Explaining his heartbreak, he said: "I think the relationship was probably held together by two years of foreplay.
"That wasn't unusual for our time. In fact, most of my immediate friends didn't have sex until they married. Milly and I had it just before. I had literally saved myself for my wife, but after we had sex she told me that she'd had an affair. That was the most devastating moment in my life.
"My wife was more sexually experienced than I was. After that, I always felt in a sense that the other guy was in bed with us, too."
Hefner was determined to change the rules after that, through the birth of Playboy magazine. Meanwhile, the Hefners divorced in 1959, with two children – Christie and David.
There was no looking back after that, at least not that Hefner talked about. The old faith was gone and he dedicated his life to a new one.
Is that a secular story?
These comments below are from Francis Schaeffer' study on Ecclesiastes and they reminded me of Hugh Hefner who was the closest person to a modern day King Solomon:
In Ecclesiastes 1:8 he drives this home when he states, "All things are wearisome; Man is not able to tell it. The eye is not satisfied with seeing, Nor is the ear filled with hearing." Solomon is stating here the fact that there is no final satisfaction because you don't get to the end of the thing. THERE IS NO FINAL SATISFACTION. This is related to Leonardo da Vinci's similar search for universals and then meaning in life.
In Ecclesiastes 5:11 Solomon again pursues this theme, "When good things increase, those who consume them increase. So what is the advantage to their owners except to look on?" Doesn't that sound modern? It is as modern as this evening. Solomon here is stating the fact there is no reaching completion in anything and this is the reason there is no final satisfaction. There is simply no place to stop. It is impossible when laying up wealth for oneself when to stop. It is impossible to have the satisfaction of completion.
_____
Hefner experienced great success with his PLAYBOY MAGAZINE, but the fame, fortune, and ladies that came with it did not give Hefner ultimate satisfaction.
He was the ultimate ladies' man but sadly never found The One
Hugh Hefner was, without a doubt, the ULTIMATE ladies' man.
But after years of looking for love in all the wrong places, the Playboy founder admitted that he never found his soulmate.
Despite three marriages and forever being surrounded by a bevy of bikini-clad Playboy bunnies, poor Hef never really knew true love.
The publishing magnate died of natural causes on Wednesday at the age of 91, surrounded by his loved ones at the Playboy mansion.
But back in 1992, he told the New York Times: "I've spent so much of my life looking for love in all the wrong places."
And then at age 85, he said: "I never really found my soulmate."
Hef married three times: his college sweetheart Mildred Williams in 1949, Playmate Kimberley Conrad in 1989, and Crystal Harris – 61 years his junior – in 2012.
And aside from that, he's bragged about bedding more than 1,000 women.
It's even been claimed that he had his pick of the bunnies living at his mansion every night, and he was known to regularly have multiple girlfriends at the same time.
________
Hefner was married with kids twice and both times he left the marriages and embraced the playboy lifestyle.
_
__
Related posts: