Looking back on his life as a Beatle Paul  said at a  certain age you start to think "Wow, I have to get serious. I can't just be a playboy all of my life." It is true that the Beatles wrote a lot about girls!!!!!!
Although the Beatles started off in the early 1960's wanting to hold a girl's hand it shifted later in their albums to something more advanced than that.
THE BEATLES – I Need You – 1965
Published on Oct 25, 2012
THE BEATLES – I Need You – 1965
Beatles 1966 Last interview
Paul McCartney (1/9) – Wingspan
At 5:18 mark Paul says At a  a certain age you start to think "Wow, I have to get serious. I can't just be a playboy all of my life." HERE PAUL IS SHOWING HOW EMPTY HE FOUND THE PLAYBOY EXPERIENCE AND HOW HE WANTED SOMETHING MORE MEANINGFUL!!!!!!!!!
______________
(When Starr turns to 'stare' and versa-vice)
L.A.? Chicago?
Wow! Barbi looks younger than 20…
Even so, her invisible chains are no match for the laser blue eyes of Ringo Starr. She's already melted…and Hefner is still "starrstruck" about rubbing elbows with a Beatle…
PlayBeatle?
Hardly. Somewhere, I remember Paul(?) claiming "we learned two things from Ringo immediately: Scotch and Coke…and, always light two ciggies".
Wayyyyyyyyyyy smooth!
__________
the making of sgt. pepper's lonely hearts club band
Published on Apr 29, 2013
compiled video of The making of sgt. peppers lonely hearts club band from maccalennon.
________________________
Paul McCartney said at the 16:45 mark in the above video concerning the cover of Sgt. Pepper's:
Everything about the album will be imagined from the perspective of these people. It doesn't have to be us. It doesn't have to be the kind of song you want to write. It can be the kind of song they would like to write.
What Paul was saying is very simple. There was a calculated effort to put  people on the cover of Sgt. Pepper's Lonely Hearts Club Band Album for certain reasons and they wanted to address their concerns in the music. Paul also asserted, "The mood of the album was in the spirit of the age, because we ourselves were fitting into the mood of the time…I maintain The Beatles weren't the leaders of the generation, but the spokesmen. We were only doing what the kids in the art schools were all doing. It was a wild time, and it feels to me like a time warp – there we were in a magical wizard-land with velvet patchwork clothes and burning joss sticks, and here we are now soberly dressed."
Jann Haworth, wife of cover designer Peter Blake noted, "To be perfectly honest, Peter and I chose about 60 percent of what's there because they didn't come up with enough. So we're to blame for some of the inequalities that were there. But having said that, the Beatles chose no women. The only women chosen were by Peter and I."
The decade of the 1960's was when the sexual revolution took place and that is why in my view  Haworth and Blake  put the sex symbols on the cover (Mae West, Marilyn Monroe, Marlene Dietrich and Diana Dors). In the article, "46 Years Ago: Beatles Pose for 'Sgt. Pepper' Cover Photo,  on March 30, 2013 , Bryan Wawzenek  asserted,     "Mae West initially balked at the idea of being associated with a 'Lonely Hearts Club,' but relented after all four Beatles wrote her letters to implore her to change her mind."  This demonstrates to me that although the Beatles did not pick out all of the people on the cover they did have to approve those picks. Here we see they wanted Mae West bad enough to take time to write her personal letters to ask her to reconsider her initial decision not to be on the cover of Sgt. Pepper's Lonely Hearts Club Band Album.
The interesting fact was that  Marilyn Monroe had committed suicide even though she was the top sex symbol of all-time just a few years earlier.  I see a lot of similarities between the search for meaning in the area of sex between Marilyn Monroe and the wisest king who ever ruled in Israel. More on that later in this post. In the article, "50 Ways Marilyn Monroe Has Been Kept Alive for 50 Years," August 3, 2012,  Steve Pond wrote:
And, of course, Monroe is dead center on one of the most famous album covers of all time, the Beatles'"Sgt. Peppers Lonely Hearts Club Band" (#26) – she's right above Ringo, and surrounded by writers Edgar Allan Poe and William S. Burroughs, British comedian Tommy Handley and explorer Dr. David Livingstone.
_____________
__________
Diana Dors pictured in the gold dress below:
___________
Diana Dors and Richard Dawson.
__________
Widely considered to be one of the most beautiful women to ever grace the silver screen, Dietrich was virtually unmatched as a leading lady during the Great Depression era. In 1999, the American Film Institute voted her the ninth greatest female star of all-time.
___________
The Beatles were searching for a lasting meaning for their lives and they wanted to see if the Sexual Revolution of the 1960's was a piece of the puzzle that was missing for them. It reminds me of Solomon's search in this area in the Book of Ecclesiastes.
'King Solomon and the Iron Worker' by Christian Schussele, 1863
I have written on the Book of Ecclesiastes and the subject of the meaning of our lives on several occasions on this blog. In this series on Ecclesiastes I hope to show how secular humanist man can not hope to find a lasting meaning to his life in a closed system without bringing God back into the picture. This is the same exact case with Solomon in the Book of Ecclesiastes. Three thousand years ago, Solomon took a look at life "under the sun" in his book of Ecclesiastes. Christian scholar Ravi Zacharias has noted, "The key to understanding the Book of Ecclesiastes is the term 'under the sun.' What that literally means is you lock God out of a closed system, and you are left with only this world of time plus chance plus matter." 
HERE BELOW IS SOLOMON'S SEARCH IN THE AREA OF THE 6 "L" WORDS. He looked into  learning (1:16-18), laughter, ladies, luxuries,  and liquor (2:1-3, 8, 10, 11), and labor (2:4-6, 18-20). TODAY WE WANT TO LOOK AT SOLOMON'S SEARCH INTO THE WORD "LADIES." 
Ecclesiastes 2:8-10The Message (MSG)
I piled up silver and gold,
        loot from kings and kingdoms.
I gathered a chorus of singers to entertain me with song,
    and—most exquisite of all pleasures—
    voluptuous maidens for my bed.
9-10 Oh, how I prospered! I left all my predecessors in Jerusalem far behind, left them behind in the dust. What's more, I kept a clear head through it all. Everything I wanted I took—I never said no to myself. I gave in to every impulse, held back nothing. I sucked the marrow of pleasure out of every task—my reward to myself for a hard day's work!
1 Kings 11:1-3 English Standard Version (ESV)
11 Now King Solomon loved many foreign women, along with the daughter of Pharaoh: Moabite, Ammonite, Edomite, Sidonian, and Hittite women, 2 from the nations concerning which the Lord had said to the people of Israel, "You shall not enter into marriage with them, neither shall they with you, for surely they will turn away your heart after their gods." Solomon clung to these in love. 3 He had 700 wives, who were princesses, and 300 concubines. And his wives turned away his heart.
Francis Schaeffer observed concerning Solomon, "You can not know woman but knowing 1000 women."
King Solomon in Ecclesiastes 2:11 sums up his search for meaning in the area of the Sexual Revolution with these words, "…behold, all was vanity and a striving after wind, and there was nothing to be gained under the sun."
How about today's most well known playboy Hugh Hefner? Schaeffer said that Hefner's goal with the "playboy mentality is just to smash the puritanical ethnic." My pastor, Adrian Rogers of Bellevue Baptist Church in Memphis, Tennessee noticed an article where Hugh Hefner said he would be willing to trade all of his riches for the experience of just falling in love with one girl of his dreams and getting married. Rogers went on to say that the playboy lifestyle was bankrupt of lasting satisfaction and that God's plan of marriage was best. In fact, the Book of Ecclesiastes shows that Solomon came to the conclusion that nothing in life gives true satisfaction without God including knowledge (1:16-18), ladies and liquor (2:1-3, 8, 10, 11), and great building projects (2:4-6, 18-20). You can only find a lasting meaning to your life by looking above the sun and bring God back into the picture.
Solomon's experiment was a search for meaning to life "under the sun." Then in last few words in the Book of Ecclesiastes he looks above the sun and brings God back into the picture: "The conclusion, when all has been heard, is: Fear God and keep His commandments, because this applies to every person. For God will bring every act to judgment, everything which is hidden, whether it is good or evil."
The answer to find meaning in life is found in putting your faith and trust in Jesus Christ. The Bible is true from cover to cover and can be trusted.
Off the internet I found these words from a sermon, "Ecclesiastes 2 — The Quest For Meaning," dated January 20, 2013:
Of course we have seen this pursuit of finding meaning in pleasure continue full steam in the latter half of the 20th century. Hugh Hefner built his Playboy Empire. Drugs and Alcohol have proliferated in pursuit of a pleasure that allows one to drop out from this reality. Multiple Marriages combined with Multiple divorces have characterized our culture's mad pursuit of pleasure. The gaming industry which is a multi-billion dollar industry is pursued in the name of pleasure. Our obsession with sports and entertainment outlets to the neglect of all other considerations reveals that 21st century man is still characterized as one who seeks to find his or her meaning of life in the pursuit of pleasure.
Now, pleasure, in and of itself, is not evil, as it is practiced consistent with God's Law-Word, but pleasure will not give meaning if it is pursued as an end in itself as the Teacher tells us.
And yet we continue to embrace pleasure as a way to find meaning.
Ravi Zacharias says something that we here in this wealthy nation should take special note of:
"I am absolutely convinced that meaninglessness does not come from being weary of pain; meaninglessness comes from being weary of pleasure."
Here is an interesting perspective below from Paul Charlwood:
Having both read the book of Ecclesiastes and contemplated many instances of
wasted potential in terms of various Christians' gifts and economically unviable
desire to work full-time in Christian ministry, I'm inclined to agree that
nothing matters.
I'm surprised. Ecclesiastes is a scathing and self-deprecating attack on
hedonism and secular humanism by a man who had obviously deeply considered if
not tried both as a way of life. The constant refrain "under the sun" expresses
the context and perspective from which the writer wishes his words to be
understood. In other words "if one takes the view that nothing exists beyond the
world we experience through our five senses" then all is meaningless, or vanity
or a chasing after the wind. Meaning, as opposed to value, only arises in a
wider and eternal context.
If all we had was this brief life, and if we had a true grasp of that fact, then
every second would be exquisitely, painfully, horrendously valuable to us, each
one gone never to return; but if we are born only to die, indeed if the universe
was born in a Big Bang only to die in a Big Crunch or the whimpering stillness
of an ever-expanding, dark, cold, void then, ultimately, everything in between
is completely meaningless.
_______________________
Marilyn Monroe[1][2] (born Norma Jeane Mortenson; June 1, 1926 – August 5, 1962)[3] was an American actress, model, and singer, who became a major sex symbol, starring in a number of commercially successful motion pictures during the 1950s and early 1960s.[4]
After spending much of her childhood in foster homes, Monroe began a career as a model, which led to a film contract in 1946 with Twentieth Century-Fox. Her early film appearances were minor, but her performances in The Asphalt Jungle and All About Eve (both 1950) drew attention. By 1952 she had her first leading role in Don't Bother to Knock[5] and 1953 brought a lead in Niagara, a melodramatic film noir that dwelt on her seductiveness. Her 'dumb blonde' persona was used to comic effect in subsequent films such as Gentlemen Prefer Blondes (1953), How to Marry a Millionaire (1953) and The Seven Year Itch (1955). Limited by typecasting, Monroe studied at the Actors Studio to broaden her range. Her dramatic performance in Bus Stop (1956) was hailed by critics and garnered a Golden Globenomination. Her production company, Marilyn Monroe Productions, released The Prince and the Showgirl (1957), for which she received a BAFTA Award nomination and won a David di Donatello award. She received a Golden Globe Award for her performance in Some Like It Hot (1959). Monroe's last completed film was The Misfits (1961), co-starring Clark Gable, with a screenplay written by her then-husband,Arthur Miller.
The final years of Monroe's life were marked by illness, personal problems, and a reputation for unreliability and being difficult to work with. Ever since Monroe's death from an overdose of barbiturates on August 5 1962, the exact circumstances have been subject to conjecture. Though officially classified as a "probable suicide", the possibilities of an accidental overdose or a homicide have not been ruled out. In 1999, Monroe was ranked as the sixth-greatest female star of all time by the American Film Institute. In the decades following her death, she has often been cited as both a pop and a cultural icon as well as the quintessential American sex symbol.[6][7][8] In 2009, TV Guide Network named her No. 1 in Film's Sexiest Women of All Time.[9]
Marilyn Monroe – The Last Interview HBO special 1/2
Uploaded on Jan 28, 2011
1992 Documentary with rare Marilyn footage and audio clips of marilyn's last interview july 1962
By JOHN J. O'CONNOR
Published: July 20, 1992
There's no getting enough of Marilyn Monroe. At least Home Box Office thinks so. Just when viewers might understandably think that there isn't another sliver of new material to be teased out of the actress's life story, along comes "Marilyn: The Last Interview," a half-hour essay on HBO at 9:30 tonight. The twist: this particular interview was recorded entirely on audiotape.
Richard Meryman, a writer for Life magazine, spent about eight hours with Monroe at her somewhat shabby house in Brentwood, Calif., recording her rambling comments, which were frequently punctuated with what he describes as "a wild laugh, coming out at odd moments." Monroe demanded that questions be submitted in advance and that she have approval of the final story. The Life article appeared on Aug. 3, 1962, two days before she died at the age of 36.
Of all this century's pop icons, so many of them trapped in scripts of self-destruction, Monroe ranks at the very top, along with James Dean and Elvis Presley who, arguably, also had their best years in the 1950's. And they remain formidable forces in popular culture. This year's hottest heartthrob for teen-age audiences, Luke Perry of "Beverly Hills 90210," is a Dean clone. Elvis is being milked not just by the United States Postal Service but also by the Democratic Party's baby-boomer contenders for President. Monroe lives on in every Barbie doll ever made.
"The Last Interview," produced by Edward Hersh, confronts the problem of having only audiotapes for a television special by supplementing clips from those tapes with home movies, billed as never having been seen before, as well as rare newsreel clips and photographs. There is also film that has been seen hundreds of times before, most notably of the occasion when Monroe sang, in what has to be the sultriest version ever, "Happy Birthday" to President John F. Kennedy before a huge gathering at Madison Square Garden.
The unseen Mr. Meryman recalls that during his interview session, Monroe "looked great but was clearly troubled." There was a great deal of anger and sadness. He did not, however, detect any hint of a possible suicide, which later became the official cause of her death.
What does come across is the impression of a troubled woman who would always remain a lonely child, even after discovering that with growing fame, "suddenly the world became friendly and opened up to me." During the interview, she begins drinking Champagne and becomes more candid about her bitterness. Upset with a comment about "cranking out" silly movies, she protests against the studios, saying that "we're not machines, no matter how much they say we are."
Much of the audio material is not dramatically enlightening. Monroe demands visuals. And the material here, from playful moments in Amagansett, L.I., to painful sequences in hospital emergency rooms, does full justice to the extraordinary Monroe phenomenon, something that has mesmerized everybody from Norman Mailer to the producers of second-rate television movies. When Mr. Meryman finally leaves her Brentwood house, she says, "I hope you got something here," adding quickly, "but please don't make me look like a joke." In the 1962 article and in this television essay, he respects that wish. Marilyn The Last Interview
HBO Tonight (In New York at 9:30) Andrew Finkelstein, editor; produced by Edward Hersh for HBO; Peter Kunhardt, executive producer.
Photo: Marilyn Monroe
Marilyn Monroe – The Last Interview HBO special 2/2
William Buckley Interviews Hugh Hefner on Firing Line (1966) Part 1
______________
 
William Buckley Interviews Hugh Hefner on Firing Line (1966) Part 2
_____________
Average Rating:
 [see ratings/reviews]
In his autobiography Timebends, Arthur Miller tells of his marriage to Marilyn Monroe. During the filming of The Misfits Miller watched Marilyn descend into the depths of depression and despair. He was fearing for her life as he watched their growing estrangement, her paranoia, and her dependence on barbiturates.
One evening, after a doctor had been persuaded to give Marilyn yet another shot and she was sleeping, Miller stood watching her. "I found myself straining to imagine miracles," he writes. "What if she were to wake and I were able to say, 'God loves you, darling,' and she were able to believe it! How I wished I still had my religion and she hers."
William Willimon from a sermon entitled The Teacher; submitted by Van Morris, Mount Washington, Kentucky
Marilyn Monroe, Joe DiMaggio seen below:
____________
Marilyn Monroe – Life After Death (Documentary 1994 – Full HQ)
_____________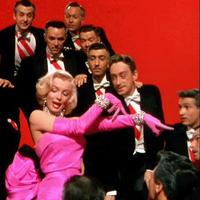 Marilyn Monroe and Marlon Brando Changed her escort below:
__________________
William Buckley Interviews Hugh Hefner on Firing Line (1966) Part 3
William Buckley Interviews Hugh Hefner on Firing Line (1966) Part 4
William Buckley Interviews Hugh Hefner on Firing Line (1966) Part 5
The pretty blond on the right side of the cover of the "Sgt. Pepper's Lonely Hearts Club Band" album is actress Diana Dors.
Promoted as a sex symbol in England, she did receive some respect for her acting abilities when she took on meatier roles portraying despicable characters. She associated with some despicable characters in real life as well. She was a close friend with murderess Ruth Ellis, who appeared in the Dors movie "Lady Godiva Rides Again." Ellis shot her boyfriend David Blakely six times on Easter Sunday of 1955. A short time later Ellis became the last woman to be executed in the United Kingdom. Dors was also a friend of organized crime figures, the Kray Twins. Bob Hoskins' character in the movie "The Long Good Friday" was somewhat based on the Kray twins. Reggie and Ronnie Kray were so impressed they supposedly sent a congratulatory letter to Hoskins from prison. "The Long Good Friday" was produced by Handmade films, the company owned by George Harrison.
William Buckley Interviews Hugh Hefner on Firing Line (1966) Part 6
Ask Hef anything…"As you look back on your life…"
teaches a room of school boys in "My Little Chickadee" 1940
It's time for another trip back to the Sgt. Pepper. Mae West, one of a few sultry blond bombshells on the cover had a long and storied life unlike many of the others on Pepper. West stands tall in the back row between Aleister Crowley and Lenny Bruce.
The widely reported story of how she initially refused to be on the cover (stating that she would never be in any Lonely Hearts Club) and her subsequent change of mind after a personal plea suggests that her inclusion was important to the Beatles. The fact that she gave in to Beatley sweet talk is not surprising, but the biggest hurdle might have been getting her to allow her likeness to be in the same photograph as W.C. Fields.
Although the one movie they made together "My Little Chickadee" was a big hit, they apparently hated each other so much that they refused to film scenes together. Another person in that back row was Edgar Allan Poe, but the only connection I could find between Mae West and Poe is that Mae's California house was in a place called Ravenswood.Most people think of Mae West as a movie actress although that career was pretty much over long before Sgt. Pepper when she only had 10 movies under her bra, I mean belt. She was ahead of her time as a writer of some risqué plays such as "Sex" and "The Wicked Age." Her most controversial work as a writer was a well known play about homosexuality called "The Drag." Mae had some progressive ideas about sex, but her views on homosexuality are not generally embraced as politically correct by today's standards. Still you have to wonder if her sympathy regarding homosexuality had anything to do with her inclusion on the cover. Back in 1967, there was a significant amount of talk that Paul, the only unmarried Beatle at the time of Sgt. Pepper was homosexual. This was not a completely unreasonable conclusion when you look at some of the people that Paul was hanging out with in the mid-sixties. Aside from having many individuals who died young, violently or suspiciously, the Sgt. Pepper cover also has several individuals who were believed to be homosexual or portrayed characters who were (e.g. Tony Curtis in Spartacus).Despite the fact that Mae West was no longer a big movie star/sex symbol by the 1960s, there are some interesting Beatles connections that occurred after that. She did a cover of the Beatles tune "Day Tripper" during her minor recording career.
In 1970 she played Leticia Van Allen in her eleventh movie, "Myra Breckinridge." The film starred Raquel Welch who had just appeared in "The Magic Christian." Rex Reed, one of John Lennon's neighbors at the Dakota was also in the film.Her last film was "Sextette," released in 1978 when Mae was still strutting her stuff at age 85. It was surreal seeing an octogenarian stealing lines from films she made a half century earlier such as when she asked a gangster portrayed by George Hamilton, "Is that a gun in your pocket or are you happy to see me?" The film featured a small part by Ringo Starr as movie director Laslo Karolny. Another important role in the film was played by Tony Curtis who was with her on the cover of Sgt. Pepper, just below W.C. Fields. The music in the film includes Lennon-McCartney song "Honey Pie" along with McCartney favorites "After You've Gone" and "Baby Face."
Six years after her death, Paul McCartney immortalized her in the song "Move Over Busker" from his "Press To Play" album.
Well I Was Hanging Around For A Miracle,
Struggling With A Rhyme,
When I Saw Mae West In A Sweaty Vest,
And I Said I'll Come Up And See You Sometime.
She Said Move Over Busker, Don't Bang Your Drum
Move Over Busker, Your Time Will Come. – From "Move Over Busker" by Paul McCartney"Sweaty vest" was an interesting choice for that struggled rhyme. Wiki states, During World War II, Allied soldiers called their yellow inflatable, vest-like life preserver jackets "Mae Wests" partly from Cockney rhyming slang for "life vest" and partly because of the resemblance to her curvaceous torso.So what is the Beatles fascination with Mae West? I wonder if it has anything to do with the stage role that she kept returning throughout her career based on her 1928 play. She was so popular in the role that many people would refer to her by its name: DIAMOND LIL
#100) My Little Chickadee (1940)
-Mae West :

Mae West – Interview with Dick Cavett
Uploaded on Sep 8, 2010
Interview with Dick Cavett
______________
The Layla Story
My absolute favorite albums are Rubber Soul and Revolver. On both records you can hear references to other music — R&B, Dylan, psychedelia — but it's not done in a way that is obvious or dates the records. When you picked up Revolver, you knew it was something different. Heck, they are wearing sunglasses indoors in the picture on the back of the cover and not even looking at the camera . . . and the music was so strange and yet so vivid. If I had to pick a favorite song from those albums, it would be "And Your Bird Can Sing" . . . no, "Girl" . . . no, "For No One" . . . and so on, and so on. . . .
Their breakup album, Let It Be, contains songs both gorgeous and jagged. I suppose ambition and human frailty creeps into every group, but they delivered some incredible performances. I remember going to Leicester Square and seeing the film of Let It Be in 1970. I left with a melancholy feeling.
Writers: Lennon-McCartney
Recorded: February 15, 1965
Released: April 19, 1965
11 weeks; no. 1
Lennon once claimed that "Ticket to Ride" — the first track the Beatles recorded for the soundtrack to their second feature film, Help!, on February 15th, 1965 — was "one of the earliest heavy-metal records."
"It was [a] slightly new sound at the time, because it was pretty fuckin' heavy for then," Lennon told Rolling Stone in 1970. "If you go and look in the charts for what other music people were making, and you hear it now, it doesn't sound too bad. It's all happening, it's a heavy record. And the drums are heavy, too. That's why I like it."
After playing mostly acoustic guitar on A Hard Day's Night and Beatles for Sale, Lennon had picked up his electric guitar for "Ticket to Ride." A chiming 12-string riff kicks off the song with a jangly psychedelic flourish, and the guitars strut and crunch through the verses over Starr's grinding groove. The sound was probably inspired by bands such as the Rolling Stones, the Who and the Kinks, who were all exploding out of Great Britain at the time. But the Beatles were still ahead of the competition.
"Ticket to Ride" was the first Beatles recording to break the three-minute mark, and Lennon packed the track with wild mood swings. His singing and lyrics teeter between ambivalence and despair in the verses. The bridge is a powerful double-time burst of indignation ("She oughta think right/She oughta do right/By me"). Another surprise came in the fade, an entirely different melody and rhythm with the repeated line "My baby don't care," sung by Lennon at the upper, stressed top of his range. "We almost invented the idea of a new bit of a song on the fade-out," said McCartney, who also played the spiraling lead-guitar part in the coda. "It was quite radical at the time."
The Beatles now saw making records as a goal in itself — rather than just a document of a song — and were changing their approach to recording as they got more comfortable with the possibilities of the studio. Instead of taping songs as they would play them live, picking the best take and then overdubbing harmonies or solos, the band now usually began with a rhythm track and slowly built an arrangement around it. Considering that, "Ticket to Ride" took almost no time to record: The entire track, including the overdubs, was finished in just over three hours. "It was pretty much a work job that turned out quite well," said McCartney. "Ticket to Ride" effectively became their new theme song: The title of their final BBC radio special was changed to "The Beatles (Invite You to Take a Ticket to Ride)."
Lennon always maintained that McCartney's role in writing the song was minimal — "Paul's contribution was the way Ringo played the drums" — while McCartney contended that "we sat down and wrote it together" in a three-hour session at Lennon's Weybridge home. That might account for the different stories on where the title came from: An obvious explanation is that it refers to a train ticket. (When the Beatles belatedly filmed a promotional clip for the song in November 1965, they lip-synced the song against a backdrop of gigantic transportation passes). But Don Short, a British newspaper journalist who traveled with the Beatles, claimed that it dated back to the band's days in the red-light district of Hamburg, Germany. "The girls who worked the streets in Hamburg had to have a clean bill of health, and so the medical authorities would give them a card saying that they didn't have a dose of anything," he said. "John told me he coined the phrase 'a ticket to ride' to describe those cards." McCartney had a more innocent explanation: He said that it was a play on the name of the town of Ryde on the Isle of Wight. One other possibility: On the day the Beatles recorded "Ticket to Ride," Lennon passed his driver's test.
Appears On: Help!
16
'I Saw Her Standing There'
Main Writer: McCartney
Recorded: February 11, 1963
Released: December 26, 1963
11 weeks; no. 14 (B side)
When McCartney began hashing out the song that became "I Saw Her Standing There" on a drive to his Liverpool home one night in 1962, the first couplet he came up with was "She was just 17/She'd never been a beauty queen." But when he played the song for Lennon the next day, "We stopped there and both of us cringed at that and said, 'No, no, no, "beauty queen" is out,'" McCartney recalled. "We went through the alphabet: between, clean, lean, mean. . . ." Eventually, they settled on "you know what I mean," which was good, he said, "because you don't know what I mean."
Though Lennon's exact contribution is unclear ("I helped with a couple of the lyrics," he said), "I Saw Her Standing There" is one of the songs that further cemented the Lennon-McCartney songwriting partnership. A September 1962 photo by McCartney's brother Mike shows the pair in the front room of Paul's house, working face to face with acoustic guitars, Lennon wearing the glasses he hated, scratching out lyrics in a Liverpool Institute notebook. McCartney wrote the song on his Zenith acoustic guitar, the first guitar he ever owned.
The original inspiration for the song was a girlfriend of McCartney's at the time, dancer Iris Caldwell, who was in fact 17 when he first saw her doing the Twist — in fishnet stockings — at the Tower Ballroom in New Brighton in December 1961. "Paul and I dated for a couple of years," said Caldwell. "It was never that serious. We never pretended to be true to each other. I went out with lots of people. I was working away in different theaters at the time, but if I was back home we would go out. There were never any promises made or love declared." Caldwell's brother was Liverpool rocker Rory Storm, leader of the Hurricanes — whose drummer, Ringo Starr, would leave them to join the Beatles in August 1962. Caldwell said that McCartney intended to give "I Saw Her Standing There" to Storm, but Brian Epstein talked him out of it.
Under the title "Seventeen," the song became part of the Beatles' live act in 1962. Onstage, the tune would sometimes run for 10 minutes, with multiple guitar solos. McCartney borrowed the hard-charging bass line from Chuck Berry's 1961 single "I'm Talking About You," a staple of the band's concerts. "I played the exact same notes as he did, and it fitted our number perfectly," McCartney said.
When it came time for the Beatles to record their first album, Please Please Me, George Martin considered taping them live, possibly in front of the group's home audience at the Cavern Club. Though he decided instead to set them up at EMI's studios on Abbey Road, they chose a song list representative of the band's live show. To set the mood, the album begins with McCartney's blazing "one-two-three-faw!" count-off on "I Saw Her Standing There." The Beatles outfitted the song, a veritable celebration of youth itself, with hand claps and the buoyant ooohs that would later show up on singles like "She Loves You." The song, which also features Harrison's first guitar solo on a Beatles record, was chosen as the B side for the "I Want to Hold Your Hand" single that topped the charts in America. It would also be one of the five songs that the Beatles performed on February 9th, 1964, on The Ed Sullivan Show before a television audience of 73 million people.
Lennon described "I Saw Her Standing There" as "Paul doing his usual good job of producing what George Martin would call a 'potboiler,'" but the song would assume a greater meaning in his later life. In 1974, Lennon and Elton John made a bet that if Lennon's "Whatever Gets You Thru the Night," which featured John on harmony vocals and piano, made it to Number One, Lennon would join him onstage. When the song became Lennon's first solo song to top the charts, he made good and appeared with John at his November 28th show at Madison Square Garden in New York.
Before the final song, Lennon said, "We thought we'd do a number of an old estranged fiance of mine called Paul," and they closed the night with a rollicking version of "I Saw Her Standing There." "I just wanted to have some fun and play some rock & roll," Lennon said afterward. It would be the last song John Lennon ever performed in concert.
Appears On: Please Please Me
Main Writer: Lennon
Recorded: April 13, 1965
Released: July 19, 1965
13 weeks; no. 1
"Help!" was written to be the title track to the Fab Four's second movie — a madcap action comedy originally conceived for Peter Sellers. But the note of desperation in the song was real. "I meant it," Lennon told Rolling Stone in 1970 (particularly lines like "And now my life has changed in oh-so-many ways/My independence seems to vanish in the haze"). "The whole Beatle thing was just beyond comprehension."
By 1965, Lennon was exhausted from the Beatles' nonstop touring, recording and filming schedule. Off the road, Lennon felt trapped at his estate outside London with his wife, Cynthia, and young son, Julian. "Cynthia wanted to settle John down, pipe and slippers," said McCartney. "The minute she said that to me, I thought, 'Kiss of death.' I know my mate, and that is not what he wants." Lennon also was feeling "paranoid," according to Harrison, about how he looked. "It was my Fat Elvis period," Lennon said. "I was eating and drinking like a pig. I was depressed, and I was crying out for help."
McCartney, in contrast, was taking full advantage of Swinging London, dating Jane Asher — a beautiful young actress from a prominent family who introduced him to high society — and seeing other girls on the side. John "was well jealous of [me] because he couldn't do that," said McCartney years later. "There were cracks appearing [in Lennon's life with Cynthia], but he could only paste them over by staying at home and getting wrecked."
Lennon wrote most of "Help!" by himself at his estate and then summoned McCartney to help him complete it, which they did in a couple of hours at one of their regular songwriting sessions in Lennon's upstairs music room. Lennon originally wrote "Help!" as a midtempo ballad, but the Beatles decided to amp up the arrangement in the studio, with Harrison's surf-guitar licks, Starr's thundering tom-toms and the reverse call-and-response vocals that would become the song's trademark. "I don't like the recording that much," Lennon confessed. "We did it too fast trying to be commercial."
Making movies wasn't as fun as it used to be either. "The movie was out of our control," Lennon told Playboy. "With A Hard Day's Night, we had a lot of input, and it was semirealistic. But with Help! [director] Dick Lester didn't tell us what it was all about."
The Beatles all admitted that it probably wasn't the director's fault that the band had so little input. "A hell of a lot of pot was being smoked while we were making the film," Starr said. "If you look at pictures of us, you can see a lot of red-eyed shots; they were red from the dope we were smoking."
"We were smoking marijuana for breakfast during that period," Lennon said. "Nobody could communicate with us. It was all glazed eyes and giggling all the time. In our own world."
Appears On: Help!
Writers: Lennon-McCartney
Recorded: July 1, 1963
Released: September 16, 1963
15 weeks; no. 1
On the afternoon of July 1st, 1963, the Beatles were about to record "She Loves You" at EMI studios when all hell broke loose. As Geoff Emerick — then an assistant at Abbey Road, later the Beatles' engineer — recalled, "The huge crowd of girls that had gathered outside broke through the front door. . . . Scores of hysterical, screaming girls [were] racing down the corridors, being chased by a handful of out-of-breath, beleaguered London bobbies." The disruption may have been a blessing in disguise for the Beatles, who promptly banged out one of the most exuberant pop singles of all time. "[The chaos] helped spark a new level of energy in the group's playing," Emerick wrote.
Lennon and McCartney began writing "She Loves You" in a tour van, then did the bulk of the work in the Turk's Hotel in Newcastle, sitting on twin beds with acoustic guitars. The breakthrough in the lyrics was the introduction of a third person, shaking up the typical I-love-you formula. The variation was inspired by Bobby Rydell's "Forget Him," a hit in the U.K. "It was someone bringing a message," said McCartney. "It wasn't us anymore. There's a little distance we managed to put in it, which was quite interesting."
Still, something was missing. "We'd written the song and we needed more," Lennon said, "so we had 'yeah, yeah, yeah' and it caught on. I don't exactly know where we got it — Lonnie Donegan always did it. Elvis did that in 'All Shook Up.'"
They completed "She Loves You" in McCartney's house back in Liverpool. When his father heard the song, he said, "Son, there's enough Americanisms around. Couldn't you sing, 'Yes, yes, yes,' just for once?" McCartney said, "You don't understand, Dad. It wouldn't work."
For all the raw immediacy of its sound, the song also signaled a new level of sophistication for the band as songwriters and arrangers. "She Loves You" opens with the chorus instead of the first verse for extra punch — a George Martin suggestion. The final touch was the distinctive chord that ends the chorus — Harrison's idea — which sounded "corny" to Martin. "He thought we were joking," said McCartney. "But it didn't work without it, so we kept it in and eventually [he] was convinced."
The appearance by the Beatles on ITV's Sunday Night at the London Palladium on October 13th, 1963, culminating in the band's performance of "She Loves You," is often considered the tipping point of Beatlemania. The Beatles would go on to triumph after triumph as the 1960s went on, but in Great Britain, "She Loves You" remained the bestselling single of the decade.
Appears On: Past Masters
________________
I have included the 27 minute  episode THE AGE OF NONREASON by Francis Schaeffer. In that video Schaeffer noted,  " Sergeant Pepper's Lonely Hearts Club Band…for a time it became the rallying cry for young people throughout the world. It expressed the essence of their lives, thoughts and their feelings."
How Should We then Live Episode 7 small (Age of Nonreason)
Marilyn Monroe – Life After Death (Documentary 1994 – Full HQ)
At the 37 min mark in the above video Peter Max comments on Marilyn Monroe.
Featured artist today is Pauline Boty:
__________
______________
Pauline Boty in Ken Russell's film Pop Goes the Easel
This entry was posted on December 11, 2013 by admin.
'Pop Goes the Easel' was Ken Russell's first full-length documentary for the BBC's art series Monitor. His cutting edge 1962 documentary is a portrait of Peter Blake and Pauline Boty, as well as artists Peter Philips and Derek Boshier. This beautiful little film captures the excitement and energy of the pioneering young Pop artists.
In the film, a 29-year old Peter Blake explores his passion for pop icons, such as Brigitte Bardot. Don't miss his magnificent bedspread embroidered with British military patches and flags – reminiscent of his work 'Found Art: 24 Flags'. Pauline Boty, Britain's great female pop art painter who was to die only four years later, performs in a short dramatic dream piece. She also features discussing her imaginative collages with Peter in her wonderfully vintage bedsit.
(Monitor) Pop Goes The Easel – Ken Russell 1962
Uploaded on Dec 1, 2011
(Monitor) Pop Goes The Easel – Ken Russell 1962
____________
This beautiful glimpse into a bygone era reminds us how pioneering these artists really were and how their art captured the lives and loves of a generation. It is a must watch for any Peter Blake fan who can spot his reoccurring themes; circus, celebrity and popular ephemera.
This entry was posted in posts on December 11, 2013 by admin.← Previous Post Next Post →
______________________________
Printed postcard illustrating a painting by Pauline Boty entitled "Sheba".
Pauline Boty i pop-art
Detail from The Only Blonde in the World by Pauline Boty
TateShots: Michael Bracewell on Pauline Boty
Uploaded on Aug 13, 2008
Michael Bracewell discusses Pauline Boty's portrait of Marilyn Monroe, titled "The Only Blonde In The World".
Boty died from cancer in 1966 at the age of just 28, and her work was stored away in a barn and largely forgotten. In the last decade her paintings have begun to be shown again, and in 1999 Tate bought The Only Blonde in the World. Here Michael Bracewell discusses the life and work of Britain's first female Pop artist.
_____
Pauline Boty was a leading figure in the Pop Art movement of the 1960s until her untimely death aged just 28. A friend and contemporary of Peter Blake, Derek Boshier and David Hockney, Pauline Boty was one of the few female artists associated with the movement yet her work, which explores themes of female sexuality, gender, race and politics, has been largely overshadowed by her male Pop Art counterparts.
One look at the photos of Pauline Boty and you are confronted with a woman, a painter, who stylistically embodied the boundary busting ethos of swinging Sixties London. According to fellow painter Peter Blake she was the first woman in London to wear men's 501s – "I used to say, 'Pauline, your flies are undone.' It was a reasonably funny thing to say to a woman in 1961."
The photographic images of Pauline Boty convey a sense of freedom but feminist artist and Release activist Caroline Coon declares that Boty was "a woman in agony, the victim of male oppression" who had come through an art school system where women artists were loudly excluded.
In 1966 her career was about to take off. She was taken on by Mateusz Garbowski, an agent with an eye for up and coming artists. She was receiving commissions. She was appearing on chat-shows. She'd met Bob Dylan. She was pregnant with her first child. Tragically, during her pregnancy she discovered she was suffering from leukaemia and survived for only a few weeks after the birth of her daughter. It sent a shock wave throughout London's creative community.
Thanks to the Wolverhampton Art Gallery this show at the Pallant House Gallery in Chichester is the first public exhibition to survey Pauline Boty's career as a whole, reinstating her at the forefront of British Pop Art. It features paintings and collages which are essentially brightly coloured scrapbooks of public and pop figures in ironic juxtaposition – Jean-Paul Belmondo, Johnny Hallyday, Profumo, Lenin, Lennon, Cassius Clay – along with ephemera from public and private collections. The exhibition includes rarely seen pieces that have not been seen for 40 years.
(Pauline Boty Big Jim Colosimo, c. 1963 Oil on canvas 31 1/2 x 25 5/8 inches Collection of Bridget Boty, Kent)
While we can only speculate where her artistic journey would have taken her, and I'll leaving the last word to Caroline Coon she views Pauline Boy's work as "A generous, extrovert use of talent combined with a Gothic delicacy."
So, if you're feeling bold and fancy a day out… head off to Chichester to experience Pauline Boty: Pop Artist and Woman: 30 November 2013 – 9 February 2014.
________________
_______________
______________
"Come in boat number 65 you time is up" Ever remember those boats you took out and went pointlessly round and round a little boating lake and then the man would call your number? Well Pauline Boty's life was a bit like that, she still had loads to do but the man came out of the boating hut and called time on her, just when she was really starting to enjoy herself.But her life was far from pointless, it was crammed with meaning.Pauline Boty was born in Carshalton, Surrey in 1938.As war brewed in England Carshalton went on being Carshalton as ever before but a person had been born who , like many artists ,be more of a sensation after physical life than in it.She got a scholarship to the Wimbledon 
School of Art where she went despite her father's disapproval Boty earned an Intermediate diploma in lithography (1956) and a National Diploma in Design in stained glass (1958).British writerHer schoolmates called her "The Wimbledon Bardot" on account of her resemblance to the
F
 art school  in 1954. Mama Boty was Pauline's biggest cheerleader and encouraged her baby girl to do whatever she felt. Ironically, Pauline's mother was a frustrated artist who's own education in art was denied by the Slade School of Fine Art who had accepted Pauline. Guess why. She had kids.The year she died was the year she might have become the Tracy Emin of her times.She was 28. Both her work as an artist and her personal life were going well. She had broken off a scalding relationship with a married man and had got married herself. She was painting big, bold canvases. She had been taken on by Mateusz Garbowski, an agent with an eye for up and coming artists. She was receiving commissions. She was appearing on chat-shows. She'd met Bob Dylan. It was 1966, the year she died

The sixties were an invention in part with the idea that things had changed that things had moved on , that things were swinging. The truth was that people were still working for wages that were well below any possibility of buying a home or having a reasonable life and also the fact that the government had sold out the workers with invitations to foreign workers to swamp the work market in the United Kingdom thus making conditions even worse than they were  for ordinary people.The sixties could have paid back  to the war generation but it didn't.

Even more importantly going against any idea that socialism was now raising its head for a fairer society.(one of the worst offenders was the Labour party and London transport. But people are left with memories of how they wanted things to be and not how they were.Much of the sixties were horrendous housing estates that were sabotaged by neo lib supposed left wing councils when they stopped vetting possible aspirants for homes . After this the whole idea floundered and is still with us today.

Peter Blake said: 'It was as though everything was being invented. It was only a little more than 10 years after the war, and everything was new – television was young, theatre was exciting, cinema was exciting. But workers slaved over Victorian wages and Victorian London was still pretty much all around. The swinging sixties were in the words of one worker, the swinging ponces.
Cinema in reality wasn't great , there was an huge amount of dross especially as regards the angry young men type of films but some were fun and some were even realistic but hardly any. Not all camps were the same, writing had become interesting with new writers and art had tried to create new areas of research.One can understand that among the young that the old Edwardian dictate was beginning to dissolve. Capitalists would eventually find a new way of condemning the workers to perpetual ignorance but the sixties looked like their hold on things was beginning to fade.
 In the film Alfie, stunning blonde actress Pauline Boty played one of Michael Caine's girlfriends. But within months, she would be dead and her family plunged into tragedy.Today, as cinema-goers flock to see a remake of the film – this time starring Jude Law
It's a Man's World I (1964) juxtaposes images of The Beatles, Albert Einstein, Lenin,Muhammed Ali, Marcel Proust, and other men, suggesting that despite male domination in Western society, the notion of masculinity itself might be fracturing.
_____________
And what about Boty? Did her work deserve recognition? Would the panoply of pop art have been different had she lived? What we have to go on is largely the output of someone who was still learning, but she was certainly doing interesting things. Coon, who was given Boty's paints by Goodwin, was struck by the colours of herpalette: 'Cobalt Violet and Lemon Deep Yellow. If, like me, you went to pre-diploma in Northampton with a very classical training, where you were only allowed a palette of four colours including Burnt Sienna, coming across these vibrant colours was quite startling.'

With those colours Boty made big, loud images: 'A generous, extrovert use of talent combined with a Gothic delicacy,' says Coon. Mellor believes her originality lies in her painted collages – 'that way of integrating ideas from collage while trying to stay with figurative painting'. Many of her pictures are brightly coloured scrapbooks of public and pop figures in ironic juxtaposition – Jean-Paul Belmondo, 
Johnny Hallyday, Profumo, Lenin, Lennon, Cassius Clay. In Scandal '63 (now lost; it was commissioned anonymously), a painted representation of Lewis Morley's photograph of Christine Keeler is mounted on male mug shots. In Cuba Si, a dark-haired girl with Boty's face (interesting that even she objectfied herself) is surrounded by maps, Hispanic decorative fragments, images of Cuban insurgency. 'It's about thinking about history,' says Mellor, 'the dreamer meditating on images of dissent.'

Boty was also experimenting with images of women – 'using women,' says Blake, 'in a way women hadn't used women before'.(But as said Blake just lent one of her paintings to a mate, would he have done that with a Van gogh) It's a Man's World I and II is a diptych: I a jigsaw of male figures against an 18th-century landscape;  a pin-up swirl of naked female flesh. In the unfinished piece, Tom's Dream, she was in the process of painting a woman, with pink painted nails, 
pulling a candy-floss chiffon nightie over her head; the shape of her crossed, upraised arms against the window frame behind her makes her look as though she were on a crucifix. 'It was a new voice,' says Mellor, 'a new way of imagining. They're pictures by someone wrestling with her own sexuality. It's that that makes them so extraordinary. 'Who's to say how good she might have been? It reminds me of that Norman Mailer essay. Two nights after Kennedy was shot, someone at a party said to him: 'The terrible thing is he was a great President.' But Mailer said: 'No. The terrible thing is we'll never know.'We do know in my opinion that Boty would have been a great artist because she already was and Kennedy would not have been as regards his involvement in many underhand things like the Bay of Pigs .
Her illness took hold as her pregnancy progressed, but it wasn't until after the baby was born in early 1966 that she became very ill. She had managed to look after the child to begin with – Nell Dunn remembers the baby in a basket at the end of the bed – but in her last dreadful months, her parents took over as she was shifted constantly between her house – a vast flat in the Cromwell Road – and the Royal Marsden. She became increasingly frail and was often in great pain. Despite this, many of her friends remained unaware of the seriousness of her illness until it was too late.

'It was almost as if they covered it up,' says a fellow student, Geoffrey Reeve, 'as if the less they admitted it to themselves, the happier she was.' The cancer was always hopeless, but a close friend, Natalie Gibson, remembers huge stacks of medical books in the bedroom and talk that the illness might take 10 years off her life. Others remember her despair. Massot, who visited every day, says: 'At one point she asked me to bring her some pills, because she couldn't stand it any longer. But I told Clive and he said no.'
Even in these last dreadful months, though, Boty continued to spar with life, spirited even under physical siege.
'What shall I bring?' asked Jane Percival, paralysed by a sense of inadequacy. 'Bring that delicious cheese-cake,' said Boty, even though she was too ill to eat it. She asked Natalie Gibson to bring veal and ham pie; others smuggled in 'great big joints'.

Roger Smith remembers her exasperation at his diffidence. 'She lost her temper; 'For fuck's sake, tell me what you've been doing,' she shouted.'
Another time, painfully thin, she laughed and told him what a change it was to be slim: 'It was typical of her, still managing to find something new in the experience,' he says. The last time Jane Percival saw her, she was propped up in bed, which they'd brought down to the sitting-room, with a drawing-board on her knee, doing a sketch of the Rolling Stones.

A lot of people were in love with Pauline Boty. A lot remember her with fondness and nostalgia. She probably had many irritating habits, but they have been ironed out by the intervening years. She was an interesting artist, who led a legendary sort of life and died a tragic death. Her only fault, says Peter Blake, 'was that she didn't love me back.'

Pauline was put in her place from the very beginning. She was the youngest of four. She and her mother were the only girls in the home. Her stern father made sure she was well aware of her gender. He even disapproved of Pauline attending the Wimbledon School of Art

She lived for only a few weeks after the birth of her daughter. Her friends were devastated; many are muddled even now as to the nature of her illness. The death of a young, talented person is always horrifying, but in those pre-Aids days, the art world wasn't used to it. The poet and translator Christopher Logue, who was a friend, remembers how 'shocked and depressed' he was by her death; it 'made me cognisant with the fact that everyone has a death to face; which I would say is a fair step on from understanding your own position vis-a-vis this forthcoming event.'
Another friend, Penny Massot, says: 'People just didn't die.' Even now, 27 years later, grown men with grey hair in dark houses in Notting Hill Gate cry at the sound of Pauline Boty's name.
 The death of a young, talented person is always horrifying, but in those pre-Aids days, the art world wasn't used to it. The poet and translator Christopher Logue, who was a friend, remembers how 'shocked and depressed' he was by her death; it 'made me cognisant with the fact that everyone has a death to face; which I would say is a fair step on from understanding your own position vis-a-vis this forthcoming event.'
Pauline was Britain's only notable female Pop art painter. Boty's paintings and collages often demonstrated a joy in self-assured femininity and female sexuality, and expressed overt or implicit criticism of the "man's world" in which she lived.
Her rebellious art, combined with her free-spirited lifestyle, has made Boty a herald of 1970s feminism.Boty had been  born in suburban south London in 1938 into a middle-class with intellectual aspirations and also a Catholic fear of God but had turned the tables on this ordin ary life and had lived her life as much as she could . It was a life of creativity, honesty and mistakes but above all a life of courage and decency.  
Boty's painting became more experimental. Her work showed an interest inpopular culture early on In 1957 one of her pieces was shown at the Young Contemporaries exhibition alongside work by Robyn Denny, Richard Smith and 
Bridget Riley.
She studied at the School of Stained Glass at the Royal College of Art (1958–61). She had wanted to attend the School of Painting, but was dissuaded from applying as admission rates for women were much lower in that department. Despite the institutionalized sexism at her college,
Boty was one of the stronger students in her class, and in 1960 one of her stained glass works was included in the traveling exhibition 
Modern Stained Glass
 organized by the Arts Council. Boty continued to paint on her own in her student flat in west London and in 1959 she had three more works selected for the Young Contemporaries exhibition. During this time she also became friends with other emerging Pop artists, such as David Hockney,
Derek Boshier,
 Peter Phillips
 and
 Peter Blake.
While at the Royal College of Art, Boty engaged in a number of extracurricular activities.
 She sang, danced, and acted in somewhat risqué college reviews, published her poetry in an alternative student magazine, and was a knowledgeable presence at the film society where she developed her interest especially in European new wave
 cinema. She was also an active participant of the Anti-Ugly Action campaign, a group of RCA stained glass, and later architecture, students who protested against new British architecture that they considered offensive and of poor quality.
The two years after graduation were perhaps Boty's most productive. She developed a signature Pop style and iconography. Her first group show, "Blake, Boty, Porter, Reeve" was held in November 1961 at A.I.A. gallery in London and was hailed as one of the first British Pop art shows.
 She exhibited twenty collages, including 
Is it a bird, is it a plane?
 and 
a rose is a rose is a rose,
 which demonstrated her interest in drawing from both high and low popular culture sources in her art (the first title references the Superman comic, the second quotes American ex-patriate poet Gertrude Stein).
The following spring Boty, along with Blake, Boshier, and Phillips, were featured in Ken Russell's BBC film 
Pop Goes the Easel
, which first aired on March 22, 1962. Although the documentary placed Boty at the center of the nascent British Pop art movement, unlike her male peers she did not get an opportunity to speak directly and intelligently about her work during the film.
Boty's appearance on 
Pop Goes the Easel
 marked the beginning of her brief acting career. She landed roles in two 
Armchair Theatre
 plays for ITV and an episode of the BBC series
Maigret
. Boty also appeared on stage at the Royal Court in 
Day of the Prince
 and in Frank Hilton's 
Afternoon Men
 at the New Arts Theatre.
 (Boty, a regular on 'swinging 60s' club scene in London, was also a dancer on 
Top of the Pops
 and 
Ready Steady Go!
). Although acting was lucrative, it distracted her from painting, which remained her top priority. Yet the men in her life encouraged her to pursue acting, as it was a more conventional career choice for women in the early 1960s. The popular press picked up on her glamorous actress persona, often undermining her legitimacy as an artist by referring to her physical charms. For example, 
Scene
 ran a front page article in November 1962 that read, "Actresses often have tiny brains. Painters often have large beards. Imagine a brainy actress who is also a painter and also a blonde and you have PAULINE BOTY."
Her unique position as Britain's only female Pop artist gave Boty the chance to redress sexism in her life as well as her art. Her early paintings were sensual and erotic, celebrating female sexuality from a woman's point of view. Her canvases were set against vivid, colorful backgrounds and often included erogenous close-ups of red flowers, symbolic of the female sex.
 She painted her male idols—Elvis, French actor Jean-Paul Belmondo,
One short work of art gives one a better idea of Boty's time than Darling does.Looking like an advert for Swinging London, Joe Massot's 1965 short Reflections on Love mixes pop documentary with scenes devised by writer Derek Marlowe
 and (apparently) an uncredited, Larry Kramer.
 Though everything looks rather beautiful, it is such a terribly straight film, and considering the talent involved, and doesn't really offer much love for the audience to reflect on. Then, this was the Sixties, when everything was new and exciting, and getting hitched in a registry office was daring and rad. O, how innocent it all seems. Massot went on to direct George Harrison's
Wonderwall
 and later, Led Zeppelin's concert film 
The Song Remains the Same
. Kramer went on to script 
Here We Go Round the Mulberry Bush
 (1967), and Ken Russell's 
Women in Love
 (1969), before writing his novel 
Faggots
 in 1978. As for Marlowe, he wrote the classic double-agent spy thriller, 
A Dandy in Aspic
, and followed this up with a series of idiosyncratic and stylish novels (from crime to Voodoo to Lord Byron), which are all shamefully out-of-print, and not even available as e-books – publishers please note.
The original version was twenty-one minutes long, and there is  the revamped, re-scored (by Kula Shaker), re-edited (12 minutes) re-release from 1999, and still watchable pop-candy.
—as sex symbols, just as she did actresses Monica Vitti 
and Marilyn Monroe. Like Andy Warhol, she recycled publicity and press photographs of celebrities in her art. She exhibited in several more group shows before staging her first solo exhibition at Grabowski Gallery in the fall of 1963. The show was a critical success. However, Boty continued to take on 
additional acting jobs. She was a presenter on the radio program 
Public Ear
 in 1963-64, and in the following year she was typecast yet again in the role of 'the seductive Maria' in a BBC serial.
In June 1963, she married literary agent and television producer Clive Goodwin (1932-77) after a mere ten-day romance.Her marriage disappointed many, including Peter Blake and her married lover, director Philip Saville,
whom she met towards the end of her student days and had worked for.Their affair is said to have inspired the movie 
Darling
 (1966)
. Boty and Goodwin's
 Cromwell Road flat became a central hang-out for many artists, musicians, and writers,
 including Bob Dylan (whom Boty brought to England) Hockney, Blake.
(Pauline had loved America. She wasn't frightened of it, she loved the powerful images at the heart of American culture, and the deep emotions the music and films evoked in her.
Pauline Boty wasn't naive about American power, and she knew those alluring images and sounds could crawl into your brain and shape the way you saw the world, and disguise the underlying exploitation. But she believed that she could possess those images and use her imagination to rework them into something magical, inspiring and liberating.An odd thing has happened in the course of those years. While the bulk of Boty's work – a collection of large painted collages – has been lying, splattered with plaster dust, in an outhouse of her brother's farm in Kent, her image has brightened, regularly polished by memory, nostalgia, a certain habit of mythology. For one thing, the tragedy was compounded 12 years later by the death of her husband, the actor and literary agent Clive Goodwin. He suffered a brain haemorrhage in the foyer of the Beverly Hills Hotel (where he was meeting Warren Beatty to discuss Reds) and died in Los Angeles police custody. They thought he was drunk. There was a court case: the police accepted liability and a large settlement was awarded the daughter, Boty Goodwin. She was brought up by grandparents and guardians (the writer Adrian Mitchell and the actress Celia Mitchell) and  studied art in California
The daughter, who refuses to talk about her mother, shares her looks. And Pauline Boty was extremely attractive. 'She was the kind of person people followed,' says Massot. Friends say she resembled Brigitte Bardot – though some, with possessive annoyance, disagree and say Simone Signoret. 'She had that marvellous strawberry ice-cream smile and leonine hair' . . . 'There was this great laugh – her face would completely distort, her top lip would spread right across' . . . 'She was very voluptuous . . . quite a big girl, very tall, with lovely skin and hair and teeth – a lovely-shaped head'. And, according to Brian Newman, a fellow student, she had 'something of Marilyn Monroe's ability to engender sympathy'.
Her husband Goodwin, who would later co-found the radical journal 
Black Dwarf
, is said to have encouraged Boty to include political content in her paintings.
 Her paintings did become more overtly critical over time. 
Countdown to Violence
 depicts a number of harrowing current events,
 including the assassination of President John F. Kennedy, the Vietnam War, and the
Birmingham
 race riots. 
Cuba Si
 (1963) references the Cuban revolution.
 The collaged painting 
It's a Man's World I
 (1964) juxtaposes images of The Beatles, Albert Einstein, 
Lenin
,Muhammed Ali, Marcel Proust,
 and other men, suggesting that despite male domination in Western society, the notion of masculinity itself might be fracturing. 
Boty continued her analysis of male privilege with 
It's a Man's World II
 (1965–66) in which she redisplays female nudes from fine art and soft-core pornographic sources, calling attention to men's easy access to sexualized female bodies.
In She refused to have an abortion in order to receive chemotherapy treatment that would have harmed the fetus. Instead Boty smoked marijuana to ease the pain of her terminal condition during her pregnancy. She continued to entertain her friends and even sketched The Rolling Stones 
during her illness. Her daughter, Boty Goodwin, was born in February 1966. Her last known painting,
BUM
, was commissioned by Kenneth Tynan for 
Oh, Calcutta!
 and was completed in 1966. Boty died at the Royal Marsden Hospital on 1 July that year. She was 28 years old, not much younger than when her daughter, Boty Goodwin, died of a heroin overdose in 1995 while living in Los
 Boty, like many of her contemporaries, used images of Monroe in her work. It's ironic that she should herself have been turned into an icon – a different icon for different people. For the artist Peter Blake she was the first woman in London to wear men's 501s ('I used to say, 'Pauline, your flies are undone.' It was a reasonably funny thing to say to a woman in 1961′). For the usually laconic impresario Michael White, she was 'unique in every department, remarkably ahead of her time,' but for Caroline Coon, the feminist artist who met her only once, she was a woman in agony, the victim of male oppression
Angeles
.
1965 "The Edgar Wallace Mystery Theatre" (Episode: Strangler's Web) … Nell Pretty
1965 BBC TV, The Londoners – A Day Out for Lucy … Patsy
1965 "Contract to Kill" (BBC TV mini-series) … the seductive Maria Galen
1965 "The Day of Ragnarok"
1964 Ken Russell's Béla Bartók (BBC Monitor Series) …. Prostitute
1964 BBC, Short Circuit-The Park … Pauline
1964 "Espionage" (Episode: The Frantick Rebel) … Mistress Fleay
1963 "Ready, Steady, Go!" … Dancer
1963 "Don't Say a Word" (game show) … herself
1963 BBC, Maigret: Peter the Lett … Josie
1962 BBC, The Face They See … Rona
1962 ITV Armchair Theatre (Episodes: North City Traffic Straight Ahead and North by North West) … Anna
1962 Ken Russell's Pop Goes the Easel (BBC Monitor Series) … Herself
After her death, Pauline Boty's paintings were stashed away in a barn on her brother's farm, and she was largely forgotten over the next thirty years. Her work was rediscovered in the 1990s, renewing interest in her radical and significant contribution to Pop art gaining her inclusion in several group exhibitions and a major solo retrospective.
In 1964 the BBC made a film about the pop movement. It was called Pop Goes the Easel and was directed by Ken Russell.It focussed on four artists but the two stars of the film were Pauline Boty and her best friend Derek Boshier.
 Boshier brilliantly describes how popular images of American power seduce the mind – they start to "infiltrate you at the breakfast table". But one shouldn't be frightened because it is possible to possess those images in turn.
Then there is Pauline Boty – her bit begins with a wonderful piece of film-making – where she is the girl running away.
Ken Russell's production notes for the film say that "the authoritative woman in the wheelchair, should be someone representing authority, hideously formal". While the three girls around her "need to look as though they represent an institution."
And Pauline should play "herself – an art student resenting authority"
The first shots in the film are of all four artists together – they were all friends – the other two are Peter Blake and Peter Phillips. It is beautifully shot, and the song is 
Goodbye Cruel World
 by James Darren. 
She openly expressed her resentment for the sexism she'd encountered in her life and celebrated her femininity and the almighty s-e-x. Most of the pieces include vibrant colors or chose red flowers, symbols for femininity, as the focal point. Her greatest paintings  are teenybopper-esque representations of the sex symbols of her time. Elvis French, Jean-Paul Belmondo, Monica Vitti, and Marilyn Monroe and these represent where the sixties heart was really at , I say that not as a criticism but a continuance of those sixties dreams when youth was first invented-maybe .Where did the Sixties go? Well it just became commercialised and people were seduced by it and anyway it was always commercial in the main. If the political angle had been properly aimed at the workers then maybe society could have been changed but most of the currents and movements in the 60's were not socialist but bourgeois attempts at becoming and overcoming their dreams of capitalism with outbursts. The end result of is like one of Herbert Marcuse's theories.
He had said the capitalist power works by possessing and manipulating the desires inside your own mind. But no-one ever explained how you distinguished between the two kinds of dreams inside your head – the ones that were planted there by evil capitalist fantasy-machines, and the genuine dreams of a new and better future. And if your dreams of a better future failed, and the world didn't change – then maybe they too were just part of the manipulation?
Related posts:
______________________