—
I  started this series on my letters and postcards to Hugh Hefner back in September when I read of the passing of Mr. Hefner. There are many more to come. It is my view that he may have taken time to look at glance at one or two of them since these postcards were short and from one of Hef's favorite cities!!!!
Postcards from New Orleans Feb 6, 2017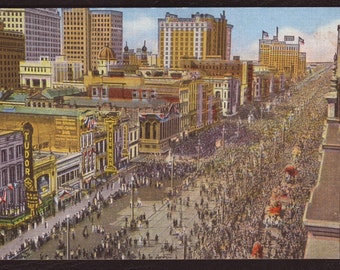 —
Feb 6, 2017 postcard from New Orleans letter Part A
Hugh Hefner
Playboy Mansion
Dear Hugh,
Today is Feb 6 so I want to quote from Proverbs 6. Good advice today from anyone in New Orleans like me.
20-23 Good friend, follow your father's good advice;
    don't wander off from your mother's teachings.
Wrap yourself in them from head to foot;
    wear them like a scarf around your neck.
Wherever you walk, they'll guide you;
    whenever you rest, they'll guard you;
    when you wake up, they'll tell you what's next.
For sound advice is a beacon,
    good teaching is a light,
    moral discipline is a life path.
—–
Notice especially verse 20 "Good friend, follow your father's good advice;
don't wander off from your mother's teachings."
HUGH, this is good advice for you since your mother GRACE wanted you to be a Christian missionary!!! I hope you realize that you can still go down that road!!!

Check out Romans 
3:23
; 5:8; 10:9-10.
Best wishes,
Everette Hatcher
—
_____
I wrote to Hefner in an earlier letter these words:
Francis Schaeffer observed concerning Solomon, "You can not know woman by knowing 1000 women."
__________
Exalting Jesus in Ecclesiastes Daniel Akin, Jonathan Akin and Tony Merida:
Finally, Solomon indulged in sexual pleasure. In addition to 700 wives (1 Kgs 11), he had 300 concubines (cf. Eccl 2:8). A concubine was a woman given to a man simply for the purpose of sexual pleasure. Concubines were objects. Thus, Solomon could out-locker-room-boast basketball all-star Wilt Chamberlain (who once infamously claimed to have been with 20,000 women!) and infamous playboy Hugh Hefner. So many people are on an endless search for sexual pleasure. They may not have a thousand women literally, but they have that many or more in their pornographic internet history or their romance novels. They constantly look for a new illicit experience in order to be satisfied, but like Solomon they come away empty and disappointed—the high only lasts so long. 
The views expressed by the author do not necessarily reflect the editorial opinion of The Christian Post or its editors.
Hugh Hefner has died at the age of 91. I hope he found grace and repentance before leaving this world. I also hope that his death will signify the end of the sexual revolution. It has failed miserably on every front. May it never rise again.
The sexual revolution promised freedom but produced bondage. It promised excitement but produced emptiness. It promised thrills and produced STD's. It was destined to crash and burn from the very first day.
It's a terrible shame it took so long.
Although Alfred Kinsey's perverted sex studies, first released in 1948, helped pave the way for the sexual revolution, the real seeds were planted with Playboy's nude photoshoot of Marilyn Monroe in 1953. Then, those seeds grew with explosive force in the counterculture revolution of the 1960s. And the rest, as they say, is history – a very sad history, for sure.
Today, 8-year-olds are getting exposed to hardcore pornography.
Twelve-year-olds are sexting each other, sometimes committing suicide when their naked pictures circulate through their school.
Condoms have been made available to first graders. (What, pray tell, does a 6-year-old child do with a condom?)
Healthy young men cannot perform without Viagra because of their porn addictions.
Half of all babies born to first time mothers are now conceived out of wedlock.
Thanks for nothing, sexual revolution. You have brought nothing but destruction.
Last year, for a short period of time, Playboy announced that it would no longer carry nude pictures in its magazine or on its website.
But Playboy did not temporarily abandon nude pictorials because society had become more moral. It was abandoning these pictorials because society had become so immoral that Playboy's relatively mild pornography was no longer a draw.
Pornography of the most sordid kind was freely available everywhere, so who needed pictures of nude women in Playboy? Porn was now ubiquitous.
And what does this porn glut produce? Broken marriages. Sexual addictions. Perverse fleshly appetites. Deadly STD's. The degrading of women. Lots of bad and lots of evil. Absolutely nothing good.
Consider these stats from a government website: "Adolescents ages 15-24 account for nearly half of the 20 million new cases of STD's each year. Today, two in five sexually active teen girls have had an STD that can cause infertility and even death. Also, though rates of HIV are very low among adolescents, males make up more than 80 percent of HIV diagnoses among 13- to 19-year-olds."
This is the reality of the sexual revolution, not that naked woman inviting you into her chat room to satisfy your fantasies.
Sir, that smiling beauty calling to you from your laptop makes you feel wanted. She has what you need. Let your dreams come true!
But here's what those flirtations will get you. An increased desire for more of the same, followed by an increased desire for something more intense, followed by an embarrassing addiction to hard-core perversion. And it started with that beautiful smile!
Young lady, when that photographer told you were beautiful, he did it for one reason only. Money. And that fleeting high you got the first time men paid to look at you was tinged with embarrassment, then hardness, then drugs to ease the pain.
It's a trap. It's a lie. Get out while you can!
Although I didn't see the episode myself, I was told that many years ago, Hugh Hefner appeared on the Mike Douglas show.
At one point during the interview (and I paraphrase), Douglas said to Hefner, "Hey, you're daughter has become a beautiful young woman. I guess it's time for her to pose nude?"
Hefner's response said it all. "Of course not! My daughter won't be posing nude."
And there, in a nutshell, is the bankruptcy of the sexual revolution: It destroys our sons and daughters.
But all hope is not lost. The sexual revolution can be reversed. There is a better way. A much better way. God's way.
I've read a number of studies that all say the same thing: Singles who engage in one-night stands and have multiple sexual partners are the least satisfied sexually. Committed, married couples are the most satisfied sexually.
That's because we are not just physical animals, fulfilling a bodily function. We are human beings with emotions and values and desires, and sexual intimacy divorced from relational fidelity produces frustration and shame and guilt in the end.
That's why, in more than 41 years of marriage, it has never dawned on me once to envy the likes of Hugh Hefner, a man who slept with more gorgeous women in a week than most of us have met in a lifetime.
What a pitiful, lost soul, and what a tragic, ugly legacy.
And this brings me back to where we started. I hope he found grace and repentance before leaving this world. I also hope that his death will signify the end of the sexual revolution.
(For supporting data for some of the information cited in this article, see the chapter, "From Playboy to Purity: Reversing the Sexual Revolution," in Saving a Sick America: A Prescription for Moral and Cultural Transformation.)
 Playboy founder Hugh Hefner has died at the age of 91.

26th September 1972: Hef, Barbi and the girls disembark the Big Bunny.Long before the Internet made nudity ubiquitous, Hefner faced obscenity charges in 1963 for publishing and circulating photos of disrobed celebrities and aspiring stars but he was acquitted.

(Image: Daily Mirror)

14 of 34

20th February 1971: Hef and Barbi on his private jet.Hefner settled down somewhat in 2012 at age 86 when he took Crystal Harris, who was 60 years younger, as his third wife.

(Image: Sunday Mirror)

15 of 34

26th September 1972: Bunnies in London.Hef said that thanks to the impotency-fighting drug Viagra he continued exercising his libido into his 80s

(Image: Daily Mirror)

16 of 34

8th August 1971: The Playboy boss pictured at Heathrow Airport before his flight to Saint-Tropez.Hefner created Playboy as the first stylish glossy men's magazine and in addition to nude fold-outs, it had intellectual appeal with top writers such as Kurt Vonnegut, Joyce Carol Oates, Vladimir Nabokov, James Baldwin and Alex Haley for men who liked to say they did not buy the magazine just for the pictures.

(Image: Daily Mirror)

17 of 34

4th August 1971: Hef and the Big Bunny land in London."I've never thought of Playboy quite frankly as a sex magazine," Hefner told CNN in 2002. "I always thought of it as a lifestyle magazine in which sex was one important ingredient."

(Image: Daily Mirror)

18 of 34

27th September 1972: Hef addresses the press during at the Hilton Hotel.After writing copy for Esquire magazine, Hefner married and worked in the circulation department of Children's Activities magazine when he began plotting what would become Playboy magazine.

(Image: Daily Mirror)

19 of 34

(Image: Daily Mirror)

20 of 34

25th June 1966: Hef in London.The first issue came out in December 1953 – featuring nude photos of actress Marilyn Monroe – and was a hit.As the magazine took off, it was attacked from the right because of the nudity and from the left by feminists who said it reduced women to sex objects.

(Image: Sunday Mirror)

21 of 34

3rd September 1969: The jet set couple at Gatwick.Hefner once declared sex to be "the primary motivating factor in the course of human history" and, using that as a business model Playboy flourished during the sexual revolution and into the 1970s with monthly circulation hitting 7 million.

(Image: Daily Herald)

22 of 34

29th July 1970: Barbi Benton plants a kiss on her man's cheek.Hef's girlfriends grew used to sharing him with other women.

(Image: Daily Mirror)

23 of 34

25th June 1966:Hef ran into trouble in the 1980s with competition from Penthouse and Hustler – magazines that had much more explicit photos – and Playboy's social impact faded considerably by the 21st century.The Playboy Clubs closed in 1991 but would be partially revived.

(Image: Sunday Mirror)

24 of 34

6th May 1982: Hugh Hefner and his daughter Christie, who is the new president of the Playboy Empire.After suffering a minor stroke in 1985, Hefner made daughter Christie chief executive officer of Playboy Enterprises and she gave the business a makeover before stepping down in 2009.Hefner's son, Cooper, who was nearly 40 years younger than Christie, assumed a major role in the company in 2014.

(Image: Daily Mirror)

25 of 34

29th July 1970:In-depth interviews with historic figures such as Fidel Castro, Martin Luther King Jr., Malcolm X and John Lennon also were featured regularly in Playboy.

(Image: Daily Mirror)

26 of 34

5th September 1969: Pictured as they arrive at the Playboy Club, Hugh Hefner with his girlfriend Barbara Benton, walking along Park Lane.

(Image: Daily Mirror)

27 of 34

5th September 1969: Hef was in London to hold a press conference at the London Playboy Club to announce the formation of the Playboy film production company.

(Image: Daily Mirror)

28 of 34

3rd September 1969: Hef and Barbi arrive at Gatwick.

(Image: Daily Herald)

29 of 34

6th September 1969: Hef and Barbi relax at the airport.Playboy magazine, starting with its March 2016 issue, did away with full frontal nudity in a rebranding that would have been unimaginable in the publication's heyday.

(Image: Daily Herald)

30 of 34

27th September 1972: The Playboy king with his social secretary during a press conference at the Hilton Hotel.

(Image: Daily Mirror)

31 of 34

8th August 1971: Hef chats to playmate Marilyn Cole and Roman Polanski at Heathrow Airport before his flight to Saint-Tropez.

(Image: Daily Mirror)

32 of 34

(Image: Daily Mirror)
Related posts:
__