—-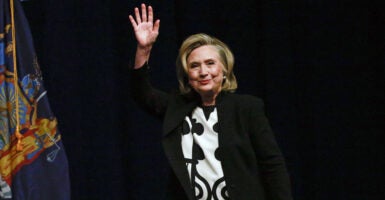 A single court filing has created immense buzz in a Justice Department special counsel's case against a former Hillary Clinton campaign lawyer. 
Clinton and the indicted lawyer, Michael Sussmann, were both dismissive of the revelation in special counsel John Durham's filings. 
Meanwhile, former President Donald Trump says Durham's allegation proves his long-standing claim that he was spied on in a political scandal that is bigger than Watergate. 
A federal grand jury already has indicted Sussmann on a charge of making a false statement to the FBI during a September 2016 meeting where he talked about cyberlinks between Trump and the Russian government.  
Sussmann allegedly told the FBI that he had no clients, when he actually represented both the Clinton campaign and technology executive Rodney Joffe. Sussmann has pleaded not guilty. 
Here's a look at what might be ahead in Durham's probe of how the government came to investigate Trump on suspicion that he was colluding with Russia to win the 2016 election.  
1. 'Inference' and 'Narrative'
So what happens at Sussmann's trial, expected in late May or early June? Well, Durham's Feb. 11 court filing says that "the government's evidence at trial will also establish" several headline-grabbing points. 
Partisans have characterized Durham's 13-page filing differently than some other commentators. The document doesn't use the words "spy" or "spying," but does clearly allege that a technology firm affiliated with Clinton's 2016 presidential campaign collected information from Trump Tower and later from the White House.
The point of the special counsel's motion was to ask the U.S. District Court for the District of Columbia to review potential conflicts of interest for Sussmann's defense team. 
But what made headlines, although not in some major media outlets, was a reference to the gathering of information from computers at Trump Tower and later the White House that would prompt the FBI to investigate Trump, secretly and months before the 2016 election, for potential ties to Russia. 
Referring to an unnamed "tech executive," Durham's filing says:
In connection with these efforts, Tech Executive-1 exploited his access to non-public and/or proprietary internet data. Tech Executive-1 also enlisted the assistance of researchers at a U.S.-based university who were receiving and analyzing large amounts of internet data in connection with a pending federal government cybersecurity research contract. Tech Executive-1 tasked these researchers to mine internet data to establish 'an inference' and 'narrative' tying then-candidate Trump to Russia. In doing so, Tech Executive-1 indicated that he was seeking to please certain 'VIPs,' referring to individuals at Law Firm-1 and the Clinton campaign.
Durham's court filing raised more attention by noting that the effort included mining information from Trump's private residence and later from the White House's Executive Office of the President.
"The government's evidence at trial will also establish that among the internet data Tech Executive-1 and his associates exploited was domain name system ('DNS') Internet traffic pertaining to (i) a particular healthcare provider, (ii) Trump Tower, (iii) Donald Trump's Central Park West apartment building, and (iv) the Executive Office of the President of the United States ('EOP')," the Durham court filing says. 
The filing goes on to say the company that employs Tech Executive-1's accessed dedicated servers for the Executive Office of the President "as part of a sensitive arrangement whereby it provided" domain name system, or DNS.  
"Tech Executive-1 and his associates exploited this arrangement by mining the EOP's DNS traffic and other data for the purpose of gathering derogatory information about Donald Trump," the filing says. 
The special counsel's filing goes on to allege that the tech company—which had a federal contract—was improperly using its relationship with the government to collect data that it later misrepresented. 
In his meeting with Agency-2, the defendant [Sussmann] provided data which he claimed reflected purportedly suspicious DNS lookups by these entities of internet protocol ('IP') addresses affiliated with a Russian mobile phone provider ('Russian Phone Provider-1'). 

The defendant further claimed that these lookups demonstrated that Trump and/or his associates were using supposedly rare, Russian-made wireless phones in the vicinity of the White House and other locations. The Special Counsel's Office has identified no support for these allegations. Indeed, more complete DNS data that the Special Counsel's Office obtained from a company that assisted Tech Executive-1 in assembling these allegations reflects that such DNS lookups were far from rare in the United States. 

… In addition, the more complete data assembled by Tech Executive-1 and his associates reflected that DNS lookups involving the EOP and Russian Phone Provider-1 began at least as early [as] 2014 (i.e., during the Obama administration and years before Trump took office)–another fact which the allegations [against Trump] omitted.
2. Clinton Campaign Lawyer Seeks to Dismiss Filing
Sussmann's defense team responded to Durham's Feb. 11 court filing by claiming it should be dismissed from evidence, citing commentary and news reports to accuse the Durham probe of being political. 
Sussmann's lawyers specifically claim that the special counsel's document is political. 
"Unfortunately, the special counsel has done more than simply file a document identifying potential conflicts of interest," Sussmann's lawyers wrote in a six-page response Feb. 14. "Rather, the special counsel has again made a filing in this case that unnecessarily includes prejudicial—and false—allegations that are irrelevant to his motion and to the charged offense, and are plainly intended to politicize this case, inflame media coverage, and taint the jury pool."
Sean M. Berkowitz, one of Sussmann's lawyers, declined to comment Wednesday to The Daily Signal for this report, since the case is pending. Berkowitz said the defense team's court papers will speak for themselves.
Durham responded Feb. 17 to Sussmann's defense team by defending his office against charges of politicization. 
"Defense counsel has presumed the government's bad faith and asserts that the special counsel's office intentionally sought to politicize this case, inflame media coverage, and taint the jury pool. That is simply not true," Durham said, adding: "If third parties or members of the media have overstated, understated or otherwise misinterpreted facts contained in the government's motion, that does not in any way undermine the valid reasons for the government's inclusion of this information."
Durham, a 40-year veteran of the Justice Department, has a clear track record of being apolitical, said Charles "Cully" Stimson, a former federal prosecutor who is deputy director of the Meese Center for Legal and Judicial Studies at The Heritage Foundation.  (The Daily Signal is Heritage's multimedia news organization.)
The Obama administration appointed Durham to review allegations that the CIA tortured terrorism suspects. He tackled public corruption in Connecticut—including working on a team that secured a conviction of a Republican governor—under the George W. Bush administration. Under Bill Clinton's administration, he prosecuted the Boston mob. 
In 2019, then-Attorney General William Barr appointed Durham, then U.S. attorney for the District of Connecticut, to probe the origins of the Trump-Russia narrative. Before leaving office just before Christmas 2020, Barr named Durham as a special counsel
"He is notoriously quiet. He doesn't talk to the press ever. He doesn't leak and he doesn't hire people who do leak," Heritage's Stimson told The Daily Signal. "So, when you have somebody like that, you have to ask yourself why did he put what he put in the motion? In other words, did he with thought beforehand put the factual narrative in regarding Sussmann and this internet guy for a reason?" 
"The answer has to be yes. People like Durham don't make mistakes or add verbiage that's not required," Stimson said. "Sussmann's attorney's motion to have that motion removed by the judge will fail probably, because it will add to the record that will give the government additional opportunities to argue that which they deem is relevant."
3. What Hillary Clinton Has to Say
Hillary Clinton has not answered media questions on the matter since Durham's court filing and when she has addressed it, she didn't refer to the filing itself. 
Each time Clinton addressed the matter, she attacked media coverage and Trump without responding to the official position of the Justice Department stated in the special counsel's court filing about the role of her campaign.
"We can't get distracted by the latest culture war nonsense or a new right-wing lie on Fox or Facebook," Clinton said in remarks Thursday to the New York Democratic Party. "By the way, they are after me again lately, in case you may have noticed."
"It's funny," she said. "The more trouble Trump gets into, the wilder the charges and conspiracy theories about me seem to get."
The former first lady, U.S. senator from New York, and secretary of state consistently has said that Trump did not defeat her fairly for the presidency.
Before the speech to the New York Democrats, Clinton tweeted:
Trump & Fox are desperately spinning up a fake scandal to distract from his real ones. So it's a day that ends in Y. The more his misdeeds are exposed, the more they lie. For those interested in reality, here's a good debunking of their latest nonsense.
Clinton's tweet linked to a Vanity Fair commentary with this headline: "You'll Never Believe It, but Hillary Clinton Did Not, in Fact, Spy on Trump's White House." A secondary headline added: "In less breaking news, Donald Trump remains a moron."
4. Defense Department Documents
In another new wrinkle, the legal watchdog group Judicial Watch obtained documents that show the unnamed technology experts referenced in the Durham probe worked for the Pentagon's Defense Advanced Research Projects Agency from 2016-2021. That division of the Defense Department is responsible for developing new military technologies.
This revelation means the government contractor hired by the Clinton campaign continued to work for the government through the entirety of the Trump administration. 
According to Judicial Watch, the documents suggest the unnamed tech experts were interested in information about Steve Bannon, a Trump campaign adviser who became one of his top White House aides. 
Judicial Watch obtained the documents about tech experts Rodney Joffe and three other unnamed tech experts referenced in the Sussmann indictment through the Georgia Open Records Act, a state version of the Freedom of Information Act. 
"Researcher-1," whose emails are cited in the Sussmann indictment, is a computer scientist at Georgia Tech, a public university subject to open records laws.
Joffe, former senior vice president of the tech company Neustar Inc., is widely reported to be the "Technology Executive-1" referenced in Durham's court filings against Sussmann. 
"Was the Defense Department's DARPA [Defense Advanced Research Projects Agency] funding information misused by the Clinton campaign to spy on the Trump White House?" Judicial Watch President Tom Fitton asked in a public statement regarding emails obtained through the open records request.
"The emails highlight that the 'tech' experts implicated in the Durham indictment were very much interested in the fake dossier used to smear President Trump," Fitton said.
Judicial Watch obtained 127 pages of records from the Georgia Institute of Technology, including communications among the four unnamed individuals mentioned in the Sussmann indictment. None of the four has been indicted. 
5. Who Else Could Be Charged?
Durham seems to be building a case from the bottom up, seeing who prosecutors can squeeze for more evidence of wrongdoing, legal analysts say. 
"Durham is taking his time. We will probably see more indictments," said Curt Levey, president of the Committee for Justice, a conservative legal group. 
However, Levey said he isn't sure additional charges would stem from the data gathering. 
"It's possible no laws were broken, since this contractor had access to the White House. But it's certainly improper," Levey told The Daily Signal. "It's not clear to me at this point [the contractor] exceeded the bounds of its contract to the point of spying on the White House."
The federal Computer Fraud and Abuse Act, 18 U.S.C. §1030, states that intentionally accessing a computer including "any nonpublic computer of a department or agency of the United States [which would include the White House] without authorization" can mean up to 10 years in federal prison. Under this law, it's a violation when someone "exceeds authorized access."
Heritage's Stimson said he suspects more charges from Durham are on the way, but he is not certain how high the probe will go. 
"My guess is that Durham will eventually conclude his investigation. He'll indict who he can indict," Stimson said.  "He may even end up with information that he thinks the attorney general should be aware of, where he wouldn't want to take on a very high-level person without the tacit approval and consent of the attorney general."
Stimson said this person could be Hillary Clinton or a close associate of hers. 
However, he cautioned Clinton critics and Trump supporters to wait for the facts, because the special counsel's court filing doesn't prove spying. 
"I would caution people from reading too much into this," Stimson said. "I think some people are rubbing their hands together and sort of saying 'This absolutely, 100% proves they were spying.'" 
"My gut tells me there is probably another indictment or two to come and not more," he said. "If the people behind this dirty tricks campaign were sophisticated enough to layer it the way they've layered it and secrete it the way they secreted it into the body politic, they've insulated themselves with enough sophisticated means such that they will never be held accountable." 
6. How Will Durham Probe Conclude?
Although Barr appointed him at the end of the Trump administration, Durham eventually will produce a report that he will submit to Attorney General Merrick Garland. This process is similar to how then-special counsel Robert Mueller submitted his 2019 report on the Trump-Russia allegations to Barr. 
Durham's report doesn't have to be a long narrative like the Mueller report was, Stimson said. 
"He could send a one-page report saying, 'My investigation is complete and the indictments in the following cases constitute the criminal acts that were taking place. Thank you very much,'" Stimson said. 
But, Stimson said, it's important that an opposition political campaign never again be able to prompt government officials and the media to perpetuate a narrative about its opponent. 
The Committee for Justice's Levey noted that comparisons to the Watergate scandal might not be off base, but it's too early to know. 
"Arguably, accessing White House data information is worse than a break-in to the DNC," Levey said, referring to the Democratic National Committee. "We don't yet know if laws were broken, but it stinks to high heaven."
Have an opinion about this article? To sound off, please email letters@DailySignal.com and we'll consider publishing your edited remarks in our regular "We Hear You" feature. Remember to include the URL or headline of the article plus your name and town and/or state. 
The Honorable Representative Fred Upton of Michigan Washington D.C.
Dear Representative Fred Upton, 
I noticed that you are a pro-life representative that has a long record of standing up for unborn babies! It was in the 1970's when I was first introduced to the works of Francis Schaeffer and Dr. C. Everett Koop and I wanted to commend their writings and films to you.
I recently read about your pro-life record:
Voted YES on making it a crime to harm a fetus during another crime.
Vote to pass a bill that would make it a criminal offense to harm or kill a fetus during the commission of a violent crime. The measure would set criminal penalties, the same as those that would apply if harm or death happened to the pregnant woman, for those who harm a fetus. It is not required that the individual have prior knowledge of the pregnancy or intent to harm the fetus. This bill prohibits the death penalty from being imposed for such an offense. The bill states that its provisions should not be interpreted to apply a woman's actions with respect to her pregnancy.
Reference: Unborn Victims of Violence Act; Bill HR 1997 ; vote number 2004-31 on Feb 26, 2004
Voted YES on banning partial-birth abortion except to save mother's life.
Partial-Birth Abortion Ban Act of 2003: Vote to pass a bill banning a medical procedure, which is commonly known as "partial-birth" abortion. The procedure would be allowed only in cases in which a women's life is in danger, not for cases where a women's health is in danger. Those who performed this procedure, would face fines and up to two years in prison, the women to whom this procedure is performed on are not held criminally liable.
Reference: Bill sponsored by Santorum, R-PA; Bill S.3 ; vote number 2003-530 on Oct 2, 2003
It seems you have a grudge against President Trump while our freedoms under President Biden are being taken away. I recommend to you the article below:
 • Volume 50, Number 9 • Roger Kimball
Roger Kimball
Editor and Publisher, The New Criterion
Mr. Kimball concludes his article with these words: 
That's one melancholy lesson of the January 6 insurrection hoax: that America is fast mutating from a republic, in which individual liberty is paramount, into an oligarchy, in which conformity is increasingly demanded and enforced.
Another lesson was perfectly expressed by Donald Trump when he reflected on the unremitting tsunami of hostility that he faced as President. "They're after you," he more than once told his supporters. "I'm just in the way."
Bingo.
NOW WHAT DID YOU DO TO TURN YOUR BACK ON OUR LIBERTY AND PERPETUATE THE HOAX THAT JANUARY 6TH WAS AN INSURRECTION? Read below!! 
There were a few Republicans Thursday who surprised observers when they voted in support of holding former Trump adviser Steve Bannon in contempt of Congress and referring him to the Justice Department for criminal prosecution.
Prior to the vote, four Republicans were considered a lock to approve the criminal referral, according to Capitol Hill sources: Reps. Liz Cheney of Wyoming, Adam Kinzinger of Illinois, Fred Upton of Michigan and Anthony Gonzalez of Ohio.
Cheney and Kinzinger are on the House select committee investigating the Jan. 6 insurrection at the U.S. Capitol, and have for months stood alone as the only two House Republicans willing to speak out against former President Donald Trump's continued lies about the 2020 election. They were the only two House Republicans to vote for the formation of the select committee on June 30.
House Speaker Nancy Pelosi formed the select committee after Republicans rejected a bipartisan commission that would have been evenly split between five Democrats and five Republicans. Only 35 Republicans voted for that measure when itpassed the House of Representatives, and it was defeated by a GOP filibuster in the Senate.
Upton has served in the House for more than three decades, since 1987, and will face a primary challenge next year because of his willingness to stand up to Trump.
Gonzalez is retiring from Congress next year, after only four years in the House. "While my desire to build a fuller family life is at the heart of my decision, it is also true that the current state of our politics, especially many of the toxic dynamics inside our own party, is a significant factor in my decision," Gonzalez said in September when heannounced he would not seek another term.
The remaining five Republicans included three who voted for impeachment — Peter Meijer of Michigan, John Katko of New York and Jaime Herrera Beutler of Washington — and two House Republicans who did not vote to impeach Trump: Nancy Mace of South Carolina and Brian Fitzpatrick of Pennsylvania.
FROM TUCKER CARLSON SHOW OF SEPTEMBER 24, 2021:
Now, we've watched this happen all this year in real time, we're living through distorted history as we watch the offense of January 6th described by everyone. Here is how the media describe what happened that day that day.
(BEGIN VIDEO CLIP)
TARA SETMAYER, CNN POLITICAL COMMENTATOR: That day will be another day that lives in infamy in American History similar to Pearl Harbor and 9/11.
SEN. CHUCK SCHUMER (D-NY): We can now add January 6, 2021 to that very short list of dates in American History that will live forever in infamy.
JOE BIDEN (D), PRESIDENT OF THE UNITED STATES: The worst attack on our democracy since the Civil War.
ANDERSON COOPER, CNN HOST: A hundred and fifty days since the worst single act of political violence since the Civil War.
CHRIS HAYES, MSNBC HOST: The worst attack on American democracy arguably probably since the Civil War.
Do you realize that Americans rights are being taken away from them and would you like an example? I am going to quote Mr. Kimball again.  You can google and get Roger Kimball article "The January 6 Insurrection Hoax"
Trump seems never to have discerned what a viper's nest our politics has become for anyone who is not a paid-up member of The Club. 
Maybe Trump understands this now. I have no insight into that question. I am pretty confident, though, that the 74 plus million people who voted for him understand it deeply. It's another reason that The Club should be wary of celebrating its victory too expansively. 
Friedrich Hayek took one of the two epigraphs for his book, The Road to Serfdom, from the philosopher David Hume. "It is seldom," Hume wrote, "that liberty of any kind is lost all at once." Much as I admire Hume, I wonder whether he got this quite right. Sometimes, I would argue, liberty is erased almost instantaneously.
I'd be willing to wager that Joseph Hackett, confronted with Hume's observation, would express similar doubts. I would be happy to ask Mr. Hackett myself, but he is inaccessible. If the ironically titled "Department of Justice" has its way, he will be inaccessible for a long, long time—perhaps as long as 20 years. 
Joseph Hackett, you see, is a 51-year-old Trump supporter and member of an organization called the Oath Keepers, a group whose members have pledged to "defend the Constitution against all enemies foreign and domestic." The FBI does not like the Oath Keepers—agents arrested its leader in January and have picked up many other members in the months since. Hackett traveled to Washington from his home in Florida to join the January 6 rally. According to court documents, he entered the Capitol at 2:45 that afternoon and left some nine minutes later, at 2:54. The next day, he went home. On May 28, he was apprehended by the FBI and indicted on a long list of charges, including conspiracy, obstruction of an official proceeding, destruction of government property, and illegally entering a restricted building. 
As far as I have been able to determine, no evidence of Hackett destroying property has come to light. According to his wife, it is not even clear that he entered the Capitol. But he certainly was in the environs. He was a member of the Oath Keepers. He was a supporter of Donald Trump. Therefore, he must be neutralized.
Joseph Hackett is only one of hundreds of citizens who have beenbranded as "domestic terrorists" trying to "overthrow the government" and who are now languishing, in appalling conditions, jailed as political prisoners of an angry state apparat.
—-
I want to recommend to you a video on YOU TUBE that runs 28 minutes and 39 seconds by Francis Schaeffer entitled because it discusses the founding of our nation and what the FOUNDERS believed: 
How Should We Then Live | Season 1 | Episode 5 | The Revolutionary Age
Thank you for your time, and again I want to thank you for your support of the unborn little babies!
Sincerely,
Everette Hatcher, 13900 Cottontail Lane, AR 72002, cell 501-920-5733, everettehatcher@gmail.com, http://www.thedailyhatch.org
——————————————————————————————
——
Dr. Francis schaeffer How Should We Then Live | Season 1 | Episode 5 | The Revolutionary Age
– Whatever happened to human race? PART 1 Co-authored by Francis Schaeffer and Dr. C. Everett Koop)

Dr. Francis Schaeffer – Whatever Happened To The Human Race? | Episode 2 | Slaughter of the Innocents
Francis Schaeffer – Whatever Happened To The Human Race? | Episode 3 | Death by Someone's Choice
Mr. Hentoff with the clarinetist Edmond Hall in 1948 at the Savoy, a club in Boston. (Nat Hentoff was a pro-life atheist)
Dr. Francis Schaeffer – Whatever Happened To The Human Race? | Episode 4 | The Basis for Human Dignity 
Edith Schaeffer with her husband, Francis Schaeffer, in 1970 in Switzerland, where they founded L'Abri, a Christian commune.
March 23, 2021
President Biden c/o The White House 1600 Pennsylvania Avenue NW Washington, DC 20500
Dear Mr. President,
I really do respect you for trying to get a pulse on what is going on out here. I know that you don't agree with my pro-life views but I wanted to challenge you as a fellow Christian to re-examine your pro-choice view. Although we are both Christians and have the Bible as the basis for our moral views, I did want you to take a close look at the views of the pro-life atheist Nat Hentoff too.  Hentoff became convinced of the pro-life view because of secular evidence that shows that the unborn child is human. I would ask you to consider his evidence and then of course reverse your views on abortion.
___________________
The pro-life atheist Nat Hentoff wrote a fine article below I wanted to share with you.
Nat Hentoff is an atheist, but he became a pro-life activist because of the scientific evidence that shows that the unborn child is a distinct and separate human being and even has a separate DNA. His perspective is a very intriguing one that I thought you would be interested in. I have shared before many   cases (Bernard Nathanson, Donald Trump, Paul Greenberg, Kathy Ireland)    when other high profile pro-choice leaders have changed their views and this is just another case like those. I have contacted the White House over and over concerning this issue and have even received responses. I am hopeful that people will stop and look even in a secular way (if they are not believers) at this abortion debate and see that the unborn child is deserving of our protection.That is why the writings of Nat Hentoff of the Cato Institute are so crucial.
In the film series "WHATEVER HAPPENED TO THE HUMAN RACE?" the arguments are presented  against abortion (Episode 1),  infanticide (Episode 2),   euthanasia (Episode 3), and then there is a discussion of the Christian versus Humanist worldview concerning the issue of "the basis for human dignity" in Episode 4 and then in the last episode a close look at the truth claims of the Bible.
__________________________
I truly believe that many of the problems we have today in the USA are due to the advancement of humanism in the last few decades in our society. Ronald Reagan appointed the evangelical Dr. C. Everett Koop to the position of Surgeon General in his administration. He partnered with Dr. Francis Schaeffer in making the video below. It is very valuable information for Christians to have.  Actually I have included a video below that includes comments from him on this subject.
Francis Schaeffer Whatever Happened to the Human Race (Episode 1) ABORTION
_____________________________________
Dr. Francis schaeffer – from Part 5 of Whatever happened to human race?) Whatever Happened To The Human Race? | Episode 5 | Truth and History

Dr. Francis Schaeffer – A Christian Manifesto – Dr. Francis Schaeffer Lecture
Francis Schaeffer – A 700 Club Special! ~ Francis Schaeffer 1982
Dr. Francis Schaeffer – 1984 SOUNDWORD LABRI CONFERENCE VIDEO – Q&A With Francis & Edith Schaeffer
______________________
Thank you so much for your time. I know how valuable it is. I also appreciate the fine family that you have and your commitment as a father and a husband. Now after presenting the secular approach of Nat Hentoff I wanted to make some comments concerning our shared Christian faith.  I  respect you for putting your faith in Christ for your eternal life. I am pleading to you on the basis of the Bible to please review your religious views concerning abortion. It was the Bible that caused the abolition movement of the 1800's and it also was the basis for Martin Luther King's movement for civil rights and it also is the basis for recognizing the unborn children.
Sincerely,
Everette Hatcher III, 13900 Cottontail Lane, Alexander, AR 72002, ph 501-920-5733,
Related posts:
By Everette Hatcher III | Posted in Francis Schaeffer | Edit | Comments (0)