—
Most Powerful Moment In After Life
After Life 3 – Ratty and the Nonce scene

After Life – Ratty and The Nonce Penalty Shootouts #AfterLife
Ratty and the Nonce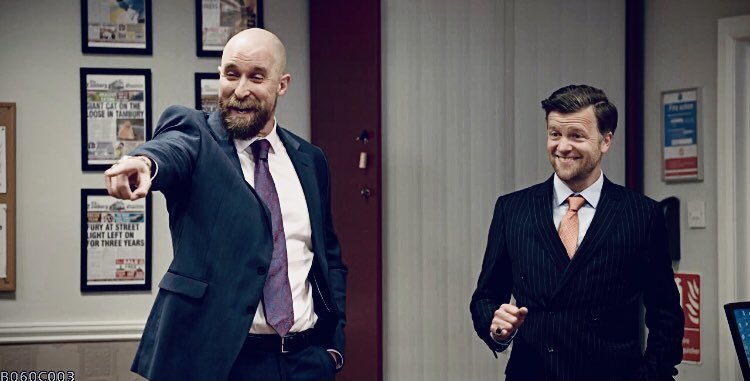 —
—-
—-
—-
—
World Exclusive: After Life Season 3: The First few Minutes
After Life | Season 3 Official Trailer | Netflix
—
episodes will be released on January 14th.
Just Three Things. Written for #Afterlife by Ricky Gervais and Andy Burrows




January 17, 2022
Ricky Gervais
London, W1F 0LE
UK
Dear Ricky,

In episode 3 in season 3 of AFTER LIFE we have a visit to the Tambury Gazette by Ratty and the Nonce:
Ratty: We're here [at Tambury Gazette] about a story about our podcast. We [Ratty and the Nonce] just want to help the world man up. We talk about it [sex] all day..[so] we need to broadcast it out!
Solomon realized in his old age that the meaning of life is not found in the number of sexual conquests a man has.
"I gathered a chorus of singers to entertain me with song, and—most exquisite of all pleasures— voluptuous maidens for my bed…behold, all was vanity and a striving after wind, and there was nothing to be gained under the sun" Ecclesiastes 2:8-11
In AFTERLIFE Tony has a warm friendship with the sex worker Daphne (Roisin Conaty) and when he hires her she comes over and he asks her to clean up his kitchen. When Daphne asked if Tony wanted anything sexual he said no. That is when their friendship seemed to deepen. Tony lost a wonderful wife and he passed on a chance for sex without a relationship. Solomon found out long ago that path is just a deadend.
Francis Schaeffer looks at Solomon's words in ECCLESIASTES:
Ecclesiastes 7:25-28
25 I directed my mind to know, to investigate and to seek wisdom and an explanation, and to know the evil of folly and the foolishness of madness. 26 And I discovered more bitter than death the woman whose heart is snares and nets, whose hands are chains. One who is pleasing to God will escape from her, but the sinner will be captured by her.
27 "Behold, I have discovered this," says the Preacher, "adding one thing to another to find an explanation, 28 I have looked for other answers but have found none. I found one man in a thousand that I could respect, but not one woman. (Good News Translation on verse 28)
One can understand both Solomon's expertness in this field and his bitterness.
I Kings 11:1-3 (New American Standard Bible)
11 Now King Solomon loved many foreign women along with the daughter of Pharaoh: Moabite, Ammonite, Edomite, Sidonian, and Hittite women, 2 from the nations concerning which the Lord had said to the sons of Israel, "You shall not associate with them, nor shall they associate with you, for they will surely turn your heart away after their gods." Solomon held fast to these in love. 3 He had seven hundred wives, princesses, and three hundred concubines, and his wives turned his heart away.
An expert but also the reason for his bitterness. Certainly there have been many men over the centuries who have daydreamed of Solomon's wealth in this area [of women], but at the end it was sorry, not only sorry but nothing and less than nothing. The simple fact is that one can not know woman in the real sense by pursuing 1000 women. It is not possible. Woman is not found this way. All that is left in this setting if one were to pursue the meaning of life in this direction is this most bitter word found in Ecclesiastes 7:28, "I have looked for other answers but have found none. I found one man in a thousand that I could respect, but not one woman." (Good News Translation on verse 28) He was searching in the wrong way. He was searching for the answer to life in the limited circle of that which is beautiful in itself but not an answer finally in sexual life. More than that he finally tried to find it in variety and he didn't even touch one woman at the end.
The answer to find meaning in life is found in putting your faith and trust in Jesus Christ. The Bible is true from cover to cover and can be trusted. Biblical Archaeology is Silencing the critics! Significantly, even liberal theologians, secular academics, and critics generally cannot deny that archaeology has confirmed thebiblical record at many points. Rationalistic detractors of the Bible can attack it all day long, but they cannot dispute archaeological facts.
Thanks for your time.
Sincerely,
Everette Hatcher, everettehatcher@gmail.com, http://www.thedailyhatch.org, cell ph 501-920-5733, 13900 Cottontail Lane, Alexander, AR 72002
Related posts:
— After Life Season 3 Ending Explained & Review —- — World Exclusive: After Life Season 3: The First few Minutes After Life | Season 3 Official Trailer | Netflix — episodes will be released on January 14th. Just Three Things. Written for #Afterlife by Ricky Gervais and Andy Burrows January 5, 2022Ricky Gervais London, W1F […]
By Everette Hatcher III | Posted in Uncategorized | Edit | Comments (0)
— After Life season 3 review: Its greatest strength is also its biggest weakness "Let's just carry on, and nothing changes." Netflix By Abby Robinson 3 weeks ago 3.0 out of 5 star rating To say a fair bit has happened since the arrival of After Life's second season back in April 2020 would be a […]
By Everette Hatcher III | Posted in Uncategorized | Edit | Comments (0)
— Ricky Gervais & Tony Way Talk After Life Season 3, Male Friendship And Shooting Outrageous Scenes BY BOYD HILTON | POSTED ON21 01 2022 Ricky Gervais is one of the creative minds behind some of Britain's most classic comedies – Extras, The Office, Derek, to name a few. With Netflix series After Life, he took on a topic altogether more vulnerable, […]
By Everette Hatcher III | Posted in Uncategorized | Edit | Comments (0)
— In episode three, Ewen plays a fells who gets chucked out of an all-you-can-eat buffet for eating too much AfterLife Season 3 – All You Can Eat Scene {Keith from office} Ricky Gervais: "The people in 'After Life' aren't freaks. Brad Pitt, Johnny Depp – they're freaks!" As his melancholic Netflix drama draws to […]
By Everette Hatcher III | Posted in Uncategorized | Edit | Comments (0)
— Kaths best moment from After Life season 3
'After Life' season three review: Ricky Gervais' humanist hit goes out on a high The final scene, moving and poignant, is among its creator's greatest works ByJames McMahon14th January 2022 Facebook Twitter They don't make television like After Life anymore. They don't make them much like Ricky Gervais either. This, the third […]
By Everette Hatcher III | Posted in Uncategorized | Edit | Comments (0)
— —- — World Exclusive: After Life Season 3: The First few Minutes After Life | Season 3 Official Trailer | Netflix — episodes will be released on January 14th. Just Three Things. Written for #Afterlife by Ricky Gervais and Andy Burrows January 28, 2022 Ricky Gervais London, W1F 0LEUK Dear Ricky, "JUST SOUNDS?" OR DO […]
By Everette Hatcher III | Posted in Uncategorized | Edit | Comments (0)
— Tony and Kath care for each other but they love to argue too! NETFLIX Most Powerful Moment In After Life and great Review — — —- — World Exclusive: After Life Season 3: The First few Minutes After Life | Season 3 Official Trailer | Netflix — episodes will be released on January 14th. Just […]
By Everette Hatcher III | Posted in Uncategorized | Edit | Comments (0)
— — After Life season 3 review: Ricky Gervais' show is a terrific closure to a story of grief and acceptance After Life season 3 review: The third iteration in this Ricky Gervais series about grief and loss serves as an emotion-laden, poignant closure to the story. – Written By Kshitij Rawat | New Delhi | January […]
By Everette Hatcher III | Posted in Uncategorized | Edit | Comments (0)
— After Life 2 – Brian's stand up performance David Earl plays Brian — —- —- —- — World Exclusive: After Life Season 3: The First few Minutes After Life | Season 3 Official Trailer | Netflix — episodes will be released on January 14th. Just Three Things. Written for #Afterlife by Ricky Gervais and Andy […]
By Everette Hatcher III | Posted in Uncategorized | Edit | Comments (0)
— Death Cab for Cutie – I Will Follow You into the Dark (Official Music Vi… Why Is After Life So Popular? Afterlife Season 3 – "I wish I had a brick" —- — World Exclusive: After Life Season 3: The First few Minutes After Life | Season 3 Official Trailer | Netflix — episodes […]
I have gone back and forth and back and forth with many liberals on the Arkansas Times Blog on many issues such as abortion, human rights, welfare, poverty, gun control and issues dealing with popular culture. Here is another exchange I had with them a while back. My username at the Ark Times Blog is Saline […]By Everette Hatcher III | Posted in Biblical Archaeology, Francis Schaeffer, Prolife | Edit|Comments (0)
I have posted many of the sermons by John MacArthur. He is a great bible teacher and this sermon below is another great message. His series on the Book of Proverbs was outstanding too. I also have posted several of the visits MacArthur made to Larry King's Show. One of two most popular posts I […]By Everette Hatcher III | Posted in Adrian Rogers, Current Events | Edit|Comments (0)
I have posted many of the sermons by John MacArthur. He is a great bible teacher and this sermon below is another great message. His series on the Book of Proverbs was outstanding too. I also have posted several of the visits MacArthur made to Larry King's Show. One of two most popular posts I […]By Everette Hatcher III | Posted in Adrian Rogers, Current Events |Tagged Bible Prophecy, john macarthur | Edit|Comments (0)
Prophecy–The Biblical Prophesy About Tyre.mp4 Uploaded by TruthIsLife7 on Dec 5, 2010 A short summary of the prophecy about Tyre and it's precise fulfillment. Go to this link and watch the whole series for the amazing fulfillment from secular sources. http://www.youtube.com/watch?v=qvt4mDZUefo________________ John MacArthur on the amazing fulfilled prophecy on Tyre and how it was fulfilled […]By Everette Hatcher III | Posted in Biblical Archaeology | Edit|Comments (1)
John MacArthur on the Bible and Science (Part 2) I have posted many of the sermons by John MacArthur. He is a great bible teacher and this sermon below is another great message. His series on the Book of Proverbs was outstanding too. I also have posted several of the visits MacArthur made to Larry […]By Everette Hatcher III | Posted in Current Events | Edit|Comments (0)
John MacArthur on the Bible and Science (Part 1) I have posted many of the sermons by John MacArthur. He is a great bible teacher and this sermon below is another great message. His series on the Book of Proverbs was outstanding too. I also have posted several of the visits MacArthur made to Larry […]By Everette Hatcher III | Posted in Current Events | Edit|Comments (0)
Adrian Rogers – How you can be certain the Bible is the word of God Great article by Adrian Rogers. What evidence is there that the Bible is in fact God's Word? I want to give you five reasons to affirm the Bible is the Word of God. First, I believe the Bible is the […]By Everette Hatcher III | Posted in Adrian Rogers, Biblical Archaeology | Edit|Comments (0)
Is there any evidence the Bible is true? Articles By PleaseConvinceMe Apologetics Radio The Old Testament is Filled with Fulfilled Prophecy Jim Wallace A Simple Litmus Test There are many ways to verify the reliability of scripture from both internal evidences of transmission and agreement, to external confirmation through archeology and science. But perhaps the […]By Everette Hatcher III | Posted in Biblical Archaeology, Current Events | Edit|Comments (0)
I have gone back and forth and back and forth with many liberals on the Arkansas Times Blog on many issues such as abortion, human rights, welfare, poverty, gun control and issues dealing with popular culture. Here is another exchange I had with them a while back. My username at the Ark Times Blog is […]By Everette Hatcher III | Posted in Francis Schaeffer, Prolife | Edit|Comments (0)
Here is some very convincing evidence that points to the view that the Bible is historically accurate. Archaeological and External Evidence for the Bible Archeology consistently confirms the Bible! Archaeology and the Old Testament Ebla tablets—discovered in 1970s in Northern Syria. Documents written on clay tablets from around 2300 B.C. demonstrate that personal and place […]By Everette Hatcher III | Posted in Biblical Archaeology | E
On Saturday April 18, 2020 at 6pm in London and noon in Arkansas, I had a chance to ask Ricky Gervais a question on his Twitter Live broadcast which was "Is Tony a Nihilist?" At the 20:51 mark Ricky answers my question. Below is the video:

—
—
Ricky Gervais 25/07/2021 Facebook Live at 28:29 mark Ricky answers my question about Sam Harris