—
Death Cab for Cutie – I Will Follow You into the Dark (Official Music Vi…
Why Is After Life So Popular?

Afterlife Season 3 – "I wish I had a brick"
—-
—
World Exclusive: After Life Season 3: The First few Minutes
After Life | Season 3 Official Trailer | Netflix
—
episodes will be released on January 14th.
Just Three Things. Written for #Afterlife by Ricky Gervais and Andy Burrows




January 19, 2022
Ricky Gervais
London, W1F 0LE
UK
Dear Ricky,

Tony in season 3 of AFTER LIFE tells Lenny:
"Would I give my kidney to a stranger? NO! I want to do something good. I want to make a sacrifice. I want to make a difference, but I think WHAT'S THE POINT? So I give my kidney to someone but they are gonna die anyway one day. So who cares?"
This attitude about death overshadowing everything was in season 1 too!
In AFTERLIFE season 1 in episode #1
Tony : Does that usually work, does it? To most people, the threat of death is worse than giving you money, but Or they're worried you'll hurt their family or I haven't got any family. I'm not gonna go into it, but I don't care about anything anymore. I'm not giving you any money.
Ecclesiastes 2:18-20
18 Thus I hated all the fruit of my labor for which I had labored under the sun, for I must leave it to the man who will come after me. 19 And who knows whether he will be a wise man or a fool? Yet he will have control over all the fruit of my labor for which I have labored by acting wisely under the sun. This too is vanity.20 Therefore I completely despaired of all the fruit of my labor for which I had labored under the sun.
Francis Schaeffer: [Solomon in ECCLESIASTES] looked at the works of his hands, great and multiplied by his wealth and his position and he shrugged his shoulders.
Ecclesiastes 2:22-23
22 For what does a man get in all his labor and in his striving with which he labors under the sun? 23 Because all his days his task is painful and grievous; even at night his mind does not rest. This too is vanity.
Francis Schaeffer: Man can not rest and yet he is never done and yet the things which he builds will out live him. If one wants an ironical three phrases these are they. There is a Dutch saying, "The tailor makes many suits but one day he will make a suit that will outlast the tailor."
Ecclesiastes 9:11
11 Again I saw that under the sun the race is not to the swift, nor the battle to the strong, nor bread to the wise, nor riches to the intelligent, nor favor to those with knowledge, but time and chance happen to them all.
Francis Schaeffer: Chance rules. If a man starts out only from himself and works outward it must eventually if he is consistent seem so that only chance rules and naturally in such a setting you can not expect him to have anything else but finally a hate of life.
Ecclesiastes 2:17-18a
17 So I hated life, because what is done under the sun was grievous to me, for all is vanity and a striving after wind. 18 I hated all my toil in which I toil under the sun…
Francis Schaeffer: That first great cry "So I hated life." Naturally if you hate life you long for death and you find him saying this in Ecclesiastes 4:2-3:
2 And I thought the dead who are already dead more fortunate than the living who are still alive. 3 But better than both is he who has not yet been and has not seen the evil deeds that are doneunder the sun.
Francis Schaeffer: "He lays down an order. It is best never have to been. It is better to be dead, and worse to be alive. But like all men and one could think of the face of Vincent Van Gogh in his final paintings as he came to hate life and you watch something die in his self portraits, the dilemma is double because as one is consistent and one sees life as a game of chance, one must come in a way to hate life. Yet at the same time men never get beyond the fear to die. Solomon didn't either. So you find him in saying this."
Ricky I know that you are active in the BRITISH HUMANIST ASSOCIATION so I thought this short letter may interest you.
H. J. Blackham was the founder of the BRITISH HUMANIST ASSOCIATION and he asserted:
"On humanist assumptions, life leads to nothing, and every pretense that it does not is a deceit. If there is a bridge over a gorge which spans only half the distance and ends in mid-air, and if the bridge is crowded with human beings pressing on, one after the other they fall into the abyss. The bridge leads nowhere, and those who are pressing forward to cross it are going nowhere….It does not matter where they think they are going, what preparations for the journey they may have made, how much they may be enjoying it all. The objection merely points out objectively that such a situation is a model of futility"( H. J. Blackham, et al., Objections to Humanism (Riverside, Connecticut: Greenwood Press, 1967).
Woody Allen in his famous satirical article SPEECH TO THE GRADUATES wrote,
More than at any other time in history, mankind faces a crossroads. One path leads to despair and utter hopelessness. The other, to total extinction. Let us pray we have the wisdom to choose correctly.
I speak, by the way, not with any sense of futility, but with a panicky conviction of the absolute meaninglessness of existence which could easily be misinterpreted as pessimism.
My good friend Jacques Monod spoke often of the randomness of the cosmos. He believed everything in existence occurred by pure chance with the possible exception of his breakfast, which he felt certain was made by his housekeeper.
Can a man or a woman find lasting meaning without God? Three thousand years ago, Solomon took a look at life "under the sun" in his book of Ecclesiastes. The key to understanding the Book of Ecclesiastes is the term 'under the sun.' What that literally means is you lock God out of a closed system, and you are left with only this world of time plus chance plus matter.
Let me show you some inescapable conclusions if you choose to live without God in the picture. Solomon came to these same conclusions when he looked at life "under the sun."
Death is the great equalizer (Eccl 3:20, "All go to the same place; all come from dust, and to dust all return.")
Chance and time have determined the past, and they will determine the future. (Ecclesiastes 9:11-13 "I have seen something else under the sun: The race is not to the swift
or the battle to the strong, nor does food come to the wise or wealth to the brilliant or favor to the learned; but time and chance happen to them all. Moreover, no one knows when their hour will come: As fish are caught in a cruel net, or birds are taken in a snare, so people are trapped by evil times that fall unexpectedly upon them.")
Power reigns in this life, and the scales are not balanced(Eccl 4:1; "Again I looked and saw all the oppression that was taking place under the sun: I saw the tears of the oppressed—
and they have no comforter; power was on the side of their oppressors— and they have no comforter." 7:15 "In this meaningless life of mine I have seen both of these: the righteous perishing in their righteousness, and the wicked living long in their wickedness. ).
Nothing in life gives true satisfaction without God including knowledge (1:16-18), ladies and liquor (2:1-3, 8, 10, 11), and great building projects (2:4-6, 18-20).
There is no ultimate lasting meaning in life. (1:2)
By the way, the final chapter of Ecclesiastes finishes with Solomon emphasizing that serving God is the only proper response of man. Solomon looks above the sun and brings God back into the picture in the final chapter of the book in Ecclesiastes 12:13-14:
13 Now all has been heard;
here is the conclusion of the matter:
Fear God and keep his commandments,
for this is the whole duty of man.
14 For God will bring every deed into judgment,
including every hidden thing,
whether it is good or evil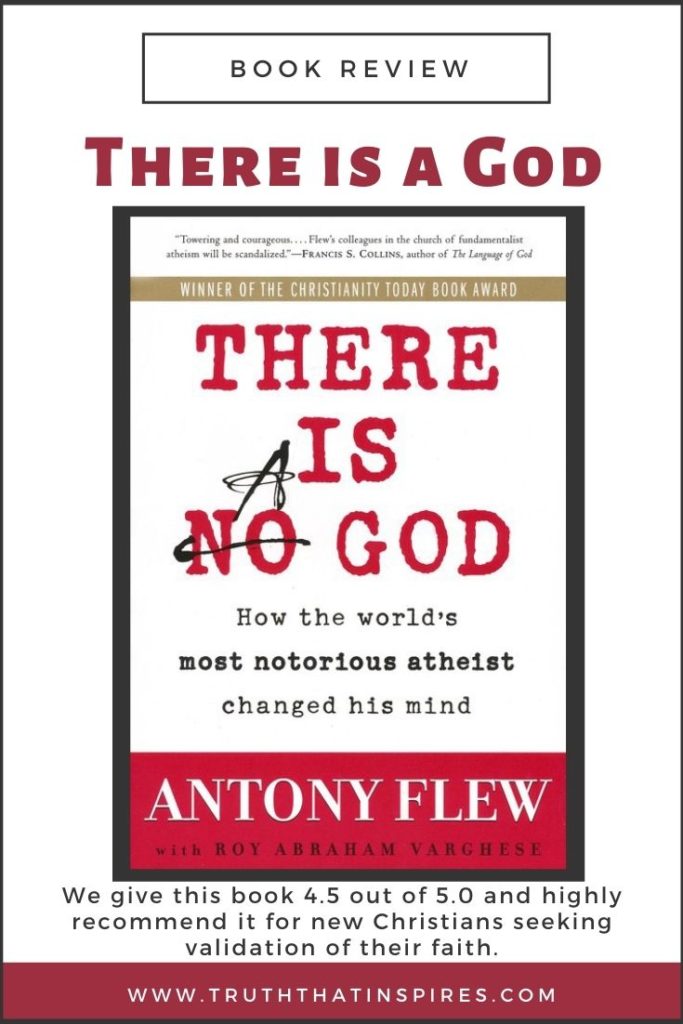 Atheist Antony Flew taught in your hometown university in Reading for many years and he later became a theist!!! Dr. Flew made the point: Wouldn't it be more logical to believe that we were put here for a purpose and that universe was fine tuned for us?
The Fine Tuning Argument for the Existence of God fromAntony Flew!
Imagine entering a hotel room on your next vacation. The CD player on the bedside table is softly playing a track from your favorite recording. The framed print over the bed is identical to the image that hangs over the fireplace at home. The room is scented with your favorite fragrance…You step over to the minibar, open the door, and stare in wonder at the contents. Your favorite beverage. Your favorite cookies and candy. Even the brand of bottled water you prefer…You notice the book on the desk: it's the latest volume by your favorite author…
Chances are, with each new discovery about your hospitable new environment, you would be less inclined to think it has all a mere coincidence, right? You might wonder how the hotel managers acquired such detailed information about you. You might marvel at their meticulous preparation. You might even double-check what all this is going to cost you. But you would certainly be inclined to believe that someone knew you were coming. There Is A God (2007) p.113-4
Below is a piece of that evidence given by Francis Schaeffer and Dr. C. Everett Koop in their book WHATEVER HAPPENED TO THE HUMAN RACE? Chapter 5 concerning the accuracy of the Bible:
Ahab's line did not last long and was brutally overthrown by a man called Jehu. As one walks toward the Assyrian section in the British Museum, one of the first exhibits to be seen is the famous Black Obelisk. This stands about six feet high and was discovered at Nimrud (Calah) near the Assyrian capital at Nineveh. It describes how King Shalmeneser III compelled Jehu to submit to his authority and to pay him tribute. Here one can see a representation of the kneeling figure of either Jehu or his envoy before the Assyrian king. The inscription tells of Jehu's submission: "The tribute of Jehu, son of Omri: I received from him silver, gold, a golden bowl, a golden vase with pointed bottom, golden tumblers, golden buckets, tin, a staff for a king and purukhti fruits."
Jehu is referred to by the Assyrian records as a son of Omri, not because he was literally his son, but because he was on the throne which had been occupied previously by the house of Omri. This event took place about 841 B.C.
Putting them all together, these archaeological records show not only the existence historically of the people and events recorded in the Bible but the great accuracy of the details involved.
The answer to find meaning in life is found in putting your faith and trust in Jesus Christ. The Bible is true from cover to cover and can be trusted.
Love the playlist from AFTER LIFE! I Will Follow You Into the Dark by Death Cab for Cutie and Who Will Sing Me Lullabies by Kate Rusby are two of my favorites!
Kate Rusby – Who Will Sing Me Lullabies
The series finale is particularly jam-packed with recognisable tunes.
By David Craig
Published: Friday, 14th January 2022 at 12:07 pm
The third season of After Life launches on Netflixtoday, bringing the latest comedy project from Ricky Gervais to an emotional conclusion.
The so-called 'sadcom' has tackled some heavy themes during its rollercoaster run, which has seen widow Tony Johnson (Gervais) give into self-destructive tendencies as he struggles to come to terms with his wife's tragic death.
Adding some extra heft to the most dramatic scenes are the music choices, which are usually directly relatable to the difficult situation that Tony finds himself in.
After Life season 3 features a wide range of musical acts, including legendary songwriters Bob Dylan and Cat Stevens, as well as rock bands Radiohead and Death Cab for Cutie.
For any viewers who hear something they like in the last six episodes, we've compiled a full list of the licensed songs in After Life season 3, of which the finale has the largest jukebox.
Read on for the full tracklist, while we also have details on the After Life cast and locations for you to peruse at your leisure.
Episode 1
The Things We Do for Love by 10cc
Back to the Beginning by Aaron Espe
Episode 2
Not Dark Yet by Bob Dylan
Who Will Sing Me Lullabies by Kate Rusby
Episode 3
Let Down by Radiohead
Episode 4
The Wind by Cat Stevens
Episode 5
Hammer and Felt by Beneath the Mountain
Episode 6
I Will Follow You Into the Dark – Death Cab for Cutie
Love Is the Answer (Single Version) by England Dan & John Ford Coley
Introspective Inquiries by Margaret Dahlberg
Mandolin Wind by Rod Stewart
Both Sides Now by Joni Mitchell
Thanks for your time.
Sincerely,
Everette Hatcher, everettehatcher@gmail.com, http://www.thedailyhatch.org, cell ph 501-920-5733, 13900 Cottontail Lane, Alexander, AR 72002
Related posts:
— After Life Season 3 Ending Explained & Review —- — World Exclusive: After Life Season 3: The First few Minutes After Life | Season 3 Official Trailer | Netflix — episodes will be released on January 14th. Just Three Things. Written for #Afterlife by Ricky Gervais and Andy Burrows January 5, 2022Ricky Gervais London, W1F […]
By Everette Hatcher III | Posted in Uncategorized | Edit | Comments (0)
— After Life season 3 review: Its greatest strength is also its biggest weakness "Let's just carry on, and nothing changes." Netflix By Abby Robinson 3 weeks ago 3.0 out of 5 star rating To say a fair bit has happened since the arrival of After Life's second season back in April 2020 would be a […]
By Everette Hatcher III | Posted in Uncategorized | Edit | Comments (0)
— Ricky Gervais & Tony Way Talk After Life Season 3, Male Friendship And Shooting Outrageous Scenes BY BOYD HILTON | POSTED ON21 01 2022 Ricky Gervais is one of the creative minds behind some of Britain's most classic comedies – Extras, The Office, Derek, to name a few. With Netflix series After Life, he took on a topic altogether more vulnerable, […]
By Everette Hatcher III | Posted in Uncategorized | Edit | Comments (0)
— In episode three, Ewen plays a fells who gets chucked out of an all-you-can-eat buffet for eating too much AfterLife Season 3 – All You Can Eat Scene {Keith from office} Ricky Gervais: "The people in 'After Life' aren't freaks. Brad Pitt, Johnny Depp – they're freaks!" As his melancholic Netflix drama draws to […]
By Everette Hatcher III | Posted in Uncategorized | Edit | Comments (0)
— Kaths best moment from After Life season 3
'After Life' season three review: Ricky Gervais' humanist hit goes out on a high The final scene, moving and poignant, is among its creator's greatest works ByJames McMahon14th January 2022 Facebook Twitter They don't make television like After Life anymore. They don't make them much like Ricky Gervais either. This, the third […]
By Everette Hatcher III | Posted in Uncategorized | Edit | Comments (0)
— —- — World Exclusive: After Life Season 3: The First few Minutes After Life | Season 3 Official Trailer | Netflix — episodes will be released on January 14th. Just Three Things. Written for #Afterlife by Ricky Gervais and Andy Burrows January 28, 2022 Ricky Gervais London, W1F 0LEUK Dear Ricky, "JUST SOUNDS?" OR DO […]
By Everette Hatcher III | Posted in Uncategorized | Edit | Comments (0)
— Tony and Kath care for each other but they love to argue too! NETFLIX Most Powerful Moment In After Life and great Review — — —- — World Exclusive: After Life Season 3: The First few Minutes After Life | Season 3 Official Trailer | Netflix — episodes will be released on January 14th. Just […]
By Everette Hatcher III | Posted in Uncategorized | Edit | Comments (0)
— — After Life season 3 review: Ricky Gervais' show is a terrific closure to a story of grief and acceptance After Life season 3 review: The third iteration in this Ricky Gervais series about grief and loss serves as an emotion-laden, poignant closure to the story. – Written By Kshitij Rawat | New Delhi | January […]
By Everette Hatcher III | Posted in Uncategorized | Edit | Comments (0)
— After Life 2 – Brian's stand up performance David Earl plays Brian — —- —- —- — World Exclusive: After Life Season 3: The First few Minutes After Life | Season 3 Official Trailer | Netflix — episodes will be released on January 14th. Just Three Things. Written for #Afterlife by Ricky Gervais and Andy […]
By Everette Hatcher III | Posted in Uncategorized | Edit | Comments (0)
— Death Cab for Cutie – I Will Follow You into the Dark (Official Music Vi… Why Is After Life So Popular? Afterlife Season 3 – "I wish I had a brick" —- — World Exclusive: After Life Season 3: The First few Minutes After Life | Season 3 Official Trailer | Netflix — episodes […]
I have gone back and forth and back and forth with many liberals on the Arkansas Times Blog on many issues such as abortion, human rights, welfare, poverty, gun control and issues dealing with popular culture. Here is another exchange I had with them a while back. My username at the Ark Times Blog is Saline […]By Everette Hatcher III | Posted in Biblical Archaeology, Francis Schaeffer, Prolife | Edit|Comments (0)
I have posted many of the sermons by John MacArthur. He is a great bible teacher and this sermon below is another great message. His series on the Book of Proverbs was outstanding too. I also have posted several of the visits MacArthur made to Larry King's Show. One of two most popular posts I […]By Everette Hatcher III | Posted in Adrian Rogers, Current Events | Edit|Comments (0)
I have posted many of the sermons by John MacArthur. He is a great bible teacher and this sermon below is another great message. His series on the Book of Proverbs was outstanding too. I also have posted several of the visits MacArthur made to Larry King's Show. One of two most popular posts I […]By Everette Hatcher III | Posted in Adrian Rogers, Current Events |Tagged Bible Prophecy, john macarthur | Edit|Comments (0)
Prophecy–The Biblical Prophesy About Tyre.mp4 Uploaded by TruthIsLife7 on Dec 5, 2010 A short summary of the prophecy about Tyre and it's precise fulfillment. Go to this link and watch the whole series for the amazing fulfillment from secular sources. http://www.youtube.com/watch?v=qvt4mDZUefo________________ John MacArthur on the amazing fulfilled prophecy on Tyre and how it was fulfilled […]By Everette Hatcher III | Posted in Biblical Archaeology | Edit|Comments (1)
John MacArthur on the Bible and Science (Part 2) I have posted many of the sermons by John MacArthur. He is a great bible teacher and this sermon below is another great message. His series on the Book of Proverbs was outstanding too. I also have posted several of the visits MacArthur made to Larry […]By Everette Hatcher III | Posted in Current Events | Edit|Comments (0)
John MacArthur on the Bible and Science (Part 1) I have posted many of the sermons by John MacArthur. He is a great bible teacher and this sermon below is another great message. His series on the Book of Proverbs was outstanding too. I also have posted several of the visits MacArthur made to Larry […]By Everette Hatcher III | Posted in Current Events | Edit|Comments (0)
Adrian Rogers – How you can be certain the Bible is the word of God Great article by Adrian Rogers. What evidence is there that the Bible is in fact God's Word? I want to give you five reasons to affirm the Bible is the Word of God. First, I believe the Bible is the […]By Everette Hatcher III | Posted in Adrian Rogers, Biblical Archaeology | Edit|Comments (0)
Is there any evidence the Bible is true? Articles By PleaseConvinceMe Apologetics Radio The Old Testament is Filled with Fulfilled Prophecy Jim Wallace A Simple Litmus Test There are many ways to verify the reliability of scripture from both internal evidences of transmission and agreement, to external confirmation through archeology and science. But perhaps the […]By Everette Hatcher III | Posted in Biblical Archaeology, Current Events | Edit|Comments (0)
I have gone back and forth and back and forth with many liberals on the Arkansas Times Blog on many issues such as abortion, human rights, welfare, poverty, gun control and issues dealing with popular culture. Here is another exchange I had with them a while back. My username at the Ark Times Blog is […]By Everette Hatcher III | Posted in Francis Schaeffer, Prolife | Edit|Comments (0)
Here is some very convincing evidence that points to the view that the Bible is historically accurate. Archaeological and External Evidence for the Bible Archeology consistently confirms the Bible! Archaeology and the Old Testament Ebla tablets—discovered in 1970s in Northern Syria. Documents written on clay tablets from around 2300 B.C. demonstrate that personal and place […]By Everette Hatcher III | Posted in Biblical Archaeology | E
On Saturday April 18, 2020 at 6pm in London and noon in Arkansas, I had a chance to ask Ricky Gervais a question on his Twitter Live broadcast which was "Is Tony a Nihilist?" At the 20:51 mark Ricky answers my question. Below is the video:

—
—
Ricky Gervais 25/07/2021 Facebook Live at 28:29 mark Ricky answers my question about Sam Harris