—
In episode three, Ewen plays a fells who gets chucked out of an all-you-can-eat buffet for eating too much
AfterLife Season 3 – All You Can Eat Scene {Keith from office}

As his melancholic Netflix drama draws to a close, the controversial comic tells James McMahon why he's never been more proud
Behind Ricky Gervais' desk, in-front of a shelf laden with gleaming awards – Emmys, Golden Globes, BAFTAs – there is a guitar. "I have a little twiddle," he says. "Unless the cat is asleep. I use the guitar a bit like how other people use fidget spinners. The last time I really got into it was when I was writing songs for [David] Brent. I wish I played more because I've got some lovely guitars, but sometimes I just think: 'I'm not a rockstar. If I play that I'm going to look like an idiot.'
Gervais, the revered (and sometimes reviled) auteur of The Office, Extras, Derek and the melancholic After Life – the third and final series of which lands on Netflix tomorrow (January 14) – lets out a sigh. "I'm mildly embarrassed to be a failed pop star…"
We remind the former singer of Seona Dancing – the new wave group that Gervais briefly performed in alongside university friend Bill Macrae – that things worked out for him, really.
He laughs. More of a shriek actually.

"Yeah, I probably wouldn't have done as much as a pop star as I have done with this," he says. "But I met Steven Spielberg once and we were talking about this episode of Columbo he directed that they didn't use. I said, 'Still not over it then…' and he just laughed."
He tells us he's excited to be interviewed by the NME. "I got a bit of an adrenaline rush about it," says the former manager of a little-known indie outfit called Suede. "I used to read the NME, and Sounds, and Melody Maker – all of the British music press, really. Melody Maker was good for finding drummers, but NME was where I found out about what was going on. The NME was my world for a time."
But we're not in the company of Gervais today to talk about his salad days in the British music scene, but about the aforementioned After Life, which he writes, directs and stars as the lead – recently bereaved local newspaper journalist Tony Johnson. Tony – often cruel, sometimes bigoted, a man drunk on arrogance – is a character that's often hard to like. Does Ricky like him?
"Yeah, I think I do," he says. "Because he's wounded. If you're rescuing a fox from a snare, and it's trying to bite you, you can't hate it. When you first meet Tony, he's lashing out. If you didn't know he'd lost his wife (played by Kerry Godliman), and if the show didn't start with her going through chemotherapy, you'd think he was a sociopath. The show couldn't have started with him shouting at the child in the playground saying: 'I'm not a paedo, but if I was, you'd be safe, you tubby little ginger cunt…'" But because of what he's lost, you've got to give him the benefit of the doubt. He's not well. You can't hate someone for not being well."
More than any role he's undertaken in his career, and certainly owing to his role as the series writer and director, it's difficult not to view Gervais' understated portrayal of Tony as the closest depiction of himself we've seen on screen. "I think there's a lot of Ricky in Tony," we're told by Kerry Godliman later. "Other than the sadness – outwardly, Ricky doesn't seemingly get sad, and he isn't experiencing grief – I think Tony is a character that Ricky is using to express his world view. I would say that their views are probably quite similar."
But it's in Ricky's articulation of Tony that we learn most about a facet core to Gervais' beliefs. In a world quicker to judge than ever – and with Twitter, the platform to do so instantly – the sometime stand-up believes in the often-forgotten concept of intent. "I'm fascinated in why people do what they do. Why they are how they are. Fascinated by it."
"I've never seen a world that is so judgmental and hypocritical as it is right now," he says. "I honestly think it's about controlling the tribe. Once upon a time, if a guy was good at collecting coconuts or they were brave, we'd choose to work with them. It was about achievement and competence. That's how we got status. But at some point, we worked out that we could obtain status via virtue too. We did it with religion first – like, a person might not be any good at anything, but they believe in God so they're a good person. Social media is that now. You can show how good a person you are by showing how bad someone else is. There's no forgiveness. No attempt to understand anybody."
Other than using his 15 million followers to promote his projects – most recently, and enthusiastically, After Life – Gervais is done with Twitter. "There is an equality to Twitter, which should be a good thing… but you can have a man who shouldn't be allowed sharp objects, living in a bin saying really horrible, racist, misogynistic things. And then you'll get Richard Dawkins or someone saying something important. And they're both in the same font, in the same place. So it's confusing. If I want to make a point now, I keep it to the art. I've explained too much in the past. I've found myself explaining jokes within jokes. I want to be more like Larry David. He doesn't explain anything."
Few talk about jokes with the zeal of Gervais. He defends the art form like a pilgrim or preacher justifying their religion. "Some people think a joke is the window to a comedian's true soul. That's just not true. I'll take on any view that makes the joke funnier. I might pretend to be right wing. I might pretend to be left wing. I pretend to be clever and I pretend to be stupid. Whatever makes the joke funny without prejudice. I'm all the characters. I wrote all of them. I'm having an argument with myself!"
Set in the fictional southern town of Tambury, actually Hemel Hempstead, After Life is filled with complicated characters – ones that, despite the welcome push for diversity on our screens, aren't seen often enough. There are compulsive hoarders and the mentally ill (contrary to reports that Gervais shows little interest in people, when this journalist briefly mentions his own battles with Obsessive Compulsive Disorder, Gervais adds an extra five minutes to our interview because he has questions about how the illness manifests). There are sex workers and the lonely, drug dealers and swingers. And none of them are presented as heroes or villains of the piece. After Life might be a show about death, but it's about the living too.
"I like humanity," Gervais says, "warts and all. That's the people I want to represent. The people in After Life, that's how real people look. The people in After Life aren't freaks. Brad Pitt, Johnny Depp, George Clooney – they're freaks! No one looks like that! But you walk around an average British town it's full of people who look like me. They're screwed up. The real world is more amazing and crazy and weirder than fiction. And I write about them because winners aren't funny. There's nothing remotely amusing about being perfect and winning. Being flawed is funny. Having a bad day is funny. When your neighbours go on holiday, you don't want to hear about all the great stuff they did. You want to know who got drunk and threw up.
"Clowns, comedians, characters, they fall over for our amusement, but they get up again. And that's what we want. They've got to get up again. That's the rules. Real life Laurel and Hardy. They keep trying. They keep losing. That's funny. As long as they try again. As long as they keep going. That's the message of After Life. You've got to keep going. You've got to keep trying."
Gervais might feel disappointed he never became a pop star. He might also feel proud of the trophies and awards that line the walls of his office. But somewhere in between all that, there is an achievement he obviously cherishes as much as anything he's achieved in his 60 years to date.
"I've never had a reaction," he says, with a quiver in his voice, "emotionally, to anything I've done like I have had with After Life. Everyone has lost someone. Everyone knows what that's like. It's why I think fiction is so important. We create our own heroes and villains as roleplay for the soul. Bad people get their comeuppance. Hopefully, good people get rewarded. And no one really gets hurt. You might cry watching a show. But you can turn it off. I think we're so worried, as broadcasters, in asking ourselves if the viewer can take what we're giving to them."
Why is that, we ask. "Because real life's worse and real life is real."
'After Life' season three streams on Netflix from January 14
Banned From The All You Can Eat Buffet – After Life

—-
—-
—-
—
World Exclusive: After Life Season 3: The First few Minutes
After Life | Season 3 Official Trailer | Netflix
—
episodes will be released on January 14th.
Just Three Things. Written for #Afterlife by Ricky Gervais and Andy Burrows




–
Milton Friedman's 'Free to Choose' Proved Capitalism Is Superior to Soci…
Free To Choose 1980 – Vol. 01 The Power of the Market – Full Video
Milton Friedman on Donahue – 1979

–
Free To Choose – Milton Friedman on The Welfare System (1978) | Thomas S…
January 31, 2021

Ricky Gervais
London, W1F 0LE
UK
Dear Ricky,
Socialism is a laughable matter in many cases such as the one below:
Tony: Tired? A little bit. I won't take long. Um… So, when did you get banned from the all-you-can-eat buffet?
Ewen: Last month. Still angry about it.
Tony: Sure. And what reason did they give?
Ewen: Oh, they were perfectly honest. They said I was putting them out of business. They'd never seen anything like it. I mean, they'd given me a few warnings for eating too much, but I said, "How can I eat too much if it's all I can eat'?"
Tony: Mm. Good point. And, uh, how often did you go?
Ewen: Every day. Lunch and dinner.
Tony: You went twice a day?
Ewen: No, just once, from lunch until dinner. Then I was full. And I could hardly walk home some days.
Tony: And so you went every day for, what, six hours?
Ewen: Yeah, six or seven hours. I wasn't eating the whole time. I mean, I'd fall asleep now and again, but I'd wake up if someone came to clear my plate away.
Tony: Right, and how much did it cost?
Ewen: Ten pounds per person per visit. That's why I went once and stayed. You know, I was really getting my money's worth. I mean, most people can manage two or three slices of pizza and a couple of portions of pasta, but pizza's mostly bread and pasta costs nothing, so that's how the restaurant makes its profits. I would get 20 or 30 slices of pizza, scrape off the toppings. I'd leave the base. Decoy. Same with the spaghetti Bolognese. I'd make about 15 trips, and I'd pick all the meat out of the spaghetti. Was left with about five pounds of beef. I had all the time in the world.
Tony: You don't work?
Ewen: No. Took early retirement to get disability benefits.
Tony: Oh, um, if you don't mind me asking, um, what's wrong with you?
Ewen: Well, look at me. I'm absolutely [screwed].
Lenny: Where exactly is this place?
Tony: Just take a picture.
Lenny: Yeah? Okay. Smile. ( camera clicks ) Great.
Over the years, I've shared three videos making the same point about how the first European settlers in America nearly starved because of socialism.
To be sure, starving because of socialism didn't become a big thing until the 20th century.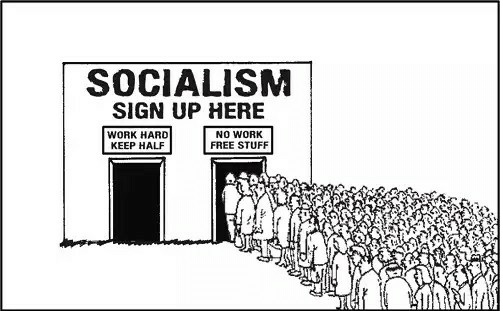 So the settlers were ahead of their time, albeit in a bad way.
But at least they gave us another data point showing that it doesn't make sense to have an economic system that penalizes productivity and subsidizes sloth.
Let's take a closer look at what happened in the 1600s.
Here's some of what Helen Raleigh wrote for the Federalist.

Today's self-identified democratic socialists like to claim real socialism has never been tried in America, but they need to brush up on their history. The Pilgrims did try it — and it failed. …Puritans from the Separatist Church, led by Rev. John Robinson, decided to…secure a land patent in the existing Virginia colony. …The deal stipulated that everything the colonists produced would belong to a "commonwealth," and at the end of seven years, everything would be equally divided between investors and colonists. …this deal forbade colonists from having any personal time to work on any private business during the seven-year contract term. …Even with the help of the Indians, the colonists had a hard time surviving. Although the word "socialism" hadn't been invented yet, the Plymouth colony bore many resemblances to a socialist society. Since investors back in England demanded that the colony operate communally, everything was owned by every colonist jointly. No one was allowed to own private land or to work on his private business. The communal social and economic structure proved disastrous. Not all colonists were willing to work hard or at all for the "commonwealth." …Since not everyone was pulling the same weight, the colony was constantly running out of food, a typical problem in all the socialist countries, from China to Venezuela. …Bradford wisely recognized that a change had to take place…turning the communal property into private property… hardworking and motivated colonists turned Plymouth colony into one of the most successful colonies in North America.
John Stossel authored a piece for Reason on the same sad history.

Tragedy of the Commons nearly killed the Pilgrims. When they landed at Plymouth Rock, they started a society based on sharing. Sharing sounds great. But sharing, basically, is collective or communal farming, which is socialism. Food and supplies were distributed based on need. Pilgrims were forbidden to selfishly produce food for themselves. That collective farming was a disaster. When the first harvest came, there wasn't much food to go around. The Pilgrims nearly starved. Since no individual owned crops from the farm, no one had an incentive to work harder to produce extra that they might sell to others. Since even slackers got food from the communal supply, there was no penalty for not working. …People eager to provide for their families were less eager to provide for others. Bradford wrote, "young men, that were most able and fit for labour, did repine that they should spend their time and strength to work for other men's wives and children without any recompense." …The Pilgrims' solution: private property. …the collective farm was split up, and every family was given a plot of land. People could grow their own food and keep it or trade it. "It made all hands very industrious, so as much more corn was planted than otherwise would have been." wrote Bradford. "Women now went willingly into the field, and took their little ones with them to set corn; which before would allege weakness and inability." The Pilgrims flourished because they turned to private property. So, this Thanksgiving, be grateful for private property, a foundation of capitalism.
—-
Milton Friedman and Margaret Thatcher were two of my heroes and I know that you can learn a great deal from their lives and their economic philosophies. Ronald Reagan and Margaret Thatcher were both were influenced by Milton Friedman. I suggest checking out these episodes of Milton Friedman's film series FREE TO CHOOSE: "The Failure of Socialism" and "What is wrong with our schools?" and "Created Equal" and From Cradle to Grave, and – Power of the Market.
Related posts:Milton Friedman's "Free to Choose" film transcripts and videos here on http://www.thedailyhatch.org
I have many posts on my blog that include both the transcript and videos of Milton Friedman's film series "Free to Choose" and here are the episodes that I have posted.
_____________
Here are the posts and you can find the links in order below this.
The Power of the Market from 1990
The Failure of Socialism from 1990
The Anatomy of a Crisis from 1980
What is wrong with our schools? from 1980
Created Equal from 1980
From Cradle to Grave from 1980
The Power of the Market 1980
Debate on Inflation from 1980
The answer to find meaning in life is found in putting your faith and trust in Jesus Christ. The Bible is true from cover to cover and can be trusted.
Thanks for your time.
Sincerely,
Everette Hatcher, everettehatcher@gmail.com, http://www.thedailyhatch.org, cell ph 501-920-5733, 13900 Cottontail Lane, Alexander, AR 72002
Free to Choose Part 5: Created Equal Featuring Milton Friedman
Related posts:
I have gone back and forth and back and forth with many liberals on the Arkansas Times Blog on many issues such as abortion, human rights, welfare, poverty, gun control and issues dealing with popular culture. Here is another exchange I had with them a while back. My username at the Ark Times Blog is Saline […]By Everette Hatcher III | Posted in Biblical Archaeology, Francis Schaeffer, Prolife | Edit|Comments (0)
I have posted many of the sermons by John MacArthur. He is a great bible teacher and this sermon below is another great message. His series on the Book of Proverbs was outstanding too. I also have posted several of the visits MacArthur made to Larry King's Show. One of two most popular posts I […]By Everette Hatcher III | Posted in Adrian Rogers, Current Events | Edit|Comments (0)
I have posted many of the sermons by John MacArthur. He is a great bible teacher and this sermon below is another great message. His series on the Book of Proverbs was outstanding too. I also have posted several of the visits MacArthur made to Larry King's Show. One of two most popular posts I […]By Everette Hatcher III | Posted in Adrian Rogers, Current Events |Tagged Bible Prophecy, john macarthur | Edit|Comments (0)
Prophecy–The Biblical Prophesy About Tyre.mp4 Uploaded by TruthIsLife7 on Dec 5, 2010 A short summary of the prophecy about Tyre and it's precise fulfillment. Go to this link and watch the whole series for the amazing fulfillment from secular sources. http://www.youtube.com/watch?v=qvt4mDZUefo________________ John MacArthur on the amazing fulfilled prophecy on Tyre and how it was fulfilled […]By Everette Hatcher III | Posted in Biblical Archaeology | Edit|Comments (1)
John MacArthur on the Bible and Science (Part 2) I have posted many of the sermons by John MacArthur. He is a great bible teacher and this sermon below is another great message. His series on the Book of Proverbs was outstanding too. I also have posted several of the visits MacArthur made to Larry […]By Everette Hatcher III | Posted in Current Events | Edit|Comments (0)
John MacArthur on the Bible and Science (Part 1) I have posted many of the sermons by John MacArthur. He is a great bible teacher and this sermon below is another great message. His series on the Book of Proverbs was outstanding too. I also have posted several of the visits MacArthur made to Larry […]By Everette Hatcher III | Posted in Current Events | Edit|Comments (0)
Adrian Rogers – How you can be certain the Bible is the word of God Great article by Adrian Rogers. What evidence is there that the Bible is in fact God's Word? I want to give you five reasons to affirm the Bible is the Word of God. First, I believe the Bible is the […]By Everette Hatcher III | Posted in Adrian Rogers, Biblical Archaeology | Edit|Comments (0)
Is there any evidence the Bible is true? Articles By PleaseConvinceMe Apologetics Radio The Old Testament is Filled with Fulfilled Prophecy Jim Wallace A Simple Litmus Test There are many ways to verify the reliability of scripture from both internal evidences of transmission and agreement, to external confirmation through archeology and science. But perhaps the […]By Everette Hatcher III | Posted in Biblical Archaeology, Current Events | Edit|Comments (0)
I have gone back and forth and back and forth with many liberals on the Arkansas Times Blog on many issues such as abortion, human rights, welfare, poverty, gun control and issues dealing with popular culture. Here is another exchange I had with them a while back. My username at the Ark Times Blog is […]By Everette Hatcher III | Posted in Francis Schaeffer, Prolife | Edit|Comments (0)
Here is some very convincing evidence that points to the view that the Bible is historically accurate. Archaeological and External Evidence for the Bible Archeology consistently confirms the Bible! Archaeology and the Old Testament Ebla tablets—discovered in 1970s in Northern Syria. Documents written on clay tablets from around 2300 B.C. demonstrate that personal and place […]By Everette Hatcher III | Posted in Biblical Archaeology | E
On Saturday April 18, 2020 at 6pm in London and noon in Arkansas, I had a chance to ask Ricky Gervais a question on his Twitter Live broadcast which was "Is Tony a Nihilist?" At the 20:51 mark Ricky answers my question. Below is the video:

—
—
Ricky Gervais 25/07/2021 Facebook Live at 28:29 mark Ricky answers my question about Sam Harris