—
At first, I wasn't planning to share this video, particularly since I covered much of the same material in a speech back in January.
But then I saw a story in Yahoo Finance that includes this very sobering chart about how the burden of government spendingwill climb in G-7 nations over the next four decades.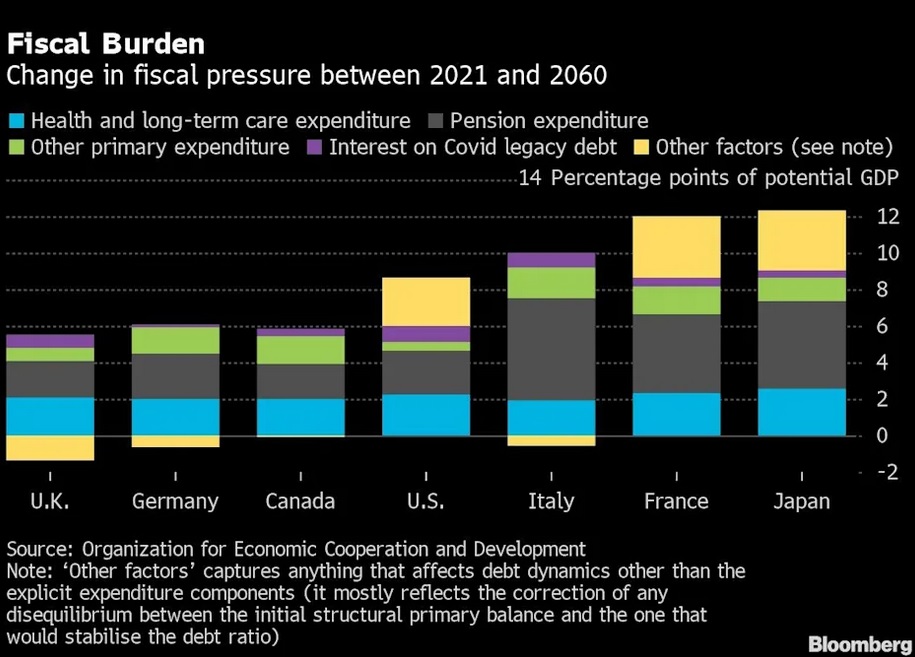 The main takeaway is that aging populations and poorly designed tax-and-transfer programs (entitlements) are a recipe for long-run fiscal crisis in almost all developed nations.
That includes the United States. The four-decade outlook for America isn't as bad as it is in nations such as France and Japan, but government will grow more than the fiscal burdens in Canada, Germany, and the United Kingdom.
And here are some details from the story.
The Covid-19 pandemic may have bloated public debt…, but that's nothing compared to the fiscal difficulties brewing in the coming decades, the OECD said. …states will face rising costs, particular from pensions and health care.To maintain public services and benefits while stabilizing debt in that environment, governments would have to raise revenues by nearly 8% of gross domestic product, the OECD said. In some countries, including France and Japan, the size of the challenge would amount to more than 10% of output, and the economists didn't even account for new expenditures such as climate change adaptation.
If you want to dig into the details, you can click here to read the underlying report from the Organization for Economic Cooperation.
I think the following excerpts are particularly relevant. As you can see, the problem is demographics, which leads to more spending for entitlement programs such as health and pensions.
And, assuming politicians decide to address the issue with revenues, this implies massive tax increases.
Public health and long-term care expenditure is projected to increase by 2.2 percentage points of GDP in the median country between 2021 and 2060… These projections are based on a pre-pandemic spending baseline, so any permanent increase in health spending in response to experience with COVID-19…would come in addition.Public pension expenditure is projected to increase by 2.8 percentage points of GDP in the median country between 2021 and 2060… Other primary expenditures are projected to rise by 1½ percentage points of GDP… This projection excludes potential new sources of expenditure pressure, such as climate change adaptation. …OECD governments would need to raise taxes in this scenario to prevent gross government debt ratios from rising over time… The median country would need to increase structural primary revenue by nearly 8 percentage points of GDP between 2021 and 2060, but the effort would exceed 10 percentage points in 11 countries.
Most interesting, the two authors of the OECD study point out that are some major problems with the tax "solution."
The results of this section do not imply that taxes will, or even should, rise in the future. The fiscal pressure indicator is simply a metric serving to quantify and illustrate the fiscal challenge facing OECD governments. Raising taxes is only one of many possible avenues to meet this challenge. …Pushing mainstream taxes on incomes or consumption further up, even by only a few percentage points of GDP, may be politically difficult and fiscally counter-productive if it means reaching the downward-sloping segment of the Laffer curve.
I'm especially impressed that they acknowledge the Laffer Curve(the nonlinear relationship between tax rates and tax revenuethat the Biden Administration wishes away).
P.S. The real solution is entitlement reform, and here's the explanation for how to do it in the United States.
P.P.S. As I've regularly noted, the economists who work at the OECD often produce very solid analysis. The problem with that bureaucracy is that it has very statist leadership, which is why the OECD's policy agenda includes anti-growth policies such as big tax increases and tax harmonization.
Yesterday's column was a completely serious look at five graphs and tables that show why Biden's tax plan is misguided.
Today, we're going to make the same point with satire. And we'll only need two images.
First, here's a look at what happens when politicians create never-ending handouts financed by ever-higher taxes on an ever-smaller group of rich taxpayers.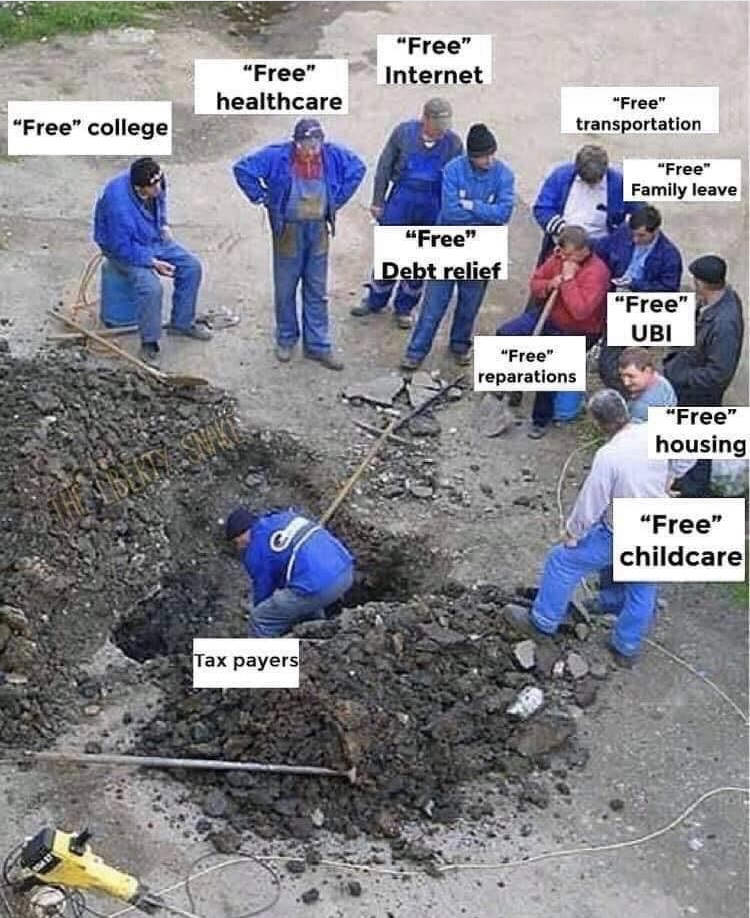 In the past, I've referred to this as "Greece-ification" and Biden's fiscal plan definitely qualifies.
It's also a different way of looking at the second cartoon from this depiction of how a welfare state evolves over time.
This Chuck Asay cartoon makes the same point.
Second, here's a cartoon that nicely captures why I think Biden's agenda will erode the nation's societal capital.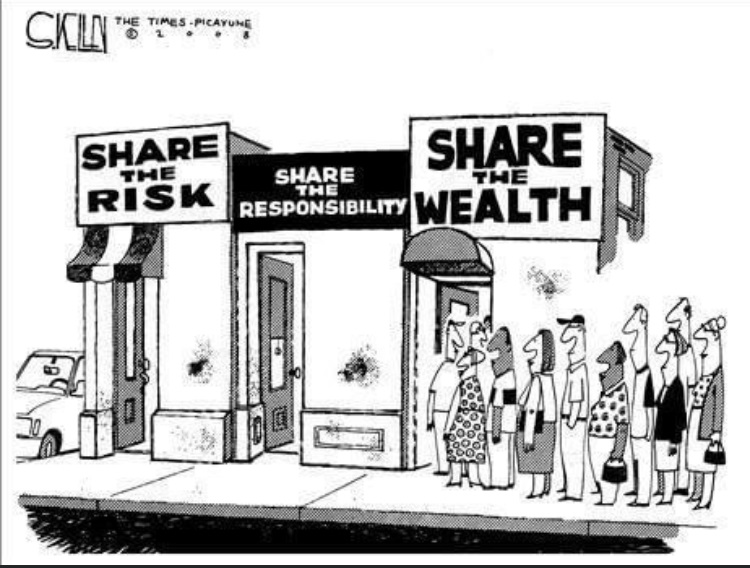 The same theme as this excellent cartoon.
While amusing, there's a very serious point to be made. Politicians already have created a system that rewards people for doing nothing while punishing them for creating wealth.
Those policies hinder American prosperity (as honest folks on the left acknowledge), but we can survive with slower growth. What really worries me is that we may eventually reach a tipping point of too many people riding in the wagon (and out-voting the people who pull the wagon).
Simply stated, we don't want America to become another Greece.
I have put up lots of cartoons from Dan Mitchell's blog before and they have got lots of hits before. Many of them have dealt with the economy, eternal unemployment benefits, socialism,  Greece,  welfare state or on gun control.
My Cato colleague, Mark Calabria, recently explained how the minimum wage destroys jobs, and I've written on several occasions why government-mandated wages can create unemployment by making it unprofitable to hire people with low work skills and/or poor work histories. And I've attacked Republicans for going along with these job-killing policies, and also pointed out the racist impact of such intervention.
But this cartoon may be a more effective argument for getting government out of the business of interfering with market forces. It's simple, direct, and gets the point across. I'm not sure that always happens with my writing.
My former intern, Orphe Divougny, also did a very good job in explaining why politicians shouldn't interfere with the right of workers and employers to enter into labor contracts.