—-
After Life #1 Trailer
—-
After Life 2 Trailer
—-
On Saturday April 18, 2020 at 6pm in London and noon in Arkansas, I had a chance to ask Ricky Gervais a question on his Twitter Live broadcast which was "Is Tony a Nihilist?" At the 20:51 mark Ricky answers my question. Below is the video:
—-
—-
If Death is the end then what is the point Kath asks below:
——
Kath: You are an atheist?
—-
Adrian Rogers on Evolution
—-
Charles Darwin Autobiography
Francis Schaeffer "The Age of NONREASON"
—
(Above) Tony and Anne on the bench at the graveyard where their spouses are buried.
—
June 12, 2020
Ricky Gervais

Dear Ricky,
This is the 56th day in a row that I have written another open letter to you to comment on some of your episodes of AFTER LIFE, and then I wanted to pass along some evidence that indicates the Bible is historically accurate from Francis Schaeffer and Dr. C. Everett Koop Book WHATEVER HAPPENED TO THE HUMAN RACE?
As you know I am writing you a series of letters on Solomon's efforts to find a meaning and purpose to life. Solomon tried to find a meaning and purpose to life UNDER THE SUN in the Book of Ecclesiastes in all of the 6 "L" words and looked into learning(1:16-18),laughter, ladies, luxuries, and liquor (2:1-3, 8, 10, 11), and labor (2:4-6, 18-20).
In AFTERLIFE Tony visits his father everyday but one day he told the nurse Emma, "If he (his father who suffers from Alzheimer's) was a dog we would put him down!"
Tony struggles to see the worth of his time with his father evidently. Many secular scientists have even proposed that these individuals are not even worthy of life. Among them are Peter Singer and James D. Watson who I have both corresponded with before concerning their views.

William Lane Craig has asserted:
Take the biological determinism of a man like Francis Crick. The logical conclusion is that man is like any other laboratory specimen. The world was horrified when it learned that at camps like Dachau the Nazis had used prisoners for medical experiments on living humans. But why not? If God does not exist, there can be no objection to using people as human guinea pigs. The end of this view is population control in which the weak and unwanted are killed off to make room for the strong. But the only way we can consistently protest this view is if God exists. Only if God exists can there be purpose in life.
The dilemma of modern man is thus truly terrible. And insofar as he denies the existence of God and the objectivity of value and purpose, this dilemma remains unrelieved for "post-modern" man as well. Indeed, it is precisely the awareness that modernism issues inevitably in absurdity and despair that constitutes the anguish of post-modernism. In some respects, post-modernism just is the awareness of the bankruptcy of modernity. 

Francis Schaeffer has correctly argued:
The universe was created by an infinite personal God and He brought it into existence by spoken word and made man in His own image. When man tries to reduce [philosophically in a materialistic point of view] himself to less than this [less than being made in the image of God] he will always fail and he will always be willing to make these impossible leaps into the area of nonreason even though they don't give an answer simply because that isn't what he is. He himself testifies that this infinite personal God, the God of the Old and New Testament is there. 

Instead of making a leap into the area of nonreason the better choice would be to investigate the claims that the Bible is a historically accurate book and that God created the universe and reached out to humankind with the Bible. Below is a piece of that evidence given by Francis Schaeffer concerning the accuracy of the Bible.
TRUTH AND HISTORY (chapter 5 of WHATEVER HAPPENED TO THE HUMAN RACE?
under footnote #95)
Two things should be mentioned about the time of Moses in Old Testament history.
First, consider the archaeological evidence that relates to the period. True, it is not of the same explicitness that we have found, say, in relation to the existence of Ahab or Jehu or Jehoiakim. We have no inscription from Egypt which refers to Moses being taken out of the bulrushes and removed from the waterproof basket his mother had made him. But this does not mean that the Book of Exodus is a fictitious account, as some critics has suggested. Some say it is simply an idealized reading-back into history by the Jews under the later monarchy. There is not a reason why these "books of Moses," as they are called, should not be treated as history, just as we have been forced to treat the Books of Kings and Chronicles dating 500 years later.
There is ample evidence about the building projects of the Egyptian kings, and the evidence we have fits well with Exodus. There are scenes of brick-making (for example, Theban Tomb 100 of Rekhmire). Contemporary parchments and papyri tell of production targets which had to be met. One speaks of a satisfied official report of his men as "making their quota of bricks daily" (Papyrus Anastasi III vso, p.3, in the British Museum. Also Louvre Leather Roll in the Louvre, Paris, col ii, mentions quotes of bricks and "taskmasters"). Actual bricks found show signs of straw which had to be mixed in with the clay, just as Exodus says. This matter of bricks and straw is further affirmed by the record that one despairing official complained, "There are no men to make bricks nor straw in my area."
We know from contemporary discoveries that Semites were found at all levels of Egypt's cosmopolitan society. (Brooklyn Museum, New York, no. 35, 1446. Papyrus Brooklyn). There is nothing strange therefore about Joseph's becoming so important in the pharaoh's court.
The store cities of Pithom and Raamses (Rameses) mentioned in Exodus 1:11 are well known in Egyptian inscriptions. Raamses was actually in the east-Delta capital, Pi-Ramses (near Goshen), where the Israelites would have had ample experience of agriculture. Thus, the references to agriculture found in the law of Moses would not have been strange to the Israelites even though they were in the desert at the time the law was given. Certainly there is no reason to say, as some critics do, that these sections on agriculture were an indication of a reading-back from a latter period when the Jews were settled in Canaan.
The form of the covenant made at Sinai has remarkable parallels with the covenant forms of other people at that time. (On covenants and parties to a treaty, the Louvre; and Treaty Tablet from Boghaz Koi (i.e., Hittite) in Turkey, Museum of Archaeology in Istanbul.) The covenant form at Sinai resembles just as the forms of letter writings of the first century after Christ (the types of introductions and greetings) are reflected in the letters of the apostles in the New Testament, it is not surprising to find the covenant form of the second millennium before Christ reflected in what occurred at Mount Sinai. God has always spoken to people within the culture of their time, which does not mean that God's communication is limited by that culture. It is God's communication but within the forms appropriate to the time.
The Pentateuch tells us that Moses led the Israelites up the east side of the Dead Sea after their long stay in the desert. There they encountered the hostile kingdom of Moab. We have firsthand evidence for the existence of this kingdom of Moab–contrary to what has been said by critical scholars who have denied the existence of Moab at this time. It can be found in a war scene from a temple at Luxor (Al Uqsor). This commemorates a victory by Ramses II over the Moabite nation at Batora (Luxor Temple, Egypt).
Also the definite presence of the Israelites in west Palestine (Canaan) no later than the end of the thirteenth century B.C. is attested by a victory stela of Pharaoh Merenptah (son and successor of Ramses II) to commemorate his victory over Libya (Israel Stela, Cairo Museum, no. 34025). In it he mentions his previous success in Canaan against Aschalon, Gize, Yenom, and Israel; hence there can be no doubt the nation of Israel was in existence at the latest by this time of approximately 1220 B.C. This is not to say it could not have been earlier, but it cannot be later than this date.
—-

The answer to find meaning in life is found in putting your faith and trust in Jesus Christ. The Bible is true from cover to cover and can be trusted.
Thank you again for your time and I know how busy you are.
Sincerely,
Everette Hatcher, everettehatcher@gmail.com, http://www.thedailyhatch.org, cell ph 501-920-5733, 13900 Cottontail Lane, Alexander, AR 72002
PS: What is the meaning of life? Find it in the end of the open letter I wrote to you on April 23, 2020.
—
Below is the workforce of THE TAMBURY GAZETTE
—
Seen below is the third episode of AFTERLIFE (season 1) when Matt takes Tony to a comedy club with front row seats to cheer him up but it turns into disaster!!!
——
—-
—
Part 1 "Why have integrity in Godless Darwinian Universe where Might makes Right?"
Part 2 "My April 14, 2016 Letter to Ricky mentioned Book of Ecclesiastes and the Meaninglessness of Life"
Part 3 Letter about Brandon Burlsworth concerning suffering and pain and evil in the world. "Why didn't Jesus save her [from cancer]?" (Tony's 10 year old nephew George in episode 2)
Part 4 Letter on Solomon on Death Tony in episode one, "It should be everyone's moral duty to kill themselves."
Part 5 Letter on subject of Learning in Ecclesiastes "I don't read books of fiction but mainly science and philosophy"
Part 6 Letter on Luxuries in Ecclesiastes Part 6, The Music of AFTERLIFE (Part A)
Part 7 Letter on Labor in Ecclesiastes My Letter to Ricky on Easter in 2017 concerning Book of Ecclesiastes and the legacy of a person's life work
Part 8 Letter on Liquor in Ecclesiastes Tony's late wife Lisa told him, "Don't get drunk all the time alright? It will only make you feel worse in the log run!"
Part 9 Letter on Laughter in Ecclesiastes , I said of laughter, "It is foolishness;" and of mirth, "What does it accomplish?" Ecclesiastes 2:2
Part 10 Final letter to Ricky on Ladies in Ecclesiastes "I gathered a chorus of singers to entertain me with song, and—most exquisite of all pleasures— voluptuous maidens for my bed…behold, all was vanity and a striving after wind, and there was nothing to be gained under the sun" Ecclesiastes 2:8-11.
Part 11 Letter about Daniel Stanhope and optimistic humanism "If man has been kicked up out of that which is only impersonal by chance , then those things that make him man-hope of purpose and significance, love, motions of morality and rationality, beauty and verbal communication-are ultimately unfulfillable and thus meaningless." (Francis Schaeffer)
Part 12 Letter on how pursuit of God is only way to get Satisfaction Dan Jarrell "[In Ecclesiastes] if one seeks satisfaction they will never find it. In fact, every pleasure will be fleeting and can not be sustained, BUT IF ONE SEEKS GOD THEN ONE FINDS SATISFACTION"
Part 13 Letter to Stephen Hawking on Solomon realizing he will die just as a dog will die "For men and animals both breathe the same air, and both die. So mankind has no real advantage over the beasts; what an absurdity!" Ecclesiastes
Part 14 Letter to Stephen Hawking on 3 conclusions of humanism and Bertrand Russell destruction of optimistic humanism. "That Man is the product of causes which had no prevision of the end they were achieving; that his origin, his growth, his hopes and fears, his loves and his beliefs, are but the outcome of accidental collocations of atoms—no philosophy which rejects them can hope to stand. Only within the scaffolding of these truths, only on the firm foundation of unyielding despair, can the soul's habitation henceforth be safely built."(Bertrand Russell, Free Man's Worship)
Part 15 Letter to Stephen Hawking on Leonardo da Vinci and Solomon and Meaningless of life "I hate life. As far as I can see, what happens on earth is a bad business. It's smoke—and spitting into the wind" Ecclesiastes Book of Ecclesiastes Part 15 "I hate life. As far as I can see, what happens on earth is a bad business. It's smoke—and spitting into the wind" Ecclesiastes 2:17
Part 16 Letter to Stephen Hawking on Solomon's longing for death but still fear of death and 5 conclusions of humanism on life UNDER THE SUN. Francis Schaeffer "Life is just a series of continual and unending cycles and man is stuck in the middle of the cycle. Youth, old age, Death. Does Solomon at this point embrace nihilism? Yes!!! He exclaims that the hates life (Ecclesiastes 2:17), he longs for death (4:2-3) Yet he stills has a fear of death (2:14-16)"
—
Mandeep Dhillon as Sandy on her first assignment in 'After Life'. (Twitter)
A still from 'After Life' that captures the vibe of the Tambury Gazette. (Twitter)
Michael Scott of THE OFFICE (USA) with Ricky Gervais
After Life on Netflix stars Ricky Gervais as a bereaved husband (Image: Netflix)
—-
Psychiatrist played by Paul Kaye seen below.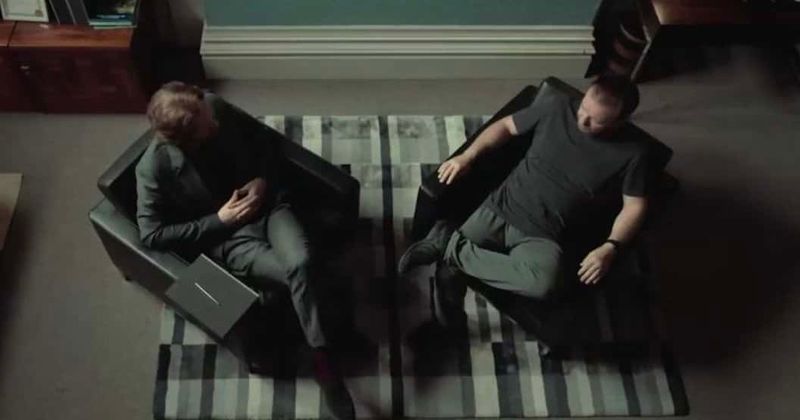 —
Tony Johnson with his dog Brandi seen below:
—-
Related posts:
I have gone back and forth and back and forth with many liberals on the Arkansas Times Blog on many issues such as abortion, human rights, welfare, poverty, gun control and issues dealing with popular culture. Here is another exchange I had with them a while back. My username at the Ark Times Blog is Saline […]By Everette Hatcher III | Posted in Biblical Archaeology, Francis Schaeffer, Prolife | Edit|Comments (0)
I have posted many of the sermons by John MacArthur. He is a great bible teacher and this sermon below is another great message. His series on the Book of Proverbs was outstanding too. I also have posted several of the visits MacArthur made to Larry King's Show. One of two most popular posts I […]By Everette Hatcher III | Posted in Adrian Rogers, Current Events | Edit|Comments (0)
I have posted many of the sermons by John MacArthur. He is a great bible teacher and this sermon below is another great message. His series on the Book of Proverbs was outstanding too. I also have posted several of the visits MacArthur made to Larry King's Show. One of two most popular posts I […]By Everette Hatcher III | Posted in Adrian Rogers, Current Events |Tagged Bible Prophecy, john macarthur | Edit|Comments (0)
Prophecy–The Biblical Prophesy About Tyre.mp4 Uploaded by TruthIsLife7 on Dec 5, 2010 A short summary of the prophecy about Tyre and it's precise fulfillment. Go to this link and watch the whole series for the amazing fulfillment from secular sources. http://www.youtube.com/watch?v=qvt4mDZUefo________________ John MacArthur on the amazing fulfilled prophecy on Tyre and how it was fulfilled […]By Everette Hatcher III | Posted in Biblical Archaeology | Edit|Comments (1)
John MacArthur on the Bible and Science (Part 2) I have posted many of the sermons by John MacArthur. He is a great bible teacher and this sermon below is another great message. His series on the Book of Proverbs was outstanding too. I also have posted several of the visits MacArthur made to Larry […]By Everette Hatcher III | Posted in Current Events | Edit|Comments (0)
John MacArthur on the Bible and Science (Part 1) I have posted many of the sermons by John MacArthur. He is a great bible teacher and this sermon below is another great message. His series on the Book of Proverbs was outstanding too. I also have posted several of the visits MacArthur made to Larry […]By Everette Hatcher III | Posted in Current Events | Edit|Comments (0)
Adrian Rogers – How you can be certain the Bible is the word of God Great article by Adrian Rogers. What evidence is there that the Bible is in fact God's Word? I want to give you five reasons to affirm the Bible is the Word of God. First, I believe the Bible is the […]By Everette Hatcher III | Posted in Adrian Rogers, Biblical Archaeology | Edit|Comments (0)
Is there any evidence the Bible is true? Articles By PleaseConvinceMe Apologetics Radio The Old Testament is Filled with Fulfilled Prophecy Jim Wallace A Simple Litmus Test There are many ways to verify the reliability of scripture from both internal evidences of transmission and agreement, to external confirmation through archeology and science. But perhaps the […]By Everette Hatcher III | Posted in Biblical Archaeology, Current Events | Edit|Comments (0)
I have gone back and forth and back and forth with many liberals on the Arkansas Times Blog on many issues such as abortion, human rights, welfare, poverty, gun control and issues dealing with popular culture. Here is another exchange I had with them a while back. My username at the Ark Times Blog is […]By Everette Hatcher III | Posted in Francis Schaeffer, Prolife | Edit|Comments (0)
Here is some very convincing evidence that points to the view that the Bible is historically accurate. Archaeological and External Evidence for the Bible Archeology consistently confirms the Bible! Archaeology and the Old Testament Ebla tablets—discovered in 1970s in Northern Syria. Documents written on clay tablets from around 2300 B.C. demonstrate that personal and place […]By Everette Hatcher III | Posted in Biblical Archaeology | E
——
——-

—-
—-
—-