—
Canary Islands 2014: Harold Kroto and Richard Dawkins
_

August 17, 2019
Richard Dawkins c/o Richard Dawkins Foundation,
Washington, DC 20005
Dear Mr. Dawkins,
i have enjoyed reading about a dozen of your books and some of the most intriguing were The God Delusion, An Appetite for Wonder: The Making of a Scientist, and Brief Candle in the Dark: My Life in Science.
Page 335 in THE GOD DELUSION: In 2003 Paul Hill was executed for the murder of [abortion Doctor] Dr Britton.
Dr. Tiller should have been stopped by legal means like Dr. Gosnell was!!!!
Kelsey Harkness / @kelseyjharkness / August 30, 2014 / 1 comments
Taxpayer-funded broadcast station PBS is airing a documentary this Labor Day weekend highlighting the lives of the last four remaining late-term abortion doctors in America.
PBS describes the film, "After Tiller," as a "deeply humanizing and probing portrait" of late-term abortionists who remain "absolutely dedicated to their work" in the wake of the 2009 assassination of Dr. George Tiller.
Tiller was the nation's pre-eminent abortion practitioner. He was known for his willingness to perform late-term abortions, doing so hundreds of times each year. At 67 years old, he was shot in the head in Wichita, Kans., by abortion opponent Scott Roeder, who was eventually convicted of first-degree murder.
"After Tiller" focuses on the "intense protest" from pro-life supporters that the four remaining doctors who abort babies after the 24-month mark face.
>>>'Gosnell' Filmmaker Glad Kickstarter Got the Message That People Won't Stand for Censorship
The film's producers, Martha Shane and Lana Wilson, openly admit the feature documentary is focused on the doctors' experience, stating in a press release, "We decided to represent the anti-abortion movement as it is experienced by the doctors themselves."
They added:
"It is a given, of course, that mainstream news coverage related to abortion must allot equal time to both sides of the issue, but as independent filmmakers, we chose to limit the scope of our film primarily to the point-of-view of the doctors because it allowed us to tell much deeper and more intimate stories."
"After Tiller" will have its national broadcast premiere on Monday, Sept. 1 at 10p.m on PBS's "Point of View" series. POV is television's longest-running showcase for independent non-fiction films and is funded by PBS, the Corporation for Public Broadcasting.
In 2013, the Corporation for Public Broadcasting received $445 million in federal appropriations, with PBS receiving about $300 million of that.
>>>Commentary: Should Federal Funding Remain Public for Broadcasting? No.
Sarah Torre, a policy analyst in Heritage's DeVos Center for Religion and Civil Society, is concerned about themes inside the PBS-endorsed documentary.
"Large majorities of Americans generally oppose abortions in the second and third trimesters of pregnancy — and for good reason," she said. "Gruesome late-term abortions endanger the health and safety of women and brutally take the lives of children capable of feeling pain."
Torre also addressed another one of the filmmakers' goals: Helping audiences to understand the "desperate" situation that leads to women choosing a late-term abortion. Torre refuted the notion that they're left with no other choice, stating:
Women facing difficult situations should be given compassionate care and empowered with life-affirming options — the kind they can find at thousands of pregnancy centers across the nation. We should protect the lives and health of women. And we should not deny the most fundamental human right to life to the most vulnerable children in our society merely because they are small, dependent, disabled or simply inconvenient.
PBS could not be reached for comment.
The answer to find meaning in life is found in putting your faith and trust in Jesus Christ. The Bible is true from cover to cover and can be trusted.
Thank you again for your time and I know how busy you are.
Everette Hatcher, everettehatcher@gmail.com, http://www.thedailyhatch.org, cell ph 501-920-5733, Box 23416, LittleRock, AR 72221, United States

On November 21, 2014 I received a letter from Nobel Laureate Harry Kroto and it said:
…Please click on this URL http://vimeo.com/26991975
and you will hear what far smarter people than I have to say on this matter. I agree with them.
Harry Kroto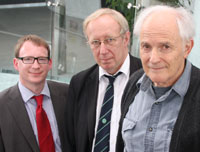 Nick Gathergood, David-Birkett, Harry-Kroto
I have attempted to respond to all of Dr. Kroto's friends arguments and I have posted my responses one per week for over a year now. Here are some of my earlier posts:
Arif Ahmed, Sir David Attenborough, Mark Balaguer, Horace Barlow, Michael Bate, Patricia Churchland, Aaron Ciechanover, Noam Chomsky,Alan Dershowitz, Hubert Dreyfus, Bart Ehrman, Stephan Feuchtwang, David Friend, Riccardo Giacconi, Ivar Giaever , Roy Glauber, Rebecca Goldstein, David J. Gross, Brian Greene, Susan Greenfield, Stephen F Gudeman, Alan Guth, Jonathan Haidt, Theodor W. Hänsch, Brian Harrison, Hermann Hauser, Roald Hoffmann, Bruce Hood, Herbert Huppert, Gareth Stedman Jones, Steve Jones, Shelly Kagan, Michio Kaku, Stuart Kauffman, Lawrence Krauss, Harry Kroto, George Lakoff, Elizabeth Loftus, Alan Macfarlane, Peter Millican, Marvin Minsky, Leonard Mlodinow, Yujin Nagasawa, Alva Noe, Douglas Osheroff, Jonathan Parry, Saul Perlmutter, Herman Philipse, Carolyn Porco, Robert M. Price, Lisa Randall, Lord Martin Rees, Oliver Sacks, John Searle, Marcus du Sautoy, Simon Schaffer, J. L. Schellenberg, Lee Silver, Peter Singer, Walter Sinnott-Armstrong, Ronald de Sousa, Victor Stenger, Barry Supple, Leonard Susskind, Raymond Tallis, Neil deGrasse Tyson, .Alexander Vilenkin, Sir John Walker, Frank Wilczek, Steven Weinberg, and Lewis Wolpert,
In the second video below in the 67th clip in this series are Richard Dawkins' words that Harry Kroto wanted me to see. Since then I have read several of Richard Dawkins books and have attempted to respond to the contents of these books directly to Richard Dawkins by mail. In fact, I have been writing Richard Dawkins letters since May 15, 1994 which was the 10th anniversary of the passing of one of my heroes, Francis Schaeffer. Francis Schaeffer spent a lot of time responding to many of Richard Dawkins' heroes such as Carl Sagan, Jacques Monod, H.J. Blackham, Isaac Newton, Ludwig Wittgenstein, Max Planck, Johann Sebastian Bach, Francis Bacon, Samuel Beckett, Leonardo Da Vinci, Albert Einstein, Michael Faraday, Gerald Horton, Edmund Leach, Louis Pasteur, George Wald, Jacob Bronowski, Steven Weinberg, Charles Darwin, Paul Kurtz, Peter Singer, Jonathan Miller, William B. Provine, Woody Allen, Noam Chomsky, James D. Watson, Francis Crick, Michael Polanyi, The Huxley family, Antony Flew, and Edward O. Wilson (Dawkins has since revised his opinion of Flew and Wilson, but he earlier regarded them very highly).
_
_
Both Francis Schaeffer and Richard Dawkins have talked extensively about the life of Charles Darwin.
_
Sir Harry Kroto with his high school friend Sir Ian McKellan at the FSU National High Field Magnetic Lab on Tuesday, October 27, 2009.
50 Renowned Academics Speaking About God (Part 1)
_
Another 50 Renowned Academics Speaking About God (Part 2)
_
_
Edit Post ‹ The Daily Hatch — WordPress
A Further 50 Renowned Academics Speaking About God (Part 3)
_
Richard Dawkins Photos Photos – Professor Stephen Hawking Unveils Medal For Science Communication – Zimbio
Professor Stephen Hawking Unveils Medal For Science Communication In This Photo: Richard Dawkins, Stephen Hawking, Brian May, Harold Kroto, Alexi Leonov, Garik Israelian
__
Richard Dawkins, founder of the Richard Dawkins Foundation for Reason and Science. Credit: Don Arnold Getty Images
16
–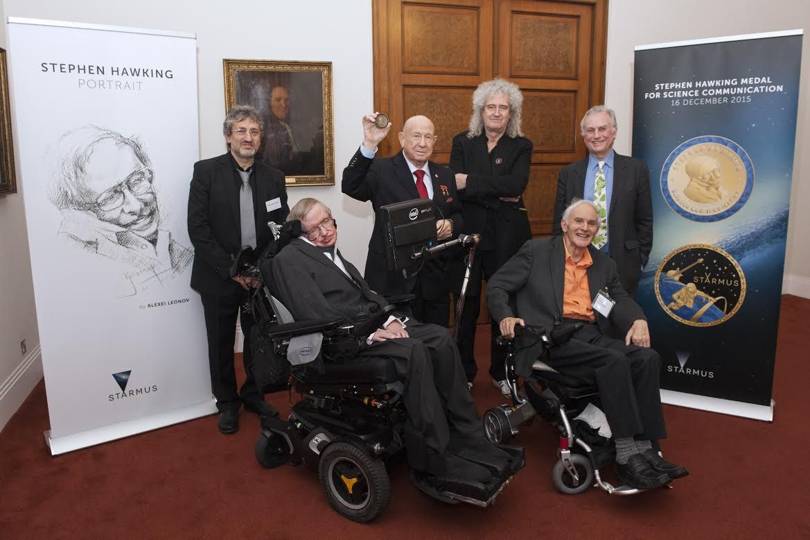 Garik Israelian, Stephen Hawking, Alexey Leonov, Brian May, Richard Dawkins and Harry Kroto
—-
—-
—-
—-
—-
Related posts:
On November 21, 2014 I received a letter from Nobel Laureate Harry Kroto and it said: …Please click on this URL http://vimeo.com/26991975 and you will hear what far smarter people than I have to say on this matter. I agree with them. Harry Kroto _________________ Below you have picture of 1996 Chemistry Nobel Prize Winner […]
The Beatles were "inspired by the musique concrète of German composer and early electronic music pioneer Karlheinz Stockhausen…" as SCOTT THILL has asserted. Francis Schaeffer noted that ideas of "Non-resolution" and "Fragmentation" came down German and French streams with the influence of Beethoven's last Quartets and then the influence of Debussy and later Schoenberg's non-resolution which is in total contrast […]
_______ On November 21, 2014 I received a letter from Nobel Laureate Harry Kroto and it said: …Please click on this URL http://vimeo.com/26991975 and you will hear what far smarter people than I have to say on this matter. I agree with them. Harry Kroto _________________ Below you have picture of 1996 Chemistry Nobel Prize […]
On November 21, 2014 I received a letter from Nobel Laureate Harry Kroto and it said: …Please click on this URL http://vimeo.com/26991975 and you will hear what far smarter people than I have to say on this matter. I agree with them. Harry Kroto ____________________ Below you have picture of 1996 Chemistry Nobel Prize Winner Dr. […]