–
–
Woody Allen On Bergman
Woody Allen On Bergman
Woody Allen Show
Essay on Woody Allen films
Match point Trailer
Match point
–
Crimes and misdemeanors
Part 2
Part 3
Woody commenting on Midnight in Paris
–
–
ebruary 14, 2016
Letty Aronson, c/o New York, New York 10001
Dear Mrs. Aronson,
Today is VALENTINE'S DAY and after watching several Woody Allen movies that deal with the issue of love I was prompted to write you. Last month my blog http://www.thedailyhatch.orgwent over 1,000,000 views. When I look back I noticed that over 1/3 of that total came from my top 8 posts and half of them were on the film MIDNIGHT IN PARIS. As you know Gil Pender is caught in this cold Godless world but he finds himself falling in love with Adriana and it causes a tension in the film as he looks for a "golden age."I have asked myself many times why the movie MIDNIGHT IN PARIS is generating so many hits on my blog several years after it came out in Theaters? I believe the answer is because it touches on some very deep issues that everyone feels. Woody doesn't believe in the Bible or in the idea that we were created by God and put here for a purpose, but Ecclesiastes 3:11 says "God has planted eternity in the heart of men…" and that changes everything. Mark Twain himself felt this tension too.
Mark Twain with family in Bermuda.
MIDNIGHT IN PARIS has a plot line that shows this tension in Gil Pender's life because he believes the universe is "cold,violent, and meaningless," but then he falls in love!!!
You may remember some of this dialogue from MIDNIGHT IN PARIS:
HEMINGWAY:You like Mark Twain?
GIL PENDER: I'm actually a huge Mark Twain fan. I think you can even make the case that all modern American literature comes from Huckleberry Finn.-
Ernest Hemingway actually lived in Piggott, Arkansas when he wrote some of his best works and Mark Twain was from neighboring Missouri.
Also in the film we find this exchange:
ADRIANA: I can never decide whether Paris is more beautiful by day or by night.
GIL PENDER: No, you can't. You couldn't pick one. I mean,I can give you a checkmate argument for each side.You know, I sometimes think,"How's anyone gonna come up with a book, or a painting, or a symphony or a sculpture that can compete with a great city?"You can't, 'cause, like,you look around, every…every street, every boulevard is its own special art form.And when you think that in the cold,violent, meaningless universe,that Paris exists, these lights…I mean, come on, there's nothing happening on Jupiter or Neptune,but from way out in space you can see these lights, the cafe's, people drinking, and singing…I mean, for all we know, Paris is the hottest spot in the universe.
(You got to remember that the character Gil Pender that Owen Wilson was playing was speaking the words that Woody Allen wrote!!!)
God created us so we can't deny that we are created for a purpose and when a person falls truly in love with another person then they have a hard time maintaining this we are only just a product of evolution and our lives have no lasting significance.
Solomon wisely noted in Ecclesiastes 3:11 "God has planted eternity in the heart of men…" (Living Bible). No wonder Bertrand Russell wrote in his autobiography, "It is odd, isn't it? I feel passionately for this world and many things and people in it, and yet…what is it all? There must be something more important, one feels, though I don't believe there is. I am haunted. Some ghosts, for some extra mundane regions, seem always trying to tell me something that I am to repeat to the world, but I cannot understand that message."
Mark Twain admitted:
It is the strangest thing, that the world is not full of books that scoff at the pitiful world, and the useless universe and the vile and contemptible race–books that laugh at the whole paltry scheme and deride it…Why don't I write such a book? Because I have a family. There is no other reason.
– Notebook #29, 10 November 1895
The Clemens family from left to right: Clara, Livy, Jean, Sam, and Susy. Photo courtesy of the The Mark Twain House
Francis Schaeffer noted in his book HE IS THERE AND HE IS NOT SILENT:
So just as all men love even if they say love does not exist, and all men have moral motions even though they say moral motions do not exit, so all men act as though they there is a correlation between the external and the internal world, even if they have no basis for that correlation…Let me draw the parallel again. Modern men say there is no love, there is only sex, but they fall in love. Men say there are no moral motions, everything is behavioristic, but they all have moral motions. Even in the more profound area of epistemology, no matter what a man says he believes, actually–every moment of his life–he is acting as though Christianity were true, and it is only the Christian system that tells him why he can, must, and does act the way he does (Chapter 4, HE IS THERE AND HE IS NOT SILENT ).
In his book CHRISTIAN APOLOGETICS Norman L. Geisler commented on the above Schaeffer quote by observing:
So, if a view is true, it should be livable [as Schaeffer pointed out].
Our concept of worldview comes from the German word WELTANSHAUUNG, which means a WORLD and LIFE view. So a comprehensive worldview in this sense should be something that not only accords with good reasons and fits the facts, but it should be one that fulfills our spiritual need as well. In short, it should SATISFY both the head and the heart. Of course, one should not bypass the head on the way to the heart. Hence, we have an extended discussion of the rational and factual basis for one's acceptance of a worldview. But once we do this, then we should not stop at the head and never reach the heart. As Pascal said, "What else does this craving, and this helplessness, proclaim but that there was once in man a true happiness, of which all that now remains is the empty print and trace? This he tries in vain to fill with everything around him, seeking in things that are not there the help he cannot find in those that are, though none can help, since this infinite abyss can be filled only with an infinite and immutable object; in other words by God himself." (Emphasis mine in this paragraph) (Taken from Chapter 10)
If one accepts Christianity as truth is it because that person is going with the heart feelings and left his head behind? Mark Twain wrote, "Faith is believing what you know ain't so." Twain was convinced the Bible was filled with errors. I give Twain credit for choosing the right issue. It really does come down to if the Bible is historically and scientifically accurate or not. There is evidence indicating that the Bible is true from cover to cover and can be trusted. Charles Darwin himself longed for evidence to come forward from the area of Biblical Archaeology but so much has advanced since Darwin wrote these words in the 19th century! Here are some of the posts I have done in the past on the subject and if you like you could just google these subjects: 1. The Babylonian Chronicle, of Nebuchadnezzars Siege of Jerusalem, 2. Hezekiah's Siloam Tunnel Inscription.13. The Pilate Inscription, 14. Caiaphas Ossuary, 14 B Pontius Pilate Part 2, 14c. Three greatest American Archaeologists moved to accept Bible's accuracy through archaeology.
I want to thank you and Woody for tackling the big issues in life and without you both my blog would have never existed!!!! Thank you again for your time and I know how busy you are.
Everette Hatcher, everettehatcher@gmail.com, http://www.thedailyhatch.org, cell ph 501-920-5733, Box 23416, LittleRock, AR 72221
Francis and Edith Schaeffer pictured above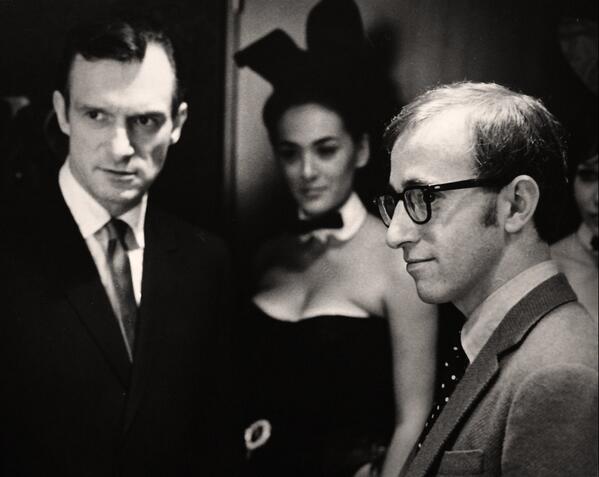 __
Big time director Woody Allen and wife Soon-Yi Previn along with daughters Bechet and Manzie Tio were at the Beverly Wilshire hotel in Beverly Hills, CA on June 15th, 2012.
__
__
Adriana and Gil Pender in MIDNIGHT IN PARIS
Pauline and Ernest on their wedding day. Hemingway
Hemingway-Pfeiffer Museum in Piggott, Arkansas
____
__
Hemingway and his three sons pictured above.
___
__
Big time director Woody Allen and wife Soon-Yi Previn along with daughters Bechet and Manzie Tio were at the Beverly Wilshire hotel in Beverly Hills, CA on June 15th, 2012.
—
Midnight in Paris trailer
—-
–

The mass media turned Picasso into a celebrity, and the public deprived him of privacy and wanted to know his every step, but his later art was given very little attention and was regarded as no more than the hobby of an aging genius who could do nothing but talk about himself in his pictures. Picasso's late works are an expression of his final refusal to fit into categories. He did whatever he wanted in art and did not arouse a word of criticism.
With his adaptation of "Las Meninas" by Velászquez and his experiments with Manet's Luncheon on the Grass, was Picasso still trying to discover something new, or was he just laughing at the public, its stupidity and its inability to see the obvious.
A number of elements had become characteristic in his art of this period: Picasso's use of simplified imagery, the way he let the unpainted canvas shine through, his emphatic use of lines, and the vagueness of the subject. In 1956, the artist would comment, referring to some schoolchildren: "When I was as old as these children, I could draw like Raphael, but it took me a lifetime to learn to draw like them."
In the last years of his life, painting became an obsession with Picasso, and he would date each picture with absolute precision, thus creating a vast amount of similar paintings — as if attempting to crystallize individual moments of time, but knowing that, in the end, everything would be in vain.
The movie MIDNIGHT IN PARIS offers many of the same themes we see in Ecclesiastes. The second post looked at the question: WAS THERE EVER A GOLDEN AGE AND DID THE MOST TALENTED UNIVERSAL MEN OF THAT TIME FIND TRUE SATISFACTION DURING IT?
In the third post in this series we discover in Ecclesiastes that man UNDER THE SUN finds himself caught in the never ending cycle of birth and death. The SURREALISTS make a leap into the area of nonreason in order to get out of this cycle and that is why the scene in MIDNIGHT IN PARIS with Salvador Dali, Man Ray, and Luis Bunuel works so well!!!! These surrealists look to the area of their dreams to find a meaning for their lives and their break with reality is only because they know that they can't find a rational meaning in life without God in the picture.
The fourth post looks at the solution of WINE, WOMEN AND SONG and the fifth and sixth posts look at the solution T.S.Eliotfound in the Christian Faith and how he left his fragmented message of pessimism behind. In the seventh post the SURREALISTS say that time and chance is all we have but how can that explain love or art and the hunger for God? The eighth post looks at the subject of DEATH both in Ecclesiastes and MIDNIGHT IN PARIS. In the ninth post we look at the nihilistic worldview of Woody Allen and why he keeps putting suicides into his films.
In the tenth post I show how Woody Allen pokes fun at the brilliant thinkers of this world and how King Solomon did the same thing 3000 years ago. In the eleventh post I point out how many of Woody Allen's liberal political views come a lack of understanding of the sinful nature of man and where it originated. In the twelfth post I look at the mannishness of man and vacuum in his heart that can only be satisfied by a relationship with God.
In the thirteenth post we look at the life of Ernest Hemingway as pictured in MIDNIGHT AND PARIS and relate it to the change of outlook he had on life as the years passed. In the fourteenth post we look at Hemingway's idea of Paris being a movable feast. The fifteenth and sixteenth posts both compare Hemingway's statement, "Happiness in intelligent people is the rarest thing I know…" with Ecclesiastes 2:18 "For in much wisdom is much vexation, and he who increases knowledge increases sorrow." The seventeenth post looks at these words Woody Allen put into Hemingway's mouth, "We fear death because we feel that we haven't loved well enough or loved at all."
In MIDNIGHT IN PARIS Hemingway and Gil Pender talk about their literary idol Mark Twain and the eighteenth post is summed up nicely by Kris Hemphill'swords, "Both Twain and [King Solomon in the Book of Ecclesiastes] voice questions our souls long to have answered: Where does one find enduring meaning, life purpose, and sustainable joy, and why do so few seem to find it? The nineteenth post looks at the tension felt both in the life of Gil Pender (written by Woody Allen) in the movie MIDNIGHT IN PARIS and in Mark Twain's life and that is when an atheist says he wants to scoff at the idea THAT WE WERE PUT HERE FOR A PURPOSE but he must stay face the reality of Ecclesiastes 3:11 that says "God has planted eternity in the heart of men…" and THAT CHANGES EVERYTHING! Therefore, the secular view that there is no such thing as love or purpose looks implausible. The twentieth post examines how Mark Twain discovered just like King Solomon in the Book of Ecclesiastes that there is no explanation for the suffering and injustice that occurs in life UNDER THE SUN. Solomon actually brought God back into the picture in the last chapter and he looked ABOVE THE SUN for the books to be balanced and for the tears to be wiped away.
The twenty-first post looks at the words of King Solomon, Woody Allen and Mark Twain that without God in the picture our lives UNDER THE SUN will accomplish nothing that lasts. Thetwenty-second post looks at King Solomon's experiment 3000 years that proved that luxuries can't bring satisfaction to one's life but we have seen this proven over and over through the ages. Mark Twain lampooned the rich in his book "The Gilded Age" and he discussed get rich quick fever, but Sam Clemens loved money and the comfort and luxuries it could buy. Likewise Scott Fitzgerald was very successful in the 1920's after his publication of THE GREAT GATSBY and lived a lavish lifestyle until his death in 1940 as a result of alcoholism.
In the twenty-third post we look at Mark Twain's statement that people should either commit suicide or stay drunk if they are "demonstrably wise" and want to "keep their reasoning faculties." We actually see this play out in the film MIDNIGHT IN PARIS with the character Zelda Fitzgerald. In the twenty-fourth, twenty-fifth and twenty-sixth posts I look at Mark Twain and the issue of racism. In MIDNIGHT IN PARIS we see the difference between the attitudes concerning race in 1925 Paris and the rest of the world.
The twenty-seventh and twenty-eighth posts are summing up Mark Twain. In the 29th post we ask did MIDNIGHT IN PARIS accurately portray Hemingway's personality and outlook on life? and in the 30th post the life and views of Hemingway are summed up.
In the 31st post we will observe that just like Solomon Picasso slept with many women. Solomon actually slept with over 1000 women ( Eccl 2:8, I Kings 11:3), and both men ended their lives bitter against all women and in the 32nd post we look at what happened to these former lovers of Picasso. In the 33rd post we see that Picasso deliberately painted his secular worldview of fragmentation on his canvas but he could not live with the loss of humanness and he reverted back at crucial points and painted those he loved with all his genius and with all their humanness!!! In the 34th post we notice that both Solomon in Ecclesiastes and Picasso in his painting had an obsession with the issue of their impending death!!!
___________
Related posts:
Woody Allen believes that we live in a cold, violent and meaningless universe and it seems that his main character (Gil Pender, played by Owen Wilson) in the movie MIDNIGHT IN PARIS shares that view. Pender's meeting with the Surrealists is by far the best scene in the movie because they are ones who can […]
In the last post I pointed out how King Solomon in Ecclesiastes painted a dismal situation for modern man in life UNDER THE SUN and that Bertrand Russell, and T.S. Eliot and other modern writers had agreed with Solomon's view. However, T.S. Eliot had found a solution to this problem and put his faith in […]
In MIDNIGHT IN PARIS Gil Pender ponders the advice he gets from his literary heroes from the 1920's. King Solomon in Ecclesiastes painted a dismal situation for modern man in life UNDER THE SUN and many modern artists, poets, and philosophers have agreed. In the 1920's T.S.Eliot and his house guest Bertrand Russell were two of […]