__
_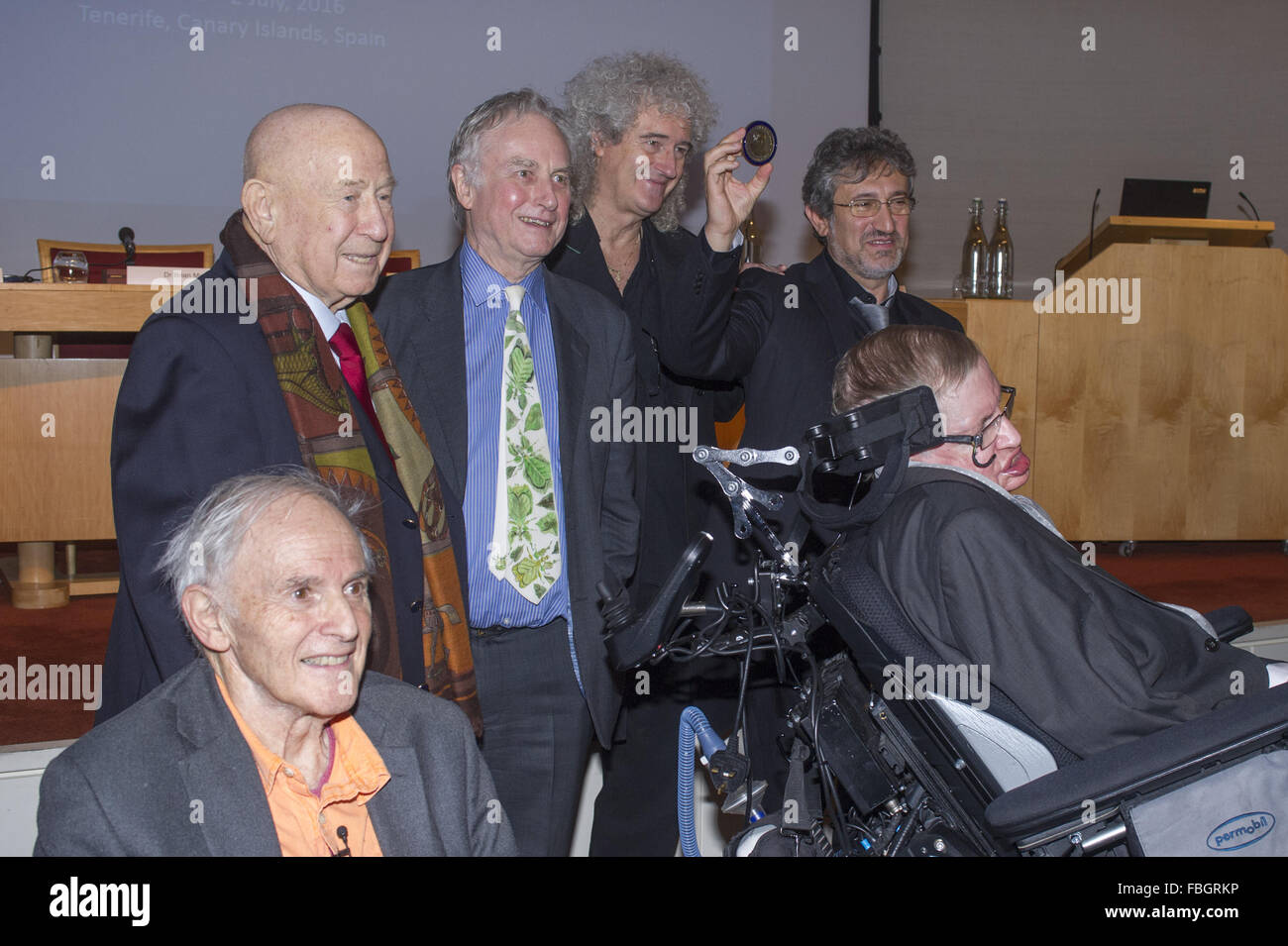 STARMUS panel announces ground-breaking Stephen Hawking Medals for Science Communication at the The Royal Society Featuring: Professor Sir Harry Kroto, Alexei Leonov, Dr Richard Dawkins, Dr Brian May, Professor Stephen Hawking, Professor Garik Israelian
On November 21, 2014 I received a letter from Nobel Laureate Harry Kroto and it said:
…Please click on this URL http://vimeo.com/26991975
and you will hear what far smarter people than I have to say on this matter. I agree with them.
Harry Kroto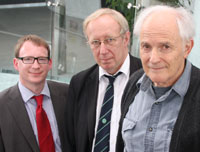 Nick Gathergood, David-Birkett, Harry-Kroto
I have attempted to respond to all of Dr. Kroto's friends arguments and I have posted my responses one per week for over a year now. Here are some of my earlier posts:
Arif Ahmed, Sir David Attenborough, Mark Balaguer, Horace Barlow, Michael Bate, Patricia Churchland, Aaron Ciechanover, Noam Chomsky,Alan Dershowitz, Hubert Dreyfus, Bart Ehrman, Stephan Feuchtwang, David Friend, Riccardo Giacconi, Ivar Giaever , Roy Glauber, Rebecca Goldstein, David J. Gross, Brian Greene, Susan Greenfield, Stephen F Gudeman, Alan Guth, Jonathan Haidt, Theodor W. Hänsch, Brian Harrison, Hermann Hauser, Roald Hoffmann, Bruce Hood, Herbert Huppert, Gareth Stedman Jones, Steve Jones, Shelly Kagan, Michio Kaku, Stuart Kauffman, Lawrence Krauss, Harry Kroto, George Lakoff, Elizabeth Loftus, Alan Macfarlane, Peter Millican, Marvin Minsky, Leonard Mlodinow, Yujin Nagasawa, Alva Noe, Douglas Osheroff, Jonathan Parry, Saul Perlmutter, Herman Philipse, Carolyn Porco, Robert M. Price, Lisa Randall, Lord Martin Rees, Oliver Sacks, John Searle, Marcus du Sautoy, Simon Schaffer, J. L. Schellenberg, Lee Silver, Peter Singer, Walter Sinnott-Armstrong, Ronald de Sousa, Victor Stenger, Barry Supple, Leonard Susskind, Raymond Tallis, Neil deGrasse Tyson, .Alexander Vilenkin, Sir John Walker, Frank Wilczek, Steven Weinberg, and Lewis Wolpert,
In the first video below in the 15th clip in this series are his words and my response is below them.
50 Renowned Academics Speaking About God (Part 1)
Another 50 Renowned Academics Speaking About God (Part 2)
A Further 50 Renowned Academics Speaking About God (Part 3)
_________________________________
In the popular You Tube video "Renowned Academics Speaking About God" you made the following statement:
"M-Theory doesn't disprove God, but it does make him unnecessary. It predicts that the universe will be spontaneously created out of nothing without the need for a creator." –Stephen Hawking, Cambridge theoretical physicist
Earlier I responded to Dr. Hawking's assertion.

My May 16, 2016 to Stephen Hawking
________
_________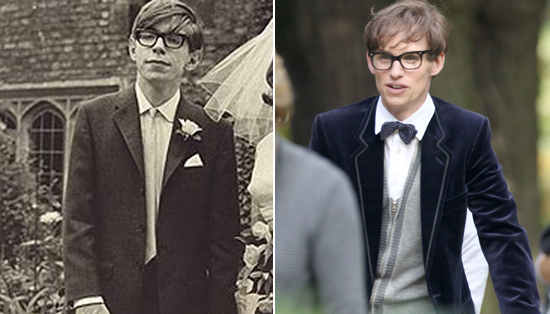 ________
________________
________
May 16, 2016
Dr. Stephen Hawking, c/o Centre for Theoretical Cosmology
Department of Applied Mathematics and Theoretical Physics
Centre for Mathematical Sciences
Wilberforce Road, Cambridge
CB3 0WA, UK
Dear Dr. Hawking,
I went to see your movie THE THEORY OF EVERYTHING and I enjoyed it so much that I went back and saw it again and again. It was inspiring. I also had the opportunity to read the article, "Morning Mix, How Stephen Hawking, diagnosed with ALS decades ago, is still alive, By Terrence McCoy February 24, 2015," and this article pointed out how amazing your life has been in that you have survived ALS so long. I wonder if this Bible verse may indicate why you have made it so long:
2 Peter 3:9King James Version (KJV)
9 The Lord is not slack concerning his promise, as some men count slackness; but is longsuffering to us-ward, not willing that any should perish, but that all should come to repentance.
Back in January I saw that you were having your 74th birthday, and today I am turning 55 years old today and many people call that middle age but how many 110 year people you see walking around? I also have started to think about the end of my life in recent days since it is fast approaching all of us. King Solomon in his book of ECCLESIASTES talks about death quite a lot and he wrote a passage in chapter 2 that I wanted to quote and then I wanted to include some comments from the preacher Ken Whitten in his sermon HAUNTED BY DEATH:
King Solomon gives us a little key to his heart in the Book of Ecclesiastes when he said he looked for everything imaginable to find satisfaction UNDER THE SUN. Now folks anytime you look for satisfaction UNDER THE SUN it means you have an earthly view of life and if all you have is an earthly view of life you are going to be discouraged. You can tell Solomon is cynical. In Ecclesiastes 2 it says Solomon has tried LEARNING, LABOR, LEISURE, LUST, LAUGHTER, and LIQUOR but it is just like chasing the wind. It was like a little bubble that a kid would blow and then he catches it and there is nothing left there.
12 So I turned to consider wisdom, madness and folly; for what will the man do who will come after the king except what has already been done? 13 And I saw that wisdom excels folly as light excels darkness. 14 The wise man's eyes are in his head, but the fool walks in darkness. And yet I know that one fate befalls them both. 15 Then I said [j]to myself, "As is the fate of the fool, it will also befall me. Why then have I been extremely wise?" So [k]I said to myself, "This too is vanity." 16 For there is no [l]lasting remembrance of the wise man as with the fool, inasmuch as in the coming days all will be forgotten. And how the wise man and the fool alike die! 17 So I hated life, for the work which had been done under the sun was [m]grievous to me; because everything is futility and striving after wind.
Solomon is saying no matter if you are a fool or a wise-man it has nothing to do with removing the reality of death. It is an universal experience and it is going to happen to everyone. The Bible says it "befalls" or overtakes them all. Death overtakes us all.
Solomon looks at life like a race. At the beginning of life and when you are younger you look over your shoulder and in the far distance you see that someone is chasing you and he is in the race with you but you don't pay much attention to him and there is no sense looking back since you are so far ahead. You think he will never catch you. Then you get a little older and guess what you notice. He seems to be going a little faster and you seem to be going a little slower. And you notice that while you continue to move you are starting to hear the footsteps and you starting failing. Something is happening to us and we are deteriorating physically. In verse 14 Solomon says one fate befalls both the fool and the wise and that is they both die. The rich is gonna die and the poor is gonna die. The actors, athletes, entertainers and the movie stars are gonna die.
Solomon doesn't like this very much and he says in verses 16-17:
16 For there is no [l]lasting remembrance of the wise man as with the fool, inasmuch as in the coming days all will be forgotten. And how the wise man and the fool alike die! 17 So I hated life, for the work which had been done under the sun was [m]grievous to me; because everything is futility and striving after wind.
Solomon is saying that he doesn't like this. It doesn't matter how famous you get because there will be very little remembrance of you. Regardless of how famous you become there are people behind you who are going to be famous and they need your space in the history books and they will take it.
The rich and poor are gonna die. It doesn't matter what is in your pocketbook but only what is in your heart. If you died tonight where would you spend eternity?
__
You might have said that this letter is a real downer but I have some good news to share with you. On Easter morning March 27, 2016 at FELLOWSHIP BIBLE CHURCH our teaching pastor Brandon Barnard delivered the message THIS CHANGES EVERYTHING based on I Corinthians chapter 15 and I wanted to share a portion of that sermon with you today.
This day is the day that changes everything. The resurrection changes everything and that is why we are gathered here today to celebrate the resurrection of our Lord Jesus Christ because it changes everything.
Some of you are going to be blown away by the opportunity before you this Easter morning because the resurrection of Jesus Christ stands at the very heart of Christianity. If what we we are gathered here to celebrate did not happen then people need to pity us as believers. They need to feel sorry for you and me more than anyone on earth because we have set our hopes firmly on a lie.
But if the resurrection really did happen, then we need to repent and we need to believe in Jesus and we need to rejoice that we have hope in this life and the life to come.
Paul wrote this to the believers in Corinth.
1 Corinthians 15:3-6, 13-21 English Standard Version (ESV)
3 For I delivered to you as of first importance what I also received: that Christ died for our sins in accordance with the Scriptures, 4 that he was buried, that he was raised on the third day in accordance with the Scriptures, 5 and that he appeared to Cephas, then to the twelve. 6 Then he appeared to more than five hundred brothers at one time, most of whom are still alive, though some have fallen asleep.
13 But if there is no resurrection of the dead, then not even Christ has been raised. 14 And if Christ has not been raised, then our preaching is in vain and your faith is in vain. 15 We are even found to be misrepresenting God, because we testified about God that he raised Christ, whom he did not raise if it is true that the dead are not raised.16 For if the dead are not raised, not even Christ has been raised. 17 And if Christ has not been raised, your faith is futile and you are still in your sins. 18 Then those also who have fallen asleep in Christ have perished.19 If in Christ we have hope[a] in this life only, we are of all people most to be pitied.
20 But in fact Christ has been raised from the dead, the firstfruits of those who have fallen asleep. 21 For as by a man came death, by a man has come also the resurrection of the dead.
If Christ hasn't been raised then these facts are true:
PREACHING AND FAITH ARE IN VAIN.
WE ARE FALSE WITNESSES
WE ARE STILL IN OUR SINS.
THOSE WHO DIED IN FAITH ARE STILL DEAD
WE ARE TO BE PITIED MORE THAN ANYONE ELSE IN THE WORLD.
Verse 20 says, "but Christ has been raised!!! Therefore, these things are true:
Our faith is significant, valuable and eternal.
we are truth tellers!!
we are forgiven of our sins.
death is not our final stop.
don't pity us but join us in believing in Jesus Christ.
A lot of people say they do not believe in an afterlife. However, would you agree that if the Bible is correct in regards to history then Jesus did rise from the grave? Let's take a closer look at evidence concerning the accuracy of the Bible.
I know that you highly respected Surgeon General C. Everett Koop and he co-authored with Francis Schaeffer the book WHATEVER HAPPENED TO THE HUMAN RACE? Below is a piece of evidence from that book:
We should take one last step back into the history of the Old Testament. In the previous note we looked first at the Dead Sea Scrolls, dating to around 100 B.C. Then we went back to the period of the Late Monarchy and looked first at the siege of Hezekiah in Jerusalem by Sennacherib in 701 B.C. and also at the last years of Judah down to about 600 B.C. Then we went further back to about 850 B.C., to Ahab and Jezebel, the ivory house, the Black Obelisk, the Moabite Stone and so on–then back again to about 950 B.C., to the time of Solomon and his son Rehoboam and the campaign by Shishak, the Egyptian pharaoh.
This should have built up in our minds a vivid impression of the historic reliability of the biblical text, including even the seemingly obscure details such as the ration tablets in Babylon. We saw, in other words, not only that the Bible gives us a marvelous world view that ties in with the nature of reality and answers the basic problems which philosophers have asked down through the centuries, but also that the Bible is completely reliable, EVEN ON THE HISTORICAL LEVEL.
The previous notes looked back to the time of Moses and Joshua, the escape from Egypt, and the settlement in Canaan. Now we will go back further–back as far as Genesis 12, near the beginning of the Bible.
Do we find that the narrative fades away to a never-never land of myths and legends? By no means. For we have to remind ourselves that although Genesis 12 deals with events a long time ago from our moment of history (about 2000 B.C. or a bit later), the civilized world was already not just old but ancient when Abram/Abraham left "Ur of the Chaldeans" (see Genesis 11:31).
Ur itself was excavated some fifty years ago. In the British Museum, for example, one can see the magnificent contents of a royal burial chamber from Ur. This includes a gold headdressstill in position about the head of a queen who died in Ur about 2500 B.C. It has also been possible to reconstruct from archaeological remains what the streets and buildings must have been like at the time.
Like Ur, the rest of the world of the patriarchs (that is, of Abraham, Isaac, and Jacob) was firm reality. Such places asHaran, where Abraham went first, have been discovered. So has Shechem from this time, with its Canaanite stone walls, which are still standing, and its temple.
Genesis 12:5-9New American Standard Bible (NASB)
5 Abram took Sarai his wife and Lot his nephew, and all their possessions which they had accumulated, and the [a]persons which they had acquired in Haran, and they [b]set out for the land of Canaan; thus they came to the land of Canaan. 6 Abram passed through the land as far as the site of Shechem, to the[c]oak of Moreh. Now the Canaanite was then in the land. 7 The Lord appeared to Abram and said, "To your [d]descendants I will give this land." So he built an altar there to the Lord who had appeared to him. 8 Then he proceeded from there to the mountain on the east of Bethel, and pitched his tent, with Bethel on the west and Ai on the east; and there he built an altar to the Lord andcalled upon the name of the Lord. 9 Abram journeyed on, continuing toward the[e]Negev.
Haran and Shechem may be unfamiliar names to us but the Negrev (or Negeb) is a name we have all read frequently in the news accounts of our own day.
The spiritual answers your heart is seeking can be found in putting your faith and trust in Jesus Christ. The Bible is true from cover to cover and can be trusted.
Thanks for your time.
Sincerely,
Everette Hatcher, everettehatcher@gmail.com, http://www.thedailyhatch.org, cell ph 501-920-5733, Box 23416, LittleRock, AR 72221
________
Related posts:
The John Lennon and the Beatles really were on a long search for meaning and fulfillment in their lives just like King Solomon did in the Book of Ecclesiastes. Solomon looked into learning (1:12-18, 2:12-17), laughter, ladies, luxuries, and liquor (2:1-2, 8, 10, 11), and labor (2:4-6, 18-20). He fount that without God in the picture all […] By Everette Hatcher III | Posted in Current Events, Francis Schaeffer | Edit | Comments (0)
______________ George Harrison Swears & Insults Paul and Yoko Lucy in the Sky with Diamonds- The Beatles The Beatles: I have dedicated several posts to this series on the Beatles and I don't know when this series will end because Francis Schaeffer spent a lot of time listening to the Beatles and talking […] By Everette Hatcher III | Posted in Francis Schaeffer | Tagged Anna Margaret Rose Freeman, George Harrison, John Lennon, Paul MacCartney, Ringo Starr, Stg. Pepper's Lonely Hearts Club Band | Edit| Comments (0)
The Beatles in a press conference after their Return from the USA Uploaded on Nov 29, 2010 The Beatles in a press conference after their Return from the USA. The Beatles: I have dedicated several posts to this series on the Beatles and I don't know when this series will end because Francis […] By Everette Hatcher III | Posted in Francis Schaeffer | Tagged George Harrison, John Lennon, Paul MacCartney, Raqib Shaw, Ringo Starr | Edit | Comments (0)
__________________ Beatles 1966 Last interview I have dedicated several posts to this series on the Beatles and I don't know when this series will end because Francis Schaeffer spent a lot of time listening to the Beatles and talking and writing about them and their impact on the culture of the 1960's. In this […] By Everette Hatcher III | Posted in Francis Schaeffer | Tagged George Harrison, John Lennon, Paul MacCartney, Peter Blake, Ringo Starr | Edit | Comments (1)