_
On November 21, 2014 I received a letter from Nobel Laureate Harry Kroto and it said:
…Please click on this URL http://vimeo.com/26991975
and you will hear what far smarter people than I have to say on this matter. I agree with them.
Harry Kroto
__
Soren Andersson/AP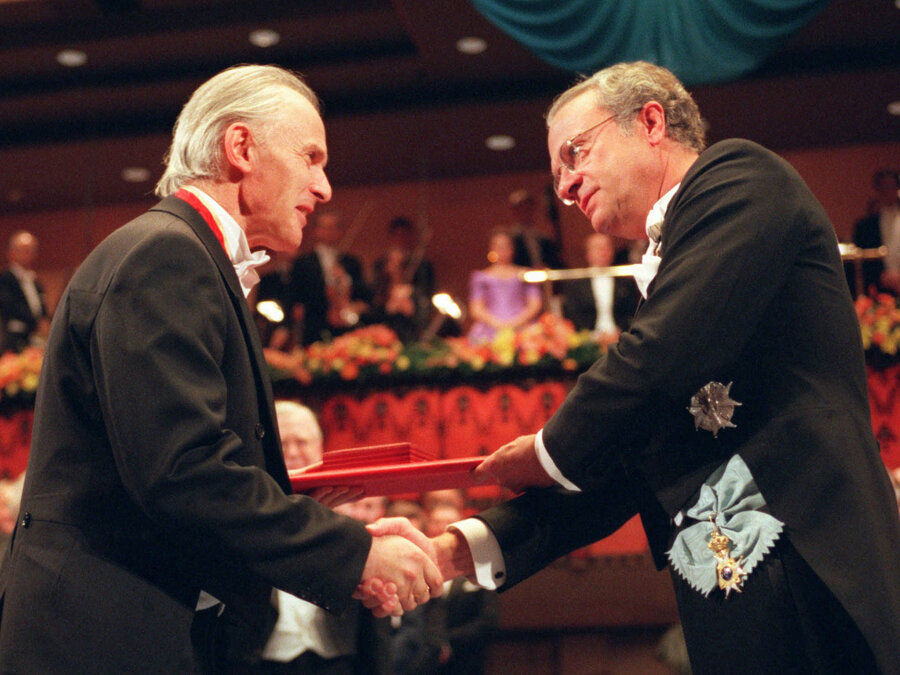 __
I have attempted to respond to all of Dr. Kroto's friends arguments and I have posted my responses one per week for over a year now. Here are some of my earlier posts:
Arif Ahmed, Sir David Attenborough, Mark Balaguer, Horace Barlow, Michael Bate, Patricia Churchland, Aaron Ciechanover, Noam Chomsky,Alan Dershowitz, Hubert Dreyfus, Bart Ehrman, Stephan Feuchtwang, David Friend, Riccardo Giacconi, Ivar Giaever , Roy Glauber, Rebecca Goldstein, David J. Gross, Brian Greene, Susan Greenfield, Stephen F Gudeman, Alan Guth, Jonathan Haidt, Theodor W. Hänsch, Brian Harrison, Hermann Hauser, Roald Hoffmann, Bruce Hood, Herbert Huppert, Gareth Stedman Jones, Steve Jones, Shelly Kagan, Michio Kaku, Stuart Kauffman, Lawrence Krauss, Harry Kroto, George Lakoff, Elizabeth Loftus, Alan Macfarlane, Peter Millican, Marvin Minsky, Leonard Mlodinow, Yujin Nagasawa, Alva Noe, Douglas Osheroff, Jonathan Parry, Saul Perlmutter, Herman Philipse, Carolyn Porco, Robert M. Price, Lisa Randall, Lord Martin Rees, Oliver Sacks, John Searle, Marcus du Sautoy, Simon Schaffer, J. L. Schellenberg, Lee Silver, Peter Singer, Walter Sinnott-Armstrong, Ronald de Sousa, Victor Stenger, Barry Supple, Leonard Susskind, Raymond Tallis, Neil deGrasse Tyson, .Alexander Vilenkin, Sir John Walker, Frank Wilczek, Steven Weinberg, and Lewis Wolpert,
_
In the first video below in the 14th clip in this series are his words and I will be responding to them in the next few weeks since Sir Bertrand Russell is probably the most quoted skeptic of our time, unless it was someone like Carl Sagan or Antony Flew.
50 Renowned Academics Speaking About God (Part 1)
Another 50 Renowned Academics Speaking About God (Part 2)
A Further 50 Renowned Academics Speaking About God (Part 3)
__
Quote from Bertrand Russell:
Q: Why are you not a Christian?
Russell: Because I see no evidence whatever for any of the Christian dogmas. I've examined all the stock arguments in favor of the existence of God, and none of them seem to me to be logically valid.
Q: Do you think there's a practical reason for having a religious belief, for many people?
Russell: Well, there can't be a practical reason for believing what isn't true. That's quite… at least, I rule it out as impossible. Either the thing is true, or it isn't. If it is true, you should believe it, and if it isn't, you shouldn't. And if you can't find out whether it's true or whether it isn't, you should suspend judgment. But you can't… it seems to me a fundamental dishonesty and a fundamental treachery to intellectual integrity to hold a belief because you think it's useful, and not because you think it's true._
___
This is a fine review I got off the internet:
TUESDAY, NOVEMBER 08, 2005
Along with Hume's attack on natural theology, Bertrand Russell's famous essay, Why I am not a Christian, has probably been the most successful piece of popular atheology. And its influence continues up until our own day. So it is worth our while going back over this essay to weigh its logical merits, or the lack thereof.
I. Cosmological Argument
His attack on the cosmological proof is a strawman argument. He starts out by saying that the category of causality isn't what it used to be. I assume that this is a then-fashionable allusion to quantum mechanics. To begin with, this is a very counterintuitive theory, the interpretation of which remains highly controversial and quite resistant to a realist construction. But even if we accepted that theory, it only applies at the subatomic level.
He misstates the cosmological argument as saying that everything has a cause: ego, God must also have a cause. But the cosmological argument doesn't say that every thing has a cause; rather, it says that every event has a cause. Everything that comes into being or passes out of being has a cause. That's the premise.
The remainder of his denials consists in bare assertions without any argumentation to back them up. Conversely, he doesn't bother to engage the detailed arguments offered by philosophers and scientists and theologians against the eternity of the world or the spontaneous origin of life on earth.
He then claims that to suppose otherwise betrays a poverty of imagination. But doesn't that ignore a rather important distinction between reality and imagination? There are a number of versions of the cosmological argument. He engages none of them.
II. Nomological Argument
His attack on the nomological proof is fallacious. As he frames the issue, if God had a reason for legislating nature in one way rather than another, then that reason legislates God's own action. But this formulation falters on an equivocation of terms. Whether we define a law of nature as a statistical mean or the inevitable effect of meeting certain necessary and sufficient physical conditions, that is not the same as a reason. A reason is a mental, and not an extramental entity, and so it doesn't imply something outside and anterior to the agent—something which thereby constrains the agent. There is no dualism between a reason and a faculty for reason. Reasons inhere in the mind of a personal agent.
On the face of it, it is also a false analogy to equate physical causality with statistical probabilities—like a game of chance. The whole point is that certain natural phenomena are generally predicable in a way that a throw of the dice is not.
Moreover, it would be possible to predict the throw of the dice if we knew all the variables in advance. I'm not saying that that applies to everything (e.g., the weather). But his chosen illustration is really subversive of his point.
III. Teleological Argument
His attack on the teleological proof is another strawman argument. First of all, he identifies the teleological argument with the anthropic principle. But while that is one version of the teleological proof, the evidence of teleology doesn't depend on this anthropocentric orientation. A universe just like ours, but without intelligent life, or life of any kind, would still be subject to the design argument. So his statement of the principle is a considerable overgeneralization.
He then comes up with flippant illustrations about white-tailed rabbits and glasses that no serious Christian apologist would ever offer or entertain. And his appeal to the Darwinian alternative invites the same criticism.
To begin with, evolution is another quite controversial theory. But even if we waive that issue, it is very difficult to eliminate teleological categories from the theory of evolution (e.g., natural selection). Darwinists are constantly concocting Just-So stories to explain the survival value of a given adaptation."
Russell doesn't bother to ask any of the hard questions. How did the organism survive before it had "grown to be suitable to" its environment? Why is it that an organism should have this in-built adaptability to begin with? It sounds suspiciously like preadaptation. And before we account for the survival of various life-forms, we must account for the origin of life itself.
There is, however, an even deeper and more trying irony. In order to enthrone natural selection by dethroning nature's God, the Darwinist must covertly assume a God's-eye view of the proceedings. Natural selection is blind to the survival value of adaptive strategies. Only an intelligent observer can appreciate this problem-solving strategy. Thus the naturalist must step outside of nature and look back at nature with a godlike detachment. A hidden homunculus is always peering over the shoulder of the blind watchmaker.
Russell's appeal to seemingly dysteleological features disregards the distinction between ends and means. Natural or moral evils may be a means to a higher good. Moreover, to brand the world as "defective" presupposes an ideal standard of reference. And this, once again, assumes a standpoint superior to nature. Something is only defective if it falls short of the mark. So Russell must resort to goal-oriented norms to eliminate teleology from nature. Seems like an exercise in self-rebuttal.
IV. Moral Argument
His attack on the moral argument is a variation on his critique of the nomological argument. If the former traded on an equivocation between law and reason, the latter plays on an equivocation between divine goodness and divine fiat. If God commands something because it's good, then this "fiat" is logically anterior to God himself. There is considerable confusion in this objection.
To begin with, the first party may well have a different reason for prescribing or prohibiting certain behavior on the part of the second party than the second party has for compliance. If I tell my four-year-old not to cross the street on his own, my reason is not his reason. His reason is that I told me so, and I told him so for his own safety. But that is hard a reason for me not to cross the street.
It is not enough to ask, Did God will it because it is good? The question must be broken down. What is the "it"? Good for whom? Good for what? God didn't will things for his own good. And, in the nature of the case, natural goods are relative goods. What is good for one natural kind is not necessarily good for another. It is not merely God's command that makes something right or wrong, but his command in conjunction with his creation. His commands are suited to the nature of his creatures, and he has suited his creatures to the nature of his commands.
Hovering in the background of Russell's discussion is the Euthyphro dilemma. But this dilemma is generated by two Platonic assumptions: (i) goodness is an impersonal universal; (ii) goodness is a generic universal, of which any given good is only a rough approximation. But according to Scripture, goodness is a personal attribute of God. In addition, the Euthyphro dilemma is structurally similar to the Third Man argument. But according, again, to Scripture, creatures to not merely approximate the decree, but exactly answer to the decree down to the very last detail.
The logic of Russell's backtracking objection would apply, not only to God, but man. It would entail that no agent could ever have a reason for what he does, because, in that event, he has too many reasons, for he cannot have a reason without having a reason for the reason for the reason. By that logic, Russell didn't have a reason for writing his essay, seeing as every reason demands another reason, ad infinitum.
But, as I said before, what a reason assumes is not another reason, but a faculty for reason. A reason assumes a reasoner—no more, no less. Russell is substituting a verbal paradox for a serious argument. Reasons don't exist outside the mind.
To say it's quite doubtful that Christ ever existed is irresponsible even coming from an unbeliever. First of all, there is extrabiblical evidence for Christ (e.g., Tacitus; Josephus; the Talmud). Moreover, we have 27 primary sources dating from the 1C (=the NT) that witness to the historicity of Christ. Russell cites the example of Socrates. Yet we only have three witnesses to the historicity of Socrates (Plato; Xenophon; Aristophanes).
Perhaps Russell would object that the NT is a biased source. Why is a disciple of Christ unreliable, but a disciple of Socrates is not?
V. Christology
Russell says that Jesus was mistaken in his timetable for the Second Coming. Russell is referring to such verses as Mt 10:23; 16:28; 24:34 (cf. Rev 1:1,7). Because Russell was not a student of Scripture, he engages in simplistic prooftexting by lifting isolated verses out of context. Regarding the "imminent" return of Christ, a few things need to be said:
(i) According to Scripture, the kingdom of God doesn't come all at once. It has a past, present and future dimension. The OT theocracy was an instance of God's kingdom on earth (e.g., Exod 19:6), but localized in time and space. The first advent of Christ was another instance of God's kingdom on earth (e.g., Mt 12:28-29). This advances the OT vision, but is still limited in time and space. And there is, finally, a global and lasting advent of the kingdom of God in the Second Coming of Christ the King.
(ii) The prophecies of Christ (Mt 10:23; 16:28; 24:34; Rev 1:1,7) pick up from where the prophecies of Daniel left off (Dan 2:28-30,44-45; 7:13-14). It is important remember that Daniel was a seer. Visionary revelation is not a chronicle or photograph of the future, and Russell commits a level-confusion when he equates a visionary sequence with a historical sequence. Events imminent within a vision are not necessarily imminent in real time and space. Such visions envision a public event, but they do not assume a one-to-one correspondence between promise and fulfillment.
(iii) To attribute false prophecies to Christ logically commits you to the early dating of the Gospels, for no writer would invent or report prophecies which falsified his own case. But that would bring the Gospels back down to the lifetime of the eyewitnesses.
He belittles the cursing of the fig tree (cf. Mt 21:18-19). Because Russell doesn't know his way around the OT, he is ignorant of the fact that a fig tree is a type of divine judgment on apostate Israel (e.g. Jer 8:13; Hos 9:10,16-17; Joel 1:7,12; Mic 7:1).
Russell's aristocratic heart also goes out to the sorry fate of the Gadarene swine. His advocacy swine rights is touching, and I trust that his Lordship's high principles hindered him from forming any excessive familiarity with a plate of pork-links. When, however, Russell shows more sympathy for the swine than the demoniac, one feels that a certain sense of moral disproportion has invaded his ethical system.
But Russell is just warming up for his ringing denunciation of hell. It is hard to know how to respond because Russell offers so little by way of argument. One can only rebut a reason. But a couple of comments are in order:
(i) It is counterintuitive, to say the least, to say that God is unjust in punishing the unjust. Isn't that what a just God is supposed to do? Wouldn't we think him unjust for not punishing the unjust?
To be sure, some critics would object to the duration of hell or the standard of judgment. But there's no obligation to parry objections which Russell never raises or elaborates.
(ii) If Russell doesn't like Christian ethics, what is his alternative? Is secular ethics possible? In his debate with Fr. Copleston, Russell could never bring himself to condemn the Holocaust. (Cf. F. Copleston, Memoirs [Sheed & Ward, 1993], 136-37.) So how is he in any position to be so judgmental about Christian ethics? How can Russell be such a moralizing moral relativist?
He then makes the perfectly ridiculous and patently false statement that the doctrine of hell put cruelty into the world. Really? What about the Assyrians—to take just one of many examples?
He also draws a causal connection between faith and persecution. But this correlation is very cloudy. The Wars of Religion took place, not during the Middle Ages, but the Enlightenment. The witch-craze took place, not during the Middle Ages, but the Enlightenment. And isn't the time past due for the humanist community to give an accounting of all the atrocities committed under its watch, viz., Baathism, Jacobinism, Maoism, Nazism, Stalinism, Roe v. Wade, the Khmer Rouge, &c. The body count racked up by secular ideologies is quite unrivalled in human history.
VI. Freudian Critique
He then resorts to a psychogenic explanation of faith. It's all based on fear, period. But it never seems to have occurred to Russell that a reductive analysis cut both ways. For psychogenic explanations may be as applied easily to unbelief as to belief. By his own admission, Russell's formative years were steeped in the literature of infidelity (e.g. Carlyle, Comte, Gibbon, Ibsen, McTaggart, Mill, and Shelley). If Russell had any capacity for self-criticism, it would occur to him that such exposure at an impressionable age was a highly prejudicial influence on his receptivity to the Gospel. And his emotionally-starved upbringing fits a familiar profile among many famous infidels. (Cf. O. Guinness, Long Journey Home [Doubleday, 2001]; P. Vitz, Faith of the Fatherless: The Psychology of Atheism [Spence, 1999].)
In any event, psychogenic explanations of the faith commit the genetic fallacy. Even if someone's faith amounts to make-believe or wishful thinking, that sort of subjective analysis completely fails to address the issue of objective (e.g., historical) evidence for the faith.
Russell then rounds out with a little pep-talk to rally the troops. But Russell has done nothing to lay a foundation for this dutiful optimism, and the track record of secular regimes augurs ill for the cause.
Bertrand Russell pictured above and Francis Schaeffer below:
Francis Schaeffer noted in his book HOW SHOULD WE THEN LIVE? (p. 182 in Vol 5 of Complete Works) in the chapter The Breakdown in Philosophy and Science:
In his lecture at Acapulco, George Wald finished with only one final value. It was the same one with which English philosopher Bertrand Russell (1872-1970) was left. For Wald and Russell and for many other modern thinkers, the final value is the biological continuity of the human race. If this is the only final value, one is left wondering why this then has importance.
Now having traveled from the pride of man in the High Renaissance and the Enlightenment down to the present despair, we can understand where modern people are. They have no place for a personal God. But equally they have no place for man as man, or for love, or for freedom, or for significance. This brings a crucial problem. Beginning only from man himself, people affirm that man is only a machine. But those who hold this position cannot live like machines! If they could, there would have been no tensions in their intellectual position or in their lives. But even people who believe they are machines cannot live like machines, and thus they must "leap upstairs" against their reason and try to find something which gives meaning to life, even though to do so they have to deny their reason.
Francis Schaeffer in another place worded it like this:
The universe was created by an infinite personal God and He brought it into existence by spoken word and made man in His own image. When man tries to reduce [philosophically in a materialistic point of view] himself to less than this [less than being made in the image of God] he will always fail and he will always be willing to make these impossible leaps into the area of nonreason even though they don't give an answer simply because that isn't what he is. He himself testifies that this infinite personal God, the God of the Old and New Testament is there.
We all know deep down that God exists and even atheists have to grapple with that knowledge.
Solomon wisely noted in Ecclesiastes 3:11 "God has planted eternity in the heart of men…" (Living Bible). No wonder Bertrand Russell wrote in his autobiography, "It is odd, isn't it? I feel passionately for this world and many things and people in it, and yet…what is it all? There must be something more important, one feels, though I don't believe there is. I am haunted. Some ghosts, for some extra mundane regions, seem always trying to tell me something that I am to repeat to the world, but I cannot understand that message."
Take a look at this 7th episode from Schaeffer's series "HOW SHOULD WE THEN LIVE? The Age of Nonreason":
How Should We Then Live – Episode Seven – 07 – Portuguese Subtitles
_
Instead of making a leap into the area of nonreason the better choice would be to investigate the claims that the Bible is a historically accurate book and that God created the universe and reached out to humankind with the Bible.
Schaeffer then points to the historical accuracy of the Bible in Chapter 5 of the book WHATEVER HAPPENED TO THE HUMAN RACE?
The Bible and Archaeology – Is the Bible from God? (Kyle Butt 42 min)
You want some evidence that indicates that the Bible is true? Here is a good place to start and that is taking a closer look at the archaeology of the Old Testament times. Is the Bible historically accurate? Here are some of the posts I have done in the past on the subject: 1. The Babylonian Chronicle, of Nebuchadnezzars Siege of Jerusalem, 2. Hezekiah's Siloam Tunnel Inscription. 3. Taylor Prism (Sennacherib Hexagonal Prism), 4. Biblical Cities Attested Archaeologically. 5. The Discovery of the Hittites, 6.Shishak Smiting His Captives, 7. Moabite Stone, 8. Black Obelisk of Shalmaneser III, 9A Verification of places in Gospel of John and Book of Acts., 9B Discovery of Ebla Tablets. 10. Cyrus Cylinder, 11. Puru "The lot of Yahali" 9th Century B.C.E., 12. The Uzziah Tablet Inscription, 13. The Pilate Inscription, 14. Caiaphas Ossuary, 14 B Pontius Pilate Part 2, 14c. Three greatest American Archaeologists moved to accept Bible's accuracy through archaeology.,
____
Related posts: