On November 21, 2014 I received a letter from Nobel Laureate Harry Kroto and it said:
…Please click on this URL http://vimeo.com/26991975
and you will hear what far smarter people than I have to say on this matter. I agree with them.
Harry Kroto
__
Soren Andersson/AP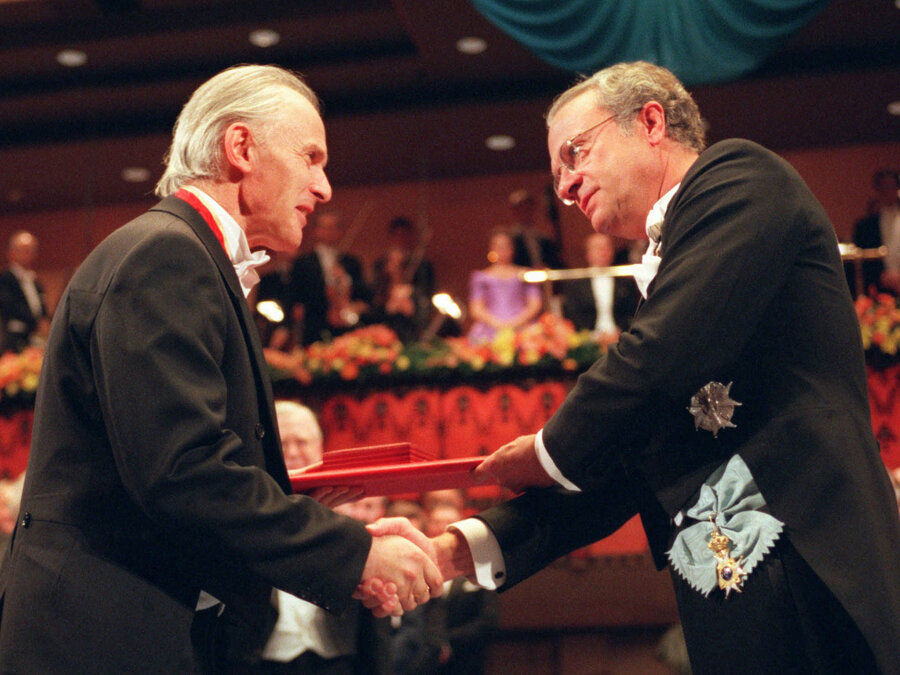 __
I have attempted to respond to all of Dr. Kroto's friends arguments and I have posted my responses one per week for over a year now. Here are some of my earlier posts:
Arif Ahmed, Sir David Attenborough, Mark Balaguer, Horace Barlow, Michael Bate, Patricia Churchland, Aaron Ciechanover, Noam Chomsky,Alan Dershowitz, Hubert Dreyfus, Bart Ehrman, Stephan Feuchtwang, David Friend,  Riccardo Giacconi, Ivar Giaever , Roy Glauber, Rebecca Goldstein, David J. Gross,  Brian Greene, Susan Greenfield, Stephen F Gudeman,  Alan Guth, Jonathan Haidt, Theodor W. Hänsch, Brian Harrison,  Hermann Hauser, Roald Hoffmann,  Bruce Hood, Herbert Huppert,  Gareth Stedman Jones, Steve Jones, Shelly Kagan, Michio Kaku,  Stuart Kauffman,  Lawrence Krauss, Harry Kroto, George Lakoff, Elizabeth Loftus,  Alan Macfarlane, Peter Millican, Marvin Minsky, Leonard Mlodinow,  Yujin Nagasawa, Alva Noe, Douglas Osheroff,  Jonathan Parry,  Saul Perlmutter, Herman Philipse,  Carolyn Porco, Robert M. Price, Lisa Randall, Lord Martin Rees,  Oliver Sacks, John Searle, Marcus du Sautoy, Simon Schaffer, J. L. Schellenberg,   Lee Silver,  Peter Singer,  Walter Sinnott-Armstrong, Ronald de Sousa, Victor Stenger, Barry Supple,   Leonard Susskind, Raymond Tallis, Neil deGrasse Tyson,  .Alexander Vilenkin, Sir John Walker, Frank Wilczek, Steven Weinberg, and  Lewis Wolpert,
_
In  the first video below in the 14th clip in this series are his words and I will be responding to them in the next few weeks since Sir Bertrand Russell is probably the most quoted skeptic of our time, unless it was someone like Carl Sagan or Antony Flew.  
50 Renowned Academics Speaking About God (Part 1)
Another 50 Renowned Academics Speaking About God (Part 2)
A Further 50 Renowned Academics Speaking About God (Part 3)
__
Quote from Bertrand Russell:
Q: Why are you not a Christian?
Russell: Because I see no evidence whatever for any of the Christian dogmas. I've examined all the stock arguments in favor of the existence of God, and none of them seem to me to be logically valid.
Q: Do you think there's a practical reason for having a religious belief, for many people?
Russell: Well, there can't be a practical reason for believing what isn't true. That's quite… at least, I rule it out as impossible. Either the thing is true, or it isn't. If it is true, you should believe it, and if it isn't, you shouldn't. And if you can't find out whether it's true or whether it isn't, you should suspend judgment. But you can't… it seems to me a fundamental dishonesty and a fundamental treachery to intellectual integrity to hold a belief because you think it's useful, and not because you think it's true._
From WHATEVER HAPPENED TO THE HUMAN RACE?

The Unveiling of Truth
The famous Hindu writer and statesman Sarvepalli Radhakrishnan once wrote, "The altars erected to the unknown gods in the Graeco-Roman world were but an expression of man's ignorance of the divine nature. The sense of failure in man's quest for the unseen is symbolized by them. When asked to define the nature of God, the seer of the Upanishad sat silent, and when pressed to answer claimed that the Absolute is silence."
By contrast, the Apostle Paul, speaking in the context of the very same altars to unknown gods in Athens, said, "…Now what you worship as something unknown I am going to proclaim to you" (Acts 17:23). And again, writing to the Corinthians not far away, "However, as it is written: `No eye has seen, nor ear has heard, no mind has conceived …' but God has revealed it to us …" (1 Corinthians 2:9,10). This claim is common to the whole Bible. God has not waited for us to stumble to Him in the dark (which would be impossible anyway), but has revealed Himself to us. The word revelation in Greek is apokalupsis which means literally "unveiling"; so God has "unveiled" to us the things we could not know because of our finiteness and sin.
This revelation or unveiling to finite and sinful people is the Bible as the written Word. This is the claim of the whole Bible. Moreover, through the Bible we learn of the life and teaching of the Second Person of the Trinity, who became man at a point in history and so became the Living Word of the Godhead: "For in Christ all the fullness of the Deity lives in bodily form" (Colossians 2:9).
In this claim the dilemma of all humanistic systems is overcome at a stroke. The infinite God has spoken. None of the many finite attempts to define truth, doomed to failure as we have seen, is necessary. God has communicated to man, the infinite to the finite. God has communicated, in addition, in words that are understandable to us. The One who made man capable of language in the first place has communicated to man in language. Also, God has communicated truth about both spiritual reality and physical reality, about both the nature of God and the nature of man, about both events in past history and events in the future. Where all humanistic systems of thought are unable to give an adequate explanation of things, the Bible as God's statement is adequate.
It is equally important to note that the Bible's answer does not have to be believed blindly. There are good and sufficient reasons for seeing that it is true. It is the key that fits into the lock of what we know best about ourselves and the universe around us.
To change the metaphor: Imagine a book which has been mutilated, leaving just one inch of printed matter on each page. Although it would obviously be impossible to piece together and understand the book's story, few people would imagine that the printing which was left on those one-inch portions had come together by chance. However, if the torn pieces of each page were found in a trunk and were added in the right places, then the story could be read and would make sense.
So it is with Christianity. The ripped pages remaining in the book correspond to the universe and its form and to the mannishness of man. The parts of the pages discovered in the trunk correspond to the Scriptures, which are God's propositional communication to mankind. Neither the universe nor personality can give the answer to the whole meaning of the created order. Yet both are important as a testimony in helping us know that the Scriptures, God's communication to man, are what they claim to be. The question is whether the communication given by God completes and explains the portions we had before and especially whether it explains what was open to observation before (though without an explanation), that is, that the existence of the universe and its form and the mannishness of man are not just chance configurations of the printer's scrambled type.
This illustration is important for several reasons. First, it emphasizes that Christians do not start out from themselves autonomously, as the humanists try to do. God gives the pages, and thus God gives the answers.
Second, it helps us see the proper place of man's reason. Just as a scientist does not create the order in the universe but does recognize it, so reason does not create the answer but simply recognizes it. Of course this does not mean that reason will necessarily receive the answer. Each person has to choose to receive God's truth. But God's truth is clear. The individual must acknowledge that he (and mankind) is not autonomous, not the center of all things, and he must acknowledge that he has many times done what he knows to be wrong and thus needs the work of Christ for himself. Those who refuse to back down from the position of autonomy make it impossible for themselves to receive the truth, even though there are good and sufficient reasons for knowing that it is the truth.

_________________

Now to pages 119 to 123 of THE GOD WHO IS THERE in chapter 5 (How Do We Know It Is True?) of section three (How Historic Christianity Differs from the New Theology).

All men on their own level face a problem. Confronted with the existence and form of the external universe and the "mannishness" of man, how does it fit together, and what sense does it make?

(Then Schaeffer goes on and talks about propositional communication from the personal God before us, not only the things of the cosmos and history match up… a moral absolute and morals; the universal point of reference and the particulars, and the emotional and aesthetic realities of man as well.)

The Nature of Proof

In dealing with the question of proof which has been raised by the illustration of the book, I want to suggest that scientific proof, philosophical proof and religious proof follow the same rules. We may have any problem before us which we wish to solve; it may concern a chemical reaction or the meaning of man. After the question has been defined, in each case proof consists of two steps:

A. The theory must be non-contradictory and must give an answer to the phenomenon in question.

B. We must be able to live consistently with our theory.

…Then there is the negative consideration. After a careful definition has weeded out the trivial, the other possible answers that do not involve a mystical leap of faith are of the following nature:

That the impersonal plus time plus chance have produced a personal man. But this theory is against all experience and thus usually the advocates of this theory end with a leap of faith, often hidden by connotation words.
That man is not personal, but dead;that he is in reality a machine, and therefore personality is an illusion. This theory could fit the first criterion of being non-contradictory, but it will not fit the second, for man simply cannot life as though he were a machine. This may be observed as far back in the history of man as we have evidence–for example, from the art and artifacts of the caves or from man's burial rites….Although man may say that he is no more than a machine, his whole life denies it.
That in the future man will find another reasonable answer. Firstly, this could be said about any answer to anything and would bring all thought and science to an end. It must be seen to be an evasion and an especially weak reply if the person using it applies it only to this one question. Secondly, no one can live with this answer, for it simply is not possible to hold one's breath and wait until some solution is found in the future. Continually the individual makes moral judgments which affect himself and others, and he must be using some working hypothesis from which to start. Thus, if a person offers this seriously as an alternative theory, he should be prepared to go into deep freeze and stop making judgments which touch on the problem of man. Bertrand Russell, for example, should have stopped making sociological decisions which involved others. This position is only possible if one stops the clock.
 That the scientific theory of relativity may in the future prove to be a sufficient answer for human life. But the scientific theory of relativity cannot be applied to human life in this way. The scientific theory is constantly being tested, both as a theory and by measurement. Therefore it does not mean that "anything goes," as it does when relativity is applied to human values. Moreover, in science the speed of light in a vacuum is considered an absolute standard. Therefore, scientific relativity does not imply that all scientific laws are in a constant state of flux. To use scientific relativity to buttress the concept of relativity in regard to human life and human values is completely invalid.
I mailed this above to a professor that I have a lot of respect for and asked a few questions and he gave me permission to post this response of his:
In my opinion, it appears as if Schaeffer has caught Russell in a logical contradiction. Schaeffer has been describing proper theories of truth, and then he looks at many secular responses to Christian belief and/or responses to life's biggest questions and questions the logic of such statements in relation to points A and B and the preceding illustration in that chapter ofThe God Who is There. So, in point 3, Schaeffer is point out that we can't wait forever until a more reasonable answer comes our way; rather, we must take the data we have and do the best with it that we can. I was once in a debate with an atheist who, despite 2,000 years of evidence to the contrary, said that he had a "feeling" that soon scholarship would prove that Jesus was not a real person. So, in essence, he is waiting to have the answer he wants presented to him, and thus ignores the evidence in front of him. Yet, if that way of living is really lived consistently (which Schaeffer says is necessary in point 2 under "The Nature of Proof"), then we could never have any answers to anything. Therefore, if that is true, Bertrand Russell can no longer make conclusions (Russell is used here, I think, as a sort of embodiment of the fallacy Schaeffer is describing in regards to religious thought being totally outdated) because, by his own criteria, he cannot know anything since one day someone might have a more reasonable conclusion. The only way Russell, again by his own criteria, is able to make any sort of truth statement is if he, as Schaeffer rightly points out, "stops the clock."
It does appear as if Schaeffer is also saying that the right order of the "pages" can't fully be known without the special revelation of God, which is really what allows Christians to speak truthfully about the abnormal world filled with abnormal men. You might consider reaching out to L'Abri Fellowship, Schaeffer's ministry, and asking them the same question for a more sure-footed clarification. Here is their contact page: http://labri.org/contact.html.
I hope that this might help. Have a great day!
Blessings,
(End of Professor's response )
——
Bertrand Russell pictured above and Francis Schaeffer below:
Francis Schaeffer noted in his book HOW SHOULD WE THEN LIVE? (p. 182 in Vol 5 of Complete Works) in the chapter The Breakdown in Philosophy and Science:
In his lecture at Acapulco, George Wald finished with only one final value. It was the same one with which English philosopher Bertrand Russell (1872-1970) was left. For Wald and Russell and for many other modern thinkers, the final value is the biological continuity of the human race. If this is the only final value, one is left wondering why this then has importance. 
Now having traveled from the pride of man in the High Renaissance and the Enlightenment down to the present despair, we can understand where modern people are. They have no place for a personal God. But equally they have no place for man as man, or for love, or for freedom, or for significance. This brings a crucial problem. Beginning only from man himself, people affirm that man is only a machine. But those who hold this position cannot live like machines! If they could, there would have been no tensions in their intellectual position or in their lives. But even people who believe they are machines cannot live like machines, and thus they must "leap upstairs" against their reason and try to find something which gives meaning to life, even though to do so they have to deny their reason. 
Francis Schaeffer in another place worded it like this:
The universe was created by an infinite personal God and He brought it into existence by spoken word and made man in His own image. When man tries to reduce [philosophically in a materialistic point of view] himself to less than this [less than being made in the image of God] he will always fail and he will always be willing to make these impossible leaps into the area of nonreason even though they don't give an answer simply because that isn't what he is. He himself testifies that this infinite personal God, the God of the Old and New Testament is there. 
We all know deep down that God exists and even atheists have to grapple with that knowledge.
Solomon wisely noted in Ecclesiastes 3:11 "God has planted eternity in the heart of men…" (Living Bible). No wonder Bertrand Russell wrote in his autobiography, "It is odd, isn't it? I feel passionately for this world and many things and people in it, and yet…what is it all? There must be something more important, one feels, though I don't believe there is. I am haunted. Some ghosts, for some extra mundane regions, seem always trying to tell me something that I am to repeat to the world, but I cannot understand that message."
Take a look at this 7th episode from Schaeffer's series "HOW SHOULD WE THEN LIVE? The Age of Nonreason":
How Should We Then Live – Episode Seven – 07 – Portuguese Subtitles
_
Instead of making a leap into the area of nonreason the better choice would be to investigate the claims that the Bible is a historically accurate book and that God created the universe and reached out to humankind with the Bible.
Schaeffer then points to the historical accuracy of the Bible in Chapter 5 of the book WHATEVER HAPPENED TO THE HUMAN RACE?
The Bible and Archaeology – Is the Bible from God? (Kyle Butt 42 min)
You want some evidence that indicates that the Bible is true? Here is a good place to start and that is taking a closer look at the archaeology of the Old Testament times. Is the Bible historically accurate? Here are some of the posts I have done in the past on the subject: 1. The Babylonian Chronicle, of Nebuchadnezzars Siege of Jerusalem, 2. Hezekiah's Siloam Tunnel Inscription. 3. Taylor Prism (Sennacherib Hexagonal Prism), 4. Biblical Cities Attested Archaeologically. 5. The Discovery of the Hittites, 6.Shishak Smiting His Captives, 7. Moabite Stone, 8. Black Obelisk of Shalmaneser III, 9A Verification of places in Gospel of John and Book of Acts., 9B Discovery of Ebla Tablets. 10. Cyrus Cylinder, 11. Puru "The lot of Yahali" 9th Century B.C.E., 12. The Uzziah Tablet Inscription, 13. The Pilate Inscription, 14. Caiaphas Ossuary, 14 B Pontius Pilate Part 2, 14c. Three greatest American Archaeologists moved to accept Bible's accuracy through archaeology., 
____
Related posts: