__
The Incredible String Band – The Hedgehog's Song
The Incredible String Band – First Girl I Loved
The Incredible String Band / Ducks On A Pond
The Incredible String Band / You Get Brighter
The Incredible String Band – Maya
Incredible String Band: "This Moment" (with Ram Dass)
Incredible String Band – The Half-Remarkable Question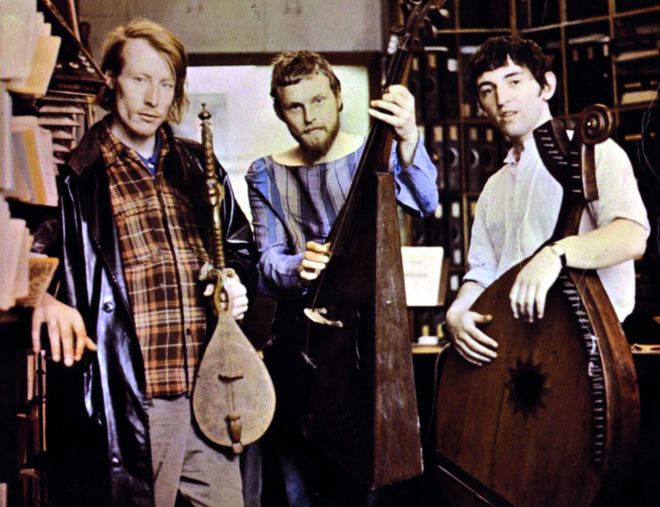 The Incredible String Band were one of the most influential bands of the Sixties but their roots lie in the folk clubs of Edinburgh.
Their incredible journey took them from experimenting in Scotland's all-night venues to an infamous appearance at Woodstock, the biggest counter-cultural event of the decade.
Led Zeppelin, Bob Dylan, the Beatles and the Rolling Stones were all said to have been influenced by the psychedelic folk rock of the band, who played "world music" a decade before the term was coined.
Comedian and banjo-player Billy Connolly, who was a massive fan and who got to know them when they played the folk clubs of Glasgow, described the band as "hairy, exotic and interesting".
The story of how a group of folkies playing the Crown Bar in Edinburgh and late night clubs in Glasgow's Sauchiehall Street rose to become musical pioneers, who are still revered around the world, is told in a new book by the Incredible String Band's Mike Heron and long-time fan Andrew Greig.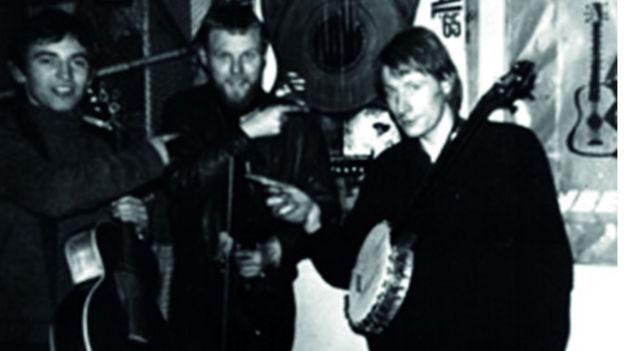 Heron begins the story by telling how a middle-class, private school-boy was looking for an escape through music.
After playing in a rock 'n' roll covers band he got into folk music because he wanted to be a songwriter and "people in folk clubs actually listen to the words".
Heron hooked up with established folk scene stars Robin Williamson and Clive Palmer as the Incredible String Band began to break out of its folk roots.
He says his band-mates were very much part of the beatnik scene, open to influences from all over the world.
"Clive was ultimate Beatnik," Heron says.
"He lived in a tent pitched in a flat. He started off busking in Paris and he was grooved into it. Robin was too."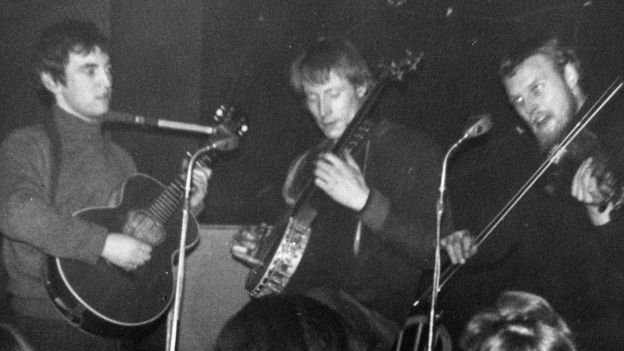 Heron on the other hand was still living with his parents, who were pushing him to continue his training as a chartered accountant.
He says he admired Robin and Clive: "I was a bit like their apprentice at first.
"They were into Eastern mystic thought and all that kind of thing."
At first the band played a mix of British folk, bluegrass and old-time jug band music.
But the music quickly progressed as they wrote their own songs and brought in influences from India (they'd seen Ravi Shankar in Edinburgh), Afghanistan, Morocco and even Bulgaria.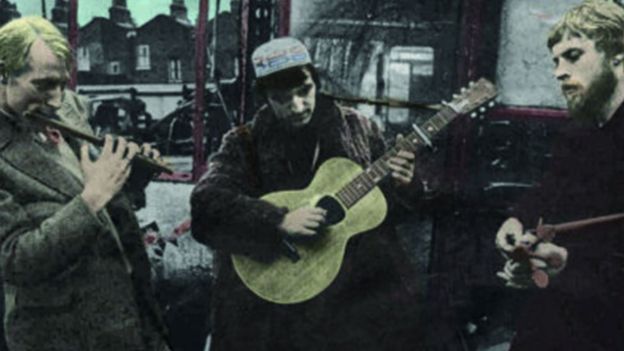 Heron says: "We were listening to all these things but there was no-one playing the kind of thing we wanted to listen to, a composite kind of thing.
"We just played the kind of music people would like to sit around and have a joint to, interesting music that was made up of all these influences that seemed to be cool to the beatniks.
"We kind of invented this kind of music we wanted to listen to."
The music caught the ear of American record company scout Joe Boyd, who was looking to set up a UK branch of Elektra Records.
He had stumbled across Robin and Clive in early 1965 and returned a year later to sign them up.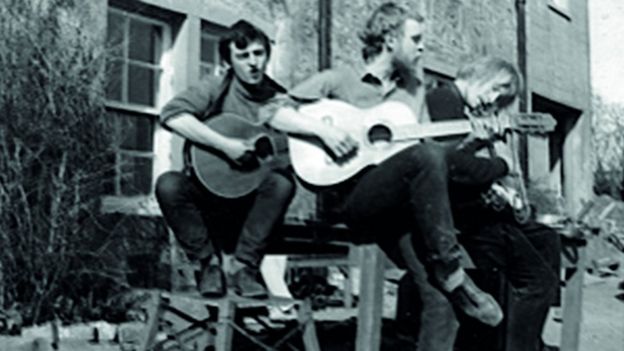 By this time Heron had joined and they had become singer-songwriters. Boyd liked what he heard.
He has previously said: "Their lyrics turned out to be witty, romantic and literate, and the melodies soared. They had also started taking LSD, so were ahead of the zeitgeist curve."
The Incredible String Band went to London, recorded their first album and immediately split up.
Heron says: "When the money trickled in from the first album and the three of us got an advance, Robin and Clive just took off.
"Robin just went immediately to Morocco and didn't come back. Because people just did that in those days.
"Clive went off to Afghanistan for a good six months.
"Nowadays that seems amazing that a band has just made its first album and two of them toddle off around the world.
"I was astonished. I was not really a beatnik. I thought that was it, the band was over."
According to Heron, Clive never really came back. He was not really interested in the band.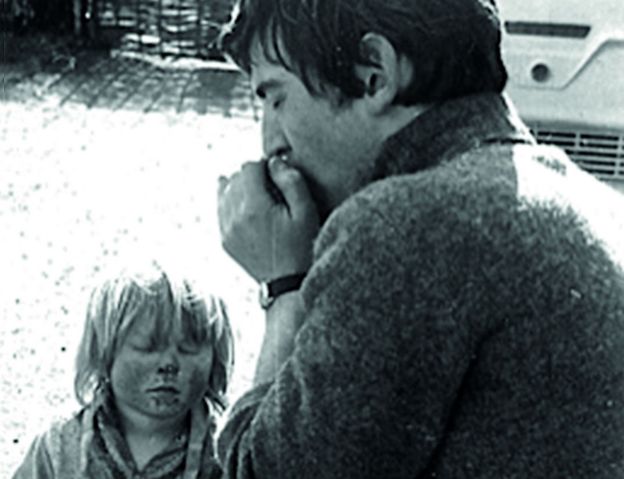 Robin Williamson only returned to Edinburgh when the money dried up and the pair resumed ISB as a duo.
When Williamson did return he was laden with Moroccan instruments, including a gimbri.
Their second album The 5000 Spirits or the Layers of the Onion, which came out in 1967, was cited much later by David Bowie as one of the best albums ever.
It has been described by critics as the Summer of Love condensed into one album.
Its opening track, Chinese White, was the first time Andrew Greig had heard of ISB and it "blew my mind".
From the weird North African instrument in the opening bars to the lyric which states: "The bent twig of darkness/Grows the petals of the morning/It shows to them the birds singing/Just behind the dawning", the whole thing was a revelation to a 16-year-old school boy from Anstruther in Fife.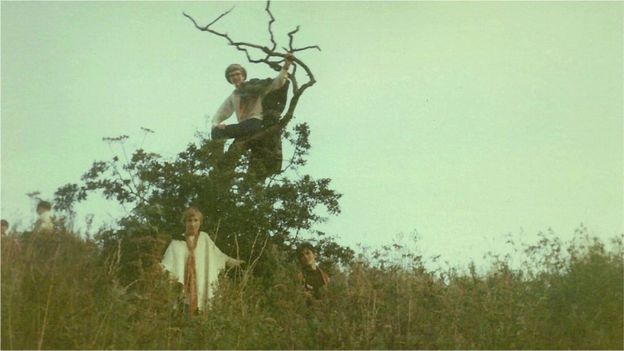 Greig says: "I was a fan out in the provinces and lots of people around about me were turned on, there is no other word for it, by the band.
"There were no drugs available in East Fife at the time. The music just astonished us.
"There was a school folk club that was doing fairly earnest American protest songs and Scottish folk songs, there was also the Beatles and The Stones, which we loved, but we had never heard anything like Chinese White."
Greig says: "The fact that they were Scottish and cutting edge, that's what liberated us to think, 'well if they can do it, we can do something like that'. It gave us permission."
The young boy from Fife formed a band in the image of the String Band called Fate & Ferret.
He says: "We adopted their manner of dress and walked around the back-country in Fife with flutes and whistles and mandolins and sausages and cider.
"It was curiously innocent in a way. We had this idea of being travelling troubadours. It was that medieval and rural vibe."
Greig, who has had a successful career as a writer, wanted to use his experiences with the band to "memorialise" the Sixties.
His book – You Know What You Could Be – takes its title from one of Heron's early String Band songs.
Its lyrics sum up Greig's feelings about growing up in the Sixties: "You know what you could be/Tell me my friend/Why you worry all the time/What you should be".
He says: "It was that kind of liberation call.
"My story and Mike's are both of people trying to become who they need to be when you don't actually know who that is yet.
"They are both stories of formation. The ridiculous and often comic process by which you try to become who you need to be."
Trip to Woodstock
In the book Mike Heron only tells the ISB story up to the point where Greig takes over.
However, there was much more to come including a trip to Woodstock, the famous festival in upstate New York in 1969 that has become one of the most iconic events in music history.
Heron says: "It was brilliant to be there but it was very primitive."
He says the roads to the site were so choked up that they had to be flown in by a military helicopter.
"It was open at the side and the pilot kept going sideways so we could see these huge crowds below. Ravi Shankar was on the plane with us. He was not very relaxed."
The band were supposed to have played on the Friday but it was pouring with rain and they were afraid they would be electrocuted.
The band were asked to play an acoustic set but by this time their girlfriends were in the band and Heron says it would have been "unchivalrous" to leave them out.
Instead they played in the baking heat of the Saturday.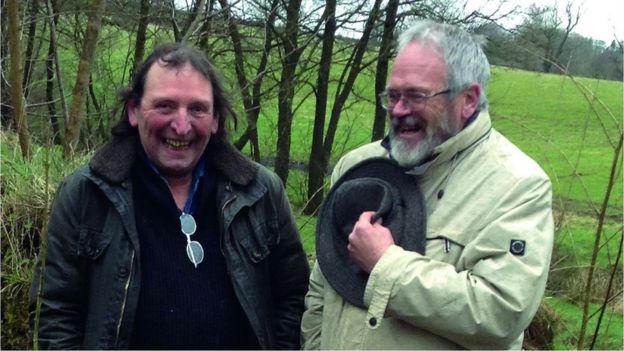 Heron, who is now 74, says: "It was very tricky to play there.
"The stage was high and rickety so that didn't help. The music we were playing was quite delicate so when we went on on the Saturday it was a bit rowdy.
"Everyone had been dropping assorted drugs. They wanted things like Canned Heat. They didn't want plinky, British, thoughtful music. It was too floaty. It wasn't really what was required."
The Incredible String Band split in 1974 but reunited for occasional performances from 1997 to 2006.
Andrew Greig says it is "astonishing" to be friends with and write a book with the man whose band he idolised as a 16-year-old in Fife.
He says: "On one level he is a god, a myth, a legend, an inspiration of my youth .
"On the other hand he is a guy who I spend time with, who I eat curry with. It's an odd experience but a lovely one."
You Know What You Could Be by Mike Heron and Andrew Greig will be published by riverrun on 6 April
---
300 × 335
Images may be subject to copyright
. 
Learn More
In his book HOW SHOULD WE THEN LIVE? Francis Schaeffer noted:
The man who followed on from that point was English–Aldous Huxley (1894-1963). He proposed drugs as a solution. We should, he said, give healthy people drugs and they can then find truth inside their own heads. All that was left for Aldous Huxley and those who followed him was truth inside a person's own head. With Huxley's idea, what began with the existential philosophers – man's individual subjectivity attempting to give order as well as meaning, in contrast to order being shaped by what is objective or external to oneself – came to its logical conclusion. Truth is in one's own head. The ideal of objective truth was gone.
745 × 1024
Images may be subject to copyright
. 
Learn More
This emphasis on hallucinogenic drugs brought with it many rock groups–for example, Cream, Jefferson Airplane, Grateful Dead, Incredible String Band, Pink Floyd, and Jimi Hendrix. Most of their work was from 1965-1958. The Beatles'Sergeant Pepper's Lonely Hearts Club Band (1967) also fits here. This disc is a total unity, not just an isolated series of individual songs, and for a time it became the rallying cry for young people throughout the world. As a whole, this music was the vehicle to carry the drug culture and the mentality which went with it across frontiers which were almost impassible by other means of communication.
Here is a good review of the episode 016 HSWTL The Age of Non-Reason of HOW SHOULD WE THEN LIVE?, December 23, 2007:
Together with the advent of the "drug Age" was the increased interest in the West in  the religious experience of Hinduism and Buddhism. Schaeffer tells us that: "This grasping for a nonrational meaning to life and values is the central reason that these Eastern religions are so popular in the West today."  Drugs and Eastern religions came like a flood into the Western world.  They became the way that people chose to find meaning and values in life.  By themselves or together, drugs and Eastern religion became the way that people searched inside themselves for ultimate truth.
Along with drugs and Eastern religions there has been a remarkable increase "of the occult appearing as an upper-story hope."  As modern man searches for answers it "many moderns would rather have demons than be left with the idea that everything in the universe is only one big machine."  For many people having the "occult in the upper story of nonreason in the hope of having meaning" is better than leaving the upper story of nonreason empty. For them horror or the macabre are more acceptable than the idea that they are just a machine.
Francis Schaeffer has correctly argued:
The universe was created by an infinite personal God and He brought it into existence by spoken word and made man in His own image. When man tries to reduce [philosophically in a materialistic point of view] himself to less than this [less than being made in the image of God] he will always fail and he will always be willing to make these impossible leaps into the area of nonreason even though they don't give an answer simply because that isn't what he is. He himself testifies that this infinite personal God, the God of the Old and New Testament is there. 
Instead of making a leap into the area of nonreason the better choice would be to investigate the claims that the Bible is a historically accurate book and that God created the universe and reached out to humankind with the Bible. Below is a piece of that evidence given by Francis Schaeffer concerning the accuracy of the Bible.
TRUTH AND HISTORY (chapter 5 of WHATEVER HAPPENED TO THE HUMAN RACE?,
If we take another hundred-year step backwards in time, we come to King Solomon, son of David. On his death the Jewish Kingdom was divided into two sections as a result of a civil revolt. Israel to the north with Jeroboam as king and Judah (as it was called subsequently) to the south under Rehoboam, Solomon's son. In both the Book of Kings and Chronicles in the Bible we read how during Rehoboam's reign: 25 In the fifth year of King Rehoboam, Shishak king of Egypt came up against Jerusalem. (I Kings 14:25; II Chronicles 12:2), and how Shishak stripped Rehoboam of the wealth accumulated by his able father, Solomon. The reality of this event is confirmed by archaeology to a remarkable degree.
Shishak subdued not only Rehoboam but Jeroboam as well. The proof of this comes first from a fragment in a victory monument erected by Shishak and discovered at Megiddo, a city in the land of Israel. So the Egyptian king's force swept northwards, subdued the two Jewish kings, and then erected a victory monument to that effect. Traces of the destruction have also been discovered in such cities as Hazor, Gezer, and Megiddo. These confirm what was written in Second Chronicles:
2028 × 1352
Images may be subject to copyright
. 
Learn More
4 And he took the fortified cities of Judah and came as far as Jerusalem. 5 Then Shemaiah the prophet came to Rehoboam and to the princes of Judah, who had gathered at Jerusalem because of Shishak, and said to them, "Thus says theLord, 'You abandoned me, so I have abandoned you to the hand of Shishak.'"6 Then the princes of Israel and the king humbled themselves and said, "TheLord is righteous." 7 When the Lord saw that they humbled themselves, the word of the Lord came to Shemaiah: "They have humbled themselves. I will not destroy them, but I will grant them some deliverance, and my wrath shall not be poured out on Jerusalem by the hand of Shishak. 8 Nevertheless, they shall be servants to him, that they may know my service and the service of the kingdoms of the countries."
9 So Shishak king of Egypt came up against Jerusalem. He took away the treasures of the house of the Lord and the treasures of the king's house. He took away everything. He also took away the shields of gold that Solomon had made…( II Chronicles 12:4-9)
DAAHL Shishak's Military Campaign
400 × 308
Images may be subject to copyright
. 
Learn More
Further confirmation comes from the huge victory scene engraved on Shishak's order at the Temple of Karnak in Egypt. The figure of the king is somewhat obscured, but he is clearly named and he is seen smiting Hebrew captives before the god Amon, and there are symbolic rows of names of conquered towns of Israel and Judah.
Solomon's is remembered also for his great wealth. The Bible tells us:
14 Now the weight of gold that came to Solomon in one year was 666 talents of gold, 15 besides that which came from the explorers and from the business of the merchants, and from all the kings of the west and from the governors of the land. 16 King Solomon made 200 large shields of beaten gold; 600 shekels[a]of gold went into each shield. 17 And he made 300 shields of beaten gold; three minas[b] of gold went into each shield. And the king put them in the House of the Forest of Lebanon. (I Kings 10:14-17)
This wealth that the Bible speaks of has been challenged. Surely, some have said, these figures are an exaggeration. Excavations, however, have confirmed enormous quantities of precious metals, owned and distributed by kings during this period. For example, Shishak's son Osorkon I (statuette of Osorkon I, Brooklyn Museum, New York), the one who stood to gain from the booty carried off from Rehoboam's capital, is reported to have made donations to his god Amon totaling 470 tons of precious metal, gold, and silver, during only the first four years of his reign. This, of course, is much more than Solomon's 66 talents which equals approximately twenty tons of gold per annum. We also have confirmation of the Bible's reference to Solomon's gold as coming from Ophir. The location of Ophir is still unknown, but an ostracon dated a little later than Solomon's time actually mentions that thirty shekels of gold had come from Ophir for Beth-horon.
---
___
Related posts:
_-