_
Seen below is William Faulkner and Bertrand Russell receiving Nobel Prize in 1950. My grandparents grew up in Oxford, Mississippi and knew William Faulkner. My grandfather, John Murphey, (born 1910) grew up in Oxford, Mississippi and knew both Johncy and "Bill" Faulkner. He told me that Bill was a very bashful shy man. Johncy was outgoing and would be very friendly and would love to stop and visit.
My grandfather was in the moving business and he had moved Johncy several times, but Johncy still had several outstanding bills. Then one day Johncy told my grandfather to take the bills to his brother and he would pay them in full. I don't know the exact date, but my grandfather was told that Faulkner had got his first big check from a publisher and I am guessing that it was  in the early 1930's.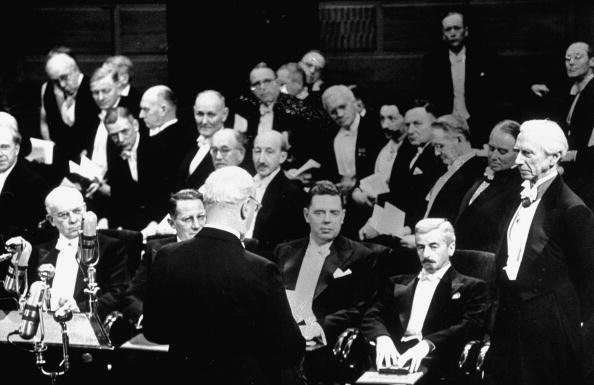 On November 21, 2014 I received a letter from Nobel Laureate Harry Kroto and it said:
…Please click on this URL http://vimeo.com/26991975
and you will hear what far smarter people than I have to say on this matter. I agree with them.
Harry Kroto
__
_
I have attempted to respond to all of Dr. Kroto's friends arguments and I have posted my responses one per week for over a year now. Here are some of my earlier posts:
Arif Ahmed, Sir David Attenborough, Mark Balaguer, Horace Barlow, Michael Bate, Patricia Churchland, Aaron Ciechanover, Noam Chomsky,Alan Dershowitz, Hubert Dreyfus, Bart Ehrman, Stephan Feuchtwang, David Friend,  Riccardo Giacconi, Ivar Giaever , Roy Glauber, Rebecca Goldstein, David J. Gross,  Brian Greene, Susan Greenfield, Stephen F Gudeman,  Alan Guth, Jonathan Haidt, Theodor W. Hänsch, Brian Harrison,  Hermann Hauser, Roald Hoffmann,  Bruce Hood, Herbert Huppert,  Gareth Stedman Jones, Steve Jones, Shelly Kagan, Michio Kaku,  Stuart Kauffman,  Lawrence Krauss, Harry Kroto, George Lakoff, Elizabeth Loftus,  Alan Macfarlane, Peter Millican, Marvin Minsky, Leonard Mlodinow,  Yujin Nagasawa, Alva Noe, Douglas Osheroff,  Jonathan Parry,  Saul Perlmutter, Herman Philipse,  Carolyn Porco, Robert M. Price, Lisa Randall, Lord Martin Rees,  Oliver Sacks, John Searle, Marcus du Sautoy, Simon Schaffer, J. L. Schellenberg,   Lee Silver,  Peter Singer,  Walter Sinnott-Armstrong, Ronald de Sousa, Victor Stenger, Barry Supple,   Leonard Susskind, Raymond Tallis, Neil deGrasse Tyson,  .Alexander Vilenkin, Sir John Walker, Frank Wilczek, Steven Weinberg, and  Lewis Wolpert,
BERTRAND RUSSELL 
As a philosopher, mathematician, educator, social critic and political activist, Bertrand Russell authored over 70 books and thousands of essays and letters addressing a myriad of topics. Awarded the Nobel Prize in Literature in 1950, Russell was a fine literary stylist, one of the foremost logicians ever, and a gadfly for improving the lives of men and women.Born in 1872 into the British aristocracy and educated at Cambridge University, Russell gave away much of his inherited wealth. But in 1931 he inherited and kept an earldom. His multifaceted career centered on work as a philosophy professor, writer, and public lecturer.(Here is a detailed chronology of Russell's life, an overview of his analytic philosophy, and a complete bibliography of all his publications.)
Russell was an author of diverse scope. His first books were German Social Democracy, An Essay on the Foundations of Geometry, and A Critical Exposition of the Philosophy of Leibniz. His last books were War Crimes in Vietnam and The Autobiography of Bertrand Russell. Other noteworthy books include Principles of Mathematics, Principia Mathematica (with A.N. Whitehead), Anti-Suffragist Anxieties, The Problems of Philosophy, Introduction to Mathematical Philosophy, Sceptical Essays, Why I Am Not a Christian, and A History of Western Philosophy.
He was arguably the greatest philosopher of the 20th century and the greatest logician since Aristotle. Analytic philosophy, the dominant philosophy of the twentieth century, owes its existence more to Russell than to any other philosopher. And the system of logic developed by Russell and A.N. Whitehead, based on earlier work by Dedekind, Cantor, Frege, and Peano, broke logic out of its Aristotelian straitjacket. He was also one of the century's leading public intellectuals and won the Nobel Prize for Literature in 1950 "in recognition of his varied and significant writings in which he champions humanitarian ideals and freedom of thought."
Russell was involved, often passionately, in numerous social and political controversies of his time. For example, he supported suffragists, free thought in religion and morals, and world government; he opposed World War I and the Vietnam War, nationalism, and political persecution. He was jailed in 1918 for anti-war views and in 1961 for his anti-nuclear weapons stance.
He was married 4 times and had 3 children. With Dora Russell, he founded the experimental Beacon Hill School. He knew or worked with many of the most prominent figures in late 19th and 20th century philosophy, mathematics, science, literature, and politics.
Active as a political and social critic until his end, Russell died in 1970 at the age of 97.
In  the first video below in the 14th clip in this series are his words and I will be responding to them in the next few weeks since Sir Bertrand Russell is probably the most quoted skeptic of our time, unless it was someone like Carl Sagan or Antony Flew.  
50 Renowned Academics Speaking About God (Part 1)
Another 50 Renowned Academics Speaking About God (Part 2)
A Further 50 Renowned Academics Speaking About God (Part 3)
__
Quote from Bertrand Russell:
Q: Why are you not a Christian?
Russell: Because I see no evidence whatever for any of the Christian dogmas. I've examined all the stock arguments in favor of the existence of God, and none of them seem to me to be logically valid.
Q: Do you think there's a practical reason for having a religious belief, for many people?
Russell: Well, there can't be a practical reason for believing what isn't true. That's quite… at least, I rule it out as impossible. Either the thing is true, or it isn't. If it is true, you should believe it, and if it isn't, you shouldn't. And if you can't find out whether it's true or whether it isn't, you should suspend judgment. But you can't… it seems to me a fundamental dishonesty and a fundamental treachery to intellectual integrity to hold a belief because you think it's useful, and not because you think it's true._
---
Written by Doug Ponder on July 20, 2014
Extraordinary Claims, Extraordinary Evidence
"Not enough evidence, God! Not enough evidence!"
That's how renowned philosopher Bertrand Russell said he would answer God's question, "Why didn't you believe in me?" if ever he were to find himself before God on judgment day.
Russell was not the first, and certainly not the last, to make such a claim. Before him were the likes of David Hume and Pierre-Simon Laplace, who argued that the weight of evidence for an extraordinary claim—like the belief that Jesus rose from the dead, for example—must match the strangeness of the claim. Or as Carl Sagan famously restated, "Extraordinary claims require extraordinary evidence."
What Counts as Extraordinary?
Strictly speaking, there's nothing wrong with the idea that 'extraordinary claims require extraordinary evidence.' Big claims require big proof. So far, so good.
But there are two problems with how that idea is sometimes misused. For some people, 'extraordinary claims require extraordinary evidence' is merely a way to dismiss the issue without further investigation. "I wouldn't believe in Jesus unless he appeared to me personally, because extraordinary claims require extraordinary evidence!" Such people have no interest in examining an actual case for Jesus. They have already made up their minds beforehand, instead of letting the evidence speak for itself.
The other problem is that extraordinary things do happen in our world, which means that if we want to determine the truthfulness of an historical event, we cannot only consider the likelihood of the event itself. We must also consider the likelihood of the historical evidence surrounding the event being just as it is even if the event in question had never taken place. In other words, it may be that 'extraordinary evidence' for an extraordinary claim is found in a constellation of seemingly ordinary events that happened in such a way that an extraordinary event is the most plausible explanation. That's a mouthful, but all we're saying is this: the extraordinary claims of Christianity are backed up with several streams of evidence for which the only sensible explanation is that Jesus, in fact, rose from the dead (just as he said he would do).
The Extraordinary Evidence for the Resurrection of Jesus
Not the Jewish Hope – Jews, as Jesus' followers all were, did not believe in a resurrection in the middle of history, and they didn't expect for their Messiah to be killed either. In fact, they held these beliefs so strongly that even though Jesus told them ahead of time that he would be killed and resurrected, they still didn't believe him until after he returned from the grave! In other words, it's highly unlikely that twelve people would change their minds about strongly held beliefs concerning the death of the Messiah and his resurrection in the middle of history, unless those things actually occurred and forced them to change their beliefs.
Not Just His Friends – Jesus did not live a secret life. His teachings and his miracles were all done in public in the presence of both friends and enemies. Similarly, Jesus was seen after his death by hundreds of people in different times and places. In fact, one man who had formerly made a name for himself by killing Jesus' followers became a follower of Jesus upon encountering him after his resurrection. It may not take much to convince close friends, but it takes a mountain evidence to convince one's enemies.
Not the Right Witnesses – If Jesus' followers had wanted to make up a story about the resurrection of their Messiah, they picked the "wrong" people to be the first witnesses. The New Testament tells us the first people to see Jesus after he rose from the grave were women, whose testimonies in that society were not regarded. So, it's more likely that Jesus did rise and first appear to a couple of women than it is to think that some men in a patriarchal society would have thought to make women the first eye-witnesses.
No Shrine in Sight – The tombs of famous Jewish figures, especially martyrs, almost always became shrines that were visited by their followers. But this did not happen with Jesus, as it did for the previous Messiah-claimants before him. The question we should ask is, "Why did all of those other tombs become shrines while Jesus' tomb did not?" Instead of the people randomly snubbing Jesus' tomb, it's more likely that his tomb never became a shrine precisely because his body was no longer there.
No Turning Back – Of the eleven remaining disciples (Judas killed himself over the grief of what he had done), ten of them were killed for their refusal to recant their beliefs in Jesus, and the last was exiled to live on a remote island. When on trial, not one of these men said, "You know, this whole thing about Jesus is actually a lie. We took the body from the tomb, and made up a cool story. But now that you are threatening me with death, well, it's time I come clean." It's highly unlikely that eleven men would independently refuse to recant their faith in Jesus, unless they were utterly certain that it was true.
Not the Right Day – For over one and a half thousand years, the Jewish people had worshipped God on the Sabbath, or Saturday, the seventh day of the week. But after the resurrection of Jesus, suddenly Jews began worshipping God on Sunday. What would make a deeply traditional culture shift their sacred day of worship? It would take something so remarkable, so significant, that they felt it was acceptable to change. That something was the resurrection of Jesus, which occurred on a Sunday.
When you put all of those together—(1) that the Messiah's death and resurrection were not the Jewish expectation, (2) that Jesus' followers were not just his friends but even former enemies, (3) that the first witnesses were women in a patriarchal society, (4) that Jesus' tomb never became a shrine, as did the tombs of other martyrs, (5) that Jesus' disciples all suffered and died for what they believed to be true, and (6) that thousands of Jews were convinced to switch their sacred day of worship from Saturday to Sunday—these semi-ordinary events combine to form a tapestry of extraordinary evidence.
Not a Problem of Evidence
When you consider the teachings of Jesus in light of the evidence for his resurrection, all signs point in the same direction. Jesus truly was who he claimed to be: the Son of God, the Lord of creation, the long-awaited Messiah, the Savior of the world.
But why do some still not believe? If the evidence is so clear, how can anyone resist it?
We all have the same set of evidence, so it's not that this person has more, thus they believe, while that person has less, so they don't believe. No, the answer is found deep within our own hearts. So long as someone does not want Jesus to be who he claimed to be, they will continue to find an excuse to dismiss the evidence. In other words, there is enough evidence to convince those who are open to being convinced, but there will never be enough evidence to coerce someone who doesn't want the gospel to be true.
Blaise Pascal, a brilliant Christian thinker in the 17th century, put it like this: "God so regulates the knowledge of himself that he has given indications of himself which are visible to those who seek him and not to those who do not seek him. There is enough light for those to see who desire to see, and enough obscurity for those who have a contrary disposition."
This seems unfair, but it's actually just God giving people what they want. He says to those who are open to him, "You will seek me and find me, when you seek me with all your heart." (Jeremiah 29:13) And Jesus adds, "Seek and you will find, knock and the door shall be opened, ask and it will be given you. For he who seeks finds, and to him who knocks it shall be opened, and to him who asks it shall be given." (Matt. 7:7)
Meanwhile those who have already made up their mind, who are closed-minded and convinced in themselves, cannot be persuaded so long as they remain in that state. It's not an evidence problem; it's a desire problem. It's not that there is no case for Jesus; it's that they do not want any of it to be true. As atheist author Thomas Nagel confesses in his book, The Last Word, "I want atheism to be true and am made uneasy by the fact that some of the most intelligent and well-informed people I know are religious believers. It isn't just that I don't believe in God and, naturally, hope that I'm right in my belief. It's that I hope there is no God! I don't want there to be a God" (emphasis mine).
Ironic, isn't it? An atheist author talks about what he wants to be true and what he hopes to be true, when usually it's the religious folks who are accused of wishful thinking.
If you're reading this and you're not a convinced follower of Jesus, ask yourself: Are you open, truly open, to being wrong about Jesus? Have you considered the multiple streams of evidence that point to him? Are you honest enough to confess, like Thomas Nagel, that some part of you doesn't want Jesus to be Lord? And finally, do you really think it's wise to base on your life on what you want to be true, instead of giving the evidence a fair hearing?
Extraordinary claims require extraordinary evidence. But I think the evidence surrounding Jesus matches the claims about him, and he says to you now, "Seek and you will find."
---
Doug Ponder is one of the founding pastors of Remnant Church in Richmond, VA, where he serves in many of the church's teaching ministries. He has contributed to several published works and is the author of Rethink Marriage & Family. His interests include the intersection of theology, ethics, and the Christian life. Follow him on Twitter @dougponder.
Bertrand Russell pictured above and Francis Schaeffer below:
Francis Schaeffer noted in his book HOW SHOULD WE THEN LIVE? (p. 182 in Vol 5 of Complete Works) in the chapter The Breakdown in Philosophy and Science:
In his lecture at Acapulco, George Wald finished with only one final value. It was the same one with which English philosopher Bertrand Russell (1872-1970) was left. For Wald and Russell and for many other modern thinkers, the final value is the biological continuity of the human race. If this is the only final value, one is left wondering why this then has importance. 
Now having traveled from the pride of man in the High Renaissance and the Enlightenment down to the present despair, we can understand where modern people are. They have no place for a personal God. But equally they have no place for man as man, or for love, or for freedom, or for significance. This brings a crucial problem. Beginning only from man himself, people affirm that man is only a machine. But those who hold this position cannot live like machines! If they could, there would have been no tensions in their intellectual position or in their lives. But even people who believe they are machines cannot live like machines, and thus they must "leap upstairs" against their reason and try to find something which gives meaning to life, even though to do so they have to deny their reason. 
Francis Schaeffer in another place worded it like this:
The universe was created by an infinite personal God and He brought it into existence by spoken word and made man in His own image. When man tries to reduce [philosophically in a materialistic point of view] himself to less than this [less than being made in the image of God] he will always fail and he will always be willing to make these impossible leaps into the area of nonreason even though they don't give an answer simply because that isn't what he is. He himself testifies that this infinite personal God, the God of the Old and New Testament is there. 
Instead of making a leap into the area of nonreason the better choice would be to investigate the claims that the Bible is a historically accurate book and that God created the universe and reached out to humankind with the Bible. Below is a piece of that evidence given by Francis Schaeffer concerning the accuracy of the Bible.
TRUTH AND HISTORY (chapter 5 of WHATEVER HAPPENED TO THE HUMAN RACE?, under footnotes #97 and #98)
A common assumption among liberal scholars is that because the Gospels are theologically motivated writings–which they are–they cannot also be historically accurate. In other words, because Luke, say (when he wrote the Book of Luke and the Book of Acts), was convinced of the deity of Christ, this influenced his work to the point where it ceased to be reliable as a historical account. The assumption that a writing cannot be both historical and theological is false.
The experience of the famous classical archaeologist Sir William Ramsay illustrates this well. When he began his pioneer work of exploration in Asia Minor, he accepted the view then current among the Tubingen scholars of his day that the Book of Acts was written long after the events in Paul's life and was therefore historically inaccurate. However, his travels and discoveries increasingly forced upon his mind a totally different picture, and he became convinced that Acts was minutely accurate in many details which could be checked.
What is even more interesting is the way "liberal" modern scholars today deal with Ramsay's discoveries and others like them. In the NEW TESTAMENT : THE HISTORY OF THE INVESTIGATION OF ITS PROBLEMS, the German scholar Werner G. Kummel made no reference at all to Ramsay. This provoked a protest from British and American scholars, whereupon in a subsequent edition Kummel responded. His response was revealing. He made it clear that it was his deliberate intention to leave Ramsay out of his work, since "Ramsay's apologetic analysis of archaeology [in other words, relating it to the New Testament in a positive way] signified no methodologically essential advance for New Testament research." This is a quite amazing assertion. Statements like these reveal the philosophic assumptions involved in much liberal scholarship.
A modern classical scholar, A.N.Sherwin-White, says about the Book of Acts: "For Acts the confirmation of historicity is overwhelming…Any attempt to reject its basic historicity, even in matters of detail, must not appear absurd. Roman historians have long taken this for granted."
When we consider the pages of the New Testament, therefore, we must remember what it is we are looking at. The New Testament writers themselves make abundantly clear that they are giving an account of objectively true events.
(Under footnote #98)
Acts is a fairly full account of Paul's journeys, starting in Pisidian Antioch and ending in Rome itself. The record is quite evidently that of an eyewitness of the events, in part at least. Throughout, however, it is the report of a meticulous historian. The narrative in the Book of Acts takes us back behind the missionary journeys to Paul's famous conversion on the Damascus Road, and back further through the Day of Pentecost to the time when Jesus finally left His disciples and ascended to be with the Father.
But we must understand that the story begins earlier still, for Acts is quite explicitly the second part of a continuous narrative by the same author, Luke, which reaches back to the birth of Jesus.
Luke 2:1-7 New American Standard Bible (NASB)
2 Now in those days a decree went out from Caesar Augustus, that a census be taken of all [a]the inhabited earth. 2 [b]This was the first census taken while[c]Quirinius was governor of Syria. 3 And everyone was on his way to register for the census, each to his own city. 4 Joseph also went up from Galilee, from the city of Nazareth, to Judea, to the city of David which is called Bethlehem, because he was of the house and family of David, 5 in order to register along with Mary, who was engaged to him, and was with child. 6 While they were there, the days were completed for her to give birth. 7 And she gave birth to her firstborn son; and she wrapped Him in cloths, and laid Him in a [d]manger, because there was no room for them in the inn.
In the opening sentences of his Gospel, Luke states his reason for writing:
Luke 1:1-4 New American Standard Bible (NASB)
1 Inasmuch as many have undertaken to compile an account of the things[a]accomplished among us, 2 just as they were handed down to us by those whofrom the beginning [b]were eyewitnesses and [c]servants of the [d]word, 3 it seemed fitting for me as well, having [e]investigated everything carefully from the beginning, to write it out for you in consecutive order, most excellentTheophilus; 4 so that you may know the exact truth about the things you have been [f]taught.
In Luke and Acts, therefore, we have something which purports to be an adequate history, something which Theophilus (or anyone) can rely on as its pages are read. This is not the language of "myths and fables," and archaeological discoveries serve only to confirm this.
For example, it is now known that Luke's references to the titles of officials encountered along the way are uniformly accurate. This was no mean achievement in those days, for they varied from place to place and from time to time in the same place. They were proconsuls in Corinth and Cyprus, asiarchs at Ephesus, politarches at Thessalonica, and protos or "first man" in Malta. Back in Palestine, Luke was careful to give Herod Antipas the correct title of tetrarch of Galilee. And so one. The details are precise.
The mention of Pontius Pilate as Roman governor of Judea has been confirmed recently by an inscription discovered at Caesarea, which was the Roman capital of that part of the Roman Empire. Although Pilate's existence has been well known for the past 2000 years by those who have read the Bible, now his governorship has been clearly attested outside the Bible.
____
Related posts: