_
On November 21, 2014 I received a letter from Nobel Laureate Harry Kroto and it said:
…Please click on this URL http://vimeo.com/26991975
and you will hear what far smarter people than I have to say on this matter. I agree with them.
Harry Kroto
__
Below you have picture of 1996 Chemistry Nobel Prize Winner Dr. Harry Kroto (on right and  Reg Colin on left):
Soren Andersson/AP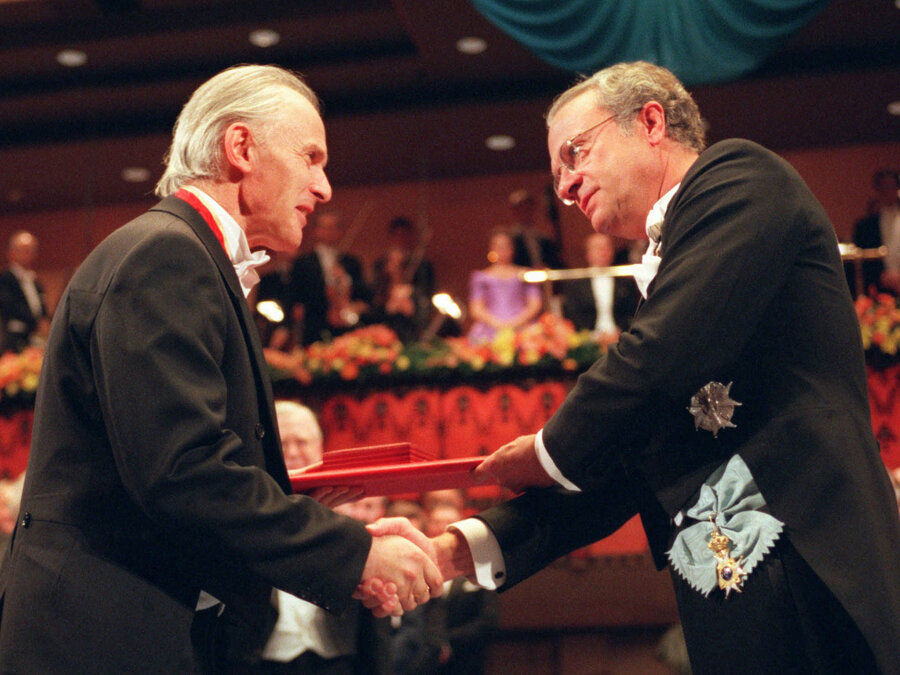 I have attempted to respond to all of Dr. Kroto's friends arguments and I have posted my responses one per week for over a year now. Here are some of my earlier posts:
Arif Ahmed, Sir David Attenborough, Mark Balaguer, Horace Barlow, Michael Bate, Patricia Churchland, Aaron Ciechanover, Noam Chomsky,Alan Dershowitz, Hubert Dreyfus, Bart Ehrman, Stephan Feuchtwang, David Friend,  Riccardo Giacconi, Ivar Giaever , Roy Glauber, Rebecca Goldstein, David J. Gross,  Brian Greene, Susan Greenfield, Stephen F Gudeman,  Alan Guth, Jonathan Haidt, Theodor W. Hänsch, Brian Harrison,  Hermann Hauser, Roald Hoffmann,  Bruce Hood, Herbert Huppert,  Gareth Stedman Jones, Steve Jones, Shelly Kagan, Michio Kaku,  Stuart Kauffman,  Lawrence Krauss, Harry Kroto, George Lakoff, Elizabeth Loftus,  Alan Macfarlane, Peter Millican, Marvin Minsky, Leonard Mlodinow,  Yujin Nagasawa, Alva Noe, Douglas Osheroff,  Jonathan Parry,  Saul Perlmutter, Herman Philipse,  Carolyn Porco, Robert M. Price, Lisa Randall, Lord Martin Rees,  Oliver Sacks, John Searle, Marcus du Sautoy, Simon Schaffer, J. L. Schellenberg,   Lee Silver,  Peter Singer,  Walter Sinnott-Armstrong, Ronald de Sousa, Victor Stenger, Barry Supple,   Leonard Susskind, Raymond Tallis, Neil deGrasse Tyson,  .Alexander Vilenkin, Sir John Walker, Frank Wilczek, Steven Weinberg, and  Lewis Wolpert,
BERTRAND RUSSELL 
As a philosopher, mathematician, educator, social critic and political activist, Bertrand Russell authored over 70 books and thousands of essays and letters addressing a myriad of topics. Awarded the Nobel Prize in Literature in 1950, Russell was a fine literary stylist, one of the foremost logicians ever, and a gadfly for improving the lives of men and women.Born in 1872 into the British aristocracy and educated at Cambridge University, Russell gave away much of his inherited wealth. But in 1931 he inherited and kept an earldom. His multifaceted career centered on work as a philosophy professor, writer, and public lecturer.(Here is a detailed chronology of Russell's life, an overview of his analytic philosophy, and a complete bibliography of all his publications.)
Russell was an author of diverse scope. His first books were German Social Democracy, An Essay on the Foundations of Geometry, and A Critical Exposition of the Philosophy of Leibniz. His last books were War Crimes in Vietnam and The Autobiography of Bertrand Russell. Other noteworthy books include Principles of Mathematics, Principia Mathematica (with A.N. Whitehead), Anti-Suffragist Anxieties, The Problems of Philosophy, Introduction to Mathematical Philosophy, Sceptical Essays, Why I Am Not a Christian, and A History of Western Philosophy.
He was arguably the greatest philosopher of the 20th century and the greatest logician since Aristotle. Analytic philosophy, the dominant philosophy of the twentieth century, owes its existence more to Russell than to any other philosopher. And the system of logic developed by Russell and A.N. Whitehead, based on earlier work by Dedekind, Cantor, Frege, and Peano, broke logic out of its Aristotelian straitjacket. He was also one of the century's leading public intellectuals and won the Nobel Prize for Literature in 1950 "in recognition of his varied and significant writings in which he champions humanitarian ideals and freedom of thought."
Russell was involved, often passionately, in numerous social and political controversies of his time. For example, he supported suffragists, free thought in religion and morals, and world government; he opposed World War I and the Vietnam War, nationalism, and political persecution. He was jailed in 1918 for anti-war views and in 1961 for his anti-nuclear weapons stance.
He was married 4 times and had 3 children. With Dora Russell, he founded the experimental Beacon Hill School. He knew or worked with many of the most prominent figures in late 19th and 20th century philosophy, mathematics, science, literature, and politics.
Active as a political and social critic until his end, Russell died in 1970 at the age of 97.
In  the first video below in the 14th clip in this series are his words and I will be responding to them in the next few weeks since Sir Bertrand Russell is probably the most quoted skeptic of our time, unless it was someone like Carl Sagan or Antony Flew.  
50 Renowned Academics Speaking About God (Part 1)
Another 50 Renowned Academics Speaking About God (Part 2)
A Further 50 Renowned Academics Speaking About God (Part 3)
__
Quote from Bertrand Russell:
Q: Why are you not a Christian?
Russell: Because I see no evidence whatever for any of the Christian dogmas. I've examined all the stock arguments in favor of the existence of God, and none of them seem to me to be logically valid.
Q: Do you think there's a practical reason for having a religious belief, for many people?
Russell: Well, there can't be a practical reason for believing what isn't true. That's quite… at least, I rule it out as impossible. Either the thing is true, or it isn't. If it is true, you should believe it, and if it isn't, you shouldn't. And if you can't find out whether it's true or whether it isn't, you should suspend judgment. But you can't… it seems to me a fundamental dishonesty and a fundamental treachery to intellectual integrity to hold a belief because you think it's useful, and not because you think it's true._
Yesterday my article "Do you have enough faith to be a theist? Or an atheist?" drew an interesting comment from a reader named Bilbo who reflected:
"At a very dark perod [sic] in my life, when I was angry at God for everything, I tried living as an atheist for a few years. The bleakness of a godless universe overwhelmed me. I realized that I could not live in such a world, and gave up my attempt at being an atheist. My hat is off to those of you hardy enough to do so."
Bilbo's comment reflects the experience of many. Indeed, that kind of experience serves as the basis for an existential argument for God's existence. I discuss the existential argument for God's existence in the aptly titled "In defense of existential arguments for belief in God" (which, interestingly enough, was prompted by Bilbo as well!) See also "The Existential Argument and Sam Harris' Big Diamond."
Even as theists like Bilbo attest that they were drawn to theism because they found atheism unlivable, atheists often retort that they have no problem with a godless universe. (To be sure, not all atheists are so cavalier about the loss. Some atheists grit their teeth and accept the loss of meaning in the manner of Bertrand Russell's famous excerpt from "A Free Man's Worship":  "Only within the scaffolding of these truths, only on the firm foundation of unyielding despair can the soul's habitation be safely built.")
But what can be said to the atheist who attests to having no problem whatsoever with the loss of objective meaning and the prospect of impending individual and collective annihilation?
In one sense, one might see this as a standoff of intuitions. And it may be that. But a theist like Bilbo is not obliged to interpret it in those terms. He might instead conclude that the atheist who attests to having no existential problem whatsoever with their worldview is simply failing to grasp certain facts that ought to cause them problems.
Imagine, for example, that your friend invites you over to his house. You walk in the door and are immediately overcome by the stench of raw sewage. "What's that smell?" you say, doing your best to retain a nonchalant demeanor even as you barely suppress a gag. "Smell?" he replies, "I don't smell anything."
Can you imagine if he then suggested that because he doesn't smell it, the problem must lie with you? That would be absurd. Similarly, when an atheist claims to have no problem with the existential predicament posed by her worldview, the theist is certainly within her rights to conclude that the atheist is simply failing to grapple with an objective loss in parallel to the man unable to grasp the foul smell.
(Bertrand Russell in 1916)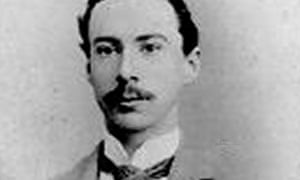 Bertrand Russell pictured above and Francis Schaeffer below:
Francis Schaeffer noted in his book HOW SHOULD WE THEN LIVE? (p. 182 in Vol 5 of Complete Works) in the chapter The Breakdown in Philosophy and Science:
In his lecture at Acapulco, George Wald finished with only one final value. It was the same one with which English philosopher Bertrand Russell (1872-1970) was left. For Wald and Russell and for many other modern thinkers, the final value is the biological continuity of the human race. If this is the only final value, one is left wondering why this then has importance. 
Now having traveled from the pride of man in the High Renaissance and the Enlightenment down to the present despair, we can understand where modern people are. They have no place for a personal God. But equally they have no place for man as man, or for love, or for freedom, or for significance. This brings a crucial problem. Beginning only from man himself, people affirm that man is only a machine. But those who hold this position cannot live like machines! If they could, there would have been no tensions in their intellectual position or in their lives. But even people who believe they are machines cannot live like machines, and thus they must "leap upstairs" against their reason and try to find something which gives meaning to life, even though to do so they have to deny their reason. 
Francis Schaeffer in another place worded it like this:
The universe was created by an infinite personal God and He brought it into existence by spoken word and made man in His own image. When man tries to reduce [philosophically in a materialistic point of view] himself to less than this [less than being made in the image of God] he will always fail and he will always be willing to make these impossible leaps into the area of nonreason even though they don't give an answer simply because that isn't what he is. He himself testifies that this infinite personal God, the God of the Old and New Testament is there. 
Instead of making a leap into the area of nonreason the better choice would be to investigate the claims that the Bible is a historically accurate book and that God created the universe and reached out to humankind with the Bible. Below is a piece of that evidence given by Francis Schaeffer concerning the accuracy of the Bible.
TRUTH AND HISTORY (chapter 5 of WHATEVER HAPPENED TO THE HUMAN RACE?)
We should take one last step back into the history of the Old Testament. In the previous note we looked first at the Dead Sea Scrolls, dating to around 100 B.C. Then we went back to the period of the Late Monarchy and looked first at the siege of Hezekiah in Jerusalem by Sennacherib in 701 B.C. and also at the last years of Judah down to about 600 B.C. Then we went further back to about 850 B.C., to Ahab and Jezebel, the ivory house, the Black Obelisk, the Moabite Stone and so on–then back again to about 950 B.C., to the time of Solomon and his son Rehoboam and the campaign by Shishak, the Egyptian pharaoh.
This should have built up in our minds a vivid impression of the historic reliability of the biblical text, including even the seemingly obscure details such as the ration tablets in Babylon. We saw, in other words, not only that the Bible gives us a marvelous world view that ties in with the nature of reality and answers the basic problems which philosophers have asked down through the centuries, but also that the Bible is completely reliable, EVEN ON THE HISTORICAL LEVEL.
The previous notes looked back to the time of Moses and Joshua, the escape from Egypt, and the settlement in Canaan. Now we will go back further–back as far as Genesis 12, near the beginning of the Bible.
Do we find that the narrative fades away to a never-never land of myths and legends? By no means. For we have to remind ourselves that although Genesis 12 deals with events a long time ago from our moment of history (about 2000 B.C. or a bit later), the civilized world was already not just old but ancient when Abram/Abraham left "Ur of the Chaldeans" (see Genesis 11:31).
Ur itself was excavated some fifty years ago. In the British Museum, for example, one can see the magnificent contents of a royal burial chamber from Ur. This includes a gold headdress still in position about the head of a queen who died in Ur about 2500 B.C. It has also been possible to reconstruct from archaeological remains what the streets and buildings must have been like at the time.
Like Ur, the rest of the world of the patriarchs (that is, of Abraham, Isaac, and Jacob) was firm reality. Such places as Haran, where Abraham went first, have been discovered. So has Shechem from this time, with its Canaanite stone walls, which are still standing, and its temple.
Genesis 12:5-9
New American Standard Bible (NASB)
5 Abram took Sarai his wife and Lot his nephew, and all their possessions which they had accumulated, and the [a]persons which they had acquired in Haran, and they [b]set out for the land of Canaan; thus they came to the land of Canaan. 6 Abram passed through the land as far as the site of Shechem, to the[c]oak of Moreh. Now the Canaanite was then in the land. 7 The Lord appeared to Abram and said, "To your [d]descendants I will give this land." So he built an altar there to the Lord who had appeared to him. 8 Then he proceeded from there to the mountain on the east of Bethel, and pitched his tent, with Bethel on the west and Ai on the east; and there he built an altar to the Lord andcalled upon the name of the Lord. 9 Abram journeyed on, continuing toward the[e]Negev.
Haran and Shechem may be unfamiliar names to us but the Negrev (or Negeb) is a name we have all read frequently in the news accounts of our own day. 
____
Related posts: