_
On November 21, 2014 I received a letter from Nobel Laureate Harry Kroto and it said:
…Please click on this URL http://vimeo.com/26991975
and you will hear what far smarter people than I have to say on this matter. I agree with them.
Harry Kroto
__
Soren Andersson/AP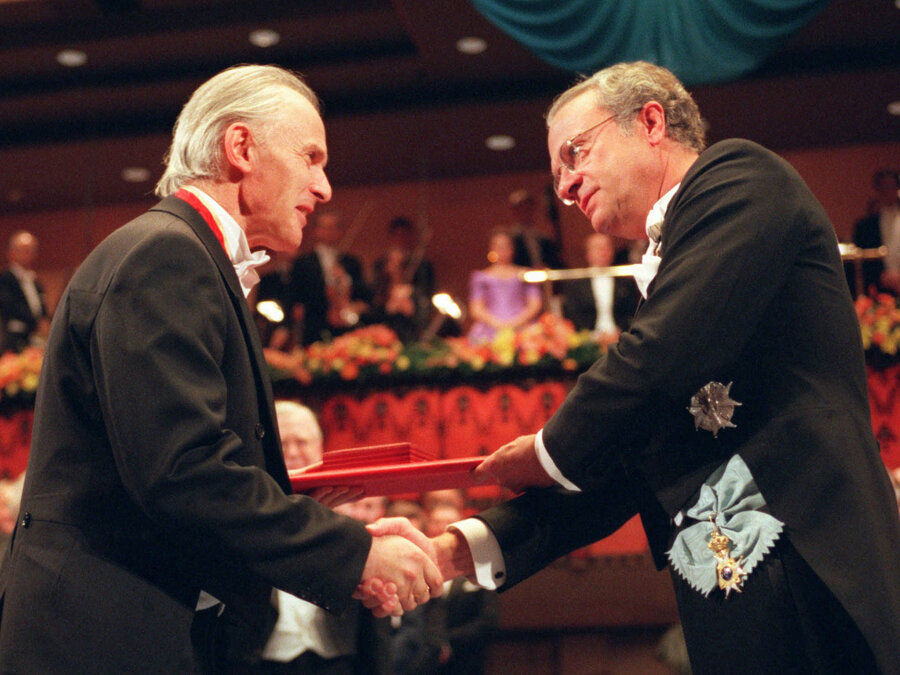 __
I have attempted to respond to all of Dr. Kroto's friends arguments and I have posted my responses one per week for over a year now. Here are some of my earlier posts:
Arif Ahmed, Sir David Attenborough, Mark Balaguer, Horace Barlow, Michael Bate, Patricia Churchland, Aaron Ciechanover, Noam Chomsky,Alan Dershowitz, Hubert Dreyfus, Bart Ehrman, Stephan Feuchtwang, David Friend,  Riccardo Giacconi, Ivar Giaever , Roy Glauber, Rebecca Goldstein, David J. Gross,  Brian Greene, Susan Greenfield, Stephen F Gudeman,  Alan Guth, Jonathan Haidt, Theodor W. Hänsch, Brian Harrison,  Hermann Hauser, Roald Hoffmann,  Bruce Hood, Herbert Huppert,  Gareth Stedman Jones, Steve Jones, Shelly Kagan, Michio Kaku,  Stuart Kauffman,  Lawrence Krauss, Harry Kroto, George Lakoff, Elizabeth Loftus,  Alan Macfarlane, Peter Millican, Marvin Minsky, Leonard Mlodinow,  Yujin Nagasawa, Alva Noe, Douglas Osheroff,  Jonathan Parry,  Saul Perlmutter, Herman Philipse,  Carolyn Porco, Robert M. Price, Lisa Randall, Lord Martin Rees,  Oliver Sacks, John Searle, Marcus du Sautoy, Simon Schaffer, J. L. Schellenberg,   Lee Silver,  Peter Singer,  Walter Sinnott-Armstrong, Ronald de Sousa, Victor Stenger, Barry Supple,   Leonard Susskind, Raymond Tallis, Neil deGrasse Tyson,  .Alexander Vilenkin, Sir John Walker, Frank Wilczek, Steven Weinberg, and  Lewis Wolpert,
_
Bertrand Arthur William Russell was born at Trelleck on 18th May, 1872. His parents were Viscount Amberley and Katherine, daughter of 2nd Baron Stanley of Alderley. At the age of three he was left an orphan. His father had wished him to be brought up as an agnostic; to avoid this he was made a ward of Court, and brought up by his grandmother. Instead of being sent to school he was taught by governesses and tutors, and thus acquired a perfect knowledge of French and German. In 1890 he went into residence at Trinity College, Cambridge, and after being a very high Wrangler and obtaining a First Class with distinction in philosophy he was elected a fellow of his college in 1895. But he had already left Cambridge in the summer of 1894 and for some months was attaché at the British embassy at Paris.
In December 1894 he married Miss Alys Pearsall Smith. After spending some months in Berlin studying social democracy, they went to live near Haslemere, where he devoted his time to the study of philosophy. In 1900 he visited the Mathematical Congress at Paris. He was impressed with the ability of the Italian mathematician Peano and his pupils, and immediately studied Peano's works. In 1903 he wrote his first important book, The Principles of Mathematics, and with his friend Dr. Alfred Whitehead proceeded to develop and extend the mathematical logic of Peano and Frege. From time to time he abandoned philosophy for politics. In 1910 he was appointed lecturer at Trinity College. After the first World War broke out, he took an active part in the No Conscription fellowship and was fined £ 100 as the author of a leaflet criticizing a sentence of two years on a conscientious objector. His college deprived him of his lectureship in 1916. He was offered a post at Harvard university, but was refused a passport. He intended to give a course of lectures (afterwards published in America as Political Ideals, 1918) but was prevented by the military authorities. In 1918 he was sentenced to six months' imprisonment for a pacifistic article he had written in the Tribunal. His Introduction to Mathematical Philosophy (1919) was written in prison. His Analysis of Mind (1921) was the outcome of some lectures he gave in London, which were organized by a few friends who got up a subscription for the purpose.
In 1920 Russell had paid a short visit to Russia to study the conditions of Bolshevism on the spot. In the autumn of the same year he went to China to lecture on philosophy at the Peking university. On his return in Sept. 1921, having been divorced by his first wife, he married Miss Dora Black. They lived for six years in Chelsea during the winter months and spent the summers near Lands End. In 1927 he and his wife started a school for young children, which they carried on until 1932. He succeeded to the earldom in 1931. He was divorced by his second wife in 1935 and the following year married Patricia Helen Spence. In 1938 he went to the United States and during the next years taught at many of the country's leading universities. In 1940 he was involved in legal proceedings when his right to teach philosophy at the College of the City of New York was questioned because of his views on morality. When his appointment to the college faculty was cancelled, he accepted a five-year contract as a lecturer for the Barnes foundation, Merion, Pa., but the cancellation of this contract was announced in Jan. 1943 by Albert C. Barnes, director of the foundation.
Russell was elected a fellow of the Royal Society in 1908, and re-elected a fellow of Trinity College in 1944. He was awarded the Sylvester medal of the Royal Society, 1934, the de Morgan medal of the London Mathematical Society in the same year, the Nobel Prize for Literature, 1950.
In a paper "Logical Atomism" (Contemporary British Philosophy. Personal Statements, First series. Lond. 1924) Russell exposed his views on his philosophy, preceded by a few words on historical development.1
Principal publications
German Social Democracy, 1896
Foundations of Geometry, 1897
A Critical Exposition of the Philosophy of Leibniz, 1900
Principles of Mathematics, vol. 1, 1903
Philosophical Essays, 1910
(with Dr. A. N. Whitehead) Principia mathematica, 3 vols, 1910-13
The Problems of Philosophy, 1912
Our Knowledge of the External World as a Field for Scientific Method in Philosophy, 1944
Principles of Social Reconstruction, 1916
Mysticism and Logic and Other Essays, 1918
Roads to Freedom: Socialism, Anarchism and Syndicalism, 1918
Introduction to Mathematical Philosophy, 1919
The Practice and Theory of Bolshevism, 1920
The Analysis of Mind, 1921
The Problem of China, 1922
The ABC of Atoms, 1923
(with Dora Russell) The Prospects of Industrial Civilisation, 1923
Logical Atomism, 1924
The ABC of Relativity, 1925
On Education, 1926
The Analysis of Matter, 1927
An Outline of Philosophy, 1927
Sceptical Essays, 1928
Marriage and Morals, 1929
The Conquest of Happiness, 1930
The Freedom and Organisation 1814-1914, 1934
In Praise of Idleness, 1935
Which Way to Peace?, 1936
(with Patricia Russell editor of) The Amberley Papers, 2 vols, 1937
Power: a new Social Introduction to its Study, 1938
An Inquiry into Meaning and Truth, 1941
History of Western Philosophy, 1946
Human Knowledge, its Scope and Limits, 1948
Authority and the Individual, 1949
Unpopular Essays, 1950
---
1) The matter for this sketch is taken from general English reference books.
From Les Prix Nobel en 1950, Editor Arne Holmberg, [Nobel Foundation], Stockholm, 1951
This autobiography/biography was written at the time of the award and later published in the book series Les Prix Nobel/ Nobel Lectures/The Nobel Prizes. The information is sometimes updated with an addendum submitted by the Laureate.
For more updated biographical information, see:
Russell, Bertrand, The Autobiography of Bertrand Russell. (3 vols.) Allen & Unwin: London, 1967-1969.
Bertrand Russell died on February 2, 1970.
In  the first video below in the 14th clip in this series are his words and I will be responding to them in the next few weeks since Sir Bertrand Russell is probably the most quoted skeptic of our time, unless it was someone like Carl Sagan or Antony Flew.  
50 Renowned Academics Speaking About God (Part 1)
Another 50 Renowned Academics Speaking About God (Part 2)
A Further 50 Renowned Academics Speaking About God (Part 3)
__
Quote from Bertrand Russell:
Q: Why are you not a Christian?
Russell: Because I see no evidence whatever for any of the Christian dogmas. I've examined all the stock arguments in favor of the existence of God, and none of them seem to me to be logically valid.
Q: Do you think there's a practical reason for having a religious belief, for many people?
Russell: Well, there can't be a practical reason for believing what isn't true. That's quite… at least, I rule it out as impossible. Either the thing is true, or it isn't. If it is true, you should believe it, and if it isn't, you shouldn't. And if you can't find out whether it's true or whether it isn't, you should suspend judgment. But you can't… it seems to me a fundamental dishonesty and a fundamental treachery to intellectual integrity to hold a belief because you think it's useful, and not because you think it's true._
ISSUES IN PERSPECTIVE
Dr. James P. Eckman, President Emeritus
Grace University, Omaha, Nebraska
October 1, 2016
Note to Evangelicals: "Let's Start Talking About Our Theology, Not
Politics"
Although American civilization manifests a radical pluralism when it comes to worldview
choices, secularism is the preferred face of this culture. As a culture, we respect the right of a
person to choose, but we do not like to discuss the nature of those religious choices. Instead of
engaging in the implications and the consistency of a worldview choice, our culture prefers
silence. When worldview choices are discussed, it quickly drifts to politics, not theology. The
end result is that the public square in indeed naked (to use the late John Neuhaus's words.) As
a Christian, I find all of this especially disturbing. My fellow evangelicals seem more prone to
talk about the virtues of Donald Trump than the uniqueness of the Christian worldview.
Columnist E.J. Dionne, Jr. has noted this in a recent column when he observed the following:
• "Religion has been subsumed by politics.
• Many liberals have accepted the view that religion now lives almost entirely on the right
end of politics.
• The popular media tend to focus on the most extreme and outlandish examples of
religion rather than the more thoughtful kind.
• The quieter forms of religious expression—left, right and center—rarely win notice on
covers of magazines or anywhere else."
The politicization of religion is obvious in our culture today, for, when it is discussed, rarely do
we talk about the nature of God or how to contemplate the Exodus or the Resurrection.
Immediately, we focus on culture war issues (e.g., abortion, same-sex marriage or whom you
will vote for as president). It is not that these matters are unimportant; they are important.
But the unintended result is the cultivation of superficiality and shallowness when it comes to
religious conviction. For some, the test of whether someone is really a Christian is that person's
view on these culture war issues or on a particular candidate in the upcoming election. Dionne
quotes Berkeley historian, David Hollinger: "The absence of sustained, public scrutiny of
religious ideas in our time has created a vacuum filled with easy God talk." For the secular wing
of American culture, genuine Christianity is the promotion of right-wing extremism or
conservative politics.
Consider two examples of how genuine, biblical Christianity is about more than conservative
politics:
1. One of the most famous atheists of the last two decades was Christopher Hitchens. He
died of esophageal cancer in 2011. Larry Taunton, of the Fixed Point Foundation and a
devout Christian intellectual, organizes debates between Christians and atheists. In 2010,
he organized a series of debates in various parts of America and, for some of these debates,
he actually drove Hitchens to these events. That means they had hours to talk and reflect
on their respective worldviews. In a recent book by Taunton, he summarizes details of
those drives. In one, Hitchens was reading from the Gospel of John out loud and asking
what was "the precise reason Jesus wept at the death of Lazarus." He asked Taunton,
"where is grace in the Old Testament?," which resulted in a discussion about God's
covenant with Abraham. Taunton offers no evidence that Hitchens ever made a decision of
faith, but these long conversations between Hitchens and Taunton were not about politics
or culture war issues. They were about Jesus, His miracles and key theological ideas in
Scripture. Taunton demonstrated real affection for Hitchens as a man and a willingness to
engage him not at the level of the superficial but at a level that challenged Hitchens's
worldview.
2. The other example gives focus to one of the most famous atheists of the 20th century—
Bertrand Russell. Along with A.N. Whitehead, Russell was the founder of analytic
philosophy. He stressed the absolute nature of impersonal, physical matter. There is no
God, only matter; He advocated for the eternality of the material universe. The result was a
bleak view of human life, its meaning and its purpose. Consider this extended quotation:
That man is the product of causes which had no prevision of the end they were
achieving; that his origin, his growth, his hopes and fears, his loves and his
beliefs, are but the outcome of accidental collocations of atoms; that no fire,
no heroism, no intensity of thought and feeling, can preserve an individual life
beyond the grave; that all the labors of the ages, all the devotion, all the
inspiration, all the noonday brightness of human genius, are destined to
extinction in the vast death of the solar system, and that the whole temple of
man's achievement must inevitably be buried beneath the debris of the
universe in ruins. . . . Only within the scaffolding of these truths, only on the
firm foundation of unyielding despair, can the soul's habitation henceforth be
safely built (Why I Am Not a Christian, editor Paul Edwards [New York: Simon
and Schuster, 1957], p. 107).
There are several interesting observations about Russell's "world which science built for our
belief."
1. To Russell, humans are "accidental collocations of atoms." Yet, Russell uses terms not
associated with accidents: "loves," "beliefs," "despair" and "soul." These words do not
fit with his worldview. As John Piper argues, he borrows these terms from another
worldview. He is using language beyond physical matter, an odd thing for a materialist
to do.
2. Piper asks, did Russell live "his philosophy?" How did he talk to his three children about
their hurts, their pains, their sorrows, for after all his three children were merely "an
accidental collocation of atoms." How did he talk with his three wives? Did he speak of
them or to them as "accidental collocations of atoms?" Could he, did he, tell them he
loved them? As a rabid materialist, what did love actually mean to him?
3. Russell's self-annihilating worldview concludes that "only on the firm foundation of
unyielding despair can the soul's habitation henceforth be safely built." In other words,
the soul's habitation is built upon nothing, for humanity can only look forward to
"extinction in the vast death of the solar system."
The Bible affirms the reality of death, sorrow and despair, but it identifies the cause—sin. And
it identifies the solution to this cause, namely the death, burial and resurrection of Jesus.
Easter Sunday is the triumph over the tragic, desperate, unfounded worldview of ardent secular
materialists such as Bertrand Russell. 1 Corinthians 15:17-20 makes the strong case for hope
not despair, for triumph not defeat and for a foundation that cannot be shaken:
17 And if Christ has not been raised, your faith is futile and you are still in your sins. 18 Then
those also who have fallen asleep in Christ have perished. 19 If in Christ we have hope in this
life only, we are of all people most to be pitied.
20 But in fact Christ has been raised from the dead. . . . [ESV]
As we move forward in this confusing culture, we who love the Lord and love His Word, let's
make a vow: Let's covenant together to start talking more about what we believe than about
politics. Let's start talking more about the sound doctrine that produces godly living than the
political culture. Let's watch less Fox News and read more of the Bible. When someone asks
about our beliefs, let's direct the conversation to Jesus, who He is and what He has done. Let's
disassociate ourselves from the political illusion and embrace and proclaim Jesus as the solution
to the challenges of the human condition.
See E.J. Dionne, Jr., "A Secular Society Needs a Little Religion . . ." in the Omaha World Herald
(28 August 2016); Mark Oppenheimer's article on Christopher Hitchens and Larry Taunton in
the New York Times (14 May 2016); and John Piper, "Strange Collocation" in World (24 October
2009), p. 46.
Bertrand Russell pictured above and Francis Schaeffer below:
Francis Schaeffer noted in his book HOW SHOULD WE THEN LIVE? (p. 182 in Vol 5 of Complete Works) in the chapter The Breakdown in Philosophy and Science:
In his lecture at Acapulco, George Wald finished with only one final value. It was the same one with which English philosopher Bertrand Russell (1872-1970) was left. For Wald and Russell and for many other modern thinkers, the final value is the biological continuity of the human race. If this is the only final value, one is left wondering why this then has importance. 
Now having traveled from the pride of man in the High Renaissance and the Enlightenment down to the present despair, we can understand where modern people are. They have no place for a personal God. But equally they have no place for man as man, or for love, or for freedom, or for significance. This brings a crucial problem. Beginning only from man himself, people affirm that man is only a machine. But those who hold this position cannot live like machines! If they could, there would have been no tensions in their intellectual position or in their lives. But even people who believe they are machines cannot live like machines, and thus they must "leap upstairs" against their reason and try to find something which gives meaning to life, even though to do so they have to deny their reason. 
Francis Schaeffer in another place worded it like this:
The universe was created by an infinite personal God and He brought it into existence by spoken word and made man in His own image. When man tries to reduce [philosophically in a materialistic point of view] himself to less than this [less than being made in the image of God] he will always fail and he will always be willing to make these impossible leaps into the area of nonreason even though they don't give an answer simply because that isn't what he is. He himself testifies that this infinite personal God, the God of the Old and New Testament is there. 
Instead of making a leap into the area of nonreason the better choice would be to investigate the claims that the Bible is a historically accurate book and that God created the universe and reached out to humankind with the Bible. Below is a piece of that evidence given by Francis Schaeffer concerning the accuracy of the Bible.
TRUTH AND HISTORY (chapter 5 of WHATEVER HAPPENED TO THE HUMAN RACE?)
Two things should be mentioned about the time of Moses in Old Testament history.
First, consider the archaeological evidence that relates to the period. True, it is not of the same explicitness that we have found, say, in relation to the existence of Ahab or Jehu or Jehoiakim. We have no inscription from Egypt which refers to Moses being taken out of the bulrushes and removed from the waterproof basket his mother had made him. But this does not mean that the Book of Exodus is a fictitious account, as some critics has suggested. Some say it is simply an idealized reading-back into history by the Jews under the later monarchy. There is not a reason why these "books of Moses," as they are called, should not be treated as history, just as we have been forced to treat the Books of Kings and Chronicles dating 500 years later.
There is ample evidence about the building projects of the Egyptian kings, and the evidence we have fits well with Exodus. There are scenes of brick-making (for example, Theban Tomb 100 of Rekhmire). Contemporary parchments and papyri tell of production targets which had to be met. One speaks of a satisfied official report of his men as "making their quota of bricks daily" (Papyrus Anastasi III vso, p.3, in the British Museum. Also Louvre Leather Roll in the Louvre, Paris, col ii, mentions quotes of bricks and "taskmasters"). Actual bricks found show signs of straw which had to be mixed in with the clay, just as Exodus says. This matter of bricks and straw is further affirmed by the record that one despairing official complained, "There are no men to make bricks nor straw in my area."
We know from contemporary discoveries that Semites were found at all levels of Egypt's cosmopolitan society. (Brooklyn Museum, New York, no. 35, 1446. Papyrus Brooklyn). There is nothing strange therefore about Joseph's becoming so important in the pharaoh's court.
The store cities of Pithom and Raamses (Rameses) mentioned in Exodus 1:11 are well known in Egyptian inscriptions. Raamses was actually in the east-Delta capital, Pi-Ramses (near Goshen), where the Israelites would have had ample experience of agriculture. Thus, the references to agriculture found in the law of Moses would not have been strange to the Israelites even though they were in the desert at the time the law was given. Certainly there is no reason to say, as some critics do, that these sections on agriculture were an indication of a reading-back from a latter period when the Jews were settled in Canaan.
The form of the covenant made at Sinai has remarkable parallels with the covenant forms of other people at that time. (On covenants and parties to a treaty, the Louvre; and Treaty Tablet from Boghaz Koi (i.e., Hittite) in Turkey, Museum of Archaeology in Istanbul.) The covenant form at Sinai resembles just as the forms of letter writings of the first century after Christ (the types of introductions and greetings) are reflected in the letters of the apostles in the New Testament, it is not surprising to find the covenant form of the second millennium before Christ reflected in what occurred at Mount Sinai. God has always spoken to people within the culture of their time, which does not mean that God's communication is limited by that culture. It is God's communication but within the forms appropriate to the time.
The Pentateuch tells us that Moses led the Israelites up the east side of the Dead Sea after their long stay in the desert. There they encountered the hostile kingdom of Moab. We have firsthand evidence for the existence of this kingdom of Moab–contrary to what has been said by critical scholars who have denied the existence of Moab at this time. It can be found in a war scene from a temple at Luxor (Al Uqsor). This commemorates a victory by Ramses II over the Moabite nation at Batora (Luxor Temple, Egypt).
Also the definite presence of the Israelites in west Palestine (Canaan) no later than the end of the thirteenth century B.C. is attested by a victory stela of Pharaoh Merenptah (son and successor of Ramses II) to commemorate his victory over Libya (Israel Stela, Cairo Museum, no. 34025). In it he mentions his previous success in Canaan against Aschalon, Gize, Yenom, and Israel; hence there can be no doubt the nation of Israel was in existence at the latest by this time of approximately 1220 B.C. This is not to say it could not have been earlier, but it cannot be later than this date.
____
Related posts: