____
On November 21, 2014 I received a letter from Nobel Laureate Harry Kroto and it said:
…Please click on this URL http://vimeo.com/26991975
and you will hear what far smarter people than I have to say on this matter. I agree with them.
Harry Kroto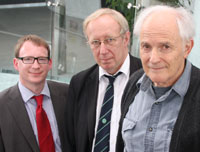 Nick Gathergood, David-Birkett, Harry-Kroto
I have attempted to respond to all of Dr. Kroto's friends arguments and I have posted my responses one per week for over a year now. Here are some of my earlier posts:
Arif Ahmed, Sir David Attenborough, Mark Balaguer, Horace Barlow, Michael Bate, Patricia Churchland, Aaron Ciechanover, Noam Chomsky,Alan Dershowitz, Hubert Dreyfus, Bart Ehrman, Stephan Feuchtwang, David Friend,  Riccardo Giacconi, Ivar Giaever , Roy Glauber, Rebecca Goldstein, David J. Gross,  Brian Greene, Susan Greenfield, Stephen F Gudeman,  Alan Guth, Jonathan Haidt, Theodor W. Hänsch, Brian Harrison,  Hermann Hauser, Roald Hoffmann,  Bruce Hood, Herbert Huppert,  Gareth Stedman Jones, Steve Jones, Shelly Kagan, Michio Kaku,  Stuart Kauffman,  Lawrence Krauss, Harry Kroto, George Lakoff, Elizabeth Loftus,  Alan Macfarlane, Peter Millican, Marvin Minsky, Leonard Mlodinow,  Yujin Nagasawa, Alva Noe, Douglas Osheroff,  Jonathan Parry,  Saul Perlmutter, Herman Philipse,  Carolyn Porco, Robert M. Price, Lisa Randall, Lord Martin Rees,  Oliver Sacks, John Searle, Marcus du Sautoy, Simon Schaffer, J. L. Schellenberg,   Lee Silver,  Peter Singer,  Walter Sinnott-Armstrong, Ronald de Sousa, Victor Stenger, Barry Supple,   Leonard Susskind, Raymond Tallis, Neil deGrasse Tyson,  .Alexander Vilenkin, Sir John Walker, Frank Wilczek, Steven Weinberg, and  Lewis Wolpert,
_
Bertrand Russell was a British philosopher, mathematician, logician, social activist, writer, critic, pacifist, and intellectual. He owned a huge fame for his works on analytical philosophy, mathematical logic, linguistics, anti-imperialism, human rights and so on. In the academic fields of mathematics and logic, he is famous for his great works including 'Principia Mathematica'.
Bertrand Russell born on May 18, 1872, in Monmouthshire, UK. He got an influential and intellectual family by birth. His parents, Lord and Lady Amberly supported Birth control when many people thought it as blasphemous. Lord Amberly was an atheist, which influenced child Russell very much. Russell lost his parents at childhood. After that, his grandmother started to look after Russell and his two siblings; Frank and Rachel. Russell's education started at home with the help of his brother, Frank and some tutors. Frank taught him euclidean geometry, which changed his life.
Russell went to Trinity College of Cambridge University in 1890. In 1895, he became wrangler and obtained a first class with distinction in philosophy. The college authority elected him as a fellow. After leaving college, he worked as an attache in the British embassy in France. Later he worked as an academician and lecturer in different Universities in Europe. He also America including Cambridge and Harvard.
Russell's early works began with his affection on mathematics and logic. Although his outlook towards social and political theories led him to publish 'German Social Democracy'. He wrote many articles on logic and foundation of mathematics, such as 'An Essay on the foundations of Geometry', 'The Principles of Mathematics', 'An introduction to the Mathematical Philosophy', 'Mysticism and logic', 'Our Knowledge about External World' and so on. His later works were on political and social activism, which led him to swim against the current of traditional belief systems. 'Marriage and Morals', 'Why I am not a Christian', 'war crimes in Vietnam', 'Unarmed Victory', 'Religion and Science', 'Theory and Practice of Bolshevism in Russia', 'Problems of China' are his renowned works. He also achieved Nobel prize in literature in 1950.
Read Biography of: 
Elon Musk
Russell married four times. His first wife was Alys Pearsall Smith. Dora Russell, Patricia Spence, and Edith Finch Russell were his wives in his later part of life. Bertrand Russell died on February 2 in 1970. The present world still recognizes him as one of the greatest thinkers of the modern time.
Profile
Family
External Links
Born: May 18, 1872, Trellech, United Kingdom
Died: February 2, 1970, Penrhyndeudraeth, United Kingdom
Influenced: Sidney Hook, Noam Chomsky, Isaac Asimov, More
In  the first video below in the 14th clip in this series are his words and I will be responding to them in the next few weeks since Sir Bertrand Russell is probably the most quoted skeptic of our time, unless it was someone like Carl Sagan or Antony Flew.  
50 Renowned Academics Speaking About God (Part 1)
Another 50 Renowned Academics Speaking About God (Part 2)
A Further 50 Renowned Academics Speaking About God (Part 3)
__
Quote from Bertrand Russell:
Q: Why are you not a Christian?
Russell: Because I see no evidence whatever for any of the Christian dogmas. I've examined all the stock arguments in favor of the existence of God, and none of them seem to me to be logically valid.
Q: Do you think there's a practical reason for having a religious belief, for many people?
Russell: Well, there can't be a practical reason for believing what isn't true. That's quite… at least, I rule it out as impossible. Either the thing is true, or it isn't. If it is true, you should believe it, and if it isn't, you shouldn't. And if you can't find out whether it's true or whether it isn't, you should suspend judgment. But you can't… it seems to me a fundamental dishonesty and a fundamental treachery to intellectual integrity to hold a belief because you think it's useful, and not because you think it's true.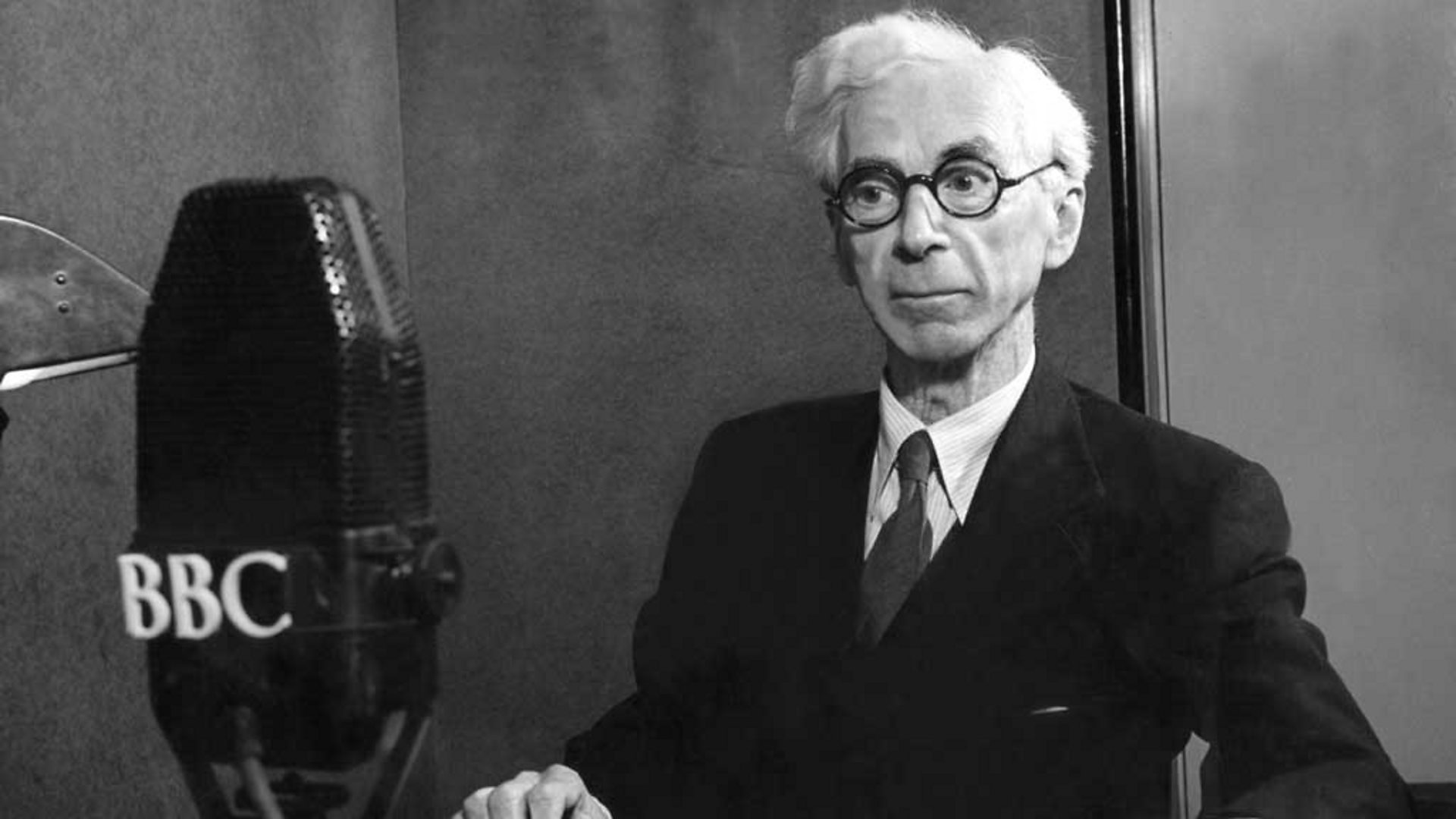 __
"There isn't enough evidence."
It seems so reasonable. It's what any sensible person would ask. Where is the evidence? Why should it be so difficult to believe in Christ?
Hard core atheism, the belief that there is no God (anti-theism), is difficult to defend, so the new softer, friendlier atheism defines itself as "we would believe in God if there was enough evidence". Most of the atheists you will meet are in reality agnostics (no-knowledge). It seems reasonable and humble to admit that we do not know. This softer position says I do not know because there is not sufficient information. I can't prove there is no God and you can't prove there is. Provide me with the information and of course I would believe. This position is best summed up by Bertrand Russell's statement that if he met God and was asked why he did not believe he would declare, "Because you did not provide enough evidence".
Perhaps apathy is the predominant thought here. Many of your friends do not lie on their beds at night pondering the meaning of life and suffering from existential angst. They are far more concerned about the game they just watched, the bills they have to pay, and their next visit to the doctor. Normal life for them does not involve God.
So just as in the film Jerry Maguire, when Cuba Gooding Jnr asks Tom Cruise to "show me the money", so our atheist/agnostic friends make this seemingly innocuous demand: "show me the evidence". Even today I came across an atheist writer in a local newspaper, proudly asserting that we should not have Christian schools because we should only teach children facts based on evidence and Christianity is not based upon evidence. So how do we respond to this? Let's talk about pride and prejudice.
Pride. Behind this seemingly humble and reasonable request there is actually a vast amount of pride. The trouble is that the person making this claim assumes they are in the position of being able to judge the evidence. They assume they have the neutrality, intelligence and ability to assess whether there is a God or not. They have, in effect, positioned themselves as the judge of The Judge. "I will not believe in a God who does X, Y or Z", is a common claim. So the first question I simply ask anyone who demands evidence, is why they think they have the capacity to judge any such evidence? You cannot see God without humility. It is only when we kneel at the cross, rather than flying over it at drone height, that we are able to see where love and mercy meet. That is why Bertrand Russell will not be standing on the Day of Judgement accusing God; he will be kneeling at the name of Jesus, astounded and ashamed that he was so blind.
Prejudice. Very often, the person who demands evidence has already made a pre-judgement that there can be no such evidence. It's a bit like arguing with a conspiracy theorist. No matter what you say, it is automatically dismissed, because it is perceived as being part of the conspiracy! I have often found that if you answer a particular problem, or provide a particular piece of evidence, the person you are answering immediately turns to something else and just avoids the issue. In order to overcome this prejudice and to avoid wasting a vast amount of time arguing about such vital issues as whether Noah walked to Australia to get kangaroos, I would simply suggest the following: ask anyone who demands evidence, what evidence is it that they would accept for God? Honest atheists like Richard Dawkins admit that there is almost nothing that would convince them of God. If a giant finger was to write in the sky, "I exist", they would find some alternative way of explaining it. Anything other than believing in an almighty personal Creator.
When the Big Bang was proven and it became clear that the universe did indeed have a beginning, as the Bible stated, some atheists were so desperate to avoid the obvious implications that they refused at first to accept it (and afterwards quickly ran off to place their faith in the unproven multiverse theory). Their philosophy is what I call ABGism (Anything But God). It is not so much that they believe there is no evidence for God, but they are emotionally driven by their desire that there should be no evidence for God.
I was blind but now I see. In reality the situation is even worse than that. When you ask people to believe and trust in God, it is like asking a blind person to admire the intricacies of the Mona Lisa. You are talking to dead stones and asking these stones to dance. You are calling out to those who are dead in sins and trespasses, to come to life. It's enough to make any self-respecting evangelist, preacher, Christian give up in despair. Except for those who know their God and his Bible! Because the Bible itself tells us that the word of God will not return to him empty, and that the Holy Spirit takes the word and enables the blind to see and the dead to live. The word preached and lived in the Dunamis (power) of the Spirit is dynamite!
Does this mean that there is no room for evidence? Of course not! The Holy Spirit always uses means. He usually addresses the heart through the mind, not the other way round. Therefore we should patiently present all the evidence that he gives us with the prayerful desire that he will take this and work in the lives of those we deal with. For most people, coming to faith in Christ is not a Damascus road experience. It is not one gigantic leap up Mount Improbable, but rather an evolving faith over a period of time, with the Holy Spirit using a number of factors, including evidence, experience, the Bible, coincidence, friends, foes and family.
I often tell people that they should use the motto of The X-Files – 'the truth is out there'. An intelligent agnostic is someone who seeks that truth. A loving Christian is someone who seeks to present that truth. At the end of The Dawkins Letters I presented my 10 different reasons for believing that Christianity is true. The creation, the human mind and spirit, the moral law, beauty, religion, experience, history, the church, the Bible, and Jesus. Why not make your own list?
In today's Christian world we are blessed with a significant number of books that intelligently, attractively and insightfully present the evidence for Jesus Christ. My recommended book this week is Josh McDowell's New Evidence that Demands a Verdict. It's lengthy, but it contains a wealth of information.
Christians who seek to present the good news of Jesus Christ will be prayerful, loving people who are saturated with the word of God and who know how to present it in the context of a culture which is deaf, dumb and blind to that word. If we do so, we will not just be presenting the evidence, we will be the evidence.
David Robertson is the moderator of the Free Church of Scotland and director of Solas CPC, Dundee._
__
The article above mentions Josh McDowell's New Evidence that Demands a Verdict, and back in the 1970's I benefitted greatly from these series of books. Therefore, I wanted to give a sample of that book:
Chapter Four
Is the Old Testament Historically Reliable?
The Reliability of the Old Testament Manuscripts was shown to be reliable in at least three
major ways: (1) textual transmission (the accuracy of the copying process down through
history), (2) the confirmation of the Old Testament by hard evidence uncovered through
archaeology, and (3) documentary evidence also uncovered through archaeology.
Textual Transmission
41 Norman Geisler, Baker Encyclopedia of Christian Apologetics (Grand Rapids; Baker, 19980, p.384-385.
42 Nelson Glueck, Rivers in the Desert: History of Negev (New York: Farrar, Straus, and Cadahy, 1959), p.31.
26
The textual transmission is an essential element in the accuracy of the biblical record. While
we do not have the original documents, we do have a large number of copies. Comparing
these copies to each other gives an amazing picture of accuracy by the copyist when
compared to other literature.
In 144 cases of transliteration from Egyptian, Assyrian, Babylonian and Moabite into
Hebrew and in 40 cases of the opposite, or 184 in all, the evidence shows that for 2300 to
3900 years the text of the proper names in the Hebrew Bible has been transmitted with the
minutest accuracy. 43
Non-Hebrew Manuscripts
There are a number of ancient translations of the Old Testament, which provide valuable
support to the text. The Septuagint preserves a textual tradition from the third century B.C.,
and the Samaritan Pentateuchal tradition may date from the fifth century B.C. When these
two are examined, along with the Masoretic Text, we have a powerful support for the
integrity of the Old Testament text. There are other documents that continue to add support
and authority to the Old Testament text.
Archaeological Support
The destruction of Sodom and Gomorrah was thought to be a myth until evidence revealed
that all five of the cities mentioned in the bible were in fact centers of commerce in the area
and were geographically located where the Scriptural passage indicated. Not only are the
cities real, the evidence of their destruction supports the Biblical account.
Jericho
Another so-called myth was the destruction of Jericho. During the excavations of Jericho
(1930-1936) Garstang found something so startling that he and two other members of the
43 Robert Dick Wilson, Scientific Investigation of the Old Testament (Chicago: Moody Press, 1959), p.64,71.
27
team prepared and signed a statement describing what was found. Garstang wrote: "As to the
main fact, then, there remains no doubt: the walls fell outwards so completely that the
attackers would be able to clamber up and over their ruins into the city."44
Saul, David, and Solomon
Excavation has uncovered Saul's fortress at Gibeah showing that one of the major weapons
of that time was the slingshot. This not only supports the account of what David did, but also
the account of Judges 20:16 that there were seven hundred expert slingers who "could sling a
stone at a hair and not miss."
One of the major accomplishments of David was the capture of Jerusalem. The Scriptures
seemed to present a problem; the Israelites entered the city by way of a tunnel that led to the
Pool of Siloam. The pool was considered to be outside the city walls, but excavations in the
1960's revealed that the wall did go way past the pool supporting the Biblical record.
Solomon's temple and its contents have shown to be correct by the excavation in the last 75
years. A article written in 1989 by Alan Millard in Biblical Archaeology Review, entitled
"Does the Bible exaggerate King Solomon's Wealth?" states, "Those who read the bible text
and make a subjective judgment as to its reliability often conclude-and understandably sothat
the descriptions of Solomon's gold are gross exaggerations. The quantity of gold the
bible claims for King Solomon is simply unbelievable, even unimaginable. We have not
proved that the details in the Bible regarding Solomon's gold are accurate. But by setting the
biblical text beside other ancient texts and archeological discoveries we have shown that the
biblical narrative is wholly in keeping with the practices of the ancient world, so far as we
can ascertain them, not only in the use of gold but also in its records of quantities. While this
44 John Garstang, The Foundations of Bible History (New York: R.R. Smith, Inc., 1931), p.146.
28
does not demonstrate that the account in the Bible is accurate, it does show that it is
feasible."45
Henry Morris believes that it is no longer possible to reject the substantial historicity of the
Bible, at least as far back as the time of Abraham, because of the remarkable discoveries of
archaeology.46
New Testament Confirmation of the Old Testament
Jesus stated that he believed Moses wrote the Torah; Mark 7:10; 10:3-5; 12:26. In John 5:45
Jesus states his belief that Moses wrote the Torah in very strong terms. The New Testament
writers also believed that Moses wrote the Torah. John was confident that "the Law was
given through Moses" (John 1:17).
_
Francis Schaeffer on pages 178 to 179 of volume 1 THE GOD WHO IS THERE asserted:
I do not believe that there is a leap of faith needed; there are good and sufficient reasons to know why Christianity is true–and more than that, that is the Bible's insistence. The Bible's emphasis is that there are good and sufficient reasons to know Christianity is true, so much so that we are disobedient and guilty if we do not believe it.
The Christian system (what is taught in the whole Bible) is a unity of thought. Christianity is not just a lot of bits and pieces–there is a beginning and an end, a whole system of truth, and this system is the only system that will stand up to all the questions that are presented to us as we face the reality of existence. Some of the other systems answer some of the questions but leave others unanswered. I believe it is only Christianity that gives the answers to all the crucial questions.
What are those questions? The questions are those which are presented to us as we face the reality of existence. God shuts us up to reality. We cannot escape the reality of what is, no matter what we say we believe or think.
This reality of which I speak falls into two parts: the fact that the universe truly exists and it has form, and then what I would call the "mannishness" of man–which is my own term for meaning that man is unique. People have certain qualities that must be explained.
God has shut up all people to these things, and I always like to go back to the statement of Jean-Paul Sartre, though he had no answer for his own statement, and that is that the basic philosophic question is that something is there. Things do exist, and this demands an explanation for their existence. I would then go beyond Sartre's statement to one by Albert Einstein. Einstein said that the most amazing thing about the universe is that we can know something truly about it.In other words, it has a form that is comprehensible, even though we cannot exhaust it. And then I would say beyond that–no matter what people say they are, they are what they are, that is, man is unique as made in the image of God. Any system of thought, to be taken seriously, has to at least try to explain these two great phenomena of the universe and man. In other words, we are talking about objective truth related to reality and not just something within our own heads.
Now I would like to add a corollary to this: in WHATEVER HAPPENED TO THE HUMAN RACE?, and especially the extensive notes of the fifth chapter, there is a third thing and that is the way the Bible measures up to history. Once we say that, this is very exciting. It is very exciting because other religions are not founded in history, they are "out there" somewhere, or you can think of them as inside of your own head–whichever way you are looking at it. On the other hand, the Bible claims to be rooted in history. Whether we are considering the history of the Old Testament, whether we are considering the history of Christ, including the resurrection, or Paul's journeys, it is insisted on as real history. So now we have three interwoven parts. Usually I have dealt with the twentieth-century person, but the third is also there. We have to face the reality of the universe and its having an existence and having a form. We have to face the reality in the uniqueness of man. We are able to discuss the fact that the Bible is rooted in history.
____
Schaeffer then points to the historical accuracy of the Bible:
The Bible and Archaeology – Is the Bible from God? (Kyle Butt 42 min)
You want some evidence that indicates that the Bible is true? Here is a good place to start and that is taking a closer look at the archaeology of the Old Testament times. Is the Bible historically accurate? Here are some of the posts I have done in the past on the subject: 1. The Babylonian Chronicle, of Nebuchadnezzars Siege of Jerusalem, 2. Hezekiah's Siloam Tunnel Inscription. 3. Taylor Prism (Sennacherib Hexagonal Prism), 4. Biblical Cities Attested Archaeologically. 5. The Discovery of the Hittites, 6.Shishak Smiting His Captives, 7. Moabite Stone, 8. Black Obelisk of Shalmaneser III, 9A Verification of places in Gospel of John and Book of Acts., 9B Discovery of Ebla Tablets. 10. Cyrus Cylinder, 11. Puru "The lot of Yahali" 9th Century B.C.E., 12. The Uzziah Tablet Inscription, 13. The Pilate Inscription, 14. Caiaphas Ossuary, 14 B Pontius Pilate Part 2, 14c. Three greatest American Archaeologists moved to accept Bible's accuracy through archaeology., 
____
Related posts: