____
On November 21, 2014 I received a letter from Nobel Laureate Harry Kroto and it said:
…Please click on this URL http://vimeo.com/26991975
and you will hear what far smarter people than I have to say on this matter. I agree with them.
Harry Kroto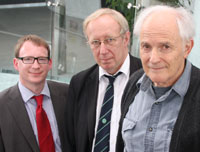 Nick Gathergood, David-Birkett, Harry-Kroto
I have attempted to respond to all of Dr. Kroto's friends arguments and I have posted my responses one per week for over a year now. Here are some of my earlier posts:
Arif Ahmed, Sir David Attenborough, Mark Balaguer, Horace Barlow, Michael Bate, Patricia Churchland, Aaron Ciechanover, Noam Chomsky,Alan Dershowitz, Hubert Dreyfus, Bart Ehrman, Stephan Feuchtwang, David Friend,  Riccardo Giacconi, Ivar Giaever , Roy Glauber, Rebecca Goldstein, David J. Gross,  Brian Greene, Susan Greenfield, Stephen F Gudeman,  Alan Guth, Jonathan Haidt, Theodor W. Hänsch, Brian Harrison,  Hermann Hauser, Roald Hoffmann,  Bruce Hood, Herbert Huppert,  Gareth Stedman Jones, Steve Jones, Shelly Kagan, Michio Kaku,  Stuart Kauffman,  Lawrence Krauss, Harry Kroto, George Lakoff, Elizabeth Loftus,  Alan Macfarlane, Peter Millican, Marvin Minsky, Leonard Mlodinow,  Yujin Nagasawa, Alva Noe, Douglas Osheroff,  Jonathan Parry,  Saul Perlmutter, Herman Philipse,  Carolyn Porco, Robert M. Price, Lisa Randall, Lord Martin Rees,  Oliver Sacks, John Searle, Marcus du Sautoy, Simon Schaffer, J. L. Schellenberg,   Lee Silver,  Peter Singer,  Walter Sinnott-Armstrong, Ronald de Sousa, Victor Stenger, Barry Supple,   Leonard Susskind, Raymond Tallis, Neil deGrasse Tyson,  .Alexander Vilenkin, Sir John Walker, Frank Wilczek, Steven Weinberg, and  Lewis Wolpert,
Bertrand Russell was an intellectual giant of the 20th century who bore witness to his generation's painful transition from Victorian optimism to postwar trauma. He always believed that ideas could change the world. He was closely involved in many of the events that shaped world politics during the first two-thirds of the 20th century. Controversially, he opposed the first world war, and was a prominent peace activist.
In  the first video below in the 14th clip in this series are his words and I will be responding to them in the next few weeks since Sir Bertrand Russell is probably the most quoted skeptic of our time, unless it was someone like Carl Sagan or Antony Flew.  
50 Renowned Academics Speaking About God (Part 1)
Another 50 Renowned Academics Speaking About God (Part 2)
A Further 50 Renowned Academics Speaking About God (Part 3)
__
Quote from Bertrand Russell:
Q: Why are you not a Christian?
Russell: Because I see no evidence whatever for any of the Christian dogmas. I've examined all the stock arguments in favor of the existence of God, and none of them seem to me to be logically valid.
Q: Do you think there's a practical reason for having a religious belief, for many people?
Russell: Well, there can't be a practical reason for believing what isn't true. That's quite… at least, I rule it out as impossible. Either the thing is true, or it isn't. If it is true, you should believe it, and if it isn't, you shouldn't. And if you can't find out whether it's true or whether it isn't, you should suspend judgment. But you can't… it seems to me a fundamental dishonesty and a fundamental treachery to intellectual integrity to hold a belief because you think it's useful, and not because you think it's true.
Bertrand Russell as a 4 year old above.
Another golden oldie from my 2009 CP blog:
***
An acquaintance of mine, Stephen M. Wagner, sent me the following question: "is it better to believe something true through indoctrination and rhetoric or to believe something false through reflection and argument?"
While it is a great question, let me put it in my own words, in part because I want to make it my own, and in part because I'm uncomfortable linking rhetoric with indoctrination. So here's my question:
Is it better to affirm a truth for the wrong reasons than to deny it for the right ones?
Take the proposition "The Christian God exists". I believe that this is true, but I also think there are many Christians who believe this for the wrong reasons. For instance, I know a guy who runs the sound board at church, has a couple small kids, and has always gone to church because … well because he's always gone to church. He would affirm that the Christian God exists … with a lackadasical shrug. It is inertia more than conviction that keeps him going. I find that a pretty distressing, if all too common scenario.
Nor is it necessarily better when you light a fire under Christians. That is what the Focus on the Family curriculum "The Truth Project" does, but I have done a close analysis of this curriculum (the results of which are to be published in "Christian Scholar's Review shortly) and there I argue that the curriculum is more indoctrinational than educational. Sadly, yet more wrong reasons.
And then I have met others — Muslims, atheists, Buddhists — who seem to be as serious about knowing the truth as Mr. Sound Board is not serious about it. They reflect, argue, ponder, and at the end of what certainly looks to any unbiased person to be a good faith attempt to weigh the evidence, conclude that "The Christian God exists" is not true. What should I think about Mr. Sound Board vs. Ms. Conscientious Objector?
This prompts me to think of Bertrand Russell's famous quip (as retold by John Searle who claimed to have been there). At an Oxford dinner Russell was apparently asked what he would say to God after his death if it turned out that he was wrong about his atheism. Russell's quick reply (no doubt stated with the bravado and slight slur of a few glasses of after dinner port) was "Not enough evidence God."
Russell's answer may have been stated in a rather flip manner, but what about the possibility? At this point some voices in the crowd might raise Romans 1 to settle the issue. But these issues strike me as much more complex and deserving of nuance than a simple proof-text.
Anyway, however we address that issue, Wagner's question remains for all of us. Is it better to stumble on the truth than to miss it after a frantic search? The answer, I suppose, is that it is better yet to find the truth after an earnest and admirable search.
Francis Schaeffer below:
___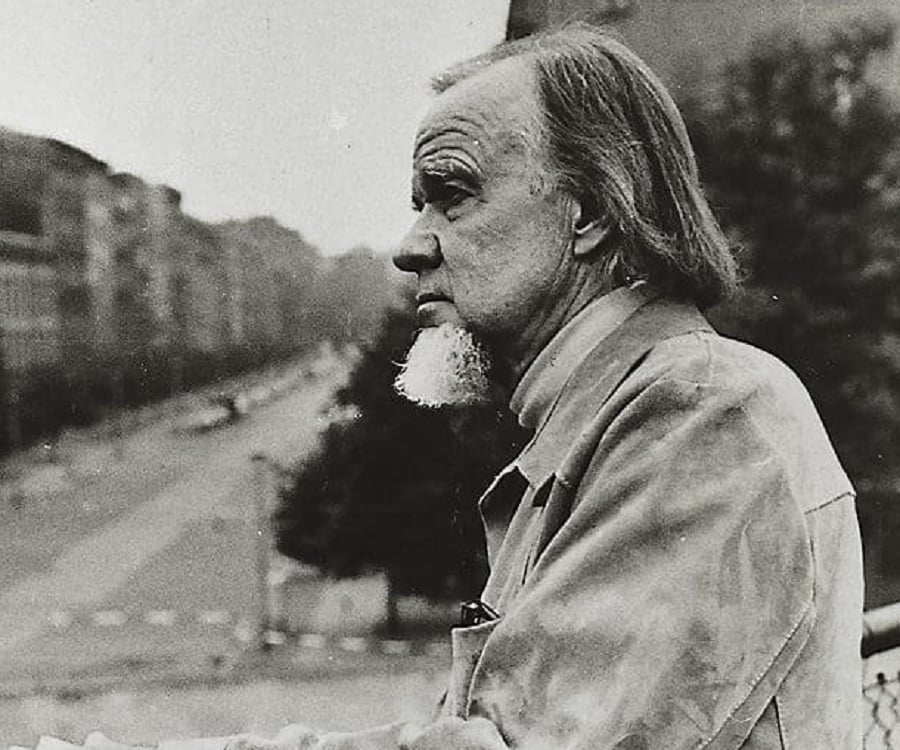 Related posts:
Francis Schaeffer noted in his book HOW SHOULD WE THEN LIVE? (p. 182 in Vol 5 of Complete Works) in the chapter The Breakdown in Philosophy and Science:
In his lecture at Acapulco, George Wald finished with only one final value. It was the same one with which English philosopher Bertrand Russell (1872-1970) was left. For Wald and Russell and for many other modern thinkers, the final value is the biological continuity of the human race. If this is the only final value, one is left wondering why this then has importance. 
Now having traveled from the pride of man in the High Renaissance and the Enlightenment down to the present despair, we can understand where modern people are. They have no place for a personal God. But equally they have no place for man as man, or for love, or for freedom, or for significance. This brings a crucial problem. Beginning only from man himself, people affirm that man is only a machine. But those who hold this position cannot live like machines! If they could, there would have been no tensions in their intellectual position or in their lives. But even people who believe they are machines cannot live like machines, and thus they must "leap upstairs" against their reason and try to find something which gives meaning to life, even though to do so they have to deny their reason. 
Francis Schaeffer in another place worded it like this:
The universe was created by an infinite personal God and He brought it into existence by spoken word and made man in His own image. When man tries to reduce [philosophically in a materialistic point of view] himself to less than this [less than being made in the image of God] he will always fail and he will always be willing to make these impossible leaps into the area of nonreason even though they don't give an answer simply because that isn't what he is. He himself testifies that this infinite personal God, the God of the Old and New Testament is there. 
Instead of making a leap into the area of nonreason the better choice would be to investigate the claims that the Bible is a historically accurate book and that God created the universe and reached out to humankind with the Bible. Below is a piece of that evidence given by Francis Schaeffer concerning the accuracy of the Bible.
TRUTH AND HISTORY (chapter 5 of WHATEVER HAPPENED TO THE HUMAN RACE?)
Consider, too, the threat in the entire Middle East from the power of Assyria. In 853 B.C. King Shalmaneser III of Assyria came west from the region of the Euphrates River, only to be successfully repulsed by a determined alliance of all the states in that area of the Battle of Qarqar. Shalmaneser's record gives details of the alliance. In these he includes Ahab, who he tells us put 2000 chariots and 10,000 infantry into the battle. However, after Ahab's death, Samaria was no longer strong enough to retain control, and Moab under King Mesha declared its independence, as II Kings 3:4,5 makes clear:
4 Now Mesha king of Moab was a sheep breeder, and he had to deliver to the king of Israel 100,000 lambs and the wool of 100,000 rams. 5 But when Ahab died, the king of Moab rebelled against the king of Israel.
The famous Moabite (Mesha) Stone, now in the Louvre, bears an inscription which testifies to Mesha's reality and of his success in throwing off the yoke of Israel. This is an inscribed black basalt stela, about four feet high, two feet wide, and several inches thick.
Ahab's line did not last long and was brutally overthrown by a man called Jehu. As one walks toward the Assyrian section in the British Museum, one of the first exhibits to be seen is the famous Black Obelisk. This stands about six feet high and was discovered at Nimrud (Calah) near the Assyrian capital at Nineveh. It describes how King Shalmeneser III compelled Jehu to submit to his authority and to pay him tribute. Here one can see a representation of the kneeling figure of either Jehu or his envoy before the Assyrian king. The inscription tells of Jehu's submission: "The tribute of Jehu, son of Omri: I received from him silver, gold, a golden bowl, a golden vase with pointed bottom, golden tumblers, golden buckets, tin, a staff for a king and purukhti fruits."
Jehu is referred to by the Assyrian records as a son of Omri, not because he was literally his son, but because he was on the throne which had been occupied previously by the house of Omri. This event took place about 841 B.C.
Putting them all together, these archaeological records show not only the existence historically of the people and events recorded in the Bible but the great accuracy of the details involved.