____
On November 21, 2014 I received a letter from Nobel Laureate Harry Kroto and it said:
…Please click on this URL http://vimeo.com/26991975
and you will hear what far smarter people than I have to say on this matter. I agree with them.
Harry Kroto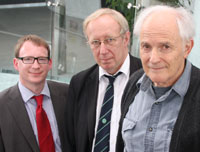 Nick Gathergood, David-Birkett, Harry-Kroto
I have attempted to respond to all of Dr. Kroto's friends arguments and I have posted my responses one per week for over a year now. Here are some of my earlier posts:
Arif Ahmed, Sir David Attenborough, Mark Balaguer, Horace Barlow, Michael Bate, Patricia Churchland, Aaron Ciechanover, Noam Chomsky,Alan Dershowitz, Hubert Dreyfus, Bart Ehrman, Stephan Feuchtwang, David Friend,  Riccardo Giacconi, Ivar Giaever , Roy Glauber, Rebecca Goldstein, David J. Gross,  Brian Greene, Susan Greenfield, Stephen F Gudeman,  Alan Guth, Jonathan Haidt, Theodor W. Hänsch, Brian Harrison,  Hermann Hauser, Roald Hoffmann,  Bruce Hood, Herbert Huppert,  Gareth Stedman Jones, Steve Jones, Shelly Kagan, Michio Kaku,  Stuart Kauffman,  Lawrence Krauss, Harry Kroto, George Lakoff, Elizabeth Loftus,  Alan Macfarlane, Peter Millican, Marvin Minsky, Leonard Mlodinow,  Yujin Nagasawa, Alva Noe, Douglas Osheroff,  Jonathan Parry,  Saul Perlmutter, Herman Philipse,  Carolyn Porco, Robert M. Price, Lisa Randall, Lord Martin Rees,  Oliver Sacks, John Searle, Marcus du Sautoy, Simon Schaffer, J. L. Schellenberg,   Lee Silver,  Peter Singer,  Walter Sinnott-Armstrong, Ronald de Sousa, Victor Stenger, Barry Supple,   Leonard Susskind, Raymond Tallis, Neil deGrasse Tyson,  .Alexander Vilenkin, Sir John Walker, Frank Wilczek, Steven Weinberg, and  Lewis Wolpert,
---
Born: 18 May 1872 in Ravenscroft, Trelleck, Monmouthshire, Wales
Died:
 2 February 1970 in Penrhyndeudraeth, Merioneth, Wales
Click the picture above
to see eight larger pictures
---
Bertrand Russell published a large number of books on logic, the theory of knowledge, and many other topics. He is one of the most important logicians of the 20th Century.Russell's Mathematical ContributionsOver a long and varied career, Bertrand Russell made ground-breaking contributions to the foundations of mathematics and to the development of contemporary formal logic, as well as to analytic philosophy. His contributions relating to mathematics include his discovery of Russell's paradox, his defence of logicism (the view that mathematics is, in some significant sense, reducible to formal logic), his introduction of the theory of types, and his refining and popularizing of the first-order predicate calculus. Along with Kurt Gödel, he is usually credited with being one of the two most important logicians of the twentieth century.

Russell discovered the paradox which bears his name in May 1901, while working on his Principles of Mathematics (1903). The paradox arose in connection with the set of all sets which are not members of themselves. Such a set, if it exists, will be a member of itself if and only if it is not a member of itself. The significance of the paradox follows since, in classical logic, all sentences are entailed by a contradiction. In the eyes of many mathematicians (including David Hilbert and Luitzen Brouwer) it therefore appeared that no proof could be trusted once it was discovered that the logic apparently underlying all of mathematics was contradictory. A large amount of work throughout the early part of this century in logic, set theory, and the philosophy and foundations of mathematics was thus prompted.

Russell's paradox arises as a result of naive set theory's so-called unrestricted comprehension (or abstraction) axiom. Originally introduced by Georg Cantor, the axiom states that any predicate expression, P(x), which contains x as a free variable, will determine a set whose members are exactly those objects which satisfy P(x). The axiom gives form to the intuition that any coherent condition may be used to determine a set (or class). Most attempts at resolving Russell's paradox have therefore concentrated on various ways of restricting or abandoning this axiom.

Russell's own response to the paradox came with the introduction of his theory of types. His basic idea was that reference to troublesome sets (such as the set of all sets which are not members of themselves) could be avoided by arranging all sentences into a hierarchy (beginning with sentences about individuals at the lowest level, sentences about sets of individuals at the next lowest level, sentences about sets of sets of individuals at the next lowest level, etc.). Using the vicious circle principle also adopted by Henri Poincaré, together with his so-called "no class" theory of classes, Russell was then able to explain why the unrestricted comprehension axiom fails: propositional functions, such as the function "x is a set", should not be applied to themselves since self-application would involve a vicious circle. On this view, it follows that it is possible to refer to a collection of objects for which a given condition (or predicate) holds only if they are all at the same level or of the same "type".

Although first introduced by Russell in 1903 in the Principles, his theory of types finds its mature expression in his 1908 article Mathematical Logic as Based on the Theory of Types and in the monumental work he co-authored with Alfred North Whitehead, Principia Mathematica (1910, 1912, 1913). Thus, in its details, the theory admits of two versions, the "simple theory" and the "ramified theory". Both versions of the theory later came under attack. For some, they were too weak since they failed to resolve all of the known paradoxes. For others, they were too strong since they disallowed many mathematical definitions which, although consistent, violated the vicious circle principle. Russell's response to the second of these objections was to introduce, within the ramified theory, the axiom of reducibility. Although the axiom successfully lessened the vicious circle principle's scope of application, many claimed that it was simply too ad hoc to be justified philosophically.

Of equal significance during this same period was Russell's defence of logicism, the theory that mathematics was in some important sense reducible to logic. First defended in his Principles, and later in more detail in Principia Mathematica, Russell's logicism consisted of two main theses. The first is that all mathematical truths can be translated into logical truths or, in other words, that the vocabulary of mathematics constitutes a proper subset of that of logic. The second is that all mathematical proofs can be recast as logical proofs or, in other words, that the theorems of mathematics constitute a proper subset of those of logic.

Like Gottlob Frege, Russell's basic idea for defending logicism was that numbers may be identified with classes of classes and that number-theoretic statements may be explained in terms of quantifiers and identity. Thus the number 1 would be identified with the class of all unit classes, the number 2 with the class of all two-membered classes, and so on. Statements such as "there are two books" would be recast as "there is a book, x, and there is a book, y, and xis not identical to y". It followed that number-theoretic operations could be explained in terms of set-theoretic operations such as intersection, union, and the like. In Principia Mathematica, Whitehead and Russell were able to provide detailed derivations of many major theorems in set theory, finite and transfinite arithmetic, and elementary measure theory. A fourth volume on geometry was planned but never completed.

In much the same way that Russell wanted to use logic to clarify issues in the foundations of mathematics, he also wanted to use logic to clarify issues in philosophy. As one of the founders of "analytic philosophy", Russell is remembered for his work using first-order logic to show how a broad range of denoting phrases could be recast in terms of predicates and quantified variables. Thus, he is also remembered for his emphasis upon the importance of logical form for the resolution of many related philosophical problems. Here, as in mathematics, it was Russell's hope that by applying logical machinery and insights one would be able to resolve otherwise intractable difficulties.
In  the first video below in the 14th clip in this series are his words and I will be responding to them in the next few weeks since Sir Bertrand Russell is probably the most quoted skeptic of our time, unless it was someone like Carl Sagan or Antony Flew.  
50 Renowned Academics Speaking About God (Part 1)
Another 50 Renowned Academics Speaking About God (Part 2)
A Further 50 Renowned Academics Speaking About God (Part 3)
__
Quote from Bertrand Russell:
Q: Why are you not a Christian?
Russell: Because I see no evidence whatever for any of the Christian dogmas. I've examined all the stock arguments in favor of the existence of God, and none of them seem to me to be logically valid.
Q: Do you think there's a practical reason for having a religious belief, for many people?
Russell: Well, there can't be a practical reason for believing what isn't true. That's quite… at least, I rule it out as impossible. Either the thing is true, or it isn't. If it is true, you should believe it, and if it isn't, you shouldn't. And if you can't find out whether it's true or whether it isn't, you should suspend judgment. But you can't… it seems to me a fundamental dishonesty and a fundamental treachery to intellectual integrity to hold a belief because you think it's useful, and not because you think it's true.
_
On the evening of November 1 I was pleased once again to share an evening with the motley crew at the Society of Edmonton Atheists. My topic for the evening was "What hath God to do with the flying spaghetti monster?" I spent the first section of the talk summarizing a range of entities that are popularly compared to God from Bertrand Russell's famous flying teapot through Santa Claus, invisible pink unicorns, Zeus, and fairies, and finally settling on the most recent member of this most ignominious pantheon, the fabled flying spaghetti monster.
What is the point of comparing God to all these fantastical and enormously implausible entities? The basic idea seems clear enough: demonstrate the manifest absurdity of belief in God by comparing that belief to other beliefs that strike us as absurd (at least for adults; certainly a six year old can reasonably believe in Santa Claus and fairies, but if that belief remains when the individual is twenty-six then it would seem something has gone awry).
I closed off this section by noting that the more sophisticated forms of argument of this type are satirical in nature, but the less sophisticated forms (typified classically in Bil Maher's horrible film "Religulous"), are nothing more than strawmen mockery.
This raises a very practical question for the Christian theologian like myself. How does one begin a meaningful conversation with people who think of Christian doctrine, and belief in God generally, against the backdrop of these analogies? To answer that question I presented an analogy of my own: how does a resident of a country like Canada who believes deeply in not-for-profit universal healthcare have a meaningful conversation with a friend south of the border who is convinced that not-for-profit universal healthcare is simply "socialism" or even "communism"?
The problem is that the skeptic in this conversation has bought into a woefully simplisitic picture in which the institutions of society are either public not-for-profit (socialism/communism) or private for-profit (capitalism). Thus to open the lines of communication the proponent of universal healthcare must challenge these assumptions. One way to do this is by pointing out that there are in fact many different positions on a continuum. This is evident in the simple fact that society is a network of multiple institutions, and thus we can ask in each case whether a particular institution ought to be public not-for-profit or private for-profit. Just think about it. Would you want the fire service, police service and military all to be private for-profit ventures? Not many people would. And this means that most people think at least some societal institutions should be public not-for-profit. This in turn means that we are not dealing with only two positions: socialism/communism vs. capitalism. Rather, we are dealing with multple positions all united with a single question: which institutions are best run as private ventures and which as public ventures? And with that you can open a discussion about healthcare in particular.
Those atheists/skeptics/agnostics who think of all religious doctrines within the absurdist framework of the flying teapot to flying spaghetti monster have their own set of simple categories which inhibit them from taking religious doctrines seriously. In order to begin to deconstruct this grossly simplistic, dichotomistic thinking, I introduced a concept which would open up a similar continuum of positions: the plausiblity structure.
Plausibility structure: The set of background assumptions by which one judges the initial plausibility of a truth claim.
I then pointed out that we all accept certain claims which would strike others as arbitrary, absurd or deeply counterinuitive, but which we accept nonetheless. And we do that because those claims somehow fit within our plausibility structure. I illustrated the point by drawing from Richard Lewontin's famous book review of Carl Sagan's The Demon-Haunted World. In the review Lewontin points out how absurd it is to believe that the blue cheese he ate for lunch is composed of tiny tasteless, odorless, colorless vibrating packets of energy with empty space between them. So why we we believe it? He writes:
"We take the side of science in spite of the patent absurdity of some of its constructs, in spite of its failure to fulfill many of its extravagant promises of health and life, in spite of the tolerance of the scientific community of unsubstantiated just-so stories, because we have a prior commitment, a commitment to naturalism."
Now I have one quibble with the point. Many people accept this claim about the blue cheese without having a commitment to naturalism. Indeed, as we have noted often enough in this blog, it is not clear at all what "naturalism" even means. But one thing is clear: many of us accept claims without a second thought which appear on the face of it to be absurd.
In the blue cheese case, we accept a claim which appears to contradict our senses quite directly. And what is more, we accept that claim with little or no cognitive dissonance. Moreover, we accept it despite the fact that few of us can articulate all the scientific reasons why we are supposed to believe that the cheese is in fact made of tiny tasteless, colorless, odorless packets of energy. Finally, we are perfectly reasonable when we do this.
In the talk I noted how Bill Maher tendentiously defined faith as follows "Faith means making a virtue out of not thinking." How foolish. I suspec that Bill Maher is unable to articulate all the scientific reasons why we are supposed to believe the cheese is composed of these vibrating packets of energy. But he accepts it nonetheless. Faith is not as Maher defines it. Rather, it is accepting the truth of a claim without having immediate access to the evidence for that claim. And thus Maher exercises faith when he accepts that the actual physical composition of the cheese is so radically different from his experience of it.
So what would Maher have us do? Withold any beliefs about the nature of cheese until we ourselves as individuals can confirm through our own research into the subatomic structure of that fine food? If that is what he would demand then I suspect we should likewise withold any belief in the existence of the subcontinent of India until we ourselves have the opportunity to visit there. And we should refuse to believe the earth is a sphere until we have the good fortune to take a ride on Virgin Galactic and confirm for ouselves the shape of the earth.
Our prior commitments may not be to naturalism per se, but we do have a prior commitment to the deliverances of science. It forms part of the plausibility framework of most modern people. This despite the fact that science presents us with many extraordinary claims. Nonetheless because we accept the authority of people within the scientific community we accept on faith their testimony of various truth claims, even if we cannot ourselves confirm the truth of those claims.
The first step for those who make various comparisons between religious beliefs and their favorite absurd belief is to recognize that all our beliefs are socially embedded within complex plausibility frameworks. And those outside those frameworks will find many of those beliefs bizarre along the lines of flying teapots and atomic blue cheese. This is true whether the plausibility framework in question includes a particular scientific theory (e.g. the atomic theory of matter), an economic theory (e.g. laissez-faire capitalism) or a metaphysical theory (e.g. Christian theism; naturalism).
And this leads me to my conclusion. The first step in intellectual maturation is when you stop pointing and laughing at the beliefs of others and make an effort to understand them.
__
Francis Schaeffer noted in his book HOW SHOULD WE THEN LIVE? (p. 182 in Vol 5 of Complete Works) in the chapter The Breakdown in Philosophy and Science:
In his lecture at Acapulco, George Wald finished with only one final value. It was the same one with which English philosopher Bertrand Russell (1872-1970) was left. For Wald and Russell and for many other modern thinkers, the final value is the biological continuity of the human race. If this is the only final value, one is left wondering why this then has importance. 
Now having traveled from the pride of man in the High Renaissance and the Enlightenment down to the present despair, we can understand where modern people are. They have no place for a personal God. But equally they have no place for man as man, or for love, or for freedom, or for significance. This brings a crucial problem. Beginning only from man himself, people affirm that man is only a machine. But those who hold this position cannot live like machines! If they could, there would have been no tensions in their intellectual position or in their lives. But even people who believe they are machines cannot live like machines, and thus they must "leap upstairs" against their reason and try to find something which gives meaning to life, even though to do so they have to deny their reason. 
Francis Schaeffer in another place worded it like this:
The universe was created by an infinite personal God and He brought it into existence by spoken word and made man in His own image. When man tries to reduce [philosophically in a materialistic point of view] himself to less than this [less than being made in the image of God] he will always fail and he will always be willing to make these impossible leaps into the area of nonreason even though they don't give an answer simply because that isn't what he is. He himself testifies that this infinite personal God, the God of the Old and New Testament is there. 
Instead of making a leap into the area of nonreason the better choice would be to investigate the claims that the Bible is a historically accurate book and that God created the universe and reached out to humankind with the Bible. Below is a piece of that evidence given by Francis Schaeffer concerning the accuracy of the Bible.
TRUTH AND HISTORY (chapter 5 of WHATEVER HAPPENED TO THE HUMAN RACE?)
We now take a jump back in time to the middle of the ninth century before Christ, that is, about 850 B.C. Most people have heard of Jezebel. She was the wife of Ahab, the king of the northern kingdom of Israel. Her wickedness has become so proverbial that we talk about someone as a "Jezebel." She urged her husband to have Naboth killed, simply because Ahab had expressed his liking for a piece of land owned by Naboth, who would not sell it. The Bible tells us also that she introduced into Israel the worship of her homeland, the Baal worship of Tyre. This led to the opposition of Elijah the Prophet and to the famous conflict on Mount Carmel between Elijah and the priests of Baal.
Here again one finds archaeological confirmations of what the Bible says. Take for example: "As for the other events of Ahab's reign, including all he did, the palace he built and inlaid with ivory, and the cities he fortified, are they not written in the book of the annals of the kings of Israel?" (I Kings 22:39).
This is a very brief reference in the Bible to events which must have taken a long time: building projects which probably spanned decades. Archaeological excavations at the site of Samaria, the capital, reveal something of the former splendor of the royal citadel. Remnants of the "ivory house" were found and attracted special attention (Palestinian Archaeological Museum, Jerusalem). This appears to have been a treasure pavilion in which the walls and furnishings had been adorned with colored ivory work set with inlays giving a brilliant too, with the denunciations revealed by the prophet Amos:
"I will tear down the winter house along with the summer house; the houses adorned with ivory will be destroyed and the mansions will be demolished," declares the Lord. (Amos 3:15)
Other archaeological confirmation exists for the time of Ahab. Excavations at Hazor and Megiddo have given evidence of the the extent of fortifications carried out by Ahab. At Megiddo, in particular, Ahab's works were very extensive including a large series of stables formerly assigned to Solomon's time.
On the political front, Ahab had to contend with danger from the Aramacaus king of Syria who besieged Samaria, Ahab's capital. Ben-hadad's existence is attested by a stela (a column with writing on it) which has been discovered with his name written on it (Melquart Stela, Aleppo Museum, Syria). Again, a detail of history given in the Bible is shown to be correct.
Related posts: