—-
Jim Daly / @DalyFocus / May 20, 2023
Balding and bespectacled, Pastor Tim Keller found a way to connect with his young and growing audience in New York City by speaking their language and referencing everything from The Village Voice, NPR, and The New York Times to C.S. Lewis, David Martyn Lloyd-Jones, and the ancient hymns of the faith. (Photo: Tim Keller Facebook)
COMMENTARY BY
Jim Daly is president of Focus on the Family and host of the daily "Focus on the Family" broadcast heard by more than 6.3 million listeners per week on more than 1,000 radio stations across the U.S.
New York magazine once described Tim Keller's founding of Redeemer Presbyterian Church in New York City as "close to a theological suicide mission" for having the audacity "to create a strictly conservative Christian church in the heart of Sodom."
Only Tim Keller wasn't eager for the assignment. In fact, he turned down the invitation and attempted to recruit two other pastors for the church plant, which was born out of a wildly successful dinner ministry hosted by Nancy DeMoss, widow of Art DeMoss, a mail-order insurance mogul.
Keller previously had pastored a small congregation in Hopewell, Virginia. But he was no stranger to urban ministry, having served with InterVarsity Christian Fellowship in Boston and Westminster Theological Seminary in Philadelphia, where he received his doctorate in ministry in 1981.
Compelled by the Holy Spirit, Keller eventually accepted the invitation, moved his wife Kathy and three young boys to New York City in 1989, and poured himself into the new ministry.
The conventional wisdom held that conservative Christian theology and teaching wouldn't find any takers in the big and hostile city. After all, that's left for bellicose street-corner evangelists with bullhorns.
As often is the case, the conventional wisdom was wrong.
Pastor Timothy J. Keller, who died Friday of pancreatic cancer at 72, was bold but not brash. He was courageous but not caustic.
Balding and bespectacled, he found a way to connect with his young and growing audience at Redeemer Presbyterian Church by speaking their language and referencing everything from The Village Voice, NPR, and The New York Times to C.S. Lewis, David Martyn Lloyd-Jones, and the ancient hymns of the faith.
The Pennsylvania native found there was a hunger for the honest, clear, and countercultural teaching of the Bible. His congregation was full of aspiring artists, actors, and business professionals who had come to New York in search of fame and fortune. Keller's preaching filled the empty void that he knew the bright lights and applause would never satiate, eventually building a megachurch with multiple campuses and pastors.
Although I interviewed Tim Keller many times for Focus on the Family's radio program, I most enjoyed the visits when the microphones and cameras were off.
I had the privilege of joining Tim and other ministry and cultural leaders on numerous occasions for off-the-record, behind-the-scenes conversations. There's the old saying that politics makes for strange bedfellows, but the same can be said for interfaith, cross-cultural dialogue. In fact, those exchanges were probably far more insightful and intriguing than any Washington hoo-ha.
A bestselling author who stepped down as Redeemer's senior pastor in 2017, Tim always had something interesting, wry, witty, or wise to say. He had an uncanny ability to disagree without being disagreeable—an increasingly lost art today.
Despite pressure from numerous camps and causes, I also appreciated Tim's unbending commitment to orthodox Christianity. Whether it was holding fast to a biblical understanding of human sexuality or his support for the sanctity of life, he was unwavering and unapologetic.
This courage and boldness should strengthen fellow Christians' own resolve as we wade into the culture with our convictions and invite conversation and debate.
I might also add that I appreciated Tim's pastoral heart. From time to time, he would informally and casually counsel me on ministerial matters. I remember once sharing a particular burden with him. He listened patiently. He then smiled and reminded me that the passage of time would solve the problem. He was right.
Tim Keller's voice and wisdom will be missed, but he leaves behind a legacy that will live on like the many other giants of the faith on whose shoulders we now stand.
The psalmist wrote: "Precious in the sight of the Lord is the death of His saints" (Psalms 116:15).
Our friend's passing grieves those of us who knew, loved, and benefited from his ministry—but it brings this beloved husband, father, scholar, and theologian face to face with the God he so loyally and effectively served and worshipped.
The Daily Signal publishes a variety of perspectives. Nothing written here is to be construed as representing the views of The Heritage Foundation.
Have an opinion about this article? To sound off, please email letters@DailySignal.com, and we'll consider publishing your edited remarks in our regular "We Hear You" feature. Remember to include the URL or headline of the article plus your name and town and/or state.
After Life #1 Trailer
—-
After Life 2 Trailer
—-
On Saturday April 18, 2020 at 6pm in London and noon in Arkansas, I had a chance to ask Ricky Gervais a question on his Twitter Live broadcast which was "Is Tony a Nihilist?" At the 20:51 mark Ricky answers my question. Below is the video:
—-
—-
If Death is the end then what is the point Kath asks below:
——
Kath: You are an atheist?
—-
(Above) Tony and Anne on the bench at the graveyard where their spouses are buried.
—
July 23, 2020
Ricky Gervais

Dear Ricky,
This is the 97th day in a row that I have written another open letter to you to comment on some of your episodes of AFTER LIFE. I love the film series AFTER LIFE but Tony just like Solomon in ECCLESIASTES is lamenting that even though he is asking the right questions he is not getting the right answers. The reason for this search being similar to chasing the wind is that it is a search for meaning UNDER THE SUN!!!!
:The Christian Scholar Ravi Zacharias noted, "The key to understanding the Book of Ecclesiastes is the term UNDER THE SUN — What that literally means is you lock God out of a closed system and you are left with only this world of Time plus Chance plus matter."
Ricky as an atheist you have put no spiritual solutions in AFTERLIFE except to make fun of the dimwit Kath who is the only Christian in the script. No wonder you have Tony returning to his alcohol and his constant contemplation of suicide.
Let me make a very simple point and that is we all have a deep longing in our soul that must be satisfied spiritually, and that is a lacking component in AFTER LIFE.

Francis Schaeffer noted:
The classic work Leonardo da Vinci, published in Italy and translated in English in 1963, contained a section by Giovanni Gentile (1875-1944) on Leonardo's thought-forms. He spells out the fact that Leonardo really grasped the problem of modern man. Leonardo anticipated where humanism would end:
(Giovanni Gentile pictured below)
From Galileo's day on rigorous scientific method has limited itself consciously to what are called appearances or phenomenon as they later were to be termed of nature that is to the surface but Leonardo while looking to such an ideal of scientific knowledge can not be satisfied with the surface his keen unsleeping eye penetrates deeper and on observation the experience that is so greatly praised and exalted no longer serves him he intuits or invokes the inner life the secret soul setting in motion the great machine that he has taken apart and studied piece by piece, watching, and spying and scrutinizing by means of mathematics, mechanics, anatomy and every instrument that might enable him to follow the operations of nature step by step.
Hence the anguish and the innermost tragedy of this universal man divided between two irreconcilable worlds, hence the desperate life long labor of this implacable self torture whose marvelous work of gleaming of art spread from full hands day by day on paper, on canvas and on storied walls and of precise concepts and inspired researches which in many fields of scientific knowledge are pretentious anticipations of the future leaves in mind an infinite longing made up as it were of regret and sadness. It is the longing for a different Leonardo from the Leonardo that he was, one that could gathered himself up at each phase and remained closed himself off either altogether in his fantasy or altogether in his intelligence in order to taste the pure joy of divine creation (that's not God's creation but his own). It is anguished longing such as always welled up in Leonardo's heart each time he put down his brush, his charcoal or his rod where he had to break off setting down his secret thoughts.
(Painting of Leonardo below)


What Gentille is putting forth here is that Leonardo was not satisfied with living in two worlds at once. He was not satisfied with being the modern man who would put his aspirations and his longing for unity and meaning in one compartment to be taken out and looked at when he can't stand the pressure of the details. And Leonardo realized that these two things based on the beginning of man from himself would absolutely lead in this direction…Leonardo was looking for a meaning amidst the details of life.
Why do so many people throughout the world believe in God and an afterlife? Ecclesiastes 3:11 "God has planted eternity in the heart of men…" (Living Bible).

Psychiatrist played by Paul Kaye seen below.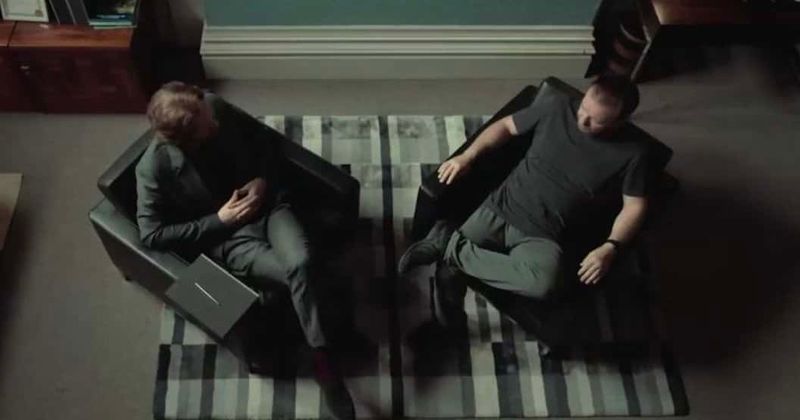 Even Tony seems to feel this in episode 4 of the first season of AFTER LIFE when Tony talks about being with his wife in the future.
Matt: Tony that doesn't even make sense. You are a rational man. You don't even believe in an afterlife.
Tony: I know she is nowhere. Alright. But get this through your head. I would rather be no where with her then somewhere without her.

After Life on Netflix stars Ricky Gervais as a bereaved husband (Image: Netflix)
Why does Tony say these things? First, he knows deep down that he was made for more than just this life. Secondly, he can't live as though he is a machine even though his secular viewpoint tells him that he is only a machine. Modern man, says Francis Schaeffer, resides in a two-story universe. In the lower story is the finite world without God; here life is absurd, as we have seen. In the upper story are meaning, value, and purpose. Now modern man lives in the lower story because he believes there is no God. But he cannot live happily in such an absurd world; therefore, he continually makes leaps of faith into the upper story to affirm meaning, value, and purpose, even though he has no right to, since he does not believe in God.This EXPLAINS why Tony makes statements such as the one that SHOCKED Matt!!!!
As Augustine famously says to God at the beginning of the Confessions: "You stir man to take pleasure in praising you, because you have made us for yourself, and our heart is
restless until it rests in you." 35
C.S. Lewis asserted:
Creatures are not born with desires unless satisfaction for those desires exists. A baby feels hunger: well, there is such a thing as food. A duckling wants to swim: well,(12) there is such a thing as water. Men feel sexual desires: well, there is such a thing as sex. If I find in myself a desire which no experience in this world can satisfy, the most probable explanation is that I was made for another world
—
Tim Keller in his book MAKING SENSE OF GOD notes:
The Infinity of Our Discontent page 91 (3:12:35)

The ultimate disordered love, however— and the ultimate source of our discontent— is failure to love the first thing first, the failure to love God supremely. In his Confessions, Augustine prays to God: "For there is a joy that is not given to those who do not love you, but only to those who love you for your own sake. . . . This is happiness and there is no other. Those who think that there is another kind of happiness look for joy elsewhere, but theirs is not true joy. Nevertheless their will remains drawn towards some image of the true joy." 33

Augustine here distills the biblical view of humanity. Human beings were made in the image of a God who is tripersonal— Father, Son, and Holy Spirit. From all eternity those three divine persons have been loving one another in infinite degrees of joy and glory. We were created to know this joy by loving and glorifying God preeminently. Whether we acknowledge God or not, since we were created for it, we will always look for the infinite joy we were designed to find in loving communion with the Divine. We turn to things in the world to give it to us, but "[ we] sin when, neglectful of order, we fix our love on the creature, instead of on Thee, the Creator." 34 The reason even the best possible worldly goods will not satisfy is because we were created for a degree of delight and fulfillment that they cannot produce. As Augustine famously says to God at the beginning of the Confessions: "You stir man to take pleasure in praising you, because you have made us for yourself, and our heart is
restless until it rests in you." 35 We were made for God, and so nothing can give us the infinite joy that God can.
All things are precious, because all are beautiful, but what is more beautiful than He? Strong they are, but what is stronger than He? . . . If you seek for anything better, you will do wrong to Him and harm to yourself, by preferring to Him that which He made, when he would willingly give Himself to you. 36
You harm yourself when you love anything more than God. How does this work? If you love your children more than you love God, you will essentially rest your need for significance and security in them. You will need too much for them to succeed, be happy, and love you. That will either drive them away or crush them under the weight of your expectations, because they will be the ultimate source of your happiness, and no human being can measure up to that. If instead you love your spouse or romantic partner more than God, the same things occur. If you love your work and career more than God, you will necessarily also love them more than your family, your community, and your own health, and so that will lead to physical and relational breakdown and often, as we saw above, to social injustice.
If you love anything more than God, you harm
the object of your love, you harm yourself, you harm the world around you, and you end up deeply dissatisfied and discontent. The most famous modern expression of Augustine's view was the ending of Lewis's radio talk:
Creatures are not born with desires unless satisfaction for those desires exists. A baby feels hunger: well, there is such a thing as food. A duckling wants to swim: well,(12) there is such a thing as water. Men feel sexual desires: well, there is such a thing as sex. If I find in myself a desire which no experience in this world can satisfy, the most probable explanation is that I was made for another world. 37

The Augustinian analysis does justice to our experience. As we saw, the evolutionary explanation of our perennial discontent fails to account for it. The idea that "most people are basically happy" trivializes it, but it is not trivial at all. Some have, as it were, sought to fill the inner emptiness with billions of dollars and virtually unchecked power to gratify their impulses and appetites. Yet the testimony of the ages is that even goods on this scale cannot fill the vacuum. That is powerful evidence that the cavern in our soul is indeed infinitely deep. 38

The Healing of Our Discontent (3:17:11)

Here, then, is the conundrum we face. Our surprisingly deep discontent leads us to lock our hearts onto things with profound intensity. The ancients wisely taught that the only way to avoid unhappiness is to avoid this "love as attachment," that is, to attach ourselves so powerfully and exclusively to an object or person that we cannot imagine life without it or him or her. 39 Not only do such attachments lead to envy, resentment, anxiety, and even violence in order to defend our possession, but they also make us fragile and vulnerable to the inevitable changes and disruptions of life.
However, we have seen the dangers of finding contentment through detachment. That not only brings
about a selfishness and hardness but also weakens our love relationships, thus undermining the greatest source of
joy we know. We need not only to receive love but also to give it. 40
Augustine breaks through this logjam. He does a radical critique of love-as-attachment, and presents his own pre-Christian self as a case study. He had attached his happiness to a friend whom he loved intensely but who died suddenly. He later realized that he had "loved a person sure to die as if he would never die" (Confessions, book IV, chapter 8). This happens because our souls "become stuck and glued to these transient things," which "rend the soul with pestilential desires and torment" because "the soul loves . . . to take its repose" in them. Yet "in these things there is no point of rest, for they . . . flee away" (Confessions, book IV, chapter 10). 41
However, after Augustine confirms the deadliness of love-as-attachment, he turns and says that such love is good, right, and essential when given to God. Though idolatrous attachment to earthly goods does indeed lead to unnecessary pain and grief, the solution was not to love the things of life less but to love God more. The problem is not that you love your family or job too much but that you love God too little in relationship to them. Intense attachment and detachment kill. Don't harden your heart against
love, Augustine says, but don't give your heart ultimately to things that you can lose and cannot satisfy. Instead infuse your heart with a sense of God's love and incline your heart to love him in return. This will be transformative.
Consider this: If you live a long life, it will tear you up to see the people who matter most to you put into the ground one by one. If your greatest source of contentment and love is your family, that will be intolerable. But if you (13) learn to love God even more than them, your greatest source of consolation, hope, joy, and value will not be diminished by grief. Indeed, the sorrow will drive you to drink deeper from it. You will not find yourself empty, and you won't always be hardening your heart in order to deal with how your losses tear you up. The love of God can never be taken from you, and in his love, the Bible says, you live with loved ones forever. 42

Of course, not even the strongest believers love God perfectly, nor does anyone get close to doing so. Yet to the degree you move toward loving him supremely, things begin to fall into order, into their proper places in your life. Instead of looking to the things of the world as the deepest source of your contentment, you can enjoy them for what they are. Money and career, for example, become just what they are supposed to be. Work becomes work, a great way to use your gifts and be useful to others. Money becomes just money, a great way to support your family. But these things are not your source of safety and contentment. He is.
There is another powerful dimension to this reordering of loves. Paul Bloom, in his book How Pleasure Works, argues that what matters most for pleasure is not the simple impact on our senses but what it means in relationship to other persons who matter to us. A painting that we think is an original by an admired artist gives less pleasure when we find out it is not. A chair may be comfortable, but if it is our mother's favorite chair from her sitting room, it will give us even more pleasure. To use theological language, "we enjoy things most when we experience them as a sacrament— as carriers of the presence of another." 43 Some have charged that religion drains ordinary life of its joy by devaluing it in deference to "higher," more spiritual interests. This is not true— at least,
(3:22:11)
it is not the case with Christianity, the faith that I know by far the best. Christianity teaches that we are saved by God's free grace and pardon. Unlike some forms of religion, Christianity does not say that we merit blessing through depriving ourselves and turning our backs on the world in order to earn heaven. Once we know through faith in Christ's work for us that we are reconciled to God, and that the Creator is now not just our sovereign but our father, we can begin to have a more "sacramental" experience of the world. We see everything as a free gift from Father and a foretaste of the glory and goodness to come in our eternal inheritance. In short, as Miroslav Volf puts it, "Attachment to God amplifies and deepens enjoyment of the world." 44 It does not diminish it.
Here, then, is the message. Don't love anything less; instead learn to love God more, and you will love other things with far more satisfaction. You won't overprotect them, you won't over-expect things from them. You won't be constantly furious with them for not being what you hoped. Don't stifle passionate love for anything; rather, redirect your greatest love toward God by loving him with your whole heart and loving him for himself, not just for what he can give you. 45 Then, and only then, does the contentment start to come.
That is the Christian view of satisfaction. It avoids the pitfalls of both the ancient strategy of tranquility through detachment and the modern strategy of happiness through acquisition. It both explains and resolves the deep conundrum of our seemingly irremediable discontent.
14
How to Love God (3:24:01)

It may be that, reading this, you think Augustine's analysis and solution make good sense. The magnitude of our discontent points to something beyond this world. We harm ourselves if we try to satisfy our deepest longings in human love, and we also harm ourselves if we detach our hearts too much from love. Augustine's solution is that only the love of the immutable can bring tranquillity, and only an infinite love can satisfy our hunger for infinite joy.
Even if this all makes sense to us, how do we actually know that love? You can't just tell yourself "God loves me" and expect your heart to change. Nor can you just say, "From now on I will love God." Love cannot be generated simply by an act of the will. Children learn to speak only by responding to speech and learn to love only by reciprocating love. So we cannot love God just by thinking of an abstract deity who is loving in general. We must grasp and be gripped by the true story of God's actual sacrificial, saving love for us in Jesus.
In the Gospel of John, Jesus speaks to a crowd about the "bread of life," such that whoever eats it "will never go hungry" (John 6: 35). He is talking metaphorically about something that gives both strength and delight, an image
of fulfillment and satisfaction. He also observes that human beings seek this in the wrong places. He warns against "work[ ing] for food that spoils," that does not in the end satisfy (John 6: 27). But he does not just say, "I am the dispenser of the bread of life." Rather, he says, "I am the bread of life" (John 6: 35) and "This is my body given for you" (Luke 22: 19) and "This is my body, which is for you" (1 Corinthians 11: 24).
The heart of the Christian faith is the simple Gospel message of sin and grace. Because we fail to love God and
our neighbor, we sin, and for God to forgive our sin, the Son of God became mortal and graciously died in our place on the cross. This is an offensive idea to many people, but for the moment just consider the two ways this message can bring about the love relationship with God, which solves the human dilemma.
First, the knowledge of our sin softens our hearts. If you were to raise a child and work your fingers to the bone to send that child to college, and the child only occasionally sent you a Christmas card and never gave you the time of day, that would be wrong. It's wrong because the child owes not just deference but love. Now, if there is a God who created us and keeps us alive every minute, then the love we owe God would be infinitely greater. To not love him supremely would be infinitely worse. If you believe that, you begin to see how much we have wronged him. It begins to draw your heart outward toward him in humility and grief.
Second, the knowledge of his grace ignites our hearts. If you want to forgive someone who has wrongfully cost you a great deal of money and can't afford to pay you back, you must absorb and pay the debt yourself. If God was going to forgive us, he had to pay the debt we owed himself. And Jesus Christ pays it by going to the cross. Keep in mind that outside of salt and a couple of minerals, everything we eat has died so that we may live. If you are eating bread, not only did the grain die, but the bread has to be broken into pieces. If the bread stays whole, you starve and you fall apart. If the bread is broken into pieces and you take it in, then you live. When Jesus Christ says, "I am the bread of life.
. . broken for you," (John 6: 35; Luke 22: 19) he is saying: "I am God become breakable, killable, vulnerable. I die that you might live. I am broken so you can be whole."
15
Only if you see him doing this all for you— does that begin to change your heart. He suffered and died for your sake. Now out of joy we can love him just for his sake, just for the beauty of who he is and what he has done. You
can't force your heart to love. A kind of vague god, a god of love, an abstract god will never change your heart. This is what will change it, draw it off its inordinate attachments to other things, and turn it away from the food that spoils. Someday, then, you will be able to say, "Because your love is better than life . . . I will be fully satisfied as with the richest of foods; with singing lips my mouth will praise you" (Psalm 63: 3a, 5). This is "it"— or at least its foretaste (1 John 3: 1– 3).
16
—-

The answer to find meaning in life is found in putting your faith and trust in Jesus Christ. The Bible is true from cover to cover and can be trusted.
Thank you again for your time and I know how busy you are.
Sincerely,
Everette Hatcher, everettehatcher@gmail.com, http://www.thedailyhatch.org, cell ph 501-920-5733, 13900 Cottontail Lane, Alexander, AR 72002
PS: What is the meaning of life? Find it in the end of the open letter I wrote to you on April 23, 2020.
—
Below is the workforce of THE TAMBURY GAZETTE
—
Seen below is the third episode of AFTERLIFE (season 1) when Matt takes Tony to a comedy club with front row seats to cheer him up but it turns into disaster!!!
——
—-
—
Part 1 "Why have integrity in Godless Darwinian Universe where Might makes Right?"
Part 2 "My April 14, 2016 Letter to Ricky mentioned Book of Ecclesiastes and the Meaninglessness of Life"
Part 3 Letter about Brandon Burlsworth concerning suffering and pain and evil in the world. "Why didn't Jesus save her [from cancer]?" (Tony's 10 year old nephew George in episode 2)
Part 4 Letter on Solomon on Death Tony in episode one, "It should be everyone's moral duty to kill themselves."
Part 5 Letter on subject of Learning in Ecclesiastes "I don't read books of fiction but mainly science and philosophy"
Part 6 Letter on Luxuries in Ecclesiastes Part 6, The Music of AFTERLIFE (Part A)
Part 7 Letter on Labor in Ecclesiastes My Letter to Ricky on Easter in 2017 concerning Book of Ecclesiastes and the legacy of a person's life work
Part 8 Letter on Liquor in Ecclesiastes Tony's late wife Lisa told him, "Don't get drunk all the time alright? It will only make you feel worse in the log run!"
Part 9 Letter on Laughter in Ecclesiastes , I said of laughter, "It is foolishness;" and of mirth, "What does it accomplish?" Ecclesiastes 2:2
Part 10 Final letter to Ricky on Ladies in Ecclesiastes "I gathered a chorus of singers to entertain me with song, and—most exquisite of all pleasures— voluptuous maidens for my bed…behold, all was vanity and a striving after wind, and there was nothing to be gained under the sun" Ecclesiastes 2:8-11.
Part 11 Letter about Daniel Stanhope and optimistic humanism "If man has been kicked up out of that which is only impersonal by chance , then those things that make him man-hope of purpose and significance, love, motions of morality and rationality, beauty and verbal communication-are ultimately unfulfillable and thus meaningless." (Francis Schaeffer)
Part 12 Letter on how pursuit of God is only way to get Satisfaction Dan Jarrell "[In Ecclesiastes] if one seeks satisfaction they will never find it. In fact, every pleasure will be fleeting and can not be sustained, BUT IF ONE SEEKS GOD THEN ONE FINDS SATISFACTION"
Part 13 Letter to Stephen Hawking on Solomon realizing he will die just as a dog will die "For men and animals both breathe the same air, and both die. So mankind has no real advantage over the beasts; what an absurdity!" Ecclesiastes
Part 14 Letter to Stephen Hawking on 3 conclusions of humanism and Bertrand Russell destruction of optimistic humanism. "That Man is the product of causes which had no prevision of the end they were achieving; that his origin, his growth, his hopes and fears, his loves and his beliefs, are but the outcome of accidental collocations of atoms—no philosophy which rejects them can hope to stand. Only within the scaffolding of these truths, only on the firm foundation of unyielding despair, can the soul's habitation henceforth be safely built."(Bertrand Russell, Free Man's Worship)
Part 15 Letter to Stephen Hawking on Leonardo da Vinci and Solomon and Meaningless of life "I hate life. As far as I can see, what happens on earth is a bad business. It's smoke—and spitting into the wind" Ecclesiastes Book of Ecclesiastes Part 15 "I hate life. As far as I can see, what happens on earth is a bad business. It's smoke—and spitting into the wind" Ecclesiastes 2:17
Part 16 Letter to Stephen Hawking on Solomon's longing for death but still fear of death and 5 conclusions of humanism on life UNDER THE SUN. Francis Schaeffer "Life is just a series of continual and unending cycles and man is stuck in the middle of the cycle. Youth, old age, Death. Does Solomon at this point embrace nihilism? Yes!!! He exclaims that the hates life (Ecclesiastes 2:17), he longs for death (4:2-3) Yet he stills has a fear of death (2:14-16)"
—
Mandeep Dhillon as Sandy on her first assignment in 'After Life'. (Twitter)
A still from 'After Life' that captures the vibe of the Tambury Gazette. (Twitter)
Michael Scott of THE OFFICE (USA) with Ricky Gervais
After Life on Netflix stars Ricky Gervais as a bereaved husband (Image: Netflix)
—-
Psychiatrist played by Paul Kaye seen below.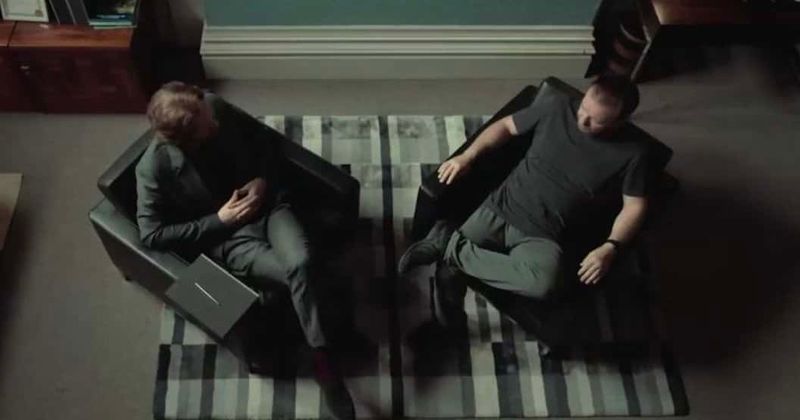 —
Tony Johnson with his dog Brandi seen below:
—-
Related posts:
I have gone back and forth and back and forth with many liberals on the Arkansas Times Blog on many issues such as abortion, human rights, welfare, poverty, gun control and issues dealing with popular culture. Here is another exchange I had with them a while back. My username at the Ark Times Blog is Saline […]By Everette Hatcher III | Posted in Biblical Archaeology, Francis Schaeffer, Prolife | Edit|Comments (0)
I have posted many of the sermons by John MacArthur. He is a great bible teacher and this sermon below is another great message. His series on the Book of Proverbs was outstanding too. I also have posted several of the visits MacArthur made to Larry King's Show. One of two most popular posts I […]By Everette Hatcher III | Posted in Adrian Rogers, Current Events | Edit|Comments (0)
I have posted many of the sermons by John MacArthur. He is a great bible teacher and this sermon below is another great message. His series on the Book of Proverbs was outstanding too. I also have posted several of the visits MacArthur made to Larry King's Show. One of two most popular posts I […]By Everette Hatcher III | Posted in Adrian Rogers, Current Events |Tagged Bible Prophecy, john macarthur | Edit|Comments (0)
Prophecy–The Biblical Prophesy About Tyre.mp4 Uploaded by TruthIsLife7 on Dec 5, 2010 A short summary of the prophecy about Tyre and it's precise fulfillment. Go to this link and watch the whole series for the amazing fulfillment from secular sources. http://www.youtube.com/watch?v=qvt4mDZUefo________________ John MacArthur on the amazing fulfilled prophecy on Tyre and how it was fulfilled […]By Everette Hatcher III | Posted in Biblical Archaeology | Edit|Comments (1)
John MacArthur on the Bible and Science (Part 2) I have posted many of the sermons by John MacArthur. He is a great bible teacher and this sermon below is another great message. His series on the Book of Proverbs was outstanding too. I also have posted several of the visits MacArthur made to Larry […]By Everette Hatcher III | Posted in Current Events | Edit|Comments (0)
John MacArthur on the Bible and Science (Part 1) I have posted many of the sermons by John MacArthur. He is a great bible teacher and this sermon below is another great message. His series on the Book of Proverbs was outstanding too. I also have posted several of the visits MacArthur made to Larry […]By Everette Hatcher III | Posted in Current Events | Edit|Comments (0)
Adrian Rogers – How you can be certain the Bible is the word of God Great article by Adrian Rogers. What evidence is there that the Bible is in fact God's Word? I want to give you five reasons to affirm the Bible is the Word of God. First, I believe the Bible is the […]By Everette Hatcher III | Posted in Adrian Rogers, Biblical Archaeology | Edit|Comments (0)
Is there any evidence the Bible is true? Articles By PleaseConvinceMe Apologetics Radio The Old Testament is Filled with Fulfilled Prophecy Jim Wallace A Simple Litmus Test There are many ways to verify the reliability of scripture from both internal evidences of transmission and agreement, to external confirmation through archeology and science. But perhaps the […]By Everette Hatcher III | Posted in Biblical Archaeology, Current Events | Edit|Comments (0)
I have gone back and forth and back and forth with many liberals on the Arkansas Times Blog on many issues such as abortion, human rights, welfare, poverty, gun control and issues dealing with popular culture. Here is another exchange I had with them a while back. My username at the Ark Times Blog is […]By Everette Hatcher III | Posted in Francis Schaeffer, Prolife | Edit|Comments (0)
Here is some very convincing evidence that points to the view that the Bible is historically accurate. Archaeological and External Evidence for the Bible Archeology consistently confirms the Bible! Archaeology and the Old Testament Ebla tablets—discovered in 1970s in Northern Syria. Documents written on clay tablets from around 2300 B.C. demonstrate that personal and place […]By Everette Hatcher III | Posted in Biblical Archaeology | E
——
Francis Schaeffer THE AGE of FRAGMENTATION
——-

—-
—-
—-