—
Free trade is good and protectionism is bad.
Assuming one agrees with those common-sense observations, the Tholos Foundation's just-released Trade Barriers Index is a great source of data about which countries are pro-trade and anti-trade.
As you can see, Singapore has the fewest trade barriers (a lower score is good), followed by New Zealand. By contrast, India is in last place with the most trade barriers, followed by Russia.
Sadly, the United States ranks a lowly 65 out of 88 countries that were included in the report.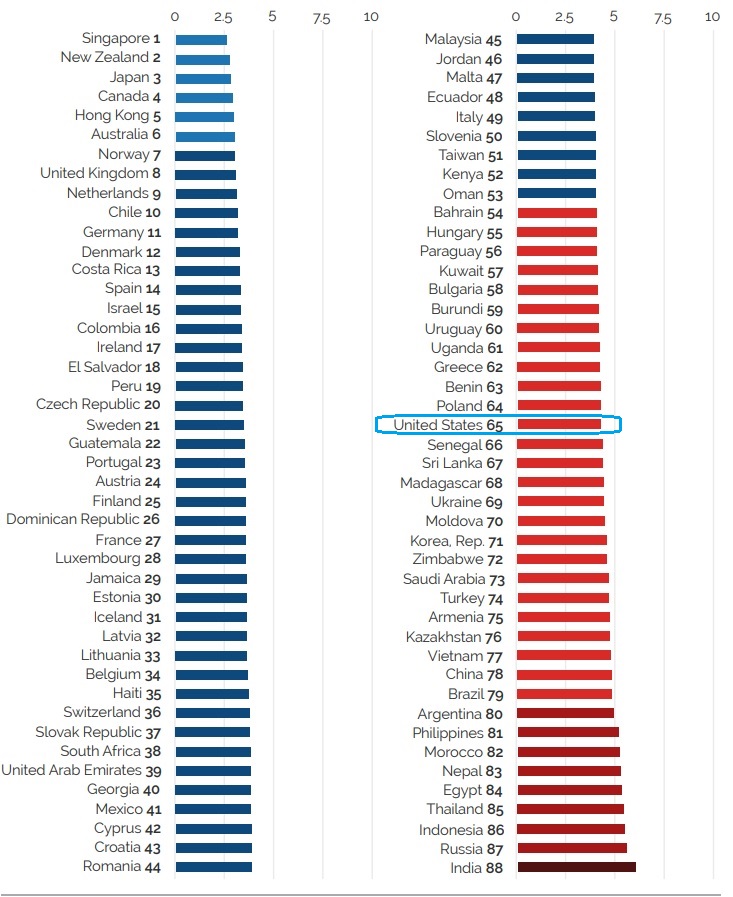 The Index is filled with data, so it is a treasure trove for wonks.
The part I like best, which is excerpted below, notes that pro-trade nations produce a disproportionate share of global economic output.
The 88 countries in the 2023 TBI house 72 percent of the world's population. In the freest range, those with a score reaching between 2.5 and 3.0 or lower, only 6 countries with a combined population of 207 million, or 2.6 percent of the world's people, enjoy the most barrier-free-trade and they produce 11 percent of the world's GDP… In the mostly-free range, with a score between 3 and 3.5, reside 395 million people or 5 percent of the world's population in 16 countries where they produce 14 percent of world GDP.In the next range, between 3.5 and 4.0 on the TBI, 7 percent of the world's population produces 12 percent of global GDP. In the middle range between 4.0 and 4.5, productivity gets a boost due to the inclusion of the United States; in this range 650 million people reside and produce 28 percent of GDP. Then the inefficiencies of trade restrictions start to take a large toll. In the next 4.5 to 5.0 range, nearly 2 trillion people live, 24 percent of the world's population, but they contribute only 22 percent of GDP. Then in the 5.0 to 5.5 range, in six countries, 8 percent of the world's people reside and they produce a dismal 3 percent of world GDP. Lastly, in the 5.5 to 6.0 range 20 percent of the world's population reside in 2 countries, India and Russia, where they produce 5 percent of world GDP.
Let's close with a comparison of the United States and Singapore.
In every single category, Singapore does better. But the biggest gap is in non-tariff barriers.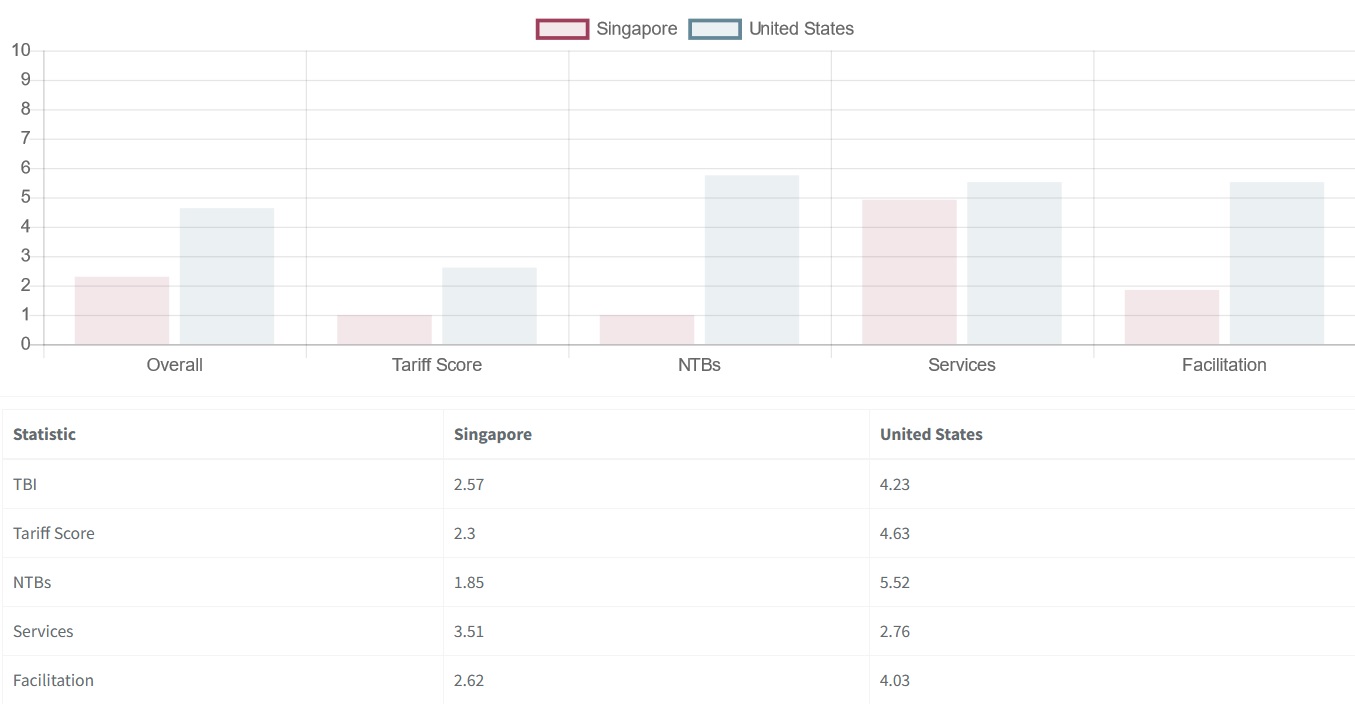 Needless to say, both Trump and Biden have contributed to America's unimpressive score.
P.S. You'll notice that trade balances are not part of the Trade Barriers Index. That's because the authors understand trade deficits are irrelevant (or even a positive sign if a nations is attracting a lot of foreign investment).
——-
–
–
If you don't have a spare seven minutes to watch the video, it addresses three specific points.
Does cross-border trade destroy manufacturing jobs?
Did liberalizing trade with China take American jobs?
Does trade make us vulnerable because of supply chains?
Plenty of good material, but I also would have challenged protectionists to provide a successful example of protectionism. Today or in the past.
Did protectionism work for Herbert Hoover – or anyone else – in the 1930s?
Did protectionism work for Juan Peron in Argentina in the 1940s and 1950s?
Is protectionism working for India's economy in the 21st century?
Did protectionism work for Donald Trump between 2017 and 2020?
The answer is no in every single case. So it is no surprise that scholarly research (see here, here, here, here, here, here, here, here, and here) shows that free trade is a better approach if a nation wants more jobs and higher income.
But protectionists make one accurate point. While free trade increases overall employment, that does not mean every worker in every industry benefits.
In his New York Times column, Peter Coy explores this topic.
The skepticism about free markets…has gotten only stronger…only 44 percent of Republican voters…viewed free trade mainly as an opportunity for growth through increased exports. …the standard Econ 101 argument for free trade… First, assert that trade increases prosperity by allowing each country to specialize in what it's best at. …Second, acknowledge that not everyone wins from free trade… Third, state that this problem can be easily solved: Everyone in society can be made better off if the winners share some of their gains with the losers. …In reality, the winners from trade rarely share much of their gains with the losers. The losers remain losers, and they often vote for candidates who put up tariff walls. …the free traders have failed to deliver on their promises to make free trade and open markets work for all.
A reasonably fair article, but I don't think "free traders have failed" for reasons I explained in one of my videos from earlier this year.
–
If you don't want to spend three minutes watching the video, I explain that all trade destroys jobs. And that includes trade within a nation.
It's part of "creative destruction," which I've labeled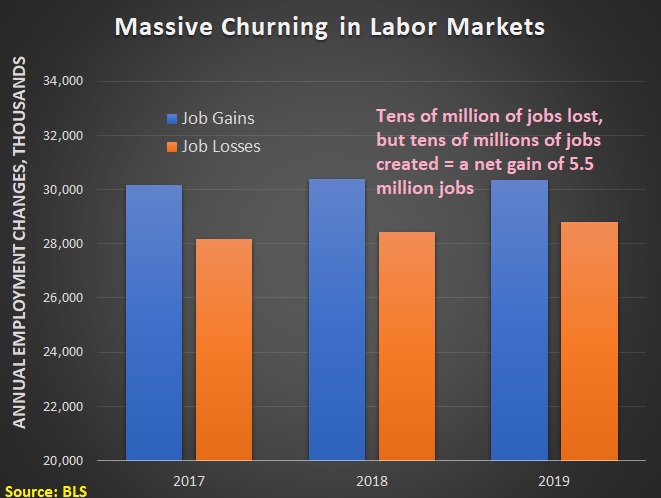 as the best and worst part of capitalism.
Millions of jobs get destroyed every year, in part because new technology, new competitors, and new innovations.
That's bad news for many people, but it's also the process that creates even more new jobs.
And it's the process that has made all of us so much richer than our ancestors. And that includes the ancestors of people who lost jobs because of domestic or international trade.
P.S. Click here, here, and here for some very sound observations from America's best post-WWII president.

Larry Elder wrote in 2016: "As economist Milton Friedman says, protectionism discriminates against low prices!"
---
The pandemic has shocked every sector of the economy. Trade restrictions enacted by the Trump administration and maintained by President Biden have rippled through the U.S. economy but have particularly impacted U.S. ports. The pandemic highlighted that American ports have broader efficiency problems and could use some serious policy and management reforms.
On the west coast in particular, ship congestion has caused severe delays, wreaking havoc on the supply chain. While factories and ports in Asia are working 24/7 to supply American consumers with valuable goods, U.S. ports have been open for far fewer hours because labor union contractsdictate the hourly terms. However, after months of backlog, the ports of Los Angeles (LA) and Long Beach (LB) are finally switching to 24/7 shifts to move goods more quickly.
As a result of these union contracts, government offices are also not open 24/7. The ports of LA and LB account for almost half of all U.S. imports. The Customs and Border Protection (CBP) officials who must clear and admit goods do not work nights or weekends. These limits create additional pressure to have goods shipped to the United States during a prohibitive time frame, or leave ships idling around the ports until they can get in. The latter is the most common response. Recently, ships have been waiting an average of 12.5 days to enter the LA port. Ship idling has caused other problems too. Orange County, CA was affected by an oil spill that is suspected to have been caused by a pipeline hit with idling ship anchors. These differences in operating hours have caused huge ports efficiency losses that are felt across the country.
While it is positive that retailers, couriers, and the International Longshore and Warehouse Union (ILWU) are making changes to run ports more efficiently, permanent trade policy changes would help ease America's coastal shipping problems.
The best policy would be to unilaterally remove tariffs by the United States. Simply eliminating tariffs would reduce an administrative burden both for traders and CBP officials. Duty‐​free trade would increase imports and exports but all other things equal, the freed‐​up CBP resources would help to move goods more swiftly through the ports.
However, a few smaller reforms could be implemented now that would considerably help the efficiency of U.S. ports. Removing Section 232 tariffs on steel and aluminum imports could temper the current domestic scarcity of some transportation‐​related goods, including chassis (the frame of a vehicle that holds containers). Thesematerials are vital inputs for such products and the Section 232 tariffs are affecting American manufacturers' ability to meet domestic demand. Eliminating duties and tariffs on transportation‐​related goods, including the 221 percent antidumping and countervailing (AD/CVD) duties and 25 percent Section 301 tariffs on Chinese chassis, could help increase the U.S. supply of chassis. While some freighters are paying the higher prices for Chinese chassis, the supply of transportation is still constrained, which has resulted in higher sticker prices on consumer goods.
As LA and LB move to 24/7 shifts, CBP offices should also be open 24/7. Given the sheer volume of trade these two ports process, it would seem sensible to make staffing 24/7 a permanent change at these ports, and at others depending on trade volumes.
Reforming the Jones Act could also help. All freight moved between U.S. ports must useU.S.-built, -crewed, and -flagged ships. As a result, traders circumvent these regulations by using alternative modes like trucks and trains. It would be prudent to reform the Jones Act to allow ships not in compliance with the Jones Act to pick up shipments in one U.S. port and unload at another. This would reduce pressure on inland transit that is currently being impacted by the aforementioned tariffs.
These bottlenecks have provided insight into the problems that exist at U.S. ports and with coastal shipping more broadly. Improvements in trade policy have a role to play and policymakers would be remiss not to consider permanent changes that would be beneficial now and could preempt pressures during future economic shocks.
Milton Friedman – Free Trade vs. Protectionism
Free to Choose Part 2: The Tyranny of Control (Featuring Milton Friedman
Larry Elder rebuts candidate's 'they're taking our jobs' claim
Published: 02/03/2016 at 6:39 PM
One of Donald Trump's talking points and biggest applause lines is how "they" – Japan, China and Mexico – are "beating us in trade" and are "taking our jobs." He proposes tariffs, for example, on Chinese goods in retaliation for that country's alleged "cheating."
To someone who is out of work in an industry where foreign workers do what he or she once did, Trump-like protectionism sounds appealing. But Trump actually proposes punishing the American consumer. As economist Milton Friedman says, protectionism discriminates against low prices.
It is certainly true that many countries prop up or subsidize companies or even whole industries by providing capital or special privileges. This allows them to produce goods and services "below cost" – or at prices below what a competitor could charge and still make a profit. But doing so also means that taxes in that country, which could have gone to a more productive use, are squandered to keep a company in business that otherwise wouldn't exist or would have gone out of business. This means consumers in other countries with which the "cheater" country trades can buy those imported goods at a cheaper price.
Trump proposes to retaliate by placing tariffs on those imported goods. But this prevents American consumers from benefiting from the "cheater" country's folly of propping up companies that would not survive but for the taxes spent to keep it alive. Why compound the stupidity?
Another justification for this kind of protectionism is that a foreign country "exploits" America through the use of "slave labor" which, as to wages, causes a "race to the bottom." Certainly forced labor, as when "blood diamonds" are mined by workers with guns pointed to their heads, is criminal and immoral. But free laborers offering to work for less money than others is how poor countries become wealthier – by allowing other countries to buy goods more cheaply.
NAFTA, the North American Free Trade Agreement, established in 1994, has become exhibit A on how "we lose" on trade. After all, many American jobs have been "outsourced" to Mexico. But that looks at but one side of the ledger. That an American pays less for certain things frees up capital to spend on something or on someone else. A machinist sees his job "shipped to Mexico," but the planner or analyst hired by a company with the "savings" might not see the direct relationship between free trade and the fact that he or she has this new job. When NAFTA was debated, businessman and presidential candidate Ross Perot predicted "a giant sucking sound" as jobs and incomes would be lost to Mexico.
The American Enterprise Institute writes: "It is an article of faith among protectionists that NAFTA harmed American workers. … The justification may be that NAFTA went into force at the beginning of 1994 and the U.S. trade balance with Canada and Mexico, two of our top partners, then deteriorated.
"But the American job market improved as these trade deficits grew. Unemployment fell more than two points from the beginning of 1994 through the middle of 2000. Already high labor force participation edged higher to its all-time record by early 2000. Manufacturing employment rose until mid-1998 and was above its pre-NAFTA level until April 2001. Manufacturing wages rose. The strength in the American job market from 1994 to 1999 is not due primarily to NAFTA, but it is plain that the job market, including manufacturing, strengthened after NAFTA."
Trump is also schizophrenic on this issue. On the one hand, he opposes illegal immigration, which most often is an economic decision where, for example, a poor, unskilled worker from Mexico sneaks into America to make money. On the other hand, Trump deems it unfair and a form of "cheating" if an American company relocates to or builds a factory in Mexico to take advantage of that unskilled Mexican worker's willingness to work for less.
If Trump were talking about the excessive taxes or regulations that induce American companies to leave the U.S. or to put factories in foreign countries, that would be one thing. The U.S. general top marginal corporate income tax rate is the highest in the industrialized world – and, worldwide, is only exceeded by Chad and the United Arab Emirates. Unnecessary regulations also increase the cost of doing business stateside. But this is not Trump's argument.
About free trade, the father of modern economics, Adam Smith, in 1776 wrote in "The Wealth of Nations": "In every country it always is and must be in the interest of the great body of the people to buy whatever they want of those who sell it cheapest. The proposition is so very manifest that it seems ridiculous to take any pains to prove it; nor could it ever have been called in question had not the interested sophistry of merchants and manufacturers confounded the common sense of mankind. Their interest is, in this respect, directly opposite to that of the great body of the people."
Trump means well. But so what?
Trump vs Friedman – Trade Policy Debate
Related posts:
__________