—
Edward O. Wilson The Meaning of Human Existence Audiobook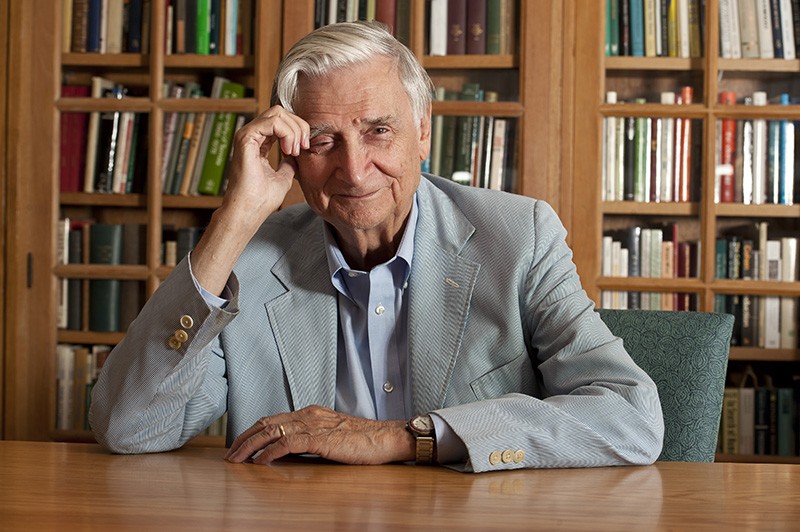 Harvard University Professor E.O. Wilson in his office at Harvard University in Cambridge, MA. USACredit: Rick Friedman/Corbis via Getty
Francis Schaeffer mentioned Edward O. Wilson in his book WHATEVER HAPPENED TO THE HUMAN RACE? co-authored by C.Everett Koop on pages 289-291 (ft note 6 0n page 504). That was when I was first introduced to Dr. Wilson's work. Wikipedia notes, Edward Osborne Wilson (June 10, 1929 – December 26, 2021) was an American biologist, naturalist, and writer. His specialty was myrmecology, the study of ants, on which he was called the world's leading expert,[3][4] and he was nicknamed Ant Man.[5][6][7][8]
I was honored to correspond with Dr. Wilson from 1994 to 2021!!
The first portion of my 5-15-94 letter to Edward O. Wilson and next week I will have the second part.
On May 15, 1994 on the 10th anniversary of the passing of Francis Schaeffer I mailed the following letter to Edward O. Wilson and to 250 other scientists!!! During my correspondence Dr. Wilson recommended that I read his book THE MEANING OF HUMAN EXISTENCE in 2013 about a year before it was published.
Could you take 3 minutes and attempt to refute the nihilistic message of the song (DUST IN THE WIND) which appears at the beginning of the enclosed audio tape followed by Adrian Rogers sermon FOUR BRIDGES THE EVOLUTIONIST CAN NOT CROSS.
Back in 1980 I watched the series COSMOS and on May 5, 1994 I again sat down to watch it again. In this letter today I will tell you of 3 GENTLEMEN who contemplated the world around them. The first one is an evolutionist by the name of Carl Sagan. Mr. Sagan is what I would call a humanist full of optimism.
The second man also sought to contemplate the world around him and this man was King Solomon of Israel. In the Book of Ecclesiastes, Solomon limits himself to the question of human life lived "under the sun" between birth and death and what answers this would give (that is exactly what Mr. Sagan has done in COSMOS).It is this belief that life is only between birth and death that eventually causes Solomon to embrace nihilism. In the first few words of Ecclesiastes he observes the continual cycles of the earth and makes some very interesting conclusions"…to search for understanding about everything in the universe."
The third man I want to mention is Francis Schaeffer who I believe was the greatest Christian philosopher of the 20th century. However, when he was a young agnostic many years ago he also had an experience similar to King Solomon's when he contemplated the world and universe around him.contemplated the world and the universe around him.CARLSAGAN:"Our contemplations of the Cosmos stir us. There is a tingling in the spine, a catch in the voice, a faint sensation as if a distant memory of falling from a great height. We know we are approaching the grandest of mysteries."KING SOLOMON: Ecclesiastes 1:2-11;3:18-19 (Living Bible): 2 In my opinion, nothing is worthwhile; everything is futile. 3-7 For what does a man get for all his hard work?Generations come and go, but it makes no difference.[b] The sun rises and sets and hurries around to rise again. The wind blows south and north, here and there, twisting back and forth, getting nowhere.* The rivers run into the sea, but the sea is never full, and the water returns again to the rivers and flows again to the sea . .everything is unutterably weary and tiresome. No matter how much we see, we are never satisfied; no matter how much we hear, we are not content. History merely repeats itself…For men and animals both breathe the same air, and both die. So mankind has no real advantage over the beasts; what an absurdity!—-What Solomon said ties into this following statement by evolutionist Douglas Futuyma – "Whether people are explicitly religious or not they tend to imagine that humans are in some sense the center of the universe. And what evolution does is to remove humans from the center of the universe. We are just one product of a very long historical process that has given rise to an enormous amount of organisms, and we are just one of them. So in one sense there is nothing special about us."
———-FRANCIS SCHAEFFER: There is no doubt in my mind that Solomon had the same experience in his life that I had as a younger man (at the age of 18 in 1930). I remember standing by the sea and the moon arose and it was copper and beauty. Then the moon did not look like a flat dish but a globe or a sphere since it was close to the horizon. One could feel the global shape of the earth too. Then it occurred to me that I could contemplate the interplay of the spheres and I was exalted because I thought I can look upon them with all their power, might, and size, but they could contempt nothing. Then came upon me a horror of great darkness because it suddenly occurred to me that although I could contemplate them and they could contemplate nothing yet they would continue to turn in ongoing cycles when I saw no more forever and I was crushed.
__________________PAGE 1 B
Solomon died 3000 years ago and Francis Schaeffer passed away on May 15, 1984 exactly 10 years ago.I firmly believe Solomon was correct when he said in Ecclesiastes 7:2 "It is better to spend your time at funerals than at festivals. For you are going to die, and it is a good thing to think about it while there is time."Suppose that you to learn that you only had just one year to live—the number of your days would be 365. What would you do with the precious few days that remained to you? With death stalking you, you would have little interest in trivial subjects and would instead be concerned with essentials. I know that is what I did when I was bed ridden in a hospital in Memphis at age 15. I was told that I may not live. My thoughts turned to spiritual things. Thank you for your time.Sincerely,Everette Hatcher III, 13900 Cottontail lane, ALEXANDER, AR 72002, TIME MAGAZINE May 28, 1984:DIED, Francis Schaeffer, 72. Christian theologian and a leading scholar of evangelical Protestantism; of cancer; in Rochester, Minn. Schaeffer, a Philadelphia-born Presbyterian, and his wife in 1955 founded L'Abri (French for 'the shelter'), a chalet in the Swiss Alps known among students and intellectuals for a reasoned rather than emotional approach to religious counseling. His 23 philosophical books include the bestseller How Should We Then Live? (1976)." (January 30, 1912-May 15, 1985)
Adrian Rogers is pictured below and Francis Schaeffer above.
Watching the film HOW SHOULD WE THEN LIVE? in 1979 impacted my life greatly
Francis Schaeffer in the film WHATEVER HAPPENED TO THE HUMAN RACE?
Francis and Edith Schaeffer
—
WANT MORE EVIDENCE?
–


FEATURED ARTIST IS WHISTLER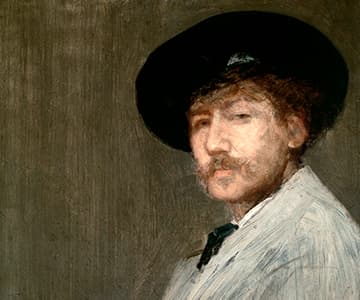 JAMES ABBOT MCNEILL WHISTLER (1834-1903)
Along with Winslow Homer, the great figure of the American painting of his time. Whistler was an excellent portraitist, which is shown in the fabulous portrait of his mother, considered one of the great masterpieces of the American painting of all time.
Related posts:
I have gone back and forth and back and forth with many liberals on the Arkansas Times Blog on many issues such as abortion, human rights, welfare, poverty, gun control and issues dealing with popular culture. Here is another exchange I had with them a while back. My username at the Ark Times Blog is Saline […]
By Everette Hatcher III|Posted in Francis Schaeffer, Prolife|Edit|Comments (0)
On March 17, 2013 at our worship service at Fellowship Bible Church, Ben Parkinson who is one of our teaching pastors spoke on Genesis 1. He spoke about an issue that I was very interested in. Ben started the sermon by reading the following scripture: Genesis 1-2:3 English Standard Version (ESV) The Creation of the […]
By Everette Hatcher III|Posted in Adrian Rogers, Atheists Confronted, Current Events|TaggedBen Parkinson, Carl Sagan|Edit|Comments (0)
Review of Carl Sagan book (Part 4 of series on Evolution) The Long War against God-Henry Morris, part 5 of 6 Uploaded by FLIPWORLDUPSIDEDOWN3 on Aug 30, 2010 http://www.icr.org/ http://store.icr.org/prodinfo.asp?number=BLOWA2http://store.icr.org/prodinfo.asp?number=BLOWASGhttp://www.fliptheworldupsidedown.com/blog _______________________ I got this from a blogger in April of 2008 concerning candidate Obama's view on evolution: Q: York County was recently in the news […]
By Everette Hatcher III|Posted in Atheists Confronted, Current Events, President Obama|Edit|Comments (0)
Review of Carl Sagan book (Part 3 of series on Evolution) The Long War against God-Henry Morris, part 4 of 6 Uploaded by FLIPWORLDUPSIDEDOWN3 on Aug 30, 2010 http://www.icr.org/ http://store.icr.org/prodinfo.asp?number=BLOWA2http://store.icr.org/prodinfo.asp?number=BLOWASGhttp://www.fliptheworldupsidedown.com/blog______________________________________ I got this from a blogger in April of 2008 concerning candidate Obama's view on evolution: Q: York County was recently in the news […]
By Everette Hatcher III|Posted in Atheists Confronted, Current Events, President Obama|Edit|Comments (0)
At the end of this post is a message by RC Sproul in which he discusses Sagan. Over the years I have confronted many atheists. Here is one story below: I really believe Hebrews 4:12 when it asserts: For the word of God is living and active and sharper than any two-edged sword, and piercing as far as the […]
By Everette Hatcher III|Posted in Adrian Rogers, Atheists Confronted, Current Events, Francis Schaeffer|Tagged Bill Elliff, Carl Sagan, Jodie Foster, RC Sproul|Edit|Comments (0)
Review of Carl Sagan book (Part 4 of series on Evolution) The Long War against God-Henry Morris, part 5 of 6 Uploaded by FLIPWORLDUPSIDEDOWN3 on Aug 30, 2010 http://www.icr.org/ http://store.icr.org/prodinfo.asp?number=BLOWA2http://store.icr.org/prodinfo.asp?number=BLOWASGhttp://www.fliptheworldupsidedown.com/blog _______________________ This is a review I did a few years ago. THE DEMON-HAUNTED WORLD: Science as a Candle in the Dark by Carl […]
By Everette Hatcher III|Posted in Atheists Confronted, Current Events|Edit|Comments (0)
Review of Carl Sagan book (Part 3 of series on Evolution) The Long War against God-Henry Morris, part 4 of 6 Uploaded by FLIPWORLDUPSIDEDOWN3 on Aug 30, 2010 http://www.icr.org/ http://store.icr.org/prodinfo.asp?number=BLOWA2http://store.icr.org/prodinfo.asp?number=BLOWASGhttp://www.fliptheworldupsidedown.com/blog______________________________________ I was really enjoyed this review of Carl Sagan's book "Pale Blue Dot." Carl Sagan's Pale Blue Dot by Larry Vardiman, Ph.D. […]
By Everette Hatcher III|Posted in Atheists Confronted, Current Events|Edit|Comments (0)
In today's news you will read about Kirk Cameron taking on the atheist Stephen Hawking over some recent assertions he made concerning the existence of heaven. Back in December of 1995 I had the opportunity to correspond with Carl Sagan about a year before his untimely death. Sarah Anne Hughes in her article,"Kirk Cameron criticizes […]
By Everette Hatcher III|Posted in Atheists Confronted|Edit|Comments (2)