——
Biden was informed of journalist's question prior to calling on her, paper reveals
President Biden is no stranger to detailed cheat sheets when speaking to the press, but the president's team seems to have taken things up a notch after he revealed a pre-written question from a reporter during Wednesday's press conference.

As Biden spoke alongside South Korean President Yoon Suk Yeol in the White House Rose Garden, aphotographer captured a small cheat-sheet in the president's hand signaling he had advanced knowledge of a question from Los Angeles Times journalist Courtney Subramanian. The small paper also included a picture of the reporter along with the pronunciation breakdown of her last name. "Question #1" was handwritten at the top of the sheet, indicating the president should call on her first at the conclusion of his remarks.
"How are YOU squaring YOUR domestic priorities — like reshoring semiconductors manufacturing — with alliance-based foreign policy?" read the question in Biden's hand.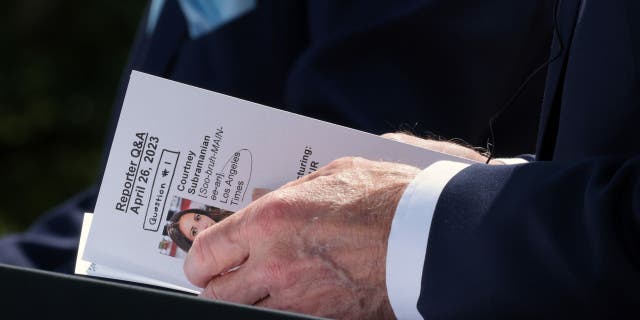 President Biden looks at a note card referencing a reporter as he delivers remarks during a joint press conference with South Korean President Yoon Suk Yeol in the Rose Garden at the White House in Washington, D.C., on Wednesday. (Win McNamee/Getty Images)
The reporter, who was in fact called upon first but whose last name was omitted by the president, asked Biden, "Your top economic priority has been to build up U.S. domestic manufacturing in competition with China, but your rules against expanding chip manufacturing in China is hurting South Korean companies that rely heavily on Beijing. Are you damaging a key ally in the competition with China to help your domestic politics ahead of the election?"
A separate paper in Biden's hand revealed the names of administration officials in the order of their remarks. Both cheat sheets were dated April 26, 2023.
PHOTOS: BIDEN CAUGHT USING CUE CARDS IN TRYING TO PAPER OVER UKRAINE GAFFE ABOUT OUSTING PUTIN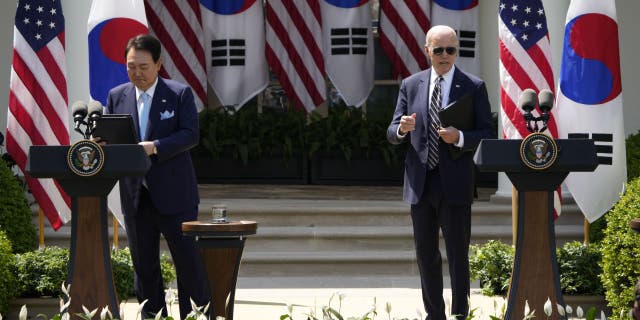 President Biden, right, responds to a reporter's question on the debt limit during a joint press conference with South Korean President Yoon Suk Yeol in the Rose Garden at the White House in Washington, D.C., on Wednesday. (Drew Angerer/Getty Images)
Biden has been ridiculed for relying on detailed cheat sheets in the past, with critics calling them an indication that the White House has lost faith in the 80-year-old commander-in-chief amid concerns about his mental acuity.
In March 2022, Biden displayed a list of prepared answers during a White House news briefing after his "this man cannot remain in power" comment about Russian President Vladimir Putin, which raised questions about his support for regime change in Russia.
BIDEN REPEATEDLY IMPLIES HE'S NOT IN CHARGE WHEN, WHERE HE CAN TAKE QUESTIONS FROM THE PRESS 
In June, reporters captured a cheat sheet at a White House meeting with cabinet members detailing specific instructions for the president.
"YOU enter the Roosevelt Room and say hello to participants," the first bullet point read. "YOU take YOUR seat."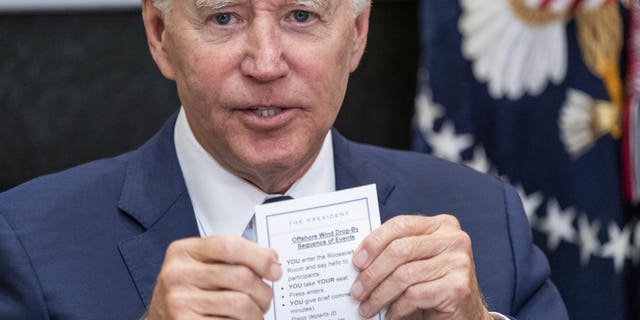 President Biden held up a note card during remarks that included detailed directions such as, "YOU enter the Roosevelt Room and say hello to participants" and "YOU take YOUR seat." (Shawn Thew/EPA/Bloomberg via Getty Images)
After a bullet point that said, "Press enters," the next one read, "YOU give brief comments," with a parenthetical statement reading, "2 minutes." Biden ended up speaking for roughly eight minutes. The final bullet points read, "YOU thank participants" and "YOU depart."
A month later, Biden accidentally revealed a note from an aide to the camera that informed the president that there was "something" on his chin.
CLICK HERE TO GET THE FOX NEWS APP
Biden has also embraced the practice of relying on a predetermined list of reporters selected by his staff early in his tenure instead of calling on them spontaneously during exchanges with the press.
—————
Joe Biden calls son Hunter 'smartest guy I know' amid questions over business dealings
Biden made the remarks at an online event hosted by Oprah Winfrey
Democratic nominee Joe Biden on Wednesday described his son Hunter as "the smartest guy I know" — amid growing questions about the former vice president's alleged ties to his son's business dealings.
Biden made the remarks during an online event hosted by Oprah Winfrey, in which he retold how he went home and gathered with his family when then-nominee Barack Obama asked him to be his running mate in 2008.
BIDEN STAYS SILENT ON BOBULINSKI CLAIMS ABOUT FAMILY'S BUSINESS VENTURES
"So I got off the train, went home, true story. And we sat down the back and I had my deceased son Beau, who was then the Attorney General of the state of Delaware. And I had my son. Hunter, is the smartest guy I know," he said. "My daughter who is a social worker. And my and the whole family was there. And we sat in the back porch …"
'PLAUSIBLE DENIABILITY': TONY BOBULINSKI CLAIMS BIDEN FAMILY SHRUGGED OFF CONCERNS ABOUT RISK TO 2020 BID
Questions about Hunter's business dealings, and his father's alleged role in them, have been growing since the discovery of emails on a laptop purportedly belonging to Hunter, and claims by Hunter's former business associate that he met with the elder Biden in 2017.
That associate, Tony Bobulinski, gave an interview on Fox News' "Tucker Carlson Tonight" on Tuesday and detailed his alleged meetings with the former vice president — one he says took place on May 2, 2017, according to text messages first reported by Fox News last week.
'PLAUSIBLE DENIABILITY': TONY BOBULINSKI CLAIMS BIDEN FAMILY SHRUGGED OFF CONCERNS ABOUT RISK TO 2020 BID
Those messages indicated that the meeting did, in fact, take place. Bobulinski claimed Tuesday that it was Hunter Biden and Jim Biden, the brother of the former vice president, who had pushed for the meeting.
"They were sort of wining and dining me and presenting the strength of the Biden family to get me engaged," he said.
CLICK HERE FOR THE FOX NEWS APP
The Biden campaign declined to comment on the meeting Joe Biden allegedly had with Bobulinski. Biden himself has not yet directly addressed Bobulinski's claims on "Tucker Carlson Tonight."
In 2019, Biden told reporters: "I have never discussed with my son or my brother or anyone else anything having to do with their businesses. Period."
Fox News' Brooke Singman contributed to this report.https://www.foxnews.com/politics/joe-biden-hunter-smartest-guy-i-know
—
'Plausible deniability': Tony Bobulinski says Joe Biden knew about Hunter Biden's China deal pursuits
By Jerry Dunleavy & Joseph SimonsonOctober 27, 2020 – 11:06 PM
Hunter Biden's ex-business partner Tony Bobulinski claimed Joe Biden's brother, Jim, said that he and Biden's son were relying upon "plausible deniability" as they pursued a lucrative deal with a Chinese Communist Party-linked company.
During an hour-long interview with Tucker Carlson of Fox News conducted exactly one week before Election Day, Bobulinski, a Navy veteran, insisted he had firsthand knowledge that the former vice president was aware of the Biden family's Chinese endeavors, contrary to the 2020 Democratic nominee's claims.
After meeting with Joe Biden the evening of May 2, 2017 at the Beverly Hills Hilton and then briefly again the following day after the former vice president spoke at the Milken Institute Global Conference, Bobulinski said on Tuesday that he had a two-hour conversation with Biden's brother at the Peninsula Hotel. Bobulinksi said he thought to himself, "How are they doing this? I know Joe decided not to run in 2016, but what if he ran in the future? Aren't they taking political risk or headline risk? … How are you guys doing this? Aren't you concerned that you're going to put your brother's future presidential campaign at risk? You know, the Chinese, the stuff that you guys have been doing already in 2015 and 2016 around the world?"
Bobulonski said he asked Jim Biden directly, "How are you guys getting away with this? Like, aren't you concerned?"
"He looked at me and he laughed a little bit and said, 'Plausible deniability.' … Anyone watching this interview can look up what plausible deniability, what he means, and the definition is very distinct," Bobulinski said.
Newly released texts from Bobulinski back up his claims that Joe Biden met with him in 2017. At the time, Hunter, James, and their associates were pursuing a lucrative deal with a Chinese tycoon, complicating claims from the former vice president that he never discussed business dealings with his son.
The texts are part of a trove of hundreds of documents from Bobulinski obtained by the Washington Examiner, including dozens of WhatsApp messages, emails, letters, and business proposals. The records show that James Biden planned outreach to a host of Democratic politicians and world leaders as the group pursued business deals with China in 2017, and that Hunter Biden aimed to avoid having to register as a foreign agent. Bobulinski has provided the records to the Senate Homeland Security and Governmental Affairs Committee and to the FBI. Bobulinski did a sit-down interview with the bureau on Friday. His records are separate from those purportedly on Hunter Biden's laptop.
"So I initially was sitting — because I got there a little earlier — was sitting with Jim Biden and Hunter Biden. And Joe came through the lobby with his security and Hunter basically said, 'Hey, give me a second, I'll go over and give me 10 minutes to brief my dad and read him in on things.' And so then Hunter and his father and security came through the bar and I was just stood up out of respect to shake his hand," Bobulinski said. "And Hunter introduced me as, 'This is Tony, Dad, the individual I told you about that's helping us with the business that we're working on and the Chinese.' … You know, we didn't go into too much detail on business because prior to Joe showing up, Hunter and Jim had coached me. 'Listen, we won't go into too much detail here. This is just a high level discussion and meeting.' So it's not like I was drilling down with Joe about cap tables and details."
Carlson asked if it was clear to him that the Biden family had told Joe Biden about his business, and Bobulinski replied, "Crystal clear."


In September 2019, after being pressed by Fox News, Joe Biden said, "I have never spoken to my son about his overseas business dealings."
Joe Biden denied during the final debate last week that he has been involved in any family business dealings or any overseas deals, saying, "I have not taken a penny from any foreign source ever in my life."

"Yeah, that's a blatant lie," Bobulinski said. "When he states that that is a blatant lie. Obviously, the world is aware that I attended the debate last Thursday. And in that debate, he made a specific statement around questions around this from the president. And I'll be honest with you, I almost stood up and screamed liar and walked out because I was shocked that after four days or five days that they prep for this, that the Biden family is taking that position to the world."
Bobulinski, a former Navy lieutenant who has done business around the world, is listed as one of the recipients of a May 13, 2017, email detailing a business deal between a Chinese company and Hunter Biden.
"I am the CEO of Sinohawk Holdings, which was a partnership between the Chinese operating through CEFC/Chairman Ye and the Biden family. I was brought into the company to be the CEO by James Gilliar and Hunter Biden. The reference to 'the Big Guy' in the much-publicized May 13, 2017, email is, in fact, a reference to Joe Biden," Bobulinski said on Thursday, adding, "Hunter Biden called his dad 'the Big Guy' or 'my chairman' and frequently referenced asking him for his sign-off or advice on various potential deals that we were discussing."
The "big guy" email is from Gilliar to Hunter Biden and others, sent May 13, 2017, and it says, "We have discussed and agreed the following renumeration packages." The email noted that Hunter Biden would receive "850" ($850,000) and lists him as "Chair/Vice Chair depending on agreement with CEFC" — the China Energy Fund Committee.
"Hunter and everyone was in town and they wanted to coordinate me meeting with Joe. And so it was set up for the night of May 2 at the Beverly Hilton," Bobulinski said on Tuesday. "I met first met with Hunter Biden and Jim Biden and just had a light discussion where they briefed me that, 'Listen, you know, my dad's on the way and we won't go into too much detail on the business front, but we'll just spend time talking at a high level about you, your background, the Biden family. And then, you know, he's got to get some rest because he's speaking at the conference in the morning.' … Because they were sort of wining and dining me and presenting the strength of the Biden family to get me more engaged and want to take on the CEO role. And, you know, develop SinoHawk both in the United States and around the world in partnership with CEFC."
Carlson pressed him for further details about the purpose behind that discussion.
"As you can imagine, I've been asked by one hundred people over the last month, you know, 'Why would you be meeting with Joe Biden?' And I sort of turn the question around to the people that asked me why at 10:30 on the night of May 2, would Joe Biden take time out of his schedule to sit down with me in a dark bar at the Beverly Hilton sort of positioned behind a column so people can't see us to have a discussion about his family and my family and business at a very high level where Jim Biden sat and Hunter Biden participated?" Bobulinski said. "And I'm irrelevant in the story. They weren't raising money from me. There was no other reason for me to be in that bar meeting Joe Biden other than to discuss what I was doing with his family's name with the Chinese CEFC."
During a brief second meeting with Joe Biden after the former vice president's speech at the conference, Bobulinski said Biden "just sort of asked me to keep an eye on his son and his brother."
"Joe Biden has never even considered being involved in business with his family nor in any overseas business whatsoever," Biden campaign spokesman Andrew Bates told the Washington Examiner last week. "He has never held stock in any such business arrangements nor has any family member or any other person ever held stock for him."
The former vice president has repeatedly denied any wrongdoing by him or his son and dismissed the Hunter Biden laptop story as part of a "Russian plan." Director of National Intelligence John Ratcliffe said that "Hunter Biden's laptop is not part of some Russian disinformation campaign."
ELECTIONSPublished October 19, 2020Last Update 13 hrs ago
Ratcliffe says Hunter Biden laptop, emails 'not part of some Russian disinformation campaign'
'There is no intelligence that supports that,' Director of National Intelligence Ratcliffe says
Director of National Intelligence John Ratcliffe on Monday said that Hunter Biden's laptop "is not part of some Russian disinformation campaign," amid claims from House Intelligence Committee Chairman Adam Schiff suggesting otherwise.
Ratcliffe, during an exclusive interview on FOX Business' "Mornings with Maria," was asked about the allegations from Schiff, D-Calif., who over the weekend said that the Hunter Biden emails suggesting Democratic presidential nominee Joe Biden had knowledge of, and was allegedly involved in, his son's foreign business dealings.
"It's funny that some of the people who complain the most about intelligence being politicized are the ones politicizing the intelligence," Ratcliffe said. "Unfortunately, it is Adam Schiff who said the intelligence community believes the Hunter Biden laptop and emails on it are part of a Russian disinformation campaign."
He added: "Let me be clear: the intelligence community doesn't believe that because there is no intelligence that supports that. And we have shared no intelligence with Adam Schiff, or any member of Congress."
Ratcliffe went on to say that it is "simply not true."
WFP USA Board Chair Hunter Biden introduces his father Vice President Joe Biden during the World Food Program USA's 2016 McGovern-Dole Leadership Award Ceremony at the Organization of American States on April 12, 2016, in Washington, D.C. (Kris Connor/WireImage)
"Hunter Biden's laptop is not part of some Russian disinformation campaign," Ratcliffe said, adding again that "this is not part of some Russian disinformation campaign."
Ratcliffe's comments come after Schiff over the weekend described the emails as being part of a smear coming "from the Kremlin," amid claims the revelations are part of a Russian disinformation campaign.
"We know that this whole smear on Joe Biden comes from the Kremlin," Schiff said on CNN. "That's been clear for well over a year now that they've been pushing this false narrative about this vice president and his son."
A senior intelligence official backed up Ratcliffe's assessment.
"Ratcliffe is 100% correct," the senior intelligence official told Fox News. "There is no intelligence at this time to support Chairman Schiff's statement that recent stories on Biden's foreign business dealings are part of a smart campaign that 'comes from the Kremlin.' Numerous foreign adversaries are seeking to influence American politics, policies, and media narratives. They don't need any help from politicians who spread false information under the guise of intelligence."
Ratcliffe went on to say that the laptop is "in the jurisdiction of the FBI."
"The FBI has had possession of this," he said. "Without commenting on any investigation that they may or may not have, their investigation is not centered around Russian disinformation and the intelligence community is not playing any role with respect to that."
He added: "The intelligence community has not been involved in Hunter Biden's laptop."
A senior Trump administration official, however, told Fox News that the FBI was not investigating the emails as Russian disinformation.
The FBI declined to confirm or deny the existence of an investigation, as is standard practice.
Meanwhile, the Senate Homeland Security and Governmental Affairs Committee is investigating Hunter Biden's emails which reveal that he introduced his father, the former vice president, to a top executive at Ukrainian natural gas firm Burisma Holdings in 2015.
Ratcliffe went on to say that his role as director of National Intelligence, which he assumed earlier this year, is "to not allow people to leverage the intelligence community for a political narrative that's not true."
"In this case, Adam Schiff saying this is part of a disinformation campaign and that the intelligence community has assessed and believes that — that is simply not true," he said. "Whether its Republicans or Democrats, if they try to leverage the intelligence community for political gain, I won't allow it."
Meanwhile, the Senate Homeland Security and Governmental Affairs Committee is investigating Hunter Biden's emails.
The emails in question were first obtained by the New York Post and, in part, revealed that Hunter Biden introduced the then-vice president to a top executive at Ukrainian natural gas firm Burisma Holdings less than a year before he pressured government officials in Ukraine to fire prosecutor Viktor Shokin, who was investigating the company.
"We regularly speak with individuals who email the committee's whistleblower account to determine whether we can validate their claims," Johnson told Fox News. "Although we consider those communications to be confidential, because the individual in this instance spoke with the media about his contact with the committee, we can confirm receipt of his email complaint, have been in contact with the whistleblower, and are in the process of validating the information he provided."
The Post report revealed that Biden, at Hunter's request, met with Vadym Pozharskyi in April 2015 in Washington, D.C.
The meeting was mentioned in an email of appreciation, according to the Post, that Pozharskyi sent to Hunter Biden on April 17, 2015 — a year after Hunter took on his lucrative position on the board of Burisma.
"Dear Hunter, thank you for inviting me to DC and giving an opportunity to meet your father and spent [sic] some time together. It's realty [sic] an honor and pleasure," the email read.
But Biden campaign spokesman Andrew Bates last week hit back against the New York Post story, saying: "Investigations by the press, during impeachment, and even by two Republican-led Senate committees whose work was decried as 'not legitimate' and political by a GOP colleague have all reached the same conclusion: that Joe Biden carried out official U.S. policy toward Ukraine and engaged in no wrongdoing. Trump administration officials have attested to these facts under oath."
"The New York Post never asked the Biden campaign about the critical elements of this story. They certainly never raised that Rudy Giuliani—whose discredited conspiracy theories and alliance with figures connected to Russian intelligence have been widely reported—claimed to have such materials," Bates continued. "Moreover, we have reviewed Joe Biden's official schedules from the time and no meeting, as alleged by the New York Post, ever took place."
The Biden campaign also told Fox News Sunday that the former vice president "never had a meeting" with Pozharskyi.
Biden, prior to the emails surfacing, repeatedly has claimed he's "never spoken to my son about his overseas business dealings."
Hunter Biden's business dealings, and role on the board of Burisma, emerged during the Trump impeachment inquiry in 2019.
Biden once famously boasted on camera that when he was vice president and spearheading the Obama administration's Ukraine policy, he successfully pressured Ukraine to fire Shokin, who was the top prosecutor at the time. He had been investigating the founder of Burisma.
"I looked at them and said: I'm leaving in six hours. If the prosecutor is not fired, you're not getting the money," Biden infamously said to the Council on Foreign Relations in 2018.
"Well, son of a b—," he continued. "He got fired."
Biden and Biden allies have maintained, though, that his intervention prompting the firing of Shokin had nothing to do with his son, but rather was tied to corruption concerns.
Meanwhile, the Post reported Wednesday the emails were part of a trove of data recovered from a laptop which was dropped off at a repair shop in Delaware in April 2019.
The Post reported that other material turned up on the laptop, including a video, which they described as showing Hunter smoking crack while engaged in a sexual act with an unidentified woman, as well as other sexually explicit images.
The FBI reportedly seized the computer and hard drive in December 2019. The shop owner, though, said he made a copy of the hard drive and later gave it to former Mayor Rudy Giuliani's lawyer, Robert Costello.
The Post reported that the FBI referred questions about the hard drive and laptop to the Delaware U.S. Attorney's Office, where a spokesperson told the outlet that the office "can neither confirm nor deny the existence of an investigation."
A lawyer for Hunter Biden did not comment on specifics, but instead told the Post that Giuliani "has been pushing widely discredited conspiracy theories about the Biden family, openly relying on actors tied to Russian intelligence."
Giuliani did not respond to Fox News' requests for comment.
Another email, dated May 13, 2017, and obtained by Fox News, includes a discussion of "renumeration packages" for six people in a business deal with a Chinese energy firm. The email appeared to identify Hunter Biden as "Chair/ Vice Chair depending on an agreement with CEFC," in an apparent reference to now-bankrupt CEFC China Energy Co.
The email includes a note that "Hunter has some office expectations he will elaborate." A proposed equity split references "20" for "H" and "10 held by H for the big guy?" with no further details.
Fox News spoke to one of the people who was copied on the email, who confirmed its authenticity.
Sources also told Fox News that "the big guy" was a reference to the former vice president. The New York Post initially published the emails, and others, that Fox News has also obtained.
While Biden has not commented on that email, or his alleged involvement in any deals with the Chinese Energy firm, his campaign said it released the former vice president's tax documents and returns, which do not reflect any involvement with Chinese investments.
Fox News also obtained an email last week that revealed an adviser of Burisma Holdings, Vadym Pozharskyi, wrote an email to Hunter Biden on May 12, 2014, requesting "advice" on how he could use his "influence to convey a message" to "stop" what the company considers to be "politically motivated actions."
"We urgently need your advice on how you could use your influence to convey a message / signal, etc .to stop what we consider to be politically motivated actions," Pozharskyi wrote.
The email, part of a longer email chain obtained by Fox News, appeared to be referencing the firm's founder, Mykola Zlochevsky, being under investigation.
Brooke Singman is a Politics Reporter for Fox News. Follow her on Twitter at @BrookeSingman.https://www.google.com/amp/s/www.foxnews.com/politics/ratcliffe-hunter-biden-laptop-emails-not-russian-disinformation-campaign.amp
—-
—
—
Tucker Carlson: New emails reveal exactly what Burisma wanted from Joe Biden
Did Joe Biden subvert American foreign policy to enrich his own family?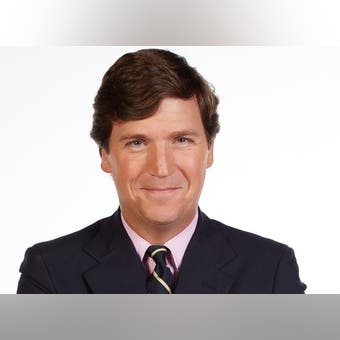 Editor's Note: This article was adapted from Tucker Carlson's opening commentary on the Oct. 15, 2020 edition of "Tucker Carlson Tonight."
Tom Cotton said it best below:
We knew Joe Biden's son Hunter pocketed $50,000 a month for a job with a Ukrainian gas company. Joe Biden allowed his son to make millions in Ukraine and China while Joe was Vice President.
Now, the New York Post is reporting that Vice President Biden may have been introduced to some of the corrupt Ukrainian businessmen paying Hunter… at the same time Vice President Biden was supposed to be overseeing our policy towards Ukraine.
Not everything you hear is untrue and not every story is complex. At the heart of the growing Biden-Ukrainescandal, for example, is a very straightforward question: Did Joe Biden subvert American foreign policy in order to enrich his own family?
In 2015, Joe Biden was the sitting vice president of the United States. Included in his portfolio were U.S. relations with the nation of Ukraine. At that moment, Vice President Joe Biden had more influence over the Ukrainian government and the Ukrainian economy than any other person on the globe outside of Eastern Europe.
Biden's younger son, Hunter, knew that and hoped to get rich from his father's influence. Emails published Wednesday by The New York Post, documents apparently taken directly from Hunter Biden's own laptop, tell some of that story.
"Tucker Carlson Tonight" have obtained another batch of emails, some exclusively. We believe they also came from Hunter Biden's laptop. We can't prove that they did, we haven't examined that computer. But every detail that we could check, including Hunter Biden's personal email address at the time, suggests they are authentic.
TUCKER CARLSON: THE JOE BIDEN STORY FACEBOOK AND TWITTER DON'T WANT YOU TO READ
If these emails are fake, this is the most complex and sophisticated hoax in history. It almost seems beyond human capacity. The Biden campaign clearly believes these emails are real. They have not said otherwise. We sent the body of them to Hunter Biden's attorney and never heard back. So with that in mind, here's what we have learned.
On Nov. 2, 2015, at 4:36 p.m., a Burisma executive called Vadym Pozharskyi emailed Hunter Biden and his business partner, Devon Archer. The purpose of the email, Pozharskyi explains, is to "be on the same page re our final goals … including, but not limited to: a concrete course of actions."
So what did Burisma want, exactly? Well, good PR, for starters. Pozharskyi wanted "high-ranking US [sic] officials" to express their "positive opinion" of Burisma, and then he wanted the administration to act on Burisma's behalf.
"The scope of work should also include organization of a visit of a number of widely recognized and influential current and/or former US [sic] policy-makers to Ukraine in November, aiming to conduct meetings with and bring positive signal/message and support" to Burisma.
The goal, Pozharskyi explained, was to "close down for [sic] any cases/pursuits" against the head of Burisma in Ukraine.
BIDEN CAMP HITS BACK AT HUNTER BIDEN EMAIL REPORT
It couldn't be clearer what they wanted. Burisma wanted Huter Biden's father to get their company out of legal trouble with the Ukrainian government. And that's exactly what happened. One month later to the day, on Dec. 2, 2015, Hunter Biden received a notice from a Washington PR firm called Blue Star Strategies, which apparently had been hired to lobby the Obama administration on Ukraine. "Tucker Carlson Tonight" have exclusively obtained that email.
"Hello all …" it began. "This morning, the White House hosted a conference call regarding the Vice President's upcoming trip to Ukraine. Attached is a memo from the Blue Star Strategies team with the minutes of the call, which outlined the trip's agenda and addressed several questions regarding U.S. policy toward Ukraine."
So here you have a PR firm involved in an official White House foreign policy call. How could that happen? Good question. But it worked.
Days later, Joe Biden flew to Ukraine and did exactly what his son wanted. The vice president gave a speech slamming the very Ukrainian law enforcement official who was tormenting Burisma. If the Ukrainian government didn't fire its top prosecutor, a man called Viktor Shokin, Biden explained, the administration would withhold a billion dollars in American aid. Now, Ukraine is a poor country, so they had no choice but to obey. Biden's bullying worked. He bragged about it later.
The obvious question: Why was the vice president of the United States threatening a tiny country like Ukraine to fire its top prosecutor? That doesn't seem like a vice president's role. Well, now we know why.
Viktor Shokin has signed an affidavit affirming that he was, in fact, investigating Burisma at the moment Joe Biden had him removed. Shokin said that before he was fired, administration officials pressured him to drop the case against Burisma. He would not do that, so Joe Biden canned him
That's how things really work in Washington. Your son's got a lucrative consulting deal with a Ukrainian energy company, you tailor American foreign policy — our foreign policy– to help make him rich. Even at the State Department, possibly the most cynical agency in government, this seemed shockingly brazen.
During the impeachment proceedings last fall, a State Department official named George Kent said it was widely known in Washington that the Bidens were up to something sleazy in Ukraine.
"I was on a call with somebody on the vice president's staff and … I raised my concerns that I had heard that Hunter Biden was on the board" of Burisma, Kent recalled. This, he noted, could create a perception of a conflict of interest.
So how did the vice president's office respond to this concern? According to George Kent, "The message that I recall hearing back was that the vice president's son, Beau, was dying of cancer and there was no further bandwidth to deal with family-related issues at the time."
Family-related issues? This was America's foreign policy being tailored to Joe Biden's son. Five years later, Joe Biden still has not been forced to explain why he fired Ukraine's top prosecutor at precisely the moment his son was being paid to get him to fire Ukraine's top prosecutor, nor has Joe Biden addressed whether or not he personally benefited from the Burisma contract.
But there are tantalizing hints. On Wednesday, former New York City Mayor Rudy Giuliani published what he said was yet another email from Hunter Biden's laptop. It's a note to one of his children. At the end of the email, there's this quote: "But dont [sic] worry unlike Pop I won't make you give me half your salary."
WHILE CENSORING HUNTER BIDEN STORY, TWITTER ALLOWS CHINA, IRAN STATE MEDIA
What does that mean, exactly? Well, we don't know. There may be more detail on the laptop, but unfortunately, we don't have access to that. But the question remains, how has Joe Biden lived in extravagance all these years on a government salary? No one has ever answered that question. And the tech monopolies are working hard to make certain no one ever does.
Thursday morning, the New York Post published another story based on the emails. This one describes a business venture Hunter Biden was working on in China. One email describes a "provisional agreement that the equity will be distributed as follows … 10 held by H for the big guy?"
The big guy? Is the big guy Joe Biden? If so, how much did Joe Biden get and how much of that came from the Communist Chinese government? Those are real questions, this man could be elected president in three weeks. But Twitter doesn't want you to wonder. It won't allow you to ask those questions. Twitter restricted the New York Post story as "unsafe," like it was a lawn dart or a defective circular saw. And that was enough for the Biden campaign.
All day Thursday, they deflected questions about Joe Biden's subversion of our country's foreign policy by invoking Twitter's ban on the New York Post story. So the tech monopoly censors information to help their candidate, that candidate uses that censorship to dismiss the story. One hand washes the other.
It doesn't matter who you plan to vote for Nov. 3, you should be terrified. Democracies cannot exist and never will be able to exist without the free flow of information. That is a prerequisite and without it, we're done. But companies like Facebook and Google and Twitter do not care because they don't believe in democracy. They worship power and they don't need to be consistent. Melania Trump's private phone conversations, the president's stolen tax returns, they were happy to publish all of that. But if you criticize the Democratic candidate, their candidate, you are banned.
"Facebook and Twitter have policies to not spread things that are utterly unreliable, that have been debunked, and where their origin is untrustworthy," Sen. Chris Coons, D-Del., said Thursday. "They're practicing their own internal controls, as I wish they had over the past four years … An active Russian disinformation campaign in 2016 had an influence on that election. They are trying even harder in this election. I'm glad that they are managing the content on their own websites."

Chris Coons is a liar.
Not one word of this story has been debunked, not one word in those emails has been "debunked." And if it is debunked, we'll be the first to report it because we're not liars. But did you catch the phrase he wanted you to hear: "Russian disinformation"? That's what they're claiming these emails are. And it's all over the Internet, in fact-free, conspiracy-laden conjecture crazier than anything the QAnon people ever thought of.
But none of their garbage, their lunatic lies about Russia is ever censored by the tech monopolies. It's not "unsafe" because it helps Joe Biden. Therefore, you can read it.
And where are the real journalists, now that we need them more than ever? They're gone. They're cowering. They're afraid. They don't want to upset power. Jake Sherman of Politico, who claims to be a news reporter, actually apologized on Twitter for asking the Biden campaign about Hunter Biden's emails. These people are craven. They have no standards. They have no self-respect. Like their masters in Silicon Valley, they worship power alone.
—-
Twitter, Facebook Suppress New York Post Report on Hunter Biden
Andrew Kerr4 hours ago
Twitter on Wednesday afternoon began blocking tweets from being posted that contained links to the New York Post's report on alleged emails that purportedly show Hunter Biden offered to introduce then-Vice President Joe Biden to an executive of the Ukrainian gas company Burisma.
"We can't complete this request because this link has been identified by Twitter or our partners as being potentially harmful," Twitter told users who attempted to post a tweet containing a link to the Post's story.
A Twitter spokesperson told the Daily Caller News Foundation that the platform took action to limit the spread of the Post's report because of the lack of authoritative reporting on the origins of the materials cited by the outlet.
"In line with our Hacked Materials Policy, as well as our approach to blocking URLs, we are taking action to block any links to or images of the material in question on Twitter," the spokesperson said.
There's no evidence at the moment the Post relied on hacked materials for its report.
According to the Post, the email was part of a "massive trove of data recovered from a laptop computer" that was dropped off at a Delaware computer repair shop in April 2019. The owner of the repair shop said the customer never came back to pay for the service and retrieve the computer, the Post reported.
The Post uploaded an invoice signed by the customer that states that equipment left with the repair shop "after 90 days of notification of completed service will be treated as abandoned."
The repair shop owner later alerted the FBI to the existence of the laptop and its hard drive after it went unclaimed, both of which were seized by federal authorities in December, according to a federal subpoena obtained by the Post.
Before the laptop was seized, however, the shop owner reportedly made a copy of its hard drive and turned it over to a lawyer for former New York Mayor Rudy Giuliani, who in turn provided a copy of the hard drive's contents to the Post.
The Daily Caller News Foundation has not confirmed the authenticity of the emails reported by the Post, and the Biden campaign issued a statement on Wednesday denying that Biden met with the Burisma executive in 2015 as alleged in the Post's report.
Link to New York Post story blocked by Twitter. (Screenshot: Andrew Kerr)
Also on Wednesday afternoon, Twitter began blocking any tweet from being posted that contained links to one of the two documents the Post uploaded to document sharing platform Scribd.
One of the documents depicts an alleged email sent by Hunter Biden in April 2014 to his former business partner Devon Archer, and the other is an alleged email that Vadym Pozharsky, an advisor to Burisma's board of directors, sent to Hunter Biden and Archer in May 2014.
Link to New York Post Scribd document titled, "Email from Vadim Pozharskyi to Devon Archer and Hunter Biden" blocked by Twitter. (Screenshot: Andrew Kerr)
story.
https://d-3624628980887906306.ampproject.net/2010010034001/frame.html
Content created by The Daily Caller News Foundation is available without charge to any eligible news publisher that can provide a large audience. For licensing opportunities of this original content, please contact licensing@dailycallernewsfoundation.org.https://www.google.com/amp/s/www.dailysignal.com/2020/10/14/twitter-facebook-suppress-new-york-post-report-on-hunter-biden/amp/
Link to New York Post Scribd document titled, "Email from Robert Biden to Devon Archer" blocked by Twitter. (Screenshot:Andrew Kerr)
Facebook spokesman Andy Stone, a former staffer for the Democratic House Majority PAC and former California Democratic Sen. Barbara Boxer, announced earlier Wednesday it would reduce the distribution of the Post's report despite the lack of any fact-checks against the story.
Fred Lucas / @FredLucasWH / Jarrett Stepman / @JarrettStepman / October 08, 2020 / 182 Comments
During the vice presidential debate Wednesday night, Sen. Kamala Harris, D-Calif., and Vice President Mike Pence sparred over a variety of policies, revealing significant differences on several issues.
The debate, which was moderated by USA Today Washington bureau chief Susan Page, featured the two contenders discussing issues ranging from climate change and COVID-19 to abortion and the Supreme Court.
Here are six highlights from the debate:
1) COVID-19
Harris aggressively attacked the Trump administration's handling of the COVID-19 pandemic. After the opening question, she laid out what could be called a prosecutor's case. How are socialists deluding a whole generation? Learn more now >>
"The American people have witnessed what is the greatest failure of any presidential administration in the history of our country," the California senator said. "And here are the facts: 210,000 dead people in our country in just the last several months, over 7 million people who have contracted this disease, 1 in 5 businesses closed. We are looking at frontline workers treated like sacrificial workers. We are looking at 30 million people who in the last several months had to file for unemployment."
That was in response to a question from Page about what the Biden administration would have done differently than Trump to address the COVID-19 pandemic. Harris then went on to summarize the Biden-Harris plan.
"Our plan is about what we need to do around a national strategy, for contact tracing, for testing, for administration of a vaccine, and make sure it's free," Harris said.
Pence, who headed the White House coronavirus task force, defended the administration's record.
"I want the American people to know that from the very first day, President Donald Trump has put the health of America first," the vice president said. "Before there were more than five cases in the United States—all people who had returned from China—President Donald Trump did what no other American had ever done. That was, he suspended all travel from China, the second-largest economy in the world."
Pence added: "Joe Biden opposed that decision."
"He said it was xenophobic and hysterical. I can tell you, having led the White House coronavirus task force that decision alone by President Trump gave us invaluable time to set up the greatest mobilization since World War II," Pence said. "I believe it saved hundreds of thousands of American lives."
As for the Biden plan, Pence said, the Trump administration was already doing much of what it recommends. He also took a shot at a Biden scandal that effectively ended his 1988 presidential bid.
"The reality is, when you look at the Biden plan, it looks an awful lot like what President Trump and I and our task force have been doing every step of the way," he said. " … It looks a little bit like plagiarism, something Joe Biden knows a little bit about."
In September 1987, Biden came in for withering criticism for borrowing lines from a speech by then-British Labor Party leader Neil Kinnock without attribution, knocking him out of the race when it was subsequently revealed to be part of a larger pattern of borrowing lines from other politicians without credit.
Asked about the race to develop a vaccine, Harris said she wouldn't trust a Trump-endorsed vaccine, but would take one approved by Dr. Anthony Fauci, the director of the National Institutes of Allergy and Infectious Diseases.
"If the public health professionals, if Dr. Fauci, if the doctors tell us that we should take it, I'll be the first in line to take it. Absolutely," Harris said. "But if Donald Trump tells us that we should take it, I'm not taking it."
Pence fired back that the California senator was politicizing the vaccine.
"The fact that you continue to undermine public confidence in a vaccine, if a vaccine emerges during the Trump administration, I think, is unconscionable," the vice president said. "Senator, I just ask you, stop playing politics with people's lives. The reality is, we will have a vaccine by the end of this year, and it will continue to save countless American lives."
2) Taxes and the Economy
Harris and Pence sparred over the tax cuts passed by Congress in 2017 and debated Biden's tax plan.
Harris said that the Biden administration would repeal the 2017 tax cuts "on Day One," and that they were passed to benefit the "rich."
"Joe Biden believes you measure the health and strength of America's economy based on the health and strength of the American worker and the American family," Harris said. "On the other hand, you have Donald Trump, who measures the strength of the economy based on how rich people are doing."
Pence defended the tax cuts and said: "Joe Biden said twice in the debate last week that he's going to repeal the Trump tax cuts," Pence said. "That was tax cuts that gave the average working family $2,000 with a tax break."
In 2017, Congress passed the Tax Cuts and Jobs Act, which reduced federal income taxes and made various other changes to the U.S. tax code.
Following the tax cut, the American economy experienced record low unemployment, wage growth, and an overall increase in business investment, according to Adam Michel, a specialist on tax policy and the federal budget as a policy analyst in the Thomas A. Roe Institute for Economic Policy Studies at The Heritage Foundation.
Harris said that Biden's tax plan would end tax breaks for the wealthy but wouldn't raise taxes on American making under $400,000.
"He has been very clear about that," Harris said, adding, "Joe Biden is the one who, during the Great Recession, was responsible for the Recovery Act that brought America back, and now the Trump and Pence administration wants to take credit for Joe Biden's success for the economy that they had at the beginning of their term."
According to The Washington Post, "most Americans received a tax" cut in 2017, not just the rich.
Biden's tax proposal would raise taxes about $3 trillion over the next decade, according to the nonpartisan Tax Foundation.
"… The Biden tax plan would reduce [gross domestic product] by 1.47 percent over the long term," according to the Tax Foundation's General Equilibrium Model. "On a conventional basis, the Biden tax plan by 2030 would lead to about 6.5 percent less after-tax income for the top 1 percent of taxpayers and about a 1.7 percent decline in after-tax income for all taxpayers on average."
According to the left-leaning Tax Policy Center, Biden's proposal "would increase taxes on average on all income groups, but the highest-income households would see substantially larger increases, both in dollar amounts and as a share of their incomes."
3) Climate Change and Fracking
Harris said a Biden administration would grow the economy through green energy, but she also denied past support for banning fracking.
"Joe Biden will not ban fracking. That is a fact. I will repeat that Joe Biden has been very clear that he thinks about growing jobs," Harris said, adding, "Part of those jobs that will be created by Joe Biden are going to be about clean energy and renewable energy, because Joe understands that the West Coast of our country is burning, including my home state of California."
Harris also spoke about climate-related problems in the Southeast and in the Midwest.
"Joe sees what is happening in the Gulf states, which are being battered by storms. Joe has seen and talked with the farmers in Iowa, whose entire crops have been destroyed because of floods," she said. "So, Joe believes again in science. … We have seen a pattern with this administration, which is, they don't believe in science. Joe's plan is about saying we are going to deal with it, but we are going to create jobs."
Pence addressed the issue of climate change, but also attacked the Biden campaign's promises for the environment.
"As I said, Susan, the climate is changing. We'll follow the science," he said.
"With regard to banning fracking, I just recommend people look at the record. You yourself said repeatedly you would ban fracking," Pence said of Harris. "You were the first Senate co-sponsor of the Green New Deal.
"While Joe Biden denied support for the Green New Deal, Susan, thank you for pointing out the Green New Deal is on [the Biden-Harris] website. As USA Today said, it's essentially the same plan as you co-sponsored with AOC."
That was a reference to Rep. Alexandria Ocasio-Cortez, D-N.Y., the main sponsor of the Green New Deal in the House.
"You just heard the senator say she was going to resubmit America to the Paris Climate Accord. The American people have always cherished our environment, and we'll continue to cherish it," Pence said. "We've made great progress reducing [carbon dioxide] emissions through American innovation and the development of natural gas through fracking.
"We don't need a massive $2 trillion Green New Deal that would impose all new mandates on American businesses and American families. … It makes no sense. It will cost jobs."
4) China
Pence and Harris sparred over U.S. relations with China, including its role in the outbreak of the COVID-19 pandemic.
"China and the World Health Organization did not play straight with the American people," Pence said. "They did not let our personnel into China … until the middle of February."
The vice president defended the administration's aggressive trade policy with Beijing. "But China has been taking advantage of the United States for decades, in the wake of Biden cheerleading for China," he said.
Harris said that the Trump administration had "lost" the trade war with China. "What ended up happening because of a so-called "trade war" with China? America lost 300,000 manufacturing jobs," she said.
Pence countered that a Biden administration would go soft on the communist country.
"Joe Biden has been a cheerleader for communist China over the last several decades," he said.
The vice president criticized the record of the administration of Biden's boss, President Barack Obama, saying that it had dismissed the idea that manufacturing jobs could ever come back to America.
"In our first three years, this administration saw 500,000 manufacturing jobs created, and that's the type of growth we're going to see," Pence said.
5) Supreme Court and Abortion
With the nomination of federal appeals court Judge Amy Coney Barrett to the Supreme Court, Page asked both candidates what they would want their respective states of Indiana and California to do if the high court were to overturn the 1973 Roe v. Wade decision that legalized abortion nationwide and sent the matter back to the states to decide for themselves.
Neither candidate directly addressed the question, but both spoke of the abortion issue in the context of the Supreme Court.
"The issues before us couldn't be more serious," Harris said. "There is the issue of choice, and I will always fight for a woman's right to make a decision about her own body. It should be her decision and not that of Donald Trump and the vice president, Michael Pence."
Pence reiterated his pro-life stance, and called out the Biden-Harris ticket.
"I couldn't be more proud to serve as vice president to a president who stands unapologetically for the sanctity of human life. I will not apologize for it," he said. "This is another one of those cases where there is such a dramatic contrast. Joe Biden and Kamala Harris support taxpayer funding of abortion all the way up to the moment of birth, late-term abortion."
Pence asked Harris at one point if she would support packing the courts, meaning increasing the number of Supreme Court justices to 10 or more, and then he accused her of not answering the question.
"Once again you gave a non-answer, Joe Biden gave a non-answer," Pence said. "The American people deserve a straight answer."
In his remarks, Pence noted the Supreme Court has had nine justices for the past 150 years.
6) Race Relations
The vice presidential candidates also had a heated exchange on race relations amid social unrest in major American cities.
Harris called out Trump for what she claimed was his reluctance to condemn white supremacists, referring to last week's presidential debate between Trump and Biden.
"Last week, the president of the United States took a debate stage in front of 70 million Americans and refused to condemn white supremacists," Harris said. "It wasn't like he wasn't given a chance. He didn't do it, and then he doubled down. Then he said, when pressed, 'Stand back, stand by.' This is part of a pattern with Donald Trump."
She also cited the deadly 2017 Charlottesville, Va., Unite the Right rally.
Pence countered by citing Trump's comments regarding the Charlottesville violence.
"This is one of the things that makes people dislike the media so much in this country, that you selectively edit so much," Pence said, arguing that the media had distorted what Trump had said about there being "very fine people" on both sides in Charlottesville.
"After President Trump made comments about people on either side of the debate over monuments, he condemned the KKK, neo-Nazis and white supremacists," the vice president said.
"He has done so repeatedly. Your concern that he doesn't condemn neo-Nazis, President Trump has Jewish grandchildren. His daughter and son-in-law are Jewish. This is a president who respects and cherishes all of the American people."
Pence then went on offense about Harris' prosecution record as a district attorney in San Francisco.
"When you were D.A. in San Francisco, African Americans were 19 times more likely to be prosecuted for minor drug offenses than whites and Hispanics," Pence said to Harris. "You increased the disproportionate incarceration. You did nothing on criminal justice reform in California. You didn't lift a finger to pass the First Step Act on Capitol Hill."
The First Step Act is a bipartisan criminal justice reform bill signed into law by Trump in December 2018.
Harris didn't directly defend her record as district attorney of San Francisco, but pivoted to her record as California attorney general.
"Having served as the attorney general of California, the work I did is a model of what our nation needs to do and what we will be able to do," she said, adding, "I was the first statewide officer to institute a requirement that my agents would wear body cameras and keep them on full time. We were the first to initiate that there would be training for law enforcement on implicit bias."
——
I grew up and went to EVANGELICAL CHRISTIAN SCHOOL in Memphis and ran some of our track meets at RHODES COLLEGE and I know that campus well and I even was contacted by a official at Rhodes with some recruiting material after a good performance in my sophomore year in my mile run there in 1978. Also during the late 1970's I helped my friends Byron Tyler and David Rogers in a Christian Rock Saturday morning show on Rhodes's radio station!!! My brother-in-law graduated from Rhodes but I graduated from University of Memphis in 1982.
—-
By Tim H.
| September 23, 202027 COMMENTS
President Trump is going to announce his nomination for the Supreme Court later this week, and all the talk is about Amy Coney Barrett, currently a Notre Dame professor of law and a judge on the Seventh Circuit Court of Appeals. As it happens, Amy was a classmate of mine at Rhodes College, a small (1,400 students at the time) liberal-arts school in Memphis. I didn't know her well, but she was a friend of other friends, and we were acquainted a bit through being in a club together.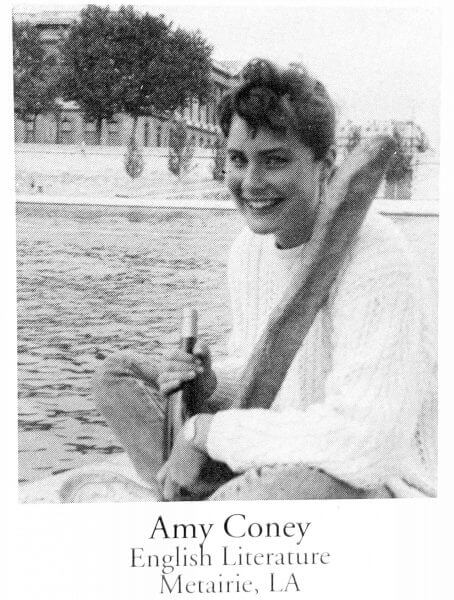 I can tell you a few things about her, though. For one thing, she did not have a wild reputation, so I think that if she's nominated, the Senate hearings will have to find something else to complain about. She was an English major and served on the Honor Council, a student body that enforced our honor code against lying and cheating (a great feature of academics at Rhodes that allowed us take-home tests in many classes). We were both in Mortar Board, an honor society. She wasn't a political activist and was never a member of the College Republicans (I was, and we had a much larger membership than the College Democrats).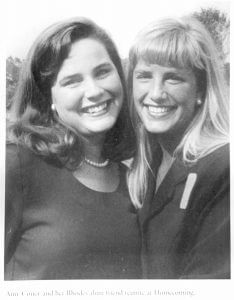 Amy at the homecoming game senior year
Popular, as far as I knew, and by our senior year, she shows up in the yearbook's candid photos taken around campus.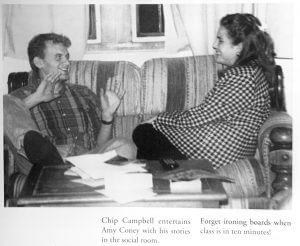 Candid photo in the social room (the ironing board refers to another picture)
I hadn't thought about her for a long time, until three years ago when friends were pointing out she'd been nominated for the Seventh Circuit, and Sen. Dianne Feinstein grilled her over her religion, proclaiming that "the dogma lives loudly within you." At the time, I thought that was a rough Senate hearing.
My daughter was a Notre Dame student, and two years ago, I stopped by to visit Amy at her home in South Bend and catch up. She had been listed as being on the president's shortlist for a Supreme Court seat, and Kavanaugh was going through his own nomination process at that time.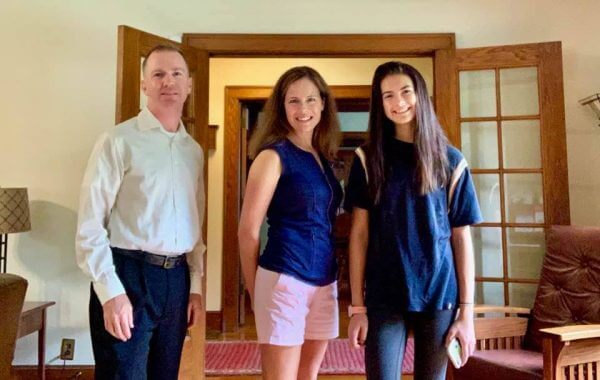 L to R: Me, Amy Barrett, and my daughter
My daughter had been treating the accusations against him as probably true by default and took an unconcerned view towards the behavior of the press. Amy knows Kavanaugh, spoke well of him, and described what it was like seeing the press contacting her and digging through rumors about him. That changed my daughter's opinion of how these things go, she told me. I meant to ask her if she were named to the Supreme Court if she'd be willing to go through all of the hatred and attacks on her reputation that would surely be a part of it. But I can't remember if I did. I reckon we'll all find out soon enough, though.
As a footnote, if Amy is confirmed to the court, she would be the second Supreme Court justice to come from Rhodes. Our first was Abe Fortas (class of 1930), who was named by President Johnson in 1965. Fortas resigned in 1969 after a series of ethics scandals, but the college gives out the Abe Fortas Award for Excellence in Legal Studies each year. Quite understandable; we're a small school, and we should still be proud one of our own was elevated to the Supreme Court. May Amy Barrett bring us more honor.Published in LawTags: SCOTUS; SUPREME COURT; Amy Coney Barrett
—
—
Amy Coney Barrett (born January 28, 1972)[1][2] is an American lawyer, jurist, and academic who serves as a circuit judge on the U.S. Court of Appeals for the Seventh Circuit. Barrett considers herself a public-meaning originalist; her judicial philosophy has been likened to that of her mentor and former boss, Antonin Scalia.[3] Barrett's scholarship focuses on originalism.
Barrett was nominated to the Seventh Circuit Court of Appeals by President Donald Trump on May 8, 2017 and confirmed by the Senate on October 31, 2017. While serving on the federal bench, she was a professor of law at Notre Dame Law School, where she has taught civil procedure, constitutional law, and statutory interpretation.[4][2][5][6] Shortly after her confirmation to the Seventh Circuit Court of Appeals in 2017, Barrett was added to President Trump's list of potential Supreme Court nominees.[7]Trump reportedly intends to nominate her to succeed Ruth Bader Ginsburg on the United States Supreme Court.[8]
Early life and education
Barrett was born in New Orleans, Louisiana, in 1972.[2] She is the eldest of seven children, with five sisters and a brother. Her father Michael Coney worked as an attorney for Shell Oil Company, and her mother Linda was a homemaker. Barrett grew up in Metairie, a suburb of New Orleans, and graduated from St. Mary's Dominican High School in 1990.[9]
Barrett studied English literature at Rhodes College, graduating in 1994 with a Bachelor of Arts magna cum laude and Phi Beta Kappa membership.[10] She then studied law at Notre Dame Law School on a full-tuition scholarship. She served as an executive editor of the Notre Dame Law Review[11] and graduated first in her class in 1997 with a Juris Doctor summa cum laude.[12]
Career
Clerkships and private practice
After law school Barrett spent two years as a judicial law clerk, first for Judge Laurence Silberman of the U.S. Court of Appeals for the D.C. Circuit from 1997 to 1998,[13] then for Justice Antonin Scalia of the U.S. Supreme Court from 1998 to 1999.[13]
From 1999 to 2002, she practiced law at Miller, Cassidy, Larroca & Lewin in Washington, D.C.[11][14]
Teaching and scholarship
Barrett served as a visiting associate professor and John M. Olin Fellow in Law at George Washington University Law School for a year before returning to her alma mater, Notre Dame Law School in 2002.[15]At Notre Dame she taught federal courts, constitutional law, and statutory interpretation. Barrett was named a Professor of Law in 2010, and from 2014 to 2017 held the Diane and M.O. Miller Research Chair of Law.[16] Her scholarship focuses on constitutional law, originalism, statutory interpretation, and stare decisis.[12] Her academic work has been published in journals such as the Columbia, Cornell, Virginia, Notre Dame, and TexasLaw Reviews.[15] Some of her most significant publications are Suspension and Delegation, 99 Cornell L. Rev. 251 (2014), Precedent and Jurisprudential Disagreement, 91 Tex. L. Rev. 1711 (2013), The Supervisory Power of the Supreme Court, 106 Colum. L. Rev. 101 (2006), and Stare Decisis and Due Process, 74 U. Colo. L. Rev. 1011 (2003).
At Notre Dame, Barrett received the "Distinguished Professor of the Year" award three times.[15] She taught Constitutional Law, Civil Procedure, Evidence, Federal Courts, Constitutional Theory Seminar, and Statutory Interpretation Seminar.[15] Barrett has continued to teach seminars as a sitting judge.[17]
Federal judicial service
Nomination and confirmation
President Donald Trump nominated Barrett on May 8, 2017, to serve as a United States Circuit Judge of the United States Court of Appeals for the Seventh Circuit, to the seat vacated by Judge John Daniel Tinder, who took senior status on February 18, 2015.[18][19]Judge Laurence Silberman, for whom Barrett first clerked after law school, swearing her in at her investiture as a judge on the Seventh Circuit.
A hearing on Barrett's nomination before the Senate Judiciary Committee was held on September 6, 2017.[20] During the hearing, Senator Dianne Feinstein questioned Barrett about a law review article Barrett co-wrote in 1998 with Professor John H. Garvey in which she argued that Catholic judges should in some cases recuse themselves from death penalty cases due to their moral objections to the death penalty. The article concluded that the trial judge should recuse herself instead of entering the order. Asked to "elaborate on the statements and discuss how you view the issue of faith versus fulfilling the responsibility as a judge today," Barrett said that she had participated in many death-penalty appeals while serving as law clerk to Scalia, adding, "My personal church affiliation or my religious belief would not bear on the discharge of my duties as a judge"[21][22] and "It is never appropriate for a judge to impose that judge's personal convictions, whether they arise from faith or anywhere else, on the law."[23] Worried that Barrett would not uphold Roe v. Wade given her Catholic beliefs, Feinstein followed Barrett's response by saying, "the dogma lives loudly within you, and that is a concern."[24][25][26] The hearing made Barrett popular with religious conservatives,[11] and in response, the conservative Judicial Crisis Network began to sell mugs with Barrett's photo and Feinstein's "dogma" remark.[27]Feinstein's and other senators' questioning was criticized by some Republicans and other observers, such as university presidents John I. Jenkins and Christopher Eisgruber, as improper inquiry into a nominee's religious belief that employed an unconstitutional "religious test" for office;[23][28][29]others, such as Nan Aron, defended Feinstein's line of questioning.[29]
Lambda Legal, an LGBT civil rights organization, co-signed a letter with 26 other gay rights organizations opposing Barrett's nomination. The letter expressed doubts about her ability to separate faith from her rulings on LGBT matters.[30][31] During her Senate confirmation hearing, Barrett was questioned about landmark LGBTQ legal precedents such as Obergefell v. Hodges, United States v. Windsor, and Lawrence v. Texas. Barrett said these cases are "binding precedents" that she intended to "faithfully follow if confirmed" to the appeals court, as required by law.[30] The letter co-signed by Lambda Legal said "Simply repeating that she would be bound by Supreme Court precedent does not illuminate—indeed, it obfuscates—how Professor Barrett would interpret and apply precedent when faced with the sorts of dilemmas that, in her view, 'put Catholic judges in a bind.'"[30] Carrie Severino of the Judicial Crisis Network later said that warnings from LGBT advocacy groups about shortlisted nominees to replace Justice Anthony Kennedy, including Barrett, were "very much overblown" and called them "mostly scare tactics."[30]
In 2015, Barrett signed a letter in support of the Ordinary Synod of Bishops on the Family that endorsed the Catholic Church's teachings on human sexuality and its definition of marriage as between one man and one woman. When asked about the letter, she testified that the Church's definition of marriage is legally irrelevant.[32][33]
Barrett's nomination was supported by every law clerk she had worked with and all of her 49 faculty colleagues at Notre Dame Law school. 450 former students signed a letter to the Senate Judiciary Committee supporting Barrett's nomination.[34][35]
On October 5, 2017, the Senate Judiciary Committee voted 11–9 on party lines to recommend Barrett and report her nomination to the full Senate.[36][37] On October 30, the Senate invoked cloture by a vote of 54–42.[38] It confirmed her by a vote of 55–43 on October 31, with three Democrats—Joe Donnelly, Tim Kaine, and Joe Manchin—voting for her.[10] She received her commission two days later.[2] Barrett is the first and to date only woman to occupy an Indiana seat on the Seventh Circuit.[39]
Notable cases
Title IX
In Doe v. Purdue University, 928 F.3d 652 (7th Cir. 2019), the court, in a unanimous decision written by Barrett, reinstated a suit brought by a male Purdue University student (John Doe) who had been found guilty of sexual assault by Purdue University, which resulted in a one-year suspension, loss of his Navy ROTC scholarship, and expulsion from the ROTC affecting his ability to pursue his chosen career in the Navy.[40] Doe alleged the school's Advisory Committee on Equity discriminated against him on the basis of his sex and violated his rights to due process by not interviewing the alleged victim, not allowing him to present evidence in his defense, including an erroneous statement that he confessed to some of the alleged assault, and appearing to believe the victim instead of the accused without hearing from either party or having even read the investigation report. The court found that Doe had adequately alleged that the university deprived him of his occupational liberty without due process in violation of the Fourteenth Amendment and had violated his Title IX rights "by imposing a punishment infected by sex bias," and remanded to the District Court for further proceedings.[41][42][43]
Title VII
In EEOC v. AutoZone, the Seventh Circuit considered the federal government's appeal from a ruling in a suit brought by the Equal Employment Opportunity Commission against AutoZone; the EEOC argued that the retailer's assignment of employees to different stores based on race (e.g., "sending African American employees to stores in heavily African American neighborhoods") violated Title VII of the Civil Rights Act. The panel, which did not include Barrett, ruled in favor of AutoZone. An unsuccessful petition for rehearing en banc was filed. Three judges—Chief Judge Diane Wood and Judges Ilana Rovner and David Hamilton—voted to grant rehearing, and criticized the panel decision as upholding a "separate-but-equal arrangement"; Barrett and four other judges voted to deny rehearing.[11]
Immigration
In Cook County v. Wolf, 962 F.3d 208 (7th Cir. 2020), Barrett wrote a 40-page dissent from the majority's decision to uphold a preliminary injunction on the Trump administration's controversial "public charge rule", which heightened the standard for obtaining a green card. In her dissent, she argued that any noncitizens who disenrolled from government benefits because of the rule did so due to confusion about the rule itself rather than from its application, writing that the vast majority of the people subject to the rule are not eligible for government benefits in the first place. On the merits, Barrett departed from her colleagues Wood and Rovner, who held that DHS's interpretation of that provision was unreasonable under Chevron Step Two. Barrett would have held that the new rule fell within the broad scope of discretion granted to the Executive by Congress through the Immigration and Nationality Act.[44][45][46] The public charge issue is the subject of a circuit split.[44][46][47]
In Yafai v. Pompeo, 924 F.3d 969 (7th Cir. 2019), the court considered a case brought by a Yemeni citizen, Ahmad, and her husband, a U.S. citizen, who challenged a consular officer's decision to twice deny Ahmad's visa application under the Immigration and Nationality Act. Yafai, the U.S. citizen, argued that the denial of his wife's visa application violated his constitutional right to live in the United States with his spouse.[48] In an 2-1 majority opinion authored by Barrett, the court held that the plaintiff's claim was properly dismissed under the doctrine of consular nonreviewability. She declined to address whether Yafai had been denied a constitutional right (or whether a constitutional right to live in the United States with his spouse existed) because even if a constitutional right was implicated, the court lacked authority to disturb the consular officer's decision to deny Ahmad's visa application because that decision was facially legitimate and bona fide. Following the panel's decision, Yafai filed a petition for rehearing en banc; the petition was denied, with eight judges voting against rehearing and three in favor, Wood, Rovner and Hamilton. Barrett and Judge Joel Flaumconcurred in the denial of rehearing.[48][49]
Second Amendment
In Kanter v. Barr, 919 F.3d 437 (7th Cir. 2019), Barrett dissented when the court upheld a law prohibiting convicted nonviolent felons from possessing firearms. The plaintiffs had been convicted of mail fraud. The majority upheld the felony dispossession statutes as "substantially related to an important government interest in preventing gun violence." In her dissent, Barrett argued that while the government has a legitimate interest in denying gun possession to felons convicted of violent crimes, there is no evidence that denying guns to nonviolent felons promotes this interest, and that the law violates the Second Amendment.[50][51]
Fourth Amendment
In Rainsberger v. Benner, 913 F.3d 640 (7th Cir. 2019), the panel, in an opinion by Barrett, affirmed the district court's ruling denying the defendant's motion for summary judgment and qualified immunity in a 42 U.S.C. § 1983 case. The defendant, Benner, was a police detective who knowingly provided false and misleading information in a probable cause affidavit that was used to obtain an arrest warrant against Rainsberger. (The charges were later dropped and Rainsberger was released.) The court found the defendant's lies and omissions violated "clearly established law" and thus Benner was not shielded by qualified immunity.[52]
The case United States v. Watson, 900 F.3d 892 (7th Cir. 2018) involved police responding to an anonymous tip that people were "playing with guns" in a parking lot. The police arrived and searched the defendant's vehicle, taking possession of two firearms; the defendant was later charged with being a felon in possession of a firearm. The district court denied the defendant's motion to suppress. On appeal, the Seventh Circuit, in a decision by Barrett, vacated and remanded, determining that the police lacked probable cause to search the vehicle based solely upon the tip, when no crime was alleged. Barrett distinguished Navarette v. California and wrote, "the police were right to respond to the anonymous call by coming to the parking lot to determine what was happening. But determining what was happening and immediately seizing people upon arrival are two different things, and the latter was premature…Watson's case presents a close call. But this one falls on the wrong side of the Fourth Amendment."[53]
In a 2013 Texas Law Review article, Barrett included as one of only seven Supreme Court "superprecedents", Mapp vs Ohio (1961); the seminal case where the court found through the doctrine of selective incorporation that the 4th Amendment's protections against unreasonable searches and seizures was binding on state and local authorities in the same way it historically applied to the federal government.
Civil procedure and standing
In Casillas v. Madison Ave. Associates, Inc., 926 F.3d 329 (7th Cir. 2019), the plaintiff brought a class-action lawsuit against Madison Avenue, alleging that the company violated the Fair Debt Collection Practices Act (FDCPA) when it sent her a debt-collection letter that described the FDCPA process for verifying a debt but failed to specify that she was required to respond in writing to trigger the FDCPA protections. Casillas did not allege that she had tried to verify her debt and trigger the statutory protections under the FDCPA, or that the amount owed was in any doubt. In a decision written by Barrett, the panel, citing the Supreme Court's decision in Spokeo, Inc. v. Robins, found that the plaintiff's allegation of receiving incorrect or incomplete information was a "bare procedural violation" that was insufficiently concrete to satisfy the Article III's injury-in-fact requirement. Wood dissented from the denial of rehearing en banc. The issue created a circuit split.[54][55][56]
Judicial philosophy and political views
Barrett considers herself an originalist. She is a constitutional scholar with expertise in statutory interpretation.[10] Reuters described Barrett as a "a favorite among religious conservatives," and said that she has supported expansive gun rights and voted in favor of one of the Trump administration's anti-immigration policies.[57]
Barrett was one of Justice Antonin Scalia's law clerks. She has spoken and written of her admiration of his close attention to the text of statutes. She has also praised his adherence to originalism.[58]
In 2013, Barrett wrote a Texas Law Review article on the doctrine of stare decisis wherein she listed seven cases that should be considered "superprecedents"—cases that the court would never consider overturning. The list included Brown v. Board of Education but specifically excluded Roe v. Wade. In explaining why it was not included, Barrett referenced scholarship agreeing that in order to qualify as "superprecedent" a decision must enjoy widespread support from not only jurists but politicians and the public at large to the extent of becoming immune to reversal or challenge. She argued the people must trust the validity of a ruling to such an extent the matter has been taken "off of the court's agenda," with lower courts no longer taking challenges to them seriously. Barrett pointed to Planned Parenthood v. Casey as specific evidence Roe had not yet attained this status.[59] The article did not include any pro-Second Amendment or pro-LGBT cases as "Super-Precedent".[30][31] When asked during her confirmation hearings why she did not include any pro-LGBT cases as "superprecedent", Barrett explained that the list contained in the article was collected from other scholars and not a product of her own independent analysis on the subject.[32][33]
Barrett has never ruled directly on a case pertaining to abortion rights, but she did vote to rehear a successful challenge to Indiana's parental notification law in 2019. In 2018, Barrett voted against striking down another Indiana law requiring burial or cremation of fetal remains. In both cases, Barrett voted with the minority. The Supreme Court later reinstated the fetal remains law and in July 2020 it ordered a rehearing in the parental notification case.[57] At a 2013 event reflecting on the 40th anniversary of Roe v. Wade, she described the decision—in Notre Dame Magazine's paraphrase—as "creating through judicial fiat a framework of abortion on demand."[60][61] She also remarked that it was "very unlikely" the court would overturn the core of Roe v. Wade: "The fundamental element, that the woman has a right to choose abortion, will probably stand. The controversy right now is about funding. It's a question of whether abortions will be publicly or privately funded."[62][63] NPR said that those statements were made before the election of Donald Trump and the changing composition of the Supreme Court to the right subsequent to his election, which could make Barrett's vote pivotal in overturning Roe v. Wade.[64]
Barrett was critical of Chief Justice John Roberts'opinion in the 5–4 decision that upheld the constitutionality of the central provision in the Affordable Care Act (Obamacare) in NFIB vs. Sebelius. Roberts's opinion defended the constitutionality of the individual mandate of the Affordable Care Act by characterizing it as a "tax." Barrett disapproved of this approach, saying Roberts pushed the ACA "beyond it's plausible limit to save it."[64][65][66][67] She criticized the Obama administration for providing employees of religious institutions the option of obtaining birth controlwithout having the religious institutions pay for it.[65]
Potential Supreme Court nomination
Barrett has been on President Trump's list of potential Supreme Court nominees since 2017, almost immediately after her court of appeals confirmation. In July 2018, after Anthony Kennedy's retirement announcement, she was reportedly one of three finalists Trump considered, along with Judge Raymond Kethledge and Judge Brett Kavanaugh.[16][68] Trump chose Kavanaugh.[69]Reportedly, although Trump liked Barrett, he was concerned about her lack of experience on the bench.[70] In the Republican Party, Barrett was favored by social conservatives.[70]
After Kavanaugh's selection, Barrett was viewed as a possible Trump nominee for a future Supreme Court vacancy.[71] Trump was reportedly "saving" Ruth Bader Ginsburg's seat for Barrett if Ginsburg retired or died during his presidency.[72] Ginsburg died on September 18, 2020, and Barrett has been widely mentioned as the front-runner to succeed her.[73][74][75][76]
Personal life
Judge Barrett with her husband, Jesse
Since 1999, Barrett has been married to fellow Notre Dame Law graduate Jesse M. Barrett, a partner at SouthBank Legal in South Bend, Indiana. Previously, Jesse Barrett worked as an Assistant U.S. Attorneyfor the Northern District of Indiana for 13 years.[77][78][79] They live in South Bend and have seven children, ranging in age from 8-19.[80] Two of the Barrett children are adopted from Haiti. Their youngest biological child has special needs.[79][2][81]Barrett is a practicing Catholic.[82][83]
In September 2017, The New York Times reported that Barrett was an active member of a small, tightly knit Charismatic Christian group called People of Praise.[84][85] Founded in South Bend, the group is associated with the Catholic Charismatic Renewalmovement; it is ecumenical and not formally affiliated with the Catholic Church, but about 90% of its members are Catholic.[85][86]
Affiliations and recognition
From 2010 to 2016, Barrett served by appointment of the Chief Justice on the Advisory Committee for the Federal Rules of Appellate Procedure.[15]
Barrett was a member of the Federalist Society from 2005 to 2006 and from 2014 to 2017.[25][10][11] She is a member of the American Law Institute.[87]
Selected publications
See also
References
—-
​Amy Coney Barrett was appointed to the U.S. Court of Appeals for the Seventh Circuit in November 2017. She serves on the faculty of the Notre Dame Law School, teaching on constitutional law, federal courts, and statutory interpretation, and previously served on the Advisory Committee for the Federal Rules of Appellate Procedure. She earned her bachelor's degree from Rhodes College in 1994 and her J.D. from Notre Dame Law School in 1997. Following law school, Barrett clerked for Judge Laurence Silberman of the U.S. Court of Appeals for the D.C. Circuit and for Associate Justice Antonin Scalia of the U.S. Supreme Court. She also practiced law with Washington, D.C. law firm Miller, Cassidy, Larroca & Lewin.
—-
—-
—
—-Related posts:
I have gone back and forth and back and forth with many liberals on the Arkansas Times Blog on many issues such as abortion, human rights, welfare, poverty, gun control and issues dealing with popular culture. Here is another exchange I had with them a while back. My username at the Ark Times Blog is Saline […]By Everette Hatcher III | Posted in Francis Schaeffer, Prolife | Edit | Comments (0)
I have gone back and forth and back and forth with many liberals on the Arkansas Times Blog on many issues such as abortion, human rights, welfare, poverty, gun control and issues dealing with popular culture. Here is another exchange I had with them a while back. My username at the Ark Times Blog is Saline […]By Everette Hatcher III | Posted in Francis Schaeffer, President Obama, Prolife | Edit | Comments (0)
I have gone back and forth and back and forth with many liberals on the Arkansas Times Blog on many issues such as abortion, human rights, welfare, poverty, gun control and issues dealing with popular culture. Here is another exchange I had with them a while back. My username at the Ark Times Blog is Saline […]By Everette Hatcher III | Posted in Francis Schaeffer, President Obama, Prolife | Edit | Comments (0)
I have gone back and forth and back and forth with many liberals on the Arkansas Times Blog on many issues such as abortion, human rights, welfare, poverty, gun control and issues dealing with popular culture. Here is another exchange I had with them a while back. My username at the Ark Times Blog is Saline […]By Everette Hatcher III | Posted in Francis Schaeffer, Prolife | Edit | Comments (0)
I have gone back and forth and back and forth with many liberals on the Arkansas Times Blog on many issues such as abortion, human rights, welfare, poverty, gun control and issues dealing with popular culture. Here is another exchange I had with them a while back. My username at the Ark Times Blog is Saline […]By Everette Hatcher III | Posted in Francis Schaeffer, Prolife | Edit | Comments (0)
I have gone back and forth and back and forth with many liberals on the Arkansas Times Blog on many issues such as abortion, human rights, welfare, poverty, gun control and issues dealing with popular culture. Here is another exchange I had with them a while back. My username at the Ark Times Blog is Saline […]By Everette Hatcher III | Posted in Francis Schaeffer, Prolife | Edit | Comments (3)
I have gone back and forth and back and forth with many liberals on the Arkansas Times Blog on many issues such as abortion, human rights, welfare, poverty, gun control and issues dealing with popular culture. Here is another exchange I had with them a while back. My username at the Ark Times Blog is Saline […]By Everette Hatcher III | Posted in Francis Schaeffer, Prolife | Edit | Comments (2)
It is truly sad to me that liberals will lie in order to attack good Christian people like state senator Jason Rapert of Conway, Arkansas because he headed a group of pro-life senators that got a pro-life bill through the Arkansas State Senate the last week of January in 2013. I have gone back and […]By Everette Hatcher III | Posted in Arkansas Times, Francis Schaeffer, Max Brantley, Prolife | Edit | Comments (0)
I have gone back and forth and back and forth with many liberals on the Arkansas Times Blog on many issues such as abortion, human rights, welfare, poverty, gun control and issues dealing with popular culture. Here is another exchange I had with them a while back. My username at the Ark Times Blog is Saline […]By Everette Hatcher III | Posted in Francis Schaeffer, Prolife | Edit | Comments (0)