—
Canary Islands 2014: Harold Kroto and Richard Dawkins
_
September 14, 2019
Richard Dawkins c/o Richard Dawkins Foundation,
Washington, DC 20005
Dear Mr. Dawkins,
Page 217 of THE GOD DELUSION: Martin Luther was well aware that reason was religion's arch-enemy, and he frequently warned of its dangers:
Here is some very impressive evidence that indicates the Bible is accurate and even reasonable skeptics should take notice!!!
Francis Schaeffer in another place worded it like this:
The universe was created by an infinite personal God and He brought it into existence by spoken word and made man in His own image. When man tries to reduce [philosophically in a materialistic point of view] himself to less than this [less than being made in the image of God] he will always fail and he will always be willing to make these impossible leaps into the area of nonreason even though they don't give an answer simply because that isn't what he is. He himself testifies that this infinite personal God, the God of the Old and New Testament is there.
Instead of making a leap into the area of nonreason the better choice would be to investigate the claims that the Bible is a historically accurate book and that God created the universe and reached out to humankind with the Bible. Below is a piece of that evidence given by Francis Schaeffer concerning the accuracy of the Bible.
TRUTH AND HISTORY (chapter 5 of WHATEVER HAPPENED TO THE HUMAN RACE?)
So the story goes on. We have stopped at only a few incidents in the sweep back to the year 1000 B.C. What we hope has emerged from this is a sense of the historical reliability of the Bible's text. When the Bible refers to historical incidents, it is speaking about the same sort of "history" that historians examine elsewhere in other cultures and periods. This borne out by the fact that some of the incidents, some of the individuals, and some of the places have been confirmed by archaeological discoveries in the past hundred years has swept away the possibility of a naive skepticism about the Bible's history. And what is particularly striking is that the tide has built up concerning the time before the year 1000 B.C. Our knowledge about the years 2500 B.C. to 1000 B.C. has vastly increased through discoveries sometimes of whole libraries and even of hitherto unknown people and languages.
There was a time, for example, when the Hittite people, referred to in the early parts of the Bible, were treated as fictitious by critical scholars. Then came the discoveries after 1906 at Boghaz Koi (Boghaz-koy) which not only gave us the certainty of their existence but stacks of details from their own archives!
____
Posted in Current Affairs, History, India, Media, politics, Religion by Anuraag Sanghi on December 25, 2007
9 Votes
Egyptian temple complex of Abu Simbel, Southern Egypt. (Photograph by David S. Boyer, Courtesy – National Geographic). Click for larger photograph.
Ramesses-II goes to war
1301 BC. An Egyptian land army, numbering more than 20,000, (divided in 4 divisions), set out on a campaign, lead by Pharoah Ramesses-II of the XIX Dynasty.
Ramesses-II, lived for more than 90 years, was probably the Pharaoh at the time of Exodus of Hebrews under Moses.
Ramesses-II is known in history for the construction during his reign. Most notably, the Temple Of Abu Simbel, Temple Of Nefertari. How would Abu Simbel read in Sanskrit – 'abu' is elephant, 'simba' is sinh i.e. lion and 'bal' is strength.
Cause of War Of Kadesh
Of the two warring sides, one was the Egyptian Pharoah RamessesII (1279-1212 BCE). With a land army of 20,000, and a naval Egyptian force set sail, in ships, to reach Byblos and squeeze the Hittites in the world's first pincer movement. Ramesses-II set out to punish a small kingdom. Of Hittites, for trying to lure the Amurrus, Egyptian vassals, to the Hittite side.
Bedouin Slaves Being Beaten – Battle Of Kadesh
A lesser known (to modern history) element, were the Hittites led by Muwutalli-II, who had cobbled an alliance of small kingdoms.
Both these kingdoms were interested in the Syria and Palestine areas through which trade was carried out with India. Syriac and Palestinian lands were controlled by the Amurru – who were Egyptian vassals. The Hittites were a liberalising element in the Middle East /West Asia and possibly the Amurrus had defected to protect their political identity.
The campaign
During the march, leading to the Kadesh battle, the Egyptian army captured two Bedouin "spies". These "spies", after being sufficiently beaten, "revealed" to the Pharoah important information – giving confidence to the Pharoah that the Hittites feared the approaching Egyptian army. The truth was the opposite.
Battle Of Kadesh
The Greatest Chariot Battle In History
What followed was a historic chariot battle.
The awaiting Hittites ambushed the Egyptian army. These spies, in fact, were Hittites – sent to misinform the Egyptians!! An estimated 2500 Hittite (Ramesses' estimate) chariots saw action. For two days the battle of Kadesh raged. Fought on the banks of the Orontes River in Syria.
The Egyptian king was saved at the last minute by the appearance of his reserve troops.
The Historic Treaty
After this battle, the Egyptians and the Hittites sat down and wrote their versions of this battle – which makes it rather unique. One of the few times in ancient history, where we get both versions of the battle. Two copies of the treaty were made. One, in Egyptian hieroglyphics and the other, in Hittite-Akaddian, and both survived. Only one difference in both the copies – the Egyptian version (recorded on a silver plaque) states that the Hittite king who wanted peace. In the Hittite copy, it was Ramesses-II who sent emissaries.
Queen Nefertari (Photograph by Kenneth Garrett 1997, NGM, From Treasures of Egypt, 2003.).
The two queens – critical factor
Peace broke when the queens of Hatti and Egypt, Puduhepa and Nefertari, sent one another congratulatory gifts and letters. Over the next 15 years, they arrived at modus vivendi and drafted a peace treaty. Puduhepa continued to be an active diplomat, co-signatory to the treaty of Ulmi-Teshub treaty.
This peace treaty is the first in recorded history. A replica of this peace pact, in cuneiform tablet, found at Hattusas, Boghazkoi, hangs above the Security Council Chamber, United Nations, in New York, – a demonstration to modern nations the power of peace through international treaties. At Boghazkoi other Hiitite treaties have been found.
Another Treaty
The second discovery in the West Asian history, is the Treaty between the Mitannis and Hittites. In 1450 BC, Suppiluliuma I of the Hittitesentered into a treaty with the Mitannis. The Mittanis of the Amarna Tablets fame were linked to the significant power in the region – Egypt. As already outlined, the Mittanis were the closely associated with the Egyptian Pharaohs by marriage. And the Mittanis were also Indo-Aryans.
What Is Special About This Treaty
In this treaty, Vedic Gods like Indra, Varuna, The Ashwini twins were invoked to bless and witness the treaty. The Hittites who had become past masters at treaties did not invoke these Gods with any other kingdom – except the Mitannis. Hittites and Mitannis were Indo- Aryan kingdoms – in full presence, with their Vedic Gods and culture.
The Zannanzas Puzzle
The 3rd interesting link between the Mitannis and the Hittites was the Zannanzas affair. After the death of Tutankhamen, (The Boy King) the XVIIIth Dynasty of Egypt was without a ruler. Tutankhamen's queen, Ankhesenamun, a princess of Mitanni descent, needed a husband to continue the dynasty and protect the throne. She sent some urgent missives to the Hittite King, Suppiluliuma – asking him to send his son, to her as a husband, and become the King Of Egypt. The suspicious Hittite king ignored the missive. A second missive followed – and then a young prince was sent to Thebes (the capital was moved from Amarna back to Thebes).
The young prince never reached Egypt. He was possibly killed en route. And Tutankhamen's Queen? Never been heard of since then.
How Do We Know All This
In 1906-07, an Turkish archeologist , Theodore Makridi-Bey, started excavations at Boghazkoi, (now identified as the ancient city of Hattusas) in Cappadocia, 150-200 kms from Ankara, Turkey. The name of the Hittite city, Hattusas, is possibly derived from the Sanskrit word, hutashan, हुताशन meaning '"sacred sacrificial fire."
He was joined by Hugo Winckler, a German archaeologist, specialising in Assyria. They unearthed more than 10,000 clay tablets which proved to be of tremendous interest. A Czech cryptographer, born in Poland, working in Germany, Friedrich (or Bedrich) Hrozny, working in Germany cracked this code over the next 15 years – and that set off a furore amongst archaeologists.
What do the Boghaz koi tablets show
Deciphered cuneiform tablets show Hittite worship of Varuna, Mitra and Indra – Gods worshipped by Indo-Aryans. Rulers and Kings had names likes Shutruk (Shatrughna), Tushrutta meaning "of splendid chariots" (similar to Dashratha; Master of Ten Chariots) Rama-Sin (Assyrian Moon Good was Sin; in Hindi Ramachandra), Warad (Bharat). One of the Hittite allies against Ramesses II was Rimisharrinaa, रामशरण the King of Aleppo. (One of my grand uncles is also named as रामशरण – a common Indian name 4000 years later, 4000 kilometers apart).
These Hittites ruled immediately before and after Hammurabi – the much proclaimed western world's first law giver. Hammurabi's legal concepts of vengeful laws and retributive justice are the basis of laws in the 3 'desert religions.'
The Elam culture had a language which is similar to Dravidian languages. The Mitannite, Kikkuli, wrote on how to manage chariot horses. Egyptian king, Amenhotep I, married a Mittanite princesses. Elamites were founders of the first kingdom in the Iranian geography.
Some archaeologists await the discovery of tombs to establish the identity of kings. They may never find them. In Vedic cultures, there are no tombs – like the Pyramids, or the Catacombs, or Mausoluems. Vedic Indo Aryans cremate their dead. They do not build memorials or mausoluems.
Religious freedom
The Hittite kingdom came to be known as the "kingdom of thousands of gods." Like the Mittani, the Hittites too, added the gods of the conquered people to their own list of gods – instead of imposing the Hittite religion on the conquered peoples.
Why does this sound familiar?
This is significant as the Western concept of slavery was to deprive the captured of their religions (for instance, The Wends and their religion). This is another display of slave reform by Indics 3000 years ago.
Valued 3000 years later
These inscriptions were held sacred by the locals, 3000 years later and William Wright, an European investigator, had difficulty in noting these inscriptions. In 1870 The Hittites were named, by William Wright and Oxford University linguist A. H. Saycebased on Biblical short references, as one of the tribes of Palestine in the first millennium BC. It was a "son of Heth—a Hittite—who sold the Prophet Abraham the land to bury his much-loved wife, Sarah". Modern view is Hattusas-Hittites (Yazilikaya/Boghazkoi/Carchemish) have nothing to do with the Biblical Hittites.
The Boghazkoi tablets changed modern history. From a completely Greco-Roman (read Euro-centric) history, the pendulum had swung to the other end. Boghazkoi showed Indian presence in the thick of West Asia in the year 2000BC with their culture and technology. This has pushed Indian history back by at least by 2000 years – to 4000 BC.
The Amarna letters and the Boghazkoi tablets have given archaeological proof of the Indo Aryan spread. Earlier, theories were retro-fitted, based on Biblical dates (Max Mueller's, (specialist in "Compartive Theology"); main aim – "save" Indian pagans; make them see "the light" of Christian belief), colonial propaganda (Max Mueller, though a German, was a British employee) and racism. Hazy systems like philology, linguistics, comparative linguistics were used to define history. Now hard archaeological proof shows something else. Written texts, deciphered and decrpyted give us a new theory.
These discoveries and their implications have been buried under a mound of silence. Although well known in academic circles, these discoveries have not been used to update popular history. In the next (and last instalment of this series) I will trace how DNA testing is the third major tool used to reveal history!
PS – One of the big hits in Japan is the manga comic series "Red River" by Chie Shinohara. The entire series is based on this interaction between the Hittites and The Egyptians. The Red River is a work of fiction – so it cannot be taken as history – but the intrigue, silence, drama obviously inspired the author.
The answer to find meaning in life is found in putting your faith and trust in Jesus Christ. The Bible is true from cover to cover and can be trusted.
Thank you again for your time and I know how busy you are.
Everette Hatcher, everettehatcher@gmail.com, http://www.thedailyhatch.org, cell ph 501-920-5733, Box 23416, LittleRock, AR 72221, United States
On November 21, 2014 I received a letter from Nobel Laureate Harry Kroto and it said:
…Please click on this URL http://vimeo.com/26991975
and you will hear what far smarter people than I have to say on this matter. I agree with them.
Harry Kroto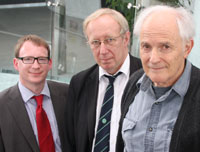 Nick Gathergood, David-Birkett, Harry-Kroto
I have attempted to respond to all of Dr. Kroto's friends arguments and I have posted my responses one per week for over a year now. Here are some of my earlier posts:
Arif Ahmed, Sir David Attenborough, Mark Balaguer, Horace Barlow, Michael Bate, Patricia Churchland, Aaron Ciechanover, Noam Chomsky,Alan Dershowitz, Hubert Dreyfus, Bart Ehrman, Stephan Feuchtwang, David Friend, Riccardo Giacconi, Ivar Giaever , Roy Glauber, Rebecca Goldstein, David J. Gross, Brian Greene, Susan Greenfield, Stephen F Gudeman, Alan Guth, Jonathan Haidt, Theodor W. Hänsch, Brian Harrison, Hermann Hauser, Roald Hoffmann, Bruce Hood, Herbert Huppert, Gareth Stedman Jones, Steve Jones, Shelly Kagan, Michio Kaku, Stuart Kauffman, Lawrence Krauss, Harry Kroto, George Lakoff, Elizabeth Loftus, Alan Macfarlane, Peter Millican, Marvin Minsky, Leonard Mlodinow, Yujin Nagasawa, Alva Noe, Douglas Osheroff, Jonathan Parry, Saul Perlmutter, Herman Philipse, Carolyn Porco, Robert M. Price, Lisa Randall, Lord Martin Rees, Oliver Sacks, John Searle, Marcus du Sautoy, Simon Schaffer, J. L. Schellenberg, Lee Silver, Peter Singer, Walter Sinnott-Armstrong, Ronald de Sousa, Victor Stenger, Barry Supple, Leonard Susskind, Raymond Tallis, Neil deGrasse Tyson, .Alexander Vilenkin, Sir John Walker, Frank Wilczek, Steven Weinberg, and Lewis Wolpert,
In the second video below in the 67th clip in this series are Richard Dawkins' words that Harry Kroto wanted me to see. Since then I have read several of Richard Dawkins books and have attempted to respond to the contents of these books directly to Richard Dawkins by mail. In fact, I have been writing Richard Dawkins letters since May 15, 1994 which was the 10th anniversary of the passing of one of my heroes, Francis Schaeffer. Francis Schaeffer spent a lot of time responding to many of Richard Dawkins' heroes such as Carl Sagan, Jacques Monod, H.J. Blackham, Isaac Newton, Ludwig Wittgenstein, Max Planck, Johann Sebastian Bach, Francis Bacon, Samuel Beckett, Leonardo Da Vinci, Albert Einstein, Michael Faraday, Gerald Horton, Edmund Leach, Louis Pasteur, George Wald, Jacob Bronowski, Steven Weinberg, Charles Darwin, Paul Kurtz, Peter Singer, Jonathan Miller, William B. Provine, Woody Allen, Noam Chomsky, James D. Watson, Francis Crick, Michael Polanyi, The Huxley family, Antony Flew, and Edward O. Wilson (Dawkins has since revised his opinion of Flew and Wilson, but he earlier regarded them very highly).
_
_
Both Francis Schaeffer and Richard Dawkins have talked extensively about the life of Charles Darwin.
_
Sir Harry Kroto with his high school friend Sir Ian McKellan at the FSU National High Field Magnetic Lab on Tuesday, October 27, 2009.
50 Renowned Academics Speaking About God (Part 1)
_
Another 50 Renowned Academics Speaking About God (Part 2)
_
_
Edit Post ‹ The Daily Hatch — WordPress
A Further 50 Renowned Academics Speaking About God (Part 3)
_
Richard Dawkins Photos Photos – Professor Stephen Hawking Unveils Medal For Science Communication – Zimbio
Professor Stephen Hawking Unveils Medal For Science Communication In This Photo: Richard Dawkins, Stephen Hawking, Brian May, Harold Kroto, Alexi Leonov, Garik Israelian
__
Richard Dawkins, founder of the Richard Dawkins Foundation for Reason and Science. Credit: Don Arnold Getty Images
16
–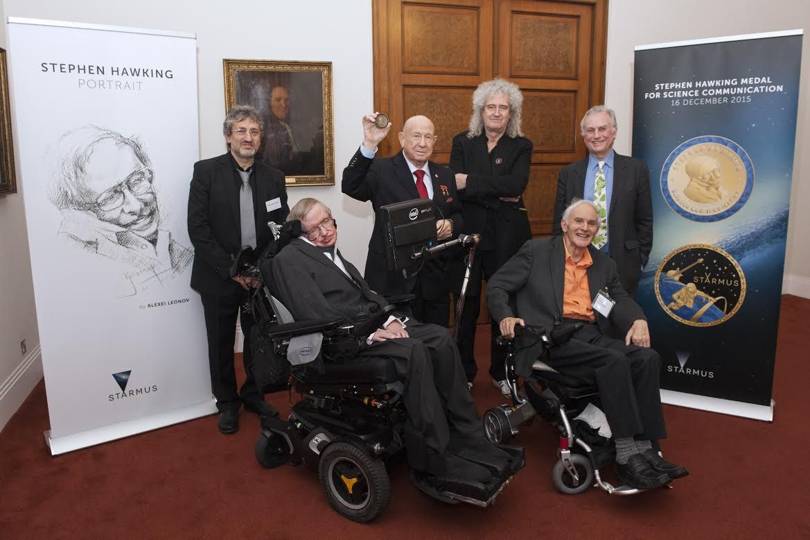 Garik Israelian, Stephen Hawking, Alexey Leonov, Brian May, Richard Dawkins and Harry Kroto
—-
—-
—-
—-
—-
Related posts:
On November 21, 2014 I received a letter from Nobel Laureate Harry Kroto and it said: …Please click on this URL http://vimeo.com/26991975 and you will hear what far smarter people than I have to say on this matter. I agree with them. Harry Kroto _________________ Below you have picture of 1996 Chemistry Nobel Prize Winner […]
The Beatles were "inspired by the musique concrète of German composer and early electronic music pioneer Karlheinz Stockhausen…" as SCOTT THILL has asserted. Francis Schaeffer noted that ideas of "Non-resolution" and "Fragmentation" came down German and French streams with the influence of Beethoven's last Quartets and then the influence of Debussy and later Schoenberg's non-resolution which is in total contrast […]
_______ On November 21, 2014 I received a letter from Nobel Laureate Harry Kroto and it said: …Please click on this URL http://vimeo.com/26991975 and you will hear what far smarter people than I have to say on this matter. I agree with them. Harry Kroto _________________ Below you have picture of 1996 Chemistry Nobel Prize […]
On November 21, 2014 I received a letter from Nobel Laureate Harry Kroto and it said: …Please click on this URL http://vimeo.com/26991975 and you will hear what far smarter people than I have to say on this matter. I agree with them. Harry Kroto ____________________ Below you have picture of 1996 Chemistry Nobel Prize Winner Dr. […]