——
–
Read Everything Donald Trump Said at His First Rally After Mar-a-Lago Raid
I'm thrilled to be back in this incredible Commonwealth with the thousands of proud hardworking American patriots that I have gotten to know so well.
Two months from now, the people of Pennsylvania going to fire the radical left Democrats and you are going to elect, Doug Mastriano is your next governor.
You're going to send my friend Oz, Oz is a great guy, to the U.S. Senate. you're going to elect an amazing slate of true America First Republicans to Congress. We are going to end the Nancy Pelosipolitical career, the Biden political career.
Our country is going to hell.
This election is a referendum on skyrocketing inflation, ramping crime, soaring murders, crushing gas prices, millions and millions of illegal aliens pouring across our border, race and gender indoctrination, converting our schools and above all this election is a referendum on the corruption and extremism of Joe Biden and the radical Democrat party.
If you want to stop this destruction of America, you must vote Republican you gotta get out
As you know this week Joe Biden came to Philadelphia, Pennsylvania to give the most vicious, hateful and divisive speech ever delivered by an American president, vilifying 75 million citizens, plus another probably 75 to 150.
If we want to be accurate about it, As threats to democracy and as enemies of the state, you're all enemies of the state. He's an enemy of the state, you know that? The enemy of the state is him and the group that control him, which is circling around him, 'Do this. do that Joe, you're going to do this Joe."
Right. I think Philadelphia was a great choice to make this speech of hatred and anger. His speech was hatred and anger. By the way, the next morning he forgot what he said, you saw that.
I do like the red lighting behind him, like the devil.
But Philadelphia was a great choice because the city is being devastated under Democrat rules. Devastated. He could tell you, we love Pennsylvania. I went to school in Philadelphia, what's happening to Philadelphia?
Fourteen people were shot last weekend in Philadelphia, 14, and the fake news will—God, that's a lot of fake news lately. A lot of fake news.
Well, they'll go out and check the facts for people were killed last weekend. At one point last month, seven people were shot in the span of just 71 minutes, in Philadelphia this year. Philadelphia has already seen more than 1,400 people shot including numerous beautiful little children.
Last year, the city set an all time murder record with 560 homicides, and it's on track to shatter that record. Again in 2022 numbers that nobody's ever seen other than some other Democrat-run cities. Armed robberies in Philadelphia are up 62 percent. Doug, you have to take care of this. You have to take care of it, and we'll send you the goods, I'll send him the goods. You know what the goods are: lots of police officers. That's what the goods are.
Retail theft is up 59 percent from last year.
There have been more than 750 carjackings this year. Anybody have a nice car, because you're not gonna have it long. More than triple the average for 2010 to 2019. And it's heading way up heading up in other cities that are run by Democrats also.
Instead of trying to demonize half of the population, Biden and congressional Democrats should focus on stopping the killing and the bloodshed in Philadelphia and every other Democrat-run city in America where record death and destruction is taking place every single day.
Biden thinks making America great again is bad for our country. Do you believe it? That was in his—Biden says "We got to stop MAGA." That's when I defined it, because I don't think he knows what it meant. It means "make America great again." We have to stop it. Stop MAGA. Stop making America great again.
He thinks making America great again is a threat to our country. No, making America great again is great for our country.
Even media companies that are pretty far left have come out and said we can't believe this is happening in the USA. We are being assaulted by the same groups, the FBI and DOJ, that just a few years ago declared no reasonable prosecutor would charge Crooked Hillary Clintonafter she set up a secret illegal server to hide her family's pay-for-play schemes. Crammed full of classified information, allowed it to be plundered by foreign hackers. You know that happened? And then deleted 30,000 emails, think of that, 30,000 emails, and what else did she do? Bomb with a hammer, smashed her phone systems to smithereens after receiving the highest level of subpoena from the U.S. Congress. Think of that?
Thank you. That yet, now, the same people, the exact same people are sending the FBI storming through the home of their number one political rival. It's a disgrace, a disgrace, like possibly never before. Our country has never seen anything like it. They talked about documents not being properly stored. Yet they go in and take documents, dump them on the floor, stage a photoshoot, and pretend that I had done it like I had put them all over the floor.
They took that back. After a lot of product then they put out for public consumption, a picture which is seen all over the world. this is what they do. it's called disinformation. These are very dishonest, sick people. Very dishonest people.
Americans are sick of the lies sick of the hoaxes and scams, and above all sick of the hypocrisy. But our opponents have badly miscalculated. This egregious abuse of the law is going to produce a backlash the likes of which nobody has ever seen before.
Before our very eyes, our beloved country is being taken over by the very people who turned democracies into dictatorships and into ultimately, ruination. They think they can divide us but they can't. Can't divide us.
The MAGA movement is the greatest in the history of our country. And maybe in the history of the world, maybe in the history of the world.
In any event, we have no choice. We are trying to save our country because such bad things are happening to our beautiful, beloved America. We will make America great again. I will never turn my back on you.
And you will never turn your back on me because we love our nation. And we will save our nation from people who are trying to destroy it. It was not just my home that was rated last month. It was the hopes and dreams of every citizen who I've been fighting for since the moment I came down the golden escalator in 2015, wanting to represent the people. Wanting to stop the massive corruption in our country and determined to finally in this world, put America first. I want to put America first and we did.
So when they lost, Hillary Clinton and her people, guys like Adam "Shifty" Schiff , watermelon head. Watermelon Head, he's a watermelon head, but no dummy.
Think of this, think how bad they are, think how evil they are. We're all fathers and your mothers and your children are great people, and all of the people are represented here—think how bad they are. They make up a story that's false. It's now been admitted to be false. The FBI is the last one to tell us that. But it's now admitted even in the newspapers, even by the people back there, they will not fight it. They make up now think of this or think of this.
So they make up a story about Russia. Let's say, you know, I was tougher on Russia than any president before. I'm the one that stopped Nord Stream II, the pipeline. I'm the one that did the big sanctions.
And I guarantee you one thing, Putin was not going into Ukraine. I guarantee you that. I guarantee you, nobody was tougher than me, but I also got along with them. That's a good thing. You know, getting along with other countries. It's a good thing. Not a bad thing, but think of it. So they make up a story, Russia, Russia. Russia. It was made up so that when they launched, they could say it was Russia.
I'm saying, what the hell did Russia have to deal with? It was Russia. Okay, so Adam Schiff knows it's a fake story. He made it up with other people. They know it's a fake and I see Adam Schiff go solemnly to the microphones in the Capitol building, And stand. They're so sad and say, "Donald Trump Jr. will be going to prison because of what he did with Russia." Now think of it, he knows the story is a scam. He knows the story's a fake.
And he wants my son, who's a good kid, he wants my son to go to prison over something that they made up, that they know is a phony story, and has now been, as they say, fully debunked.
In other words, it was a total lie, and he's standing before microphones with many of those people standing there and they can't get enough, saying that my son is going to prison. And I then call my son I say, "Donnie, you okay, what's going on? What's going on?"
Think of this. If you're a parent, think of it. My son's going to prison on something that they made, which is a total hoax. These are bad people. They're trying to destroy our country, and we can't let it go on. Any longer because we have too much work to do.
Whether through activist Attorney Generals, the state attorney generals. If I fly over a state, they send me before a grand jury. "Trump is up there. Let's see what can we do with the grand jury?"
I've been going through this for six years now. Local Democrats and county prosecutors, congressional committees or federal agencies, the radical Democrats are engaging in a desperate attempt to keep me from returning to the White House where they know I will clean this mess up again.
They want to stop us from completing our mission to bring back American values. Secure America's borders, millions and millions of people are pouring into our country. Nobody has any idea where they're from. Last month, 129 countries were represented. They're emptying their prisons into the United States of America
They know we'll continue to fix America's trade deals. Continue to lower taxes. Nobody gave tax decreases like Trump, bigger than the Reagan cuts. And lower regulations created all of those jobs, defend and protect our police and our military. We have to protect our police. You know, our police want to protect us. They're stymied from doing it.
We have to protect our police.
No, we're going to reclaim our energy independence. We're going to save our Second Amendment which is under siege.
We'll build our manufacturing base, just like I was doing. In other words, they know that we're going to make America great again. You know, we had a different saying because after we did so well we were all set. And we had a statement remember Keep America Great. But after they destroyed it, I'd love to use it. But I must say there's nothing like MAGA.
I don't know. I don't know KAG. KAG wasn't the same. Keep America Great. The problem I had though wasn't the fact that KAG can't compete with MAGA, the real problem I had that.
We can't use the word Keep America Great because they've destroyed our country. So we can't keep it great because it's not great. Right now. Our country is a laughingstock. Our leaders are a laughingstock.
You know, we just sent another $13 billion to Ukraine, that gets us close to $80 billion now. Well, it angers me more for a different reason. It would have never happened before, Putin really wouldn't have done it. Said "Vladimir, you're not gonna do that, Vladimir."
He knew that. He knew it. He knew it. But he did it soon as the election was rigged and it was considered over. I don't know if it's ever going to end, if you look at what's going on, because more and more facts are coming out, like the FBI with Facebook the other day can you believe but you know what?
Our country, it would have been so inappropriate to say Keep America Great, because who the hell wants to keep our country the way it is right now? I don't know.
But together, we have easily beaten every single witch hunt in the past think of that—the time and the money and the effort it takes. And now we will likewise do that in the future if they continue their craziness, and if they don't stop they don't stop that's all they're good at is disinformation, they put out disinformation.
You know, when I heard about Russia was right after I came down that beautiful golden escalator.
First lady, I said "you'll be a great first lady." She has been a great first lady. Great first lady. They love our first lady.
But people would come up to me, this was right at the beginning. Right after the escalator ride, but people have shared, "you know anything about Russia?"
Young guys come up, beautiful, staffers, there a lot of them here right now and here all over the place. That just came up to me. You won Pennsylvania by a lot, sir. That's right. You're right about that. I think at nine o'clock in the evening, we went 950,000 votes up with 73 percent of the vote cast. All of a sudden, around 3:02 or something, the equipment closed down. It all closed down. And then you had that massive spike. Remember the spike that went to heaven and came back? It should have gone to hell and come back.
And all of a sudden we were tied and then all of a sudden, we lost by a whisper. A rigged election. But the people would come upm some of them are here, "Sir, sir. It's such an honor to meet you, sir. Sir. Can I ask you a question? You know, what is it? What do you think about Russia?"
No, not really, but I know probably less than you know. But I have a lot of common sense and I know how to defend our country and I'll end up being friendly with them and will do just fine.
Then a month later another one came up. "Hello, Uncle Sam. Look, send up Uncle Sam." Great people, great people.
And a month later, another young person came up. A little naive, and said, it was really, actually, was cute. He said, "Oh sir, it's such an honor to go for a couple of minutes." He said, "Sir, can I ask you one question has been bothering me." Yeah, what is it? "Do you, what do you think about Russia?"
And then again and again, then after about five or six times you're gonna think about Russia. When I looked at my people, my help people that are a little older. I said, "What the hell is going on with Russia?"
This is all I knew what was going on. It was a scam. And we took two and a half years to win. But all of that time and effort and money and the corruption and the people that were in charge of that scam are horrible, and they're the same people that we have now. They never leave. They never leave. And if we would have had an attorney general with courage, instead of somebody that was afraid to be impeached, so I don't want to be—we would have gotten to the bottom of the very quickly.
We've been waiting for Durham for a long time, Durham, please come in and give us your work, please. You're up, Durham. We gotta get Durham going here.
But this battle is not about me. This is a struggle for the very fate of our republic. Our movement is fighting against a corrupt group of unelected tyrants who believe they can wield absolute power over you, with the help of a willing and very corrupt media.
They think the deep state, not the citizens should be the true masters of this country.
On our watch, we will never let that happen. And we will never let it happen, even though we're going to be gone. We're going to set this country up so strong and so powerfully that we may not be here, at least some of the older ones—that I love you all, but we're going to have the country set up properly. Like it was before the COVID came in, before the China dust came in.
And even after we handed it off where we had a higher stock market, because we did it twice. We had a higher stock market on January 20 than we did—think of it—the so-called handoff. I hate to even use the term it's so ridiculous. It's so ridiculous. I have to use that term. But the handoff, we handed it off, the market was higher than it was just prior to COVID coming into our country. We did an incredible job, an incredible job.
But we have no choice in 2022 and 2024. We have to smash the grip of his vile and vindictive political class. We have to clean house in Washington, D.C. and we have to restore government for the people.
If we do not, our republic and, indeed, our country will be destroyed and we will never be able to do what is called a comeback. You won't be able to do it. It'll never come back again.
It's so fragile, you know, it's so fragile. You will never bring it back again. You remember in the campaign, I used to say if these people get in we're going to end up with Venezuela on steroids. I said it many many times. I never thought it was much of a possibility. But I never knew people could cheat like that. Not like last week. Weirdo. He's a weirdo.
Mark Zuckerberg came to the White House, kissed my ass all night. "Sir, I'd love to have dinner, sir. I'd love to have dinner. I'd love to bring my lovely wife." All right, Mark, come on in. "Sir, you're number one on Facebook. I'd like to congratulate you." Thank you very much, Mark. I appreciate it.
Well, Mark Zuckerberg confessed that in 2020, the FBI went to Facebook and the media and gave them the false narratives that the Hunter Biden laptop from Hell was Russian disinformation, even though they knew that was not true. So they went in they said it was Russian disinformation, by the way. The guy that came in with that stuff just got fired. He perp-walked, he was perp-walked out of the FBI on Friday.
But that doesn't help us, and the election of 2020, that doesn't help us. They perp-walked him because of all the things he did. So many more than what we're even talking about. The FBI made it clear that they did not want the truth about the criminality and influence peddling of the Biden family coming out before the election, because that would hurt the chances of Joe Biden who virtually never left his basement winning the election.
You know, he came to Philadelphia, as you know, you know many people they had almost nobody showed up. And we have a lot of people. A lot of people, and we're not even talking about all the people outside that couldn't get in, because you have better real estate, right? We got a lot of people outside watching. I hope they're watching the big screens we put up outside.
You know this place? I think it holds 12,000 people. So we sold out in about 15 seconds and I said what are we going to do? For the people that can't get in? That's why a lot of times, I like fields because fields, you could just keep having them. In Alabama, we had 66,000 people. Figure this: Outside of Houston, Texas, we had 89,000 people show up.
But what the FBI did was corruption and election interference on a scale that we have never seen before in our country. According to pollsters, it made a 10 to 20 point difference, not even including all of the other totally determinative evidence of illegality that was found having to do with the 2020 presidential election scam, including ballot stuffing and not adhering to the laws, rules and regulations of state legislatures, which is totally illegal. They just did whatever they wanted to do. And frankly, Republicans locally that ran things in a lot of states—should be ashamed of themselves.
Should be ashamed of yourself. And a guy like Mitch McConnell, who allowed this stuff to happen, should be ashamed. You should be ashamed. The 2020 election was rigged, and now our country is being destroyed by people who got into office through cheating and through fraud.
Now watch, the cameras will all turn off as soon as I say that because they're not allowed to put the cameras. They'll all turn off. They don't want to hear that. They don't want to hear that. You know why?
But Republican leadership just doesn't fight because in many cases, they are intimidated. They're afraid they're actually afraid, Republicans must get tougher and stronger and fast.
The way I'll tell you a guy that fought back that's why he's here. Today is your nominee. Doug Mastriano. He fought, he fought, but he was dealing with RINOs, all such crap.
Doug, you fought like very few people fought, that's really why he's here, because everybody saw that. He fought. You know, after people figured it out. They all ran on the basis of "we're gonna stop" but they were not there. He was there at the beginning. And the people understood it.
So the big deal—by the way, I saw a poll today, Doug, that you're tied or up one point. Just so you know, again, all they do well is cheat on elections and use this information. So when he's running, he's got a big base, and he won by a lot. He won by even more when I endorsed him, but that's okay. And you know what?
They said this guy Shapiro, who's a lightweight, they said the following. They saw he was going to win, he was doing well, he was way up and he had a big base and they don't like that. So what do they do? "The one we really want to run against is Doug Mastriano. That's the one."
Well, they say that one every time, they have somebody that's going to kick their ass, they go out and they say, "go on, we want to run again." The one person they didn't want to run against is Doug Mastriano. This information I kept hearing it, I'd be out I see the people going crazy for Doug, for his incredible wife but it's true.
He was right there from the beginning, day one, got to fight the Republicans and the Democrats, yet to fight people. American elections should be determined only by the American people. And that did not happen in 2020. and I'm just talking to FBI but there are many, many other things. We won't go into it.
The Mar-a-Lago raid was a desperate effort to distract from Joe Biden's record of misery and failure. The many disasters that our country in the world are now suffering would never ever have happened. If I was in the White House, you all know that all of this stuff when you could take the five worst presidents in American history and put them together, and they would not have done the damage Joe Biden has done to our country in less than two years. They could not have done it.
Two years ago when I was in office, gas was $1.87.
We weren't talking about going to all electric cars which are twice as expensive. I mean, the problem is—a friend of mine wanted to do something for the environment. He went out and bought a electric car and he made a certain trip. I won't say from where—Kentucky—I won't say from, and he's a good person. He wants to do what's well, now he understands. Not so good.
And he bought an electric car and he made the trip often from Kentucky to Washington, and he made it and he drove down and put the car away and drive back. He was getting like 38 miles a gallon and he was fine. And then he goes to hybrids and all the other things they can do.
But he wanted to go all-electric, because he wants to save our country, wants to save the atmosphere. And he called me, he said "I'm exhausted." Why? He said, "This damn trip took me forever. I drive for two hours, and then I'd have to have my car charged. And in two cases I couldn't find a place to charge it, but even if I could, it took me more time to charge the damn car than I could spend in it driving."
He said, "It took me two and a half times. Please Please let's get rid of this stuff. Please." And you see in California, you see what's happening there, with going all electric cars. Number one, people can't afford them. Number two, the batteries are made all in China, all the earth, the rare earth comes out of China.
And interesting. We have all the guests, and the guests to leave the gasoline, when it's refined. We have it all right under us, we don't have any of the other stuff. And if we did, our environmentalists wouldn't let us take it. It all comes out of China and a little bit in the Congo, guess who controls the Congo, China.
We play right into their hands you see where I'm getting a lot of great press because I told Germany, don't make a deal with Russia on the pipeline. And they said, "Oh, that's so funny." I actually didn't during the meeting, G7, I sent, Angela, Angela Merkel, a white flag of surrender. She said, "Donald, Donald, but why'd you send me this white flag?"
I said, "Angela, you're going to surrender, 75 percent of your energy is coming from Russia. If you look back over the decades, Russia and Germany haven't done too well together. When there's a war, when there's a problem, they'll just turn it off, Nord Stream II, and Angela, you're not going to be able to defend yourself." "Oh, that will never happen."
Well, that was about two years ago. The only thing, I never thought it was gonna happen this fast. And now they're giving me great—remember, I made the speech at the United Nations. And the German delegation was all smiling. They thought it was so funny. They're not smiling. No one said it better than me. They're not smiling.
But now gas is $5 and $6 and $7. And it's going to be going up. Think of it, and they brag because it came down slightly. You know, it came down about 42 cents.
We actually had it down to $1.42. Remember that? But I had to get it a little up. We had to let the oil companies make a couple of bucks. I didn't want to wipe out the oil companies.
But what's happened is one of the big reasons for inflation is what this guy has done with energy, because energy is so all-encompassing. It's so big. With the help of Pennsylvania energy workers. Did you get screwed or what? Remember, I told you they were gonna do this to you. He lied during the debate. He said, "No, no, I would never do that." The first thing he did practically was kill the pipeline. Right? That was like the first thing he did.
And you know, all those workers voted for me, but the head of the Union voted. I wonder if he's still the head, check it out. He ought to be fired real fast. The Keystone pipeline would have been great. A lot of jobs, would have done a good job, with the help of Pennsylvania energy workers, under my leadership. We had American energy independence for the first time ever, ever.
And within a short period of time, we would have been energy-dominant. We would have been bigger that Russia and Saudi Arabia combined, times two, and now we're beggars.
We're like a beggar nation. You think that, we're energy beggars, we would have been bigger than everybody combined. The two biggest, the biggest energy suppliers combined times two. We're going to be energy-dominant and figures we gave you the largest tax cuts and regulation cuts in American history. The radical Democrat Congress just passed one of the largest tax hikes in American history, pulverizing the middle class and now you have the privilege of having 87,000 IRS agents go after you. And they've actually been approved. I'd never heard of this one. They got approved to carry guns so they can go after you with guns. You know, they don't want to have guns but it's okay for the IRS. It's like an army.
Can you imagine that that was approved? That they allowed that to get through?
And all Mitch McConnell had to do is waive that debt ceiling. I'm not approving anything having to do with debt ceiling, unless you drop all this crap, $4 trillion. Because McConnell folded like a dog, you saw that, and I always said he would, I told you he will, he did. And West Virginia which voted for me—45 points I was up 45 points—West Virginia is not happy with Joe Manchin, because he killed coal, and they put taxes on coal. Clean beautiful coal, he killed it. I can't imagine he's going to do well. I don't know—well, the heck to him.
Under the Trump administration, we had the greatest economy in the history of the world with no inflation. Biden and the Democrat Congress created the worst inflation in 50 years, 9.1 percent. It is gonna go a lot higher. And now they are making it worse with their immoral plan to wipe out hundreds of billions of dollars of debt for college graduates. Now think of this. How unfair is it, how unfair is it all of those, people, many of you are here, that paid and worked so hard. I saw they were doing a story about Pocahontas. That's Elizabeth Warren from Massachusetts.
And this big strong guy came up, a really good looking guy. And he looks at he goes, "Hey, well, what's going on with this debt? You want to cancel the debt? I've been working my ass off for 12 years," he said, "and I've almost got my daughter's debt paid off. I worked weekends for 12 years. My neighbor, he's my friend but he hasn't worked at all. And now his debts could have been canceled, but I worked. This is unfair."
And then he was not doing nice after that. So we'll forget what he said, that he was not too happy. But you can multiply that times millions and millions of people. They paid for it on the backs of hardworking citizens and they're raising your taxes. Remember this, you don't realize it, you're getting the biggest tax increase in history. So all this information, they're saying under, under 400,000, You're getting the biggest tax increase in the history of our country. So enjoy paying it.
And you know what? It's paying for things like that, but the "Green New Deal," which is like taking the money and throwing it out the window, and it's actually worse. It's actually like taking the money and destroying our country. Because it sets us back. Just like Germany, you know, Germany's back to building and opening its plants because they got so screwed up with a green new energy.
They got carried away, windmills all over the place, killing all the birds, destroying all the values of homes, destroying the planes and fields, beautiful planes. If you want to see a dead bird cemetery, go under a windmill sometime. It's not a pretty sight. It's also the single most expensive form of energy you can get. And all of those big giant turbines are built in China and Germany to a lesser extent.
I rebuilt our military including our nuclear capability and hope to God we never have to use it. And the creation of the Space Force. See what they're doing with Iran. Iran was dying to make a deal with them, without a deal done, within one week after the election. And now we're going to pay them hundreds of billions of dollars and they're gonna have nuclear weapons within a short period of time.
These people are crazy, this figure. I mean, they honestly, they can't be stupid. They must hate our country. They must hate our country. They surrendered our strength and our wisdom, our everything. They turned Afghanistan into the greatest humiliation our country has ever seen. I believe it was the most humiliating thing, time that our country's ever gone through.
Thirteen dead soldiers, but they never mentioned those soldiers who lost their legs and arms and face. They were obliterated. Nobody talks about them and there were many. Nobody talks about them. We left American citizens behind. And we left $85 billion worth of the best military equipment in the entire world, planes and tanks and goggles 700,000 rifles and AK-47s.
We left it all behind, figure this, 70,000 vehicles is not a used car lot in the country that has probably 500 vehicles, 70,000 vehicles we left behind. Some of those vehicles cost millions of dollars because they're armor-plated with six inches of steel. We left it all behind. I built much of it. Because I rebuilt our entire military, think of it, $85 billion worth of military equipment. And you know, I saw a number the other day, the second largest arms dealer in the entire world is Afghanistan.
Because they're selling their cars. They don't need 700,000 rifles and guns—700,000—they need 40,000 or 20,000. What were we thinking? You don't take the military out first. And remember this, in Afghanistan 18 months, we didn't lose one soldier. You heard the numbers' Philadelphia, 18 months.
I spoke to Abdul, I said, Abdul don't do that. Don't do that. "Why sir. Why do you send me a picture of my house?" I said Abdul, That's a different story. Don't go and we were fine. Remember, they said, why is he speaking to the Taliban? Because that's where the problem was, right. That's where the problem was.
Eighteen months and Biden, actually a couple of months ago, well, I'll say one thing. We didn't lose one soldier in 18 months and they're screaming at him. You don't take it back. You're not supposed to say that, because it's good. We didn't lose a soldier in 18 months. They were so afraid. They didn't want anything. We could have gotten out, I want to get out more than anybody. I'm the one that got it down to 2,000.
But also, we should have kept Bagram because if China—Bagram Airbase costs billions and billions of dollars, years ago, to build. It's one hour, a day from where China makes its nuclear weapons. We should have never left without keeping Bagram. What a shame.
The most humiliating time I believe, actually, that probably, Putin went in because when he saw the incompetence of that, he said, "This is going to be easier than I thought." And now we have a war between Russia and Ukraine with potentially hundreds of thousands, and even millions of people, are going to die. That would have never happened if I was your president. Would have never happened. I promise you.
Vladimir, you can't do that.
Those beautiful golden terrorists in Moscow, Vladimir, I want to leave them alone. Please. You can't do it, Vladimir. He would never have done it. He would never have done it.
He said "Why should I believe you? You did kill me on Nord Stream." Nobody thought that was possible. I ended Nord—can you imagine? Biden came in and he opened up the pipeline. I ended it. Then he says, "Oh, Trump was soft on Russia." I was soft.
The only one that doesn't think that is Putin. He didn't think I was too soft with the sanctions. But think of it, the biggest deal they've ever done is Nord, that nobody ever heard of until I came along. They were building this massive pipeline. Nobody ever heard of Nord Stream II till I came along.
We created the border in United States history. We ended catch and release, we deported record numbers of illegal aliens, gang members, and we built hundreds and hundreds of miles of border wall. In two and a half years of Democrat-inspired losses, we're delivered lawsuits. I want every one of them, look, two and a half years that went. And you know, we completely finished our original plan for the wall and they came to me for some other sections. They said, "Let's do it. Come on. Let's go fast." Then we added much more wall, 200 miles, and we almost got that finished on top of what we did. And I figured that this guy would finish it up. And he didn't!
Not only didn't finish when Texas wanted to use the stuff that was sitting there ready to be erected, it was going to be erected very quickly. Very quickly. very effectively. Great, great wall. It's actually what Border Patrol wanted. I said what do you want? This is exactly what, steel. They wanted concrete. They wanted rebar, heavy set rebar. They wanted exactly that, and they have to be able to see through, so we see what's happening on the other side.
I want to just give a nice big beautiful concrete plank but they didn't want that. So we gave them exactly what they wanted. And this could have been finished in a few weeks. And not only didn't they give this free to Texas, Texas could have put it up. They actually took it away, and put it in a secure area. And nobody can take it. That's just a terrible thing. Three weeks was all it would have taken to complete the job.
Our country is paying a terrible price for the rigged election. I ran twice. I won twice and did much better the second time than I did the first, getting millions and millions more votes in 2020 than we got in 2016.
Doug knows that we got millions of more votes. I tell people, yeah. Oh, what a great job you did. I was being interviewed by this fake news reporter. And he said what happened in 2020? I said, Well, we did much better actually. We got New Orleans, more votes, we get the largest number of votes of any sitting president in history. They said, "You know, I never thought of it that way." I said why don't you start thinking about that way. Got a rigged election. And likewise getting more votes than, think of it, there has never been a person as the sitting president got anywhere near. I think we got like 10 million more votes than Obama. You know, so popular.
He's so popular. They say he's so handsome. Oh, Obama is such a great speaker. What does he say? He says nothing. And we're leading Biden, and everyone else including the Republicans, by record numbers in the polls. So I may just have to do it again. You'll be starting to have to do it again. Do it again. Have to do it again.
But first, we have to win a historic victory for the Republican Party this November.
Among our highest priorities must be to end the nightmare Joe Biden and congressional Democrats have created on our southern border, that nightmare.
Remember this, we had the strongest, best border we ever had two years ago. Now we have the worst border. I believe it's worse than any border anywhere in the world. Because no country would let people come into the country the way we have. Right here in Pennsylvania, last year two illegal alien criminals allegedly brutalized and bludgeoned women to death. On a busy street corner in Chester County and illegal alien stands accused of grabbing a 33 year old woman by the hair, pulling her down and around the ground and stabbing her to death in front of her 7-year-old daughter.
Just a few weeks ago, an illegal alien murderer was charged with shooting to death a 76-year-old man from Pennsylvania. He took a walk every morning and this guy killed him for no reason whatsoever. He didn't know, he didn't know him, didn't do anything. Just wanted to kill him.
The radical Democrat Congresses turned our country into one giant sanctuary for serious criminal aliens. We protect all of the criminals, we don't protect our own people. In fact, they raid our people. And the Republican Party. We believe our country should be a sanctuary for law abiding citizens who love America. If we're going to make America great again, our first pass is to make America safe again. We have to have a safe country.
You know, I told you before, I love the fields, but I like these better because of the air conditioning system, but that conditioning is not working too well. It's about 100 degrees up here. I'm sweating like a dog but I'm cold. Dr. Oz? Dr. Oz.? Am I okay Doctor? Am I okay? He says yes. I was in Arizona for his show years ago and Dr. Oz, in a second, but I was at a show years ago and he did like an examination of me—I don't know what the hell they did the show for, I wasn't like even a politician at that. But he did an examination, and the word he said is extremely healthy. Very, very fine, fit man but he should lose 20 or 25 pounds. I was so angry. I didn't speak to him. He said he was great but he could lose a couple of pounds.
He's great. He's gonna be great.
Under a Democrat, all the streets of our great cities are drenched in the blood of innocent victims. Much of this crime is caused by drug dealers, who during the course of their lives will kill an average of 500 a month. Citizens, every drug dealer is responsible. And that doesn't include what they've done to families of people that haven't died, but families that are just devastated by what happened to their children and to themselves. Think of it, 500 people the average drug dealer kills. I'm calling for the death penalty for drug dealers which will upon stashes reduce drug distribution in our country on day one by 75 percent.
No more blue ribbon committees. What to do, you know, I was setting them up in the White House, is a blue ribbon committee headed by socialites, and they just want—I mean, look, they're very nice people, but they just want a little publicity for themselves. They can't deal with the kind of killers that would—We want the death penalty for drug dealers, and you will save millions of lives. You know, we're gonna lose 250,000 people I think this year, you know, just to go off for a second. Does anybody mind that? I do that.
Is there any perfect place to be on a beautiful Saturday evening than a Trump rally?
But just to go for a second. So you know, I got to know a lot of the foreign leaders and let me tell you, unlike our leader, they're at the top of their game. There's no one in like Central Casting that could play the role in Hollywood, all of Hollywood. Nobody can play the role of President Xi of China. Nobody could play the role. He's a fierce person. Putin, fierce, is smart. You know, a lot of times I'll say somebody's smart, and the fake news go, he thought President Xi smart.
He rules with an iron fist 1.5 billion people. Yeah, I'd say he's smart, wouldn't you say he's smart? So I'm with President Xi. And I got along with him to work. I mean, once COVID is yourself, but we made a great trade deal with him, helped our farmers, helped our manufacturers, but I'm with him. And I really had a great relationship with him. And then I asked him a question I said, "President," he's president for life, by the way, like thinking as a king. He said, "but I am not a king." I said, "You are to me, you're president for life. It's the same."
You will be very soon, you know that—another thing by the way. Do you notice a lot of ships are circling Taiwan. That wouldn't have happened either, by the way. But I said, "President could I ask you a very simple question. Do you have a drug problem?" He looked at me like, what's wrong with that? "No, of course not." He goes, "No, no." He's like, "What the hell of a stupid question it is. No."
I said you don't have a drug problem with 1.5 million people. His big problems, they make the drugs, he sent them into our country. That's their problem. That would have been their problem and he was stopping it too. But now they're sending the fentanyl in numbers that you wouldn't believe, wouldn't believe it, pouring through that portal. At numbers you wouldn't believe, I had him very close to stopped. He couldn't do it. "So President, President, you don't have a drug problem, but why? But why don't you have a drug problem?"
"We have quick trial. It's a what is it quick. We immediately catch the drug dealer. We give him quick trial. And if he is guilty, which I would say probably," Would you say, Oz, would you say they're getting 100 percent? Or only 99?
"If the drug dealer is guilty, he is immediately executed. So we have no drug problem." And they have other countries like that to Singapore, other countries. And if you do that, you know, I'm told this and it's a hard thing to say, because calling for the death penalty stuff, but think of it.
They kill 500 people during a lot of time, and I think it's much worse than that. I think that's only what we hear about who would stop it. If you didn't get it down, 75 percent. Person said from day one, I'd be surprised and these committees that they set up, it's laughable, it's a horrible thing. We would solve that problem so fast and I'm calling on Republicans and Democrats immediately to institute to get to 10, and institute the death penalty for drug dealers. You will no longer have a problem.
Philadelphia has become, as you heard many times over the last short period of time, worse than it's ever been. It's become a killing field a few days ago. A 4-year-old boy was shot while getting a haircut. For his first day in school. His mother was so proud of him, is getting a hug. He was shot.
Recently, a mother was shot in the head and horribly murdered, her unborn baby was miraculously saved. Under a Republican Congress. We should pass emergency funding to hire thousands and thousands more police officers nationwide to put violent criminals behind bars and keep them behind bars and also leave our police alone to do their job.
Give them back the respect, they know what to do and nobody can do it better but they're under siege. They don't want to lose their house. They don't want to lose their families. What they do to police officers. What they do to police. You're always gonna have some bad apples, but they're very few and we have a country that's become one of the most unsafe countries in the world.
Think of it, you're gonna deal with third world nations where they're much safer than many parts. Think of it. what I said in Afghanistan, we didn't lose one soldier in 18 months. And yet I just read off numbers in Philadelphia. If you look at Atlanta, I have a district attorney in Atlanta, she's asking for a perfect phone call. And yet, it's even worse proportionately than Chicago for killing.
But the district attorney, Trump made a phone call, because he was challenging the election. So they're after me for perfect—by the way, perfect for you. Be very proud of me. Just like the call to Ukraine was a perfect call. The one in Atlanta was a perfect, perfect call and yet Atlanta is even worse than Chicago. Proportionately restoring safety. Market starts with defeating the Democratic stream. It's right here in Pennsylvania, your state's radical Democrat candidate for Senate. John Fetterman is the most dangerous Democrat.
He's the most dangerous Democrat.
He came to join Congress this year and one of the most fringe far-left freak shows ever to seek election for any offense, at any stage and I've watched them over the last couple of years. And I said, "You gotta be kidding."
Actually I saw Conor Lamb, I don't know, kind of be a decent politician, you know he can't pay into the sort of middle Democrat area and he was doing commercials that was so good for me, they people thought that he was a Republican. I like Conor Lamb.
But Fetterman got it. He got it in a landslide. And this guy is a disaster. He comes in with a sweat suit on, I've never seen him wear a suit. A dirty dirty, dirty sweat suit. It's really disgusting. You know, I'm a clean freak. I'm a clean freak, Oz, I don't like those dirty sweat suits that disgusting.
Fetterman may dress like a teenager getting high in his parents basement. But he's a raging lunatic, hell bent on springing hardened criminals out of jail in the middle of the worst crime wave in Pennsylvania history. He wants everybody out of jail.
And, by the way, he wants to get rid of the police. Fetterman is a defund the police Marxist who's just pulling the wool over people's eyes, who literally said that if he had a magic wand and could fix one thing, he would end life sentences without parole for murderers, cop killers, rapists and other monsters. Criminals. That's what he said.
He wants him to get them out of jail.
Get addicts? Yeah, let's put Trump in jail. Let's get these murderers, let these murderers out, put Trump in jail. That Trump is no damn good. He has worked his ass off for this country through his position on the Pennsylvania Board of Pardons. Fetterman has released a record number of dangerous criminals, back on the streets, many of which have created horrible just atrocious crimes. He supports setting loose one out of every three inmates in your prisons. And he bragged that his goal is to get as many criminals out onto the street as quickly as possible.
Fetterman supports taxpayer-funded drug dens and the complete decriminalization of illegal drugs including heroin, cocaine, crystal meth, and ultra-lethal fentanyl, and by the way, he takes them himself—which would mean death and despair for every community in Pennsylvania and every community in the United States of America.
Compare that to President Xi of China, a little different, wouldn't you say? Fetterman openly supports deadly sanctuary cities and he signed a pledge to ban fracking which would demolish almost a million jobs in Pennsylvania. I told them, I told you they were going to do that Pennsylvania, well you did listen to because I won Pennsylvania by a lot.
I can only hold accountable the people that counted the votes. Did you ever hear the statement by, I believe it was Lenin, did anyone ever hear of—many people would say it with less sophistication, Lenin. Lenin, I like the way they say that. Where he said the vote-counter is far more important than the candidate, well that turned out to be true. The vote-counter is far more important than the candidate, said by Lenin.
And while Fetterman wants to raise your taxes, he is a spoiled and entitled socialist loser who leached off his parents' money, you know he lives on the parents money until he was 49 years old. And on top of it all, he's too cowardly to even show up and debate. A very nice man. Nice. He's very nice, and you'll treat him nicely, right?
Because he knows that his positions are totally indefensible, and in all fairness, you need to be out there and just ripping it for you, otherwise you're going to lose out to all the other southerners that are going to bring back money to the states, et cetera. And as we'll do it.
Fetterman is running against a man I've known for many years. I told you I had a real problem with him when he said I was a little heavy. I didn't like that. And of course it was wrong, was he wrong? And who is with our MAGA movement all the way. he's with us all the way. And you know, some people thought that, "Oh gee, maybe it was a little bit of a controversial thing," but I know him very well. And he's a guy that gets it done. He's a good person, and his wife is a fantastic person, I think I like her even more than I like him, Lisa.
So I'd like to ask Dr. Oz to step forward and say a few words. He's been an incredibly successful man on television, in medicine. He knows what's happening, and he's going to work and fight for Pennsylvania. Thank you.
Dr. Oz: Pennsylvania, we have one question, one important question we have to answer by November 8. Are you ready for it? Is the country headed in the right direction? If your friends say "Yes," take away their car keys. They should not be driving in that condition, people should stay home. But if the answer is no, we've got a big problem. This country has dramatically turned in the wrong direction. I'm the person for change.
I'll make the change based on our family values here in Pennsylvania, because I believe in the American dream, I am part of the American dream. My whole life has been about hard work, and earning, and supporting kids because that's what Americans do. I believe we can make safe city streets and communities. I believe we can have a secure border and allow legal immigration but not the fentanyl brought by traffickers bringing human beings and fentanyl from China which took 100,000 lives last year.
And I know people just aren't hurt by fentanyl. I believe we can have an economy that hurts the American people but most importantly, I believe in each and every one of you and so should you. God bless you.
Donald Trump: We have a great record of endorsement, all of us together. Very close to 90 percent. And I endorsed that guy and I'm telling you, I will always tell you this. I'll tell you the truth and he's going to be a phenomenal representative for Pennsylvania. You gotta vote him and you got to vote.
Great guy. And Lisa, thank you very much. Thank you very much for what you have to put up with, Lisa. Thank you very much. You know they spent, just so you know, they spent like $50 million trying to destroy that man. $50 million. Like it was water. And they didn't come close. This guy is tough and he's strong and he loves us
This November, you also have to defeat the far left Democrat candidate for governor, Little Josh Shapiro—who is so much like Fetterman, other than he's about half his height which is fine. It's fine. I would say it's absolutely fine as we don't want to tell height jokes. Not here to tell any jokes today. Not weight jokes, not heighte jokes. I've got them all covered.
But he is a disaster for the state. He's the one that kept saying "Oh, after" after it came out that we have a great man running against him. "Oh, that's the man I wanted to run against." No it's not. Because that's the man that had a base like I do. He has a base that's so powerful and so strong. He doesn't want to run again. As attorney general, he presided over the complete disintegration of law and order and letting things and criminals run wild.
Look at the numbers I just talked to you about in Philadelphia. Well, he's the guy who knows those numbers are getting worse. There is nothing to stop these animals from continuing, those numbers are gonna get worse, if that's possible. It's not even—you would think it's not possible.
Shapiro supports sanctuary cities, and he sided with Marxist anti-American BLM radicals and Antifa, and he's a vicious hater of free speech and a hater of your Second Amendment. So he's gonna let criminals roam your streets, and he's not gonna let you have a gun to protect yourself. Shapiro is also using his office to shut children's schools and force masks to be strapped to your children's faces, doing unimaginable harm.
And like Fetterman, Shapiro is a pro-abortion extremist who supports totally unrestricted abortion on demand. Right through the ninth month. Think of this and you know where I am. You know where I am, the exceptions, I believe in the exceptions. He supports it the right through the ninth month and beyond. You know what beyond means, after the baby is born, after the baby is born. So as I said in my debate with Crooked Hillary Clinton, rip the baby out of the womb at anytime, and if the baby's already out of the womb, he's there too. "Just talk to the doctor."
Now you don't want that. States will make the decision by the way, the states will make the decision and in Pennsylvania, I have a feeling that decision will be an interesting decision, but it's up to the states and that's the way it was always supposed to be. But he wants to let things happen that no civilized person would allow. They don't allow it in other countries.
No Pennsylvanian should listen to one word on abortion from these two twisted sickos who believe in killing and dismembering babies right up until that that time that time of birth. Shapiro is running against an incredible patriot and a fearless warrior for Pennsylvania workers and Pennsylvania values. Doug Mastriano, who has been with me right from the beginning, I mean right from the beginning. I remember that. They all wanted my endorsement. They all ran.
I know you had the U.S. attorney, nice guy. He was a nice guy, but he didn't do anything in terms of the election fraud. "No, there was no problem in Pennsylvania, there was no problem." There was massive problems. And then he wants to run, he said, "Sir, Bill Barr would not let me go after anybody. He wouldn't let me touch anybody." What a shame what an opportunity, but he wanted to run. Others wanted to run.
I said the one guy that supported election integrity and supported me right from the beginning. Is Doug Mastriano. One day he came to the White House with a whole group of people. He brought them and he was working like hell, it was really an uphill battle because you had the Democrats. They didn't want to hear anything. And then you had some bad RINOs that just—somebody, someday, somebody's going to explain the RINOs. Why are they doing it?
But Doug is a former Army colonel who honorably served our country in uniform for 30 years before going on to fight for you. In the State Senate, he became the most respected person in the Senate and definitely the hardest fighter. He was the relentless person out there fighting against lockdowns and COVID mandates. He didn't want to destroy real Americans, he got it long before the so-called doctors who weren't very good, and a true champion for election integrity and tough as hell on a thing called illegal immigration.
We want people to come into our country legally. As your governor, he will back down from nobody, he'll back down those violent criminals and crack down on violent crime and COVID mandates, protect Pennsylvania oil and gas workers, which right now—enjoy your job for another couple of months, because you're not gonna have it longer.
And defend your jobs, your rights and your freedoms. Doug is joined by an incredible person who I also got to know because we were in a real fight with a lot of really sick, bad people. Rebby, thank you very much. Thank you, stand up. And she was a big part. She's a great partner to a man that will be one of the greatest governors in this country. Doug, please come up. Please come up.
Doug Mastriano: Oh, yeah. Thank you, Mr. President. Philadelphia loves you and America needs you. Thank you for your leadership.
Thank you for paving the way for people like me and everyone you see out here to fight for freedom. Thank you for taking the shots. And standing boldly and leading by example, Pennsylvania.
Pennsylvania is the Keystone State. On 8 November, we're taking our state back by storm. That's right. We're gonna do it. We're gonna do it. We're gonna be the state where people want to come to raise their families, to succeed in business on day one. We're out of the Regional Greenhouse Gas Initiative. We're gonna drill and dig like no tomorrow. That's right. That's right. We're gonna do it. Oh, yeah.
On day one, we're no longer a sanctuary state. So Joe Biden can have these illegals, we'll drop them off at his beach house where he spends all his time anyway. You can have them on day one. We're gonna have the backs of law enforcement on day one, there's no more mask requirement or COVID jab requirement. That's right.
We're gonna walk like free people like never before, Pennsylvania. This is where the light of liberty was lit in 1776, a new birth of freedom in 1863. And something very near and dear to both of our hearts: We're going to fight like hell for voting integrity, and we're going to start with voter ID. That's right. That's right.
The left, my opponent, is too dangerous, too extreme and too radical. When he can't even define what a woman is, then the guy is nuts. Pennsylvania is less safe with his six year record of failure as attorney general that all ends on 8 November. Pennsylvania, the key to our nation starts with us. And let's not forget that on September 11, 2001, and you are a champion on 9/11/2001, Mr. President, and he was. We saw him at the World Trade Center. Meanwhile, Flight 93 over Somerset County, the terrorists had it. Todd Beamer and other people on that flight took action. What did they say?
Pennsylvania, let's roll!
Donald Trump: You know, Doug said a lot in a few short sentences. One of the things he mentioned was voter ID. The Democrats don't want voter ID. Actually it's interesting. The leadership, the people want it, 91 percent Democrats, but the leaders don't want voter ID, OK. I think the only reason you don't want voter ID, there's only one reason because you want it cheap, right. That's the only reason.
When you had the Democrat National Convention, the last one, they had signs, and the biggest signs, they were like billboards, pictures, fingerprints, everything. You couldn't get in. But the greatest thing happened over the last few days, Starbucks, this guy Schultz. The one with the extremely thin legs. I think maybe Dr. Oz would have said he's either really good or very, very, very thin. But he was doing a debate. He was sitting down, I thought his legs—I didn't think he'd be able to stand up. But Schultz, he's the head of it.
But he just announced unions are trying to take over stuff. But he will not under any circumstance allow mail-in voting because it's evil and corrupt. And the process can be corrupted. And yet when he was running for president for about three days before he realized he couldn't do it, took him about two days. But when he was running for president, he was talking about mail-in ballots. Now that he's got his company that he's got a nice piece of, he wants nothing to do with voting by mail-in ballots for unions, because he says you can't get their vote, and it's easily corruptible.
When are people going to get smart, and get rid of this mail-in voting in Pennsylvania, killing our country. You'll do it. We're also joined tonight by the next congressman from Pennsylvania's 8th congressional district. Jim Bognet. Jim, thank you very much. Good luck. I hear you doing well, these two guys are gonna help you a lot. Thank you, Jim. Great job.
So Jim's running against radical Democrat socialist Matt Cartwright. That's another beauty. Who said he's all on board for the Green New Deal. Greatest waste of money in history. The Green New Deal, why don't you just throw the money right out the window. And he absolutely supports defunding the police and votes with Biden 100 percent of the time, so you know he can't be any good. Everybody get out and vote for Jim. Okay.
Also with us, our Pennsylvania treasurer, a very good person, good woman, Stacy Garrity. Hello, Stacy. Thank you, Stacy. Great job you're doing. Friend of mine—a warrior. Never laid down, always been their representative. Dan Meuser. Dan, thank you. Great job. Great job. Thank you. And also Fred Keller. Another warrior. Fred stand up, what a good guy. Thank you for all your help. He comes to our defense. He gets out there the two of them.
Now a woman is with us. She's very silent. Very shy. doesn't believe in using guns to protect yourself. Says anybody can come into my house anytime you'd like. No, no. She did a little ad I saw, her first time, and her ad was something to the effect. "Sure. Anybody can come into my house. He can be big," and she took this gun. I never saw anybody used this gun. Boom, put it back and she said, "But he might not get out of my house alive." And I said "I think I like her," Marjorie Taylor Greene.
A man I'm very proud of. He's got a tough race. But I'm very proud of this. You have a RINO governor in Maryland. His name is Larry Hogan. I think he wants to run for president. I think he wants to run for president, they said you got to look in the mirror first—it's not gonna work. Not gonna work. But he's a real RINO and he doesn't want this man because this is all for our country.
His name is Dan Cox. And he beat he beat Larry Hogan's candidate by like 20 points with my endorsement. With my endorsement, and he's doing fantastically Dan. Congratulations. And Larry Hogan—and this is my fault, I'm sorry, Dan—but Larry Hogan is not going to be supporting you only because I am supporting you. So I don't know what that means. But I can tell you that Maryland has a great, great man running and I hope you're going to do well and we'll be out there helping you.
Okay, thank you. I have a feeling you'll do very well. A friend of mine who's a great businessman and a great person, Mr. Woody Johnson and his wife, Suzanne Johnson. Where's Woody? Stand up, Woody! He's shy. They own a very small company named Johnson. Johnson, does anybody like Johnson? I want to own a piece of that company, too. Great job. We love your boss. And Cynthia Hughes and Gina Pernod with the Patriot Freedom Project. What a job they do. Where are you? Where are you, stand up for the job. And we all appreciate it. We all appreciate it.
With the help of everybody here today we are going to fight for Pennsylvania. We're going to win for Pennsylvania this November. One of the first things we will do is stand up for parents' rights. It's time to finally and completely break the radical local education cartel. Can you believe like 10 years ago, let's put yourself back, that somebody would stand up—I can't believe I'm calling myself a politician. But I guess I am. I don't know. I can't stand politicians.
But can you believe that 10 years ago—like put yourself in that position—a politician would be standing up saying we're going to defend parental rights? I mean, that's about as basic as it gets, but that's what we have to do because these people are crazy. Our children are captive to unhinged Marxist educators who are pushing inappropriate sexual, racial and political material on our children from the youngest possible age.
At long last, every parent in America must be empowered to opt out of the indoctrination and send their child to the public, private, charter, religious or home school of their choice. In addition, we will get critical race theory the hell out of our schools, out of our military and out of every part of our federal, state and local government, just like I did two years ago, it was out. We had it out, but they put it right back in.
We will also keep men out of women's sports. You know those stories that I tell? I love to tell those stories, the woman swimmers, I tell it again, should I, you want me to? Mr. Wall, stand up Wall, please. This is Mr. Irving Q. Wall, you know, it's so ridiculous. And you know, it's not politically correct, and a lot of people are afraid to talk about it, but I'm not—men in women sports.
So you have this swimmer, who's really—I met her the other day, very high quality swimmer and she's gonna break the record. She's worked like hell. She's worked all her life. The big meet is on and she looks to the left and she sees all of those great athletes that she's been fighting for years. She looks to the right, and she sees this massive human being, he's looking up, what is he, like 6'6″ or something? He's got a wingspan bigger than Wilt Chamberlain. Wilt was small by comparison and she looked over, I've never seen her before. Anyway, she wanted to break that record she fought so hard to do. And the race started and as you know, she was severely injured. She was injured by windburn because he went by her so fast.
The wind burned the hell out of her. And she didn't quite make it that day for the record. But he did. He broke the record by 38 seconds. You know, usually you break it by—she wants to break it by 1/8 of a second. But he was far better than her. He broke it by 38 seconds. That's one that no woman's ever gonna catch.
And then the better one is the weightlifter. You had a woman she's gonna lift the 213 pounds and that's a lot of weight. Do you think I could lift, Oz, you think I could lift 213 pounds and she got up and she was gonna break it. They put it half an ounce and a half an ounce and have these big barbells and dumbbells and she's up there and she pulls it up and she's gonna do it—couldn't do it too. So she was ashamed but she couldn't do it.
And then this person comes in you know, they actually call it—this is the correct term. A person in a man's body. That's what they call it. This is supposed to be politically correct. I hope it is. Otherwise they'll be very rude to me. The fake news will be very rude.
This guy walks up, they asked him before, did you lift? "No, not too much." And he gets up—ding—that was the end of that record. It's ridiculous. It's ridiculous. And no teacher should ever be allowed to teach transgender to our children without parental consent.
Another one of our highest priorities under a Republican Congress will be to stop left wing censorship and to restore free speech in America. We don't have free speech. Go out and sign up, by the way, for Truth Social. Anybody on Truth Social? It's hot. And it's much better than Twitter. You see what's going on with Twitter. Twitter's not doing do well. Frankly, if we didn't have Truth we wouldn't be able to get the word out like they do. We get the word out fast.
The Radical Left Democrat Party is not, in my opinion, a 50 percent party within our country. They're against God, guns, oil, law enforcement, voter ID, tax cuts, regulation cuts, the Constitution and they're against our founding fathers. But other than that, actually, they're quite good. The way they win is to cheat in elections. I really believe that. How can you be against all of those things and for some of the things that therefore and be considered a 50/50 party? I don't believe it.
They cheat like hell on elections all over the country, and they're really good at it. Everywhere the Republican Party has the chance, we must pass critical election integrity reforms, including Universal voter ID citizenship confirmation. No more fake drop boxes by Zuckerberg and these people, no private money pouring into local election offices. And ultimately, we need same day voting with only paper ballots. Same day voting. Same day paper.
France just had an election. Big country—35 million people. They hd same day voting, all paper ballots. The election ended at 11 o'clock. They had the vote, that was it. Nobody walked away. Right here in Pennsylvania, Democrats are still trying hard to rig your elections.
Act 77 clearly violates your state Constitution encouraging widespread abuse of mail-in ballots, and your radical left state Supreme Court just violated the Constitution a second time by overturning a decision by an unbiased lower court. Republicans in the state legislature need to get to work immediately to kill Act 77 by a state constitutional amendment, they have to do it immediately.
We are just two months away from the most important midterm election in American history. And we need a landslide so big that the radical left just cannot rig it. You know the more we win by, it gets harder, harder, harder, harder. They can cheat a lot but once you get to a certain level, it gets very hard. This is the year we're going to take back the House. We're going to take back the Senate, we're going to take back America. We'll take back America.
And in 2024, most importantly, we are going to take back our magnificent White House. Together we will fight for more jobs for Pennsylvania families, fair trade for Pennsylvania workers and more Pennsylvania factories forging more products stamped with those beautiful, beautiful words, "Made in the USA," right? Made in the USA.
———-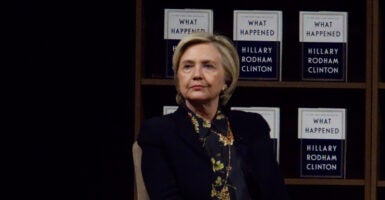 Recently, Democrats have been despondent over President Joe Biden's sinking poll numbers. His policies on the economy, energy, foreign policy, the border, and COVID-19 all have lost majority support.
As a result, the left now variously alleges that either in 2022, when it expects to lose the Congress, or in 2024, when it fears losing the presidency, Republicans will "destroy democracy" or stage a coup.
A cynic might suggest that those on the left praise democracy when they get elected, only to claim it is broken when they lose. Or they hope to avoid their defeat by trying to terrify the electorate. Or they mask their own revolutionary propensities by projecting them onto their opponents.
After all, who is trying to federalize election laws in national elections contrary to the spirit of the Constitution? Who wishes to repeal or circumvent the Electoral College? Who wishes to destroy the more than 180-year-old Senate filibuster, the over 150-year-old nine-justice Supreme Court, and the more than 60-year-old 50-state union?
Who is attacking the founding constitutional idea of two senators per state?
The Constitution also clearly states that "When the President of the United States is tried, the Chief Justice shall preside." Who slammed through the impeachment of former President Donald Trump without a presiding chief justice?
Never had a president been either impeached twice or tried in the Senate as a private citizen. Who did both?
The left further broke prior precedent by impeaching Trump without a special counsel's report, formal hearings, witnesses, and cross-examinations.
Who exactly is violating federal civil rights legislation?
New York City's Department of Health and Mental Hygiene in December decided to ration new potentially lifesaving COVID-19 medicines, partially on the basis of race, in the name of "equity."
The agency also allegedly used racial preferences to determine who would be first tested for COVID-19. Yet such racial discrimination seems in direct violation of various title clauses of the 1964 Civil Rights Act.
That law makes it clear that no public agency can use race to deny "equal utilization of any public facility which is owned, operated, or managed by or on behalf of any State or subdivision thereof." Who is behind the new racial discrimination?
In summer 2020, many local- and state-mandated quarantines and bans on public assemblies were simply ignored with impunity—if demonstrators were associated with Black Lives Matter or protesting the police.
Currently, the Biden administration is also flagrantly embracing the neo-Confederate idea of nullifying federal law.
The Biden administration has allowed nearly 2 million foreign nationals to enter the United States illegally across the southern border—in hopes they will soon be loyal constituents.
The administration has not asked illegal entrants either to be tested for or vaccinated against COVID-19. Yet all U.S. citizens in the military and employed by the federal government are threatened with dismissal if they fail to become vaccinated.
Such selective exemption of lawbreaking non-U.S. citizens, but not millions of U.S. citizens, seems in conflict with the equal protection clause of the 14th Amendment.
After entering the United States illegally, millions of immigrants are protected by some 550 "sanctuary city" jurisdictions. These revolutionary areas all brazenly nullify immigration law by refusing to allow federal immigration authorities to deport illegal immigrant lawbreakers.
At various times in our nation's history—1832, 1861-65, and 1961-63—America was either racked by internal violence or fought a civil war over similar state nullification of federal laws.
In the last five years, we have indeed seen many internal threats to democracy.
Hillary Clinton hired a foreign national to concoct a dossier of dirt against her presidential opponent. She disguised her own role by projecting her efforts to use Russian sources onto Trump. She used her contacts in government and media to seed the dossier to create a national hysteria about "Russian collusion." Clinton urged Biden not to accept the 2020 result if he lost, and herself claimed Trump was not a legitimately elected president.
The chairman of the Joint Chiefs of Staff has violated laws governing the chain of command. Some retired officers violated Article 88 of the Uniform Code of Military Justice by slandering their commander in chief. Others publicly were on record calling for the military to intervene to remove an elected president.
Some of the nation's top officials in the FBI and intelligence committee have misled or lied under oath either to federal investigators or the U.S. Congress, again, mostly with impunity.
All these sustained revolutionary activities were justified as necessary to achieve the supposedly noble ends of removing Trump.
The result is Third World-like jurisprudence in America aimed at rewarding friends and punishing enemies, masked by service to social justice.
We are in a dangerous revolutionary cycle. But the threat is not so much from loud, buffoonish, one-day rioters on Jan. 6. Such clownish characters did not for 120 days loot, burn, attack courthouses and police precincts, cause over 30 deaths, injure 2,000 policemen, and destroy at least $2 billion in property—all under the banner of revolutionary justice.
Even more ominously, stone-cold sober elites are systematically waging an insidious revolution in the shadows that seeks to dismantle America's institutions and the rule of law as we have known them.
(C)2022 Tribune Content Agency, LLC.
The Daily Signal publishes a variety of perspectives. Nothing written here is to be construed as representing the views of The Heritage Foundation. 
Have an opinion about this article? To sound off, please email letters@DailySignal.com and we'll consider publishing your edited remarks in our regular "We Hear You" feature. Remember to include the URL or headline of the article plus your name and town and/or state.
The Honorable Representative Adam Kinzinger of Illinois, Washington D.C.
Dear Representative Adam Kinzinger, 
I noticed that you are a pro-life representative that has a long record of standing up for unborn babies! It was in the 1970's when I was first introduced to the works of Francis Schaeffer and Dr. C. Everett Koop and I wanted to commend their writings and films to you.
I recently read about your impressive pro-life record:
Washington, DC – Today, Congressman Adam Kinzinger (IL-16) joined his House Republican colleagues in a press conference urging Democratic leadership to allow a vote on the Born Alive protections. The proposal would protect babies who survive abortion and provide them with the same medical care that any other premature baby would receive. Yesterday, the Democrats blocked the proposed legislation—for the 17th time—from coming before the House for a vote.
Joining the Congressman and House Republican leaders at the press conference this morning was Jill Stanek, an Illinois nurse and pro-life advocate who has witnessed the devastating realities of these pro-abortion laws. The Illinois legislature is currently debating two abortion bills, similar to the extreme pro-abortion agendas in New York and Virginia. 
It seems you have a grudge against President Trump while our freedoms under President Biden are being taken away. I recommend to you the article below:
 • Volume 50, Number 9 • Roger Kimball
Roger Kimball
Editor and Publisher, The New Criterion
Mr. Kimball concludes his article with these words: 
That's one melancholy lesson of the January 6 insurrection hoax: that America is fast mutating from a republic, in which individual liberty is paramount, into an oligarchy, in which conformity is increasingly demanded and enforced.
Another lesson was perfectly expressed by Donald Trump when he reflected on the unremitting tsunami of hostility that he faced as President. "They're after you," he more than once told his supporters. "I'm just in the way."
Bingo.
NOW WHAT DID YOU DO TO TURN YOUR BACK ON OUR LIBERTY AND PERPETUATE THE HOAX THAT JANUARY 6TH WAS AN INSURRECTION? Read below!! 
There were a few Republicans Thursday who surprised observers when they voted in support of holding former Trump adviser Steve Bannon in contempt of Congress and referring him to the Justice Department for criminal prosecution.
Prior to the vote, four Republicans were considered a lock to approve the criminal referral, according to Capitol Hill sources: Reps. Liz Cheney of Wyoming, Adam Kinzinger of Illinois, Fred Upton of Michigan and Anthony Gonzalez of Ohio.
Cheney and Kinzinger are on the House select committee investigating the Jan. 6 insurrection at the U.S. Capitol, and have for months stood alone as the only two House Republicans willing to speak out against former President Donald Trump's continued lies about the 2020 election. They were the only two House Republicans to vote for the formation of the select committee on June 30.
House Speaker Nancy Pelosi formed the select committee after Republicans rejected a bipartisan commission that would have been evenly split between five Democrats and five Republicans. Only 35 Republicans voted for that measure when itpassed the House of Representatives, and it was defeated by a GOP filibuster in the Senate.
Upton has served in the House for more than three decades, since 1987, and will face a primary challenge next year because of his willingness to stand up to Trump.
Gonzalez is retiring from Congress next year, after only four years in the House. "While my desire to build a fuller family life is at the heart of my decision, it is also true that the current state of our politics, especially many of the toxic dynamics inside our own party, is a significant factor in my decision," Gonzalez said in September when heannounced he would not seek another term.
The remaining five Republicans included three who voted for impeachment — Peter Meijer of Michigan, John Katko of New York and Jaime Herrera Beutler of Washington — and two House Republicans who did not vote to impeach Trump: Nancy Mace of South Carolina and Brian Fitzpatrick of Pennsylvania.
Do you realize that Americans rights are being taken away from them and would you like an example? I am going to quote Mr. Kimball again.  You can google and get Roger Kimball article "The January 6 Insurrection Hoax"
Trump seems never to have discerned what a viper's nest our politics has become for anyone who is not a paid-up member of The Club. 
Maybe Trump understands this now. I have no insight into that question. I am pretty confident, though, that the 74 plus million people who voted for him understand it deeply. It's another reason that The Club should be wary of celebrating its victory too expansively. 
Friedrich Hayek took one of the two epigraphs for his book, The Road to Serfdom, from the philosopher David Hume. "It is seldom," Hume wrote, "that liberty of any kind is lost all at once." Much as I admire Hume, I wonder whether he got this quite right. Sometimes, I would argue, liberty is erased almost instantaneously.
I'd be willing to wager that Joseph Hackett, confronted with Hume's observation, would express similar doubts. I would be happy to ask Mr. Hackett myself, but he is inaccessible. If the ironically titled "Department of Justice" has its way, he will be inaccessible for a long, long time—perhaps as long as 20 years. 
Joseph Hackett, you see, is a 51-year-old Trump supporter and member of an organization called the Oath Keepers, a group whose members have pledged to "defend the Constitution against all enemies foreign and domestic." The FBI does not like the Oath Keepers—agents arrested its leader in January and have picked up many other members in the months since. Hackett traveled to Washington from his home in Florida to join the January 6 rally. According to court documents, he entered the Capitol at 2:45 that afternoon and left some nine minutes later, at 2:54. The next day, he went home. On May 28, he was apprehended by the FBI and indicted on a long list of charges, including conspiracy, obstruction of an official proceeding, destruction of government property, and illegally entering a restricted building. 
As far as I have been able to determine, no evidence of Hackett destroying property has come to light. According to his wife, it is not even clear that he entered the Capitol. But he certainly was in the environs. He was a member of the Oath Keepers. He was a supporter of Donald Trump. Therefore, he must be neutralized.
Joseph Hackett is only one of hundreds of citizens who have beenbranded as "domestic terrorists" trying to "overthrow the government" and who are now languishing, in appalling conditions, jailed as political prisoners of an angry state apparat.
Let me recommend that you read this letter below from Senator Ron Johnson and his colleagues:
WASHINGTON — U.S. Sen. Ron Johnson (R-Wis.), along with senators Tommy Tuberville (R-Ala.), Mike Lee (R-Utah), Rick Scott (R-Fla.), and Ted Cruz (R-Texas), sent a letter on Monday to Attorney General Merrick Garland requesting information on the unequal application of justice between the individuals who breached the Capitol on Jan. 6, and those involved in the unrest during the spring and summer of 2020. The senators sent 18 questions to the attorney general on what steps the DOJ has taken to prosecute individuals who committed crimes during both events, and requested a response by June 21.
"Americans have the constitutional right to peaceably assemble and petition the government for a redress of grievances," the senators wrote. "This constitutional right should be cherished and protected. Violence, property damage, and vandalism of any kind should not be tolerated and individuals that break the law should be prosecuted. However, the potential unequal administration of justice with respect to certain protestors is particularly concerning."
The full text of the letter can be found here and below.
June 7, 2021 
The Honorable Merrick B. Garland
Attorney General
U.S. Department of Justice
950 Pennsylvania Avenue, NW
Washington, DC 20530
Dear Attorney General Garland:
The U.S. Department of Justice (DOJ) is currently dedicating enormous resources and manpower to investigating and prosecuting the criminals who breached the U.S. Capitol on January 6, 2021. We fully support and appreciate the efforts by the DOJ and its federal, state and local law enforcement partners to hold those responsible fully accountable.
We join all Americans in the expectation that the DOJ's response to the events of January 6 will result in rightful criminal prosecutions and accountability.  As you are aware, the mission of the DOJ is, among other things, to ensure fair and impartial administration of justice for all Americans.  Today, we write to request information about our concerns regarding potential unequal justice administered in response to other recent instances of mass unrest, destruction, and loss of life throughout the United States. 
During the spring and summer of 2020, individuals used peaceful protests across the country to engage in rioting and other crimes that resulted in loss of life, injuries to law enforcement officers, and significant property damage.[1]  A federal court house in Portland, Oregon, has been effectively under siege for months.[2]  Property destruction stemming from the 2020 social justice protests throughout the country will reportedly result in at least $1 billion to $2 billion in paid insurance claims.[3] 
                In June 2020, the DOJ reportedly compiled the following information regarding last year's unrest:
"One federal officer [was] killed, 147 federal officers [were] injured and 600 local officers [were] injured around the country during the protests, frequently from projectiles."[4]
According to the Bureau of Alcohol, Tobacco, Firearms and Explosives (ATF), "since the start of the unrest there has been 81 Federal Firearms License burglaries of an estimated loss of 1,116 firearms; 876 reported arsons; 76 explosive incidents; and 46 ATF arrests[.]"[5]
Despite these numerous examples of violence occurring during these protests, it appears that individuals charged with committing crimes at these events may benefit from infrequent prosecutions and minimal, if any, penalties.  According to a recent article, "prosecutors have approved deals in at least half a dozen federal felony cases arising from clashes between protesters and law enforcement in Oregon last summer. The arrangements — known as deferred resolution agreements — will leave the defendants with a clean criminal record if they stay out of trouble for a period of time and complete a modest amount of community service, according to defense attorneys and court records."[6]       
                DOJ's apparent unwillingness to punish these individuals who allegedly committed crimes during the spring and summer 2020 protests stands in stark contrast to the harsher treatment of the individuals charged in connection with the January 6, 2021 breach of the U.S. Capitol Building in Washington, D.C.  To date, DOJ has charged 510 individuals stemming from Capitol breach.[7]  DOJ maintains and updates a webpage that lists the defendants charged with crimes committed at the Capitol.  This database includes information such as the defendant's name, charge(s), case number, case documents, location of arrest, case status, and informs readers when the entry was last updated.[8]  No such database exists for alleged perpetrators of crimes associated with the spring and summer 2020 protests.  It is unclear whether any defendants charged with crimes in connection with the Capitol breach have received deferred resolution agreements.
Americans have the constitutional right to peaceably assemble and petition the government for a redress of grievances.  This constitutional right should be cherished and protected.  Violence, property damage, and vandalism of any kind should not be tolerated and individuals that break the law should be prosecuted.  However, the potential unequal administration of justice with respect to certain protestors is particularly concerning.  In order to assist Congress in conducting its oversight work, we respectfully request answers to the following questions by June 21, 2021:  
Spring and Summer 2020 Unrest:
Did federal law enforcement utilize geolocation data from defendants' cell phones to track protestors associated with the unrest in the spring and summer of 2020?  If so, how many times and for which locations/riots?  
How many individuals who may have committed crimes associated with protests in the spring and summer of 2020 were arrested by law enforcement using pre-dawn raids and SWAT teams?
How many individuals were incarcerated for allegedly committing crimes associated with protests in the spring and summer of 2020? 
How many of these individuals are or were placed in solitary confinement?  What was the average amount of consecutive days such individuals were in solitary confinement?
How many of these individuals have been released on bail?
How many of these individuals were released on their own recognizance or without being required to post bond?
How many of these individuals were offered deferred resolution agreements?[9]
How many DOJ prosecutors were assigned to work on cases involving defendants who allegedly committed crimes associated with protests in the spring and summer of 2020?
How many FBI personnel were assigned to work on cases involving defendants who allegedly committed crimes associated with protests in the spring and summer of 2020?
January 6, 2021 U.S. Capitol Breach:
Did federal law enforcement utilize geolocation data from defendants' cell phones to track protestors associated with the January 6, 2021 protests and Capitol breach?  If so, how many times and how many additional arrests resulted from law enforcement utilizing geolocation information?
How many individuals who may have committed crimes associated with the Capitol breach were arrested by law enforcement using pre-dawn raids and SWAT teams?
How many individuals are incarcerated for allegedly committing crimes associated with the Capitol breach?
How many of these individuals are or were placed in solitary confinement?  What was the average amount of consecutive days such individuals were in solitary confinement?
How many of these individuals have been released on bail?
How many of these individuals have been released on their own recognizance or without being required to post bond?
How many of these individuals were offered deferred resolution agreements?
How many DOJ prosecutors have been assigned to work on cases involving defendants who allegedly committed crimes associated with the Capitol breach?
How many FBI personnel were assigned to work on cases involving defendants who allegedly committed crimes associated with the Capitol breach?
Sincerely,
Ron Johnson
United States Senator
Tommy Tuberville
United States Senator
Mike Lee                                                            
United States Senator
Rick Scott
United States Senator
Ted Cruz
United States Senator
###
—-
I want to recommend to you a video on YOU TUBE that runs 28 minutes and 39 seconds by Francis Schaeffer entitled because it discusses the founding of our nation and what the FOUNDERS believed: 
How Should We Then Live | Season 1 | Episode 5 | The Revolutionary Age
Thank you for your time, and again I want to thank you for your support of the unborn little babies!
Sincerely,
Everette Hatcher, 13900 Cottontail Lane, AR 72002, cell 501-920-5733, everettehatcher@gmail.com, http://www.thedailyhatch.org
——————————————————————————————
——
Dr. Francis schaeffer How Should We Then Live | Season 1 | Episode 5 | The Revolutionary Age
– Whatever happened to human race? PART 1 Co-authored by Francis Schaeffer and Dr. C. Everett Koop)

Dr. Francis Schaeffer – Whatever Happened To The Human Race? | Episode 2 | Slaughter of the Innocents
Francis Schaeffer – Whatever Happened To The Human Race? | Episode 3 | Death by Someone's Choice
Mr. Hentoff with the clarinetist Edmond Hall in 1948 at the Savoy, a club in Boston. (Nat Hentoff was a pro-life atheist)
Dr. Francis Schaeffer – Whatever Happened To The Human Race? | Episode 4 | The Basis for Human Dignity 
Edith Schaeffer with her husband, Francis Schaeffer, in 1970 in Switzerland, where they founded L'Abri, a Christian commune.
March 23, 2021
President Biden c/o The White House 1600 Pennsylvania Avenue NW Washington, DC 20500
Dear Mr. President,
I really do respect you for trying to get a pulse on what is going on out here. I know that you don't agree with my pro-life views but I wanted to challenge you as a fellow Christian to re-examine your pro-choice view. Although we are both Christians and have the Bible as the basis for our moral views, I did want you to take a close look at the views of the pro-life atheist Nat Hentoff too.  Hentoff became convinced of the pro-life view because of secular evidence that shows that the unborn child is human. I would ask you to consider his evidence and then of course reverse your views on abortion.
___________________
The pro-life atheist Nat Hentoff wrote a fine article below I wanted to share with you.
Nat Hentoff is an atheist, but he became a pro-life activist because of the scientific evidence that shows that the unborn child is a distinct and separate human being and even has a separate DNA. His perspective is a very intriguing one that I thought you would be interested in. I have shared before many   cases (Bernard Nathanson, Donald Trump, Paul Greenberg, Kathy Ireland)    when other high profile pro-choice leaders have changed their views and this is just another case like those. I have contacted the White House over and over concerning this issue and have even received responses. I am hopeful that people will stop and look even in a secular way (if they are not believers) at this abortion debate and see that the unborn child is deserving of our protection.That is why the writings of Nat Hentoff of the Cato Institute are so crucial.
In the film series "WHATEVER HAPPENED TO THE HUMAN RACE?" the arguments are presented  against abortion (Episode 1),  infanticide (Episode 2),   euthanasia (Episode 3), and then there is a discussion of the Christian versus Humanist worldview concerning the issue of "the basis for human dignity" in Episode 4 and then in the last episode a close look at the truth claims of the Bible.
__________________________
I truly believe that many of the problems we have today in the USA are due to the advancement of humanism in the last few decades in our society. Ronald Reagan appointed the evangelical Dr. C. Everett Koop to the position of Surgeon General in his administration. He partnered with Dr. Francis Schaeffer in making the video below. It is very valuable information for Christians to have.  Actually I have included a video below that includes comments from him on this subject.
Francis Schaeffer Whatever Happened to the Human Race (Episode 1) ABORTION
_____________________________________
Dr. Francis schaeffer – from Part 5 of Whatever happened to human race?) Whatever Happened To The Human Race? | Episode 5 | Truth and History

Dr. Francis Schaeffer – A Christian Manifesto – Dr. Francis Schaeffer Lecture
Francis Schaeffer – A 700 Club Special! ~ Francis Schaeffer 1982
Dr. Francis Schaeffer – 1984 SOUNDWORD LABRI CONFERENCE VIDEO – Q&A With Francis & Edith Schaeffer
______________________
Thank you so much for your time. I know how valuable it is. I also appreciate the fine family that you have and your commitment as a father and a husband. Now after presenting the secular approach of Nat Hentoff I wanted to make some comments concerning our shared Christian faith.  I  respect you for putting your faith in Christ for your eternal life. I am pleading to you on the basis of the Bible to please review your religious views concerning abortion. It was the Bible that caused the abolition movement of the 1800's and it also was the basis for Martin Luther King's movement for civil rights and it also is the basis for recognizing the unborn children.
Sincerely,
Everette Hatcher III, 13900 Cottontail Lane, Alexander, AR 72002, ph 501-920-5733,
Related posts:
By Everette Hatcher III | Posted in Francis Schaeffer | Edit | Comments (0)