—
–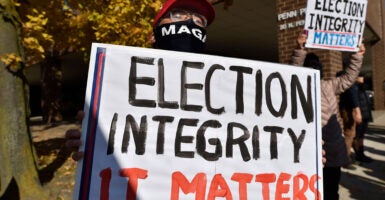 With Election Day just around the corner in what might turn out to be one of the most significant midterm congressional elections in many years, lawyers are still in the courts fighting over the rules governing the casting and counting of votes. 
From the status of undated mail-in ballots to the legality of drop boxes and the constitutionality of same-day registration statutes, the courts have been busy defining the landscape of election laws and regulations in various battleground states.
The following are some of the most important cases:
PENNSYLVANIA: The U.S. Supreme Court invalidated a ruling handed down by the 3rd U.S. Circuit Court of Appeals in Ritter v. Migliori. The 3rd Circuit had held that a Pennsylvania law requiring voters to write the date on the voter's absentee ballot violated federal civil rights laws.
In a one-paragraph ruling, the Supreme Court vacated the decision and remanded the case to the lower courts with instructions to dismiss the dispute. This was after three of the justices had opined that the 3rd Circuit's ruling on the merits was "very likely wrong" because it misconstrued federal law.
After the acting secretary of state of Pennsylvania defied the Supreme Court's ruling by issuing guidance telling local registrars to continue to count undated ballots, the Republican Party filed a lawsuit against the secretary directly in the Pennsylvania Supreme Court, an unusual procedural maneuver. That court ruled againstthe secretary on Tuesday in a split decision, directing registrars not to count such ballots but instead to "segregate and preserve" them.
DELAWARE: In Higgin v. Delaware Department of Elections, the state Supreme Court struck down no-fault absentee balloting and same-day voter registration legislation because it violates the state's constitution.
The court held that the vote-by-mail legislation "impermissibly expands the categories of absentee voters identified" in the state constitution, which only allows absentee voting when registered voters cannot vote on Election Day for a variety of listed reasons, such as disability, public service, or religious tenets.
In striking down the legislation, the court made it clear that changing the circumstances under which an absentee ballot can be used or implementing same-day registration would require a constitutional amendment.
WISCONSIN: The state Supreme Court ruled against the use of drop boxes for absentee ballots, holding that a ballot must be returned by mail or personally delivered to the relevant clerk. While absentee ballots are allowed by state law to be returned by mail, the court held that ballot drop boxes are not mailboxes as denoted in the statute.
The ruling in Teigen v. Wisconsin Elections Commission invalidates guidance handed down by the  elections commission, which authorized such drop boxes. The commission had no authority to do so, according to the court.
Similarly, a Waukesha County, Wisconsin, judge issued an injunction overturning another decision by the Wisconsin Elections Commission, holding that election officials were prohibited from modifying or adding information to incomplete absentee ballots received from voters.
Under the court's order, clerks are only permitted to return such ballots to the voter for completion.
GEORGIA: In a lawsuit filed in Georgia four years ago by Fair Fight Action, a liberal organization founded by Stacey Abrams, federal district court Judge Steve Jones (an appointee of President Barack Obama) recently threw out Abrams' case that alleged that Georgia's election laws amount to voter suppression of minority voters. 
Jones held that Georgia's absentee ballot practices, oversight and maintenance of voter rolls, and the state's "exact match" voter registration verification law are neither unconstitutional nor discriminatory. He concluded in a 288-page opinion that, "Although Georgia's election system is not perfect, the challenged practices violate neither the Constitution nor the [Voting Rights Act]."
Georgia's elections this year continue to see record turnout, according to Secretary of State Brad Raffensperger, despite the claims of detractors to the contrary.
NORTH CAROLINA: A Wake County, North Carolina, superior court ruled in favor of the Republican Party, striking down a rule promulgated by the State Board of Elections that would have forced at-large poll observers to remain in one polling location for at least four hours.
The rule would have undermined the purpose of the at-large observer law passed by the state Legislature and applied the same rule governing poll observers who are assigned to specific precincts.

That was a clear win for voters, given that transparency—and the ability to have observers watching every aspect of the voting and election process—is essential to protecting the security and integrity of elections. 
With just a few days left before the November midterm elections, there is still litigation in process across the country. And if we have any close outcomes in specific races, we are guaranteed to see more after Election Day. 
We will all be fortunate if we have a smooth, uncontroversial election in which everyone agrees, even the losers, that the elections were fair and honestly conducted according to the laws and regulations set in place before the elections by state legislatures and state election officials.
Editor's note: The name of the president who appointed federal Judge Steve Jones has been corrected.
Have an opinion about this article? To sound off, please email letters@DailySignal.com and we'll consider publishing your edited remarks in our regular "We Hear You" feature. Remember to include the url or headline of the article plus your name and town and/or state.
Biden Isn't Alone. Democrats Have Been Delegitimizing Elections for Years.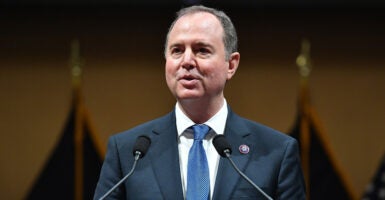 President Joe Biden joined Senate Majority Leader Chuck Schumer, D-N.Y., and numerous other Democrats this week in a partisan attempt to preemptively delegitimize the 2022 election.
Twice, the president was asked by reporters whether voters could trust the electoral system, and twice, the president contended that a fair election was unlikely unless the Senate was blown up and the Democrats' election power grab was passed—a maneuver that poses a far more serious and lasting threat to the constitutional order than anything Donald Trump is cooking up right now.
"I think it would easily be illegitimate," said Biden. "The increase in the prospect of being illegitimate is in proportion to not being able to get these reforms passed."
Vice President Kamala Harris, sent out on the morning shows Thursday, offered basically the same position.
For people lamenting the "Big Lie," this is nothing new. Trump's election-fraud conspiracy theories have been endlessly documented. Sometimes, it sounds as though he has merely appropriated the language of Democrats, who've been playing this ugly game for years.
And it's not only the post-election, evidence-free Stacey Abrams-style sore-loserism that we're typically subjected to. It's far more pervasive.
During Trump's first impeachment—headier times, when we were still pretending to care about the fate of Ukraine, rather than inviting Russian President Vladimir Putin to take a slice—Democrats argued that ousting Trump was a precondition to a fair election.
House Speaker Nancy Pelosi, D-Calif., warned colleagues that maintaining the position that elections should decide Trump's fate was "dangerous" and "only adds to the urgency of our action, because the president is jeopardizing the integrity of the 2020 elections."
Rep. Adam Schiff, one of the leading culprits in the Russia "collusion" swindle, concurred: "The president's misconduct cannot be decided at the ballot box, for we cannot be assured that the vote will be fairly won."
Never once, incidentally, have any of these people offered a scintilla of evidence demonstrating that a single person's vote was changed, altered, or appropriated by Trump or Russians or anyone else. Yet at one point, a healthy majority of Democrats claimed to believe that Putin had altered vote tallies.
How many Democrats still believe it?
These days, it's difficult to recount the slew of bizarre Russia-hysterics and various other fantastical stories taken up by Democrats and their allies in pursuit of undermining trust in the 2016 election—and the 2020 contest, just in case.
Remember those insane politicians chaining themselves to mailboxes as if they were holdouts at Masada? Or how Democrats spread pictures of locked mailboxes in places such as Burbank, California—a hotbed of contemporary white supremacism, no doubt—that were actually meant to stop criminality, not voting?
Pelosi called back the House for an emergency session to deal with the "crisis" of "operational changes" made "slowing the mail and jeopardizing the integrity of the election." Those turned out to be routine cost-cutting reforms, which Pelosi knew well.
It was another effort to corrode trust in 2020 and advocate the anarchic COVID-era voting regimes that Democrats now want to normalize in every state.
Needless to say, political journalists did not stalk every elected Democrat, demanding their solemn attestation to the sanctity of the 2016 presidential election lest they be expelled from society as apostates of "democracy." Far from it.
Hillary Clinton claimed that Trump was an "illegitimate" president on numerous occasions, later advising Biden not to concede under any circumstances in a close race.
And when Democrats were gaming out a potential 2020 loss—a scenario that did not "look that different from 2016," with "a big popular win for Mr. Biden, and a narrow electoral defeat" (in other words, a legitimate Trump victory)—leading Democratic Party strategist John Podesta, playing the role of Biden, refused to concede the race.
Instead, he alleged "voter suppression" and then persuaded Democratic governors of Trump-won states to send pro-Biden electors to the Electoral College to try to steal the election.
In another scenario, a Democratic House unilaterally named Biden president.
Horrifying, right?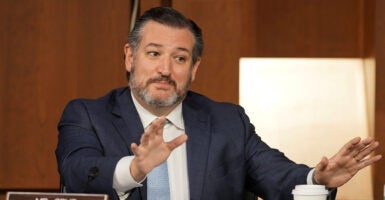 In a move that isn't without precedent, 11 Senate Republicans are pushing for a special panel to investigate questions of fraud arising from the presidential election. 
Some conservatives oppose such objections to the election outcome, in which former Vice President Joe Biden, the Democratic nominee, claimed an Electoral College victory of 306 votes to the 232 garnered by President Donald Trump, the Republican nominee. 
Other Republican lawmakers who are Trump's allies haven't indicated how they will vote when a joint session of Congress convenes Wednesday to certify the Electoral College totals.
With objections from members of both the House and Senate, the two chambers are required by law to adjourn the joint session and separately debate the objections. Lawmakers potentially could present new evidence of fraud. 
The left is actively working to undermine the integrity of our elections. Read the plan to stop them now. Learn more now >>
Sen. Ted Cruz, R-Texas, and the 10 other GOP senators are asking for an audit of election resultsto be completed by an Electoral Commission in 10 days—which would be Jan. 16, four days before Inauguration Day. If Congress doesn't agree to an audit, the senators say, they will vote against certifying the election. 
"We are acting not to thwart the democratic process, but rather to protect it," Cruz and the 10 other senators said in a joint statement released Saturday. "And every one of us should act together to ensure that the election was lawfully conducted under the Constitution and to do everything we can to restore faith in our Democracy."
Joining Cruz were Wisconsin's Ron Johnson, Oklahoma's James  Lankford, Montana's Steve Daines, Louisiana's John Kennedy, Tennessee's Marsha Blackburn and Bill Hagerty, Indiana's Mike Braun, Wyoming's Cynthia Lummis, Kansas' Roger Marshall, and Alabama's Tommy Tuberville.
Questions of voter fraud, as well as evidence of illegitimate procedures, occurred in Arizona, Georgia, Michigan, Nevada, Pennsylvania, and Wisconsin. 
More than one-third of Americans, or 39%, say they believe the "election was rigged," according to a Reuters/Ipsos poll. Broken down by party, that's two-thirds of Republicans surveyed, 17% of Democrats, and almost a third of independent voters. 
Rep. Mo Brooks, R-Ala., is leading a group of House Republicans who intend to object to certifying the Electoral College outcome, in which a total of 270 votes is needed to win the presidency. 
About 140 House Republicans are expected to vote against certifying the results in six contested states for Biden.
Sen. Josh Hawley, R-Mo., announced last weekthat he would sign on to objections from House members. His move guarantees, under the Electoral Count Act of 1887, that the House and Senate will have to debate the objection separately  for two hours, where members intend to present evidence. 
Here are three key points to understand about the proposed audit by an Electoral Commission going into Wednesday's joint session. 
1. Could an Electoral Commission Overturn the Results?
Whether such a commission would turn the tide in favor of Trump is a big question that isn't answered by the Republicans asking for the panel. 
The joint statement from the 11 GOP senators says:"Congress should immediately appoint an Electoral Commission, with full investigatory and fact-finding authority, to conduct an emergency 10-day audit of the election returns in the disputed states."
In the long-shot chance that Congress votes to establish the commission, the earliest it could wrap up a 10-day audit would be just four days before the Jan. 20 inauguration. 
Under their proposal, the findings of the commission would go back to the states, the senators said:
Once completed, individual states would evaluate the Commission's findings and could convene a special legislative session to certify a change in their vote, if needed. Accordingly, we intend to vote on January 6 to reject the electors from disputed states as not 'regularly given' and 'lawfully certified' (the statutory requisite), unless and until that emergency 10-day audit is completed.
The Trump legal team and Trump allies have lost several court cases, but many of those losses were on procedural grounds or about standing. 
Sen. Lindsey Graham, R-S.C., usually a Trump ally, tweeted that empaneling an Electoral Commission at this late date could not result in an adequate determination. Graham also said the bar would have to be high for lawmakers to vote against certifying the election. 
Meanwhile, Senate Majority Leader Mitch McConnell, R-Ky., has called Biden "president-elect" after the Electoral College voted. 
2. Is This Uncharted Territory?
As with so many events politicians and pundits call "unprecedented," there is precedent all around. 
In 1969 and 2005, objections from House and Senate members forced both chambers to debate separately how the Electoral College votes were awarded. 
The 1969 debate was over a technical matter regarding a faithless elector in the 1968 presidential election; the 2005 debate, over Ohio's electoral votes, had the potential to reverse the results of the 2004 election. 
With regard to the Electoral Commission that Cruz and the other GOP senators seek, the one and only precedent occurred in 1877. It was in the aftermath of the disputed 1876 election between Republican Rutherford B. Hayes and Democrat Samuel Tilden. 
The joint statement from the senators asks that Congress stick with this precedent: 
The most direct precedent on this question arose in 1877, following serious allegations of fraud and illegal conduct in the Hayes-Tilden presidential race. Specifically, the elections in three states—Florida, Louisiana, and South Carolina—were alleged to have been conducted illegally.
In 1877, Congress did not ignore those allegations, nor did the media simply dismiss those raising them as radicals trying to undermine democracy. Instead, Congress appointed an Electoral Commission—consisting of five Senators, five House Members, and five Supreme Court Justices—to consider and resolve the disputed returns.
We should follow that precedent. 
The 11 senators' statement doesn't specify whether they are seeking the same makeup for an Electoral Commission, with members from Congress and the Supreme Court, but that seems unlikely at this juncture. 
Congress created the original Electoral Commission, in legislation signed into law by outgoing President Ulysses S. Grant, in late January 1887. In those days, the president wasn't inaugurated until March 4. That left significantly longer to make a determination. 
The commission voted 8-7 along party lines in favor of Hayes for each of the contested states, and sent their recommendation to Congress to certify the results. 
Although technically an alternative slate of Trump electors met and voted Dec. 14, this is quite different from the 1876 election, noted Tara Ross, a constitutional lawyer and author of the book "The Indispensable Electoral College: How the Founders' Plan Saves Our Country From Mob Rule."
"In 1876, there were two slates of electors recognized by state officials and both had claim under the color of law," Ross told The Daily Signal. "In 2020, the GOP electors met on their own. They can't claim to be certified by the state. So, Congress would have no grounds in accepting those electors."
3. What's the Likelihood of an Audit Being Done?
Even proponents concede that an Electoral Commission to investigate the 2020 election is not likely to happen. 
"We are not naïve. We fully expect most if not all Democrats, and perhaps more than a few Republicans, to vote otherwise," Cruz and the other senators said in their joint statement. "But support of election integrity should not be a partisan issue."
"A fair and credible audit—conducted expeditiously and completed well before January 20—would dramatically improve Americans' faith in our electoral process and would significantly enhance the legitimacy of whoever becomes our next President. We owe that to the People."
A mix of conservative and centrist Republicans are joining Democrats in objecting to objections in general. 
They include seven House Republicans led by Rep. Chip Roy, R-Texas, who released a joint statement Sunday critical of election procedures but expressing concern about the precedent of Congress doing the deciding.  
"We, like most Americans, are outraged at the significant abuses in our election system resulting from the reckless adoption of mail-in ballots and the lack of safeguards maintained to guarantee that only legitimate votes are cast and counted," the seven House Republicans said. "… Congress has one job here: to count electoral votes that have in fact been cast by any state, as designated by those authorized to do so under state law."
The seven lawmakers' statement continues: 
The elections held in at least six battleground states raise profound questions, and it is a legal, constitutional, and moral imperative that they be answered.
But only the states have authority to appoint electors, in accordance with state law. Congress has only a narrow role in the presidential election process. Its job is to count the electors submitted by the states, not to determine which electors the states should have sent.
The text of the United States Constitution, and the Twelfth Amendment in particular, is clear. With respect to presidential elections, there is no authority for Congress to make value judgments in the abstract regarding any state's election laws or the manner in which they have been implemented. 
Trump tweeted Monday that Republicans who don't back him are part of the "surrender caucus" who will "go down in infamy as weak and ineffective."
The House Republicans' statement added that state legislatures determine when fraud affects the outcome of an election, and it is their job to send that information to Congress.
Sen. Tom Cotton, R-Ark., called for a commission to investigate the 2020 election, but warned about a risky precedent should Congress intervene now since its power "is limited to counting electoral votes submitted by the states."
"If Congress purported to overturn the results of the Electoral College, it would not only exceed that power, but also establish unwise precedents," Cotton said. "First, Congress would take away the power to choose the president from the people, which would essentially end presidential elections and place that power in the hands of whichever party controls Congress."
Cotton added: 
Second, Congress would imperil the Electoral College, which gives small states like Arkansas a voice in presidential elections. Democrats could achieve their long-standing goal of eliminating the Electoral College in effect by refusing to count electoral votes in the future for a Republican president-elect. Third, Congress would take another big step toward federalizing election law, another long-standing Democratic priority that Republicans have consistently opposed.
Trump also went after Cotton in a tweet, promising a speech and new evidence. The president, who was set to hold a rally Monday evening in Georgia, tweeted: "Republicans have pluses & minuses, but one thing is sure, THEY NEVER FORGET!"
A bipartisan group of 10 Democrats and centrist Republicans in the Senate also asserted that the presidential election was over. 
"All challenges through recounts and appeals have been exhausted. At this point, further attempts to cast doubt on the legitimacy of the 2020 presidential election are contrary to the clearly expressed will of the American people and only serve to undermine Americans' confidence in the already determined election results," the senators said in a joint statement.
They include Mitt Romney, R-Utah; Joe Manchin, D-W.V.; Susan Collins, R-Maine; Mark Warner, D-Va.; Bill Cassidy, R-La.; Jeanne Shaheen, D-N.H.; Lisa Murkowski, R-Alaska; Maggie Hassan, D-N.H.; Dick Durbin, D-Il.; and Angus King, I-Maine, who caucuses with Democrats.  
"The voters have spoken, and Congress must now fulfill its responsibility to certify the election results," the senators added. "In two weeks, we will begin working with our colleagues and the new Administration on bipartisan, commonsense solutions to the enormous challenges facing our country. It is time to move forward."
—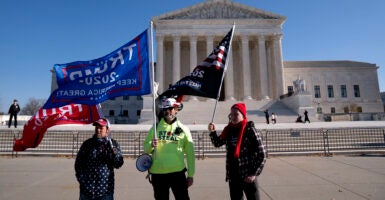 In a dramatic blow to President Donald Trump's attempts to challenge the unofficial election results, the Supreme Court on Friday evening rejected a Texas lawsuit seeking to overturn the outcome in four battleground states. 
The high court's one-page opinion said Texas did not have standing to sue over election procedures in Georgia, Michigan, Pennsylvania, and Wisconsin, four closely contested states that Trump won in 2016 but that his Democratic challenger, former Vice President Joe Biden, appeared to win five weeks ago. 
The high court's decision not to hear the case came only three days before the Electoral College is set to vote to determine a winner.
Justices Clarence Thomas and Samuel Alito made a nominal dissent in holding that any state has the standing to sue another state, but made clear that doesn't mean they would rule in favor of Texas. 
The left is actively working to undermine the integrity of our elections. Read the plan to stop them now. Learn more now >>
The Trump campaign had filed multiple lawsuits challenging the outcome in the four states as well as in Nevada and Arizona. 
By Friday, 18 other states had joined Texas' lawsuit through friend-of-the-court briefs filed at the Supreme Court. The Trump campaign also supported Texas, as did House Minority Leader Kevin McCarthy, R-Calif., and at least 120 other House Republicans.
In an unsigned opinion, the high court said:
The State of Texas's motion for leave to file a bill of complaint is denied for lack of standing under Article III of the Constitution. Texas has not demonstrated a judicially cognizable interest in the manner in which another state conducts its elections. All other pending motions are dismissed as moot.
Alito issued a statement, which Thomas joined: 
In my view, we do not have discretion to deny the filing of a bill of complaint in a case that falls within our original jurisdiction. See Arizona v. California, 589 U. S. ___ (Feb. 24, 2020) (Thomas, J., dissenting). I would therefore grant the motion to file the bill of complaint but would not grant other relief, and I express no view on any other issue.
Texas Attorney General Ken Paxton, a Republican, announced Tuesday that his state was seeking to take the four states to the Supreme Court. Each of the four went for Trump in 2016.
The 18 states that joined Texas in the case include Alabama, Arizona, Arkansas, Florida, Indiana, Kansas, Louisiana, Mississippi, Missouri, Montana, Nebraska, North Dakota, Oklahoma, South Carolina, South Dakota, Tennessee, Utah, and West Virginia.
Earlier Friday, Trump had tweeted about the case. 
The Texas-led lawsuit was an attempt to "disregard the will of the people" and "tear at the fabric of our Constitution," Michigan Attorney General Dana Nessel, Pennsylvania Attorney General Josh Shapiro, and Wisconsin Attorney General Josh Kaul, all Democrats, said in a joint statement. 
Texas alleged that Georgia, Michigan, Pennsylvania, and Wisconsin violated the rights of Texas voters when they changed election ruleswithout authorization by their respective state legislatures.
The suit argued that each of the four states violated the Electors Clause of the Constitution (Article II, Section 1, Clause 2), which Texas argued vests "state legislatures with plenary authority regarding the appointment of presidential electors."
The lawsuit asked the Supreme Court for a declaratory judgment that Pennsylvania, Michigan, Georgia, and Wisconsin violated election law and thus their electoral votes—as they currently stand—should not be counted. 
——
Priests for Life
October 26, 2020
FOR IMMEDIATE RELEASE                    
Contact:  Leslie Palma – 917-697-7039
TITUSVILLE, FL – Placing three justices on the U.S. Supreme Court is among President Trump's greatest accomplishments during his first term in office, according to Father Frank Pavone, National Director of Priests for Life.
"Tonight's confirmation of Justice Amy Coney Barrett was a highlight of the most successful four years in office for any U.S. president," Father Pavone said. "Justice Barrett is a brilliant scholar and will be another vital originalist voice on the Court."
Father Pavone said that after the confirmation of President Trump's second nominee, Justice Brett Kavanaugh, in 2018, the name that came up most frequently among pro-life Americans for candidates they would like to see nominated to fill the next vacancy on the court was Amy Coney Barrett.
"Justice Barrett is literally a dream that today became a reality," he said.
Priests for Life (EndAbortion.US) is the world's largest Catholic pro-life organization dedicated exclusively to ending abortion.
The issue of Abortion is a very central one in our culture today and I will do a series of posts on my correspondence with Carl Sagan concerning this issue.
Unplanned Official Trailer – In Theaters March 29
___________
I wrote Carl Sagan a letter on 8-30-95 about abortion and he responded by sending me a copy of his article on abortion. In my letter I included this article below by Greg Koukl.
What makes a person a person? Does a fetus qualify?
I'm asking for people just to work hard to get some clarity on this issue. It's not that hard. If I've heard this once, I've heard it a dozen times: "This is a difficult issue. It's a confusing issue. It's hard to come to a real, proper understanding." The abortion issue is not a difficult issue. It is not a confusing issue. It is a very simple issue when it comes to the facts themselves. And I'm trying to urge people to have some clarity based on what is true here and what is moral and right; not based on what we want for ourselves. That's what makes these kind of issues complicated. The truth is self-evident but we don't like what is true because it makes a moral demand upon us, and that moral demand frequently is uncomfortable and inconveniencing. When we face discomfort and inconvenience, then we want to change the rules; and we try to change the rules by using contorted, disfigured arguments and we claim that it's a difficult issue. It's not difficult at all.
I talked with a young lady last night who made the point that she thinks that. She used the illustration of snapshots. If you took a photo of the developing fetus at every stage of development you would see something different; therefore the fetus is a different thing at each different stage of development. Well, that's an idea, I guess. That's a way of looking at it but it doesn't make any sense whatsoever. It doesn't mean because you can take a picture of me at six, and ten, and twelve, and twenty-four, and forty-four that I am somehow a different being. I'm the same being talking on this show right now that graduated from Simon Greenleaf University two weeks ago, and graduated from York High School in 1968, even though I don't look the same as I did back then. I still have my girlish figure, but I look different.
Does that mean I'm a different person? I'm a different being? All these gradualism arguments fail because they don't have a clear fix on what it means for a thing to be a thing. It sounds like double talk, but it's not double talk at all. It's very simple. A thing is itself and not something else, and it remains itself as long as it exists.
I am Greg Koukl. I was Greg Koukl when I was born, and I'll be Greg Koukl when I die. I am Greg Koukl from beginning to end. I am Greg Koukl the whole time through even though my body changes form. Beings don't transform into different beings. They are what they are.
When does an acorn become an oak? Well, no one knows for sure. Of course we do! An acorn never becomes an oak. An acorn is an oak. Period. That's what an acorn is. It's an oak in immature form. It can become a mature oak tree. But young or old, it's an oak. This is not a matter of opinion, folks. When we get down to it, acorn doesn't describe what a thing is, in a sense; it describes the stage of development of that particular thing. It's kind of like asking what is a teenager? Well, a teenager isn't a particular thing, like there is a being called teenager. What a teenager is a description of the stage of development of the human being. It is a human at a certain age. An acorn is an oak at a certain age. And a fetus is a human being at a certain age.
Now some people try to get around this by saying, "Okay, I'll give in. An unborn child is a human being, but it's not a person." And I have a very simple Columbo for you in that situation. It's very, very easy to use. When someone lays this on you, ask them a very fair question: What's the difference? They will say absolutely nothing. There will be a long, embarrassing silence and don't you dare open your mouth because what this person has just said is that they are willing to sacrifice the life of a human child because it's not a person, yet they are not in any position whatsoever to tell you the difference between the two.
It's kind of like saying why are you killing those children? "Well, it's because they don't have a high enough I.Q." Well, how high of an I.Q. do you have to have to live? "Frankly, I don't have the faintest idea, but I know these kids are pretty dumb." What is that? That is exactly what this response implies. Nonpersons shouldn't be allowed to live. What's a nonperson? "I don't know, but they're not one of them." If a person is willing to sacrifice the life of a child based on its nonpersonhood, it seems to me they ought to have a fairly clear idea of what personhood actually is. But of course nobody does in a clear fashion. It becomes arbitrary at that point.
(Frank Beckwith has written many good pro-life articles)
https://www.youtube.com/watch?v=-IIZF093cKw

The fact is that human beings are persons. They are personal kinds of beings whether they are in an early stage of development or a later stage of development. That's what a human is and it remains itself from the beginning to end. It's very simple. It's not hard. It's not complex. We've known it for ages. This personhood argument is only 10-20 years old, since Roe vs. Wade, Frank Beckwith says. Before then there was never a personhood argument. It was introduced after Roe v. Wade to make the decision to have an abortion a little more palatable. The same thing happened with Dred Scott. He's not a person, he's black. He's not a person, though he's a human technically; but that's just a little detail. It's not significant.
It's simple, folks.
http://www.2think.org/abortion.shtml
by Carl Sagan and Ann Druyan
For the complete text, including illustrations, introductory quote, footnotes, and commentary on the reaction to the originally published article see Billions and Billions.
The issue had been decided years ago. The court had chosen the middle ground. You'd think the fight was over. Instead, there are mass rallies, bombings and intimidation, murders of workers at abortion clinics, arrests, intense lobbying, legislative drama, Congressional hearings, Supreme Court decisions, major political parties almost defining themselves on the issue, and clerics threatening politicians with perdition. Partisans fling accusations of hypocrisy and murder. The intent of the Constitution and the will of God are equally invoked. Doubtful arguments are trotted out as certitudes. The contending factions call on science to bolster their positions. Families are divided, husbands and wives agree not to discuss it, old friends are no longer speaking. Politicians check the latest polls to discover the dictates of their consciences. Amid all the shouting, it is hard for the adversaries to hear one another. Opinions are polarized. Minds are closed.
Is it wrong to abort a pregnancy? Always? Sometimes? Never? How do we decide? We wrote this article to understand better what the contending views are and to see if we ourselves could find a position that would satisfy us both. Is there no middle ground? We had to weigh the arguments of both sides for consistency and to pose test cases, some of which are purely hypothetical. If in some of these tests we seem to go too far, we ask the reader to be patient with us–we're trying to stress the various positions to the breaking point to see their weaknesses and where they fail.
In contemplative moments, nearly everyone recognizes that the issue is not wholly one-sided. Many partisans of differing views, we find, feel some disquiet, some unease when confronting what's behind the opposing arguments. (This is partly why such confrontations are avoided.) And the issue surely touches on deep questions: What are our responses to one another? Should we permit the state to intrude into the most intimate and personal aspects of our lives? Where are the boundaries of freedom? What does it mean to be human?
Of the many actual points of view, it is widely held–especially in the media, which rarely have the time or the inclination to make fine distinctions–that there are only two: "pro-choice" and "pro-life." This is what the two principal warring camps like to call themselves, and that's what we'll call them here. In the simplest characterization, a pro-choicer would hold that the decision to abort a pregnancy is to be made only by the woman; the state has no right to interfere. And a pro-lifer would hold that, from the moment of conception, the embryo or fetus is alive; that this life imposes on us a moral obligation to preserve it; and that abortion is tantamount to murder. Both names–pro-choice and pro-life–were picked with an eye toward influencing those whose minds are not yet made up: Few people wish to be counted either as being against freedom of choice or as opposed to life. Indeed, freedom and life are two of our most cherished values, and here they seem to be in fundamental conflict.
Let's consider these two absolutist positions in turn. A newborn baby is surely the same being it was just before birth. There 's good evidence that a late-term fetus responds to sound–including music, but especially its mother's voice. It can suck its thumb or do a somersault. Occasionally, it generates adult brain-wave patterns. Some people claim to remember being born, or even the uterine environment. Perhaps there is thought in the womb. It's hard to maintain that a transformation to full personhood happens abruptly at the moment of birth. Why, then, should it be murder to kill an infant the day after it was born but not the day before?
As a practical matter, this isn't very important: Less than 1 percent of all tabulated abortions in the United States are listed in the last three months of pregnancy (and, on closer investigation, most such reports turn out to be due to miscarriage or miscalculation). But third-trimester abortions provide a test of the limits of the pro-choice point of view. Does a woman's "innate right to control her own body" encompass the right to kill a near-term fetus who is, for all intents and purposes, identical to a newborn child?
We believe that many supporters of reproductive freedom are troubled at least occasionally by this question. But they are reluctant to raise it because it is the beginning of a slippery slope. If it is impermissible to abort a pregnancy in the ninth month, what about the eighth, seventh, sixth … ? Once we acknowledge that the state can interfere at any time in the pregnancy, doesn't it follow that the state can interfere at all times?
This conjures up the specter of predominantly male, predominantly affluent legislators telling poor women they must bear and raise alone children they cannot afford to bring up; forcing teenagers to bear children they are not emotionally prepared to deal with; saying to women who wish for a career that they must give up their dreams, stay home, and bring up babies; and, worst of all, condemning victims of rape and incest to carry and nurture the offspring of their assailants. Legislative prohibitions on abortion arouse the suspicion that their real intent is to control the independence and sexuality of women…
And yet, by consensus, all of us think it proper that there be prohibitions against, and penalties exacted for, murder. It would be a flimsy defense if the murderer pleads that this is just between him and his victim and none of the government's business. If killing a fetus is truly killing a human being, is it not the duty of the state to prevent it? Indeed, one of the chief functions of government is to protect the weak from the strong.
If we do not oppose abortion at some stage of pregnancy, is there not a danger of dismissing an entire category of human beings as unworthy of our protection and respect? And isn't that dismissal the hallmark of sexism, racism, nationalism, and religious fanaticism? Shouldn't those dedicated to fighting such injustices be scrupulously careful not to embrace another?
For the complete text, including illustrations, introductory quote, footnotes, and commentary on the reaction to the originally published article see Billions and Billions.
There is no right to life in any society on Earth today, nor has there been at any former time… : We raise farm animals for slaughter; destroy forests; pollute rivers and lakes until no fish can live there; kill deer and elk for sport, leopards for the pelts, and whales for fertilizer; entrap dolphins, gasping and writhing, in great tuna nets; club seal pups to death; and render a species extinct every day. All these beasts and vegetables are as alive as we. What is (allegedly) protected is not life, but human life.
And even with that protection, casual murder is an urban commonplace, and we wage "conventional" wars with tolls so terrible that we are, most of us, afraid to consider them very deeply… That protection, that right to life, eludes the 40,000 children under five who die on our planet each day from preventable starvation, dehydration, disease, and neglect.
Those who assert a "right to life" are for (at most) not just any kind of life, but for–particularly and uniquely—human life. So they too, like pro-choicers, must decide what distinguishes a human being from other animals and when, during gestation, the uniquely human qualities–whatever they are–emerge.
Despite many claims to the contrary, life does not begin at conception: It is an unbroken chain that stretches back nearly to the origin of the Earth, 4.6 billion years ago. Nor does human life begin at conception: It is an unbroken chain dating back to the origin of our species, hundreds of thousands of years ago. Every human sperm and egg is, beyond the shadow of a doubt, alive. They are not human beings, of course. However, it could be argued that neither is a fertilized egg.
In some animals, an egg develops into a healthy adult without benefit of a sperm cell. But not, so far as we know, among humans. A sperm and an unfertilized egg jointly comprise the full genetic blueprint for a human being. Under certain circumstances, after fertilization, they can develop into a baby. But most fertilized eggs are spontaneously miscarried. Development into a baby is by no means guaranteed. Neither a sperm and egg separately, nor a fertilized egg, is more than a potential baby or a potential adult. So if a sperm and egg are as human as the fertilized egg produced by their union, and if it is murder to destroy a fertilized egg–despite the fact that it's only potentially a baby–why isn't it murder to destroy a sperm or an egg?
Hundreds of millions of sperm cells (top speed with tails lashing: five inches per hour) are produced in an average human ejaculation. A healthy young man can produce in a week or two enough spermatozoa to double the human population of the Earth. So is masturbation mass murder? How about nocturnal emissions or just plain sex? When the unfertilized egg is expelled each month, has someone died? Should we mourn all those spontaneous miscarriages? Many lower animals can be grown in a laboratory from a single body cell. Human cells can be cloned… In light of such cloning technology, would we be committing mass murder by destroying any potentially clonable cells? By shedding a drop of blood?
All human sperm and eggs are genetic halves of "potential" human beings. Should heroic efforts be made to save and preserve all of them, everywhere, because of this "potential"? Is failure to do so immoral or criminal? Of course, there's a difference between taking a life and failing to save it. And there's a big difference between the probability of survival of a sperm cell and that of a fertilized egg. But the absurdity of a corps of high-minded semen-preservers moves us to wonder whether a fertilized egg's mere "potential" to become a baby really does make destroying it murder.
Opponents of abortion worry that, once abortion is permissible immediately after conception, no argument will restrict it at any later time in the pregnancy. Then, they fear, one day it will be permissible to murder a fetus that is unambiguously a human being. Both pro-choicers and pro-lifers (at least some of them) are pushed toward absolutist positions by parallel fears of the slippery slope.
Another slippery slope is reached by those pro-lifers who are willing to make an exception in the agonizing case of a pregnancy resulting from rape or incest. But why should the right to live depend on the circumstances of conception? If the same child were to result, can the state ordain life for the offspring of a lawful union but death for one conceived by force or coercion? How can this be just? And if exceptions are extended to such a fetus, why should they be withheld from any other fetus? This is part of the reason some pro-lifers adopt what many others consider the outrageous posture of opposing abortions under any and all circumstances–only excepting, perhaps, when the life of the mother is in danger.
By far the most common reason for abortion worldwide is birth control. So shouldn't opponents of abortion be handing out contraceptives and teaching school children how to use them? That would be an effective way to reduce the number of abortions. Instead, the United States is far behind other nations in the development of safe and effective methods of birth control–and, in many cases, opposition to such research (and to sex education) has come from the same people who oppose abortions.continue on to Part 3
For the complete text, including illustrations, introductory quote, footnotes, and commentary on the reaction to the originally published article see Billions and Billions.
The attempt to find an ethically sound and unambiguous judgment on when, if ever, abortion is permissible has deep historical roots. Often, especially in Christian tradition, such attempts were connected with the question of when the soul enters the body–a matter not readily amenable to scientific investigation and an issue of controversy even among learned theologians. Ensoulment has been asserted to occur in the sperm before conception, at conception, at the time of "quickening" (when the mother is first able to feel the fetus stirring within her), and at birth. Or even later.
Different religions have different teachings. Among hunter-gatherers, there are usually no prohibitions against abortion, and it was common in ancient Greece and Rome. In contrast, the more severe Assyrians impaled women on stakes for attempting abortion. The Jewish Talmud teaches that the fetus is not a person and has no rights. The Old and New Testaments–rich in astonishingly detailed prohibitions on dress, diet, and permissible words–contain not a word specifically prohibiting abortion. The only passage that's remotely relevant (Exodus 21:22) decrees that if there's a fight and a woman bystander should accidentally be injured and made to miscarry, the assailant must pay a fine.
Neither St. Augustine nor St. Thomas Aquinas considered early-term abortion to be homicide (the latter on the grounds that the embryo doesn't look human). This view was embraced by the Church in the Council of Vienne in 1312, and has never been repudiated. The Catholic Church's first and long-standing collection of canon law (according to the leading historian of the Church's teaching on abortion, John Connery, S.J.) held that abortion was homicide only after the fetus was already "formed"–roughly, the end of the first trimester.
But when sperm cells were examined in the seventeenth century by the first microscopes, they were thought to show a fully formed human being. An old idea of the homunculus was resuscitated–in which within each sperm cell was a fully formed tiny human, within whose testes were innumerable other homunculi, etc., ad infinitum. In part through this misinterpretation of scientific data, in 1869 abortion at any time for any reason became grounds for excommunication. It is surprising to most Catholics and others to discover that the date was not much earlier.
From colonial times to the nineteenth century, the choice in the United States was the woman's until "quickening." An abortion in the first or even second trimester was at worst a misdemeanor. Convictions were rarely sought and almost impossible to obtain, because they depended entirely on the woman's own testimony of whether she had felt quickening, and because of the jury's distaste for prosecuting a woman for exercising her right to choose. In 1800 there was not, so far as is known, a single statute in the United States concerning abortion. Advertisements for drugs to induce abortion could be found in virtually every newspaper and even in many church publications–although the language used was suitably euphemistic, if widely understood.
But by 1900, abortion had been banned at any time in pregnancy by every state in the Union, except when necessary to save the woman's life. What happened to bring about so striking a reversal? Religion had little to do with it. Drastic economic and social conversions were turning this country from an agrarian to an urban-industrial society. America was in the process of changing from having one of the highest birthrates in the world to one of the lowest. Abortion certainly played a role and stimulated forces to suppress it.
One of the most significant of these forces was the medical profession. Up to the mid-nineteenth century, medicine was an uncertified, unsupervised business. Anyone could hang up a shingle and call himself (or herself) a doctor. With the rise of a new, university-educated medical elite, anxious to enhance the status and influence of physicians, the American Medical Association was formed. In its first decade, the AMA began lobbying against abortions performed by anyone except licensed physicians. New knowledge of embryology, the physicians said, had shown the fetus to be human even before quickening.
Their assault on abortion was motivated not by concern for the health of the woman but, they claimed, for the welfare of the fetus. You had to be a physician to know when abortion was morally justified, because the question depended on scientific and medical facts understood only by physicians. At the same time, women were effectively excluded from the medical schools, where such arcane knowledge could be acquired. So, as things worked out, women had almost nothing to say about terminating their own pregnancies. It was also up to the physician to decide if the pregnancy posed a threat to the woman, and it was entirely at his discretion to determine what was and was not a threat. For the rich woman, the threat might be a threat to her emotional tranquillity or even to her lifestyle. The poor woman was often forced to resort to the back alley or the coat hanger.
This was the law until the 1960s, when a coalition of individuals and organizations, the AMA now among them, sought to overturn it and to reinstate the more traditional values that were to be embodied in Roe v. Wade.continue on to Part 4
If you deliberately kill a human being, it's called murder. If you deliberately kill a chimpanzee–biologically, our closest relative, sharing 99.6 percent of our active genes–whatever else it is, it's not murder. To date, murder uniquely applies to killing human beings. Therefore, the question of when personhood (or, if we like, ensoulment) arises is key to the abortion debate. When does the fetus become human? When do distinct and characteristic human qualities emerge?
We recognize that specifying a precise moment will overlook individual differences. Therefore, if we must draw a line, it ought to be drawn conservatively–that is, on the early side. There are people who object to having to set some numerical limit, and we share their disquiet; but if there is to be a law on this matter, and it is to effect some useful compromise between the two absolutist positions, it must specify, at least roughly, a time of transition to personhood.
Every one of us began from a dot. A fertilized egg is roughly the size of the period at the end of this sentence. The momentous meeting of sperm and egg generally occurs in one of the two fallopian tubes. One cell becomes two, two become four, and so on—an exponentiation of base-2 arithmetic. By the tenth day the fertilized egg has become a kind of hollow sphere wandering off to another realm: the womb. It destroys tissue in its path. It sucks blood from capillaries. It bathes itself in maternal blood, from which it extracts oxygen and nutrients. It establishes itself as a kind of parasite on the walls of the uterus.By the third week, around the time of the first missed menstrual period, the forming embryo is about 2 millimeters long and is developing various body parts. Only at this stage does it begin to be dependent on a rudimentary placenta. It looks a little like a segmented worm.By the end of the fourth week, it's about 5 millimeters (about 1/5 inch) long. It's recognizable now as a vertebrate, its tube-shaped heart is beginning to beat, something like the gill arches of a fish or an amphibian become conspicuous, and there is a pronounced tail. It looks rather like a newt or a tadpole. This is the end of the first month after conception.By the fifth week, the gross divisions of the brain can be distinguished. What will later develop into eyes are apparent, and little buds appear—on their way to becoming arms and legs.By the sixth week, the embryo is 13 millimeteres (about ½ inch) long. The eyes are still on the side of the head, as in most animals, and the reptilian face has connected slits where the mouth and nose eventually will be.By the end of the seventh week, the tail is almost gone, and sexual characteristics can be discerned (although both sexes look female). The face is mammalian but somewhat piglike.By the end of the eighth week, the face resembles that of a primate but is still not quite human. Most of the human body parts are present in their essentials. Some lower brain anatomy is well-developed. The fetus shows some reflex response to delicate stimulation.By the tenth week, the face has an unmistakably human cast. It is beginning to be possible to distinguish males from females. Nails and major bone structures are not apparent until the third month.By the fourth month, you can tell the face of one fetus from that of another. Quickening is most commonly felt in the fifth month. The bronchioles of the lungs do not begin developing until approximately the sixth month, the alveoli still later.
So, if only a person can be murdered, when does the fetus attain personhood? When its face becomes distinctly human, near the end of the first trimester? When the fetus becomes responsive to stimuli–again, at the end of the first trimester? When it becomes active enough to be felt as quickening, typically in the middle of the second trimester? When the lungs have reached a stage of development sufficient that the fetus might, just conceivably, be able to breathe on its own in the outside air?
The trouble with these particular developmental milestones is not just that they're arbitrary. More troubling is the fact that none of them involves uniquely humancharacteristics–apart from the superficial matter of facial appearance. All animals respond to stimuli and move of their own volition. Large numbers are able to breathe. But that doesn't stop us from slaughtering them by the billions. Reflexes and motion are not what make us human.
Other animals have advantages over us–in speed, strength, endurance, climbing or burrowing skills, camouflage, sight or smell or hearing, mastery of the air or water. Our one great advantage, the secret of our success, is thought–characteristically human thought. We are able to think things through, imagine events yet to occur, figure things out. That's how we invented agriculture and civilization. Thought is our blessing and our curse, and it makes us who we are.
Thinking occurs, of course, in the brain–principally in the top layers of the convoluted "gray matter" called the cerebral cortex. The roughly 100 billion neurons in the brain constitute the material basis of thought. The neurons are connected to each other, and their linkups play a major role in what we experience as thinking. But large-scale linking up of neurons doesn't begin until the 24th to 27th week of pregnancy–the sixth month.
By placing harmless electrodes on a subject's head, scientists can measure the electrical activity produced by the network of neurons inside the skull. Different kinds of mental activity show different kinds of brain waves. But brain waves with regular patterns typical of adult human brains do not appear in the fetus until about the 30th week of pregnancy–near the beginning of the third trimester. Fetuses younger than this–however alive and active they may be–lack the necessary brain architecture. They cannot yet think.
Acquiescing in the killing of any living creature, especially one that might later become a baby, is troublesome and painful. But we've rejected the extremes of "always" and "never," and this puts us–like it or not–on the slippery slope. If we are forced to choose a developmental criterion, then this is where we draw the line: when the beginning of characteristically human thinking becomes barely possible.
It is, in fact, a very conservative definition: Regular brain waves are rarely found in fetuses. More research would help… If we wanted to make the criterion still more stringent, to allow for occasional precocious fetal brain development, we might draw the line at six months. This, it so happens, is where the Supreme Court drew it in 1973–although for completely different reasons.
Its decision in the case of Roe v. Wade changed American law on abortion. It permits abortion at the request of the woman without restriction in the first trimester and, with some restrictions intended to protect her health, in the second trimester. It allows states to forbid abortion in the third trimester, except when there's a serious threat to the life or health of the woman. In the 1989 Webster decision, the Supreme Court declined explicitly to overturn Roe v. Wade but in effect invited the 50 state legislatures to decide for themselves.
What was the reasoning in Roe v. Wade? There was no legal weight given to what happens to the children once they are born, or to the family. Instead, a woman's right to reproductive freedom is protected, the court ruled, by constitutional guarantees of privacy. But that right is not unqualified. The woman's guarantee of privacy and the fetus's right to life must be weighed–and when the court did the weighing' priority was given to privacy in the first trimester and to life in the third. The transition was decided not from any of the considerations we have been dealing with so far…–not when "ensoulment" occurs, not when the fetus takes on sufficient human characteristics to be protected by laws against murder. Instead, the criterion adopted was whether the fetus could live outside the mother. This is called "viability" and depends in part on the ability to breathe. The lungs are simply not developed, and the fetus cannot breathe–no matter how advanced an artificial lung it might be placed in—until about the 24th week, near the start of the sixth month. This is why Roe v. Wade permits the states to prohibit abortions in the last trimester. It's a very pragmatic criterion.
If the fetus at a certain stage of gestation would be viable outside the womb, the argument goes, then the right of the fetus to life overrides the right of the woman to privacy. But just what does "viable" mean? Even a full-term newborn is not viable without a great deal of care and love. There was a time before incubators, only a few decades ago, when babies in their seventh month were unlikely to be viable. Would aborting in the seventh month have been permissible then? After the invention of incubators, did aborting pregnancies in the seventh month suddenly become immoral? What happens if, in the future, a new technology develops so that an artificial womb can sustain a fetus even before the sixth month by delivering oxygen and nutrients through the blood–as the mother does through the placenta and into the fetal blood system? We grant that this technology is unlikely to be developed soon or become available to many. But if it were available, does it then become immoral to abort earlier than the sixth month, when previously it was moral? A morality that depends on, and changes with, technology is a fragile morality; for some, it is also an unacceptable morality.
And why, exactly, should breathing (or kidney function, or the ability to resist disease) justify legal protection? If a fetus can be shown to think and feel but not be able to breathe, would it be all right to kill it? Do we value breathing more than thinking and feeling? Viability arguments cannot, it seems to us, coherently determine when abortions are permissible. Some other criterion is needed. Again, we offer for consideration the earliest onset of human thinking as that criterion.
Since, on average, fetal thinking occurs even later than fetal lung development, we find Roe v. Wade to be a good and prudent decision addressing a complex and difficult issue. With prohibitions on abortion in the last trimester–except in cases of grave medical necessity–it strikes a fair balance between the conflicting claims of freedom and life.What do you think? What have others said about Carl Sagan's thoughts on
Related posts:
__ On November 21, 2014 I received a letter from Nobel Laureate Harry Kroto and it said: …Please click on this URL http://vimeo.com/26991975 and you will hear what far smarter people than I have to say on this matter. I agree with them. Harry Kroto I have attempted to respond to all of Dr. Kroto's friends […] By Everette Hatcher III | Posted in Atheists Confronted | Tagged .Alexander Vilenkin, Aaron Ciechanover, Alan Dershowitz, Alan Guth, Alan Macfarlane, Alva Noe, Arif Ahmed, Barry Supple, Bart Ehrman, Brian Greene, Brian Harrison, Bruce Hood, Carolyn Porco, David Friend, David J. Gross, Douglas Osheroff, Elizabeth Loftus, Frank Wilczek, Gareth Stedman Jones, George Lakoff, Harry Kroto, Herbert Huppert, Herman Philipse, Hermann Hauser, Horace Barlow, Hubert Dreyfus, Ivar Giaever, J. L. Schellenberg, John Searle, Jonathan Haidt, Jonathan Parry, Lawrence Krauss, Lee Silver, Leonard Mlodinow, Leonard Susskind, Lewis Wolpert, Lisa Randall, Lord Martin Rees, Marcus du Sautoy, Mark Balaguer, Marvin Minsky, Michael Bate, Michio Kaku, Neil deGrasse Tyson, Noam Chomsky, Oliver Sacks, Patricia Churchland, Peter Millican, Peter Singer, Raymond Tallis, Rebecca Goldstein, Riccardo Giacconi, Roald Hoffmann, Robert M. Price, Ronald de Sousa, Roy Glauber, Saul Perlmutter, Shelly Kagan, Simon Schaffer, Sir David Attenborough, Sir John Walker, Stephan Feuchtwang, Stephen F Gudeman, Steve Jones, Steven Weinberg, Stuart Kauffman, Susan Greenfield, Theodor W. Hänsch, Victor Stenger, Walter Sinnott-Armstrong, Yujin Nagasawa | Edit | Comments (0)
___________________ ______________ Katha Pollitt gives it her best try to portray abortion in a positive light while Scott Klusendorf has pointed that "…when the pro-life debate has faltered, it's because the focus has been shifted from the real issue: What is the unborn?" Katha Pollitt "Pro: Reclaiming Abortion Rights" Published on Nov 4, 2014 http://www.politics-prose.com/event/b… […] By Everette Hatcher III | Posted in Francis Schaeffer | Edit | Comments (0)
SGT. PEPPER'S had a lot of sad stories on it and many of the stories including people addicted to drugs and alcohol. Who are the alcoholics on the cover of Sgt. Pepper's Lonely Hearts Club Band Album cover? James Joyce, W.C. Fields, and Tony Curtis are three we can start off with. W.C.Fields' said, "I only have […] By Everette Hatcher III | Posted in Current Events | Edit | Comments (0)
On 11-15-05 Adrian Rogers passed over to glory and since it is the 10th anniversary of that day I wanted to celebrate his life in two ways. First, I wanted to pass on some of the material from Adrian Rogers' sermons I have sent to prominent atheists over the last 20 years. Second, I wanted […] By Everette Hatcher III | Posted in Adrian Rogers | Tagged (Paul Kurtz (1925-2012), Albert Ellis (1913-2007), Archie J. Bahm (1907-1996), Aron S "Gil" Martin ( 1910-1997), Barbara Marie Tabler (1915-1996), Bette Chambers (1930-), Brian Charlesworth (1945-), Carl Sagan (1934-1996), Ernest Mayr (1904-2005), Francisco J. Ayala (1934-) Elliott Sober (1948-), George Wald (1906-1997), Gordon Stein (1941-1996), H. J. Eysenck (1916-1997), John Hospers (1918-2011), John J. Shea (1969-), Kevin Padian (1951-), Lloyd Morain (1917-2010), Mary Morain (1911-1999), Matt Cartmill (1943-), Matthew I. Spetter (1921-2012), Michael A. Crawford (1938-), Michael Martin (1932-)., Milton Fingerman (1928-), Milton Friedman (1912-2006), Nicolaas Bloembergen (1920-), Renate Vambery (1916-2005), Robert L. Erdmann (1929-2006), Robert Shapiro (1935-2011), Sol Gordon (1923-2008), Warren Allen Smith (1921-) | Edit | Comments (0)
I just wanted to note that I have spoken on the phone several times and corresponded with Dr. Paul D. Simmons who is very much pro-choice. (He is quoted in the article below.) He actually helped me write an article to submit to Americans United for the Separation of Church and State back in the […]