–
—-
DOJ Subpoenas Conservative Group for Documents in Alabama Transgender Case
Fred Lucas / @FredLucasWH / September 12, 2022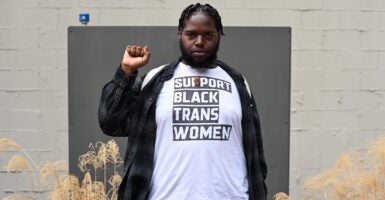 After intervening in a court case challenging Alabama's prohibiting sex-change treatments for minors, the Justice Department subpoenas five years of information from Eagle Forum of Alabama. Pictured: DaQuon Allen, who identifies as a woman and is peer navigator of The Knights and Orchids Society, poses March 9 in Montgomery, Alabama. (Photo: Joshua Lott/The Washington Post/Getty Images)
The Justice Department is pursuing a coservative group's documents going back five years as part of a lawsuit challenging an Alabama law that prohibits sex change treatments for minors.
The group, Eagle Forum of Alabama, had been a public supporter of the state's Vulnerable Child Compassion and Protection Act. The organization filed a motion in federal court last week to quash the Justice Department's subpoena demanding all information related to the legislation since 2017.
Neither the state affiliate nor the national Eagle Forum, founded by conservative icon Phyllis Schlafly, is a party to the lawsuit. The state of Alabama is the only defendant.
"This is a huge issue that groups on the right and the left should be concerned about," Kristen Ullman, president of Eagle Forum, which has chapters across the United States, told The Daily Signal. "Think about the impact."
Alabama's Vulnerable Child Compassion and Protection Act took effect May 8. The law bans puberty blockers, cross-sex hormones, castration, and other sex-change surgeries for minors, providing penalties of up to 10 years behind bars for medical providers and up to $15,000 in fines. Proponents of such treatment call it "gender-affirming care."
After the Alabama Legislature passed the measure but before it went into effect, the Justice Department joined as an intervenor in the case of Eknes-Tucker, et al. v. Marshall, et al., challenging the constitutionality of the law. The defendant is Alabama Attorney General Steve Marshall, a Republican.
https://platform.twitter.com/embed/Tweet.html?creatorScreenName=dailysignal&dnt=true&embedId=twitter-widget-0&features=eyJ0ZndfdGltZWxpbmVfbGlzdCI6eyJidWNrZXQiOlsibGlua3RyLmVlIiwidHIuZWUiXSwidmVyc2lvbiI6bnVsbH0sInRmd19ob3Jpem9uX3RpbWVsaW5lXzEyMDM0Ijp7ImJ1Y2tldCI6InRyZWF0bWVudCIsInZlcnNpb24iOm51bGx9LCJ0ZndfdHdlZXRfZWRpdF9iYWNrZW5kIjp7ImJ1Y2tldCI6Im9uIiwidmVyc2lvbiI6bnVsbH0sInRmd19yZWZzcmNfc2Vzc2lvbiI6eyJidWNrZXQiOiJvbiIsInZlcnNpb24iOm51bGx9LCJ0ZndfY2hpbl9waWxsc18xNDc0MSI6eyJidWNrZXQiOiJjb2xvcl9pY29ucyIsInZlcnNpb24iOm51bGx9LCJ0ZndfdHdlZXRfcmVzdWx0X21pZ3JhdGlvbl8xMzk3OSI6eyJidWNrZXQiOiJ0d2VldF9yZXN1bHQiLCJ2ZXJzaW9uIjpudWxsfSwidGZ3X3NlbnNpdGl2ZV9tZWRpYV9pbnRlcnN0aXRpYWxfMTM5NjMiOnsiYnVja2V0IjoiaW50ZXJzdGl0aWFsIiwidmVyc2lvbiI6bnVsbH0sInRmd19leHBlcmltZW50c19jb29raWVfZXhwaXJhdGlvbiI6eyJidWNrZXQiOjEyMDk2MDAsInZlcnNpb24iOm51bGx9LCJ0ZndfZHVwbGljYXRlX3NjcmliZXNfdG9fc2V0dGluZ3MiOnsiYnVja2V0Ijoib24iLCJ2ZXJzaW9uIjpudWxsfSwidGZ3X3R3ZWV0X2VkaXRfZnJvbnRlbmQiOnsiYnVja2V0Ijoib2ZmIiwidmVyc2lvbiI6bnVsbH19&frame=false&hideCard=false&hideThread=false&id=1567596031033876481&lang=en&origin=https%3A%2F%2Fwww.dailysignal.com%2F2022%2F09%2F12%2Fdoj-subpoenas-conservative-group-for-documents-in-alabama-transgender-case%2F&sessionId=863589a51d96c22da6149737cb456faeb8740cf2&siteScreenName=dailysignal&theme=light&widgetsVersion=1bfeb5c3714e8%3A1661975971032&width=500px
The Biden administration supports allowing sex-change operations for children.
After joining the case, the Justice Department subpoenaed five and a half years of information from Eagle Forum of Alabama, including all private communications with legislators or anyone else regarding the transgender law; every note, meeting minutes, letter, policy goals and strategy effort, speech, presentation materials, research, and polling; drafts of the bill or its amendments; and documents pertaining to publicly posted social media and webpages and other communications.
Ullman, Eagle Forum's national president, said the Alabama chapter is challenging the subpoena on grounds that the subpoena isn't relevant to the case; that it places an undue burden on Eagle Forum of Alabama; and that it requires disclosure of private material.
Moreover, Ullman said, the Justice Department's action treads on First Amendment rights regarding freedom of speech, freedom of assembly, and free exercise of religion. The subpoena by the Biden administration is "harassment must be stopped," she said.
"It's not like we were trying to hide our position," she said. "Our position was public and everything we did was legal. Imagine if a Republican administration sued Organizing for America for all of its communications with Congress even if it isn't relevant to the case."
Justice Department spokeswoman Aryele Bradford told The Daily Signal in an email that the department has no comment about the subpoena of Eagle Forum of Alabama.
Under President Joe Biden, the Justice Department has launched probes of potential political opponents of the administration, including parents speaking out at school board meetings, and the Southern Baptist Convention, and, more recently, it authorized an FBI raid at the Mar-a-Lago home of former President Donald Trump.
The Justice Department, in an April press release announcing it was intervening in the Alabama case, claims that the state law "discriminates against transgender youth by barring them from accessing particular procedures while allowing non-transgender minors to access the same or similar procedures." This, it said, violates the 14th Amendment's equal protection clause.
In March, the Justice Deprtment's Civil Rights Division issued a letter to state attorneys general warning that constitutional and statutory provisions protect transgender youth from discrimination.
After hearing from citizens in Alabama, including parents, doctors, lawyers, and guidance counselors, about their concerns for otherwise healthy children who want to transition to the opposite sex, we decided to undertake the protection of these vulnerable children and have done so publicly and ardently. Eagle Forum of Alabama operates primarily by volunteer Alabama citizens. The right to engage in these activities, free of compulsion and harassment, must be preserved.
Have an opinion about this article? To sound off, please email letters@DailySignal.com and we'll consider publishing your edited remarks in our regular "We Hear You" feature. Remember to include the url or headline of the article plus your name and town and/or state.
Want to keep up with the 24/7 news cycle? Want to know the most important stories of the day for conservatives? Need news you can trust? Subscribe to The Daily Signal's email newsletter. Learn more >>
—-
A Proclamation on Transgender Day Of Visibility, 2022
MARCH 30, 2022PRESIDENTIAL ACTIONS
BY THE PRESIDENT OF THE UNITED STATES OF AMERICA
A PROCLAMATION
In the past year, hundreds of anti-transgender bills in States were proposed across America, most of them targeting transgender kids. The onslaught has continued this year. These bills are wrong. Efforts to criminalize supportive medical care for transgender kids, to ban transgender children from playing sports, and to outlaw discussing LGBTQI+ people in schools undermine their humanity and corrode our Nation's values. Studies have shown that these political attacks are damaging to the mental health and well-being of transgender youth, putting children and their families at greater risk of bullying and discrimination.
Deroy Murdock / April 01, 2022