———
Tucker Carlson: Biden will use his speech to push for partisan advantage ahead of the midterms
Joe Biden lost all sense of proportion, Tucker argues
Imagine for a moment, something probably never done before, but imagine for just a second that you are Joe Biden. You have spent your entire life in politics. You've ascended to high office, but in fact, you have achieved very little. As political careers inevitably do, yours is ending in bitterness and failure. You sacrificed your entire life to personal ambition, but you have nothing to show for it. You have no close friends. Your family is in tatters….
Weeks from now, you will turn 80. This is the point in the journey where a decent man turns inward. 
Old age is the pause that God gives us to reflect on what we've done and what we've left undone, and above all, to ponder where we might be going next. If you were Joe Biden, you would ponder that. How could you not? But Joe Biden is not doing that. In the final days of his 79th year, Joe Biden is not asking questions about the fate of his soul. He's making pronouncements about yours, the soul of the nation, as he puts it. That's the topic of his primetime speechtomorrow night. Don't expect to hear anything transcendent as he speaks. We haven't seen the transcript, but we can say with confidence that Biden will not say a word about the single greatest problem that our country faces, which is the utter lack of meaning in our national life.  
What exactly do we believe as Americans? What's the point of all of this? Fighting climate change? Yelling about diversity and equity and trans rights? It can't be the point. Those are fads. They're not ideals and if they're all we have, we're in trouble. There is a yawning void at the center of American identity. No wonder everybody's gone crazy, but don't expect Biden to address any of that tomorrow night. Biden is, above all, a partisan, a team player, right or wrong. So, naturally he will use this time to push for partisan advantage ahead of the coming midterm elections and that alone is not surprising.  
CNN, ABC BROADCASTS QUIET ON RETIRING FBI AGENT ACCUSED OF BIAS IN HUNTER BIDEN INVESTIGATION 
That's what most politicians would do, but Biden is different in this way. In his age, Biden has lost all sense of proportion and restraint. His fine motor skills are gone. He no longer persuades, he bludgeons. "What we're seeing now is either the beginning or the death knell of extreme MAGA philosophy," he announced in a speech last week. "It's not just Trump, it's the entire philosophy. It's like semi-fascism," fascists. That's what the other side is, says Joe Biden, an American president comparing tens of millions of his own people to the moral monsters we shot and bombed and later hung from the gallows in World War II.  
The children and grandchildren of Americans who died fighting the Nazis are now themselves Nazis, says Joe Biden, because they vote Republican. It's hard to believe that any U.S. president would say something like that, even in private, but Joe Biden just did and then a few hours later at a high school gym, he said it again. 
BIDEN: And we're not going to let anyone or anything tear America apart. I'll close with this. We're at a serious moment in our nation's history. The MAGA Republicans don't just threaten our personal rights and economic security. They're a threat to our very democracy. We must be stronger, more determined and more committed to saving America than the MAGA Republicans are destroying America.  
TRUMP SHOULD BE TREATED LIKE CLINTON IN 2016 AND SUBJECT TO 'LOCK HIM UP' CHANTS: WASHINGTON POST COLUMNIST 
They're destroying democracy, says the same politician who had the FBI raid the home of the man who is running against him in the next election. They're destroying democracy by voting for the wrong people. They're attempting self-government and that's an attack on democracy. It was all so crazy and over-the-top, so extreme that you couldn't believe the White House press office would even try to defend it, would have been better to announce that Biden must have had a stroke, apologize and then move on. Yet the White House seemed completely unashamed of what he said.    
Biden's history-making publicist, the single dumbest person ever to hold that job, explained that her boss had spoken intentionally and with precision. He "called it what it is" meaning Biden called Republicans what they are. They're Nazis, he said so, next question. Having established his political opponents are fascists, Biden said about describing what they do, but surely knew what they do. Nazis murder people. It's who they are. So, it shouldn't surprise you that on January 6, Republicans killed "several police officers." Biden said that yesterday. Watch this.  
TRUMP SLAMS DOJ'S FILING OPPOSING 'SPECIAL MASTER,' ALLEGATION HE TRIED TO 'OBSTRUCT' PROBE: 'I DECLASSIFIED!' 
BIDEN: Imagine, Joe, if you turn on the television in Washington, D.C., and saw a mob of a thousand people storming down the hallways of the parliament, breaking down the doors, trying to overturn an outcome of the election and killing several police officers in the meantime. 
Did you hear just that? On Insurrection Day last year, Donald Trump's Nazi QAnon Army, "killed several police officers." Really? We didn't know that. How many police officers were killed, Joe Biden? Can you be more specific? Can you tell us their names? You can't, of course, and he didn't because there aren't any. Not one. The only person we can say for sure who was killed on January 6 was an unarmed female Trump voter called Ashli Babbitt, who posed no physical threat to anyone. She was shot to death by a reckless police officer. That killing was never investigated because she was a Nazi and you don't need an excuse to kill Nazis. With Nazis, the season never closes. There's no bag limit. Shoot all you want. That's the message. When you're Nazi, there is no limit to what they can do to you and feel morally justified as they do.  
TRUMP FBI RAID: DOJ FILES RESPONSE ON POSSIBLE 'SPECIAL MASTER' APPOINTMENT FOR MAR-A-LAGO DOCS 
Now, there was a time not so long ago when Democratic leaders told us that beat cops were Nazis. Remember that? They were the Nazis. Joe Biden's own vice president raised bail money collected through something called the Minnesota Freedom Fund in order to free people accused of committing violence against the police. One of the so-called protesters that Kamala Harris helped spring from jail was a felon called Shawn Michael Tillman. He was out for three weeks before authorities say he shot a man to death at a train station. 
Now, shortly after Kamala Harris boosted the Minnesota Freedom Fund, Joe Biden rewarded her by choosing her as his vice-presidential running mate. So, at the time, Biden was much less concerned with violence against law enforcement. His party was encouraging it. Cops were getting ambushed all over the country. In Baton Rouge, Louisiana in 2020, a man called Ronnie Kato threatened to execute police officers and then made good on his threat. He shot two cops. He killed one of them.  
In the Bronx that year, a man called Robert Williams approached two police officers in a marked police car. He pulled out a gun and for no stated reason opened fire. 12 hours later, Williams arrived at the 41st police precinct and started to shoot at more cops. He only stopped when he ran out of ammunition. This is a trend and it continues to this day.  
Ambush-style attacks on the police increased in 2021 and they're up again this year. In fact, they're up 50% so far in 2022. How has Joe Biden responded to all of this? Did he alert the Justice Department to shut it down? No, he did the opposite. He invited leaders of BLM to the White House. That would be the same BLM that just a few years earlier publicly called for the murder of police officers in Minnesota. 


BLM PROTESTERS CHANT: Pigs in a blanket, fry 'em like bacon.  
"Pigs in a blanket, fry like bacon. Kill the police." That was fine with Joe Biden. So, his position on cop killing, we can say with certainty, has changed in recent years, but then so have his views on a lot of things, including national unity. So, here's a video that we have saved for more than a year and a half. It was recorded just after the election justice protests of January 6. At the time, Biden said he wanted to bring the country together. Do you remember this? Here it is.  
BIDEN: Today, on this January day, my whole soul is in this, bringing America together, uniting our people, uniting in our nation. We can join forces, stop the shouting and lower the temperature and so today, at this time, in this place, let's start afresh.  
"Stop the shouting. Lower the temperature. Unite our nation." That's exactly right. Whatever happened to that Joe Biden? We'd vote for that Joe Biden, probably. We'd certainly like him back, but we can't now. America has changed too much. Why? Because the Biden program didn't work. It turns out the country needed more than equity. We needed competence. We needed someone wise to run the Federal Reserve. We needed engineers who actually understand how energy grids work and don't just posture about them. We needed a Pentagon that could win wars and a State Department that at least occasionally considered the interests of the United States. We need federal law enforcement that cares above all about justice. We needed Intel agencies that spy on our enemies, not on our citizens, but unfortunately, we didn't get any of that.  
BIDEN SLAMMED FOR HYPOCRISY ON POLICE SUPPORT BY CONSERVATIVES, NOT BEING ANTI-POLICE ENOUGH BY LEFT 
So, inevitably things started to fray. Not all of these trends are Joe Biden's fault. He had a lot of help, or decades, but a lot of this is Joe Biden's fault, and he can't admit it, just as he can't face the prospect of his own internal future as his 80th birthday approaches, so he externalizes it. He yells at you, not himself. You're the problem. You're the reason things are broken, your racism, your transphobia, your minivan. It's your fault. You stood in the way of progress. You are a Nazi. We hereby declare war on you.  
That's exactly what you're seeing. That's happening and you wonder as Joe Biden attempts this, if he can pull it off. Middle class America is the problem? That's not an easy case to make. There are too many facts in the way of it. For example, last Thursday, the same day that Joe Biden announced that Republicans were fascists, that same day was perhaps not by chance. The very same day that Joe Rogan aired his interview with Mark Zuckerberg of Facebook.  
In that conversation, Zuckerberg admitted that he censored the views of Hunter Biden's laptop, any news of it whatsoever because the FBI told him to. The FBI told Zuckerberg this was Russian propaganda, even when they knew for a fact that it was not because they had the laptop. In other words, the FBI interfered with the presidential election. That seems like a big story. In fact, it seems like a turning point, but Joe Biden ignored it completely.  
In a speech that day, Biden lashed out at anyone who might dare complain about the FBI. "It's sickening to see the new attacks on the FBI," he said, suggesting that what seemed like legitimate criticism was, in fact, a threat of violence. Speech is violence, but Biden was not alone in delivering that message.  
NRA BLAMES BIDEN FOR RISING CRIME AFTER HE PROMISED TO 'TAKE THEM ON' AND BAN 'ASSAULT WEAPONS' 
That very same day, the Justice Department's designated mouthpiece in NBC News, a man called Frank Figliuzzi, defended the FBI on social media to the same effect, and so did many others. So, if you step back, it started to look coordinated and you begin to wonder, could it be that Joe Biden is not simply a lone elderly Democratic politician? Could it be that Joe Biden is a mouthpiece for much larger forces?  
It's hard not to conclude that because no single American president could eliminate this many core civil liberties all by himself in a year and a half. All of a sudden, permanent Washington can raid the home of a former president.  
"He had nuclear secrets." 
"No, he didn't."  
"Whatever. Who cares? He's bad."  
And then round up his personal attorneys and then steal their privileged communications. That's never been allowed. It is now. No single president did that. No single president could turn trespassing any public building into a felony and then arrest hundreds of people for it and send to solitary confinement in the DC jail. No single president could do that. No single president could redefine an entire opposition party as Nazis and then proceed as if that were perfectly normal. That couldn't happen. No president could do that. 
A president would need help to do that and Biden has had it. This didn't arrive out of the blue. We've been building toward this moment for a very long time. Last year, the Biden administration decided to have thousands of law-abiding Republicans fired from their jobs, their lives destroyed. How did they do that? Well, they mandated an experimental vaccine that didn't actually work, a drug the UK government now admits can be dangerous and shouldn't be used on women who are pregnant or breastfeeding that drug and then they watched who disobeyed their instructions. 
ABORTION MOST IMPORTANT ISSUE TO DEMOCRATIC VOTERS DESPITE RECESSION RISKS, POLL SHOWS 
We could rebut that. Yeah, they did before. It didn't work. That's not the point. Look at the rage. Look at the rage. That was this week. Remember a year ago? "Stop the shouting. Lower the temperature. Unite our nation." That was last year. Not anymore, Nazis. They're taking off the velvet glove and we're about to feel the steel beneath it. 
——-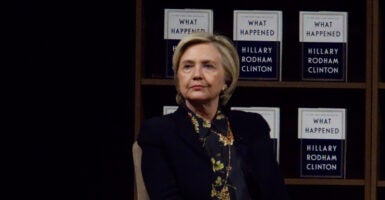 Recently, Democrats have been despondent over President Joe Biden's sinking poll numbers. His policies on the economy, energy, foreign policy, the border, and COVID-19 all have lost majority support.
As a result, the left now variously alleges that either in 2022, when it expects to lose the Congress, or in 2024, when it fears losing the presidency, Republicans will "destroy democracy" or stage a coup.
A cynic might suggest that those on the left praise democracy when they get elected, only to claim it is broken when they lose. Or they hope to avoid their defeat by trying to terrify the electorate. Or they mask their own revolutionary propensities by projecting them onto their opponents.
After all, who is trying to federalize election laws in national elections contrary to the spirit of the Constitution? Who wishes to repeal or circumvent the Electoral College? Who wishes to destroy the more than 180-year-old Senate filibuster, the over 150-year-old nine-justice Supreme Court, and the more than 60-year-old 50-state union?
Who is attacking the founding constitutional idea of two senators per state?
The Constitution also clearly states that "When the President of the United States is tried, the Chief Justice shall preside." Who slammed through the impeachment of former President Donald Trump without a presiding chief justice?
Never had a president been either impeached twice or tried in the Senate as a private citizen. Who did both?
The left further broke prior precedent by impeaching Trump without a special counsel's report, formal hearings, witnesses, and cross-examinations.
Who exactly is violating federal civil rights legislation?
New York City's Department of Health and Mental Hygiene in December decided to ration new potentially lifesaving COVID-19 medicines, partially on the basis of race, in the name of "equity."
The agency also allegedly used racial preferences to determine who would be first tested for COVID-19. Yet such racial discrimination seems in direct violation of various title clauses of the 1964 Civil Rights Act.
That law makes it clear that no public agency can use race to deny "equal utilization of any public facility which is owned, operated, or managed by or on behalf of any State or subdivision thereof." Who is behind the new racial discrimination?
In summer 2020, many local- and state-mandated quarantines and bans on public assemblies were simply ignored with impunity—if demonstrators were associated with Black Lives Matter or protesting the police.
Currently, the Biden administration is also flagrantly embracing the neo-Confederate idea of nullifying federal law.
The Biden administration has allowed nearly 2 million foreign nationals to enter the United States illegally across the southern border—in hopes they will soon be loyal constituents.
The administration has not asked illegal entrants either to be tested for or vaccinated against COVID-19. Yet all U.S. citizens in the military and employed by the federal government are threatened with dismissal if they fail to become vaccinated.
Such selective exemption of lawbreaking non-U.S. citizens, but not millions of U.S. citizens, seems in conflict with the equal protection clause of the 14th Amendment.
After entering the United States illegally, millions of immigrants are protected by some 550 "sanctuary city" jurisdictions. These revolutionary areas all brazenly nullify immigration law by refusing to allow federal immigration authorities to deport illegal immigrant lawbreakers.
At various times in our nation's history—1832, 1861-65, and 1961-63—America was either racked by internal violence or fought a civil war over similar state nullification of federal laws.
In the last five years, we have indeed seen many internal threats to democracy.
Hillary Clinton hired a foreign national to concoct a dossier of dirt against her presidential opponent. She disguised her own role by projecting her efforts to use Russian sources onto Trump. She used her contacts in government and media to seed the dossier to create a national hysteria about "Russian collusion." Clinton urged Biden not to accept the 2020 result if he lost, and herself claimed Trump was not a legitimately elected president.
The chairman of the Joint Chiefs of Staff has violated laws governing the chain of command. Some retired officers violated Article 88 of the Uniform Code of Military Justice by slandering their commander in chief. Others publicly were on record calling for the military to intervene to remove an elected president.
Some of the nation's top officials in the FBI and intelligence committee have misled or lied under oath either to federal investigators or the U.S. Congress, again, mostly with impunity.
All these sustained revolutionary activities were justified as necessary to achieve the supposedly noble ends of removing Trump.
The result is Third World-like jurisprudence in America aimed at rewarding friends and punishing enemies, masked by service to social justice.
We are in a dangerous revolutionary cycle. But the threat is not so much from loud, buffoonish, one-day rioters on Jan. 6. Such clownish characters did not for 120 days loot, burn, attack courthouses and police precincts, cause over 30 deaths, injure 2,000 policemen, and destroy at least $2 billion in property—all under the banner of revolutionary justice.
Even more ominously, stone-cold sober elites are systematically waging an insidious revolution in the shadows that seeks to dismantle America's institutions and the rule of law as we have known them.
(C)2022 Tribune Content Agency, LLC.
The Daily Signal publishes a variety of perspectives. Nothing written here is to be construed as representing the views of The Heritage Foundation. 
Have an opinion about this article? To sound off, please email letters@DailySignal.com and we'll consider publishing your edited remarks in our regular "We Hear You" feature. Remember to include the URL or headline of the article plus your name and town and/or state.
The Honorable Representative Adam Kinzinger of Illinois, Washington D.C.
Dear Representative Adam Kinzinger, 
I noticed that you are a pro-life representative that has a long record of standing up for unborn babies! It was in the 1970's when I was first introduced to the works of Francis Schaeffer and Dr. C. Everett Koop and I wanted to commend their writings and films to you.
I recently read about your impressive pro-life record:
Washington, DC – Today, Congressman Adam Kinzinger (IL-16) joined his House Republican colleagues in a press conference urging Democratic leadership to allow a vote on the Born Alive protections. The proposal would protect babies who survive abortion and provide them with the same medical care that any other premature baby would receive. Yesterday, the Democrats blocked the proposed legislation—for the 17th time—from coming before the House for a vote.
Joining the Congressman and House Republican leaders at the press conference this morning was Jill Stanek, an Illinois nurse and pro-life advocate who has witnessed the devastating realities of these pro-abortion laws. The Illinois legislature is currently debating two abortion bills, similar to the extreme pro-abortion agendas in New York and Virginia. 
It seems you have a grudge against President Trump while our freedoms under President Biden are being taken away. I recommend to you the article below:
 • Volume 50, Number 9 • Roger Kimball
Roger Kimball
Editor and Publisher, The New Criterion
Mr. Kimball concludes his article with these words: 
That's one melancholy lesson of the January 6 insurrection hoax: that America is fast mutating from a republic, in which individual liberty is paramount, into an oligarchy, in which conformity is increasingly demanded and enforced.
Another lesson was perfectly expressed by Donald Trump when he reflected on the unremitting tsunami of hostility that he faced as President. "They're after you," he more than once told his supporters. "I'm just in the way."
Bingo.
NOW WHAT DID YOU DO TO TURN YOUR BACK ON OUR LIBERTY AND PERPETUATE THE HOAX THAT JANUARY 6TH WAS AN INSURRECTION? Read below!! 
There were a few Republicans Thursday who surprised observers when they voted in support of holding former Trump adviser Steve Bannon in contempt of Congress and referring him to the Justice Department for criminal prosecution.
Prior to the vote, four Republicans were considered a lock to approve the criminal referral, according to Capitol Hill sources: Reps. Liz Cheney of Wyoming, Adam Kinzinger of Illinois, Fred Upton of Michigan and Anthony Gonzalez of Ohio.
Cheney and Kinzinger are on the House select committee investigating the Jan. 6 insurrection at the U.S. Capitol, and have for months stood alone as the only two House Republicans willing to speak out against former President Donald Trump's continued lies about the 2020 election. They were the only two House Republicans to vote for the formation of the select committee on June 30.
House Speaker Nancy Pelosi formed the select committee after Republicans rejected a bipartisan commission that would have been evenly split between five Democrats and five Republicans. Only 35 Republicans voted for that measure when itpassed the House of Representatives, and it was defeated by a GOP filibuster in the Senate.
Upton has served in the House for more than three decades, since 1987, and will face a primary challenge next year because of his willingness to stand up to Trump.
Gonzalez is retiring from Congress next year, after only four years in the House. "While my desire to build a fuller family life is at the heart of my decision, it is also true that the current state of our politics, especially many of the toxic dynamics inside our own party, is a significant factor in my decision," Gonzalez said in September when heannounced he would not seek another term.
The remaining five Republicans included three who voted for impeachment — Peter Meijer of Michigan, John Katko of New York and Jaime Herrera Beutler of Washington — and two House Republicans who did not vote to impeach Trump: Nancy Mace of South Carolina and Brian Fitzpatrick of Pennsylvania.
Do you realize that Americans rights are being taken away from them and would you like an example? I am going to quote Mr. Kimball again.  You can google and get Roger Kimball article "The January 6 Insurrection Hoax"
Trump seems never to have discerned what a viper's nest our politics has become for anyone who is not a paid-up member of The Club. 
Maybe Trump understands this now. I have no insight into that question. I am pretty confident, though, that the 74 plus million people who voted for him understand it deeply. It's another reason that The Club should be wary of celebrating its victory too expansively. 
Friedrich Hayek took one of the two epigraphs for his book, The Road to Serfdom, from the philosopher David Hume. "It is seldom," Hume wrote, "that liberty of any kind is lost all at once." Much as I admire Hume, I wonder whether he got this quite right. Sometimes, I would argue, liberty is erased almost instantaneously.
I'd be willing to wager that Joseph Hackett, confronted with Hume's observation, would express similar doubts. I would be happy to ask Mr. Hackett myself, but he is inaccessible. If the ironically titled "Department of Justice" has its way, he will be inaccessible for a long, long time—perhaps as long as 20 years. 
Joseph Hackett, you see, is a 51-year-old Trump supporter and member of an organization called the Oath Keepers, a group whose members have pledged to "defend the Constitution against all enemies foreign and domestic." The FBI does not like the Oath Keepers—agents arrested its leader in January and have picked up many other members in the months since. Hackett traveled to Washington from his home in Florida to join the January 6 rally. According to court documents, he entered the Capitol at 2:45 that afternoon and left some nine minutes later, at 2:54. The next day, he went home. On May 28, he was apprehended by the FBI and indicted on a long list of charges, including conspiracy, obstruction of an official proceeding, destruction of government property, and illegally entering a restricted building. 
As far as I have been able to determine, no evidence of Hackett destroying property has come to light. According to his wife, it is not even clear that he entered the Capitol. But he certainly was in the environs. He was a member of the Oath Keepers. He was a supporter of Donald Trump. Therefore, he must be neutralized.
Joseph Hackett is only one of hundreds of citizens who have beenbranded as "domestic terrorists" trying to "overthrow the government" and who are now languishing, in appalling conditions, jailed as political prisoners of an angry state apparat.
Let me recommend that you read this letter below from Senator Ron Johnson and his colleagues:
WASHINGTON — U.S. Sen. Ron Johnson (R-Wis.), along with senators Tommy Tuberville (R-Ala.), Mike Lee (R-Utah), Rick Scott (R-Fla.), and Ted Cruz (R-Texas), sent a letter on Monday to Attorney General Merrick Garland requesting information on the unequal application of justice between the individuals who breached the Capitol on Jan. 6, and those involved in the unrest during the spring and summer of 2020. The senators sent 18 questions to the attorney general on what steps the DOJ has taken to prosecute individuals who committed crimes during both events, and requested a response by June 21.
"Americans have the constitutional right to peaceably assemble and petition the government for a redress of grievances," the senators wrote. "This constitutional right should be cherished and protected. Violence, property damage, and vandalism of any kind should not be tolerated and individuals that break the law should be prosecuted. However, the potential unequal administration of justice with respect to certain protestors is particularly concerning."
The full text of the letter can be found here and below.
June 7, 2021 
The Honorable Merrick B. Garland
Attorney General
U.S. Department of Justice
950 Pennsylvania Avenue, NW
Washington, DC 20530
Dear Attorney General Garland:
The U.S. Department of Justice (DOJ) is currently dedicating enormous resources and manpower to investigating and prosecuting the criminals who breached the U.S. Capitol on January 6, 2021. We fully support and appreciate the efforts by the DOJ and its federal, state and local law enforcement partners to hold those responsible fully accountable.
We join all Americans in the expectation that the DOJ's response to the events of January 6 will result in rightful criminal prosecutions and accountability.  As you are aware, the mission of the DOJ is, among other things, to ensure fair and impartial administration of justice for all Americans.  Today, we write to request information about our concerns regarding potential unequal justice administered in response to other recent instances of mass unrest, destruction, and loss of life throughout the United States. 
During the spring and summer of 2020, individuals used peaceful protests across the country to engage in rioting and other crimes that resulted in loss of life, injuries to law enforcement officers, and significant property damage.[1]  A federal court house in Portland, Oregon, has been effectively under siege for months.[2]  Property destruction stemming from the 2020 social justice protests throughout the country will reportedly result in at least $1 billion to $2 billion in paid insurance claims.[3] 
                In June 2020, the DOJ reportedly compiled the following information regarding last year's unrest:
"One federal officer [was] killed, 147 federal officers [were] injured and 600 local officers [were] injured around the country during the protests, frequently from projectiles."[4]
According to the Bureau of Alcohol, Tobacco, Firearms and Explosives (ATF), "since the start of the unrest there has been 81 Federal Firearms License burglaries of an estimated loss of 1,116 firearms; 876 reported arsons; 76 explosive incidents; and 46 ATF arrests[.]"[5]
Despite these numerous examples of violence occurring during these protests, it appears that individuals charged with committing crimes at these events may benefit from infrequent prosecutions and minimal, if any, penalties.  According to a recent article, "prosecutors have approved deals in at least half a dozen federal felony cases arising from clashes between protesters and law enforcement in Oregon last summer. The arrangements — known as deferred resolution agreements — will leave the defendants with a clean criminal record if they stay out of trouble for a period of time and complete a modest amount of community service, according to defense attorneys and court records."[6]       
                DOJ's apparent unwillingness to punish these individuals who allegedly committed crimes during the spring and summer 2020 protests stands in stark contrast to the harsher treatment of the individuals charged in connection with the January 6, 2021 breach of the U.S. Capitol Building in Washington, D.C.  To date, DOJ has charged 510 individuals stemming from Capitol breach.[7]  DOJ maintains and updates a webpage that lists the defendants charged with crimes committed at the Capitol.  This database includes information such as the defendant's name, charge(s), case number, case documents, location of arrest, case status, and informs readers when the entry was last updated.[8]  No such database exists for alleged perpetrators of crimes associated with the spring and summer 2020 protests.  It is unclear whether any defendants charged with crimes in connection with the Capitol breach have received deferred resolution agreements.
Americans have the constitutional right to peaceably assemble and petition the government for a redress of grievances.  This constitutional right should be cherished and protected.  Violence, property damage, and vandalism of any kind should not be tolerated and individuals that break the law should be prosecuted.  However, the potential unequal administration of justice with respect to certain protestors is particularly concerning.  In order to assist Congress in conducting its oversight work, we respectfully request answers to the following questions by June 21, 2021:  
Spring and Summer 2020 Unrest:
Did federal law enforcement utilize geolocation data from defendants' cell phones to track protestors associated with the unrest in the spring and summer of 2020?  If so, how many times and for which locations/riots?  
How many individuals who may have committed crimes associated with protests in the spring and summer of 2020 were arrested by law enforcement using pre-dawn raids and SWAT teams?
How many individuals were incarcerated for allegedly committing crimes associated with protests in the spring and summer of 2020? 
How many of these individuals are or were placed in solitary confinement?  What was the average amount of consecutive days such individuals were in solitary confinement?
How many of these individuals have been released on bail?
How many of these individuals were released on their own recognizance or without being required to post bond?
How many of these individuals were offered deferred resolution agreements?[9]
How many DOJ prosecutors were assigned to work on cases involving defendants who allegedly committed crimes associated with protests in the spring and summer of 2020?
How many FBI personnel were assigned to work on cases involving defendants who allegedly committed crimes associated with protests in the spring and summer of 2020?
January 6, 2021 U.S. Capitol Breach:
Did federal law enforcement utilize geolocation data from defendants' cell phones to track protestors associated with the January 6, 2021 protests and Capitol breach?  If so, how many times and how many additional arrests resulted from law enforcement utilizing geolocation information?
How many individuals who may have committed crimes associated with the Capitol breach were arrested by law enforcement using pre-dawn raids and SWAT teams?
How many individuals are incarcerated for allegedly committing crimes associated with the Capitol breach?
How many of these individuals are or were placed in solitary confinement?  What was the average amount of consecutive days such individuals were in solitary confinement?
How many of these individuals have been released on bail?
How many of these individuals have been released on their own recognizance or without being required to post bond?
How many of these individuals were offered deferred resolution agreements?
How many DOJ prosecutors have been assigned to work on cases involving defendants who allegedly committed crimes associated with the Capitol breach?
How many FBI personnel were assigned to work on cases involving defendants who allegedly committed crimes associated with the Capitol breach?
Sincerely,
Ron Johnson
United States Senator
Tommy Tuberville
United States Senator
Mike Lee                                                            
United States Senator
Rick Scott
United States Senator
Ted Cruz
United States Senator
###
—-
I want to recommend to you a video on YOU TUBE that runs 28 minutes and 39 seconds by Francis Schaeffer entitled because it discusses the founding of our nation and what the FOUNDERS believed: 
How Should We Then Live | Season 1 | Episode 5 | The Revolutionary Age
Thank you for your time, and again I want to thank you for your support of the unborn little babies!
Sincerely,
Everette Hatcher, 13900 Cottontail Lane, AR 72002, cell 501-920-5733, everettehatcher@gmail.com, http://www.thedailyhatch.org
——————————————————————————————
——
Dr. Francis schaeffer How Should We Then Live | Season 1 | Episode 5 | The Revolutionary Age
– Whatever happened to human race? PART 1 Co-authored by Francis Schaeffer and Dr. C. Everett Koop)

Dr. Francis Schaeffer – Whatever Happened To The Human Race? | Episode 2 | Slaughter of the Innocents
Francis Schaeffer – Whatever Happened To The Human Race? | Episode 3 | Death by Someone's Choice
Mr. Hentoff with the clarinetist Edmond Hall in 1948 at the Savoy, a club in Boston. (Nat Hentoff was a pro-life atheist)
Dr. Francis Schaeffer – Whatever Happened To The Human Race? | Episode 4 | The Basis for Human Dignity 
Edith Schaeffer with her husband, Francis Schaeffer, in 1970 in Switzerland, where they founded L'Abri, a Christian commune.
March 23, 2021
President Biden c/o The White House 1600 Pennsylvania Avenue NW Washington, DC 20500
Dear Mr. President,
I really do respect you for trying to get a pulse on what is going on out here. I know that you don't agree with my pro-life views but I wanted to challenge you as a fellow Christian to re-examine your pro-choice view. Although we are both Christians and have the Bible as the basis for our moral views, I did want you to take a close look at the views of the pro-life atheist Nat Hentoff too.  Hentoff became convinced of the pro-life view because of secular evidence that shows that the unborn child is human. I would ask you to consider his evidence and then of course reverse your views on abortion.
___________________
The pro-life atheist Nat Hentoff wrote a fine article below I wanted to share with you.
Nat Hentoff is an atheist, but he became a pro-life activist because of the scientific evidence that shows that the unborn child is a distinct and separate human being and even has a separate DNA. His perspective is a very intriguing one that I thought you would be interested in. I have shared before many   cases (Bernard Nathanson, Donald Trump, Paul Greenberg, Kathy Ireland)    when other high profile pro-choice leaders have changed their views and this is just another case like those. I have contacted the White House over and over concerning this issue and have even received responses. I am hopeful that people will stop and look even in a secular way (if they are not believers) at this abortion debate and see that the unborn child is deserving of our protection.That is why the writings of Nat Hentoff of the Cato Institute are so crucial.
In the film series "WHATEVER HAPPENED TO THE HUMAN RACE?" the arguments are presented  against abortion (Episode 1),  infanticide (Episode 2),   euthanasia (Episode 3), and then there is a discussion of the Christian versus Humanist worldview concerning the issue of "the basis for human dignity" in Episode 4 and then in the last episode a close look at the truth claims of the Bible.
__________________________
I truly believe that many of the problems we have today in the USA are due to the advancement of humanism in the last few decades in our society. Ronald Reagan appointed the evangelical Dr. C. Everett Koop to the position of Surgeon General in his administration. He partnered with Dr. Francis Schaeffer in making the video below. It is very valuable information for Christians to have.  Actually I have included a video below that includes comments from him on this subject.
Francis Schaeffer Whatever Happened to the Human Race (Episode 1) ABORTION
_____________________________________
Dr. Francis schaeffer – from Part 5 of Whatever happened to human race?) Whatever Happened To The Human Race? | Episode 5 | Truth and History

Dr. Francis Schaeffer – A Christian Manifesto – Dr. Francis Schaeffer Lecture
Francis Schaeffer – A 700 Club Special! ~ Francis Schaeffer 1982
Dr. Francis Schaeffer – 1984 SOUNDWORD LABRI CONFERENCE VIDEO – Q&A With Francis & Edith Schaeffer
______________________
Thank you so much for your time. I know how valuable it is. I also appreciate the fine family that you have and your commitment as a father and a husband. Now after presenting the secular approach of Nat Hentoff I wanted to make some comments concerning our shared Christian faith.  I  respect you for putting your faith in Christ for your eternal life. I am pleading to you on the basis of the Bible to please review your religious views concerning abortion. It was the Bible that caused the abolition movement of the 1800's and it also was the basis for Martin Luther King's movement for civil rights and it also is the basis for recognizing the unborn children.
Sincerely,
Everette Hatcher III, 13900 Cottontail Lane, Alexander, AR 72002, ph 501-920-5733,
Related posts:
By Everette Hatcher III | Posted in Francis Schaeffer | Edit | Comments (0)