——
Tucker Carlson: Carjacking is the clearest possible sign that your civilization is falling apart
Tucker Carlson calls out Soros-backed DAs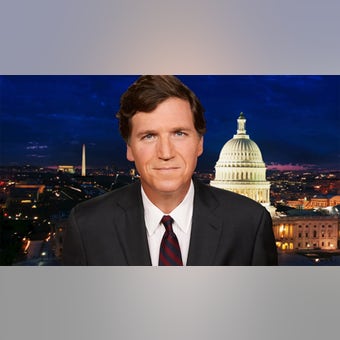 Turns out the symptoms of societal decay are universal. They're not unique to a specific society. You recognize them in any country at any time, now or a thousand years ago, always the same. The men become weak. The leaders get decadent. Law enforcement gets politicized. The currency gets devalued and then things begin to come apart.

Pretty soon, it doesn't take long, the society can no longer perform its most basic function. The reason we have societies in the first place, which is to protect the weak from the strong. That's where you have a society. Well, in places like this, it becomes, among many other things, very hard to travel anywhere. You just can't go where you want to go. With legitimate authority in retreat, roads are not controlled by the police. They're controlled by armed predators and the armed predators take exactly what they want from travelers because they can.
This is an ancient problem. It used to be called highway robbery, and for most of history, it kept people very close to home. Turns out it still exists, but now it's called carjacking. Carjacking is the clearest possible sign that your civilization is falling apart and that's why you find it in places like Somalia and South Africa, places where force, violence and clan loyalty have replaced law and order, places where might makes right. In the city of Johannesburg, for example, a vehicle is hijacked on average once every hour of the day. Now, once that happens, there's really no coming back from it. Nobody's going to build anything in the city with endemic carjacking.
In fact, most normal people will leave as fast as they can, as they have in Johannesburg, as they are starting to do, we are sad to tell you, in the city of New Orleans, where carjacking is now a permanent feature of life. Last summer, a law student called Madison Bergeron pulled into the driveway of her home in New Orleans. As she gathered belongings in the car, a young man appeared out of nowhere, stuck a gun in her face, and demanded that she hand over everything she had, including the car. He screamed at her. Terrified, she complied, and that's what carjacking is always like. It is an act of violence.
People don't want to give up their cars. They have to be terrified into doing so. That's why the majority of victims are women, old women, young women, and that's why the people who do it will do anything. If you will carjack, if you will steal someone's car at gunpoint, you will also rape. You will also murder. You have no limits. You are willing to violate on the most basic level, the civil rights of another person and in this case, that was certainly true because that same perpetrator went on, after terrifying Madison Bergeron and stealing her car, to do the same to other women in the city, a lot of them.
"There was a car blocking me in," one victim recalled. "And next thing I turn around, there's yelling and there's a gun barrel in my face. The kid is yelling to get the F out of the car, get the F out of the car,' or else he will shoot me." In all, the carjacker would terrorize five women and steal five cars in just two days before New Orleans police finally arrested him and it's amazing that they did because there are virtually no police left in New Orleans.
In a city that probably needs about 2,000 cops, they're under 500 active-duty policemen left in New Orleans. In New Orleans, they have definitely defunded the police. But in this case, the carjacker, a young teenager was ultimately caught, tried, convicted and sentenced for his crimes. Now, these crimes got a lot of attention in New Orleans.
NAACP SLAMS BIDEN OVER REPORTED STUDENT LOAN DEBT CANCEL PLAN
So, the mayor of the city, Latoya Cantrell, showed up to the sentencing, but here's the twist in the story. Mayor Cantrell didn't show up to support the victims, the women who'd been terrorized by this predator. No, the mayor showed up to support the carjacker and to let the entire city know that she was doing it, to let everyone know whose side she was on. Watch.
REPORTER VOICEOVER: The mayor showed up in court as a character witness for a 14-year-old offender during sentencing. The teen robbed three women in separate incidents with a fake gun, stealing their cars and belongings. The victims told Fox 8 they were traumatized by what happened and then they felt victimized all over again when the mayor showed up in support of the young criminal.
WOMAN VICTIM: I was in shock she wasn't there for us. She was there for the assailant and his mother and it felt like she was supporting the crime.
REPORTER VOICEOVER: Juvenile Judge Darensburg sentenced the juvenile to a three-year suspended sentence, meaning no jail time.
It felt like she was supporting the crime, said the victim. Well, yes, it did, because that's exactly what the mayor was doing. Cantrell was taking the side of the carjacker over the traumatized, law-abiding woman. Now in New Orleans, Cantrell is known by her nickname Teedy, but many people call her exactly what she is: "Latoya the destroya." She is, in fact, a destroyer. The mayor is incompetent. Mayor is an open race hater.
The mayor is an encourager of violence and she is destroying an already wounded city. We reached out to Mayor Cantrell's office to ask why she is doing all of this. Why did she pressure a judge to release a convicted armed carjacker with no prison time? But of course, she didn't reply to us. It turns out the mayor of New Orleans had a connection to this carjacker. Cantrell had enrolled this person in one of her administration's welfare programs called "Pathways Youth Internship Program." Using taxpayer money, the program says it provides young people who commit crimes with a reward, paid internships and a stipend.
Why? Because they know they'll get off. There's no cost. The local station, WWL-TV found that in 2021, juvenile carjacking suspects outnumbered adults by more than 2 to 1. Now, that doesn't mean that these are Nerf versions of carjackings. They're very violent. In fact, they're always violent and sometimes they're fatal. In March, several juveniles age 15 to 17, mutilated the body of a grandmother, an elderly woman, as they carjacked her in Mid-City New Orleans. They dragged her body down the street. Here's Fox 8 New Orleans reporting on it.
ANDRÉS FUENTES, FOX8 NEW ORLEANS MULTIMEDIA JOURNALIST: 17-year-old John Honore, 16-year-old Briniyah Baker and 15-year-olds Mar'Qel Curtis and Lenyra Theophile will be tried as adults on second-degree murder charges. Police say that the teens carjacked Linda Frickey in Mid-City, back in March, Frickey was beat and then dragged outside of her car until her arm was eventually severed from her body. She then bled to death in the middle of the street.
So again, society exists not to protect 17-year-olds with guns. On the most basic level, those are the strongest people in society, people willing to use force to get what they want. No, society exists to protect people who need the protection, the helpless, the weak, grandmothers who might be dragged and have their arms ripped off without police protection and of course, in the absence of police protection, in the absence of leadership that cares about the weak, those are exactly the people who are murdered and it's not just happening in New Orleans.
BIDEN 'BODYMAN' STEPHEN GOEPFERT LEAVING THE WHITE HOUSE
What's interesting, if you pull back a little bit and we have because we think that carjacking is a really clear indication of things unraveling, you find that cities with Soros-backed DAs and well-funded diversion programs for at-risk youth are seeing surges in carjackings. Could there be a connection? Philadelphia, for example, consider that city. This is reporting from a local station there, Fox 29.
VOICEOVER: Carjackings in Philly, a crime that's been exploding over the last several months and according to Philly police numbers released to… by a source, it's getting worse. From January 1 of this year through July 31, a police source says there have been 757 carjackings citywide. There were roughly 850 carjackings in all of 2021. The latest sourced police statistics show that the majority of these carjackings, more than 500, happened at gunpoint and also happened while the victims were at their parked cars
So, why is this happening? Well, it's happening for very deep reasons. Any 15 or 17-year-old who sticks a gun in the face of strangers, threatens their lives or kills them in order to steal a car, is the product of something that is very hard to fix, disintegrating families, that's the real reason, but society, the authorities still have an obligation to try and stop it for the sake of the rest of us. So, what are these cities doing to stop it? 

Well, Philadelphia, like New Orleans, sends so-called at-risk youth to violin lessons through something called the Philadelphia Arts and Education Partnership. So, the idea is, after a month of violin lessons, these young criminals, people who've been busted committing crimes, get the records expunged. That was the plan that Philadelphia's D.A. put into place last year.
Has it worked? Well, sad to tell you that despite the violin lessons, crime has gone up among young people, carjackings in particular. As Philadelphia's police commissioner, Danielle Outlaw, put it, "I don't want to say it's surprising, but it's definitely concerning." Really? Well, it's not surprising to us, but it is for sure an understatement. From 2020 to 2021, there's been a 108% increase in carjackings in Philadelphia.
Chicago, too, putting up similar numbers. Chicago has had more than a thousand carjackings this year alone. What does that do to a city? A thousand carjackings? For every carjacking, there is a much larger group of people now afraid to drive. Hmm. Now, Chicago is the place where Soros-backed D.A. Kim Foxx recently implemented something called the Juvenile Intervention and Support Center. Right.
PAUL PELOSI DUI DASHCAM VIDEO RELEASED AFTER CALIFORNIA GUILTY PLEA
For this initiative, Fox partnered with, and we are quoting "Black-owned, Black run businesses" called "CHI by Design," which pledges to "be bold in our collaborative approach to create anti-racist outcomes."
Really? So, it's been completely politicized. The point of law enforcement traditionally has been to enforce the law, laws that are passed by legislatures. That's a product of the democratic process in order to protect everybody else. Now, the point of law enforcement is to effect anti-racist outcomes, in other words, political outcomes. How's that working in Chicago? Well, here's Fox 32 Chicago to tell you.
POLICE: There's a carjacked car. Chicago, we have eyes on it.
REPORTER VOICEOVER: One of the passengers in the stolen SUV eventually fled. When police caught him, they discovered he was 17-years-old, released to his mother. Sadly, he's not the youngest suspect that members of the carjacking task force have seen.
POLICE: A well-known 11-year-old.
REPORTER: That have been in contact with police before?
POLICE: Yes
REPORTER: An 11-year-old was arrested in Chicago as part of a carjacking crew and it was not his first time.
BIDEN SIGNED OFF ON FBI REVIEW OF TRUMP RECORDS, NATIONAL ARCHIVES LETTER REVEALS
11-years-old. One of that carjacker's victims said that, "He actually skipped like a child all the way up" to the car he stole. We can't tell you his name because he's an at-risk youth. Apparently, he needs more violin lessons and he will soon be a productive member of society. This is a joke. The people administering the program know it's a joke.
It doesn't achieve the main overriding goal, which is to protect people who just want to go to the grocery store, to protect grandmothers who want to go to church, protect everybody else who wants to go to work in the morning, who wants to live in a city where you can travel on the roads without being killed? Chicago's leaders don't care. The same is true, by the way, of the unnamed 16-year-old girl who hijacked a man's Audi while his child was in the car. That's an atrocity. Here's Fox's 32 in Chicago.
Police scanner: Getting an auto theft just occurred, child in the car.
REPORTER: The frantic father reports his car stolen.
Police scanner: Somebody jumped into his black Audi Q7 with the dealer plate, his child is in the car.
So, as you so often see in these cases, the person who commits the crime has committed a ton of other crime because it turns out most crimes are committed by a very small number of people and in this case, the girl stole that car, stole several other cars that month, which makes you wonder, maybe violin lessons and visits in the courtroom from the mayor don't really work. Maybe these people need a father at home. The nuclear family. Right. Those things are not, in fact, racist.
PAUL PELOSI AVOIDS MORE JAIL TIME AS HE PLEADS GUILTY TO 1 COUNT IN CALIFORNIA DUI CASE
They are essential to any functioning civilization and in lieu of them, it is clear that things fall apart and the only thing you can do is to put people out of the public sphere away so that other people aren't hurt by them. That's the best we can do and it's obligatory that we do it because people are being killed and if you don't do that, you wind up the society in which 11-year-olds treat carjacking like a sport because they know they can get out of jail very quickly. Here's Fox2 in Detroit.
REPORTER: Detroit police arrested an 11, 12 and 14-year-old for stealing high-end hellcat cars off the Jefferson North lot.
REPORTER: Head of the Detroit Police Commercial Auto Theft Unit, Lieutenant Clive Stewart, stunned over the trio of kids arrested Monday right here on the storage lot of the Jefferson north plant. In a separate incident, this kid, 14-years-old, an alleged repeat carjacker, arrested this weekend. He was out on bond from a carjacking in May. Then last week, police say he jacked two cars on the city's east side, the same night.
So if you look closely enough at this specific problem, carjacking, and it's one of the many problems in our society that seem to be getting worse, but just look at this one and you begin to realize, because everything is irony at this point, the youth violence prevention initiatives that are supposed to stop this, actually enable it, indeed appear to be encouraging it and yet they're still getting millions of dollars from the Biden administration. The youth diversion programs that make these kinds of crimes more common have a lot in common with the equity programs for unhoused people that seem to encourage homelessness. Those two have led to more carjackings. Here's a report from Fox 11 in L.A.
CALIFORNIA COUNTY SAW 70% OF CRIMINAL SUSPECTS RELEASED ON $0 BAIL COMMIT NEW CRIMES: DA
REPORTER VOICEOVER: Carjacking caught on camera. Witnesses keeping their distance as a homeless man punches a street vendor, then steals his van. The street vendor was carjacked by a homeless man over the weekend. Esteban says he'd even seen his attacker before and that he had never had a problem with him, adding that he gave the man food shortly before he punched him in the face.
CLICK HERE TO GET THE FOX NEWS APP
Yeah. So, if they're happening in New Orleans and Los Angeles and Chicago, of course, this is happening in our biggest city, New York, which is also run by yet another Soros D.A., but as evidence of the collapse of social order is in Philadelphia, Detroit, L.A. and Las Vegas, nowhere in the country is experiencing a bigger increase in carjackings than the birthplace of our new civil rights movement, Minneapolis, where this all started. 

According to the National Insurance Crime Bureau, Minneapolis saw the largest percent increase in carjackings in the country from 2019 to 2021, a 339% jump. What the hell is going on and why is no one saying anything about it and why are these cities doing nothing to stop it?
Tucker Carlson currently serves as the host of FOX News Channel's (FNC) Tucker Carlson Tonight (weekdays 8PM/ET). He joined the network in 2009 as a contributor.
Video Shows 4-Year-Old Shooting at Police to 'Free' His Dad
Suspect Sadaat Johnson was arrested and charged with child abuse after his 4-year-old child fired a gun at officers in February
Utah police have released body-camera footage showing a Feb. 12 incident in which a 4-year-old shot at police officers at a McDonald's drive-thru in Midvale.
Officers with the Unified Police Department were responding to reports that a male suspect allegedly brandished a firearm at McDonald's employees due to an incorrect order around 1:30 p.m. local time, and, once officers arrived and began to detain 27-year-old Sadaat Johnson, a child in the backseat of his vehicle fired a gun at the responders.
In the body-camera footage from the Unified Police Department released to FOX 13 Salt Lake City, officers can be heard telling two distraught children, ages 3 and 4, in the backseat of Johnson's vehicle, "It's okay," after one of the children fired a single shot.
Police initially detained Johnson after they asked him to exit his vehicle and he refused to cooperate, according to a press release from the police department. Footage shows officers forcibly removing the suspect from the driver's seat and handcuffing him on the ground.
UTAH POLICE OFFICERS SHOT AT BY 4-YEAR-OLD CHILD ON ORDERS OF FATHER: REPORTS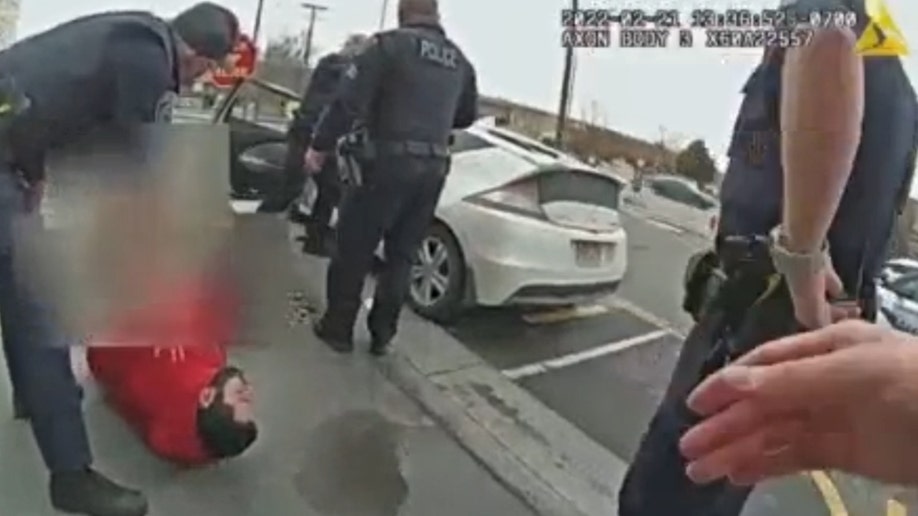 Sadaat Johnson, 27, allegedly pulled a gun on McDonald's employees in Midvale, Utah, on Feb. 12, 2022. (Unified Police Department/ FOX 13 Utah)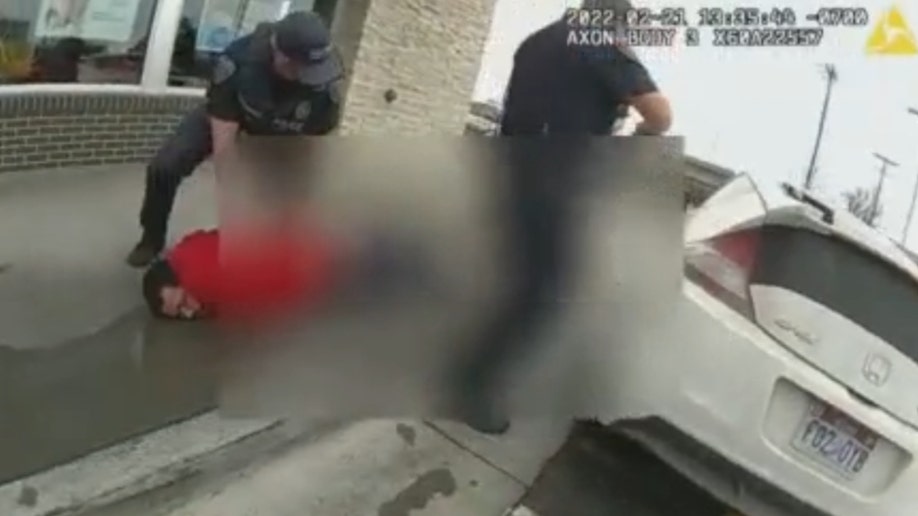 Sadaat Johnson's 4-year-old child allegedly fired a gun at officers after Johnson instructed him to do so during his February arrest. (Unified Police Department/ FOX 13 Utah)
During that time, an officer noticed a gun pointing from a rear window of Johnson's vehicle, at which point he alerted other officers to the gun and pushed it "to the side as a round was fired," the press release states. He also alerted other officers that it was a "kid" who fired the weapon.
A preliminary investigation indicated that the 27-year-old instructed his child to shoot at officers, police said.
UTAH MAN PLEADS GUILTY TO MURDERING 3 SIBLINGS, MOTHER
Court records obtained by FOX 13 revealed that the child shot at officers because "he wanted his daddy back."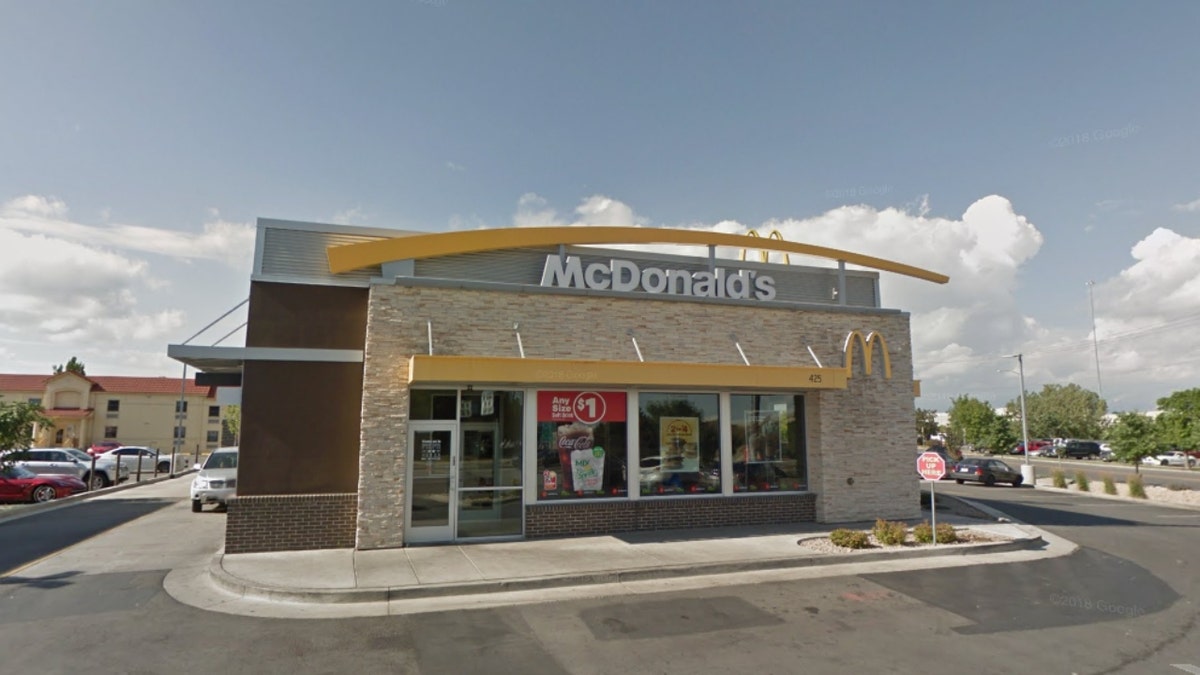 A 4-year-old child fired at police officers at a McDonald's in Midvale, Utah, in February. (Google Maps)
CLICK HERE TO GET THE FOX NEWS APP
"To have an adult think it is okay to encourage a [4]-year-old to pull a firearm and shoot at police illustrates how out of hand the campaign against police has gotten," Sheriff Rosie Rivera said in a February statement after the incident. "This needs to stop and we need to come together as a community to find solutions to the challenges we face in our neighborhoods. Officers are here to protect and serve and we are beyond belief that something like [this] could happen."
Utah authorities charged Johnson with child abuse, aggravated assault and interference with an arresting officer after the incident, according to FOX 13.
Audrey Conklin is a digital reporter for FOX Business and Fox News. Email tips to audrey.conklin@fox.com or on Twitter at @audpants.
———
To rid Portland of the riots completely, the rioters must be prosecuted for the state and federal crimes they are committing. Pictured: A protester signals his defiance early in the morning of Aug. 23 in Portland, Oregon. (Photo: Nathan Howard/Getty Images
—
June 16, 2021
President Biden c/o The White House 1600 Pennsylvania Avenue NW Washington, DC 20500
Dear Mr. President,
Over and over on my blog I have written about your efforts as Vice President and President to attack legally the rights of our unborn babies in the USA. These views of yours are due to your allegiance to the humanist worldview which Francis Schaeffer and Tim LaHaye exposed in their books. Your vast support from humanist groups in the 2020 election proves my point. No wonder we have seen criminals let go and an effort by Democrats (namely VP Harris) to defund the police. The Bible recognizes the sinful nature of humans and calls for the authorities to have the power of the sword in Romans 13! However, there have been times when the IRS has been used against freedom of expression such as the past persecution of the Tea Party. The Founding Fathers did NOT think the King was above the law! Unfortunately many lawmakers today don't care about the law very much it seems which is a result of loss of a Christian Consensus influence in our society!

I wanted to reach out to you because of some of the troubling moral issues coming out of your administration. For instance, it seems that you and Kamala did NOT condemn the riots last summer in Portland and in fact I read last August:
This June, however, after protests turned to looting and violence in Minneapolis, Harris asked her Twitter followers to send money to the Minnesota Freedom Fund to bail out the rioters. The organization subsequently received $35 million and used it to bail out violent criminals, including a suspect who shot at police and a twice-convicted sex offender.
John MacArthur gave a sermon in June of 2021 entitled "When Government Rewards Evil and Punishes Good" and in that sermon he makes the following points:
INTRODUCTION AND DISCUSSION OF ROMANS 13
GOVERNMENT CAN FORFEIT ITS AUTHORITY
THE WORLD IS THE ENEMY OF THE GOSPEL
ALL OF HUMAN HISTORY IS PROGRESSING TOWARD A GLOBAL KINGDOM UNDER THE POWER OF SATAN
ONE FALSE WORLD RELIGION IS FINAL PLAY BY SATAN
REAL PERSECUTION CAN ONLY BE DONE BY GOVERNMENT
PERSECUTION IN BOOK OF DANIEL
THE LAW IS KING AND NOT THE GOVERNOR OF CALIFORNIA
GOVERNMENT HAS BECOME PURVEYOR OF WICKEDNESS
THERE IS A PLACE FOR CIVIL DISOBEDIENCE
DOES GOVERNMENT WIN?
Let me just share a portion of that sermon with you and you can watch it on You Tube:
GOVERNMENT CAN FORFEIT ITS AUTHORITY
A second passage, 1 Peter chapter 2, and verses 13 and 14 will suffice, I think: "Submit yourselves for the Lord's sake to every human institution, whether to a king as the one in authority, or to governors as sent by him"—by the Lord—"for the punishment of evildoers and the praise of those who do right." There again we are to submit for the Lord's sake. "What do you mean 'the Lord's sake'?" When the government is doing what the Lord designed it to do.
When government turns the divine design on its head and protects those who do evil and makes those who do good afraid, it forfeits its divine purpose. In our world today rulers are designing a culture that protects the immoral. It even has reached the point where it desires to protect criminals, and makes those who do good afraid. When the criminals are unrestrained because they don't fear the consequences, but the police are restrained because they fear the consequences of stopping criminals, you know everything is turned on its head. Our government is the source of lies and the protector of liars, and the enemy of those who speak the truth. It praises the evil and persecutes the good.
So God's design for government has been entirely corrupted. As these divinely designed spheres of control in human society descend into chaos, the government will cease to function the way God designed it, and in fact it will become the enemy of the divine design. It will turn everything upside down. It will become the punisher of those who do good, like putting James Coates in prison for preaching but letting rioters go free.
davidsschrock7 months ago
Francis Schaeffer on "The Limits of Civil Obedience"
Last, in A Christian Manifesto(1981), Francis Schaeffer writes the following about Romans 13 and the limits of civil obedience.
The civil government, as all of life, stands under the Law of God. In this fallen world God has given us certain offices to protect us from the chaos which is the natural result of that fallenness. But when any office commands that which is contrary to the Word of God, those who hold that office ABROGATE their authority and they are not to be obeyed. And that includes the state.
Schaeffer cites Romans 13:1–4 and continues,
God has ordained the state as delegated authority; it is not autonomous. The state is to be an agent of justice by punishing the wrongdoer, and to protect the good in society. When it does the reverse, it has no proper authority. It is then a usurped authority and as such it becomes lawless and is tyranny.
—-
Thank you so much for your time. I know how valuable it is. I also appreciate the fine family that you have and your commitment as a father and a husband. I also respect you for putting your faith in Christ for your eternal life. I am pleading to you on the basis of the Bible to please review your religious views concerning abortion. It was the Bible that caused the abolition movement of the 1800's and it also was the basis for Martin Luther King's movement for civil rights and it also is the basis for recognizing the unborn children. I wanted to encourage you to investigate the work of Dr. Bernard Nathanson who like you used to be pro-abortion. I also want you to watch the You Tube series WHATEVER HAPPENED TO THE HUMAN RACE? by Francis Schaeffer and Dr. C. Everett Koop. Also it makes me wonder what our the moral climate Of our nation is when we concentrate more on potential mistakes of the police and we let criminals back on the street so fast! Our national was founded of LEX REX and not REX LEX!
Sincerely,
Everette Hatcher III, 13900 Cottontail Lane, Alexander, AR 72002, ph 501-920-5733,
PS: In this series of letters John MacArthur covers several points. In the first letter, he quotes you saying that the greatest threat to America—he said on one occasion—is systemic racism, which doesn't exist; he said white supremacy, which doesn't exist with any power; and then he said global warming, which doesn't exist either, and if it does, God's in charge of it.
In reality the greatest threat to this nation is the government, the government. And I want to show you how we are to understand that. Turn to Romans 13
In the 2nd letter, Dr. MacArthur noted When government turns the divine design on its head and protects those who do evil and makes those who do good afraid, it forfeits its divine purpose
In the 3rd letter Dr. MacArthur noted The world is the enemy of the gospel. The world is the enemy of the church. I pointed out that this manifests itself today in the form of HUMANISM.
In the 4th letter Dr. MacArthur points out how much today the devil is having his way in our society and that the Bible predicts that these will get worse!
In the 5th letter Francis Schaeffer points out "The HUMANIST MANIFESTOS not only say that humanism is a religion, but the Supreme Court has declared it to be a religion. The 1961 case of Torcaso v. Watkins specifically defines secular humanism as a religion equivalent to theistic and other non theistic religions."
In the 6th letter Dr. MacArthur noted God has given government the sword, the power; and when they prostitute that power and they begin to punish those who do good and protect those who do evil, they wield that power against the people of God.
In the 7th letter Dr. MacArthur asserted, Throughout history, even in the Western world, people lived under what was called the divine right of kings. Kings were believed to have had a divine right. This was absolute monarchy. What broke that was basically the Reformers. The Reformers—a little phrase was "the law is king," not the man.
In the 8th letter Dr. MacArthur noted that today the United States "Government has already become the purveyor of wickedness. Government is a murderer, slaughtering millions of infants in abortion."
Whatever Happened To The Human Race? | Episode 4 | The Basis for Human Dignity
Sunday Night Prime – Dr. Bernard Nathanson – Fr Groeschel, CFR with Fr …

——
Francis Schaeffer pictured above
Larry King had John MacArthur as a guest on his CNN program several times.

When Government Rewards Evil and Punishes Good
_________________________
Related posts:
Francis Schaeffer: "Whatever Happened to the Human Race" (Episode 1) ABORTION OF THE HUMAN RACE Published on Oct 6, 2012 by AdamMetropolis ________________ Picture of Francis Schaeffer and his wife Edith from the 1930′s above. I was sad to read about Edith passing away on Easter weekend in 2013. I wanted to pass along this fine […]By Everette Hatcher III | Posted in Francis Schaeffer, Prolife | Edit | Comments (0)
I have gone back and forth and back and forth with many liberals on the Arkansas Times Blog on many issues such as abortion, human rights, welfare, poverty, gun control and issues dealing with popular culture. Here is another exchange I had with them a while back. My username at the Ark Times Blog is Saline […]By Everette Hatcher III | Posted in Francis Schaeffer, Prolife | Edit | Comments (0)
I have gone back and forth and back and forth with many liberals on the Arkansas Times Blog on many issues such as abortion, human rights, welfare, poverty, gun control and issues dealing with popular culture. Here is another exchange I had with them a while back. My username at the Ark Times Blog is Saline […]By Everette Hatcher III | Posted in Francis Schaeffer, Prolife | Edit | Comments (0)
It is truly sad to me that liberals will lie in order to attack good Christian people like state senator Jason Rapert of Conway, Arkansas because he headed a group of pro-life senators that got a pro-life bill through the Arkansas State Senate the last week of January in 2013. I have gone back and […]By Everette Hatcher III | Posted in Arkansas Times, Francis Schaeffer, Max Brantley, Prolife | Edit | Comments (0)
I have gone back and forth and back and forth with many liberals on the Arkansas Times Blog on many issues such as abortion, human rights, welfare, poverty, gun control and issues dealing with popular culture. Here is another exchange I had with them a while back. My username at the Ark Times Blog is Saline […]By Everette Hatcher III | Posted in Francis Schaeffer, Prolife | Edit | Comments (0)
I have gone back and forth and back and forth with many liberals on the Arkansas Times Blog on many issues such as abortion, human rights, welfare, poverty, gun control and issues dealing with popular culture. Here is another exchange I had with them a while back. My username at the Ark Times Blog is Saline […]By Everette Hatcher III | Posted in Francis Schaeffer, Prolife | Edit | Comments (0)
I have gone back and forth and back and forth with many liberals on the Arkansas Times Blog on many issues such as abortion, human rights, welfare, poverty, gun control and issues dealing with popular culture. Here is another exchange I had with them a while back. My username at the Ark Times Blog is Saline […]By Everette Hatcher III | Posted in Francis Schaeffer, Prolife | Edit | Comments (0)
Sometimes you can see evidences in someone's life of how content they really are. I saw something like that on 2-8-13 when I confronted a blogger that goes by the name "AngryOldWoman" on the Arkansas Times Blog. See below. Leadership Crisis in America Published on Jul 11, 2012 Picture of Adrian Rogers above from 1970′s […]By Everette Hatcher III | Posted in Adrian Rogers, Arkansas Times, Prolife | Edit | Comments (0)
In the film series "WHATEVER HAPPENED TO THE HUMAN RACE?" the arguments are presented against abortion (Episode 1), infanticide (Episode 2), euthenasia (Episode 3), and then there is a discussion of the Christian versus Humanist worldview concerning the issue of "the basis for human dignity" in Episode 4 and then in the last episode a close […]By Everette Hatcher III | Posted in Francis Schaeffer, Prolife | Edit | Comments (0)
I have gone back and forth and back and forth with many liberals on the Arkansas Times Blog on many issues such as abortion, human rights, welfare, poverty, gun control and issues dealing with popular culture. Here is another exchange I had with them a while back. My username at the Ark Times Blog is Saline […]By Everette Hatcher III | Posted in Francis Schaeffer, Prolife | Edit | Comments (0)
I have gone back and forth and back and forth with many liberals on the Arkansas Times Blog on many issues such as abortion, human rights, welfare, poverty, gun control and issues dealing with popular culture. Here is another exchange I had with them a while back. My username at the Ark Times Blog is Saline […]By Everette Hatcher III | Posted in Francis Schaeffer, Prolife | Edit | Comments (3)
I have gone back and forth and back and forth with many liberals on the Arkansas Times Blog on many issues such as abortion, human rights, welfare, poverty, gun control and issues dealing with popular culture. Here is another exchange I had with them a while back. My username at the Ark Times Blog is Saline […]By Everette Hatcher III | Posted in Francis Schaeffer, Prolife | Edit | Comments (2)
E P I S O D E 1 0 Dr. Francis Schaeffer – Episode X – Final Choices 27 min FINAL CHOICES I. Authoritarianism the Only Humanistic Social Option One man or an elite giving authoritative arbitrary absolutes. A. Society is sole absolute in absence of other absolutes. B. But society has to be […]By Everette Hatcher III | Posted in Francis Schaeffer | Tagged francis crick, hitler and stalin, john kenneth galbraith, robert theobald, youtube | Edit | Comments (0)
E P I S O D E 9 Dr. Francis Schaeffer – Episode IX – The Age of Personal Peace and Affluence 27 min T h e Age of Personal Peace and Afflunce I. By the Early 1960s People Were Bombarded From Every Side by Modern Man's Humanistic Thought II. Modern Form of Humanistic Thought Leads […]By Everette Hatcher III | Posted in Francis Schaeffer | Tagged free speech movement, paris riots, personal peace., sproul plaza, www youtube | Edit | Comments (0)
E P I S O D E 8 Dr. Francis Schaeffer – Episode VIII – The Age of Fragmentation 27 min I saw this film series in 1979 and it had a major impact on me. T h e Age of FRAGMENTATION I. Art As a Vehicle Of Modern Thought A. Impressionism (Monet, Renoir, Pissarro, Sisley, […]By Everette Hatcher III | Posted in Francis Schaeffer | Tagged airplane design, http www youtube, marcel duchamp art, post impressionism, van gogh gauguin | Edit | Comments (0)
E P I S O D E 7 Dr. Francis Schaeffer – Episode VII – The Age of Non Reason I am thrilled to get this film series with you. I saw it first in 1979 and it had such a big impact on me. Today's episode is where we see modern humanist man act […]By Everette Hatcher III | Posted in Francis Schaeffer | Tagged french existentialism, humanist philosophers, humanistic philosophy, natural freedom, www youtube | Edit | Comments (0)
E P I S O D E 6 How Should We Then Live 6#1 Uploaded by NoMirrorHDDHrorriMoN on Oct 3, 2011 How Should We Then Live? Episode 6 of 12 ________ I am sharing with you a film series that I saw in 1979. In this film Francis Schaeffer asserted that was a shift in […]By Everette Hatcher III | Posted in Francis Schaeffer | Tagged biblical foundations., biblical influence, french prose, neo darwinism, www youtube | Edit | Comments (0)
E P I S O D E 5 How Should We Then Live? Episode 5: The Revolutionary Age I was impacted by this film series by Francis Schaeffer back in the 1970′s and I wanted to share it with you. Francis Schaeffer noted, "Reformation Did Not Bring Perfection. But gradually on basis of biblical teaching there […]By Everette Hatcher III | Posted in Francis Schaeffer | Tagged christian foundations, freedom of press, freedom of religion, lex rex, www youtube | Edit | Comments (0)
Dr. Francis Schaeffer – Episode IV – The Reformation 27 min I was impacted by this film series by Francis Schaeffer back in the 1970′s and I wanted to share it with you. Schaeffer makes three key points concerning the Reformation: "1. Erasmian Christian humanism rejected by Farel. 2. Bible gives needed answers not only as to […]By Everette Hatcher III | Posted in Francis Schaeffer | Tagged authority of the bible, christian humanism, old testament prophets, school of athens., thomas cromwell | Edit | Comments (0)
Francis Schaeffer's "How should we then live?" Video and outline of episode 3 "The Renaissance" Francis Schaeffer: "How Should We Then Live?" (Episode 3) THE RENAISSANCE I was impacted by this film series by Francis Schaeffer back in the 1970′s and I wanted to share it with you. Schaeffer really shows why we have so […]By Everette Hatcher III | Posted in Francis Schaeffer | Edit | Comments (0)
Francis Schaeffer: "How Should We Then Live?" (Episode 2) THE MIDDLE AGES I was impacted by this film series by Francis Schaeffer back in the 1970′s and I wanted to share it with you. Schaeffer points out that during this time period unfortunately we have the "Church's deviation from early church's teaching in regard […]By Everette Hatcher III | Posted in Francis Schaeffer | Tagged byzantine art, conservative evangelicalism, gothic architecture., gregorian chants, naturalism in art | Edit | Comments (0)
Francis Schaeffer: "How Should We Then Live?" (Episode 1) THE ROMAN AGE Today I am starting a series that really had a big impact on my life back in the 1970′s when I first saw it. There are ten parts and today is the first. Francis Schaeffer takes a look at Rome and why […]
By Everette Hatcher III | Posted in Francis Schaeffer | Edit | Comments (0)