—
—
June 20, 2021
President Biden c/o The White House 1600 Pennsylvania Avenue NW Washington, DC 20500
Dear Mr. President,
Over and over on my blog I have written about your efforts as Vice President and President to attack legally the rights of our unborn babies in the USA. These views of yours are due to your allegiance to the humanist worldview which Francis Schaeffer and Tim LaHaye exposed in their books. Your vast support from humanist groups in the 2020 election proves my point. No wonder we have seen criminals let go and an effort by Democrats (namely VP Harris) to defund the police. The Bible recognizes the sinful nature of humans and calls for the authorities to have the power of the sword in Romans 13! However, there have been times when the IRS has been used against freedom of expression such as the past persecution of the Tea Party. The Founding Fathers did NOT think the King was above the law! Unfortunately many lawmakers today don't care about the law very much it seems which is a result of loss of a Christian Consensus influence in our society!

I wanted to reach out to because of some of the troubling moral issues coming out of your administration.
Your liberal buddy the Governor of California tried to shut churches down and had some success back in 2020, but now churches like GRACE COMMUNITY CHURCH are open. Below is a story from last summer when religious freedom was being suppressed:

How 5 Justices Botched the California Church Case on COVID-19 Restrictions
Zack Smith / @tzsmith / June 04, 2020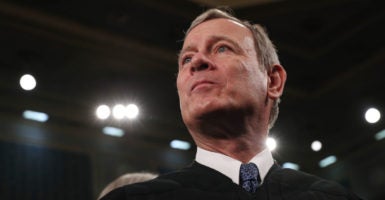 Chief Justice John Roberts, pictured at the State of the Union, sided with the court's four liberal members, and said that although "California's guidelines place restrictions on places of worship, those restrictions appear consistent with the Free Exercise Clause of the First Amendment." (Photo: Leah Mills/Reuters/Pool/Getty Images)
COMMENTARY BY
Zack Smith is a legal fellow in the Meese Center for Legal and Judicial Studies at The Heritage Foundation.
Today's news reads like it's ripped straight from the pages of the Old Testament. Plagues and protests dominate the headlines.
But unlike Moses, who received his law directly from God, ours today derives from mere mortals. It's mostly good, but still fallible.
As a result, sometimes an individual's views of God's law and man's law are in tension, and a debate has been simmering about how much protection the First Amendment's Free Exercise Clause provides when these situations arise.
>>> When can America reopen? The National Coronavirus Recovery Commission, a project of The Heritage Foundation, is gathering America's top thinkers together to figure that out. Learn more here.
The recent rash of coronavirus-related restrictionson churches and other religious communities has brought this simmering tension to the surface.
Late on the evening of May 29, the Supreme Court released an important, but easily overlooked, order in South Bay United Pentecostal Church v. Newsom denying a California church's request for an injunction against the state's phased reopening plan.
The church alleged that the plan violated its First Amendment free exercise rights by treating similarly situated, nonreligious businesses and activities more favorably than religious ones.
That prompted a debate among the justices.
Is going to church more like going to the movies or going to the office? Is it more like going to a play or going to a restaurant? Attending a ballgame or shopping at the mall?
Unfortunately, Chief Justice John Roberts sided with the court's four liberal members, and said that although California's guidelines "place restrictions on places of worship, those restrictions appear consistent with the Free Exercise Clause of the First Amendment. Similar or more severe restrictions apply to comparable secular gatherings … ."
The court's four conservative members disagreed. Justice Brett Kavanaugh wrote a dissent that Justices Clarence Thomas and Neil Gorsuch joined. (For some unknown reason, Justice Samuel Alito didn't join Kavanaugh's dissent. We can only speculate as to why).
Kavanaugh wrote, "I would grant the Church's requested temporary injunction because California's latest safety guidelines discriminate against places of worship and in favor of comparable secular businesses. Such discrimination violates the First Amendment."
On its face, the order appears to turn simply on a disagreement among the justices about which activities are most like going to church. If it's more like going to a movie or a play, or attending a ballgame, no problem. California had restricted those activities in a similar way to church gatherings.
If it's more like going to the office, a restaurant, or shopping, there's a problem. California would have been treating similarly situated, nonreligious activities more favorably than religious ones.
But the disagreement among the justices and its implications might run deeper and highlight an important issue left unaddressed by—but at the heart of—the ruling: What's the proper level of scrutiny to apply when deciding free exercise claims?
It's true that this case came to the court from a unique procedural posture—requesting immediate and preliminary relief—so it might be difficult to read too much into it.
The chief justice asserted that such a request "demands a significantly higher justification" than others and that the "legal rights at issue [must be] indisputably clear," and even then, the relief requested must be used "sparingly and only in the most critical and exigent circumstances."
It's also true that the case came up to the court during a pandemic, something that clearly weighed heavily on the mind of the chief justice, who wrote that the Constitution "principally entrusts" elected officials to deal with health crises and other "areas fraught with medical and scientific uncertainties."
As is common in these types of orders, the other four justices in the majority didn't make their reasoning or rationales known. But given Roberts' statements and rationale, it's also probable that the same decision would have been reached had the majority explicitly applied rational basisreview to this matter.
In other words, so long as California's government had a rational reason for adopting the rules it did and the rules treated everyone equally—even equally badly or restrictively—those rules would survive constitutional scrutiny, even if other less restrictive means for accomplishing those same goals had been available.
After all, the chief justice wrote, "The precise question of when restrictions on particular social activities should be lifted during the pandemic is a dynamic and fact-intensive matter subject to reasonable disagreement."
The minority disagreed. In his dissent, Kavanaugh explicitly applied strict scrutiny to resolve the matter. He would have required California to show a "compelling government interest" in its rules and to show that it had "narrowly tailored" those rules "to advance that interest."
Who cares? This sounds like an esoteric argument among nine justices far removed from the humdrum of everyday life. But it's far from it.
This distinction is fundamentally important. Why? Under rational basis review, the church lost. Under strict scrutiny, the church would have won.
Currently, the court's precedent, specifically Employment Division v. Smith (1990), requires courts to apply only rational basis review for many—if not most—free exercise claims under the First Amendment. It applies only when courts are reviewing neutral laws (or rules) of general applicability.
If churches are targeted for discriminatory treatment, a different analysis, one applying strict scrutiny, applies. The Supreme Court clarified that in its Church of the Lukumi Babalu Aye v. Hialeah (1993) decision. Still, Employment Division v. Smith upended the court's precedent and practice of applying strict scrutiny—even if it didn't explicitly call it that—in most prior free exercise cases, such as Wisconsin v. Yoder (1972), Sherbert v. Verner (1963), and Cantwell v. Connecticut (1940).
Because Congress was rightly unhappy with the court's decision in Employment Division v. Smith, it passed (with broad bipartisan support)—and President Bill Clinton signed into law—the Religious Freedom Restoration Act requiring courts to once again apply strict scrutiny to religious freedom claims.
The court struck down significant portions of that statute, too, limiting its application only to claims against the federal government and not to those against the states.
That's where we stand now: Rational basis review rules the day.
Fortunately, the tides may be turning. In January 2019, Alito wrote a concurrence in a denial of certiorari in which he lamented that the court in Employment Division v. Smith had "drastically cut back on the protection provided by the Free Exercise Clause." Thomas, Gorsuch, and Kavanaugh joined that concurrence.
It's worth noting that these are the same four justices who dissented in the current case.
More importantly, in February, the court agreed to hear a case that explicitly asks it to revisit its decision in Employment Division v. Smith and to replace it with "a standard that is true to the text, history, and tradition of the Free Exercise Clause." Who wouldn't want that?
As John Yoo and James Phillips have pointed out, the court in Employment Division v. Smith went wrong in part because "its author, [then-Justice Antonin] Scalia, failed to engage with the original meaning of the free-exercise clause. While normally persuaded by historical arguments, Scalia instead worried about cabining judicial discretion."
This same concern comes through in Roberts' concurrence denying relief to the California church.
Scalia was a legal lion, but he got Employment Division v. Smith wrong. With the hindsight of history, Roberts would do well to avoid making the same mistake, by seizing an opportunity, perhaps during a calmer time, to correct Scalia's rare misstep and restore religious freedom to its proper place in our constitutional order.
John MacArthur gave a sermon in June of 2021 entitled "When Government Rewards Evil and Punishes Good" and in that sermon he makes the following points:
INTRODUCTION AND DISCUSSION OF ROMANS 13
GOVERNMENT CAN FORFEIT ITS AUTHORITY
THE WORLD IS THE ENEMY OF THE GOSPEL
ALL OF HUMAN HISTORY IS PROGRESSING TOWARD A GLOBAL KINGDOM UNDER THE POWER OF SATAN
ONE FALSE WORLD RELIGION IS FINAL PLAY BY SATAN
REAL PERSECUTION CAN ONLY BE DONE BY GOVERNMENT
PERSECUTION IN BOOK OF DANIEL
THE LAW IS KING AND NOT THE GOVERNOR OF CALIFORNIA
GOVERNMENT HAS BECOME PURVEYOR OF WICKEDNESS
THERE IS A PLACE FOR CIVIL DISOBEDIENCE
DOES GOVERNMENT WIN?
Let me just share a portion of that sermon with you and you can watch it on You Tube:
REAL PERSECUTION CAN ONLY BE DONE BY GOVERNMENT
"Woe"—verse 19—"the great city, in which all who had ships at sea became rich by her wealth, for in one hour she had been laid waste!" Verse 20, "Rejoice over her, O heaven, and you saints and apostles and prophets, because God has pronounced judgment for you against her." This is where Satan is taking the world. Again, Satan has many strategies; but he has one goal, and that is to collect the world around one final Antichrist, empower him to defeat God. In the process, he persecutes the saints; he seeks to kill them.
Now let me remind you of something. We talk about persecution and we sometimes experience it in the sense that somebody doesn't like us because of our Christian testimony. You might have trouble with a professor in a university class because of your testimony; you might get a bad grade. You might lose your job because of your convictions and your testimony. And that's a measure of persecution. But mark this: Real persecution, which means imprisonment or execution, can only be done by government, right? Only government does that. There can't be a group of atheists who go out and imprison Christians; only government can do that. God has given government the sword, the power; and when they prostitute that power and they begin to punish those who do good and protect those who do evil, they wield that power against the people of God.
Satan knows that in order to kill the saints he has to have the one legitimate earthly power, and that's the power of the government. So government is, and always has been, and always will be the ultimate persecutor of the church. It is government—authority, power constituted in rulers and leaders—that has essentially done all the damage to the church through its history. And so I say what I said at the beginning: The greatest threat to truth and virtue in this country is the government because they have totally prostituted their God-ordained design. All through history, government is the ultimate persecutor of people. Satan has to get ahold of government; and that's where he operates—always work through government.
Go back to Isaiah 14. Isaiah 14, the prophecy of Isaiah spoken to the king of Babylon, the king of Babylon. It's a judgment against the king of Babylon—chapter 14, verse 4, a "taunt against the king of Babylon," judgment against the king of Babylon. But notice how interesting it is. This judgment, down in verse 12—something more than just the king of Babylon appears to happen here: "How are you fallen from heaven, O star of the morning, son of the dawn!"
Has the king of Babylon fallen from heaven? No, but who is fallen from heaven? Lucifer. So who is behind the king of Babylon? Lucifer. He goes from talking about judgment on the king of Babylon to going behind the king of Babylon to the "star of the morning, the son of the dawn": "You've been cut down to the earth, you have weakened the nations! But you said in your heart"—this is what Satan said when he was in heaven—"'I will ascend to heaven; I will raise my throne above the stars of God'"—the angels of God—"'I will sit on the mount of assembly in the recesses of the north. I will ascend above the heights of the clouds; I will make myself like the Most High.'" "'I will, I will, I will, I will.'" This is Satan's rebellion. And so Isaiah shows us that it is Satan himself, the fallen one, who is energizing the king of Babylon, controlling the king of Babylon.
There is a similar section of Scripture, Ezekiel 28; I want you to turn to it. Ezekiel 28, verse 11, "And the word of the Lord came to me saying, 'Son of man'"—that was God's name for Ezekiel—"'take up a lamentation over the king of Tyre.'" Now we're talking about the king of Tyre; Tyre was another pagan kingdom, persecuted the people of God. But notice how this seems to be something more than just the king of Tyre: "Thus says the Lord God, 'You had the seal of perfection, full of wisdom and perfect in beauty. You were in Eden, the garden of God'"—wait a minute, the king of Tyre? He wasn't in Eden. Who was in Eden? Who was prowling in Eden? Satan.
"You were in Eden, the garden of God; every precious stone was your covering: the ruby, the topaz, the diamond; the beryl, the onyx, the jasper; lapis lazuli"—which is a beautiful blue stone—"the turquoise, the emerald; and the gold, the workmanship of your settings and sockets, was in you. On the day you were created they were prepared. You were the anointed"—what?—"cherub who covers." Now you can see, Satan in Isaiah is working behind the king of Babylon; here in Ezekiel he's working behind the king of Tyre. This is because Satan does his great work against the people of God using political leaders—kings and rulers.
"You were the anointed cherub who covers, and I placed you there. You were on the holy mountain of God and walked in the midst of the stones of fire. You were blameless in your ways from the day you were created until unrighteousness was found in you. By the abundance of your trade you were internally filled with violence, and you sinned; therefore I have cast you as profane from the mountain of God, and destroyed you, O covering cherub, from the midst of the stones of fire. Your heart was lifted up because of your beauty; you corrupted your wisdom by reason of your splendor. I cast you to the ground; I put you before kings, that they may see you, the multitude of your iniquities." He goes back to talking about the king of Tyre with almost not missing a beat. The judgment on the king of Tyre is also a declaration of the judgment on the one who is behind the king of Tyre.
Satan always works through evil rulers to persecute the people of God. In the book of Exodus it was Pharaoh. When the children of God left Egypt, it was the Canaanites, it was the powers of the Philistines. It was the rulers of Assyria then, and then it was the rulers of Babylon. And you come into the New Testament, and the persecutors of the people of God were the official leaders of Israel, the Sanhedrin. And then it was the Roman Empire. Destroying the people of God is always a government enterprise.
—-
HOW ABOUT TODAY AND THE UNITED STATES GOVERNMENT ATTITUDE TO OUR CHURCHES? Francis Schaeffer comments in CHRISTIAN MANIFESTO in 1981 after the 1980 election of Ronald Reagan:
I hope the window does not close. I hope those with a humanistic world view who have increasingly controlled our culture for the last twenty, thirty, forty years, something like this, cannot close the open window with all their efforts. But if they do, if they take over with increased power and control, will we be so foolish as to think that religion and religious institutions will not be even further affected than they have been so far? I wonder how many of us are aware of the cases that the churches have faced in the last ten years in various places. The things that have been brought into courts of law should make our hair stand on end. Do you think that in such a case as I have portrayed (and may it not happen!) that the Christians and the Christian institutions will not be even further affected?
Robert L. Toms, an attorney-at-law, lists the issues pending this year and which are up for final adjudication during the coming decade before the United States' courts, administrative bodies, executive departments, and legislatures:
1. Is a minister of the gospel liable for malpractice to a counselee for using spiritual guidance rather than psychological or medical techniques?
2. Can a Christian residence house in a college have the same standing as a fraternity and sorority house for purposes of off-campus residency rules?
3. Can Christian high school students assemble on the public school campus for religious discussion?
4. Can Christian teachers in public schools meet before class for prayer?
5. Can Christian college students meet in groups on the state university campus?
6. Can HEW require a Bible college to admit drug addicts and alcoholics as "handicapped persons"? …
7. Can a church build a religious school or a daycare center in an area zoned residential?
8. Can parents who send their children to religious schools not approved by a state board of education be prosecuted under the truancy laws?
9. Is an independent, wholly religious school entitled to an exemption from unemployment taxes as are church-owned schools?
10. Will the State enforce antiemployment discrimination laws against a church which in accordance with its stated religious beliefs fires a practicing homosexual staff member?
11. Can seminary trustees refuse to graduate a practicing homosexual?
12. Can a city continue its forty-year practice of having a nativity scene in front of the city hall?
13. Can zoning laws be used to prevent small group Bible studies from meeting in homes?
14. Can a court decide which doctrinal group in a church split gets the sanctuary?
15. Must a religious school accept as a teacher an otherwise qualified practicing homosexual?
16. Can a church be fined by a court for exuberant noise in worship?
17. Can a state department of health close a church-run juvenile home for policies that include spanking?
18. Can religious solicitation in public places be confined to official booths?
19. Is an unborn fetus a "person" and entitled to Constitutional protection?
20. Can the Ten Commandments be posted in a public classroom?
21. Can students in public education have a period of silent meditation and prayer?
22. Can Christmas carols be sung in public schools?
23. Must an employee who believes he should worship on Saturday be permitted a work holiday on that day in order to worship?
24. Can the graduation ceremony of a public high school be held in a church?
25. Can a State official seize a church on allegations of misconduct by dissident members and run the church through a court-appointed receiver?
26. Can the State set minimum standards for private religious school curricula?
27. Is religious tax exemption a right or privilege, and, if it is a privilege, are the exemptions an unwarranted support of religion by the State?
28. Should churches be taxed like any other part of society?
29. Can Federal labor laws be used to enforce collective bargaining rights and unionization in religious enterprises?
30. Can the State require a license before a religious ministry may solicit funds for its work?
31. Are hospitals, schools, counseling groups, halfway houses, famine-relief organizations, youth organizations, homes for unwed mothers, orphanages, etc., run with religious motivations or are they secular and subject to all controls secular organizations are subject to?
He [attorney Robert L. Toms] further says:
… two U.S. trial courts have recently ruled that a group of college students who wish to discuss religion could not meet in the context of a public state university, that religious speech must go on elsewhere since it might "establish religion" on the campus….The State must screen out religious speech from the otherwise free speech practiced on a university campus.
We might differ as to what the ruling should be in some of these cases, but that does not change the weight of the whole. It should be said that it is not only Protestants who are facing the implications of the above list, but Roman Catholics and Jews as well.
And for Christians who are in the habit of drifting complacently, a case presently before the courts should be a loud-sounding alarm bell. As I write, Samuel E. Ericsson, an attorney-at-law, is defending Grace Community Church, the largest Protestant church in Los Angeles County, in a clergyman malpractice suit. This suit was brought by parents because the pastors of that church cared for their son (who had later committed suicide) instead of turning him over to professional psychiatric and psychological care. Obviously if the church lost this case, all religions would be greatly affected. In fact, anyone who tried to help someone with questions or fears could be sued if he or she did not fall under the category of professional psychiatric and psychological competence. And to make matters more complicated, no one has thought how to set standards acceptably for professional psychiatric and psychological competence!
Samuel Ericsson has put the case in the proper perspective when in a letter to me dated May 1, 1981, he wrote: "I believe that clergyman malpractice, or more accurately spiritual counseling malpractice, is going to present the secular courts with a head-on clash between the two competing world views, secularism and Christianity."
Thank you so much for your time. I know how valuable it is. I also appreciate the fine family that you have and your commitment as a father and a husband. I also respect you for putting your faith in Christ for your eternal life. I am pleading to you on the basis of the Bible to please review your religious views concerning abortion. It was the Bible that caused the abolition movement of the 1800's and it also was the basis for Martin Luther King's movement for civil rights and it also is the basis for recognizing the unborn children. I wanted to encourage you to investigate the work of Dr. Bernard Nathanson who like you used to be pro-abortion. I also want you to watch the You Tube series WHATEVER HAPPENED TO THE HUMAN RACE? by Francis Schaeffer and Dr. C. Everett Koop. Also it makes me wonder what our the moral climate Of our nation is when we concentrate more on potential mistakes of the police and we let criminals back on the street so fast! Our national was founded of LEX REX and not REX LEX!
Sincerely,
Everette Hatcher III, 13900 Cottontail Lane, Alexander, AR 72002, ph 501-920-5733,
PS: In this series of letters John MacArthur covers several points. In the first letter, he quotes you saying that the greatest threat to America—he said on one occasion—is systemic racism, which doesn't exist; he said white supremacy, which doesn't exist with any power; and then he said global warming, which doesn't exist either, and if it does, God's in charge of it.
In reality the greatest threat to this nation is the government, the government. And I want to show you how we are to understand that. Turn to Romans 13
In the 2nd letter, Dr. MacArthur noted When government turns the divine design on its head and protects those who do evil and makes those who do good afraid, it forfeits its divine purpose
In the 3rd letter Dr. MacArthur noted The world is the enemy of the gospel. The world is the enemy of the church. I pointed out that this manifests itself today in the form of HUMANISM.
In the 4th letter Dr. MacArthur points out how much today the devil is having his way in our society and that the Bible predicts that these will get worse!
In the 5th letter Francis Schaeffer points out "The HUMANIST MANIFESTOS not only say that humanism is a religion, but the Supreme Court has declared it to be a religion. The 1961 case of Torcaso v. Watkins specifically defines secular humanism as a religion equivalent to theistic and other non theistic religions."
In the 6th letter Dr. MacArthur noted God has given government the sword, the power; and when they prostitute that power and they begin to punish those who do good and protect those who do evil, they wield that power against the people of God.
In the 7th letter Dr. MacArthur asserted, Throughout history, even in the Western world, people lived under what was called the divine right of kings. Kings were believed to have had a divine right. This was absolute monarchy. What broke that was basically the Reformers. The Reformers—a little phrase was "the law is king," not the man.
In the 8th letter Dr. MacArthur noted that today the United States "Government has already become the purveyor of wickedness. Government is a murderer, slaughtering millions of infants in abortion."
Whatever Happened To The Human Race? | Episode 4 | The Basis for Human Dignity
Sunday Night Prime – Dr. Bernard Nathanson – Fr Groeschel, CFR with Fr …

——
Francis Schaeffer pictured above
Larry King had John MacArthur as a guest on his CNN program several times.

When Government Rewards Evil and Punishes Good
_________________________
Related posts:
Francis Schaeffer: "Whatever Happened to the Human Race" (Episode 1) ABORTION OF THE HUMAN RACE Published on Oct 6, 2012 by AdamMetropolis ________________ Picture of Francis Schaeffer and his wife Edith from the 1930′s above. I was sad to read about Edith passing away on Easter weekend in 2013. I wanted to pass along this fine […]By Everette Hatcher III | Posted in Francis Schaeffer, Prolife | Edit | Comments (0)
I have gone back and forth and back and forth with many liberals on the Arkansas Times Blog on many issues such as abortion, human rights, welfare, poverty, gun control and issues dealing with popular culture. Here is another exchange I had with them a while back. My username at the Ark Times Blog is Saline […]By Everette Hatcher III | Posted in Francis Schaeffer, Prolife | Edit | Comments (0)
I have gone back and forth and back and forth with many liberals on the Arkansas Times Blog on many issues such as abortion, human rights, welfare, poverty, gun control and issues dealing with popular culture. Here is another exchange I had with them a while back. My username at the Ark Times Blog is Saline […]By Everette Hatcher III | Posted in Francis Schaeffer, Prolife | Edit | Comments (0)
It is truly sad to me that liberals will lie in order to attack good Christian people like state senator Jason Rapert of Conway, Arkansas because he headed a group of pro-life senators that got a pro-life bill through the Arkansas State Senate the last week of January in 2013. I have gone back and […]By Everette Hatcher III | Posted in Arkansas Times, Francis Schaeffer, Max Brantley, Prolife | Edit | Comments (0)
I have gone back and forth and back and forth with many liberals on the Arkansas Times Blog on many issues such as abortion, human rights, welfare, poverty, gun control and issues dealing with popular culture. Here is another exchange I had with them a while back. My username at the Ark Times Blog is Saline […]By Everette Hatcher III | Posted in Francis Schaeffer, Prolife | Edit | Comments (0)
I have gone back and forth and back and forth with many liberals on the Arkansas Times Blog on many issues such as abortion, human rights, welfare, poverty, gun control and issues dealing with popular culture. Here is another exchange I had with them a while back. My username at the Ark Times Blog is Saline […]By Everette Hatcher III | Posted in Francis Schaeffer, Prolife | Edit | Comments (0)
I have gone back and forth and back and forth with many liberals on the Arkansas Times Blog on many issues such as abortion, human rights, welfare, poverty, gun control and issues dealing with popular culture. Here is another exchange I had with them a while back. My username at the Ark Times Blog is Saline […]By Everette Hatcher III | Posted in Francis Schaeffer, Prolife | Edit | Comments (0)
Sometimes you can see evidences in someone's life of how content they really are. I saw something like that on 2-8-13 when I confronted a blogger that goes by the name "AngryOldWoman" on the Arkansas Times Blog. See below. Leadership Crisis in America Published on Jul 11, 2012 Picture of Adrian Rogers above from 1970′s […]By Everette Hatcher III | Posted in Adrian Rogers, Arkansas Times, Prolife | Edit | Comments (0)
In the film series "WHATEVER HAPPENED TO THE HUMAN RACE?" the arguments are presented against abortion (Episode 1), infanticide (Episode 2), euthenasia (Episode 3), and then there is a discussion of the Christian versus Humanist worldview concerning the issue of "the basis for human dignity" in Episode 4 and then in the last episode a close […]By Everette Hatcher III | Posted in Francis Schaeffer, Prolife | Edit | Comments (0)
I have gone back and forth and back and forth with many liberals on the Arkansas Times Blog on many issues such as abortion, human rights, welfare, poverty, gun control and issues dealing with popular culture. Here is another exchange I had with them a while back. My username at the Ark Times Blog is Saline […]By Everette Hatcher III | Posted in Francis Schaeffer, Prolife | Edit | Comments (0)
I have gone back and forth and back and forth with many liberals on the Arkansas Times Blog on many issues such as abortion, human rights, welfare, poverty, gun control and issues dealing with popular culture. Here is another exchange I had with them a while back. My username at the Ark Times Blog is Saline […]By Everette Hatcher III | Posted in Francis Schaeffer, Prolife | Edit | Comments (3)
I have gone back and forth and back and forth with many liberals on the Arkansas Times Blog on many issues such as abortion, human rights, welfare, poverty, gun control and issues dealing with popular culture. Here is another exchange I had with them a while back. My username at the Ark Times Blog is Saline […]By Everette Hatcher III | Posted in Francis Schaeffer, Prolife | Edit | Comments (2)
E P I S O D E 1 0 Dr. Francis Schaeffer – Episode X – Final Choices 27 min FINAL CHOICES I. Authoritarianism the Only Humanistic Social Option One man or an elite giving authoritative arbitrary absolutes. A. Society is sole absolute in absence of other absolutes. B. But society has to be […]By Everette Hatcher III | Posted in Francis Schaeffer | Tagged francis crick, hitler and stalin, john kenneth galbraith, robert theobald, youtube | Edit | Comments (0)
E P I S O D E 9 Dr. Francis Schaeffer – Episode IX – The Age of Personal Peace and Affluence 27 min T h e Age of Personal Peace and Afflunce I. By the Early 1960s People Were Bombarded From Every Side by Modern Man's Humanistic Thought II. Modern Form of Humanistic Thought Leads […]By Everette Hatcher III | Posted in Francis Schaeffer | Tagged free speech movement, paris riots, personal peace., sproul plaza, www youtube | Edit | Comments (0)
E P I S O D E 8 Dr. Francis Schaeffer – Episode VIII – The Age of Fragmentation 27 min I saw this film series in 1979 and it had a major impact on me. T h e Age of FRAGMENTATION I. Art As a Vehicle Of Modern Thought A. Impressionism (Monet, Renoir, Pissarro, Sisley, […]By Everette Hatcher III | Posted in Francis Schaeffer | Tagged airplane design, http www youtube, marcel duchamp art, post impressionism, van gogh gauguin | Edit | Comments (0)
E P I S O D E 7 Dr. Francis Schaeffer – Episode VII – The Age of Non Reason I am thrilled to get this film series with you. I saw it first in 1979 and it had such a big impact on me. Today's episode is where we see modern humanist man act […]By Everette Hatcher III | Posted in Francis Schaeffer | Tagged french existentialism, humanist philosophers, humanistic philosophy, natural freedom, www youtube | Edit | Comments (0)
E P I S O D E 6 How Should We Then Live 6#1 Uploaded by NoMirrorHDDHrorriMoN on Oct 3, 2011 How Should We Then Live? Episode 6 of 12 ________ I am sharing with you a film series that I saw in 1979. In this film Francis Schaeffer asserted that was a shift in […]By Everette Hatcher III | Posted in Francis Schaeffer | Tagged biblical foundations., biblical influence, french prose, neo darwinism, www youtube | Edit | Comments (0)
E P I S O D E 5 How Should We Then Live? Episode 5: The Revolutionary Age I was impacted by this film series by Francis Schaeffer back in the 1970′s and I wanted to share it with you. Francis Schaeffer noted, "Reformation Did Not Bring Perfection. But gradually on basis of biblical teaching there […]By Everette Hatcher III | Posted in Francis Schaeffer | Tagged christian foundations, freedom of press, freedom of religion, lex rex, www youtube | Edit | Comments (0)
Dr. Francis Schaeffer – Episode IV – The Reformation 27 min I was impacted by this film series by Francis Schaeffer back in the 1970′s and I wanted to share it with you. Schaeffer makes three key points concerning the Reformation: "1. Erasmian Christian humanism rejected by Farel. 2. Bible gives needed answers not only as to […]By Everette Hatcher III | Posted in Francis Schaeffer | Tagged authority of the bible, christian humanism, old testament prophets, school of athens., thomas cromwell | Edit | Comments (0)
Francis Schaeffer's "How should we then live?" Video and outline of episode 3 "The Renaissance" Francis Schaeffer: "How Should We Then Live?" (Episode 3) THE RENAISSANCE I was impacted by this film series by Francis Schaeffer back in the 1970′s and I wanted to share it with you. Schaeffer really shows why we have so […]By Everette Hatcher III | Posted in Francis Schaeffer | Edit | Comments (0)
Francis Schaeffer: "How Should We Then Live?" (Episode 2) THE MIDDLE AGES I was impacted by this film series by Francis Schaeffer back in the 1970′s and I wanted to share it with you. Schaeffer points out that during this time period unfortunately we have the "Church's deviation from early church's teaching in regard […]By Everette Hatcher III | Posted in Francis Schaeffer | Tagged byzantine art, conservative evangelicalism, gothic architecture., gregorian chants, naturalism in art | Edit | Comments (0)
Francis Schaeffer: "How Should We Then Live?" (Episode 1) THE ROMAN AGE Today I am starting a series that really had a big impact on my life back in the 1970′s when I first saw it. There are ten parts and today is the first. Francis Schaeffer takes a look at Rome and why […]
By Everette Hatcher III | Posted in Francis Schaeffer | Edit | Comments (0)