I have read articles for years from Dan Barker, but recently I just finished the book Barker wrote entitled LIFE DRIVEN PURPOSE which was prompted by Rick Warren's book PURPOSE DRIVEN LIFE which I also read several years ago.
Dan Barker is the Co-President of the Freedom From Religion Foundation, And co-host of Freethought Radio and co-founder of The Clergy Project.
On March 19, 2022, I got an email back from Dan Barker that said:
Thanks for the insights.
Have you read my book Life Driven Purpose? To say there is no purpose OF life is not to say there is no purpose IN life. Life is immensely meaningful when you stop looking for external purpose.
Ukraine … we'll, we can no longer blame Russian aggression on "godless communism." The Russian church, as far as I know, has not denounced the war.
db
—
In the next few weeks I will be discussing the book LIFE DRIVEN PURPOSE which I did enjoy reading. Here is an assertion that Barker makes that I want to discuss:
Think about abortion…Those of us who affirm a woman's freedom to decide her own reproductive future equate a human life with personhood, seeing the earlier stages of development
In a past post I mentioned my correspondance with Carl Sagan on abortion. Today I want to point out two atheists who are pro-life (Nat Hentoff has now passed away).

(By the way, Ed Babinski, who is a friend of yours Dan, is the one who introduced me to Kevin Henke back in 1994.)
My good friend Dr. Kevin R. Henke is a scientist and also an atheistic evolutionist. I had a lot of discussions with Kevin over religious views. I remember going over John 7:17 with him one day. It says:
John 7:17 (Amplified Bible)
17If any man desires to do His will (God's pleasure), he will know (have the needed illumination to recognize, and can tell for himself) whether the teaching is from God or whether I am speaking from Myself and of My own accord and on My own authority.
I challenged Kevin to read a chapter a day of the Book of John and pray to God and ask God, "Dear God, if you are there then reveal yourself to me, and I pledge to serve you the rest of my life."
Kevin did that and he even wrote down the thoughts that came to his mind and sent it to me and these thoughts filled a notebook.
Kevin did not become a Christian, but I am still praying for him. I do respect Kevin because he is an honest man. Interestingly enough he told me that he was pro-life because the unborn baby has all the genetic code at the time of conception that they will have for the rest of their life. Below are some other comments by other scientists:
Dr. Hymie Gordon (Mayo Clinic): "By all criteria of modern molecular biology, life is present from the moment of conception."
Dr. Micheline Matthews-Roth (Harvard University Medical School): "It is scientifically correct to say that an individual human life begins at conception."
Dr. Alfred Bongioanni (University of Pennsylvania): "I have learned from my earliest medical education that human life begins at the time of conception."
Dr. Jerome LeJeune, "the Father of Modern Genetics" (University of Descartes, Paris): "To accept the fact that after fertilization has taken place a new human has come into being is no longer a matter of taste or opinion . . . it is plain experimental evidence."
Back on April 27, 2009 Fox News ran a story by Hollie McKay("Supermodel Kathy Ireland Lashes Out Against Pro Choice,") on Jill Ireland.
It's no secret that the majority of Hollywood stars are strong advocates for a woman's right to choose whether or not she wants to terminate a pregnancy, however former "Sports Illustrated" supermodel-turned-entrepreneur-turned-author Kathy Irelandhas gone against the grain of the glitterati and spoken out against abortion.
"My entire life I was pro-choice — who was I to tell another woman what she could or couldn't do with her body? But when I was 18, I became a Christian and I dove into the medical books, I dove into science," Ireland told Tarts while promoting her insightful new book "Real Solutions for Busy Mom: Your Guide to Success and Sanity."
"What I read was astounding and I learned that at the moment of conception a new life comes into being. The complete genetic blueprint is there, the DNA is determined, the blood type is determined, the sex is determined, the unique set of fingerprints that nobody has had or ever will have is already there."
However Ireland admitted that she did everything she could to avoid becoming a believer in pro-life.
"I called Planned Parenthood and begged them to give me their best argument and all they could come up with that it is really just a clump of cells and if you get it early enough it doesn't even look like a baby. Well, we're all clumps of cells and the unborn does not look like a baby the same way the baby does not look like a teenager, a teenager does not look like a senior citizen. That unborn baby looks exactly the way human beings are supposed to look at that stage of development. It doesn't suddenly become a human being at a certain point in time," Ireland argued. "I've also asked leading scientists across our country to please show me some shred of evidence that the unborn is not a human being. I didn't want to be pro-life, but this is not a woman's rights issue but a human rights issue."
Nat Hentoff is an atheist, but he became a pro-life activist because of the scientific evidence that shows that the unborn child is a distinct and separate human being and even has a separate DNA. His perspective is a very intriguing one that I thought you would be interested in. I have shared before many cases (Bernard Nathanson, Donald Trump, Paul Greenberg, Kathy Ireland) when otherhigh profile pro-choice leaders have changed theirviews and this is just another case like those. I have contacted the White House over and over concerning this issue and have even received responses. I am hopeful that people will stop and look even in a secular way (if they are not believers) at this abortion debate and see that the unborn child is deserving of our protection.That is why the writings of Nat Hentoff of the Cato Institute are so crucial.
In the past I have spent most of my time looking at this issue from the spiritual side. In the film series "WHATEVER HAPPENED TO THE HUMAN RACE?" the arguments are presented against abortion (Episode 1), infanticide (Episode 2), euthanasia (Episode 3), and then there is a discussion of the Christian versus Humanist worldview concerning the issue of "the basis for human dignity" in Episode 4 and then in the last episode a close look at the truth claims of the Bible.
__________________________
I truly believe that many of the problems we have today in the USA are due to the advancement of humanism in the last few decades in our society. Ronald Reagan appointed the evangelical Dr. C. Everett Koop to the position of Surgeon General in his administration. He partnered with Dr. Francis Schaeffer in making the video below. It is very valuable information for Christians to have. Actually I have included a video below that includes comments from him on this subject.
by Cathryn Donohoe; THE WASHINGTON TIMES
November 6, 1989, Monday, Final Edition, November 6, 1989NEW YORK — Until 1984, he had not given much thought to abortion, he says. He had accepted the view of all the women he knew, including his wife, that the right to an abortion is part of a woman's fundamental right to privacy, one that allows her control over her body and, by extension, her life.
Then came the case of Baby Jane Doe. She was a Long Island infant born with spina bifida (a condition in which the spinal cord is unprotected because the spinal column does not close properly before birth) and hydrocephalus (excess fluid in the cranium).
With surgery, spina-bifida babies can grow up to be bright, productive adults who might need braces to walk, Mr. Hentoff insists. Yet Baby Jane's parents, on their doctors' advice, had refused both surgery to close her spine and a shunt to drain the fluid from her brain. In resisting the federal government's attempt to enforce treatment, the parents pleaded privacy.
What first piqued Mr. Hentoff's curiosity was not so much the case itself but the press coverage. All the papers and the networks were using the same words to say the same thing, he says.
"Whenever I see that kind of story, where everybody agrees, I know there's something wrong," he says. "I finally figured out they were listening to the [parents'] lawyer."
He went after the story, later publishing it in The Atlantic as "The Awful Privacy of Baby Doe." In running it down, he found himself digging into the notorious, 2-year-old case of the first Infant Doe. That Bloomington, Ind., Down's syndrome baby died of starvation over six days when his parents, who did not want a retarded child, refused surgery for his deformed esophagus.
Then Mr. Hentoff came across the published reports of experiments in what doctors at Yale-New Haven Hospital called "early death as a management option" for infants "considered to have little or no hope of achieving meaningful 'humanhood.' " He talked with happy handicapped adults whose parents could have killed them but didn't. It changed him.
But as he was fretting over Baby Jane, he says, civil libertarians, liberal congressmen and old ACLU friends were trying to steer him away.
"They were saying, 'What's the big fuss about? If the parents had known she was going to come in this way, they would have had an abortion. So why don't youconsider it a late abortion and go on to something else?'
"Here were liberals, decent people, fully convinced themselves that they were for individual rights and liberties but willing to send into eternity these infants because they were imperfect, inconvenient, costly. I saw the same attitude on the part of the same kinds of people toward abortion, and I thought it was pretty horrifying."
Mr. Hentoff has a pet phrase he draws from novelist William Burroughs. The moment of truth comes, he says, "when you see the naked lunch at the end of the fork." Once he heard the phrase, "late abortion," he knew what was at the end of the fork.
"The 'slippery slope' business began to make sense to me then," he says. "From there it was ineluctable – not just abortion, but euthanasia as well."
The Washington Times

The Mystery of the Modigliani Masterpiece – the fifth estate
MODIGLIANI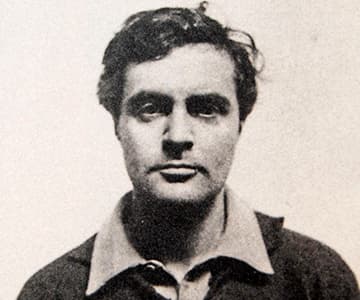 AMEDEO MODIGLIANI (1884-1920)
One of the most original portraitists of the history of painting, considered as a "cursed" painter because of his wild life and early death.
—
Francis Schaeffer
How Should We Then Live | Season 1 | Episode 7 | The Age of Non-Reason


How Should We Then Live | Season 1 | Episode 8 | The Age of Fragmentation
Whatever Happened To The Human Race? | Episode 1 | Abortion of the Human…

Whatever Happened To The Human Race? | Episode 4 | The Basis for Human D…

1984 SOUNDWORD LABRI CONFERENCE VIDEO – Q&A With Francis & Edith Schaefer

Related posts:
I have gone back and forth and back and forth with many liberals on the Arkansas Times Blog on many issues such as abortion, human rights, welfare, poverty, gun control and issues dealing with popular culture. Here is another exchange I had with them a while back. My username at the Ark Times Blog is Saline […]
By Everette Hatcher III|Posted in Francis Schaeffer, Prolife|Edit|Comments (0)
On March 17, 2013 at our worship service at Fellowship Bible Church, Ben Parkinson who is one of our teaching pastors spoke on Genesis 1. He spoke about an issue that I was very interested in. Ben started the sermon by reading the following scripture: Genesis 1-2:3 English Standard Version (ESV) The Creation of the […]
By Everette Hatcher III|Posted in Adrian Rogers, Atheists Confronted, Current Events|TaggedBen Parkinson, Carl Sagan|Edit|Comments (0)
Review of Carl Sagan book (Part 4 of series on Evolution) The Long War against God-Henry Morris, part 5 of 6 Uploaded by FLIPWORLDUPSIDEDOWN3 on Aug 30, 2010 http://www.icr.org/ http://store.icr.org/prodinfo.asp?number=BLOWA2http://store.icr.org/prodinfo.asp?number=BLOWASGhttp://www.fliptheworldupsidedown.com/blog _______________________ I got this from a blogger in April of 2008 concerning candidate Obama's view on evolution: Q: York County was recently in the news […]
By Everette Hatcher III|Posted in Atheists Confronted, Current Events, President Obama|Edit|Comments (0)
Review of Carl Sagan book (Part 3 of series on Evolution) The Long War against God-Henry Morris, part 4 of 6 Uploaded by FLIPWORLDUPSIDEDOWN3 on Aug 30, 2010 http://www.icr.org/ http://store.icr.org/prodinfo.asp?number=BLOWA2http://store.icr.org/prodinfo.asp?number=BLOWASGhttp://www.fliptheworldupsidedown.com/blog______________________________________ I got this from a blogger in April of 2008 concerning candidate Obama's view on evolution: Q: York County was recently in the news […]
By Everette Hatcher III|Posted in Atheists Confronted, Current Events, President Obama|Edit|Comments (0)
At the end of this post is a message by RC Sproul in which he discusses Sagan. Over the years I have confronted many atheists. Here is one story below: I really believe Hebrews 4:12 when it asserts: For the word of God is living and active and sharper than any two-edged sword, and piercing as far as the […]
By Everette Hatcher III|Posted in Adrian Rogers, Atheists Confronted, Current Events, Francis Schaeffer|Tagged Bill Elliff, Carl Sagan, Jodie Foster, RC Sproul|Edit|Comments (0)
Review of Carl Sagan book (Part 4 of series on Evolution) The Long War against God-Henry Morris, part 5 of 6 Uploaded by FLIPWORLDUPSIDEDOWN3 on Aug 30, 2010 http://www.icr.org/ http://store.icr.org/prodinfo.asp?number=BLOWA2http://store.icr.org/prodinfo.asp?number=BLOWASGhttp://www.fliptheworldupsidedown.com/blog _______________________ This is a review I did a few years ago. THE DEMON-HAUNTED WORLD: Science as a Candle in the Dark by Carl […]
By Everette Hatcher III|Posted in Atheists Confronted, Current Events|Edit|Comments (0)
Review of Carl Sagan book (Part 3 of series on Evolution) The Long War against God-Henry Morris, part 4 of 6 Uploaded by FLIPWORLDUPSIDEDOWN3 on Aug 30, 2010 http://www.icr.org/ http://store.icr.org/prodinfo.asp?number=BLOWA2http://store.icr.org/prodinfo.asp?number=BLOWASGhttp://www.fliptheworldupsidedown.com/blog______________________________________ I was really enjoyed this review of Carl Sagan's book "Pale Blue Dot." Carl Sagan's Pale Blue Dot by Larry Vardiman, Ph.D. […]
By Everette Hatcher III|Posted in Atheists Confronted, Current Events|Edit|Comments (0)
In today's news you will read about Kirk Cameron taking on the atheist Stephen Hawking over some recent assertions he made concerning the existence of heaven. Back in December of 1995 I had the opportunity to correspond with Carl Sagan about a year before his untimely death. Sarah Anne Hughes in her article,"Kirk Cameron criticizes […]
By Everette Hatcher III|Posted in Atheists Confronted|Edit|Comments (2)
In this post we are going to see that through the years humanist thought has encouraged artists like Michelangelo to think that the future was extremely bright versus the place today where many artist who hold the humanist and secular worldview are very pessimistic. In contrast to Michelangelo's DAVID when humanist man thought he […]
By Everette Hatcher III|Posted in Francis Schaeffer|Tagged David Leeds, J.I.PACKER, Joe Carter, Massimiliano Gioni, Michelangelo, Michelangelo's DAVID, Michelangelo's Florence Pietà, Paul McCarthy, Renaissance, Rick Pearcey, Rush Limbaugh, Tony Bartolucci|Edit|Comments (0)
_________ Antony Flew on God and Atheism Published on Feb 11, 2013 Lee Strobel interviews philosopher and scholar Antony Flew on his conversion from atheism to deism. Much of it has to do with intelligent design. Flew was considered one of the most influential and important thinker for atheism during his time before his death […]
By Everette Hatcher III|Posted in Current