—
Sent from my iPhone
Abortion: When Does Life Begin? – R.C. Sproul
This morning while I was attending the Association of Christian Lawmakers at the COLLEGE OF THE OZARKS, our group had a big impromptu praise and prayer service when the Supreme Court Decision overturning Roe v Wade was announced this morning!
Supreme Court Roe v. Wade decision centered on a Mississippi law banning abortions after 15 weeks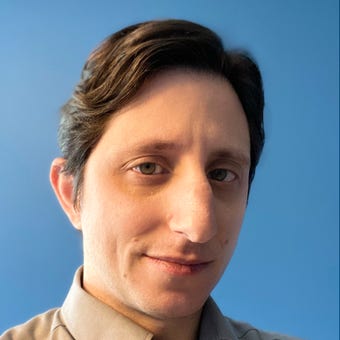 By Ronn Blitzer , Kelly Laco | Fox News
The Supreme Court on Friday overturned Roe v. Wade, effectively ending recognition of a constitutional right to abortion and giving individual states the power to allow, limit, or ban the practice altogether.
The ruling came in the court's opinion in Dobbs v. Jackson Women's Health Organization, which centered on a Mississippi law that banned abortionafter 15 weeks of pregnancy. The Republican-led state of Mississippi asked the Supreme Court to strike down a lower court ruling that stopped the 15-week abortion ban from taking place.
"We end this opinion where we began. Abortion presents a profound moral question. The Constitution does not prohibit the citizens of each State from regulating or prohibiting abortion. Roe and Casey arrogated that authority. We now overrule those decisions and return that authority to the people and their elected representatives," Justice Samuel Alito wrote in the court's opinion.
Alito's opinion began with an exploration and criticism of Roe v. Wade and its holding that while states have "a legitimate interest in protecting 'potential life," this interest was not strong enough to prohibit abortions before the time of fetal viability, understood to be at about 23 weeks into pregnancy.
LIVE UPDATES: SUPREME COURT ROE V. WADE DECISION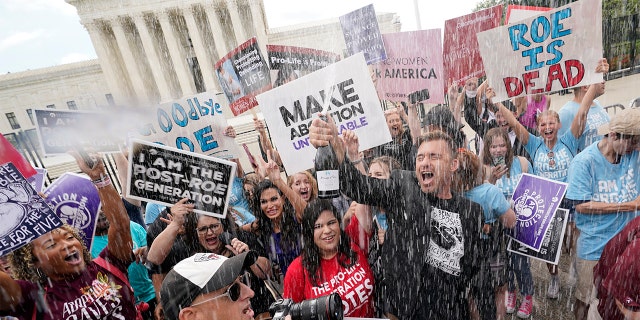 A celebration outside the Supreme Court, Friday, June 24, 2022, in Washington. (AP Photo/Steve Helber)
"The Court did not explain the basis for this line, and even abortion supporters have found it hard to defend Roe's reasoning," Alito wrote.
Chief Justice John Roberts agreed that the viability line "never made any sense," but said he would have taken "a more measured course" with this case. Rather than overturn Roe v. Wade altogether, Roberts said he would have continued to recognize a right to get an abortion, and that the right should "extend far enough to ensure a reasonable opportunity to choose, but need not extend any further."
The Court's opinion recognized that the Fourteenth Amendment's Due Process Clause has been found to guarantee certain rights that are not spelled out in the Constitution, but that those rights are "deeply rooted in this Nation's history and tradition." Abortion, the Court said, "does not fall within this category," as "such a right was entirely unknown in American law" until the late 20th century.
The opinion continued to shred the Roe decision, saying it "was egregiously wrong from the start," and that "[i]ts reasoning was exceptionally weak[.]"
Rather than continue the tradition established by Roe and Case, the Court wrote that it "is time to heed the Constitution and return the issue of abortion to the people's elected representatives."
The opinion comes after a leak of a draft opinion from February striking down Roe caused nationwide debate and promoted pro-choice activist protests at the homes of the six conservative justices. In addition, dozens of pro-life pregnancy centers were vandalized since the opinion leak, Catholic churches were targeted for protests and unrest, and a suspect was charged with attempted murder for allegedly trying to assassinate Justice Brett Kavanaugh.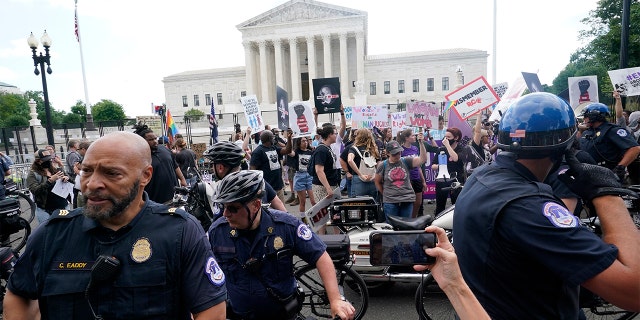 People protest about abortion, Friday, June 24, 2022, outside the Supreme Court in Washington.  (AP Photo/Steve Helber)
At least 13 Republican-led states have already passed "trigger laws," in the event Roe was overturned, that would immediately restrict access to abortion.
PENCE SAYS THE 'SANCTITY OF LIFE' WILL SPARK 'RENEWED ENTHUSIASM' FOR REPUBLICANS IN MIDTERMS
Georgia, Iowa, Ohio and South Carolina all have laws banning abortions after the six-week mark, which have been ruled unconstitutional but would likely be revisited if Roe is overturned, the Guttmacher Institute, a pro-abortion research group, has reported.
On the other hand, pro-choice advocates will have to work to codify Roe or enact looser abortion restrictions by passing state-level legislation.
New York passed a bill in 2018 designed to codify Roe, and other blue states are expected to follow suit after the Supreme Court's ruling.
SUPREME COURT'S ROE V. WADE DECISION: READ THE DOBBS V. JACKSON WOMEN'S HEALTH RULING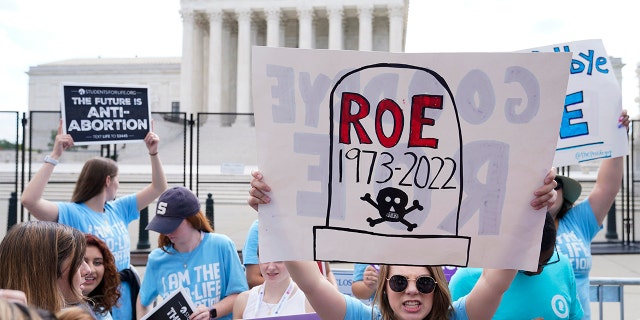 Demonstrators protest about abortion outside the Supreme Court in Washington, Friday, June 24, 2022.  (AP Photo/Jacquelyn Martin)
When Americans were asked in a recent Fox News poll about how they would feel if a law banning abortions after 15 weeks were passed in their state, just over half of voters favor it (54%) while 41% are opposed.
At the federal level, the Senate failed to advance a bill to codify federal abortion protections in Roe v. Wade in the week following the leaked draft.
Vice President Kamala Harris presided over the vote on the Women's Health Protection Act. It needed 60 votes to advance but died in a 51 to 49 tally, with West Virginia Democratic Sen. Joe Manchin joining with all 50 Republicans in voting no.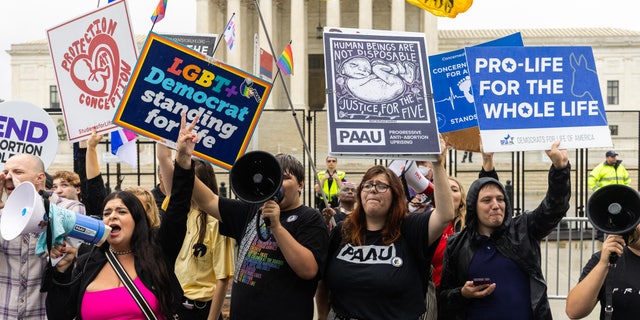 WASHINGTON D.C. – JUNE 23: Outside the Supreme Court Thursday morning ahead of possible announcement on Dobbs v. Jackson (Photo by Joshua Comins/Fox News)
Democratic campaign arms have already signaled that abortion will be a key issue heading into the midterms and will galvanize their base. Republicans are largely convinced that "sanctity of life" issues will spark renewed enthusiasm for conservative candidates in state-level elections.

Dr. Francis schaeffer – The flow of Materialism(from Part 4 of Whatever happened to human race? Co-authored by Francis Schaeffer and Dr. C. Everett Koop)

Abortion: What About Those Who Demand Their Rights? – R.C. Sproul
Whatever Happened To The Human Race? | Episode 1 | Abortion of the Human Race (2010)
Standing Strong Under Fire: Popular Abortion Arguments and Why They Fail
Whatever Happened To The Human Race? | Episode 2 | Slaughter of the Innocents (2010)
—
Edith Schaeffer with her husband, Francis Schaeffer, in 1970 in Switzerland, where they founded L'Abri, a Christian commune.
September 15, 2021
President Biden  c/o The White House 1600 Pennsylvania Avenue NW Washington, DC 20500
Dear Mr. President,
I really do respect you for trying to get a pulse on what is going on out here. I know that you don't agree with my pro-life views but I wanted to challenge you as a fellow Christian to re-examine your pro-choice view.
In the past I have spent most of my time looking at this issue from the spiritual side. In the film series "WHATEVER HAPPENED TO THE HUMAN RACE?" the arguments are presented  against abortion (Episode 1),  infanticide (Episode 2),   euthanasia (Episode 3), and then there is a discussion of the Christian versus Humanist worldview concerning the issue of "the basis for human dignity" in Episode 4 and then in the last episode a close look at the truth claims of the Bible.
__________________________
I truly believe that many of the problems we have today in the USA are due to the advancement of humanism in the last few decades in our society. Ronald Reagan appointed the evangelical Dr. C. Everett Koop to the position of Surgeon General in his administration. He partnered with Dr. Francis Schaeffer in making the video WHATEVER HAPPENED TO THE HUMAN RACE? which can be found on You Tube. It is very valuable information for Christians to have.
Today I want to respond to your letter to me on July 9, 2021. Here it is below:
THE WHITE HOUSE
WASHINGTON
July 9, 2021
Mr. Everette Hatcher III
Alexander, AR
Dear Mr. Hatcher,
Thank you for taking your time to share your thoughts on abortion. Hearing from passionate individuals like me inspires me every day, and I welcome the opportunity to respond to your letter
Our country faces many challenges, and the road we will travel together will be one of the most difficult in our history. Despite these tough times, I have never been more optimistic for the future of America. I believe we are better positioned than any country in the world to lead in the 21st century not just by the example of our power but by the power of our example.
As we move forward to address the complex issues of our time, I encourage you to remain an active participant in helping write the next great chapter of the American story. We need your courage and dedication at this critical time, and we must meet this moment together as the United States of America. If we do that, I believe that our best days still lie ahead.
Sincerely
Joe Biden
I am glad you wrote: "Thank you for taking your time to share your thoughts on abortion. Hearing from passionate individuals like me inspires me every day, and I welcome the opportunity to respond to your letter." Because I am a proud member of the National Association of Christian Lawmakers and I attended the convention in Dallas in July and we have officially launched a nationwide push against abortion rights.
________________
Mary Margaret Olohan  / @MaryMargOlohan /September 08, 2021