—
Gov. Ron DeSantis responds to leaked Disney comments about parental righ…
The decision left Democrats nearly on the verge of tears
We told you earlier in the week about how the left is very mad, in fact trying to shut down a site called Libs of TikTok. Why are they so mad at Libs of TikTok?
Well, here's one of the reasons: Over the past half a year or so, video after video has appeared on social media showing schoolteachers bragging enthusiastically about how they push their personal sexual politics, often weird and gruesome sexual politics, on the small children they're supposed to be teaching. Now the students in question are not teenagers, they're kindergartners, first graders, kids who have no perspective on life and no power to fight back.
So many parents saw these videos, in some cases on Libs of TikTok and they were shocked. They had no idea that anything like this was happening in the classroom. Having some purple-haired loser in a nose ring convince your six-year-old to get a sex change is not why most people send their children to school, so they complained, the parents did, and across the country, Republican officeholders responded by promising to do something about this. They made outraged noises but then in very short order, they moved on to talking about Ukraine, which is what they really care about, not you.
In the end, only one state really did anything about this. That would be the state of Florida under Ron DeSantis. Several weeks ago, the Florida Legislature passed a law banning teachers from bragging about their own sex lives to small children. Now, news reporters went crazy. They described this legislation as the "Don't Say Gay Bill," but as always, that was a lie. This bill didn't even mention the word "gay." It had nothing to do with gays. Florida voters seem to know that intuitively. Even most Democrats in Florida supported this law.
The polling firm Public Opinion Strategies found out why they do: "Fully two-thirds of voters believe it is inappropriate for teachers or school personnel to discuss gender identity with children in kindergarten through third grade." Well, of course it is. Everyone thinks that. So, if there was ever a law that accurately reflected public opinion, which should matter in a democracy, this was the law, but across the country, in the state of California, Bob Iger was watching and Bob Iger didn't like it.
Bob Iger is the 71-year-old former head of Disney. He's a bundler for Hillary Clinton. He's got some free time and strong political views. He promptly tweeted the Florida law was immoral, somehow. In an interview later with CNN, with Chris Wallace, Iger explained that preventing teachers from promoting gender reassignment surgery to kindergartners was "harmful to children." Iger never explained how this was harmful, but it didn't matter.
Over at Disney headquarters, his remarks caused huge problems for the company's new CEO, Bob Chapek. Now, by all accounts, Bob Chapek is not especially political. He's not an activist. He's a marketing guy. So, his first instinct was not to get involved, not to comment on what was happening in Florida, and that seemed wise given how much at stake Disney has in Florida. They own a theme park in Orlando, you may have heard. That's an enormous physical asset that cannot be loaded on a truck and moved, so maybe don't mess with Florida.
As Chapek put it in a memo, "corporate statements do very little to change outcomes or minds." He wrote that on March 7th, explaining why Disney plans to take a pass on this controversy because they make movies, not laws, but Bob Chapek's employees had other ideas. Whipped into a frenzy by their former boss, Bob Iger, Disney staffers demanded action immediately and then because he is weak and not especially bright, Bob Chapek caved to their demands. He agreed to hold a Town Hall with aggrieved Disney employees who wanted him somehow to take control of the Florida Legislature. Here's how that went.
BOB CHAPEK: I hope you've all read my most recent note in which I pledged to be a better ally for the LGBTQ+ community, apologize for not being an ally that you needed me to be and committed to ensuring that our company lives up to its values. Your words have made a real impact on me. I understand that we've made mistakes and the pain that those mistakes have caused and I know that our silence wasn't just about the bill in Florida, but about every time an individual or institution that should have stood up for this community did not. I want to thank the LGBTQIA+ Advisory Council.  
Hey, Bob, what does LGBTQIA stand for? You have no freaking clue. That's not the interesting part. The interesting part of what you just heard was "your words have made a real impact on me." In other words, "You now have full control over my entire central nervous system. You own my brain. Do with me what you will," and they did.
Bob Chapek soon reversed his position, Disney's position, completely. Going forward, not only did the Disney Corporation fervently disagree with the law the Florida Legislature had passed, according to Bob Chapek, Disney had decided to override the expressed will of Florida's voters and overturn that law: "Our goal as a company," said Bob Chapek, "is for this law to be repealed by the Legislature or struck down in the courts, and we remain committed to supporting the national and state organizations working to achieve that." Whoa! What? And you thought it was an entertainment company, but no!
From its headquarters in Los Angeles, the Disney Corporation had now decided it runs the state of Florida. So, for people who want to defend democracy, which is a system in which voters get to govern themselves, this was quite a departure. This is oligarchy, corporate CEOs deciding what the laws should be. Yeah. That's their new position, but in the meantime, Disney employees set about trying to undermine the intent of Florida's law. If teachers could no longer promote transgenderism to kindergartners, Disney planned to step into the breach and do it themselves. Here's internal footage from Disney obtained by journalist Chris Rufo:
DISNEY EXECUTIVE: Last summer, we removed all of the gendered greetings in relationship to our life skills, so we no longer say, "Ladies and gentlemen, boys and girls." We've trained, we've provided training for all of our cast members in relationship to that, so now they know it's, "Hello everyone" or "Hello, friends." 
Oh, so it's no more "boys and girls." Disney World is now non-binary. OK. That's the diversity of inclusion lady. You're not surprised. What is surprising is that the head of a publicly held company like Disney would announce in public that he's in charge of a state that we thought was run by the voters of that state. Well, in Florida, Ron DeSantis noticed this. He's the elected governor and he decided to find out how does the system work. He decided to test democracy.
So, during a special session of the Florida Legislature this week, DeSantis led an effort to strip Disney of what turned out to be a remarkable set of special perks that company had enjoyed for more than 50 years. You are not treated like Disney is treated in Florida. You have never been treated that well. After the special session, no more will Disney World operate as its own independent country within the state of Florida. Yes, that's how they were governed, by themselves. And now, going forward, Disney is going to have to pay its taxes. Oh, wow, just like everybody else.
Now, if you've lived in this country for more than, say, five years, ask yourself: what's the political party that has always told you big companies should pay their taxes? "Corporate tax breaks are bad." Well, of course, that's always been the Democratic Party. So, you would imagine the Democrats in Florida would applaud a move like this. When was the last time you heard liberals complain about stripping tax breaks from big business? Never before in history. It's never happened. And yet it just did happen. Democrats in the Florida Legislature were are on the verge of tears as they learn that the Disney Corporation might have to pay taxes.
You may have sensed the Democratic Party over the last decade or so has been captured by corporate interests, but you never thought that you would hear on the floor of a state legislature Democrats scream with anguish at the idea that a big company might have to pay its taxes. Unbelievable, but now very clear.
This article was adapted from Tucker Carlson's opening monologue on the April 22, 2022 edition of "Tucker Carlson Tonight."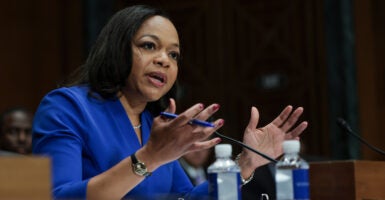 Thursday, the final day of Women's History Month, was dubbed the Transgender Day of Visibility by whatever star chamber makes up those sorts of things.
Given the trans-saturated news, however, the day is about as necessary as calling for a Will Smith Day of Visibility on the morning after the Oscars.
The fight between Florida Gov. Ron DeSantis and the Walt Disney Co. over the state's just-signed Parental Rights in Education bill reached new levels. Disney called for the law to be repealed or struck down in court.
Ron "always on offense" DeSantis decided to take a look at a special land exemption that Disney has enjoyed since 1967. And investigative reporter Chris Rufo released a Zoom video of an executive meeting with Disney's most trans-credentialed employees gushing about their efforts to push "LGBTQIA+" themes in the company's parks and movies—for kids.
In the leaked video, executive producer Latoya Raveneau talked about the company's "not-at-all-secret gay agenda" that involved "adding queerness" to kids' entertainment. Disney General Entertainment President Karey Burke, the parent of "one transgender child and one pansexual child," said she hoped for "many, many, many LGBTQIA characters in our stories."
Warning to State Attorneys General
With such distracting news and video, you might have missed a related White House announcement. It plans to make trouble for states that protect kids from ghoulish interventions based on the myth that they are "born in the wrong body."
OK, that's putting it bluntly. More precisely, President Joe Biden's Justice Department has sent a letter to all state attorneys general warning that they could be violating civil rights laws if they keep minors from receiving "gender-affirming care."
Biden released a video message reinforcing the point. "To parents of transgender children," he insisted, "affirming your child's identity is one of the most powerful things you can do to keep them safe and healthy."
That's a fog of cliches and euphemisms. After all, what is "gender-affirming care"? Wesley Smith, a senior fellow at the Discovery Institute, points to a guide just issued by the Department of Health and Human Services' Office of Population Affairs. It explains what the Biden administration means:
Gender-affirming … consists of an array of services that may include medical, surgical, mental health, and nonmedical services for transgender and nonbinary people.

For transgender and nonbinary children and adolescents, early gender-affirming care is crucial to overall health and well-being as it allows the child or adolescent to focus on social transitions and can increase their confidence while navigating the health care system.
That's vague and bureaucratic. But the guide then spells things out:
Social Affirmation: Adopting gender-affirming hairstyles, clothing, name, gender pronouns, and restrooms and other facilities. When: At any age or stage. Reversible.
Puberty Blockers: Using certain types of hormones to pause pubertal development. When: During puberty. Reversible.
Hormone Therapy: Testosterone hormones for those who were assigned female at birth; Estrogen hormones for those who were assigned male at birth. When: Early adolescence onward. Partially reversible.
Gender-Affirming Surgeries: "Top" surgery—to create male-typical chest shape or enhance breasts. "Bottom" surgery—surgery on genitals or reproductive organs. Facial feminization or other procedures. When: Typically used in adulthood or case-by-case in adolescence. Not reversible.
Fast Track to Sterilization
An acquaintance describes this as the "school-to-sterilization pathway."
It starts with new pronouns and psychosocial training. Then it moves on to drugs and ends with surgery.
That might involve literal castration for boys and double mastectomies and hysterectomies for girls. But cross-sex hormones can do the job without scalpel or knife—since those drugs can lead to sterility.
"Gender-affirming" in this context, then, is really "sex-denying." No cloud of verbal fog, no matter how thick, can obscure that brutal fact.
This sex-denial is so bizarre that many still treat it as comical. In fact, it's tragic: If they're not put on this pathway, most kids who suffer gender dysphoria will grow out of it. Some 61% to 98% of these kids will naturally reconcile with their sex after going through puberty. In many cases, puberty itself may be the cure for gender dysphoria.
But that healing can be thwarted if a child is socially transitioned at home and school, and put on puberty blockers and then cross-sex drugs. The further kids go down this pathway, the less likely they are to turn back. And the greater is the cost for those who detransition.
That's why some states have started to take notice. The best response to date is Arkansas' SAFE Act. It prevents doctors from prescribing puberty blockers or cross-sex hormones, or performing surgeries on minors to "affirm gender identity." That is, it stops doctors from sterilizing children before the age of consent.
Biden opposes this. You read that right. The White House thinks that minors can consent to their own sterilization. And Biden's Department of Health and Human Services claims that this is the proper standard of care for treating minors who struggle with their sexed bodies.
Bad Science
Of course, the White House claims the value of these "treatments" is based on good science. But that's not true.
A glance at the resources for the HHS document reveals a rogue's gallery of gender ideologues. That  includes the Human Rights Campaign and the ACLU, alongside captured agencies, such as the National Institutes of Health's Sexual and Gender Minority Research Office.
The gender-transition pathway endorsed by Biden is based on a single, flawed Dutch studywith 55 subjects and no control group.
It's no surprise then that countries such as theUnited Kingdom, Sweden, and Finland, who took early leads on the transition protocol, are hitting the brakes. And yet this is the moment when Biden has decided to put the full weight of the federal government on the accelerator for childhood gender transition.
It's now up to brave states and parents to stand in the way.
Have an opinion about this article? To sound off, please email letters@DailySignal.com and we'll consider publishing your edited remarks in our regular "We Hear You" feature. Remember to include the url or headline of the article plus your name and town and/or state.
Abortion: When Does Life Begin? – R.C. Sproul

Dr. Francis schaeffer – The flow of Materialism(from Part 4 of Whatever happened to human race? Co-authored by Francis Schaeffer and Dr. C. Everett Koop)

Abortion: What About Those Who Demand Their Rights? – R.C. Sproul
Whatever Happened To The Human Race? | Episode 1 | Abortion of the Human Race (2010)
Whatever Happened To The Human Race? | Episode 2 | Slaughter of the Innocents (2010)
Edith Schaeffer with her husband, Francis Schaeffer, in 1970 in Switzerland, where they founded L'Abri, a Christian commune.
September 9, 2021
President Biden  c/o The White House 1600 Pennsylvania Avenue NW Washington, DC 20500
Dear Mr. President,
I really do respect you for trying to get a pulse on what is going on out here. I know that you don't agree with my pro-life views but I wanted to challenge you as a fellow Christian to re-examine your pro-choice view.
In the past I have spent most of my time looking at this issue from the spiritual side. In the film series "WHATEVER HAPPENED TO THE HUMAN RACE?" the arguments are presented  against abortion (Episode 1),  infanticide (Episode 2),   euthanasia (Episode 3), and then there is a discussion of the Christian versus Humanist worldview concerning the issue of "the basis for human dignity" in Episode 4 and then in the last episode a close look at the truth claims of the Bible.
__________________________
I truly believe that many of the problems we have today in the USA are due to the advancement of humanism in the last few decades in our society. Ronald Reagan appointed the evangelical Dr. C. Everett Koop to the position of Surgeon General in his administration. He partnered with Dr. Francis Schaeffer in making the video WHATEVER HAPPENED TO THE HUMAN RACE? which can be found on You Tube. It is very valuable information for Christians to have.
Today I want to respond to your letter to me on July 9, 2021. Here it is below:
THE WHITE HOUSE
WASHINGTON
July 9, 2021
Mr. Everette Hatcher III
Alexander, AR
Dear Mr. Hatcher,
Thank you for taking your time to share your thoughts on abortion. Hearing from passionate individuals like me inspires me every day, and I welcome the opportunity to respond to your letter
Our country faces many challenges, and the road we will travel together will be one of the most difficult in our history. Despite these tough times, I have never been more optimistic for the future of America. I believe we are better positioned than any country in the world to lead in the 21st century not just by the example of our power but by the power of our example.
As we move forward to address the complex issues of our time, I encourage you to remain an active participant in helping write the next great chapter of the American story. We need your courage and dedication at this critical time, and we must meet this moment together as the United States of America. If we do that, I believe that our best days still lie ahead.
Sincerely
Joe Biden
___________________
This is the part of your letter that caught my attention:
Thank you for taking your time to share your thoughts on abortion. Hearing from passionate individuals like me inspires me every day,
President Biden, I want to point out that your Christian views recognize the life of the unborn child and John MacArthur rightly noted, Government has already become the purveyor of wickedness. Government is a murderer, slaughtering millions of infants in abortion;
I recently read this article below:
America's second-ever Catholic president supports abortion rights, leaving the bishops unsure about how to move forward.By Emma Green
MARCH 14, 2021
Archbishop Joseph Naumann is anxious about President Joe Biden's soul. The two men are in some ways similar: cradle Catholics born in the 1940s who witnessed John F. Kennedy become America's first Catholic president. Both found a natural home in the Democratic Party—in Naumann's midwestern family, asking Catholics if they were Democrats was a redundancy. Naumann became a priest and Biden became a politician, but their paths really diverged over the issue of abortion. Now in his 70s, Naumann watched Biden—America's second Catholic president—transform into a vocal supporter of abortion rights while competing for the 2020 Democratic presidential nomination. Naumann runs the Archdiocese of Kansas City in Kansas and also leads what the Catholic bishops describe as their pro-life activities. He has suggested that Biden should no longer call himself a devout Catholic. At the very least, Naumann says, Biden should stop receiving Communion, a holy sacrament in Catholic life.
The United States Conference of Catholic Bishops recently convened a working group to discuss how the bishops should interact with Biden, and how they should deal with the challenge of having a visibly Catholic president who defies Church teachings on a central issue. Naumann was part of that group. Conflicts have already arisen: Naumann recently co-authored a statement expressing moral concerns about the Johnson & Johnson vaccine, which was developed and tested using cell lines from aborted fetal tissue. He also joined a statement from a group of the country's top bishops celebrating the passage of the American Rescue Plan Act, but called it "unconscionable that Congress has passed the bill without critical protections needed to ensure that billions of taxpayer dollars are used for life-affirming health care and not for abortion."
John MacArthur gave a sermon in June of 2021 entitled "When Government Rewards Evil and Punishes Good" and in that sermon he makes the following points:
INTRODUCTION AND DISCUSSION OF ROMANS 13
GOVERNMENT CAN FORFEIT ITS AUTHORITY
THE WORLD IS THE ENEMY OF THE GOSPEL
ALL OF HUMAN HISTORY IS PROGRESSING TOWARD A GLOBAL KINGDOM UNDER THE POWER OF SATAN
ONE FALSE WORLD RELIGION IS FINAL PLAY BY SATAN
REAL PERSECUTION CAN ONLY BE DONE BY GOVERNMENT
PERSECUTION IN BOOK OF DANIEL
THE LAW IS KING AND NOT THE GOVERNOR OF CALIFORNIA
GOVERNMENT HAS BECOME PURVEYOR OF WICKEDNESS
THERE IS A PLACE FOR CIVIL DISOBEDIENCE
DOES GOVERNMENT WIN?
Let me just share a portion of that sermon with you and you can watch it on You Tube:
GOVERNMENT HAS BECOME PURVEYOR OF WICKEDNESS
One New Testament writer says that Romans 13 has "caused more unhappiness and misery . . . than any other . . . verses in the New Testament by the license they have given to tyrants . . . used to justify a host of horrendous abuses of individual human rights." Hitler's Holocaust, racism in the apartheid of South Africa, Cantrell says, "Both the Jews in Germany and blacks in South Africa were viewed as a threat to public health and national security. . . . "'Trust us,' said government . . . 'we truly have your best interests at heart. All we want to do is help . . . keep you safe.'"
Government has already become the purveyor of wickedness. Government is a murderer, slaughtering millions of infants in abortion; elevating the LGBTQ agenda, the bizarre transgender deception. The culture has become anti-truth, we all know that. The truth is the biggest threat to lies. William Pitt, well-known name in English history, said this: "Necessity (i.e., public health, common good) is the plea [of] every infringement of human freedom: it is the argument of tyrants. "Get people afraid, and they'll do whatever you want. A fearful society will always comply; panicking people will believe anything" [(Cantrell)].
"During the gruesome and bloody days of the French Revolution, when 40,000 innocent [people] lost their heads," you would be interested to know who was operating the guillotine: the Committee for Public Safety [(Cantrell)]. One writer says, "Governments now get voted into power by promising to oversee housing, education, medicine, the economy, [the] currency, a minimum income, food, water, land, and the list goes on. The government become a parent, and the citizens are dependents. The government in this role becomes a monstrous juggernaut of bureaucracy, devouring taxes and trying to regulate every detail of life." And they definitely want to regulate the church and silence its proclamation.
In his book The Glorious Body of Christ, Kuiper wrote, "Our age is one of ecclesiastical passivism. . . . When a church ceases to be militant it also ceases to be a church of Jesus Christ. . . . A truly militant church stands opposed to the world both without its walls and within. . . . Time and again in its history the church has found it necessary to assert its sovereignty over against usurpations by the state." And Kuiper gave some biblical examples, like when King Saul or King Uzziah usurped the priesthood, stating, "In both cases a representative of the state was severely punished for encroaching [on] the sovereignty of the church."
"Lord Macaulay of England summed up the Puritan reputation this way" [(Cantrell)]. He said of the Puritans, "He bowed himself in the dust before his Maker; [as] he set his foot on the neck of his king." Kuiper says, "Ours is an age of state totalitarianism. All over the world statism is [rising] . . . . In consequence, in many lands the church finds itself utterly at the mercy of the state whose mercy often proves cruelty, while in others the notion is rapidly gaining ground that the church exists and operates by the state's permission." We do not operate by the state's permission; we operate by the Lord's command.
—-
Francis Schaeffer discusses this more in his fine book CHRISTIAN MANIFESTO:
PAGE 437
CHAPTER 3 THE DESTRUCTION OF FAITH AND FREEDOM
And now it is all gone!
In most law schools today almost no one studies William Blackstone unless he or she is taking a course in the history of law. We live in a secularized society and in secularized, sociological law. By sociological law we mean law that has no fixed base but law in which a group of people decides what is sociologically good for society at the given moment; and wha they arbitrarily decide becomes law. Oliver Wendall Holmes (1841-1935) made totally clear that this was his position. Frederick Moore Vinson (1890-1953), former Chief Justice of the United States Supreme Court, said, "Nothing is more certain in modern society than the principle that there are no absolutes." Those who hold this position themselves call it sociological law.
As the new sociological law has moved away from the original base of the Creator giving the "inalienable rights," etc., it has been natural that this sociological law has then also moved away from the Constitution. William Bentley Ball, in his paper entitled "Religious Liberty: The Constitutional Frontier," says:
i propose that secularism militates against religious liberty, and indeed against personal freedoms generally, for two reasons: first, the familiar fact that secularism does not recognize the existence of the "higher law"; second, because, that being so, secularism tends toward decisions based on the pragmatic public policy of the moment and inevitably tends to resist the submitting of those policies to the "higher" criteria of a constitution. 
This moving away from the Constitution is not only by court rulings, for example the First Amendment rulings, which are the very reversal of the original purpose of the First Amendment (see pp. 433, 434), but in other ways as well. Quoting again from the same paper by William Bentley Ball:
Our problem consists also, as perhaps this paper has well enough indicated, of more general constitutional delegation of legislative power and ultra vires. The first is where the legislature hands over its powers to agents through the conferral of regulatory power unaccompanied by strict standards. The second is where the agents make up powers on their own–assume powers not given them by the legislature. Under the first, the government of laws largely disappears and the government of men largely replaces it. Under the second, agents' personal "home-made law replaces the law of the elected representatives of the people. 
Naturally, this shift from the Judeo-Christian basis for law and the shift away from the restraints of the Constitution automatically militates against religious liberty. Mr. Ball closes his paper:
Fundamentally, in relation to personal liberty, the Constitution was aimed at restraint of the State. Today, in case after case relating to religious liberty, we encounter the bizarre presumption that it is the other way around; that the State is justified in whatever actions, and that religion bears a great burden of proof to overcome that presumption. 
It is our job, as Christian lawyers, to destroy that presumption at every turn. 
As lawyers discuss the changes in law in the United States, often they speak of the influence of the laws involved in the reentrance of the southern states into the national government after the Civil War. These indeed must be considered. But they were not the reason for the drastic change in law in our country. This reason was the takeover by the totally other world view which never have given the form and freedom in government we have had in Northern Europe (including the United States). That is the central factor in the change.
PAGE 439
It is parallel to the difference between modern science beginning with Copernicus and Galileo and the materialistic science which took over the last century. Materialistic thought would never have produced modern science. Modern science was produced on the Christian base. That is, because an intelligent Creator had created the universe we can in some measure understand the universe and there is, therefore, a reason for observation and experimentation to be pursued.
Then there was a shift into materialistic science based on a philosophic change to the materialistic concept of final reality. This shift was based on no addition to the facts known. It was a choice, in faith, to see things that way. No clearer expression of this could be given than Carl Sagan's arrogant statement on public television–made without any scientific proof for the statement–to 140 million viewers: "The cosmos is all that is or ever was or ever was or ever will be." He opened the series, COSMOS, with this essentially creedal declaration and went on to build every subsequent conclusion upon it.
There is exactly the same parallel in law. The materialistic-energy, chance concept of final reality never would have produced the form and freedom in government we have in this country and in other Reformation countries. But now it has arbitrarily and arrogantly supplanted the historic Judeo-Christian Consensus that provided the base for form and freedom in government. The Judeo-Christian consensus gave greater freedoms than the world has ever known, but it also contained the freedoms so that they did not pound society to pieces. The materialistic concept of reality would not have produced the form-freedom balance, and now that it has taken over it cannot maintain the balance. It has destroyed it.
Will Durant and his wife Ariel together wrote The Story of Civilization. The Durants received the 1976 Humanist Pioneer Award. In The Humanist magazine of February 1977, Will Durant summed up the humanist problem with regard to personal ethics and social order: "Moreover, we shall find it no easy task to mold a natural ethic strong enough to maintain moral restraint and social order without the support of supernatural consolations, hopes, and fears."
Poor Will Durant! It is not just difficult, it is impossible. He should have remembered the quotation he and Ariel Durant gave from the agnostic Renan in their book The Lessons of History. According to the Durants, Renan said in 1866: "If Rationalism wishes to govern the world without regard to the religious needs of the soul, the experience of the French Revolution is there to teach us the consequences of such a blunder." And the Durants themselves say in the same context: "There is no significant example in history, before our time, of a society successfully maintaining moral life without the aid of religion."
PAGE 440
Along with the decline of the Judie-Christian consensus we have come to a new definition and connotation of "pluralism." Until recently it meant that the Christianity flowing from the Reformation is not now as dominant in the country and in society as it was in the early days of the nation. After about 1848 the great viewpoints not shaped by Reformation Christianity. This, of course, is the situation which exists today. Thus as we stand for religious freedom today, we need to realize that this must include a general religious freedom from the control of the state for all religion. It will not mean just freedom for those who are Christians. It is then up to Christians to show that Christianityis the Truth of total reality in the open marketplace of freedom.
This greater mixture in the United States, however, is now used as an excuse for the new meaning and connotation  of pluralism. It now is used to mean that all types of situations are spread out before us, and that it really is up to each individual to grab one or the other on the way past, according to the whim of personal preference. What you take is only a matter of personal choice, with one choice as valid as another. Pluralism has come to mean that everything is acceptable. This new concept of pluralism suddenly is everywhere. There is no right or wrong; it is just a matter of your personal preference. On a recent SIXTY MINUTES program on television, for example, the questions of euthanasia of the old and the growing of marijuana as California's largest paying crop were presented this way. One choice is as valid as another. It is just a matter of personal preference. This new definition and connotation of pluralism is presented in many forms, not only in personal ethics, but in society's ethics and in the choices concerning law,
PAGE 440
Now I have a question. In these shifts that have come in law, where have the Christian lawyers been? I really ask you that. The shift has come gradually, but it has only come to its peak in the last 40 or 50 years. Where have the Christian lawyers been? Surely the Christian lawyers should have been the ones to have sounded the trumpet clear and loud, not just in bits and pieces but looking at the totality of what was occurring. Now, a nonlawyer like myself believes I have a right to feel let down because the Christian lawyers did not blow the trumpets clearly between, let us say, 1940 and 1970. 
PAGE 441
When I wrote HOW SHOULD WE THEN LIVE? From 1974 to 1976 I worked out of a knowledge of secular philosophy. I moved from the results in secular philosophy, to the results in liberal theology, to the results in the arts, and then I turned to the courts, and especially the Supreme Court. I read Oliver Wendell Holmes and others, and I must say, I was totally appalled by what I read. It was an exact parallel to what i had already known so well from my years of study in philosophy, theology, and the other disciplines.
In the book and film series HOW SHOULD WE THEN LIVE? I used the Supreme Court abortion case as the clearest illustration of arbitrary sociiological law. But it was only the clearest illustration. The law is shot through with this kind of ruling. It is similar to choosing Fletcher's situational ethics and point to it as the clearest illustration of how our society now functions with no fixed ethics. This is only the clearest illustration because in many ways our society functions on unfixed, situational ethics. The abortion case in law is exactly the same. It is only the clearest case. Law in this country has become situational law, using the term Fletcher used for his ethics. That is, a small group of people decide arbitrarily what, from their viewpoint, is for the good of society at that precise moment and they make it law, binding the whole society by their personal arbitrary decisions. 
But of course! What would we expect? These things are the natural, inevitable results of the material-energy, humanistic concept of the final basic reality. From the material-energy, chance concept of final reality, final reality is, and must be b it nature, silent as to values, principles, or any basis for law. There is no way to ascertain "the ought:" from "the is." Not only should we have known what this would have produced, but on the basis of this viewpoint of reality, we should have recognized that there are no other conclusions that this view could produce. It is a natural result of really believing that the basic reality of all things is merely material-energy, shaped into its present form by impersonal chance.
No, we must say that the Christians in the legal profession did not ring the bell, and we are indeed very, very far down the road toward a totally humanistic culture. At this moment we are in a humanistic culture, but we are happily not in a totally humanistic culture. But what we must realize is that the drift has been all in this direction. if it is not turned around we will move very rapidly into a totally humanistic culture.
PAGE 442
The law, and especially the courts, is the vehicle to force this total humanistic way of thinking upon the entire population.Thisis what has happened. The abortion law is a perfect example. The Supreme Court abortion ruling invalidated abortion lawsin all fifty states, even though it seems clear that in 1973 the majority of Americans were against abortion. It did not matter. The Supreme Court arbitrarily ruled that abortion was legal, and overnight they overthrew the state laws and forced their will on the majority, even though their ruling was arbitrary both legally and medically. Thus law and the courts became the vehicle for forcing a totally secular concept on the population.
Related posts:
By Everette Hatcher III | Posted in Francis Schaeffer | Edit | Comments (0)