—-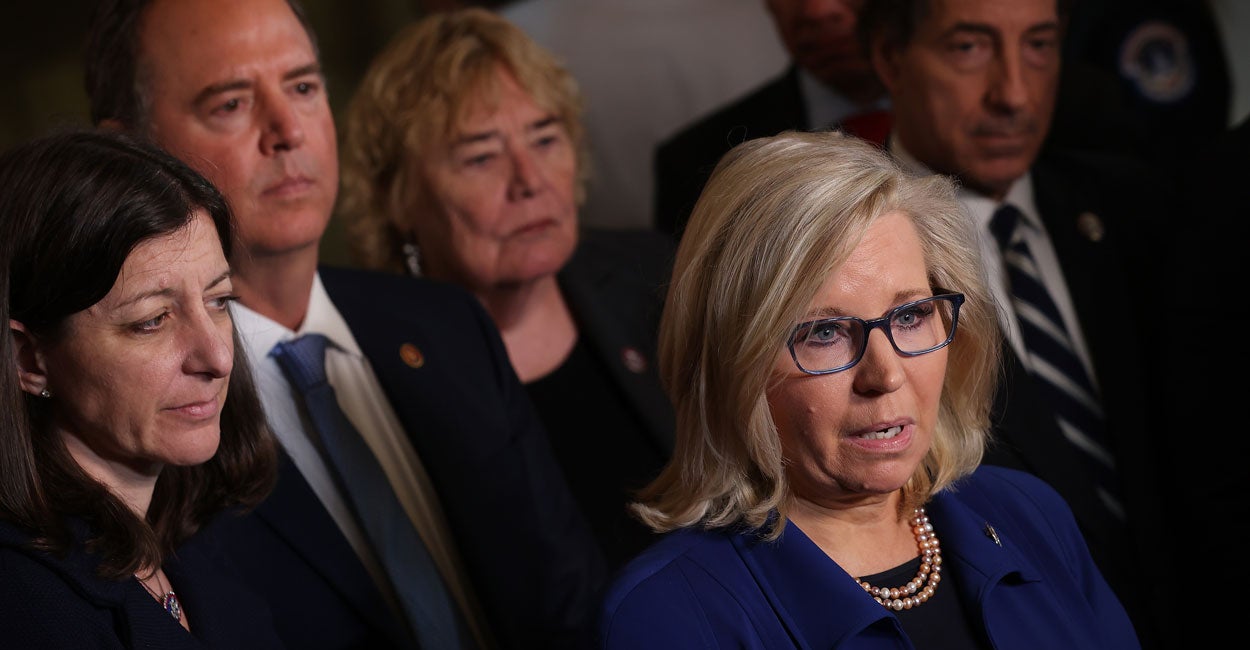 Who'd believe that two liberal-left newspapers might keep former President Donald Trump out of the slammer?
Certainly not this reporter. But it's true. Unlike many conservatives, I relish reading The Washington Post and The New York Times. Sure, they can be biased and deserve the harsh condemnation they frequently receive from their critics. But every once in a while, they will produce something that smacks of honest journalism.
I've written previously about how the Post conducted a stunning investigative report quoting respected and impartial legal experts that Trump was not obviously guilty of any criminal act on Jan. 6. Not one.
The Post took every major accusation tossed by Trump's political enemies—including Rep. Liz Cheney, R-Wyo.—and had an answer for each and every charge.
Did he urge the crowd to riot? The Post didn't think so. When he told the crowd to march to the Capitol, did he know that a number of participants were going to smash their way into the building and assault police officers? The response: "[T]here is no evidence that he knew they were going to storm the building."
What about the pressure he put on Vice President Mike Pence to overrule Congress' decision to approve Joe Biden as president, one of his most controversial actions?
Former federal prosecutor Randall Eliason told the Post: "The key in pretty much all these crimes would be proving corrupt intent, because Trump is going to come in and say, when he was pressuring Pence, 'I was told by my advisers that he had this legal authority, and I was just repeating that.'"
Eliason added, "That could be pretty difficult [for a prosecutor] to overcome."
What also might be pretty difficult for a prosecutor to overcome is that Democrats have been aggressively challenging Republican presidential winners since 2000. Beginning with George W. Bush's victory in the 2000 presidential race, Democrats have contested three Republican victories in the 21st century, with two Democrat House members opposing Trump's victory on the grounds that the Russians had illegally interfered in our elections.
Democrats, however, are trying to use the House select committee, whose sole purpose is to find out what happened on Jan. 6, to prosecute the former president and his advisers for a crime they have yet to discover.
A big problem facing the former president is that House Speaker Nancy Pelosi's committee may poison the well with its report that is scheduled to be released close to the off-year elections.
In a lead front-page story in The New York Times, the reader is told that the committee is employing prosecutorial techniques "typically used against mobsters and terrorists" as it seeks to "develop evidence that could prompt a criminal case" against Trump and his allies.
"In what its members see as the best opportunity to hold Mr. Trump and his team accountable," the Times continues, "the committee—which has no authority to pursue criminal charges—is using what powers it has in expansive ways in hopes of pressuring Attorney General Merrick B. Garland to use the Justice Department to investigate and prosecute them."
"Sentence First—verdict afterward" is not apparently a notion confined to the Queen in "Alice in Wonderland." Her view of justice has been wholly embraced by Pelosi's Democrat-stacked panel.
The vice chair of the committee, Cheney, has already delivered her verdict, long before the committee has concluded its investigation. What Trump asked Pence to do, she wrote in The Wall Street Journal, was not only "unconstitutional" but "illegal."
If Pence had supported Trump, the Supreme Court might well have found his actions unconstitutional, since an overwhelming majority in the legal community agrees that the vice president has no power to overturn the Electoral College vote. But it was neither unconstitutional or illegal for the president to tell Pence to carry out a policy some of his key advisers believed was lawful. (See Eliason's supporting view above.)
Late last year, Cheney, more the vengeful accuser than an impartial observer, according to many who heard her carry on about Trump, was moving to have him prosecuted. Couldn't he be charged, she argued, with obstructing Congress while it was counting the electoral votes that would remove him from the White House? (Informed sources tell this reporter she's still maneuvering to get him behind bars.)
From its inception, the committee has been stacked against Trump sympathizers. Under its rules, Pelosi has complete authority, without the need to consult any Republican, to appoint eight of its members. The minority leader, Kevin McCarthy, can appoint five, but only with the speaker's consent. The Republicans on the select committee, chosen by Pelosi, are Cheney and Rep. Adam Kinzinger, R-Ill., who have been in lockstep with the House leader.
Here's a perfect example of how Cheney is tilting the committee against Trump and her own party. On July 21, 2020, Pelosi blocked two of McCarthy's choices, Reps. Jim Jordan and Jim Banks, each of whom supported Trump's decision to contest the election, which they had every legal right to do. Cheney had a chance here to partially reingratiate herself with fellow Republicans by coming to the defense of McCarthy's two picks.
Cheney could have told Pelosi that the panel would be seen as far less partisan by both the public and her GOP colleagues if she'd reconsider her decision to block two of Trump's most vigorous and effective supporters. His people, she could have stressed, need to see that the committee is not the lynch mob they strongly suspect it has become.
Democrats, she could have argued, would still outnumber Republicans on the panel by an 8 to 5 margin. Moreover, Pelosi would know that she had an effective 9 to 4 majority, since Cheney, whose anti-Trump rhetoric is boundless, could be counted on to line up with the speaker on any important issue. Cheney, however, was not in a charitable mood for her party or for elementary fairness.
She rushed to issue a statement on the Capitol steps, remarking: "I agree with what the speaker has done." It's hard to get more partisan on behalf of the Democrats and more anti-Republican than that.
There are many things the select committee needs to investigate other than Trump and his advisers, though their actions need to be fairly assessed as well. But there are a few other questions that need to be answered.
Were there federal employees who acted as agents provocateurs on Jan. 6, urging those at the rally to break into the Capitol? A video that surfaced is certainly incriminating. When Rep. Thomas Massie, R-Ky., asked Garland if this accusation were true, Garland ducked the question completely.
Fourteen Republican members of the House have also made a convincing case that many defendants convicted in connection with the Jan. 6 attacks did not engage in any violence, had no past criminal records, and, after their arrests, were denied standard medical care and access to attorneys.
Many told the lawmakers they had been held in solitary confinement for several months. Surely these charges need to be pursued?
Jordan had also voiced concerns that the select committee has to do more than focus on Trump. He's a big supporter of the former president but he's not opposed to a fair inquiry. Since Jordan had been blocked from asking questions of any witness when Pelosi threw him off the committee McCarthy had appointed him to, he said he hoped that the Democrats would actually find out why there wasn't a proper security presence that day.
"And frankly," he added, "only the speaker can answer that question, so let's see if the Democrats bring that up."
That's also a critical question that deserves an answer. But does anyone think the select committee's report will be honest, thorough, and fair, as every American should desire, if Pelosi and Cheney are running the show?
This piece was originally published by Newsmax.
The Daily Signal publishes a variety of perspectives. Nothing written here is to be construed as representing the views of The Heritage Foundation.
Have an opinion about this article? To sound off, please email letters@DailySignal.com and we'll consider publishing your edited remarks in our regular "We Hear You" feature. Remember to include the url or headline of the article plus your name and town and/or state.
Want to keep up with the 24/7 news cycle? Want to know the most important stories of the day for conservatives? Need news you can trust? Subscribe to The Daily Signal's email newsletter. Learn more >>
October 24, 2021
The Honorable Representative Liz Cheney, Wyoming, Washington D.C.
Dear Representative 
I noticed that you are a pro-life representative that has a long record of standing up for unborn babies! It was in the 1970's when I was first introduced to the works of Francis Schaeffer and Dr. C. Everett Koop and I wanted to commend their writings and films to you.
I recently read about your impressive pro-life record:
Liz Cheney is the representative for Wyoming's at-large district (WY-AL). Congresswoman Cheney has voted consistently to protect the lives of the unborn as well as the consciences of taxpayers who don't want their hard-earned tax dollars paying for abortion domestically or internationally. Rep. Cheney has defended the Trump administration's pro-life regulatory efforts from pro-abortion attacks to prohibit their implementation.
Congresswoman Cheney participated in a press conference calling for a vote on H.R. 962, the Born-Alive Abortion Survivors Protection Act. She also offered a unanimous consent request for consideration of, and participated in the minority hearing on the Born-Alive bill.
It seems you have a grudge against President Trump while our freedoms under President Biden are being taken away. I recommend to you the article below:
 • Volume 50, Number 9 • Roger Kimball
Roger Kimball
Editor and Publisher, The New Criterion
Mr. Kimball concludes his article with these words: 
That's one melancholy lesson of the January 6 insurrection hoax: that America is fast mutating from a republic, in which individual liberty is paramount, into an oligarchy, in which conformity is increasingly demanded and enforced.
Another lesson was perfectly expressed by Donald Trump when he reflected on the unremitting tsunami of hostility that he faced as President. "They're after you," he more than once told his supporters. "I'm just in the way."
Bingo.
NOW WHAT DID YOU DO TO TURN YOUR BACK ON OUR LIBERTY AND PERPETUATE THE HOAX THAT JANUARY 6TH WAS AN INSURRECTION? Read below!! 
There were a few Republicans Thursday who surprised observers when they voted in support of holding former Trump adviser Steve Bannon in contempt of Congress and referring him to the Justice Department for criminal prosecution.
Prior to the vote, four Republicans were considered a lock to approve the criminal referral, according to Capitol Hill sources: Reps. Liz Cheney of Wyoming, Adam Kinzinger of Illinois, Fred Upton of Michigan and Anthony Gonzalez of Ohio.
Cheney and Kinzinger are on the House select committee investigating the Jan. 6 insurrection at the U.S. Capitol, and have for months stood alone as the only two House Republicans willing to speak out against former President Donald Trump's continued lies about the 2020 election. They were the only two House Republicans to vote for the formation of the select committee on June 30.
House Speaker Nancy Pelosi formed the select committee after Republicans rejected a bipartisan commission that would have been evenly split between five Democrats and five Republicans. Only 35 Republicans voted for that measure when itpassed the House of Representatives, and it was defeated by a GOP filibuster in the Senate.
Upton has served in the House for more than three decades, since 1987, and will face a primary challenge next year because of his willingness to stand up to Trump.
Gonzalez is retiring from Congress next year, after only four years in the House. "While my desire to build a fuller family life is at the heart of my decision, it is also true that the current state of our politics, especially many of the toxic dynamics inside our own party, is a significant factor in my decision," Gonzalez said in September when heannounced he would not seek another term.
The remaining five Republicans included three who voted for impeachment — Peter Meijer of Michigan, John Katko of New York and Jaime Herrera Beutler of Washington — and two House Republicans who did not vote to impeach Trump: Nancy Mace of South Carolina and Brian Fitzpatrick of Pennsylvania.
Do you realize that Americans rights are being taken away from them and would you like an example? I am going to quote Mr. Kimball again.  You can google and get Roger Kimball article "The January 6 Insurrection Hoax"
Trump seems never to have discerned what a viper's nest our politics has become for anyone who is not a paid-up member of The Club. 
Maybe Trump understands this now. I have no insight into that question. I am pretty confident, though, that the 74 plus million people who voted for him understand it deeply. It's another reason that The Club should be wary of celebrating its victory too expansively. 
Friedrich Hayek took one of the two epigraphs for his book, The Road to Serfdom, from the philosopher David Hume. "It is seldom," Hume wrote, "that liberty of any kind is lost all at once." Much as I admire Hume, I wonder whether he got this quite right. Sometimes, I would argue, liberty is erased almost instantaneously.
I'd be willing to wager that Joseph Hackett, confronted with Hume's observation, would express similar doubts. I would be happy to ask Mr. Hackett myself, but he is inaccessible. If the ironically titled "Department of Justice" has its way, he will be inaccessible for a long, long time—perhaps as long as 20 years. 
Joseph Hackett, you see, is a 51-year-old Trump supporter and member of an organization called the Oath Keepers, a group whose members have pledged to "defend the Constitution against all enemies foreign and domestic." The FBI does not like the Oath Keepers—agents arrested its leader in January and have picked up many other members in the months since. Hackett traveled to Washington from his home in Florida to join the January 6 rally. According to court documents, he entered the Capitol at 2:45 that afternoon and left some nine minutes later, at 2:54. The next day, he went home. On May 28, he was apprehended by the FBI and indicted on a long list of charges, including conspiracy, obstruction of an official proceeding, destruction of government property, and illegally entering a restricted building. 
As far as I have been able to determine, no evidence of Hackett destroying property has come to light. According to his wife, it is not even clear that he entered the Capitol. But he certainly was in the environs. He was a member of the Oath Keepers. He was a supporter of Donald Trump. Therefore, he must be neutralized.
Joseph Hackett is only one of hundreds of citizens who have beenbranded as "domestic terrorists" trying to "overthrow the government" and who are now languishing, in appalling conditions, jailed as political prisoners of an angry state apparat.
I want to recommend to you a video on YOU TUBE that runs 28 minutes and 39 seconds by Francis Schaeffer entitled because it discusses the founding of our nation and what the FOUNDERS believed: 
How Should We Then Live | Season 1 | Episode 5 | The Revolutionary Age
Thank you for your time, and again I want to thank you for your support of the unborn little babies!
Sincerely,
Everette Hatcher, 13900 Cottontail Lane, AR 72002, cell 501-920-5733, everettehatcher@gmail.com, http://www.thedailyhatch.org
——————————————————————————————
——
Dr. Francis schaeffer How Should We Then Live | Season 1 | Episode 5 | The Revolutionary Age
– Whatever happened to human race? PART 1 Co-authored by Francis Schaeffer and Dr. C. Everett Koop)

Dr. Francis Schaeffer – Whatever Happened To The Human Race? | Episode 2 | Slaughter of the Innocents
Francis Schaeffer – Whatever Happened To The Human Race? | Episode 3 | Death by Someone's Choice
Mr. Hentoff with the clarinetist Edmond Hall in 1948 at the Savoy, a club in Boston. (Nat Hentoff was a pro-life atheist)
Dr. Francis Schaeffer – Whatever Happened To The Human Race? | Episode 4 | The Basis for Human Dignity 
Edith Schaeffer with her husband, Francis Schaeffer, in 1970 in Switzerland, where they founded L'Abri, a Christian commune.
March 23, 2021
President Biden c/o The White House 1600 Pennsylvania Avenue NW Washington, DC 20500
Dear Mr. President,
I really do respect you for trying to get a pulse on what is going on out here. I know that you don't agree with my pro-life views but I wanted to challenge you as a fellow Christian to re-examine your pro-choice view. Although we are both Christians and have the Bible as the basis for our moral views, I did want you to take a close look at the views of the pro-life atheist Nat Hentoff too.  Hentoff became convinced of the pro-life view because of secular evidence that shows that the unborn child is human. I would ask you to consider his evidence and then of course reverse your views on abortion.
___________________
The pro-life atheist Nat Hentoff wrote a fine article below I wanted to share with you.
Nat Hentoff is an atheist, but he became a pro-life activist because of the scientific evidence that shows that the unborn child is a distinct and separate human being and even has a separate DNA. His perspective is a very intriguing one that I thought you would be interested in. I have shared before many   cases (Bernard Nathanson, Donald Trump, Paul Greenberg, Kathy Ireland)    when other high profile pro-choice leaders have changed their views and this is just another case like those. I have contacted the White House over and over concerning this issue and have even received responses. I am hopeful that people will stop and look even in a secular way (if they are not believers) at this abortion debate and see that the unborn child is deserving of our protection.That is why the writings of Nat Hentoff of the Cato Institute are so crucial.
In the film series "WHATEVER HAPPENED TO THE HUMAN RACE?" the arguments are presented  against abortion (Episode 1),  infanticide (Episode 2),   euthanasia (Episode 3), and then there is a discussion of the Christian versus Humanist worldview concerning the issue of "the basis for human dignity" in Episode 4 and then in the last episode a close look at the truth claims of the Bible.
__________________________
I truly believe that many of the problems we have today in the USA are due to the advancement of humanism in the last few decades in our society. Ronald Reagan appointed the evangelical Dr. C. Everett Koop to the position of Surgeon General in his administration. He partnered with Dr. Francis Schaeffer in making the video below. It is very valuable information for Christians to have.  Actually I have included a video below that includes comments from him on this subject.
Francis Schaeffer Whatever Happened to the Human Race (Episode 1) ABORTION
_____________________________________
Dr. Francis schaeffer – from Part 5 of Whatever happened to human race?) Whatever Happened To The Human Race? | Episode 5 | Truth and History

Dr. Francis Schaeffer – A Christian Manifesto – Dr. Francis Schaeffer Lecture
Francis Schaeffer – A 700 Club Special! ~ Francis Schaeffer 1982
Dr. Francis Schaeffer – 1984 SOUNDWORD LABRI CONFERENCE VIDEO – Q&A With Francis & Edith Schaeffer
______________________
Thank you so much for your time. I know how valuable it is. I also appreciate the fine family that you have and your commitment as a father and a husband. Now after presenting the secular approach of Nat Hentoff I wanted to make some comments concerning our shared Christian faith.  I  respect you for putting your faith in Christ for your eternal life. I am pleading to you on the basis of the Bible to please review your religious views concerning abortion. It was the Bible that caused the abolition movement of the 1800's and it also was the basis for Martin Luther King's movement for civil rights and it also is the basis for recognizing the unborn children.
Sincerely,
Everette Hatcher III, 13900 Cottontail Lane, Alexander, AR 72002, ph 501-920-5733,
Related posts:
By Everette Hatcher III | Posted in Francis Schaeffer | Edit | Comments (0)