"
—-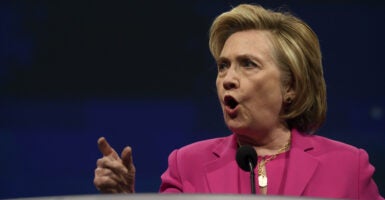 Electronic political espionage that allegedly infiltrated White House computer servers "should shock everyone regardless of who controls the White House," and the crime is punishable by up to 10 years in prison, said Hans von Spakovsky, a senior legal fellow at The Heritage Foundation. 
The recent court filing by special counsel John Durham alleges that Hillary Clinton's 2016 campaign hired a technology company to access information from computer servers used by Donald Trump's business headquarters at Trump Tower in New York City and then, perhaps more seriously, to access servers inside the White House after Trump assumed the presidency in January 2017. 
"If any of the communications that were intercepted were classified, that opens up the cyberoperatives to even more serious criminal charges," von Spakovsky told The Daily Signal. 
Durham made the filing in his case against Clinton campaign lawyer Michael Sussmann, a former federal prosecutor who is charged with lying to the FBI. Sussmann, who has pleaded not guilty, is contesting the charges. 
In December 2020, then-Attorney General Bill Barr named Durham as special counsel after he already had begun investigating the matter as U.S. attorney for Connecticut.
Durham's filing Friday alleges that Clinton campaign lawyers enlisted a technology executive's help to assemble various corporate and university researchers, including a cybersecurity company with a government contract that was able to access White House information. 
The cybersecurity company accessed computer servers for information to establish an "inference" and "narrative" of a plot between the 2016 Trump presidential campaign and the Russian government, in order to spark a federal investigation. 
In his long-awaited 2019 report, then-special counsel Robert Mueller found no evidence of a conspiracy between the Trump campaign and Moscow.
Heritage's von Spakovsky answered five questions from The Daily Signal to put the new allegations from Durham's investigation into perspective. (The Daily Signal is Heritage's multimedia news organization.)
The Daily Signal: Why should allegations that lawyers from the Hillary Clinton campaign paid a firm to infiltrate the servers of Trump Tower, and later the White House, matter to Americans? Should this matter to those who aren't Trump supporters?
Hans von Spakovsky: This should matter to all Americans, regardless of their politics. Privacy in our internet communications is important to everyone and is protected by law. If these allegations are correct, not only was federal criminal law violated by this electronic espionage, but it was profoundly wrong—a political campaign using its political allies and cyberoperatives to target an opposing candidate and a sitting president, actually infiltrating the White House computer servers, something that should shock everyone regardless of who controls the White House.
The Daily Signal: Based on the information in the Durham filing, would you anticipate this leading to additional indictments in the case? How far up could this potentially go? And does it seem as though Michael Sussmann is a lower-level figure charged as a means to access information about other potential defendants? 
Von Spakovsky: Under the Computer Fraud and Abuse Act (18 U.S.C. §1030), intentionally accessing a computer including "any nonpublic computer of a department or agency of the United States [which would include the White House] without authorization" can get you up to 10 years in prison. And it is a violation when someone "exceeds authorized access," which would certainly apply to what was happening as described in Durham's motion.  
Indictments will depend on the evidence that Durham develops and whether the applicable statute of limitations has expired. We don't know how far up this went in the Clinton campaign, although the internet executive who orchestrated this electronic spying told Durham he did it to impress "VIPs" in the Clinton campaign. 
If any of the communications that were intercepted were classified, that opens up the cyberoperatives to even more serious criminal charges.
The Daily Signal: Former President Trump has called this action against him "worse than Watergate." Better or worse is generally subjective, but both operations would appear to be a form of domestic political espionage. As a legal matter, how could this allegation of accessing servers, if true, be similar and different from Watergate? 
Von Spakovsky: The burglary and wiretapping that occurred in Watergate were criminal violations of the law. The type of unauthorized access to computer systems as described by Durham is also a criminal violation of the law. If found to be true, this would be the worst political scandal since Watergate, which resulted in the downfall of a president. 
But what makes it arguably worse is that 1) they infiltrated the White House, 2)  the amount of data they gathered was potentially voluminous and sensitive, and 3) the Watergate burglars were caught in the act before they could install their bugging equipment; these guys succeeded in getting the information they sought, using it to smear a president and get an extensive federal law enforcement investigation against the [Trump] administration that caused it all kinds of problems.
The Daily Signal: What type of legal liability could the person identified in the court filing as "Tech Executive 1," as well as the person identified as a federal cybersecurity contractor, be subject to? 
Von Spakovsky: The Computer Fraud and Abuse Act specifies different levels of fines and prison time for various violations of the law. This is a very serious allegation and could result in very large fines and extensive jail time, depending on the extent and breadth of violations of the statute that can be proven by the government. And as I said, if any of the communications that were intercepted were classified, that opens up the cyberoperatives to even more serious criminal charges.
The Daily Signal: Beyond the criminal case—if the allegations in the recent filing are true—could there be future civil liability issues? Could Trump or anyone else targeted in the criminal case that ensued from a false narrative credibly sue? 
Von Spakovsky: The Computer Fraud and Abuse Act gives any person "who suffers damage or loss by reason of a violation" of certain provisions of the law the ability to file a civil lawsuit against the violator for compensatory damages. But the lawsuit must be filed within two years of the date the violation occurred or the violation was discovered. 
There are also other potential causes of action under statutes such as 42 USC 1985, [covering] conspiracy to interfere with civil rights, which includes conspiring to prevent someone from holding public office or discharging the duties of public office.
Have an opinion about this article? To sound off, please email letters@DailySignal.com and we'll consider publishing your edited remarks in our regular "We Hear You" feature. Remember to include the url or headline of the article plus your name and town and/or state.
The Honorable Representative Jaime Herrera Beutler of Washington, Washington D.C.
Dear Representative Jaime Herrera Beutler, 
I noticed that you are a pro-life representative that has a long record of standing up for unborn babies! It was in the 1970's when I was first introduced to the works of Francis Schaeffer and Dr. C. Everett Koop and I wanted to commend their writings and films to you.
I recently read about your impressive pro-life record:
Their doctor told them, too, that, when women received this type of news, they would immediately head across the street to schedule an abortion procedure. "The sooner you start over, the better off you will be emotionally," the doctor told them.
But Herrera Beutler and her husband did not choose to "start over" in that way. They chose, instead, to hope, and pray, and even work for a miracle. They found doctors willing to believe that their unborn daughter could be saved and who tried experimental medical procedures to save her life. And, as Herrera Beutler addressed the crowd, her daughter Abigail stood beside her, holding her hand, smiling, and waving.
"I was told there was no chance of survival, but they were wrong," Herrera Beutler went on. "And they weren't bad people. They just had never seen a baby with this condition survive. But that's the point. What if they're wrong about others, too? What if, together, we can break new ground and find new treatments that will benefit more than just our own families?  What if every baby was given at least a shot to reach their true potential?"
Herrera Beutler continued:
Who would we be as a nation? What richness would we get to see? Instead of the equivalent of two generations missing because of that choice. Would we have already witnessed one of these individuals finding a cure for cancer or the key to eradicating extreme poverty? What if we had spent the last 45 years pouring that time and that money into finding cures in the womb for medical conditions like spina bifida or microcephaly or congenital heart defects? What if that money was used to end the baby's disease, and not the baby's life?

 . . . Today, we have come together to say, 'There's hope for every expectant mother who has been given a devastating diagnosis, for every woman who feels fear, or anger, or anxiety because she doesn't know how she can afford care for that child, for every woman that feels hopeless: Jesus loves you. And for every baby that has been given up on by the status quo: Jesus still does miracles.

We must recognize the unborn child as the miracle that he or she is, a person developing with extraordinary potential and purpose, who deserves a fighting chance to live and just maybe reach that extraordinary potential. I believe it's the only way our society is ever truly going to reach ours.
It seems you have a grudge against President Trump while our freedoms under President Biden are being taken away. I recommend to you the article below:
 • Volume 50, Number 9 • Roger Kimball
Roger Kimball
Editor and Publisher, The New Criterion
Mr. Kimball concludes his article with these words: 
That's one melancholy lesson of the January 6 insurrection hoax: that America is fast mutating from a republic, in which individual liberty is paramount, into an oligarchy, in which conformity is increasingly demanded and enforced.
Another lesson was perfectly expressed by Donald Trump when he reflected on the unremitting tsunami of hostility that he faced as President. "They're after you," he more than once told his supporters. "I'm just in the way."
Bingo.
NOW WHAT DID YOU DO TO TURN YOUR BACK ON OUR LIBERTY AND PERPETUATE THE HOAX THAT JANUARY 6TH WAS AN INSURRECTION? Read below!! 
There were a few Republicans Thursday who surprised observers when they voted in support of holding former Trump adviser Steve Bannon in contempt of Congress and referring him to the Justice Department for criminal prosecution.
Prior to the vote, four Republicans were considered a lock to approve the criminal referral, according to Capitol Hill sources: Reps. Liz Cheney of Wyoming, Adam Kinzinger of Illinois, Fred Upton of Michigan and Anthony Gonzalez of Ohio.
Cheney and Kinzinger are on the House select committee investigating the Jan. 6 insurrection at the U.S. Capitol, and have for months stood alone as the only two House Republicans willing to speak out against former President Donald Trump's continued lies about the 2020 election. They were the only two House Republicans to vote for the formation of the select committee on June 30.
House Speaker Nancy Pelosi formed the select committee after Republicans rejected a bipartisan commission that would have been evenly split between five Democrats and five Republicans. Only 35 Republicans voted for that measure when itpassed the House of Representatives, and it was defeated by a GOP filibuster in the Senate.
Upton has served in the House for more than three decades, since 1987, and will face a primary challenge next year because of his willingness to stand up to Trump.
Gonzalez is retiring from Congress next year, after only four years in the House. "While my desire to build a fuller family life is at the heart of my decision, it is also true that the current state of our politics, especially many of the toxic dynamics inside our own party, is a significant factor in my decision," Gonzalez said in September when heannounced he would not seek another term.
The remaining five Republicans included three who voted for impeachment — Peter Meijer of Michigan, John Katko of New York and Jaime Herrera Beutler of Washington — and two House Republicans who did not vote to impeach Trump: Nancy Mace of South Carolina and Brian Fitzpatrick of Pennsylvania.
Do you realize that Americans rights are being taken away from them and would you like an example? I am going to quote Mr. Kimball again.  You can google and get Roger Kimball article "The January 6 Insurrection Hoax"
Trump seems never to have discerned what a viper's nest our politics has become for anyone who is not a paid-up member of The Club. 
Maybe Trump understands this now. I have no insight into that question. I am pretty confident, though, that the 74 plus million people who voted for him understand it deeply. It's another reason that The Club should be wary of celebrating its victory too expansively. 
Friedrich Hayek took one of the two epigraphs for his book, The Road to Serfdom, from the philosopher David Hume. "It is seldom," Hume wrote, "that liberty of any kind is lost all at once." Much as I admire Hume, I wonder whether he got this quite right. Sometimes, I would argue, liberty is erased almost instantaneously.
I'd be willing to wager that Joseph Hackett, confronted with Hume's observation, would express similar doubts. I would be happy to ask Mr. Hackett myself, but he is inaccessible. If the ironically titled "Department of Justice" has its way, he will be inaccessible for a long, long time—perhaps as long as 20 years. 
Joseph Hackett, you see, is a 51-year-old Trump supporter and member of an organization called the Oath Keepers, a group whose members have pledged to "defend the Constitution against all enemies foreign and domestic." The FBI does not like the Oath Keepers—agents arrested its leader in January and have picked up many other members in the months since. Hackett traveled to Washington from his home in Florida to join the January 6 rally. According to court documents, he entered the Capitol at 2:45 that afternoon and left some nine minutes later, at 2:54. The next day, he went home. On May 28, he was apprehended by the FBI and indicted on a long list of charges, including conspiracy, obstruction of an official proceeding, destruction of government property, and illegally entering a restricted building. 
As far as I have been able to determine, no evidence of Hackett destroying property has come to light. According to his wife, it is not even clear that he entered the Capitol. But he certainly was in the environs. He was a member of the Oath Keepers. He was a supporter of Donald Trump. Therefore, he must be neutralized.
Joseph Hackett is only one of hundreds of citizens who have beenbranded as "domestic terrorists" trying to "overthrow the government" and who are now languishing, in appalling conditions, jailed as political prisoners of an angry state apparat.
—-
I want to recommend to you a video on YOU TUBE that runs 28 minutes and 39 seconds by Francis Schaeffer entitled because it discusses the founding of our nation and what the FOUNDERS believed: 
How Should We Then Live | Season 1 | Episode 5 | The Revolutionary Age
Thank you for your time, and again I want to thank you for your support of the unborn little babies!
Sincerely,
Everette Hatcher, 13900 Cottontail Lane, AR 72002, cell 501-920-5733, everettehatcher@gmail.com, http://www.thedailyhatch.org
——————————————————————————————
——
Dr. Francis schaeffer How Should We Then Live | Season 1 | Episode 5 | The Revolutionary Age
– Whatever happened to human race? PART 1 Co-authored by Francis Schaeffer and Dr. C. Everett Koop)

Dr. Francis Schaeffer – Whatever Happened To The Human Race? | Episode 2 | Slaughter of the Innocents
Francis Schaeffer – Whatever Happened To The Human Race? | Episode 3 | Death by Someone's Choice
Mr. Hentoff with the clarinetist Edmond Hall in 1948 at the Savoy, a club in Boston. (Nat Hentoff was a pro-life atheist)
Dr. Francis Schaeffer – Whatever Happened To The Human Race? | Episode 4 | The Basis for Human Dignity 
Edith Schaeffer with her husband, Francis Schaeffer, in 1970 in Switzerland, where they founded L'Abri, a Christian commune.
March 23, 2021
President Biden c/o The White House 1600 Pennsylvania Avenue NW Washington, DC 20500
Dear Mr. President,
I really do respect you for trying to get a pulse on what is going on out here. I know that you don't agree with my pro-life views but I wanted to challenge you as a fellow Christian to re-examine your pro-choice view. Although we are both Christians and have the Bible as the basis for our moral views, I did want you to take a close look at the views of the pro-life atheist Nat Hentoff too.  Hentoff became convinced of the pro-life view because of secular evidence that shows that the unborn child is human. I would ask you to consider his evidence and then of course reverse your views on abortion.
___________________
The pro-life atheist Nat Hentoff wrote a fine article below I wanted to share with you.
Nat Hentoff is an atheist, but he became a pro-life activist because of the scientific evidence that shows that the unborn child is a distinct and separate human being and even has a separate DNA. His perspective is a very intriguing one that I thought you would be interested in. I have shared before many   cases (Bernard Nathanson, Donald Trump, Paul Greenberg, Kathy Ireland)    when other high profile pro-choice leaders have changed their views and this is just another case like those. I have contacted the White House over and over concerning this issue and have even received responses. I am hopeful that people will stop and look even in a secular way (if they are not believers) at this abortion debate and see that the unborn child is deserving of our protection.That is why the writings of Nat Hentoff of the Cato Institute are so crucial.
In the film series "WHATEVER HAPPENED TO THE HUMAN RACE?" the arguments are presented  against abortion (Episode 1),  infanticide (Episode 2),   euthanasia (Episode 3), and then there is a discussion of the Christian versus Humanist worldview concerning the issue of "the basis for human dignity" in Episode 4 and then in the last episode a close look at the truth claims of the Bible.
__________________________
I truly believe that many of the problems we have today in the USA are due to the advancement of humanism in the last few decades in our society. Ronald Reagan appointed the evangelical Dr. C. Everett Koop to the position of Surgeon General in his administration. He partnered with Dr. Francis Schaeffer in making the video below. It is very valuable information for Christians to have.  Actually I have included a video below that includes comments from him on this subject.
Francis Schaeffer Whatever Happened to the Human Race (Episode 1) ABORTION
_____________________________________
Dr. Francis schaeffer – from Part 5 of Whatever happened to human race?) Whatever Happened To The Human Race? | Episode 5 | Truth and History

Dr. Francis Schaeffer – A Christian Manifesto – Dr. Francis Schaeffer Lecture
Francis Schaeffer – A 700 Club Special! ~ Francis Schaeffer 1982
Dr. Francis Schaeffer – 1984 SOUNDWORD LABRI CONFERENCE VIDEO – Q&A With Francis & Edith Schaeffer
______________________
Thank you so much for your time. I know how valuable it is. I also appreciate the fine family that you have and your commitment as a father and a husband. Now after presenting the secular approach of Nat Hentoff I wanted to make some comments concerning our shared Christian faith.  I  respect you for putting your faith in Christ for your eternal life. I am pleading to you on the basis of the Bible to please review your religious views concerning abortion. It was the Bible that caused the abolition movement of the 1800's and it also was the basis for Martin Luther King's movement for civil rights and it also is the basis for recognizing the unborn children.
Sincerely,
Everette Hatcher III, 13900 Cottontail Lane, Alexander, AR 72002, ph 501-920-5733,
Related posts:
By Everette Hatcher III | Posted in Francis Schaeffer | Edit | Comments (0)