—
–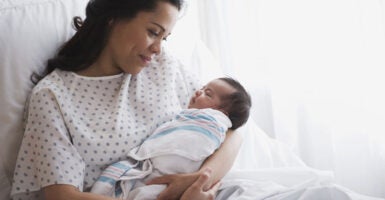 Trust the science.
These three words, when heeded, have the potential to save thousands of lives. As a rule, our leaders should defer to peer-reviewed medical research in all matters related to public policy. But in one critical area, they have failed us time and time again: women's health.
As the Supreme Court prepares to weigh in on the legality of setting gestational limits on abortionin Dobbs v. Jackson Women's Health Organization, the need to trust the science has never been greater.
As a board-certified OB-GYN, I have helped thousands of mothers through the difficult stages of pregnancy. I have shed tears with these women in their most heartbreaking moments, usually after experiencing a miscarriage or a stillborn birth. But I have also rejoiced with them in witnessing the miracle of life.
Want to keep up with the 24/7 news cycle? Want to know the most important stories of the day for conservatives? Need news you can trust? Subscribe to The Daily Signal's email newsletter. Learn more >>
In every case, these women—my patients—entrusted me not only with their lives but with the lives of their children. I take seriously the Hippocratic Oath's principal demand—primum non nocere—which means "first, do no harm."
Our laws surrounding abortion should do the same. Sadly, they don't.
As we have seen with the COVID-19 pandemic, politics and partisanship can drown out science and reason. But too often overlooked is the way politics has also drowned out sensible policymaking on abortion.
Over the past two decades, on-demand abortion has been sold to millions of American women under the banner of women's health. But this mixing of politics and science has done far more harm than good. Those of us in the medical community know that abortion and women's health are not synonymous, and in some cases, can even be opposed.
Often lost in the heated rhetoric on this issue is an inconvenient truth: In certain circumstances, abortion—even when performed under the least dangerous conditions—can cause lasting damage to a woman's health and the health of her future children.
Consider the high risk of pre-term birth that results from surgical abortion. A woman who has had just one abortion has a 30% increased risk of pre-term birth while a woman who has had two abortions has a 90% increased risk of pre-term birth.
To put these numbers in perspective, researchers estimate that more than 100,000 American children have died since 1973 from pre-term births linked to prior abortions. And the crisis has influenced minority communities disproportionately hard. Nearly half of these deaths were black children, even though blacks comprise only 14% of the population.
Tragically, I have worked with multiple women over the course of my career who were unable to carry their babies to term due to complications arising from previous abortions. In almost every case, my patients told me they were unaware of the risks they were assuming when they chose to have an abortion so many years before.
Why? Because abortion providers had simply failed to inform them.
Pre-term birth is just one complication among many. Women who have abortions are also at increased risk of lasting cervical trauma, postpartum hemorrhage, and placental problems. And the health risks only increase in the second trimester of pregnancy.
This is where our laws fail us.
Reasonable people can disagree on the issue of abortion, but it's hard to disagree with the medical research that clearly shows second-trimester abortions pose considerable risks to a woman's health.
This isn't a political statement (although many might treat it that way). It's simply a statement of fact—a fact that has been broadly accepted in Europe, where abortion carries far less political baggage.
The truth is, in protecting women's health, U.S. policies are woefully behind those of our European neighbors. In many progressive countries throughout Europe, laws require that elective abortions be performed at 14 weeks or earlier. Nations that have embraced gestational limits on abortion include France, Italy, Germany, Spain, Norway, Switzerland, and Belgium, according to the Center for Reproductive Rights.
These countries have based their abortion laws not on politics but on peer-reviewed medical research aimed at protecting women's health. Their intent is to use empirically accurate information to promote the highest standards of medical care for women.
The United States, meanwhile, is an anomaly among developed nations in the reckless permissiveness of its abortion laws. In fact, it's one of only seven countries in the world to allow abortion after 20 weeks, alongside countries like China and North Korea (where women's health is hardly a priority). Our abortion policies are woefully behind Europe's. They are out of sync with various precedents set in international law.
With this broader context in mind, take a closer look at the controversy surrounding Dobbs v. Jackson Women's Health Organization—an upcoming Supreme Court case that will rule whether to uphold a Mississippi law prohibiting abortion after 15 weeks.
Opponents of the Mississippi law have done their best to paint it as extreme, backward, and anti-women. In reality, the exact opposite is true.
The Mississippi law is actually more in line with the medical standards of European nations than any state in the country. It reflects the consensus of medical experts on the risks of second-trimester abortion.
If upheld, it would protect—not hurt—women's health, significantly decreasing the prevalence of pre-term births, cervical trauma, and other severe medical complications associated with surgical abortions.
Over the past year, medical professionals have encouraged the public to trust the science in relation to the pandemic—be it the efficacy of vaccines, the utility of masks, or the necessity of social distancing. So why aren't we also encouraging the public to trust the science on the issue of abortion?
Why aren't we being more upfront with women about the serious risks associated with this procedure—both to their own health and the health of their future children? And why aren't we advancing laws with gestational limits to protect women's health, as our European counterparts have done?
Politics, it seems, has clouded our ability to shape commonsense regulations. But the time has come to set politics aside. The time has come to do the right thing for women's health by trusting the science on abortion.
The Daily Signal publishes a variety of perspectives. Nothing written here is to be construed as representing the views of The Heritage Foundation.

Abortion: When Does Life Begin? – R.C. Sproul

Dr. Francis schaeffer – The flow of Materialism(from Part 4 of Whatever happened to human race? Co-authored by Francis Schaeffer and Dr. C. Everett Koop)

Abortion: What About Those Who Demand Their Rights? – R.C. Sproul
Whatever Happened To The Human Race? | Episode 1 | Abortion of the Human Race (2010)
Standing Strong Under Fire: Popular Abortion Arguments and Why They Fail
Whatever Happened To The Human Race? | Episode 2 | Slaughter of the Innocents (2010)
Edith Schaeffer with her husband, Francis Schaeffer, in 1970 in Switzerland, where they founded L'Abri, a Christian commune.
October 5, 2021
President Biden  c/o The White House 1600 Pennsylvania Avenue NW Washington, DC 20500
Dear Mr. President,
I really do respect you for trying to get a pulse on what is going on out here. I know that you don't agree with my pro-life views but I wanted to challenge you as a fellow Christian to re-examine your pro-choice view.
In the past I have spent most of my time looking at this issue from the spiritual side. In the film series "WHATEVER HAPPENED TO THE HUMAN RACE?" the arguments are presented  against abortion (Episode 1),  infanticide (Episode 2),   euthanasia (Episode 3), and then there is a discussion of the Christian versus Humanist worldview concerning the issue of "the basis for human dignity" in Episode 4 and then in the last episode a close look at the truth claims of the Bible.
__________________________
I truly believe that many of the problems we have today in the USA are due to the advancement of humanism in the last few decades in our society. Ronald Reagan appointed the evangelical Dr. C. Everett Koop to the position of Surgeon General in his administration. He partnered with Dr. Francis Schaeffer in making the video WHATEVER HAPPENED TO THE HUMAN RACE? which can be found on You Tube. It is very valuable information for Christians to have.
Today I want to respond to your letter to me on July 9, 2021. Here it is below:
THE WHITE HOUSE
WASHINGTON
July 9, 2021
Mr. Everette Hatcher III
Alexander, AR
Dear Mr. Hatcher,
Thank you for taking your time to share your thoughts on abortion. Hearing from passionate individuals like me inspires me every day, and I welcome the opportunity to respond to your letter
Our country faces many challenges, and the road we will travel together will be one of the most difficult in our history. Despite these tough times, I have never been more optimistic for the future of America. I believe we are better positioned than any country in the world to lead in the 21st century not just by the example of our power but by the power of our example.
As we move forward to address the complex issues of our time, I encourage you to remain an active participant in helping write the next great chapter of the American story. We need your courage and dedication at this critical time, and we must meet this moment together as the United States of America. If we do that, I believe that our best days still lie ahead.
Sincerely
Joe Biden
________________
Florida is working on its own version of the newly passed Texas abortion law, Florida Senate President Wilton Simpson, told the local NBC affiliate WFLA.
The Supreme Court did not block Texas' new heartbeat bill which went into effect on Wednesday and prohibits women from getting an abortion after six weeks of pregnancy.
Arkansas State Senator Jason Rapert announced he ordered a bill to match the Texas legislation.
Related posts:
By Everette Hatcher III | Posted in Francis Schaeffer | Edit | Comments (0)