—
Abortion: When Does Life Begin? – R.C. Sproul

Dr. Francis schaeffer – The flow of Materialism(from Part 4 of Whatever happened to human race? Co-authored by Francis Schaeffer and Dr. C. Everett Koop)

Abortion: What About Those Who Demand Their Rights? – R.C. Sproul
Whatever Happened To The Human Race? | Episode 1 | Abortion of the Human Race (2010)
Standing Strong Under Fire: Popular Abortion Arguments and Why They Fail
Whatever Happened To The Human Race? | Episode 2 | Slaughter of the Innocents (2010)
Edith Schaeffer with her husband, Francis Schaeffer, in 1970 in Switzerland, where they founded L'Abri, a Christian commune.
September 18, 2021
President Biden  c/o The White House 1600 Pennsylvania Avenue NW Washington, DC 20500
Dear Mr. President,
I really do respect you for trying to get a pulse on what is going on out here. I know that you don't agree with my pro-life views but I wanted to challenge you as a fellow Christian to re-examine your pro-choice view.
In the past I have spent most of my time looking at this issue from the spiritual side. In the film series "WHATEVER HAPPENED TO THE HUMAN RACE?" the arguments are presented  against abortion (Episode 1),  infanticide (Episode 2),   euthanasia (Episode 3), and then there is a discussion of the Christian versus Humanist worldview concerning the issue of "the basis for human dignity" in Episode 4 and then in the last episode a close look at the truth claims of the Bible.
__________________________
I truly believe that many of the problems we have today in the USA are due to the advancement of humanism in the last few decades in our society. Ronald Reagan appointed the evangelical Dr. C. Everett Koop to the position of Surgeon General in his administration. He partnered with Dr. Francis Schaeffer in making the video WHATEVER HAPPENED TO THE HUMAN RACE? which can be found on You Tube. It is very valuable information for Christians to have.
Today I want to respond to your letter to me on July 9, 2021. Here it is below:
THE WHITE HOUSE
WASHINGTON
July 9, 2021
Mr. Everette Hatcher III
Alexander, AR
Dear Mr. Hatcher,
Thank you for taking your time to share your thoughts on abortion. Hearing from passionate individuals like me inspires me every day, and I welcome the opportunity to respond to your letter
Our country faces many challenges, and the road we will travel together will be one of the most difficult in our history. Despite these tough times, I have never been more optimistic for the future of America. I believe we are better positioned than any country in the world to lead in the 21st century not just by the example of our power but by the power of our example.
As we move forward to address the complex issues of our time, I encourage you to remain an active participant in helping write the next great chapter of the American story. We need your courage and dedication at this critical time, and we must meet this moment together as the United States of America. If we do that, I believe that our best days still lie ahead.
Sincerely
Joe Biden
—
I read earlier this:
Garland plans to tell senators that he will reaffirm "policies that protect the independence of the department from partisan influence in law enforcement investigations [and] that strictly regulate communications with the White House."
However…._
________________
Strictest abortion law in country went into effect Sept. 1 in Texas after being upheld in 5-4 decision by U.S. Supreme Court
The U.S. Department of Justice late Tuesday asked a federal judge in Texas to temporarily halt the controversial new state law that bans abortions after about six weeks.
The emergency motion seeking a temporary restraining order comes days after the DOJ sued Texas over the law, claiming it was enacted to "prevent women from exercising their constitutional rights."
The law went into effect on Sept. 1 after being upheld in a 5-4 decision by the U.S. Supreme Court. It is the strictest abortion law in the country. Critics say many women don't yet know they're pregnant at six weeks – around the time when a fetal heartbeat can first be detected – and the law makes no exceptions for rape or incest.
"It's clearly unconstitutional," Attorney General Merrick Garland said last Thursday. "The obvious and expressly acknowledged intention of this statutory scheme is to prevent women from exercising their constitutional rights."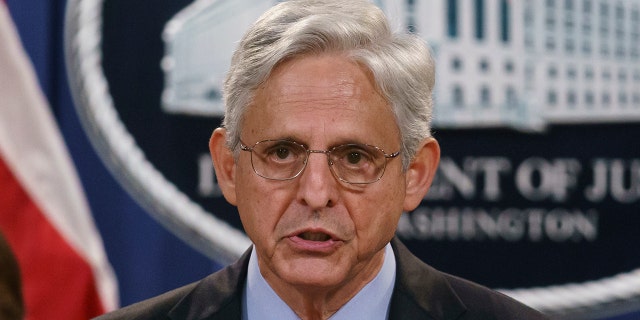 Attorney General Merrick Garland announces a lawsuit to block the enforcement of a new Texas law that bans most abortions, at the Justice Department in Washington, Thursday, Sept. 9, 2021. (AP Photo/J. Scott Applewhite) (AP Photo/J. Scott Applewhite)
The Texas Heartbeat Act, or S.B. 8, was signed by Republican Gov. Greg Abbott in May and empowers private citizens to enforce it by allowing them to sue anyone who allegedly helps a woman get an abortion illegally.
DEPARTMENT OF JUSTICE SUES TEXAS OVER ABORTION LAW: 'CLEARLY UNCONSTITUTIONAL' 
"Texas devised an unprecedented scheme that seeks to deny women and providers the ability to challenge [the law] in federal court," the department wrote. "This attempt to shield a plainly unconstitutional law from review cannot stand."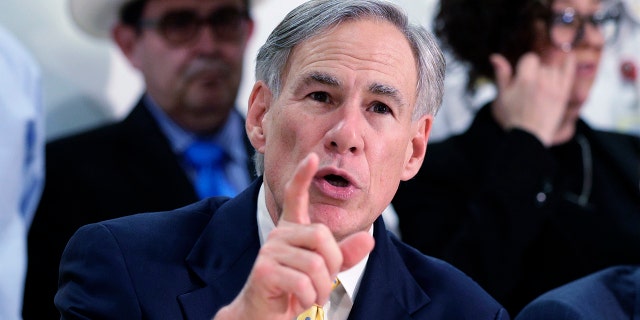 In this March 16, 2020, file photo, Texas Gov. Greg Abbott speaks during a news conference in San Antonio. Gov. Abbott, in defending Texas' near-ban on abortions, says women and girls who are raped won't be forced to give birth because the new law "provides at least six weeks for a person to be able to get an abortion." (AP Photo/Eric Gay, File) (AP Photo/Eric Gay, File)
The DOJ argued the law is in conflict with Roe v. Wade and "a woman's right to terminate her pregnancy before viability."
In response to last week's lawsuit, Abbott's press secretary Renae Eze said, "The most precious freedom is life itself. Texas passed a law that ensures that the life of every child with a heartbeat will be spared from the ravages of abortion. Unfortunately, President Biden and his Administration are more interested in changing the national narrative from their disastrous Afghanistan evacuation and reckless open border policies instead of protecting the innocent unborn. We are confident that the courts will uphold and protect that right to life."
Abbott's office didn't immediately respond to Fox News' late-night request for comment.
Fox News' Jessica Chasmar contributed to this report.
I am a proud member of the National Association of Christian Lawmakers and I attended the convention in Dallas in July and we have officially launched a nationwide push against abortion rights.
The article below notes:
At its first annual policy conference last weekend, group members voted to make a controversial new Texas law, the "Texas Heartbeat Bill," the organization's first piece of model legislation, meaning that similar bills may soon pop up in state capitols across the country.
Also I am excited to report that the WASHINGTON POST wrote in September 3, 2021:
Announcing he planned to introduce a copycat bill, Arkansas state Sen. Jason Rapert (R), the founder and president of the National Association of Christian Lawmakers, shared a template of legislation lawmakers in other states could fill in the blanks on and reproduce.
At the July 17th session of THE CHRISTIAN LAWMAKERS meeting in Dallas, I really got a lot out of the expert panel moderated by Texas State Senator Bryan Hughes entitled ABOLISHING ABORTION IN AMERICA. Here below is what Wikipedia says about Senator Hughes:
On March 11, 2021, Hughes introduced a fetal heartbeat bill entitled the Texas Heartbeat Bill (SB8) into the Texas Senate and state representative Shelby Slawson of Stephenville, Texas introduced a companion bill (HB1515) into the state house.[22]The bill allows private citizens to sue abortion providers after a fetal heartbeat has been detected.[22] The SB8 version of the bill passed both chambers and was signed into law by Texas Governor Greg Abbott on May 19, 2021.[22] It took effect on September 1, 2021.[22]
Related posts:
By Everette Hatcher III | Posted in Francis Schaeffer | Edit | Comments (0)