—
Abortion: When Does Life Begin? – R.C. Sproul

Dr. Francis schaeffer – The flow of Materialism(from Part 4 of Whatever happened to human race? Co-authored by Francis Schaeffer and Dr. C. Everett Koop)

Abortion: What About Those Who Demand Their Rights? – R.C. Sproul
Whatever Happened To The Human Race? | Episode 1 | Abortion of the Human Race (2010)
Standing Strong Under Fire: Popular Abortion Arguments and Why They Fail
Whatever Happened To The Human Race? | Episode 2 | Slaughter of the Innocents (2010)
Edith Schaeffer with her husband, Francis Schaeffer, in 1970 in Switzerland, where they founded L'Abri, a Christian commune.
September 14, 2021
President Biden  c/o The White House 1600 Pennsylvania Avenue NW Washington, DC 20500
Dear Mr. President,
I really do respect you for trying to get a pulse on what is going on out here. I know that you don't agree with my pro-life views but I wanted to challenge you as a fellow Christian to re-examine your pro-choice view.
In the past I have spent most of my time looking at this issue from the spiritual side. In the film series "WHATEVER HAPPENED TO THE HUMAN RACE?" the arguments are presented  against abortion (Episode 1),  infanticide (Episode 2),   euthanasia (Episode 3), and then there is a discussion of the Christian versus Humanist worldview concerning the issue of "the basis for human dignity" in Episode 4 and then in the last episode a close look at the truth claims of the Bible.
__________________________
I truly believe that many of the problems we have today in the USA are due to the advancement of humanism in the last few decades in our society. Ronald Reagan appointed the evangelical Dr. C. Everett Koop to the position of Surgeon General in his administration. He partnered with Dr. Francis Schaeffer in making the video WHATEVER HAPPENED TO THE HUMAN RACE? which can be found on You Tube. It is very valuable information for Christians to have.
Today I want to respond to your letter to me on July 9, 2021. Here it is below:
THE WHITE HOUSE
WASHINGTON
July 9, 2021
Mr. Everette Hatcher III
Alexander, AR
Dear Mr. Hatcher,
Thank you for taking your time to share your thoughts on abortion. Hearing from passionate individuals like me inspires me every day, and I welcome the opportunity to respond to your letter
Our country faces many challenges, and the road we will travel together will be one of the most difficult in our history. Despite these tough times, I have never been more optimistic for the future of America. I believe we are better positioned than any country in the world to lead in the 21st century not just by the example of our power but by the power of our example.
As we move forward to address the complex issues of our time, I encourage you to remain an active participant in helping write the next great chapter of the American story. We need your courage and dedication at this critical time, and we must meet this moment together as the United States of America. If we do that, I believe that our best days still lie ahead.
Sincerely
Joe Biden
________________
I wanted to reach out to you because of some of the troubling moral issues coming out of your administration.
For many years the national press has taken a humanist point of view. Let me trace this back to 1981 when Francis Schaeffer made this observation about the press handling of the confirmation of Dr C. Everett Koop:
Now the window is open and we must take advantage of it in every way we can as citizens, as Christian citizens of the democracy in which we still have freedom. We must try to roll back the other total entity. It will not be easy to roll it back because those who hold the other total world view of reality have no intention that it will be rolled back. Those who hold this view are deeply entrenched, they have had their own way without opposition for a long time, and they will use every means to see that the momentum they have achieved, and the results they have brought forth in all fields, will be retained and enlarged.
For example, all you have to do is to consider the way the media treated Dr. C. Everett Koop. Dr. Koop is one of the foremost pediatric surgeons in the United States, and among other honors, he was given the highest honor of the French government for his pioneering work in pediatric surgery. But when he was nominated for the position of Surgeon General, he was attacked by the secular media with total disregard for objective reporting—and with total disregard for his brilliant humanitarian record as a surgeon. Those in the media holding the humanist world view could not tolerate Dr. Koop's voice to be heard—they could not tolerate his articulate defense of the sanctity of human life to be expressed
—
Another example from today:
After Tracking Trump 'Falsehoods,' Washington Post Says It Won't Do the Same for Biden
Tony Perkins  / @tperkins / January 22, 2021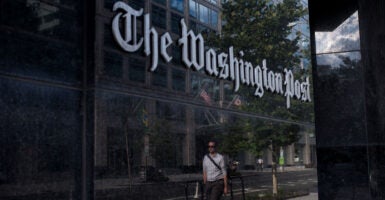 The Washington Post, which went to extraordinary lengths to track former President Donald Trump's veracity, is seemingly set to give his successor a pass. (Photo: Brendan Smialowski/Agence France-Presse/Getty Images)
COMMENTARY BY
Tony Perkins is president of the Family Research Council.
The Washington Post will have a lot more time on its hands now that President Joe Biden has been sworn in. According to the paper's spokesperson, it can call off its whole fact-checking operation.
Apparently, it's not necessary now that its preferred party is in office.
The Daily Caller's Shelby Talcott reached out to the Post after it published its final tally of "lies or misleading statements by Donald Trump." The newspaper's alleged total: 30,573. (Of course, considering the media's inability to trade in facts themselves, no one will ever know how many of those Pinocchios are real.)
Now, regardless of Biden's own issues with the truth, the Post says it has "no plans" to keep a Biden database of falsehoods "at this time."
"The database of Trump claims was started a month after Trump became president as a way not to overwhelm our fact-checking enterprise," the Post spokesperson said. Don't worry, the paper insisted, we'll still try to keep track of both parties' statements.
But Biden, Talcott pointed out, has plenty of baggage when it comes to untruths. She pointed to a list of public embarrassments, dating as far back as 1987 when C-SPAN found footage of him lying about his graduating rank in law school. It was such a scandal that Biden had to drop out of the presidential race.
Then there were the stories that no one would confirm about Biden being arrested in South Africa when he said he was trying to visit Nelson Mandela in prison. The Washington Post's own fact-checkers looked at that claim last year and called it "ridiculous."
Before that, the Post had called him out for an account he shared about his trip to Afghanistan. "In the space of three minutes, Biden got the time period, the location, the heroic act, the type of medal, the military branch and the rank of the recipient wrong, as well as his own role in the ceremony," the Post insisted.
Now, when the stakes are highest, Biden gets a free pass?
Does The Washington Post suddenly believe that facts are partisan? Ironically, this news about the fact-checkers broke on the same day as a new poll, showing that record numbers of Americans think the press is intentionally trying to deceive us.
If you were one of the only people on earth still giving the media the benefit of the doubt, this should make it clear: The press has an agenda—and protecting Democratic leaders is part of it.
The Daily Signal publishes a variety of perspectives. Nothing written here is to be construed as representing the views of The Heritage Foundation.
Have an opinion about this article? To sound off, please email letters@DailySignal.com and we will consider publishing your remarks in our regular "We Hear You" feature.
John MacArthur gave a sermon in June of 2021 entitled "When Government Rewards Evil and Punishes Good" and in that sermon he makes the following points:
INTRODUCTION AND DISCUSSION OF ROMANS 13
GOVERNMENT CAN FORFEIT ITS AUTHORITY
THE WORLD IS THE ENEMY OF THE GOSPEL
ALL OF HUMAN HISTORY IS PROGRESSING TOWARD A GLOBAL KINGDOM UNDER THE POWER OF SATAN
ONE FALSE WORLD RELIGION IS FINAL PLAY BY SATAN
REAL PERSECUTION CAN ONLY BE DONE BY GOVERNMENT
PERSECUTION IN BOOK OF DANIEL
THE LAW IS KING AND NOT THE GOVERNOR OF CALIFORNIA
GOVERNMENT HAS BECOME PURVEYOR OF WICKEDNESS
THERE IS A PLACE FOR CIVIL DISOBEDIENCE
DOES GOVERNMENT WIN?
Let me just share a portion of that sermon with you and you can watch it on You Tube:
DOES GOVERNMENT WIN?
Satan persecutes the church through governments. But the Son of God has come to destroy the devil, to render him powerless, to overthrow Satan's final kingdom of darkness. In conclusion, Romans 8:31, "If God be for us, who is against us?" Let's pray.
Father, we are so grateful for the confidence that we have, borne to our souls from Your precious truth: Your Word. Thank You for these dear people. Thank You for their faithfulness, for their love for You, for the love wrought in their hearts, by You and thus for You. Thank You for the joy of fellowship. Give us such joy, as we understand that what's coming is all going to be for Your glory.
Everything in history is unfolding in the plan that You have designed. Your purposes cannot be thwarted. You will triumph. Christ will come. He will destroy His enemies. He will destroy all kings and all rulers, and reign alone in His glorious kingdom, of which we who love Him will be a part. We long for that day. Until then may we celebrate with joy and thanksgiving that we even now are citizens of that kingdom; and we who know Him and love Him will reign with Him. We thank You for that promise.
May we never become discouraged by what's happening in the world. May we understand that it's exactly what Scripture says we would expect. Help us not to get caught up in the politics of these things, but rather to see them through the lens of Holy Scripture.
We know that the devil has a plan, but so do You; and You will triumph. You are triumphing even now at Grace Church, and we are basking in a preview of Your final triumph. We thank You for that sweet gift of grace. Bring to Yourself any with us today who don't know Christ. Draw that soul into Your kingdom. For Your glory we pray. Amen.
Related posts:
By Everette Hatcher III | Posted in Francis Schaeffer | Edit | Comments (0)