—
Dr. Francis schaeffer – The flow of Materialism(from Part 4 of Whatever happened to human race? Co-authored by Francis Schaeffer and Dr. C. Everett Koop)

Whatever Happened To The Human Race? | Episode 1 | Abortion of the Human Race (2010)
John MacArthur on where we are today in USA
Whatever Happened To The Human Race? | Episode 2 | Slaughter of the Innocents (2010)
Edith Schaeffer with her husband, Francis Schaeffer, in 1970 in Switzerland, where they founded L'Abri, a Christian commune.
September 2, 2021
President Biden  c/o The White House 1600 Pennsylvania Avenue NW Washington, DC 20500
Dear Mr. President,
I really do respect you for trying to get a pulse on what is going on out here. I know that you don't agree with my pro-life views but I wanted to challenge you as a fellow Christian to re-examine your pro-choice view.
In the past I have spent most of my time looking at this issue from the spiritual side. In the film series "WHATEVER HAPPENED TO THE HUMAN RACE?" the arguments are presented  against abortion (Episode 1),  infanticide (Episode 2),   euthanasia (Episode 3), and then there is a discussion of the Christian versus Humanist worldview concerning the issue of "the basis for human dignity" in Episode 4 and then in the last episode a close look at the truth claims of the Bible.
__________________________
I truly believe that many of the problems we have today in the USA are due to the advancement of humanism in the last few decades in our society. Ronald Reagan appointed the evangelical Dr. C. Everett Koop to the position of Surgeon General in his administration. He partnered with Dr. Francis Schaeffer in making the video WHATEVER HAPPENED TO THE HUMAN RACE? which can be found on You Tube. It is very valuable information for Christians to have.
Today I want to respond to your letter to me on July 9, 2021. Here it is below:
THE WHITE HOUSE
WASHINGTON
July 9, 2021
Mr. Everette Hatcher III
Alexander, AR
Dear Mr. Hatcher,
Thank you for taking your time to share your thoughts on abortion. Hearing from passionate individuals like me inspires me every day, and I welcome the opportunity to respond to your letter
Our country faces many challenges, and the road we will travel together will be one of the most difficult in our history. Despite these tough times, I have never been more optimistic for the future of America. I believe we are better positioned than any country in the world to lead in the 21st century not just by the example of our power but by the power of our example.
As we move forward to address the complex issues of our time, I encourage you to remain an active participant in helping write the next great chapter of the American story. We need your courage and dedication at this critical time, and we must meet this moment together as the United States of America. If we do that, I believe that our best days still lie ahead.
Sincerely
Joe Biden
___________________
I appreciate your words below and hope you do have an open mind:
Hearing from passionate individuals like me inspires me every day, and I welcome the opportunity to respond to your letter.
I wanted to reach out to you because of some of the troubling moral issues coming out of your administration. Let me give you an example below: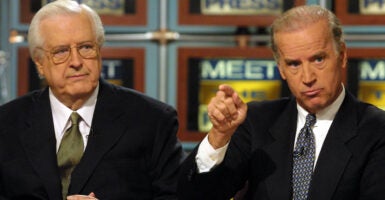 President Joe Biden has called for the elimination of the Hyde Amendment, named for its sponsor, then-Rep. Henry Hyde, R-Ill. Since 1976, the measure has barred federal funding of most abortions, and Biden supported it during his six terms in the Senate. Pictured: Hyde (left) and then-Sen. Joe Biden, D-Del., appear together as guests Sept. 30, 2001, on NBC's "Meet the Press." (Photo: Alex Wong/ Getty Images)
John MacArthur gave a sermon in June of 2021 entitled "When Government Rewards Evil and Punishes Good" and in that sermon he makes the following points:
INTRODUCTION AND DISCUSSION OF ROMANS 13
GOVERNMENT CAN FORFEIT ITS AUTHORITY
THE WORLD IS THE ENEMY OF THE GOSPEL
ALL OF HUMAN HISTORY IS PROGRESSING TOWARD A GLOBAL KINGDOM UNDER THE POWER OF SATAN
ONE FALSE WORLD RELIGION IS FINAL PLAY BY SATAN
REAL PERSECUTION CAN ONLY BE DONE BY GOVERNMENT
PERSECUTION IN BOOK OF DANIEL
THE LAW IS KING AND NOT THE GOVERNOR OF CALIFORNIA
GOVERNMENT HAS BECOME PURVEYOR OF WICKEDNESS
THERE IS A PLACE FOR CIVIL DISOBEDIENCE
DOES GOVERNMENT WIN?
Let me just share a portion of that sermon with you and you can watch it on You Tube:
INTRODUCTION AND DISCUSSION OF ROMANS 13
I have obviously tried to address, through the last year and a half almost, the issues that confront us in the country that we live in, in the world that we live in, in the times that we live in. But I thought there is one final message that I would like to lay upon you, and that's what's come together this morning. It has many components and many parts, and it may test your attention span a little bit.
When we first decided to meet as a church—it's been a year now—and to do that without regard to what the government was telling us to do, there was a lot of criticism. That criticism came from evangelical leaders, pastors, bloggers, writers, friends, foes—just about everywhere. But we were not dissuaded in any sense from doing what we did. And the Lord has demonstrated to us that we were lied to. And I think whatever the issues are in the world, the church is the only hope of the world.
Now I want to see if I can't, from the Word of God, pull together some things that will help you to understand why this is our position. And I want this because I think in the future, for those who are younger than I am—maybe I'll live to see some of it—this resolve to be the church when the government wants to shut you down is going to be tested again, and it's going to be tested at a much more aggressive level. There were many churches that failed this test, and there will be many who will fail the next one. But the true church follows Christ, not the government. Our President's said in the last month that the greatest threat to America—he said on one occasion—is systemic racism, which doesn't exist; he said white supremacy, which doesn't exist with any power; and then he said global warming, which doesn't exist either, and if it does, God's in charge of it.
—
In reality the greatest threat to this nation is the government, the government. And I want to show you how we are to understand that. Turn to Romans 13, Romans 13. Listen carefully to what the apostle Paul said: "Every person is to be in subjection to the governing authorities. For there is no authority except from God, and those which exist are established by God. Therefore whoever resists authority has opposed the ordinance of God; and they who have opposed will receive condemnation upon themselves. For rulers are not a cause of fear for good behavior, but for evil. Do you want to have no fear of authority? Do what is good and you will have praise from the same; for it is a minister of God to you for good. But if you do what is evil, be afraid; for it doesn't bear the sword for nothing; for it is a minister of God, an avenger who brings wrath on the one who practices evil." The role of the government is to restrain evil; and when it functions to restrain evil, it is fulfilling its God-ordained purpose.
Please notice in verses 1 and 2 that government is from God, by God, of God. It is designed as a necessary restraint in a world of sinners. Verses 3 and 4 tell us it is not a threat to those whose behavior is good, but evil. It is those who do evil who should be afraid, not those who do good. In fact it offers praise to those who do good, and brings wrath on those who do evil. And rulers actually, according to verse 6, are servants of God, devoted to that service.
This is God's design for government. The problem is, when government ceases to function by God's design, it yields up its authority. The same would be true in a family. God's design is that the father lead the family. When the father leads in a destructive and evil way, he yields up the right to exercise that God-given authority.
And by the way just as a footnote, the man who wrote that, the apostle Paul, was in violation of the government more often than any other person in the entire New Testament. And when he went to preach the gospel, he was very often thrown in jail; and ultimately he was executed by the government that he refused to obey when it no longer functioned to protect good behavior and punish evil behavior.
—
 davidsschrock7 months ago
Do not be overcome with evil, but overcome evil with good.
— Romans 12:21 —
Yesterday, I preached a message on Romans 13 and what Paul has to say about God and Government. You can listen to that sermon here. In preparation for that sermon I found help from many sources, but especially from Thomas Schreiner's commentary on Romans; Francis Schaeffer's insights in A Christian Manifesto; and Glenn Sunshine, Slaying Leviathan: Limited Government and Resistance in the Christian Tradition.
Francis Schaeffer on "The Limits of Civil Obedience"
Last, in A Christian Manifesto(1981), Francis Schaeffer writes the following about Romans 13 and the limits of civil obedience.
The civil government, as all of life, stands under the Law of God. In this fallen world God has given us certain offices to protect us from the chaos which is the natural result of that fallenness. But when any office commands that which is contrary to the Word of God, those who hold that office abrogate their authority and they are not to be obeyed. And that includes the state.
Schaeffer cites Romans 13:1–4 and continues,
God has ordained the state as delegated authority; it is not autonomous. The state is to be an agent of justice by punishing the wrongdoer, and to protect the good in society. When it does the reverse, it has no proper authority. It is then a usurped authority and as such it becomes lawless and is tyranny.
In 1 Peter 2:13-17 we read:
Submit yourselves for the Lord's sake to every authority instituted among men: whether to the king, as the supreme authority, or to governors, who are sent by him to punish those who do wrong and to commend those who do right. For it is God's will that by doing good you should silence the ignorant talk of foolish men. Live as free men, but do not use your freedom as a cover-up for evil; live as servants of God. Show proper respect to everyone: Love the brotherhood of believers, fear God, honor the king.
Peter says here that civil authority is to be honored and that God is to be feared. The state, as he defines it, is to punish those who do wrong and commend those who do right. If this is not so, then the whole structure falls apart. Clearly, the state is to be a ministry of justice. This is the legitimate function of the state, and in this structure Christians are to obey the state as a matter of "'conscience" (Romans 13:5).
But what is to be done when the state does that which violates its legitimate function? The early Christians died because they would not obey the state in a civil matter. People often say to us that the early church did not show any civil disobedience. They do not know church history. Why were the Christians in the Roman Empire thrown to the lions? From the Christian's viewpoint it was for a religious reason. But from the viewpoint of the Roman State they were in civil disobedience, they were civil rebels.
The Roman State did not care what anybody believed religiously; you could believe anything, or you could be an atheist. But you had to worship Caesar as a sign of your loyalty to the state. The Christians said they would not worship Caesar, anybody, or anything, but the living God. Thus to the Roman Empire they were rebels, and it was civil disobedience. That is why they were thrown to the lions. . . .
The bottom line is that at a certain point there is not only the right, but the duty, to disobey the state. (A Christian Manifesto, in The Complete Works of Francis Schaeffer, 5:468–69)
Proving this point from Church history (pp. 469–73), Schaeffer lists examples of Christian resistance from the Reformation in countries like the Netherlands, Sweden, Denmark, Germany, Switzerland, Geneva, Scotland, Hungary, France, Spain, and Scotland again. Focusing his attention on Samuel Rutherford, and his work of Protestant political resistance, Lex, Rex (trans. The Law and the Prince), Schaeffer concludes with Rutherford's reading of Romans 13. He writes,
Romans 13 indicates that all power is from God and that government is ordained and instituted by God. The state, however, is to be administered according to the principles of God's Law. Acts of the state which contradicted God's Law were illegitimate and acts of tyranny. Tyranny was defined as ruling without the sanction of God. (473–74)
Moving from this definition of tyranny, Schaeffer explains how, according to Rutherford, "tyrannical government is always immortal," and thus Christians must always be on guard. Summarizing Rutherford, Schaeffer gives incisive instruction for what Romans 13 means in the context of wicked rulers.
First, since tyranny is satanic, not to resist it is to resist God—to resist tyranny is to honor God. Second, since the ruler is granted power conditionally, it follows that the people have the power to withdraw their sanction if the proper conditions are not fulfilled. The civil magistrate is a "fiduciary figure'"—that is, he holds his authority in trust for the people. Violation of the trust gives the people a legitimate base for resistance.
It follows from Rutherford's thesis that citizens have a moral obligation to resist unjust and tyrannical government. While we must always be subject to the office of the magistrate, we are not to be subject to the man in that office who commands that which is contrary to the Bible. . . . A ruler, he wrote, should not be deposed merely because he commits a single breach of the compact he has with the people. Only when the magistrate acts in such a way that the governing structure of the country is being destroyed—that is, when he is attacking the fundamental structure of society—is he to be relieved of his power and authority. (474, emphasis mine)
This is a crucial distinction and one that we will consider as we conclude this blogpost.
—-
Over and over on my blog I have written about your efforts as Vice President and President to attack legally the rights of our unborn babies in the USA. These views of yours are due to your allegiance to the humanist worldview which Francis Schaeffer and Tim LaHaye exposed in their books. Your vast support from humanist groups in the 2020 election proves my point. No wonder we have seen criminals let go and an effort by Democrats (namely VP Harris) to defund the police. The Bible recognizes the sinful nature of humans and calls for the authorities to have the power of the sword in Romans 13! However, there have been times when the IRS has been used against freedom of expression such as the past persecution of the Tea Party. The Founding Fathers did NOT think the King was above the law! Unfortunately many lawmakers today don't care about the law very much it seems which is a result of loss of a Christian Consensus influence in our society!
——
Thank you so much for your time. I know how valuable it is. I also appreciate the fine family that you have and your commitment as a father and a husband. I also respect you for putting your faith in Christ for your eternal life. I am pleading to you on the basis of the Bible to please review your religious views concerning abortion. It was the Bible that caused the abolition movement of the 1800's and it also was the basis for Martin Luther King's movement for civil rights and it also is the basis for recognizing the unborn children. I wanted to encourage you to investigate the work of Dr. Bernard Nathanson who like you used to be pro-abortion. I also want you to watch the You Tube series WHATEVER HAPPENED TO THE HUMAN RACE? by Francis Schaeffer and Dr. C. Everett Koop. Also it makes me wonder what our the moral climate Of our nation is when we concentrate more on potential mistakes of the police and we let criminals back on the street so fast! Our national was founded of LEX REX and not REX LEX!
Related posts:
By Everette Hatcher III | Posted in Francis Schaeffer | Edit | Comments (0)