—-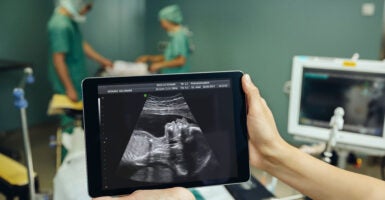 The Republican and Democratic nominees for president couldn't differ more in their approach to the issue of abortion.
Depending on which candidate emerges victorious, in the weeks to come, the landscape of abortion policy in the United States will look dramatically different.
President Donald Trump has committed to pursuing policies that protect unborn human life. In contrast, former Vice President Joe Biden has committed to protecting and expanding access to abortion.
Their differences are apparent in a number of key areas:
When the elections end, the work begins.Learn what the election results mean for the future of America now >>
The Supreme Court
Trump—both as a candidate and as president—has shared the types of individuals he would appoint to the Supreme Court.
The president has stated that jurists in the vein of the late Justice Antonin Scalia, an originalist and a textualist, who was unwilling to legislate from the bench, represent the kind of constitutional principles he values.
Biden has said that he wouldn't release a list of potential nominees for the high court. However, he has pledged to appoint judges who would precommit to upholding Roe v. Wade, which legalized abortion on demand nationwide in 1973.
Furthermore, Biden has gone on record stating that he would support congressional action to codify Roe into permanent law.
Taxpayer funding
Trump opposes taxpayer-funded abortion, and he supports the Hyde Amendment, which has long prohibited the use of certain federal funds for most abortions. As president, he has enacted regulations to strengthen pro-life protections in domestic programs, such as the federal Title Xfamily planning program and the Affordable Care Act.
Biden expressed in 2019 that he no longer supports the Hyde Amendment, though he had previously supported the policy throughout his time in public office. Biden has committed to rescind many of the Trump administration's anti-abortion regulations that were promulgated in recent years.
International abortion activity
As president, Trump has enacted reforms, such as the Protecting Life in Global Health Assistance policy (an expanded form of the Mexico City Policy), which disentangles foreign-aid dollars from international abortion activity.
Under his administration, the United States has reaffirmed that there is no international right to abortion, nor an obligation on any state to pay for or facilitate abortions.
Biden has committed to rescinding the Protecting Life in Global Health Assistance policy, which would result in U.S. taxpayer dollars being entangled with nongovernmental organizations that perform or promote abortion overseas. The PLGHA policy applied to an estimated $7.3 billion in State Department, U.S. Agency for International Development, and Defense Department funds in fiscal year 2020.
Conscience rights, religious freedom
Trump has enacted a number of policies that protect freedom of conscience and religious freedom, including moral and religious exemptions to the Affordable Care Act's mandate that nearly all health care plans must cover contraception and abortion-inducing drugs and devices.
His administration also created a Conscience and Religious Freedom Division within the Department of Health and Human Services, which is responsible for enforcing a plethora of federal conscience statutes, and which issued a regulation that protects individuals and health care providers from discrimination or coercion in Health and Human Services-funded programs.
Biden has criticized the fact that the Supreme Court has not struck down the administration's regulation providing relief from the Affordable Care Act's contraception mandate. He has also committed to reversing the exemptions from the mandate.
Late-term abortion
Trump has urged Congress to pass the Pain-Capable Unborn Child Protection Act, which would protect women and their unborn children from abortions performed after 20 weeks, at which point scientific evidence suggests that the baby is capable of feeling pain during an abortion procedure.
The president has also urged Congress to pass the Born Alive Abortion Survivors Protection Act, which would augment current law by including criminal consequences for health care providers who do not provide proper medical care to an infant born alive after an abortion attempt.
In October, Trump signed an executive order to protect vulnerable newborn and infant children, including infants who survive an abortion, are born extremely prematurely, or infants who are disabled by ensuring that entities that receive certain federal funds fully comply with current obligations under federal law.
Biden says that he wants Roe v. Wade to be codified into federal law. Under the abortion scheme that is in place due to Roe v. Wade and its companion case Doe v. Bolton—as well as Planned Parenthood v. Casey, which further reshaped abortion jurisprudence—abortion is permitted in the United States throughout pregnancy for almost any reason.
Codifying Roe would foreclose opportunities by states  and the federal government to enact policies that restrict abortion or enforce various health and safety standards for abortion providers.
The Contrast is Clear
Abortion remains a perennial point of contention in public policy, the courts, and culture more broadly. The difference between the presidential candidates on the issue of abortion is stark.
Trump has committed to pursue policies that protect unborn life, whereas Biden has expressed his intention to expand pro-choice policies.
The dissimilarity in each candidates' approach to abortion is a clarifying contrast for voters as they elect a leader for the next four years.
Open letter to President Obama (Part 609)
(Emailed to White House on 6-5-13.)
President Obama c/o The White House 1600 Pennsylvania Avenue NW Washington, DC 20500
Dear Mr. President,
I know that you receive 20,000 letters a day and that you actually read 10 of them every day. I really do respect you for trying to get a pulse on what is going on out here. I know that you don't agree with my pro-life views but I wanted to challenge you as a fellow Christian to re-examine your pro-choice view. Although we are both Christians and have the Bible as the basis for our moral views, I did want you to take a close look at the views of the pro-life atheist Nat Hentoff too.  Hentoff became convinced of the pro-life view because of secular evidence that shows that the unborn child is human. I would ask you to consider his evidence and then of course reverse your views on abortion.
___________________
Many in the world today are taking a long look at the abortion industry because of the May 14, 2013 guilty verdict and life term penalty handed down by a jury (which included 9 out of 12 pro-choice jurors)  to Dr. Kermit Gosnell. During this time of reflection I wanted to put forth some of the pro-life's best arguments.
Nat Hentoff is an atheist, but he became a pro-life activist because of the scientific evidence that shows that the unborn child is a distinct and separate human being and even has a separate DNA. His perspective is a very intriguing one that I thought you would be interested in. I have shared before many   cases (Bernard Nathanson, Donald Trump, Paul Greenberg, Kathy Ireland)    when other high profile pro-choice leaders have changed their views and this is just another case like those. I have contacted the White House over and over concerning this issue and have even received responses. I am hopeful that people will stop and look even in a secular way (if they are not believers) at this abortion debate and see that the unborn child is deserving of our protection.That is why the writings of Nat Hentoff of the Cato Institute are so crucial.
In the film series "WHATEVER HAPPENED TO THE HUMAN RACE?" the arguments are presented  against abortion (Episode 1),  infanticide (Episode 2),   euthanasia (Episode 3), and then there is a discussion of the Christian versus Humanist worldview concerning the issue of "the basis for human dignity" in Episode 4 and then in the last episode a close look at the truth claims of the Bible.
__________________________
I truly believe that many of the problems we have today in the USA are due to the advancement of humanism in the last few decades in our society. Ronald Reagan appointed the evangelical Dr. C. Everett Koop to the position of Surgeon General in his administration. He partnered with Dr. Francis Schaeffer in making the video below. It is very valuable information for Christians to have.  Actually I have included a video below that includes comments from him on this subject.
Francis Schaeffer Whatever Happened to the Human Race (Episode 1) ABORTION
_____________________________________
Francis Schaeffer "BASIS FOR HUMAN DIGNITY" Whatever…HTTHR
Dr. Francis schaeffer – The flow of Materialism(from Part 4 of Whatever happened to human race?)

Dr. Francis Schaeffer – The Biblical flow of Truth & History (intro)
Francis Schaeffer – The Biblical Flow of History & Truth (1)
Dr. Francis Schaeffer – The Biblical Flow of Truth & History (part 2)
__________
Related posts:
By Everette Hatcher III | Posted in Francis Schaeffer | Edit | Comments (0)