—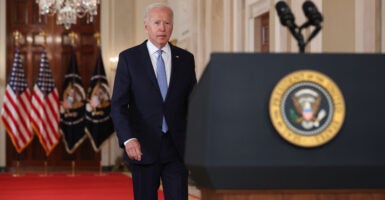 Throughout the withdrawal of U.S. troops from Afghanistan, which began in mid-August and wrapped up just before midnight Tuesday in that nation's capital, President Joe Biden made many comments that later proved to be inaccurate.
After 20 years in Afghanistan, the last U.S. military personnel departed, leaving the Taliban to take over completely following Biden's Aug. 31 deadline.
The Taliban is a political and military organization of Islamist extremists that gave shelter to Osama bin Laden and the al-Qaeda terrorist network as they planned the Sept. 11, 2001, terrorist attacks on America.
The Taliban still has links to other terrorist groups, including al-Qaeda and the Haqqani network. However, the Taliban is opposed to ISIS-K, or ISIS-Khorasan, which claimed credit for the terrorist attack Thursday outside the Kabul airport that killed 13 U.S. service members.
Here are nine of the key points on Afghanistan made by the president that turned out to be inaccurate.
1. Trump 'Made a Deal' With Taliban
Biden repeatedly said that he was bound by the February 2020 agreement between the Trump administration and the Taliban that the U.S. would exit Afghanistan. Many Republicans are among those who criticized the Trump deal with the Taliban.
Biden said again Tuesday that when he came into office, the Taliban was in the strongest position it had been in since 2001 because of a deal with the Trump administration specifying that the U.S. would pull out by May 1.
"The previous administration's agreement said that if we stuck to the May 1 deadline that we had signed on to leave by, the Taliban wouldn't attack any American forces, but if we stay, all bets were off," Biden said during his national address from the State Dining Room of the White House, adding:
So, we were left with a simple decision, either follow through the commitment made by the last administration and leave Afghanistan or say we weren't leaving and commit another tens of thousands more troops going back to war. That was the choice, the real choice.
During his brief press conference last Thursday after the terrorist attack at the Kabul airport, Biden, responding to Fox News reporter Peter Doocy, said he bears responsibility.
But he also blamed his predecessor, Donald Trump.
"You know as well as I do that the former president made a deal with the Taliban that he would get all of the American forces out of Afghanistan by May 1," Biden said. "In return … he was given a commitment that the Taliban would continue to attack others, but would not attack any American forces. Remember that?"
Biden has said before that the Trump agreement bound him, with no choice either than to exit or to send in thousands of troops for a new round of combat.
"There was only the cold reality of either following through on the agreement to withdraw our forces or escalating the conflict and sending thousands more American troops back into combat in Afghanistan, lurching into the third decade of conflict," the president said.
However, in an ABC News interview Aug. 18, Biden suggested that it didn't matter what Trump had done.
ABC anchor George Stephanopoulos asked Biden: "So would you have withdrawn troops like this even if President Trump had not made that deal with the Taliban?"
Biden responded that he wanted out of Afghanistan.
"I would've tried to figure out how to withdraw those troops, yes, because look, George: There is no good time to leave Afghanistan. Fifteen years ago would've been a problem, 15 years from now. The basic choice is, am I going to send your sons and your daughters to war in Afghanistan in perpetuity?"
During his remarks Tuesday, Biden said his entire national security team was unanimous on how to pull out:
The decision to end the military lift operations at Kabul airport was based on a unanimous recommendation of my civilian and military advisers, the secretary of state, the secretary of defense, the chairman of the Joint Chiefs of Staff and all the service chiefs, and the commanders in the field. Their recommendation was that the safest way to secure the passage of the remaining Americans and others out of the country was not to continue 6,000 troops on the ground in harm's way in Kabul, but rather to get them out through nonmilitary means.
However, The New York Times reported that Biden's own military leadership, including Defense Secretary Lloyd Austin and Gen. Mark A. Milley, chairman of the Joint Chiefs of Staff, advised him that keeping a force of 3,000 to 4,500 troops—along with drones and close air support—could allow Afghan security forces to continue holding off the Taliban.
In the four-page deal that the Trump administration signed with the Taliban in February 2020, the United States agreed to withdraw all troops by May 1, 2021, and to lift sanctions. In return, the Taliban committed not to attack departing American troops or let terrorist groups use Afghanistan as a base to attack the U.S.
The Afghanistan Study Group, a bipartisan, congressionally chartered panel led by a former Joint Chiefs chairman, retired Marine Gen. Joseph F. Dunford, issued a final report this past February that suggested extending the May 1 exit and seeking better conditions before pulling out.
In 2014, the Obama-Biden administration had opted to declare the combat mission over as the U.S. military worked to train the Afghan army and played a counterterrorism role.
During the Trump administration, the U.S.-backed Afghan government "controlled most of the country's territory," James Carafano, vice president for foreign and defense policy studies at The Heritage Foundation, wrote in August.
The United States was spending less per year in Afghanistan than it previously spent in a week during peak combat periods, Carafano wrote, adding:
Trump was negotiating with the Taliban, but there was nothing wrong with that. The negotiations were conditions-based, and Trump made clear the Taliban would be held accountable for its actions.

Moreover, Trump's team made sure that if, in the end, the Taliban proved untrustworthy, the remaining U.S. force had been sized and scoped to present a serious deterrent to the Taliban and be sufficient to protect U.S. interests.
2. 'More Quickly Than We Had Anticipated'
The U.S. government didn't see the chaos coming, Biden has said.
"The truth is: This did unfold more quickly than we had anticipated," Biden said Aug. 16.
Pressed during the ABC News interview on why his administration didn't have a more deliberate and strategic plan for the exit, even if the withdrawal was inevitable, Biden responded that the Taliban's rapid pace of advance was unexpected.
Taliban control of Afghanistan was expected to be more likely by the end of the year, the president said.
No. 1, as you know, the intelligence community did not say back in June or July that, in fact, this was going to collapse like it did. No. 1," Biden told Stephanopoulos in the ABC News interview.
Stephanopoulos then asked: "They thought the Taliban would take over, but not this quickly?"
Biden affirmed: "But not this quickly. Not even close."
Various news accounts, however, suggest that this isn't true.
U.S. intelligence agencies reportedly warned as early as April that the Taliban would take over Afghanistan quickly.
An urgent "confidential dissent channel" signed by 23 officials of the U.S. Embassy in Kabul warned July 13 that Afghanistan would fall quickly to the Taliban if the Biden administration  followed through with the Aug. 31 troop withdrawal, The Wall Street Journal first reported.
The Journal separately reported that Biden's top generals and diplomats all warned him of potential perils of the withdrawal, including that it could lead to a Taliban takeover and to attacks on American soldiers and diplomats.
House Intelligence Committee Chairman Adam Schiff, D-Calif., normally no critic of Biden, saidAug. 24 that this was not an intelligence failure but a military planning failure.
3. '90% of Americans … Able to Leave'
Since March, Biden said in his address to the nation Tuesday afternoon, his administration had reached out 19 times to Americans in Afghanistan to warn them to leave the country.
"Our Operation Allied Rescue ended up getting more than 5,500 Americans out," Biden said.
He added: "Now we believe about 100 to 200 Americans remain in Afghanistan with some intention to leave."
Biden noted that the administration also evacuated U.S. Embassy staff and their families, totaling about 2,500, along with thousands of Afghan translators, interpreters, and others who assisted the United States.
Biden said most Americans still in Afghanistan are dual citizens who at one point wanted to stay.
"The bottom line is 90% of Americans in Afghanistan who wanted to leave were able to leave," Biden said. "For those remaining Americans, there is no deadline. We remain committed to getting them out if they want to come out."
During the ABC News interview Aug. 18, Stephanopoulos asked Biden: "Are you committed to making sure that the troops stay until every American who wants to be out is out?"
Biden answered: "Yes, yes."
He later added: "If there are American citizens left, we're going to stay until we get them all out."
In a press conference Aug. 20 at the White House, Biden said: "Let me be clear. Any American who wants to come home, we will get you home."
However, he added: "I cannot promise what the final outcome will be."
As of the completed evacuation Monday, Marine Gen. Kenneth McKenzie, head of U.S. Central Command, said that 6,000 Americans were flown out.
However, it has been widely reported that 10,000 to 15,000 Americans remained in the country as of mid-August, according to The Washington Post. A later analysis by the Post determined that the 15,000 number was "very rough," and that 6,000 was more likely.
Secretary of State Antony Blinken said the State Department would work to identify any remaining Americans who want to return home.
During the evacuation, Biden asserted that Americans were not having trouble leaving Afghanistan.
"We know of no circumstance where American citizens are—carrying an American passport—are trying to get through to the airport," Biden said. He added: "We've made an agreement with the Taliban. Thus far, they've allowed them to go through."
However, Pentagon officials said the Taliban was stopping Americans from entering the Kabul airport.
According to a Reuters report, American citizens at one point had to be loaded onto three Chinook helicopters at the Baron Hotel, located near the airport, since they were unable to reach the airport gates.
During the evacuation, the U.S. Embassy in Kabul issued an alert stating: "The U.S. government cannot ensure safe passage to the airport due to large crowds and security concerns, gates may open or close without notice. Please use your best judgment and attempt to enter the airport at any gate that is open."
One American in Afghanistan, David Fox, told ABC News that he and his wife and son were trapped in Kabul because they couldn't get past the gates at the airport. Fox said that Marines told him it wasn't safe.
4. 'Afghan Forces Not Willing to Fight'
During his address to the nation Tuesday afternoon, Biden repeated that Afghanistan's military and political leaders folded.
"We were ready when the Afghan security forces, after two decades of fighting for their country and losing thousands of their own, did not hold on as long as anyone expected," Biden said. "We were ready when they, when the people of Afghanistan, watched their own government collapse and their own president flee amidst the corruption and malfeasance, handing over the country to their enemy, the Taliban."
As he has before, the president asserted that the U.S.-trained Afghan army wouldn't stand and fight against the Taliban.
"American troops cannot and should not be fighting in a war and dying in a war that Afghan forces are not willing to fight for themselves," Biden said Aug. 16. He added: "We gave them every chance to determine their own future. What we could not provide them was the will to fight for that future. … It is wrong to order American troops to step up when Afghanistan's own armed forces would not."
However, since the fighting began, about 69,000 soldiers of the Afghan army have been killed, the BBC reported. The Afghan army stopped combat operations after the U.S. military pulled away air and logistics support in withdrawing 18,000 security contractors, The New York Times reported.
Military leaders reportedly advised Biden that keeping 2,500 U.S. troops would sustain the Afghan army.
"Afghanistan's political leaders gave up and fled the country," Biden said Aug. 16.
The president's reference apparently was directed primarily at Afghan President Ashraf Ghani, a former U.S. academic in office since September 2014, who left the country before the Taliban entered the capital of Kabul.
However, as BBC reported, other Afghan political leaders stayed and made public statements. Former Afghan President Hamid Karzai, appearing in a video with family members, asked Afghan government forces and the Taliban to protect civilians.
Former Afghanistan Vice President Amrullah Saleh also remained, as did political leaders such as Ahmad Shah Massoud Jr., son of former anti-Soviet military leader and politician Ahmad Shah Massoud, who was assassinated two days before the 9/11 attacks.
The BBC also reported that Massoud and other political leaders are forming an anti-Taliban resistance coalition.
The British Parliament's Foreign Affairs Committee chairman, Tom Tugendhat, himself a former British army officer in Afghanistan who fought with Afghan soldiers, criticized Biden's dismissive view of the Afghan army.
"To see their commander in chief call into question the courage of men I fought with, to claim that they ran, is shameful," Tugendhat said. "Those who have not fought for the colors they fly should be careful about criticizing those who have."
5. 'No Question of Our Credibility'
During an Aug. 20 press conference, Biden said: "I have seen no question of our credibility from our allies around the world. Matter of fact, the exact opposite I've got."
But leaders from one of the most reliable U.S. allies have been outspoken.
"When the United States decides emphatically to withdraw in a way that they have, clearly we're going to have to manage the consequences," British Prime Minister Boris Johnson said.
Johnson's was among the more diplomatic points as most of the related criticism has come from Britain.
Former British Prime Minister Theresa May asked what the hasty withdrawal does to America's reputation on the world stage.
"What does it say about NATO if we are entirely dependent on a unilateral decision taken by the United States?" May asked, adding: "Did we feel we just had to follow the United States and hope that on a wing and a prayer it'd be all right on the night?"
In a mocking reference to a Biden slogan after becoming president, British Parliament Defense Committee Chairman Tobias Ellwood asked: "Whatever happened to 'America is back'?"
The criticism spread in other parts of Europe.
Josep Borrell, vice president of the European Commission, called the situation in Afghanistan a "catastrophe" during a virtual session of the European Parliament Committee on Foreign Affairs.
Borrell reportedly warned Blinken beforehand that pulling U.S. troops out of Afghanistan at this stage risked putting the Taliban in charge, posing a direct threat to European security.
In Germany, Armin Laschet—the top candidate to succeed Chancellor Angela Merkel—said: "This is the greatest debacle that NATO has seen since its foundation, and it is an epochal change that we are facing."
In June, Biden told allies that he would maintain enough of a security presence in Afghanistan to ensure that they could continue operating in Kabul, Bloomberg News reported.
6. 'Al-Qaeda Gone' 
Biden again said Tuesday that the original U.S. mission is finished, as he has in recent weeks.
"What interest do we have in Afghanistan at this point, with al-Qaeda gone?" Biden said Aug. 20.
But according to a United Nations Security Council report, al-Qaeda still has a base in at least 15 of 34 Afghan provinces, Reuters reported.
Defense Department spokesman John Kirby saidThursday that "we know that al-Qaeda is a presence—as well as ISIS—in Afghanistan, and we've talked about that for quite some time."
"What we believe," Kirby added, "is that there isn't a presence that is significant enough to merit a threat to our homeland as there was back on 9/11, 20 years ago."
7. 'Bagram Not Much Value Added'
Biden blamed his military advisers for the decision to abandon Bagram Airfield, a strategically located military base many times larger than the Kabul airport to the south.
"They concluded—the military—that Bagram was not much value added, that it was much wiser to focus on Kabul [airport] and so, I followed that recommendation," Biden told reporters Aug. 26.
However, a president generally determines the constraints under which the military draws up operational plans, The Wall Street Journal's editorial board noted.
Bagram, a large, fortified military base, is about 40 miles from the small, one-runway airport in Kabul. The U.S. exited the base overnight in early July without informing the Afghan military and U.S. allies.
Army Gen. Mark Milley, chairman of the Joint Chiefs of Staff, said Aug. 18 that securing Bagram took "a significant level of military effort." Milley added: "Our task given to us at that time, our task was to protect the embassy in order for the embassy personnel to continue to function."
The Associated Press, in a report on the U.S. abandonment of the air base, quoted an Afghan soldier as saying of the Americans: "They lost all the goodwill of 20 years by leaving the way they did, in the night, without telling the Afghan soldiers who were outside patrolling the area."
8. 'Lose Thousands of Americans'
In making the case for pulling out completely, Biden asked about Afghanistan during the ABC News interview: "Are we going to continue to lose thousands of Americans to injury and death to try to unite that country?"
The last U.S. combat death had been in February 2020, just ahead of the Trump-Taliban agreement. Although the reason for that lack of casualties may have been because the agreement was in place, the number of combat deaths still was shrinking.
A total of 94 U.S. military deaths occurred in Afghanistan from 2015 up to the point of the evacuation in August, BBC reported. That compares with 1,897 U.S. military killed in action over the duration of the war. Another 415 soldiers died in nonhostile circumstances before the U.S. withdrawal began.
A total of about 20,000 soldiers were wounded in Afghanistan since the U.S. and NATO allies invaded in October 2001.
The terrorist attack last week by ISIS-K added another 13 deaths among U.S. service members under fire.
9. Evolution on 'Nation Building'
Biden also tackled the concept of "nation building" in his remarks Tuesday afternoon at the White House.
"This decision about Afghanistan is not just about Afghanistan. It's about ending an era of major military operations to remake other countries," Biden said, adding:
Nation building, trying to create a democratic, cohesive, and united Afghanistan—something that has never been done over many centuries of Afghan's history. Moving on from that mindset and large-scale troop deployments will make us stronger and more effective and safer at home.
In previous remarks, Biden said: "Our mission in Afghanistan was never supposed to have been nation building."
The president said Aug. 16 that the U.S. goal in going into Afghanistan had "always been preventing a terrorist attack on [the] American homeland" and was "never supposed to be creating a unified, centralized democracy."
Although nation building and the mission in Afghanistan may be a legitimate policy debate that divides Democrats and Republicans, Biden's use of "always" doesn't line up with his comments soon after the 9/11 terrorist attacks on America, or his comments in early 2003.
"Our hope is that we will see a relatively stable government in Afghanistan, one that does not harbor terrorists, is acceptable to the major players in the region, represents the ethnic makeup of the country and provides the foundation for future reconstruction of that country," Sen. Joe Biden, then chairman of the Senate Foreign Relations Committee, said Oct. 22, 2001, as the U.S. invaded Afghanistan.
During a committee meeting in February 2003, the Delaware Democrat again directly defended nation building, asking what the alternative was.
"The alternative to nation building is chaos, a chaos that churns out bloodthirsty warlords, drug traffickers and terrorists," Biden said.
Ken McIntyre contributed to this report.
Have an opinion about this article? To sound off, please email letters@DailySignal.com and we'll consider publishing your edited remarks in our regular "We Hear You" feature. Remember to include the url or headline of the article plus your name and town and/or state.
If you've seen videos of recent attacks on Jews in New York City, Los Angeles, London, and elsewhere, you may have missed a very revealing aspect of those attacks. They were almost always—as they have been for decades—accompanied by curses such as, "F— the Jews."
Now, given that the perpetrators are almost always Muslims—whether immigrants or children of immigrants from an Arab or other Muslim country—two questions present themselves:
Why attack American or French or British Jews? And why curse "the Jews"? In other words, given that the recent wars have been between Hamas and Israel, why aren't these attacks outside of Israel on Israelis and Israeli institutions? And why level curses at "the Jews"?
The answer is this: The Muslims who seek Israel's destruction do so because Israel is Jewish, not because Israel occupies the West Bank or Gaza.
Want to keep up with the 24/7 news cycle? Want to know the most important stories of the day for conservatives? Need news you can trust? Subscribe to The Daily Signal's email newsletter. Learn more >>
First, the Muslim world sought Israel's destruction from the day Israel was established in May 1948, before it occupied a centimeter of the West Bank or Gaza.
Second, Israel does not occupy Gaza. Israel withdrew completely from Gaza 16 years ago.
Third, the Palestinians rejected a state of their own five times:
Rejection No. 1: In 1937, the British Peel Commission offered the Arabs 80% of the geographical area known as Palestine. The Jews were offered 20%. The Arabs rejected it.
Rejection No. 2: In 1947, the Arabs rejected the United Nations partition plan.
Rejection No. 3: In 1967, in the course of defeating the attempt by Egypt, Syria, and Jordan to destroy Israel, Israel conquered the West Bank from Jordan, Gaza from Egypt, and the Golan Heights from Syria. Most Israelis had no interest in retaining Gaza or almost any part of the West Bank except for East Jerusalem, the Jewish city in which Jews have lived for 3,000 years, from 1,400 years before Muhammad was born. The Palestinians, as the Arabs of Palestine came to be known, and all the Arab states rejected partition and peace.
Rejection No. 4: In 2000, at Camp David, Israeli Prime Minister Ehud Barak offered Palestinian leader Yasser Arafat a Palestinian state in all of Gaza and 94% of the West Bank with East Jerusalem as its capital. But Arafat rejected the offer. In the words of U.S. President Bill Clinton, Arafat was "here 14 days and said no to everything."
Rejection No. 5: In 2008, Israel tried again. Prime Minister Ehud Olmert went even further than Ehud Barak had, expanding the peace offer to include additional land to sweeten the deal. The Palestinians said no, again.
The reason for all these Palestinian/Arab rejections of a state of their own was that it meant a Jewish state in the Middle East still existed.
The Middle East dispute has never been about land. Israel is the size of New Jersey. It is slightly larger than El Salvador. If it were the size of Manhattan, the Palestinians and many Muslim states would still seek its destruction. There are 22 Arab states in the Middle East, but there is no room for one Jewish state. There is even a state with a Palestinian majority: Jordan. The issue is not land. The issue is religion.
Why is Iran wholly preoccupied with destroying Israel? It has nothing to do with Muslim solidarity; the Iranians don't give a damn about Palestinians. It is entirely about hatred of Jews and the Jewish state.
If the Iranians cared about fellow Muslims, they would be targeting China, which is accused by the United States and other Western countries of committing genocide against the Uighurs—a predominately Muslim ethnic group that lives in China—a charge that includes forced sterilization of Uighur women.
Westerners want to believe it is about land—in part because they are secular and think in secular terms. And in part because they need to believe that the dispute is about land. Only then can they blame Israel. If it were about a Muslim desire to destroy the Jewish state, they could no longer blame Israel. Even worse: They would have to blame Islamist fanaticism.
In my December 22, 2014 letter to Elie Wiesel I made a few observations about Irving Kristol and Daniel Bell who I was very fascinated with because of some of their comments in the 1990′s. First, isn't it worth noting that the Old Testament predicted that the Jews would regather from all over the world and form a new reborn nation of Israel. Second, it was also predicted that the nation of Israel would become a stumbling block to the whole world. Third, it was predicted that the Hebrew language would be used again as the Jews first language even though we know in 1948 that Hebrew at that time was a dead language!!!Fourth, it was predicted that the Jews would never again be removed from their land.
A God Who Remembers by Elie Wiesel
Uploaded on Mar 1, 2010
This is a short essay written and read by the author and Holocaust survivor, Elie Wiesel. "A God Who Remembers" was written for the NPR program "This I Believe" and aired April 7, 2008.
You can find a written transcript of this at the NPR website: http://www.npr.org/templates/story/st…
© 2008 National Public Radio
From Wikipedia, the free encyclopedia
Elie Wiesel


KBE
Born
Eliezer Wiesel
September 30, 1928
Sighet, Kingdom of Romania
Died
July 2, 2016 (aged 87)
Manhattan, New York, NY, U.S.
Occupation
Author, professor, activist
Nationality
American
Ethnicity
Jewish
Alma mater
University of Paris, Sorbonne
Subjects
The Holocaust, religion, philosophy
Notable works
Night (1960)
Notable awards
Nobel Peace Prize (1986)
Presidential Medal of Freedom
Congressional Gold Medal
Grand Officer of the Order of the Star of Romania
Legion of Honour
Spouse
Marion Erster Rose
(m. 1969–2016; his death)[1]
Children
1
Eliezer "Elie" Wiesel KBE (/ˈɛli vɪˈzɛl/;[2] September 30, 1928 – July 2, 2016) was a Romanian-born American Jewish writer, professor, political activist, Nobel Laureate and Holocaustsurvivor. He was the author of 57 books, written mostly in French and English, including Night, a work based on his experiences as a prisoner in the Auschwitz and Buchenwaldconcentration camps.[3]
Along with writing, he was a professor of the humanities at Boston University, which created the Elie Wiesel Center for Jewish Studies in his honor. He was involved with Jewish causes, and helped establish the United States Holocaust Memorial Museum in Washington, D.C. In his political activities he also campaigned for victims of oppression in places like South Africa and Nicaragua and genocide in Sudan. He publicly condemned the 1915 Armenian genocide and remained a strong defender of human rights during his lifetime. He had been described as "the most important Jew in America" by the Los Angeles Times.[4]
Wiesel was awarded the Nobel Peace Prize in 1986, at which time the Norwegian Nobel Committee called him a "messenger to mankind," stating that through his struggle to come to terms with "his own personal experience of total humiliation and of the utter contempt for humanity shown in Hitler's death camps", as well as his "practical work in the cause of peace", Wiesel had delivered a message "of peace, atonement and human dignity" to humanity.[5] He was a founding board member of the New York Human Rights Foundation and remained active throughout his life.[6][7]
Early life
Elie Wiesel was born in Sighet (now Sighetu Marmației), Maramureș in the Carpathian Mountains in Romania.[8] His parents were Sarah Feig and Shlomo Wiesel. At home, Wiesel's family spoke Yiddish most of the time, but also German, Hungarian, and Romanian.[9][10] Wiesel's mother, Sarah, was the daughter of Dodye Feig, a celebrated Vizhnitz Hasid and farmer from a nearby village. Dodye was active and trusted within the community.
Wiesel's father, Shlomo, instilled a strong sense of humanism in his son, encouraging him to learn Hebrew and to read literature, whereas his mother encouraged him to study the Torah. Wiesel has said his father represented reason while his mother Sarah promoted faith.[11]
Wiesel had three siblings – older sisters Beatrice and Hilda, and younger sister Tzipora. Beatrice and Hilda survived the war and were reunited with Wiesel at a French orphanage. They eventually emigrated to North America, with Beatrice moving to Montreal, Quebec, Canada. Tzipora, Shlomo, and Sarah did not survive the Holocaust.
Imprisoned and orphaned during the Holocaust
In March 1944, Germany occupied Hungary which extended the Holocaust into that country.[a] Wiesel was 15, and he with his family, along with the rest of the town's Jewish population, were placed in one of the two confinement ghettos set up in Máramarossziget (Sighet), the town where he had been born and raised. In May 1944, the Hungarian authorities, under German pressure, began to deport the Jewish community to the Auschwitz concentration camp, where up to 90% of the people were exterminated on arrival.[13]
After they were sent to Auschwitz, his mother and his younger sister were killed.[13] Wiesel and his father were later deported to the concentration camp at Buchenwald. Until that transfer, he admitted to Oprah Winfrey, his primary motivation for trying to survive Auschwitz was knowing that his father was still alive: "I knew that if I died, he would die."[14] After they were taken to Buchenwald, however, his father only survived for eight months, dying just a few weeks before the camp was liberated.[13] In Night, Wiesel recalled the shame he felt when he heard his father being beaten and was unable to help.[13][15]
Wiesel was tattooed with inmate number "A-7713" on his left arm.[16][17] The camp was liberated by the U.S. Third Army on April 11, 1945.[18]
Elie Wiesel on What Happens When We Die | Super Soul Sunday | Oprah Winfrey Network
 _____________________________
December 22, 2014
Professor Elie Wiesel, c/o Boston University Arts & Sciences Elie Wiesel Center for Judaic Studies,
Dear Dr Wiesel,
I have been to your fair town of Boston several times and on August 21, 2009 I got to see a Red Sox game against the Yankees. The Yankees had 23 hits and the Red Sox had 12 in a 20–11 Yankees victory where the total runs scored (31) is the most runs collected by both teams in the history of their rivalry.[288]  I was pulling against the Yankees that day but there were two Yankee fans seated next to me and they were so loud that I thought some of the Red Sox fans were going to beer on their heads!!! THAT WAS THE ONLY PROFESSIONAL BASEBALL GAME I HAVE EVER ATTENDED AND IT TURNED OUT TO BE A HISTORICAL GAME!!!!  I also got to attend the famous Park Street Church downtown and meet their wonderful pastor Gordon Hugenberger.  The song "My Country, 'Tis of Thee", was first written and performed there in 1832!!!!
I have watched the movie GOD ON TRIAL over and over again and I found it very thought provoking.
On November 21, 2014 I received a letter from Nobel Laureate Harry Kroto  who I have been corresponding with and it said:
…Please click on this URL http://vimeo.com/26991975
and you will hear what far smarter people than I have to say on this matter. I agree with them.
Harry Kroto
__________________________
There are 3 videos in this series and they have statements by 150 academics and scientists and I saw that many of your friends were featured in this film series. I have been responding to some of the statements concerning God.
Today I am writing you for two reasons. First, I wanted to appeal to your Jewish Heritage and ask you to take a closer look at some Old Testament scriptures dealing with the land of Israel. Second, I wanted to point out some scientific evidence that caused Antony Flew to switch from an atheist (as you are now) to a theist.  Twenty years I had the opportunity to correspond with two individuals that were regarded as two of the most famous atheists of the 20th Century, Antony Flew and Carl Sagan. (I have enclosed some of those letters between us.) I had read the books and seen the films of the Christian philosopher Francis Schaeffer and he had discussed the works of both of these men. I sent both of these gentlemen philosophical arguments from Schaeffer in these letters and in the first letter I sent a cassette tape of my pastor's sermon IS THE BIBLE TRUE? (CD is enclosed also.) You may have noticed in the news a few years that Antony Flew actually became a theist in 2004 and remained one until his death in 2010. Carl Sagan remained a skeptic until his dying day in 1996.
You will notice in the enclosed letter from June 1, 1994 that Dr. Flew commented, "Thank you for sending me the IS THE BIBLE TRUE? tape to which I have just listened with great interest and, I trust, profit." It would be a great honor for me if you would take time and drop me a note and let me know what your reaction is to this same message.
Robert Lewis noted that many orthodox Jews believed through the centuries that God would honor the ancient prophecies that predicted that the Jews would be restored to the land of Israel, but then I notice the latest film series on the Jews done by an orthodox Jew seemed to ignore many of these scriptures. Recently I watched the 5 part PBS series Simon Schama's THE STORY OF THE JEWS, and in the last episode Schama calls Israel "a miracle" but he is hoping that Israel can get along with the non-Jews in the area. Schama noted, "I've always thought that Israel is the consummation of some of the highest ethical values of Jewish traditional history, but creating a place of safety and defending it has sometimes challenged those same ethics and values". There is an ancient book that sheds light on Israel's plight today, and it is very clear about the struggles between the Jews and their cousins that surround them. It all comes down to what the Book of Genesis had to say concerning Abraham's son by Hagar.  
Genesis 16:11-12  (NIV)
11 The angel of the Lord also said to her:
"You are now pregnant
    and you will give birth to a son.
You shall name him Ishmael,
    for the Lord has heard of your misery.
12 He will be a wild donkey of a man;
    his hand will be against everyone
    and everyone's hand against him,
and he will live in hostility
    toward all his brothers."
The first 90 seconds of episode 5 opened though by allowing us all to experience the sirens and silence of that day in Spring, each year, when Israel halts to mark the Holocaust and I actually wept while I thought of those who had died. Schama noted, ""Today around half the Jews in the world live here in Israel. 6 million people. 6 million defeats for the Nazi program of total extermination."
After World War II Schama tells about the events leading up to the re-birth of Israel.  Here again Schama although a practicing Jewish believer did not bring in scripture to shed light on the issue. David O. Dykes who is pastor of Green Acres Baptist Church in Tyler, Texas has done just that:
The nation of Israel was destroyed in 70 A.D…Beginning in the early 20th century Jews started trickling back into Palestine at the risk of their lives. Then after World War II, the British government was given authority over Palestine and in 1948, Israel became a nation again through the action of the United Nations…This should not have come as a surprise to any Bible scholar, because this regathering of Israel is predicted many times in scripture. The prophet Amos wrote in Chapter 9:
14 And I will bring back the exiles of My people Israel, and they shall build the waste cities and inhabit them; and they shall plant vineyards and drink the wine from them; they shall also make gardens and eat the fruit of them.
15 And I will plant them upon their land, and they shall no more be torn up out of their land which I gave them, says the Lord your God.
Some people think the Amos prophecy was referring to the return of Israel after their Babylonian captitvity in 586 B.C. But the nation was uprooted in 70 A.D. And notice God said they would "NEVER AGAIN TO BE UPROOTED."
Even the preservation of their language is a miracle. For centuries, Hebrew was a dead language spoken nowhere in the world. But within the last century, this dead language has been resurrected and now millions of Israelis speak Hebrew...Have you noticed how often Israel is in the news? They are only a small nation about the size of New Jersey.
I have checked out some of the details that David O. Dykes has provided and they check out. Philip Lieberman is a cognitive scientist at Brown University, and in a letter dated in 1995 he told me that only a few other languages besides Hebrew have ever been revived including some American Indian ones along with Celtic.
Also Zechariah 12:3 also verifies the newsworthiness of Israel now:  And in that day I will make Jerusalem a burdensome stone for all peoples; all who lift it or burden themselves with it shall be sorely wounded. And all the nations of the earth shall come and gather together against it.
I do think that Isaiah also predicted the Jews would come from all over the earth back to their homeland Israel. Isaiah 11:11-12 states, "And in that day the Lord shall again lift up His hand a second time to recover (acquire and deliver) the remnant of His people which is left, from Assyria, from Lower Egypt, from Pathros, from Ethiopia, from Elam [in Persia], from Shinar [Babylonia], from Hamath [in Upper Syria], and from the countries ordering on the [Mediterranean] Sea.  And He will raise up a signal for the nations and will assemble the outcasts of Israel and will gather together the dispersed of Judah from the four corners of the earth. (Amplified Bible)
 I was reading  THE BOOK OF DANIEL COMMENTARY (Cambridge University Press, 1900) by the Bible critic  Samuel Rolles Driver, and on page 100 Dr. Driver commented that the country of Israel is obviously a thing of the past and has no place in prophecy in the future and the prophet Daniel was definitely wrong about that.  I wonder what Dr. Driver would say if he lived to see the newspapers today?
In fact, my former pastor Robert Lewis at Fellowship Bible Church in his sermon "Let the Prophets Speak" on 1-31-99 noted that even the great Princeton Theologian Charles Hodge erred in 1871 when he stated:
The argument from the ancient prophecies is proved to be invalid because it would prove too much. If those prophecies foretell a literal restoration, they foretell that the temple is to be rebuilt, the priesthood restored, sacrifices again offered, and that the whole Mosaic ritual is to be observed in all its details, (Systematic Theology. [New York: Charles Scribner & Sons, 1871; reprint Grand Rapids, Michigan: Eerdman's Publishing Co., 1949], 3:807).__
Robert Lewis went on to point out that the prophet Amos 2700 years ago predicted the destruction of Aram, Philistia, Tyre, Edom, Ammon, Moab and Israel, but at the end of the Book he said Israel would one day be returned to their land and never removed. We saw from Isaiah 11:11-12 that the Lord "will assemble the outcasts of Israel and will gather together the dispersed of Judah from the four corners of the earth." And that certainly did happen after World War II.  I corresponded with some secular Jewish Scholars on this back in the 1990's such as Irving Kristol and Daniel Bell but they dismissed these type of Old Testament prophecies. In his letter of September 23, 1995, Daniel Bell wrote, "As to the survival of the Jewish people, I think of the remark of Samuel Johnson that there is nothing stronger than the knowledge that one may be hanged the next day to concentrate the mind–or the will."
Daniel Bell and Irving Kristol
Daniel Bell
After looking at the accuracy of Old Testament, I want to turn my attention to the accuracy of the New Testament. Recently I was reading the book GOD'S NOT DEAD by Rick Broocks and in it he quotes Sir William Ramsay who was a scholar who originally went to Palestine to disprove the Book of Luke. Below is some background info on Ramsay followed by his story.
Sir William Mitchell Ramsay (15 March 1851, Glasgow –20 April 1939) was a Scottish archaeologist and New Testament scholar. By his death in 1939 he had become the foremost authority of his day on the history of Asia Minor and a leading scholar in the study of the New Testament. From the post of Professor of Classical Art and Architecture at Oxford, he was appointed Regius Professor of Humanity (the Latin Professorship) at Aberdeen. Knighted in 1906 to mark his distinguished service to the world of scholarship, Ramsay also gained three honorary fellowships from Oxford colleges, nine honorary doctorates from British, Continental and North American universities and became an honorary member of almost every association devoted to archaeology and historical research. He was one of the original members of the British Academy, was awarded the Gold Medal of Pope Leo XIII in 1893 and the Victorian Medal of the Royal Geographical Society in 1906. 
William Mitchell Ramsay was born on March 15, 1851 in Glasgow, Scotland. His father was a lawyer, but died when William was just six. Through the hard work of other family members, William attended the University of Aberdeen, achieving honors. Through means of a scholarship, he was then able to go to Oxford University and attend the college there named for St. John. His family resource also allowed him to study abroad, notably in Germany. It was under one of his professors that his love of history began. After receiving a new scholarship from another college at Oxford, he traveled to Asia Minor.
William, however, is most noted for beliefs pertaining to the Bible, not his early life. Originally, he labeled it as a 'Book of Fables,' having only third-hand knowledge. He neither read nor studied it, skeptically believing it to be of fiction and not historical fact. His interest in history would lead him on a search that would radically redefine his thoughts on that Ancient Book…

Some argue that Ramsay was originally just a product of his time. For example, the general consensus on the Acts of the Apostles (and its alleged writer Luke) was almost humouress:
"… [A]bout 1880 to 1890 the book of the Acts was regarded as the weakest part of the New Testament. No one that had any regard for his reputation as a scholar cared to say a word in its defence. The most conservative of theological scholars, as a rule, thought the wisest plan of defence for the New Testament as a whole was to say as little as possible about the Acts."[1]
It was his dislike for Acts that launched him into a Mid-East adventure. With Bible-in-hand, he made a trip to the Holy Land. What William found, however, was not what he expected…
As it turns out, 'ole Willy' changed his mind. After his extensive study he concluded that Luke was one of the world's greatest historians:
The more I have studied the narrative of the Acts, and the more I have learned year after year about Graeco-Roman society and thoughts and fashions, and organization in those provinces, the more I admire and the better I understand. I set out to look for truth on the borderland where Greece and Asia meet, and found it here [in the Book of Acts—KB]. You may press the words of Luke in a degree beyond any other historian's, and they stand the keenest scrutiny and the hardest treatment, provided always that the critic knows the subject and does not go beyond the limits of science and of justice.[2]

Skeptics were strikingly shocked. In 'Evidence that Demands a Verdict' Josh Mcdowell writes,
"The book caused a furor of dismay among the skeptics of the world. Its attitude was utterly unexpected because it was contrary to the announced intention of the author years before…. for twenty years more, book after book from the same author came from the press, each filled with additional evidence of the exact, minute truthfulness of the whole New Testament as tested by the spade on the spot. The evidence was so overwhelming that many infidels announced their repudiation of their former unbelief and accepted Christianity. And these books have stood the test of time, not one having been refuted, nor have I found even any attempt to refute them."[3]
The Bible has always stood the test of time. Renowned archaeologist Nelson Glueck put it like this:
"It may be stated categorically that no archaeological discovery has ever controverted a Biblical reference. Scores of archaeological findings have been made which conform in clear outline or exact detail historical statements in the Bible."[4]
1) The Bearing of Recent Discovery on the Trustworthiness of the New Testament (1915)
2) Ibid
3) See page 366
4) See page 31 of: Rivers in the Desert: A History of the Negev (1959)
 Thank you again for your time and I know how busy you are.
Everette Hatcher, everettehatcher@gmail.com, http://www.thedailyhatch.org, cell ph 501-920-5733, Box 23416, LittleRock, AR 72221
____________________
Dancing at the Wailing Wall in 1967:
Picture of Wailing Wall from 1863

Source: Earthly Footsteps of the Man of Galilee, p. 147.
Adrian and Joyce Rogers with President Bush at Union University in Jackson, TN:
________________________________________________
Adrian Rogers pictured below on national day of prayer with President Bush.
_____
____________
Featured artist is Francesco Clemente
Charlie Rose – Francesco Clemente
_____________
September 3rd, 2013

Gianfranco Gorgoni, Francesco Clemente and detail of General Animal (1984), Courtesy Thomas Ammann Fine Art AG, Zurich
The work of Italian contemporary artist Francesco Clemente is as diverse in style and influence as the life of its creator.  Transcending traditional borders of culture, artistic movements, intellectual spheres and even medium, Clemente has developed a sense of decentered lexicality; his work standing as a testament to the synthesis of his personal travels and influences – among them, the artists he met and collaborated with in New York City in the 1980s. Portraits of the 1980s, currently on display in the Thomas Ammann Fine Art Gallery in Zurich until September 27, chronicles this engagement with New York's intellectual and social community through a series of portraits, speaking to the friendships which both redefined Clemente's own style and thrust him into the limelight of the international art scene.

Francesco Clemente, Name (1983), Courtesy Thomas Ammann Fine Art AG, Zurich
Born in Naples, Italy, in 1952, Clemente briefly studied architecture at the Università degli Studi di Roma, La Sapienza, before ultimately leaving the program to focus on art.  His early works fluctuated between photography, drawing, watercolor, printmaking and painting, and he quickly gained attention during in the late 1970s early 1980s as part of the Neo-Expressionist movements (known as the "Transavanguardia" in Italy) of that time. Many have read Clemente's work during this period as reacting against the conceptual and minimal art of the 1970s, and credit Clemente as being among one of the most recognized artists involved with revitalizing figurative painting, as well as reintroducing emotional heft to painting and drawing, particularly through his signature focus on the human form and special interest in identity and sexuality.  Clemente himself has resisted specific labels, however, and his work seems to speak less to a conceptual rupture or defined statement, than to a potent fusion of a variety of influences.

Francesco Clemente, Everybody's Child (1990), Courtesy Thomas Ammann Fine Art AG, Zurich
Often hailed as "nomadic", Clemente spent many years of his career traveling and immersing himself in new cultures and experiences. In 1972, the artist traveled with Alighiero e Boetti to Afghanistan, and spent the next several years of his life making frequent visits to India – studying at Madras's Theosophical Society in the late 1970s, and developing a strong interest in Hindu spirituality and Indian imagery – influences of which can be found in his forms and sensuous palette.  During the 1980s, Clemente also traveled to Italy, the American Southwest, Jamaica, and a variety of other locations around the globe.  Combining a unique enthusiasm for non-Western symbols and mythology, while steeping himself in studies of Romanticism and the Italian Renaissance, Clemente's world is one of permeable boundaries – as vivid as it is dreamlike.

Gianfranco Gorgoni, Francesco and wife Alba (1983), Courtesy Thomas Ammann Fine Art AG, Zurich
When he moved with his family to a loft in New York City in 1981, Clemente began collaborative projects with a number of  New York artists. Simultaneously developing a series of large oil paintings  and working on several book projects, Clemente also worked closely with Andy Warholand Jean-Michel Basquiat during this time, and created images to accompany the works of many modern American poets, including Gregory Corso, Robert Creeley, as well as three unique pieces created with beat poet Allen Ginsberg.  Clemente chronicled these collaborations, and documented the famous faces which visited his studio both in photographs and in portraiture.  Bizarre shapes and distorted physicality combine in these portraits, with carefully chosen color schemes in oil on wood to articulate the characteristic sense of expanded consciousness many ascribe to Clemente's work.  Thirty of these works appear in the back room of Ammann's gallery space, who, along with his sister Doris, has been among the most important collectors of Clemente over the years.

Gianfranco Gorgoni, Broadway Studio (1980s), Courtesy Thomas Ammann Fine Art AG, Zurich
Clemente currently lives and works in New York City, Rome, and Varanasi, India. His work has been exhibited at the Royal Academy in London, the Guggenheim Museum,  the Metropolitan Museum of Art, the Centre Pompidou, Paris, and at the Sezon Museum of Art, Tokyo, as well as many other venues.  An illustrated catalog of the exhibition with an essay by Robert Storr will be available later this fall.

Gianfranco Gorgoni, Broadway Studio (1980s), Courtesy Thomas Ammann Fine Art AG, Zurich (2)
— S. Patkin
From Wikipedia, the free encyclopedia
Francesco Clemente (born in Naples March 23, 1952) is an Italian contemporary artist. Influenced by thinkers as diverse as Gregory Bateson, William Blake, Allen Ginsberg, and J Krishnamurti, the art of Francesco Clemente is inclusive and nomadic, crossing many borders, intellectual and geographical. Dividing his time between New York and Varanasi, in India, he has adopted for his paintings a vast variety of supports and mediums, exploring, discarding, and returning to oil paint, watercolor, pastel, and printmaking. His work develops in a non linear mode, expanding and contracting in a fragmentary way, not defined by a style, but rather by his recording of the fluctuations of the self, as he experiences it. The goal is to embrace an expanded consciousness, and to witness, playfully, the survival of the ecstatic experience in a materialistic society.
Career
Clemente is a painter whose work spans four decades. His work is stylistically varied, inclusive, erotic and nomadic. It embraces diverse mediums and diverse cultures as well, aiming at finding wholeness through fragmentation and witnessing the survival of contemplation and pleasure in our mechanical age.
Clemente's work is rooted in political utopia and expresses an anti materialistic stance. In the 1970s he moved from photography to drawing and anticipated the return to painting of the 1980s.
Clemente's work is nomadic. In the 1980s he divided his time between India and New York. While briefly associated with Neo Expressionism he took an interest in collaborative works both with Indian craftsmen and with painters like Basquiat and Warhol, and poets like Creeley and Ginsberg in New York. In an interview with The Brooklyn Rail, Clemente commented "these poets had been looking at the East for inspiration and I was also anxious to evade the materialism of the West."[1]
In the 1990s Clemente's work explored intensely erotic imagery, inspired by the Tantric traditions both of India and Tibet, and turning contemporary preoccupations with identity and sexuality into an occasion to ask questions about the nature of the self.
In the 2000s Clemente's work went through a darker and grotesque phase, returning in the last years to luminous images of repose and transformation.
Since the 1980s until today Clemente also chronicled New York intellectual and social life through a great number of portraits, contributing to the revival of a genre until then somehow discredited.
Clemente's art has been presented in solo and group shows internationally.
Major retrospectives have been held in the 1990s at the Philadelphia Museum of Art, at The Royal Academy in London, at the Centre Pompidou, Paris and at the Sezon Museum of Art, Tokyo.
In 1999-2000 at the Solomon R Guggenheim Museum, New York and at the Guggenheim Museum, Bilbao.
In the 2000s at the Irish Museum of Modern Art in Dublin, at the Museo MADRE, Naples and at the Schirn Kunsthalle, Frankfurt.
An exhibition of selfportraits and of Clemente's own version of the Tarot Cards was held at the Uffizi Gallery, Florence in 2011.
Francesco Clemente is a member of the American Academy of Arts and Letters. He lives and works in New York and Varanasi, India.
Shows
Major retrospectives of Clemente's oeuvre have been held in the 1990s at the Philadelphia Museum of Art, at the Royal Academy in London, the Centre Pompidou, Paris, and the Sezon Museum of Art, Tokyo.
In 1999-2000 at the Guggenheim Museum, New York and at the Guggenheim Museum, Bilbao.
In the 2000s Clemente showed at the Irish Museum of Modern Art in Dublin, at the Museo MADRE in Naples, the Schirn Kunsthalle in Frankfurt, Uffizi Gallery in Florence and at Yale Museum of Art in 2013.
The artist is currently represented by Bruno Bischofberger in Switzerland and BlainSouthern in London and Mary Boone Gallery in New York.
Personal life
Clemente is a member of the American Academy of Arts and Letters. He lives and works in New York and Varanasi, India.
Timeline
1980s
Whitechapel Art Gallery, London, 1983; the Walker Art Center, Minneapolis, 1984 ; the Nationale Galerie, Berlin, 1984; the Metropolitan Museum of Art, New York, 1985 ; the Art Institute of Chicago, 1987; the Fundacion Caja, 1987; and the Dia Art Foundation, New York, 1988.
1990s
Philadelphia Museum of Art[2]., the Royal Academy of Arts, London, the Centre Georges Pompidou, Paris and the Sezon Museum, Tokyo.
2000 and after
Major retrospective 1999/2000, the Solomon R. Guggenheim Museum in New York and in Bilbao; Irish Museum of Modern Art, Dublin (2004); the Rose Art Museum, Massachusetts (2004); Museo Maxxi, Rome (2006), Museo Madre, Naples (2009), Schirn Kunsthalle, Frankfurt (2011), Uffizi Gallery, Florence (2011) and Yale University (2013).
Recent exhibitions
Works
See also
Further reading
Books
Online articles
Interviews
References
External links
__________
Related  posts:
XXXXXXXXXXXXXXX
__________