March 29, 2021
President Biden  c/o The White House 1600 Pennsylvania Avenue NW Washington, DC 20500
Dear Mr. President,
___________________
We need to let more freedom back in the USA and get the big federal government off of our backs.
Funding Government by the Minute
Published on Mar 28, 2012
At the rate the federal government spends, it runs out of money on July 31. What programs should be cut to balance the budget and fund the government for the remaining five months of the year? Cutting NASA might buy two days; cutting the Navy could buy fifteen. It seems that balancing the budget may require more than just cutting government programs. What should be done?
__________________
I have put up lots of cartoons from Dan Mitchell's blog before and they have got lots of hits before. Many of them have dealt with the economy, eternal unemployment benefits, socialism,  Greece,  welfare state or on gun control.
It is sad to me that we can't learn from history. So many european countries are so far down the socialist road that there is little economic growth and there is massive budget problems. Under Obama we are heading the same way as this cartoon demonstrates today on Dan Mitchell's blog.
Too bad I didn't have this Glenn Foden masterpiece when I did the political cartoonist contest last week.
I think it's better than my previous favorite of his (about the "private sector doing fine"), and it's thematically quite similar to the famous "European lemming" cartoon from Ramirez.
One tiny correction, though. The Europeans aren't socialists anymore. It's more accurate to describe the policy in France, Italy, and elsewhere as cronyism, corporatism, or statism.
Though Thomas Sowell prefers to use an even harsher adjective when analyzing Obama's approach.
What about providing some evidence that Obama's making America more like Europe? Well, just check out the data from the latest Economic Freedom of the World annual report.
There are now six European nations that score above the United States, including two of my favorite places – Switzerland and Estonia!
It doesn't justify his bad policies, but it's worth noting that Obama's merely continuing a bad trend that started under Bush.
______________________
Thank you so much for your time. I know how valuable it is. I also appreciate the fine family that you have and your commitment as a father and a husband.
Sincerely,
Everette Hatcher III, 13900 Cottontail Lane, Alexander, AR 72002, ph 501-920-5733,
Williams with Sowell – Minimum Wage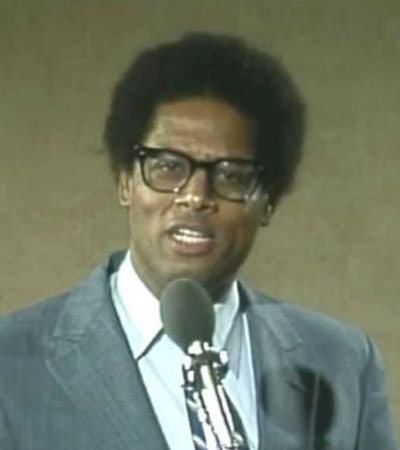 Thomas Sowell – Reducing Black Unemployment
—-
Ronald Reagan with Milton Friedman
Milton Friedman The Power of the Market 2-5