—
December 8, 2020
Office of Barack and Michelle Obama
P.O. Box 91000
Washington, DC 20066
Dear President Obama,
I wrote you over 700 letters while you were President and I mailed them to the White House and also published them on my blog http://www.thedailyhatch.org .I received several letters back from your staff and I wanted to thank you for those letters.
I have been reading your autobiography A PROMISED LAND and I have been enjoying it.
Let me make a few comments on it, and here is the first quote of yours I want to comment on:
Where possible, I wanted to offer readers a sense of what it's like to be the president of the United States; I wanted to pull the curtain back a bit and remind people that, for all its power and pomp, the presidency is still just a job and our federal government is a human enterprise like any other, and the men and women who work in the White House experience the same daily mix of SATISFACTION, disappointment, office friction, screw-ups, and small triumphs as the rest of their fellow citizens.
President Obama you remind me in many ways of King Solomon in his analysis of his life in Jerusalem as King of Israel. He came to the office with such great plans and he raised taxes and had so many great building projects but in the end he thought it all was vanity!
ECCLESIASTES CHAPTER 2 I undertook great projects: I built houses for myself and planted vineyards. . . . I amassed silver and gold for myself, and the treasure of kings and provinces. I acquired male and female singers, and a harem as well— the delights of a man's heart. . . . I denied myself nothing my eyes desired; I refused my heart no pleasure." (Ecclesiastes 2: 4,8,10)
Nevertheless, he says, "I hated life. . . . My heart began to despair over all my toilsome labor under the sun." (Ecclesiastes 2: 17,20) Haidt summarizes, "The author of Ecclesiastes wasn't just battling the fear of meaninglessness; he was battling the disappointment of success. . . . Nothing brought satisfaction."
Here is a portion of a letter I wrote to the comedian Rocky Gervais dealing with Solomon and his search for satisfaction UNDER THE SUN:
July 21, 2020
Ricky Gervais

Dear Ricky,
This is the 95th day in a row that I have written another open letter to you to comment on some of your episodes of AFTER LIFE. Over and over again Tony is searching for satisfaction in his life and for the meaning of it all! However, when you wrote the AFTER LIFE script Ricky you excluded spiritual answers!! Check out the answers provided by Kerry Livgren and Dave Hope of KANSAS at the end of this letter!!!
Ricky Gervais plays bereaved husband Tony Johnson in AFTER LIFE
Matt takes it upon himself to help his bereaved brother-in-law Tony out by trying to help find satisfaction in his life by looking in 5 areas of life. I don't know if Matt took time to read about Solomon's efforts in Ecclesiastes but he did look in the same 5 areas for satisfaction [learning(1:16-18),laughter, ladies, and liquor (2:1-3, 8, 10, 11), and labor (2:4-6, 18-20)]. He first suggests that Tony throw himself into his work, and Tony blows off that suggestion. Next Matt sets him up on a blind date and that turns out to not work at all. Matt next turns to inviting Tony to a comedy club and the comedian tells a joke about suicide and Tony ruins the whole evening for everybody.
In season two Matt invites Tony to a meditation class which includes some philosophy that he knows appeals to Tony and he tells Tony he may learn something. Unfortunately Tony has a horrible time. Finally Matt invites Tony to the pub for a drink and to visit some women with the goal of "banging some beaver"and that is a disaster too.
psychiatrist played by Paul Kaye seen below.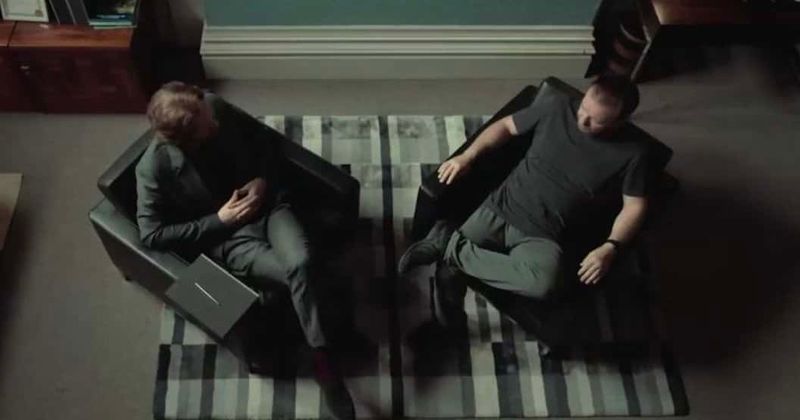 Chapter four of the book by Tim Keller MAKING SENSE OF GOD: (Tim Keller below)
Making Sense of God, by Timothy Keller
Chapter Four: "A Satisfaction That Is Not Based on Circumstances"
Psychologist Jonathan Haidt's book The Happiness Hypothesis provides a historical survey of thinking about happiness. 1
(Jonathan Haidt pictured below)
He begins his chapter with a book of the Bible we have just looked at, Ecclesiastes. The author writes: "A person can do nothing better than to . . . find satisfaction in their own toil" (Ecclesiastes 2: 24), but that is exactly what eludes him. He describes a life of accomplishment that very few achieve.
I undertook great projects: I built houses for myself and planted vineyards. . . . I amassed silver and gold for myself, and the treasure of kings and provinces. I acquired male and female singers, and a harem as well— the delights of a man's heart. . . . I denied myself nothing my eyes desired; I refused my heart no pleasure." (Ecclesiastes 2: 4,8,10)
Nevertheless, he says, "I hated life. . . . My heart began to despair over all my toilsome labor under the sun." (Ecclesiastes 2: 17,20) Haidt summarizes, "The author of Ecclesiastes wasn't just battling the fear of meaninglessness; he was battling the disappointment of success. . . . Nothing brought satisfaction." 2 This is an abiding human problem, and there is plenty of modern empirical research that backs it up. Studies find a very weak correlation between wealth and contentment, and the more prosperous a society grows,
the more common is depression. 3 The things that human beings think will bring fulfillment and contentment don't. What should we do, then, to be happy?
Haidt says that the answer— of the Buddha and Chinese sages like Lao Tzu in the East and the Greek Stoic philosophers in the West— constituted the "early happiness hypothesis" of ancient times. The principle was this: We are unhappy even in success because we seek happiness from success. Wealth, power, achievement, family, material comfort, and security— the external goods of the world— can lead only to a momentary satisfaction, which fades away, leaving you more empty than if you had never tasted the joy. To achieve satisfaction you should not seek to change the world but rather to change your attitude toward the world. Epictetus, a Stoic philosopher, wrote, "Do not seek to have events happen as you want them to, but instead want them to happen as they do happen, and your life will go well." 4 If we do that, the Buddha taught, "when pleasure or pain comes to them, the wise feel above pleasure and pain." 5 In short, don't try to fulfill your desires; rather, control and manage them. To avoid having our inner contentment overthrown by the inevitable loss of things, do not become too emotionally attached to anything.6

However, many people have found this approach to satisfaction not very satisfying. Haidt, for example, believes that Buddha and the Greeks "took things too far." 7
He argues that modern research shows some external circumstances do correlate with increased satisfaction. In particular, love relationships are important, and therefore the advice of emotional detachment may actually undermine happiness. 8 Philosopher Alain de Botton agrees that loving relationships are fundamental to happiness. Indeed, he thinks our quest for the external goods of status and money
4 is really just another quest for love. 9 Another obvious problem with the ancient happiness hypothesis was that it undermined any motivation for seeking major social change. Rather than change the world as it is, we were to resign ourselves to it.
(Philosopher Alain de Botton pictured below)

Haidt takes a very modern attitude toward our ancestors. He says we can agree with any wisdom from the past that is backed by empirical research. The ancients warn us about the disappointment of overacquisitiveness, and the social science confirms that, he says. But what Haidt describes as modern culture's operational "happiness hypothesis" is only a slightly chastened version of what the author of Ecclesiastes was trying to do. While warning against overdoing it, modern culture encourages its members to find satisfaction through active efforts to change our lives, not to just accept life as it is. 10

Back Where We Started page 79

If we stand back to ask what we have learned about happiness over the centuries, it is striking to see our lack of progress. Think of how we have surpassed our ancestors in our ability to travel and communicate, in our accomplishments in medicine and science. Think of how much less brutal and unjust to minorities many societies are today compared with even one hundred years ago. In so many ways human life has been transformed, and yet though we are unimaginably wealthier and more comfortable than our ancestors, no one is arguing that we are significantly happier than they were. We are struggling and seeking happiness in essentially the same ways our
forebears did and doing a worse job of it, if we use the rise of depression and suicide as an indicator.
The author of Ecclesiastes deserves the final word here. "Whatever is has already been, and what will be has been before." (Ecclesiastes 3: 15) Despite all our modern efforts, with regard to happiness we are essentially back where we started.
(Julian Baggini pictured below)

One response is to ask, "So what?" and insist that there is little real problem here. Julian Baggini thinks that there is no genuine problem, that no one is perfectly happy or needs to be. Most people get by fine without it, so we shouldn't worry about how happy we are but instead should simply do things that matter. 11 Thomas Nagel observes that, according to empirical studies, most people are pretty happy most of the time. 12
(Thomas Nagel pictured below)
(Terry Eagleton pictured below)

Terry Eagleton, however, responds that the problem is masked rather than revealed by the term "happiness." The very word is a "feeble, holiday-camp sort of word, evocative of manic grins and cavorting about." 13 For most people— including those who answer researchers' survey questions— the term does not have much depth to it. It refers to a range of conditions from simply "being okay" to "having fun." To be okay is not too hard to achieve. When asked by either friends or social psychologists, "How are you today?" we instinctively say, "Fine, thanks." But conflicts and anger flare up so quickly, and the statistics on depression and suicide always startle, and all this indicates things are not as good as we say they are.
To get at our condition more accurately, we should ask about joy, fulfillment, and satisfaction in life. Are we achieving those things? The thesis of this chapter is that we have much thinner life satisfaction than we want to admit to researchers or even to ourselves. On the whole, we are in
5 denial about the depth and magnitude of our discontent. The artists and thinkers who talk about it most poignantly are seen as morbid outliers, but actually they are prophetic voices. It usually takes years to break through and dispel the denial in order to see the magnitude and dimension of our dissatisfaction in life.

In 1969 the singer Peggy Lee recorded the song "Is That All There Is?" written by Jerry Leiber and Mike Stoller and based on an 1896 Thomas Mann novella called Disillusionment. 16 The woman speaking in the song tells about being taken as a twelve-year-old to the circus that was called "The Greatest Show on Earth," but as she watched she
"had the feeling that something was missing. I don't know what, but when it was over I said to myself, 'Is that all there is to a circus?'" Later she says that she fell "so very much in love" with the "most wonderful boy in the world." And then one day he left her, and she thought she'd die. "But I didn't. And when I didn't, I said to myself, 'Is that all there is to love?'" At every turn everything that should have delighted and satisfied her did not— nothing was big enough to fill her expectations or desires. There was always something missing, though she never knew what it was. Everything
left her asking, "Is that it?"
So every stanza of her life, like a song, went back to
the same refrain:
Is that all there is?
Is that all there is?
If that's all there is my friends,
Then let's keep dancing.
Let's break out the booze and have a ball, if that's all—
there is.
The lack of any deep or lasting satisfaction drives her to joyless partying. As we gradually discover that everything we thought would be fulfilling is not, we become less able to look forward to life, more numb, jaded, and cynical, or worse. The woman speaking in the song realizes that her listeners might wonder why she doesn't commit suicide. But she predicts that the experience of dying will be every bit as disappointing as life has been, so there is no reason to hurry it.
6
I know what you must be saying to yourselves.
"If that's the way she feels about it why doesn't she just end it all?"
Oh, no, not me.
I'm in no hurry for that final disappointment.
'Cause I know just as well as I'm standing here talking to you,
That when that final moment comes and I'm breathing my last breath
I'll be saying to myself—
Is that all there is?
(The late Cynthia Heimel pictured below)

The Leiber-Stoller song echoes the experience of Village Voice columnist Cynthia Heimel, who saw friends go from anonymity to Hollywood stardom only to find, to their horror, they were no more fulfilled and happy than before, and the experience actually deepened their emptiness, turning them "howling and insufferable." She surmises that "if God really wants to play a rotten practical joke on us, he grants our deepest wish and then giggles merrily as we begin to realize we want to kill ourselves." 17
(Henrik Ibsen pictured below)
, Henrik Ibsen the Norwegian playwright, helps us understand what happened to Heimel's friends. "If you take away the life- illusion from an average man, you take away his happiness as well." 18 Within Ibsen's play The Wild Duck, a life illusion is the belief that some object or condition will finally bring you the satisfaction for which you long. But this is an illusion. At some point reality will destroy it, and nothing destroys it like actually achieving your dreams.
If you are younger, it is natural to say to yourself, "I have heard about these disillusioned celebrities and wealthy people who say their life isn't happy. But if I get anything like what I'm hoping for, I'll be different." No you won't.
Though there is a spectrum of experience, nobody in the end has ever been different. That's what the wisdom of the ancients and all the anecdotal evidence in the world will tell you. C. S. Lewis put it in perhaps the classic way in his wartime BBC radio talk on hope.

Most people, if they really learn how to look into their own hearts, would know that they do want, and want acutely, something that cannot be had in this world. There are all sorts of things in this world that offer to give it to you, but they never keep their promise. The longings which arise in us when we first fall in love, or first think of some foreign country, or first take up some subject that excites us, are longings which no marriage, no travel, no learning can really satisfy. I am not speaking of what would ordinarily be called unsuccessful marriages or trips and so on; I am speaking of the best possible ones. There is always something we grasped at, in that first moment of longing, that just fades away in the reality. The spouse may be a good spouse, the scenery has been excellent, it has turned out to be a good job, but "It" has evaded us. 19

The Dimensions of Our Discontent page 80 (2:50:00)
(Wallace Stevens pictured below)

Roman poet Horace asked, "How comes it to pass . . . that no one lives content with his condition . . . ?" He concludes that "all . . . think their own condition the hardest." 14 Why is no one content with his or her life?
One reason can be seen in a line from the poem "Sunday Morning" by Wallace Stevens. "But in contentment I still feel the need for an imperishable bliss." 15 As we have seen, travel, material goods, sensual gratification, success, and status give quick spikes of pleasure and then fade. Stevens's line helps us understand why. Even as we taste a moment of contentment, we sense how fleeting it is, that it will soon be wrenched from our grasp. It begins to fade away even as we try to embrace it or even to savor it. The ephemeral nature of all satisfaction makes us long for something we can keep, but we look in vain. However, this is not the whole problem. We do not only want a satisfaction that lasts longer but also one that goes much deeper.
(Rock band KANSAS below)
In 1978 I heard the song "Dust in the Wind" by Kansas when it rose to #6 on the charts. That song told me that Kerry Livgren the writer of that song and a member of Kansas had come to the same conclusion that Solomon had. I remember mentioning to my friends at church that we may soon see some members of Kansas become Christians because their search for the meaning of life had obviously come up empty even though they had risen from being an unknown band to the top of the music business and had all the wealth and fame that came with that. Furthermore, like Solomon and Coldplay, they realized death comes to everyone and "there must be something more."
(Kerry Livgren below)
Livgren wrote:
"All we do, crumbles to the ground though we refuse to see, Dust in the Wind, All we are is dust in the wind, Don't hang on, Nothing lasts forever but the Earth and Sky, It slips away, And all your money won't another minute buy."
Both Kerry Livgren and Dave Hope of Kansas became Christians eventually. Kerry Livgren first tried Eastern Religions and Dave Hope had to come out of a heavy drug addiction. I was shocked and elated to see their personal testimony on The 700 Club in 1981 and that same interview can be seen on youtube today. Livgren lives in Topeka, Kansas today where he teaches "Diggers," a Sunday school class at Topeka Bible Church. Hope is the head of Worship, Evangelism and Outreach at Immanuel Anglican Church in Destin, Florida.
The movie maker Woody Allen has embraced the nihilistic message of the song "Dust in the Wind" by Kansas. David Segal in his article, "Things are Looking Up for the Director Woody Allen. No?" (Washington Post, July 26, 2006), wrote, "Allen is evangelically passionate about a few subjects. None more so than the chilling emptiness of life…The 70-year-old writer and director has been musing about life, sex, work, death and his generally futile search for hope…the world according to Woody is so bereft of meaning, so godless and absurd, that the only proper response is to curl up on a sofa and howl for your mommy."
The song "Dust in the Wind" recommends, "Don't hang on." Allen himself says, "It's just an awful thing and in that context you've got to find an answer to the question: 'Why go on?' " It is ironic that Chris Martin the leader of Coldplay regards Woody Allen as his favorite director.
Lets sum up the final conclusions of these gentlemen:  Coldplay is still searching for that "something more." Woody Allen has concluded the search is futile. Livgren and Hope of Kansas have become Christians and are involved in fulltime ministry. Solomon's experiment was a search for meaning to life "under the sun." Then in last few words in the Book of Ecclesiastes he looks above the sun and brings God back into the picture: "The conclusion, when all has been heard, is: Fear God and keep His commandments, because this applies to every person. For God will bring every act to judgment, everything which is hidden, whether it is good or evil."
The answer to find meaning in life is found in putting your faith and trust in Jesus Christ. The Bible is true from cover to cover and can be trusted.
Thank you again for your time and I know how busy you are.
Sincerely,
Everette Hatcher, everettehatcher@gmail.com, http://www.thedailyhatch.org, cell ph 501-920-5733, 13900 Cottontail Lane, Alexander, AR 72002
PS: What is the meaning of life? Find it in the end of the open letter I wrote to you on April 23, 2020. 
END OF LETTER TO RICKY GERVAIS
Sincerely,
Everette Hatcher III, 13900 Cottontail Lane, Alexander, AR 72002, ph 501-920-5733 everettehatcher@gmail.com
Related posts:
President Obama c/o The White House 1600 Pennsylvania Avenue NW Washington, DC 20500 Dear Mr. President, I know that you receive 20,000 letters a day and that you actually read 10 of them every day. I really do respect you for trying to get a pulse on what is going on out here. There have […]By Everette Hatcher III | Posted in David Barton, Founding Fathers, President Obama | Edit |Comments (0)
There have been many articles written by evangelicals like me who fear that our founding fathers would not recognize our country today because secular humanism has rid our nation of spiritual roots. I am deeply troubled by the secular agenda of those who are at war with religion in our public life. Lillian Kwon quoted somebody […]By Everette Hatcher III | Posted in David Barton, Founding Fathers | Edit | Comments (0)
There have been many articles written by evangelicals like me who fear that our founding fathers would not recognize our country today because secular humanism has rid our nation of spiritual roots. I am deeply troubled by the secular agenda of those who are at war with religion in our public life. Lillian Kwon quoted somebody […]By Everette Hatcher III | Posted in David Barton, Founding Fathers | Edit | Comments (0)
There have been many articles written by evangelicals like me who fear that our founding fathers would not recognize our country today because secular humanism has rid our nation of spiritual roots. I am deeply troubled by the secular agenda of those who are at war with religion in our public life. Lillian Kwon quoted somebody […]By Everette Hatcher III | Posted in David Barton, Founding Fathers | Edit | Comments (0)
There have been many articles written by evangelicals like me who fear that our founding fathers would not recognize our country today because secular humanism has rid our nation of spiritual roots. I am deeply troubled by the secular agenda of those who are at war with religion in our public life. Lillian Kwon quoted somebody […]By Everette Hatcher III | Posted in David Barton, Founding Fathers | Edit | Comments (0)
There have been many articles written by evangelicals like me who fear that our founding fathers would not recognize our country today because secular humanism has rid our nation of spiritual roots. I am deeply troubled by the secular agenda of those who are at war with religion in our public life. Lillian Kwon quoted somebody […]By Everette Hatcher III | Posted in Founding Fathers | Edit | Comments (0)
President Obama Speaks at The Ohio State University Commencement Ceremony Published on May 5, 2013 President Obama delivers the commencement address at The Ohio State University. May 5, 2013. You can learn a lot about what President Obama thinks the founding fathers were all about from his recent speech at Ohio State. May 7, 2013, […]By Everette Hatcher III | Posted in Founding Fathers, President Obama | Edit | Comments (0)
Dr. C. Everett Koop with Bill Graham. Francis Schaeffer: "Whatever Happened to the Human Race" (Episode 4) THE BASIS FOR HUMAN DIGNITY Published on Oct 7, 2012 by AdamMetropolis The 45 minute video above is from the film series created from Francis Schaeffer's book "Whatever Happened to the Human Race?" with Dr. C. Everett Koop. This […]By Everette Hatcher III | Posted in Founding Fathers, Francis Schaeffer, Prolife | Edit |Comments (1)
America's Founding Fathers Deist or Christian? – David Barton 4/6 There have been many articles written by evangelicals like me who fear that our founding fathers would not recognize our country today because secular humanism has rid our nation of spiritual roots. I am deeply troubled by the secular agenda of those who are at […]By Everette Hatcher III | Posted in David Barton, Founding Fathers | Tagged governor of connecticut, john witherspoon, jonathan trumbull | Edit | Comments (1)
3 Of 5 / The Bible's Influence In America / American Heritage Series / David Barton There were 55 gentlemen who put together the constitution and their church affliation is of public record. Greg Koukl notes: Members of the Constitutional Convention, the most influential group of men shaping the political foundations of our nation, were […]By Everette Hatcher III | Posted in Founding Fathers | Edit | Comments (0)
I do not think that John Quincy Adams was a founding father in the same sense that his father was. However, I do think he was involved in the early days of our government working with many of the founding fathers. Michele Bachmann got into another history-related tussle on ABC's "Good Morning America" today, standing […]By Everette Hatcher III | Posted in David Barton, Founding Fathers | Edit | Comments (0)
I have gone back and forth and back and forth with many liberals on the Arkansas Times Blog on many issues such as abortion, human rights, welfare, poverty, gun control and issues dealing with popular culture. Here is another exchange I had with them a while back. My username at the Ark Times Blog is Saline […]By Everette Hatcher III | Posted in Arkansas Times, Francis Schaeffer, Prolife | Edit |Comments (0)
I truly believe that many of the problems we have today in the USA are due to the advancement of humanism in the last few decades in our society. Ronald Reagan appointed the evangelical Dr. C. Everett Koop to the position of Surgeon General in his administration. He partnered with Dr. Francis Schaeffer in making the […]By Everette Hatcher III | Posted in Adrian Rogers, Francis Schaeffer | Edit | Comments (0)
Francis Schaeffer: "Whatever Happened to the Human Race" (Episode 4) THE BASIS FOR HUMAN DIGNITY Published on Oct 7, 2012 by AdamMetropolis ____________ The 45 minute video above is from the film series created from Francis Schaeffer's book "Whatever Happened to the Human Race?" with Dr. C. Everett Koop. This book really helped develop my political […]By Everette Hatcher III | Posted in Francis Schaeffer | Edit | Comments (0)
—-
—