—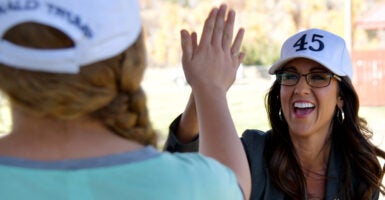 The pro-life movement in Congress made big gains as more than a dozen new anti-abortion Republican women were elected to the House of Representatives on Nov. 3.
The number of pro-life women in the House in the 117th Congress more than doubled, with other races still to be called.
Many of these women defied the polls and managed to flip seats held by Democratic incumbents. Others replaced Republican predecessors.
"The surge of victorious pro-life women candidates in the U.S. House is a stunning blow to [House Speaker] Nancy Pelosi and her pro-abortion agenda," Marjorie Dannenfelser, president of the Arlington, Virginia-based Susan B. Anthony List, said in a statement.
The left is actively working to undermine the integrity of our elections. Read the plan to stop them now. Learn more now >>
Here are some of the Republican women who were elected to the House, according to Dannenfelser's group, a nonprofit dedicated to advancing the pro-life cause.
Maria Elvira Salazar (Florida, 27th District)
Maria Elvira Salazar unseated Democratic freshman Rep. Donna Shalala by more than 9,000 votes in the race for Florida's 27th Congressional District. The 27th District is more than 72% Hispanic and encompasses the neighborhoods of Miami Beach and Little Havana.
Shalala served eight years as secretary of Health and Human Services in the Clinton administration.
The race, a rematch of their 2018 race, was rated likely Democratic in the 2020 Cook Political Report, so Salazar's win comes as an unexpected surprise for the right-to-life movement.
Salazar had this to say on the issue of abortion: "As a Christian and a mother, I believe in a culture that values and nurtures all life, from birth to natural death. As your congresswoman, I will protect the life of the unborn and also the life and health of the mother."
Yvette Herrell (New Mexico, 2nd District)
In another rematch of 2018, Yvette Herrell defeated Democratic incumbent Rep. Xochitl Torres Small and independent Steve Jones in the race for New Mexico's 2nd Congressional District. The district is more than 52% Hispanic, and the Cook Political Report rated the race a "Democratic toss-up."
Herrell is "100% pro-life," according to her website, and she campaigned on a consistent pro-life record as the state House representative from New Mexico's 51st District from 2011 to 2019.
Michelle Fischbach (Minnesota, 7th District)
Michelle Fischbach defeated Democratic incumbent Rep. Collin Peterson and Legal Marijuana Now Party candidate Slater Johnson in the Nov. 3 election for Minnesota's 7th Congressional District. The district was rated a "Democratic toss-up" in the 2020 Cook Political Report. It encompasses almost all of western Minnesota.
According to the pro-life group Minnesota Citizens Concerned for Life, Fischbach has a 100% lifetime voting record on pro-life legislation as a longtime member of the Minnesota state Senate.
Nancy Mace (South Carolina, 1st District)
Nancy Mace unseated Democratic incumbent Rep. John Cunningham in the race for South Carolina's 1st Congressional District. Mace made history as just the second elected U.S. congresswoman ever from South Carolina. The district encompasses parts of Charleston, Berkeley, and Beaufort counties, and the race was rated leans Democratic in the 2020 Cook Political Report, so Mace's win marked yet another unanticipated victory in the House for the pro-life movement.
Just two years earlier, Mace was elected representative in South Carolina's state House District 99, where she was a strong pro-life advocate. A victim of sexual assault, Mace "successfully advocated for the inclusion of exceptions for rape and incest" in a "fetal heartbeat" abortion ban bill that passed in the South Carolina state House.
Stephanie Bice (Oklahoma, 5th District)
Stephanie Bice defeated freshman Democratic Rep. Kendra Horn in the race for Oklahoma's 5th Congressional District. She currently serves in the Oklahoma state Senate, representing District 22. Oklahoma's 5th Congressional District was rated a "Democratic toss-up" in the 2020 Cook Political Report.
According to her website, Bice has "supported pro-life policies and advocated against those that promote abortion" as Oklahoma state senator. She was endorsed by the country's oldest and largest pro-life organization, National Right to Life.
Ashley Hinson (Iowa, 1st District)
Ashley Hinson, the current representative in Iowa's 67th state House District, defeated freshman Democratic Rep. Abby Finkenauer in the race to represent Iowa's 1st Congressional District. The district encompasses one or more so-called pivot counties—counties that voted for Donald Trump in 2016, but also for Barack Obama in 2008 and 2012. The 2020 Cook Political Report rated the race a "Democratic toss-up."
The Susan B. Anthony List Candidate Fund described Hinson as "a passionate advocate for families and children," noting that her "strong pro-life voting record in the state legislature gives us confidence that she will stand up for life in Washington."
Nicole Malliotakis (New York, 11th District)
Nicole Malliotakis defeated Democratic freshman Rep. Max Rose in the election for New York's 11th Congressional District. She currently serves in the New York state Assembly representing District 64. New York's 11th Congressional District was rated a "Democratic toss-up" in the 2020 Cook Political Report, thus is considered yet another win for the anti-abortion movement.
In 2019, Malliotakis delivered a floor speech condemning the Reproductive Health Act signed into state law by New York Gov. Andrew Cuomo, a Democrat, arguing the legislation created a loophole for late-term abortions.
Malliotakis had this to say on the issue of abortion in an interview with National Review: "To say this is a discussion about pro-choice versus pro-life is missing the forest for the trees. This is a discussion about expanding late-term abortion, which 80 percent of New Yorkers oppose."
Lauren Boebert (Colorado, 3rd District)
Lauren Boebert defeated Diane Mitsch Bush, the Democratic nominee, and two third-party candidates, in the general election for Colorado's 3rd Congressional District, after ousting a fellow Republican, incumbent Rep. Scott Tipton, in the GOP primary. Colorado's 3rd District encompasses one or more "pivot counties," about 1 in 4 residents in the district identify as Hispanic. The race was rated leans Republican in the 2020 Cook Political Report.
As a grassroots activist, Boebert spearheaded a ballot initiative to end late-term abortion in Colorado. "Lauren is strong, fearless and unapologetically pro-life—the embodiment of the pro-woman leadership our organization exists to promote," said Marilyn Musgrave, the Susan B. Anthony List's vice president of government affairs, who herself served three terms as a Republican congresswoman from Colorado from 2003 to 2009.
Lisa McClain (Michigan, 10th District)
Lisa McClain defeated Democrat Kimberly Bizon in the open-seat race to represent Michigan's 10th Congressional District. Republican Rep. Paul Mitchell did not seek reelection to the district in the easternmost part of the Lower Peninsula.
Michigan's 10th Congressional District overlaps with one or more "pivot counties," or counties with a high proportion of swing voters. The Cook Partisan Voter Index gave the district a score of R+13 in 2018, or 13 percentage points more Republican than the average U.S. House district.
McClain supports a Human Life Amendment to the U.S. Constitution and is also committed to ending taxpayer funding of abortion and abortion providers.
McClain had this to say about abortion on her campaign website: "The most essential duty of government is to defend the life of the innocent. I support judges to the bench who respect traditional family values and the sanctity of human life."
Kat Cammack (Florida, 3rd District)
Kat Cammack prevailed over Democratic challenger Adam Christensen in the general election for Florida's 3rd Congressional District. Incumbent Rep. Ted Yoho, for whom Cammack had worked, did not seek reelection. Florida's 3rd District comprises a vast swath of northern Florida, including the liberal college town of Gainesville in Alachua County. It was rated R+9 in the Cook Partisan Voter Index of 2018, or leans Republican.
Cammack is strongly pro-life. Her views on abortion stem from her mother's own personal decision to keep Cammack during her pregnancy against the advice of her doctors and grandmother.
"When my mom was pregnant with me, the doctors told her because she had had a stroke with my sister that she wouldn't be able to have children again," she explained in a video titled "That's Why", adding:
So, when she found out she was pregnant, the doctors advised her to abort me. My grandmother advised her—begged and pleaded—to have me aborted. My mom said 'no.' So, when given the choice, my mom chose life, and that's why I'm pro-life.
Cammack had stated she "will always choose life" if she were elected to Congress.
Diana Harshbarger (Tennessee, 1st District)
Diana Harshbarger triumphed over Democrat Blair Walsingham and independent Steve Holder in the election for Tennessee's 1st Congressional District. She will succeed a fellow Republican, Phil Roe, who is retiring after six terms. Tennessee's 1st Congressional District is situated in the northeastern part of the state, and had a Cook Partisan Voter Index of R+28 in 2018, or strongly Republican.
Harshbarger describes herself as "100% pro-life."The Susan B. Anthony List's Musgrave had this to say about her:
Tennessee is a strongly pro-life state and deserves a champion like Diana Harshbarger in Washington. Diana has spent her entire career serving the people of East Tennessee and will be an effective advocate for the most vulnerable in Congress. As a longtime health care professional, she keenly understands that abortion is the opposite of health care.
Mary Miller (Illinois, 15th District)
Mary Miller obliterated her Democratic rival, Erika Weaver, in the election for Illinois' 15th Congressional District with more than 72% of the vote. She succeeds Republican Rep. John Shimkus, who did not seek reelection after serving 12 terms. Illinois' 15th Congressional District encompasses eastern Illinois and had a Cook Partisan Voter Index score of R+21 in 2018, or solid Republican.
Miller is strongly pro-life. Her campaign websitepromised, "She will OPPOSE efforts to undermine and eliminate the Hyde Amendment, which makes it illegal to use federal funds to pay for abortions" if elected to Congress.
"Miller also will SUPPORT efforts to defund Planned Parenthood, the nation's largest abortion provider."
Marjorie Taylor Greene (Georgia, 14th District)
Marjorie Taylor Greene won a seat in the House representing Georgia's 14th Congressional District. She defeated Democratic candidate Kevin Van Ausdal, who withdrew from the race on Sept. 11. Georgia's heavily Republican 14th Congressional District, currently vacant, comprises the northwestern corner of the state and had a Cook Partisan Voter Index score of R+27in 2018, or strongly Republican.
Greene is committed to defending the unborn. She had this to say about the issue of abortion on her website: "Every life is precious—period. Unborn children should not be condemned to a painful death for the mere crime of being inconvenient." She said she would "fight to end abortion on demand by co-sponsoring the Life at Conception Act and stop taxpayer funding of abortion."
Victoria Spartz (Indiana, 5th District)
Victoria Spartz triumphed over Democratic candidate Christina Hale, Libertarian candidate Ken Tucker, and a write-in candidate in the race for Indiana's 5th Congressional District. Republican incumbent Rep. Susan Brooks did not seek reelection after four terms. The House race was rated a "Republican toss-up" in the 2020 Cook Political Report.
Musgrave of the Susan B. Anthony List had this to say about Spartz: "A Ukrainian immigrant to the United States, Victoria Spartz knows that the American dream rests first and foremost on the right to life."
"Victoria is deeply familiar with the importance of valuing every human life, including the lives of the unborn. She stands in stark contrast to her opponent, Christina Hale, an abortion extremist endorsed by both Planned Parenthood and EMILY's List."
Spartz has a 100% pro-life voting record in her capacity as Indiana state senator since 2017.
Dr. Francis schaeffer – The flow of Materialism(from Part 4 of Whatever happened to human race? Co-authored by Francis Schaeffer and Dr. C. Everett Koop)

Dr. Francis Schaeffer – The Biblical flow of Truth & History (intro)
Francis Schaeffer – The Biblical Flow of History & Truth (1)
Mr. Hentoff with the clarinetist Edmond Hall in 1948 at the Savoy, a club in Boston. (Nat Hentoff was a pro-life atheist)
Dr. Francis Schaeffer – The Biblical Flow of Truth & History (part 2)
Edith Schaeffer with her husband, Francis Schaeffer, in 1970 in Switzerland, where they founded L'Abri, a Christian commune.
April 3, 2021
President Biden c/o The White House 1600 Pennsylvania Avenue NW Washington, DC 20500
Dear Mr. President,
I really do respect you for trying to get a pulse on what is going on out here. I know that you don't agree with my pro-life views but I wanted to challenge you as a fellow Christian to re-examine your pro-choice view. Although we are both Christians and have the Bible as the basis for our moral views, I did want you to take a close look at the views of the pro-life atheist Nat Hentoff too.  Hentoff became convinced of the pro-life view because of secular evidence that shows that the unborn child is human. I would ask you to consider his evidence and then of course reverse your views on abortion.
___________________
Nat Hentoff is an atheist, but he became a pro-life activist because of the scientific evidence that shows that the unborn child is a distinct and separate human being and even has a separate DNA. His perspective is a very intriguing one that I thought you would be interested in. I have shared before many   cases (Bernard Nathanson, Donald Trump, Paul Greenberg, Kathy Ireland)    when other high profile pro-choice leaders have changed their views and this is just another case like those. I have contacted the White House over and over concerning this issue and have even received responses. I am hopeful that people will stop and look even in a secular way (if they are not believers) at this abortion debate and see that the unborn child is deserving of our protection.That is why the writings of Nat Hentoff of the Cato Institute are so crucial.
Occasional
by Nat Hentoff
The Washington Post, May 25, 1991
The Maryland abortion bill that was passed and signed into law in February was generally described as a "moderate" measure ensuring the women of the state the same rights as Roe v. Wade should that decision be overturned by the Supreme Court.
Another provision of the measure was parental notification before minors can get an abortion. This was a scam, however. The person deciding whether the notification is to be given will be the doctor about to perform the abortion.
There is something quite startling in the law that will gladden the hearts of eugenicists, who are considerable in number — though many are still in the closet. The section on Abortion [Restrictions] Procedures declares that the state is not permitted to interfere — at any stage — in a woman's decision to terminate a pregnancy if "the fetus is affected by genetic defect or serious deformity or abnormality."
This means that a viable fetus can be destroyed if he or she has any genetic defect. Although the qualifier, "serious," precedes "deformity or abnormality," there is no such restriction on performing an abortion because of "genetic defect."
Last July, much to the celebration of many disabled people, the president signed the Americans with Disabilities Act. Although it is now unlawful to discriminate against the disabled in many areas of life, the Maryland statute permits the ultimate discrimination against them before they are born.
As the Human Genome Project finds out more and more about how to detect genetic defects, the reasons for this kind of abortion on viable fetuses will accumulate. Even now, with increasingly sophisticated prenatal tests, it is possible to discern a considerable number of genetic defects in a fetus.
As law professor Robert Destro points out, by the letter of the Maryland law, a mother could put to death a fetus diagnosed as having myopia. (There are parents who do want perfect children.) And others might well return a fetus marked with cystic fibrosis or sickle cell anemia.
I expected some strong protests from disability rights groups about this enshrinement of eugenics — particularly since I have heard fears of the brave new world of the genome at disability rights meetings. But so far as I know, there has been silence among these usually forthright activists.
One reason may be that disability rights groups are ambivalent about abortion. Some of the members are pro-choice; others have no firm opinion but do not want to be identified with so controversial a movement and one that often gets a bad press. They figure they have enough problems of their own.
Some of the key disability groups, however, have been willing to oppose euthanasia (as in the Cruzan case) and to support the rights of Baby Does — severely handicapped infants whose parents want to let them slide into eternity. The disabled know that as it becomes easier for society to get rid of expensively imperfect people, they themselves may eventually not be safe from lethal mercy.
One disability rights activist — the feminist writer Anne Finger, herself disabled — is aware of the return of eugenics and the dangers it brings. In an article in the Disability Rag, she tells of having joined an abortion rights group and of offering to speak at a meeting about disability and reproductive rights.
"When I started talking about how the reproductive rights movement was sometimes guilty of exploiting fears about disability when it argued for abortion because of fetal defect, things got really strained. I expected lip service, condescension, liberalism — but certainly not hostility."
Also at that meeting was a Harvard biology professor, Ruth Hubbard, who has since retired. She was not hostile: "My problems with prenatal screening stem mostly from my concern about how it's creating eugenic thinking. We act as if we can look at a gene and say, 'Ah-ha, this gene causes this … disability,' when in fact the interactions between the gene and the environment are enormously complex. It moves our focus from the environmental causes of disabilities — which are terrifying and increasing daily — to individual genetic ones."
The pro-choice forces, however, are so intent on removing all obstacles to abortion that eugenics is no specter to them.
Anne Finger remembers the initial, stunning triumph of eugenics in the hospitals and mental institutions of Germany, where so many "defectives" were killed before the beginning of the concentration camps. She is still pro-choice, but she also knows what certain choices can lead to.
Copyright 1991 The Washington Post
________________________
In the past I have spent most of my time looking at this issue from the spiritual side. In the film series "WHATEVER HAPPENED TO THE HUMAN RACE?" the arguments are presented  against abortion (Episode 1),  infanticide (Episode 2),   euthanasia (Episode 3), and then there is a discussion of the Christian versus Humanist worldview concerning the issue of "the basis for human dignity" in Episode 4 and then in the last episode a close look at the truth claims of the Bible.
__________________________
I truly believe that many of the problems we have today in the USA are due to the advancement of humanism in the last few decades in our society. Ronald Reagan appointed the evangelical Dr. C. Everett Koop to the position of Surgeon General in his administration. He partnered with Dr. Francis Schaeffer in making the video below. It is very valuable information for Christians to have.  Actually I have included a video below that includes comments from him on this subject.
Francis Schaeffer Whatever Happened to the Human Race (Episode 1) ABORTION
____________________________________
Francis schaeffer – The flow of Materialism(from Part 4 of Whatever happened to human race?)
Dr. Francis Schaeffer – The Biblical flow of Truth & History (intro)
Francis Schaeffer – The Biblical Flow of History & Truth (1)
Dr. Francis Schaeffer – The Biblical Flow of Truth & History (part 2)
Related posts:
By Everette Hatcher III | Posted in Francis Schaeffer | Edit | Comments (0)